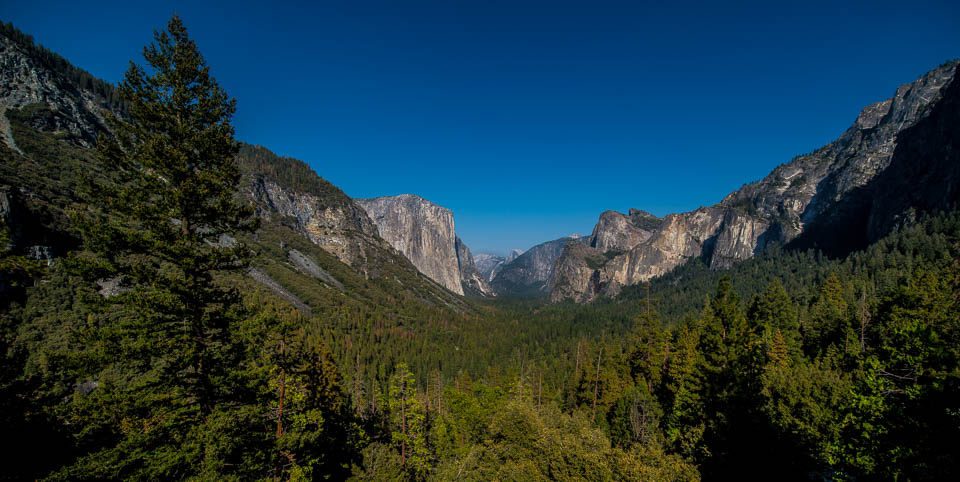 There's a place you can drive to in Yosemite National Park called Tunnel View. It's called that (duh) because it's the view you get right as you come out of a long tunnel on the highway into Yosemite Valley. It could also be called "Tour Bus View", or maybe "This Is Where I Took a Selfie View."
It always perplexes me a bit when people line up to take pictures at a place like this, but don't spend any time actually taking pictures of–or even looking at–the view. But I digress. And sometimes, except for the selfies, I'm as guilty as the next guy.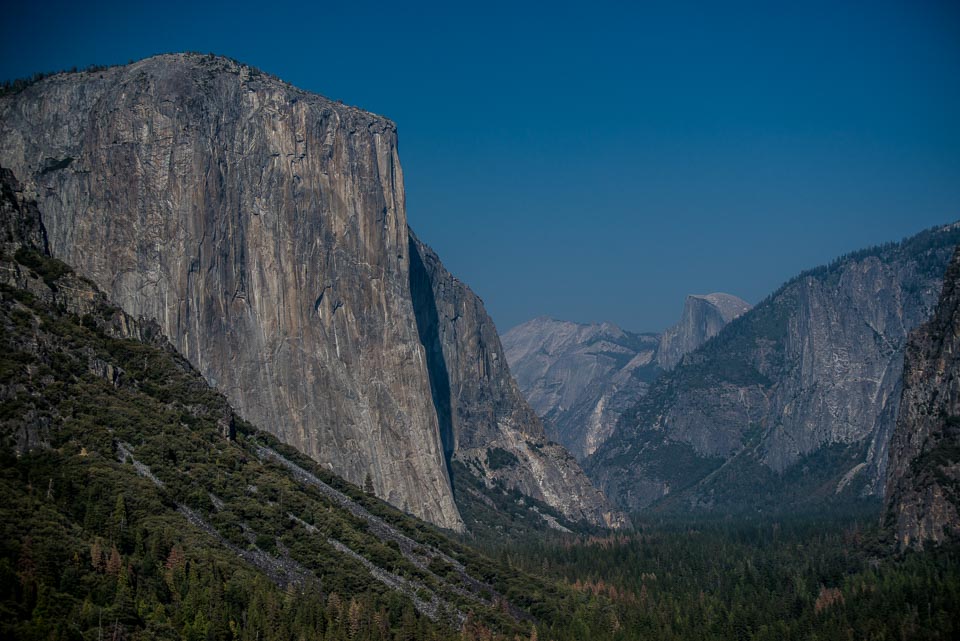 So, I made these two pictures. Or, I should say, I chose these two pictures out of the 60 or so I shot at the vista. What I like about the top picture is you can get a sense of the spectacular nature of Yosemite Valley, i.e. that it is defined by these amazing sheer granite walls one after another that rise out of a dense forested floor. There are meadows down there, too, but it's hard to see them for the trees from above.
And then there are the granite walls themselves, like El Capitan on the left and the chopped off knob of Half Dome on the right. You need to see them at a distance to get a sense of how big they are. When you are close, like we were yesterday, it's all just a bit overwhelming to look straight up. You can't imagine how these things came to exist. You just have to admire them because trying to comprehend them is futile.
As far as photographing Tunnel View, get there in the late afternoon, which we did on our way up the mountain to Glacier Point to shoot Half Dome at sunset. The sun from the west illuminates the valley. If you stop here in the morning, it's all in the shade.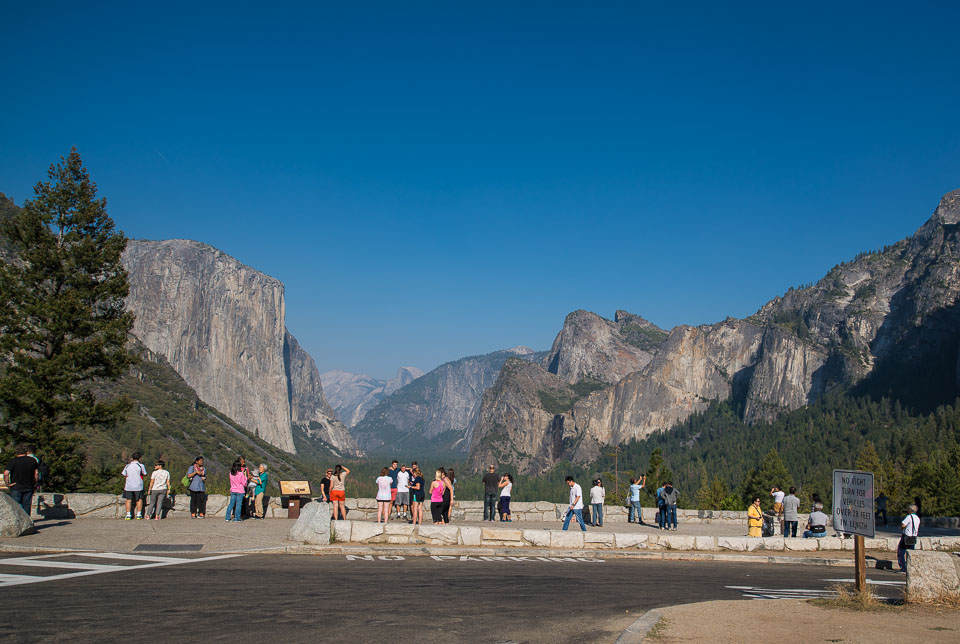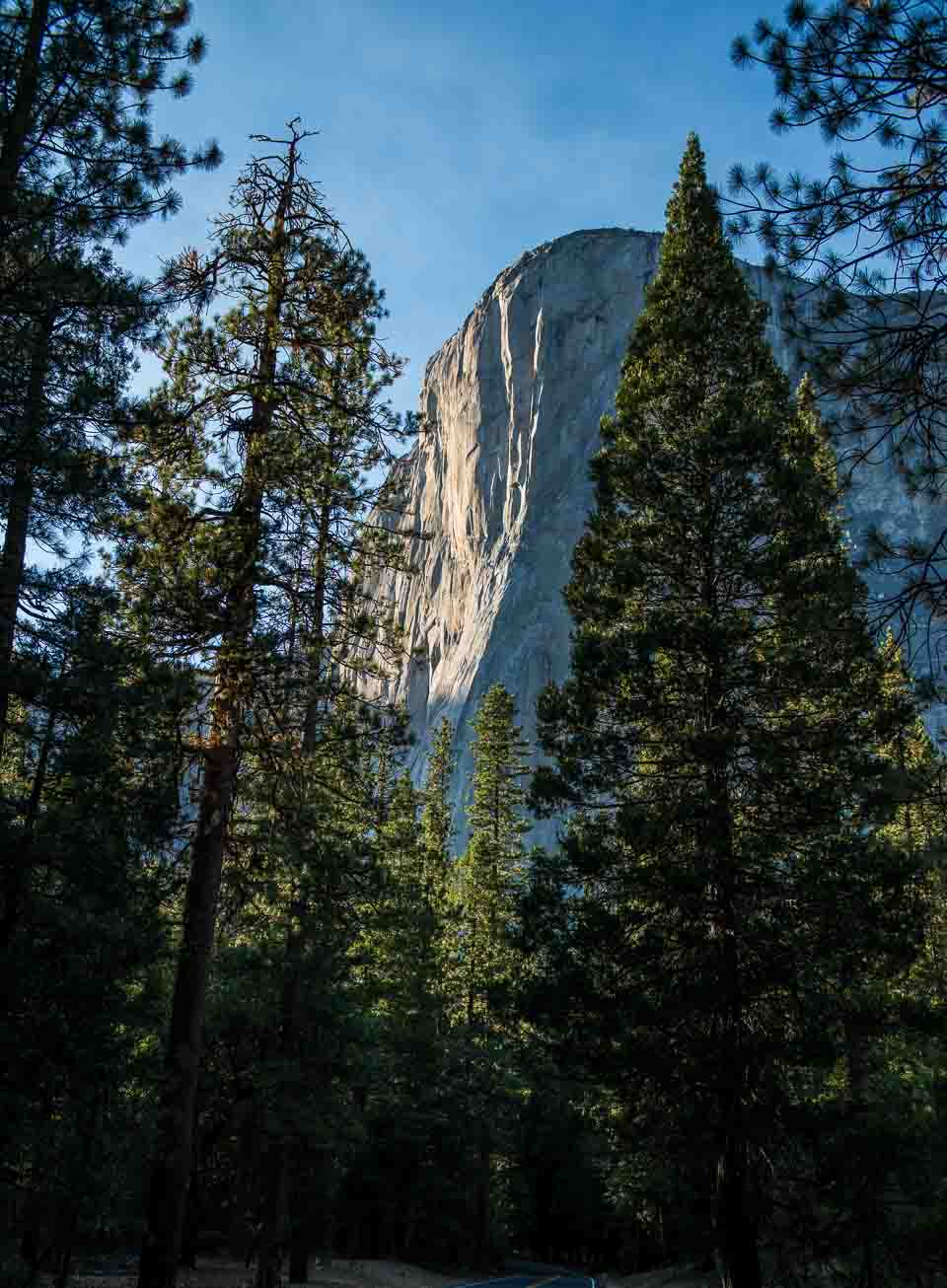 We made it to the Yosemite Valley at Yosemite National Park just as the sun was about to dip behind the mountains. We had about 15 minutes to rush furiously up and down the road in front of the iconic El Capitan before the light was completely gone. We'll be going back in the morning to see the dawning light on the other face of the crag.
Here are a few more shots of Yosemite at Half Dome at sunset.
You can see a list here of all the United States National Parks, with links to our stories about the ones we've visited.
We love traveling–with the right gear. You can check out a lot of the stuff we use to make all our travel much more pleasant and efficient all on one page. Click here to see it. If you purchase something from this page, Travel Past 50 will receive a small commission at no extra charge to you. Thanks.
Get all our travel tips delivered to your inbox
Subscribe to our email newsletter