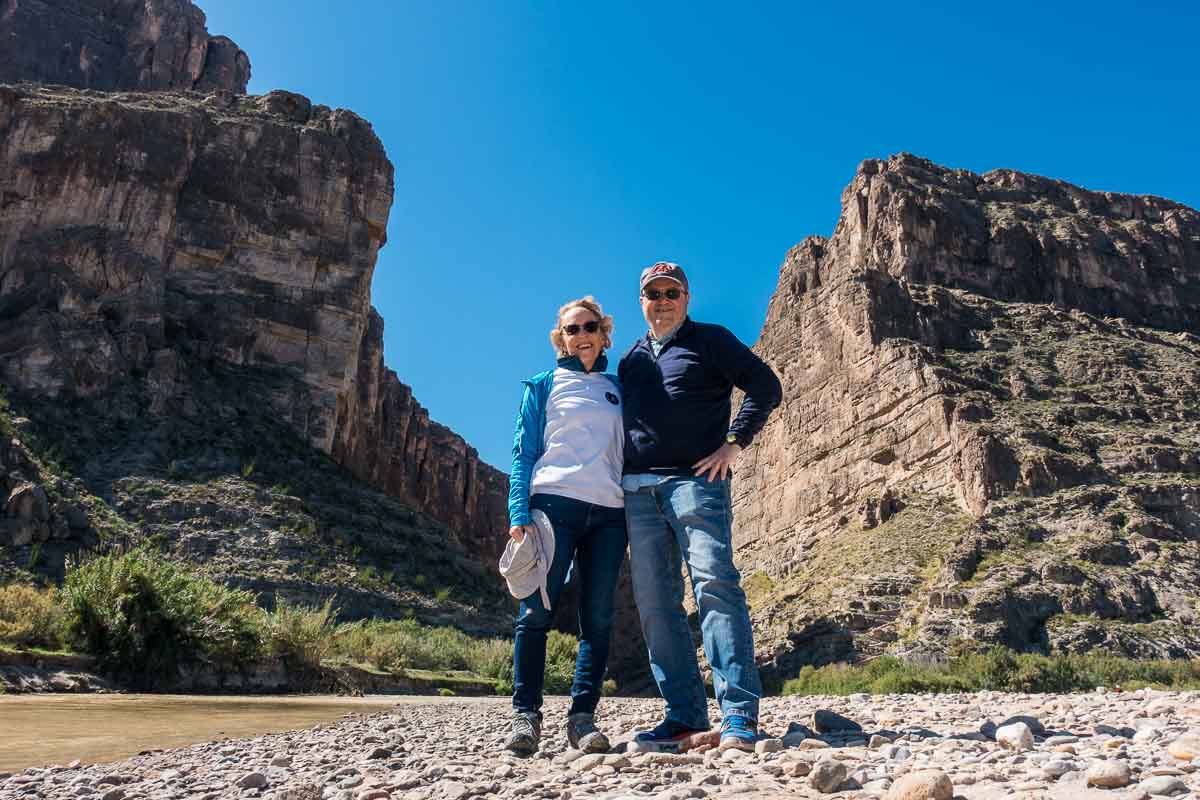 Kristin and Tom's Story
After a 30-year career in publishing, Tom Bartel and Kristin Henning shed their last publication, their house, and most of their possessions. In 2010, they gave their dog to their daughter and set out on a journey to see the world. Kris and Tom combine a love of culture with enthusiasm for the outdoors. Their travels vary between long stays in such cultural cities as London, Barcelona, Rome, and Beijing, detours to UNESCO World Heritage Sites, and spurts of hiking or biking in Europe, Australia, Asia, or the United States National Parks.
Even before taking to the road full time, Kris and Tom were students of the world. They've spent months in London going to the theater, a summer in Rome studying Latin, three months in Florence studying art history, and have visited nearly every major museum and church in Europe. They've lived in Madrid and Quito while teaching English, and earned their keep housesitting in Spain, Chile, and elsewhere.
Kris and Tom bring their considerable experience as professional writers and photographers, publishers and marketers, to Travel Past 50. It's only natural that they enjoy sharing their personal travel stories, love offering travel tips to their followers, and work hard to support their clients' content and marketing needs.
Travel Past 50
Travel Past 50 reflects Kris and Tom's appreciation of international cultures and active travel. It is designed for travelers 50+ who share their sense of curiosity and are inspired to explore a range of destinations including historic sites, arts and cultural centers, and natural parks with wildlife. The blog is for those who want to learn, for those who want to participate, and for those who enjoy a good meal and friendly conversation at the end of the day.  Travel Past 50  has always been defined as the travel resource 'for those who've been around."
Working with Travel Past 50
Read on for examples of our award-winning work and professional experience, or jump here for more information about working with us in a variety of manners, including ambassadorships, consulting, and content marketing.
Awards for Kristin and Tom and Travel Past 50
Society of American Travel Writers (SATW), Central Chapter
North American Travel Journalists Association 2019 Awards for Excellence in Travel Journalism
North American Travel Journalists Association 2018 Awards for Excellence in Travel Journalism
North American Travel Journalists Association 2017 Awards for Excellence in Travel Journalism
North American Travel Journalists Association 2016 Awards for Excellence in Travel Journalism
National Geographic Photo Contest 2015  Editors' Favorite
Honors for Travel Past 50
Feedspot Thirty Best Retirement Travel Blogs and Websites (2022)
Getting On Travel Best Boomer Travel Blogs in 2018
Feedspot Top 75 Baby Boomer Blogs
Feedspot  Top 20 Retirement Travel Blogs
SmartLad.com  Top 100 Travel Blogs You Should Be Following in 2017
Discover Corp   The Best Travel Blogs for Couples
ElderTrek's Trek Talk Blog  Top Five Senior Travel Blogs
Flipkey by TripAdvisor  Top 20 Baby Boomer Travel Bloggers to Follow in 2015
Trip Advisor  20 Boomer Bloggers Having More Fun than Millennials
Stride Travel  The Most Popular Trends in Baby Boomer Travel
My Faces and Places,  24 Baby Boomer Travel Experts Reveal their Favourite 3 Destinations
Experience
Tom Bartel and Kristin Henning bring more than 30 years of experience publishing and editing print newspapers and magazines to their blog at TravelPast50.com.
Publishers/Editors
Guidebook: The Rake's Secrets of the City: Guide to Minneapolis/St. Paul (2008)
Monthly: The Rake Magazine (2001-2008)
Web: SecretsoftheCity.com (2001-2010)
Weekly: City Pages (1979-1997)
Web: established CityPages.com 1994
Monthly: Minnesota Parent (1990-1997)
10,000 Arts Quarterly
Theater All Year (ticketing and marketing program)
Photography
Solo photography exhibit, "Time Zones," Icebox Gallery, Minneapolis (2017)
Professional Associations
Current memberships:
Member, SATW: Society of American Travel Writers
Member, NATJA: North American Travel Journalists Association
Foundation Member, PALAT: Professional Association of Lifestyle and Travel Writers
Member, IFWTWA: International Food, Wine and Travel Writers Association
Members of TBEX: Travel Blog Exchange
Members of TBIN: Travel Bloggers Influence Network (#TBIN)
Member, ATTA: Adventure Travel Trade Association
Former members of, and awarded editorial and design honors from:
Minnesota Newspaper Association
Association of Alternative Newsweeklies
Parenting Publications of America (now Parenting Media Association)
Minnesota Magazine and Publishing Association
Society of Professional Journalists
Select Freelance Portfolio
Books
Cathedrals: Masterpieces of Architecture, Feats of Engineering, Icons of Faith by Simon Jenkins, (published in US, February 2022) Photographs by Tom of Salamanca and Toledo, Spain cathedrals
Ultimate Journeys for Two, National Geographic Books 2017; "Ghent, Belgium"
Great Hiking Trails of the World, Rizzoli International Publications 2017, various photos for Chapter 1, "The Way of the Pilgrim"
Regular Broadcast Contributors:
Travel Writers Radio Broadcast in Melbourne, Australia
Travel Writers Radio Soundcloud archives
Magazines, Newspapers, Websites
American Craft Magazine "Art on the Arno"
Outside Magazine "The 25 Trips You Need to take This Year"
FWT Magazine Maritime Canada: Seafood in New Brunswick and Nova Scotia
FWT Magazine Acre Restaurant: Oasis in Baja's San Jose del Cabo
Peregrine Adventures Blog The spirit of adventure: how travel has changed for the Baby Boomer generation
FWT Magazine Breckenridge Distillery: Out of Thin Air and Snowmelt
FWT Magazine Jaume Marin: The Guy Behind Costa Brava's Tourism Success
TripIt Blog Budget Travel Tips for Boomers
Flights.com Blog Exploring the European Capitals of Culture: Wroclaw, Poland
TravelChannel.com Travel's Best Retirement Getaways 2015
Minneapolis Star Tribune How a Minnesota Businessman became a World-Class Soccer Fan 
Minneapolis StarTribune "My Good Life: Retirement on the Road"
International Living Magazine, "An Off-Season Tour of the Chilean Coast"
The New York Times, "An Ex-Smoker's Own True Facts"
BestKidFriendlyTravel.com, "Peterborough and the Kawarthas: A Family Play Vacation",  "Hawaii Scenery with Small Town Benefits"
Kris and Tom in the News
While Travel Past 50 is frequently cited as one of the top travel blogs for travelers 50+, the following interviews and stories are more specifically about us and our traveling lifestyle. Check out these very personal interviews for unrehearsed, candid looks at our life on the road.
Old Dog Podcast "New Tricks for Old Dogs" Lifestyle interview with Kris and Tom
Finder.com Wanderlust with Tom and Kris
Mindtrekker Former Publishers Become Nomadic Travelers
Tripedia  Interview with Kristin Henning
One Road at a Time  On the Path of Redefining Retirement
The Expat Chat Interview with Podcaster Tony Argyle  Why 50 is the New 30 For Travelers
The Budget-Minded Traveler Podcast  Long-Term Travel in Retirement with Kris and Tom from Travel Past 50
Johnny Jet Johnny Jet's interview with Kris: Travel Style with Kristin Henning
Johnny Jet Johnny Jet's interview with Tom: Travel Style with Tom Bartel
Nomad is Beautiful  Interview with Tom and Kris
Podcast: The Gathering Road  on the Womens Radio Network, with Elaine Masters of Trip Wellness.com
Voyage Minnesota interview with Tom
And, our latest posts on TravelPast50.com.
Affiliate Partners
We partner with these businesses to advertise their products
Allianz Global Travel Insurance
Amazon
REI Outdoor Equipment
BH Photo and Video
Hotels.com
Think Tank camera bags and accessories
Subscribe to our Newsletter
If you'd like to keep up with what we're doing, subscribe to our newsletter.
Media Information: Working with Kris and Tom
We love sharing the stories we discover on our travels, and helping our clients tell their stories. Whether you are interested in using our services for content (our site or yours), PR, social media, or marketing consulting, we're ready to offer you options. Here is our latest Media Kit.
Guest Posts, Sponsored Posts, Paid Links, etc.
Please read our detailed information about guest posts, sponsored posts, paid links and other advertising/marketing opportunities
Privacy Policy and Advertising Disclosure
If you are interested in such things, here is our privacy policy and advertising disclosure.
Contact Us
If you'd like us to write about you, click here to contact us. Please, please, please read this page before you contact us.
MNTrips.com
Tom and Kris are also the publishers of MNTrips.com, a website dedicated to travel around Minnesota.