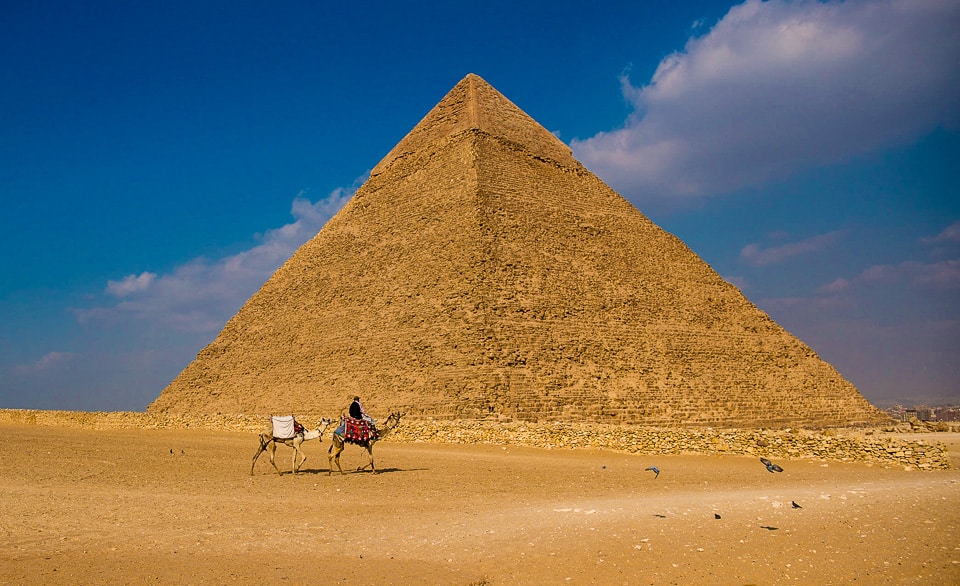 Traveling is not just about visiting new places, but it's also about the journey. And to make any journey as smooth and pleasant as possible, equipping yourself with the right travel accessories is essential.
What defines essential travel accessories? Utility, convenience, light weight, and, most of all, the ability to make your road trip less stressful. So, what essential items should you pack to be well-prepared for your adventure?
These days, with most air travelers limited to a carry-on bag and a "personal item", it's even more imperative to be efficient in your packing.
Some posts on Travel Past 50 may contain affiliate links. If you buy something through one of those links, we may earn a small commission. As an Amazon associate, we earn from qualifying purchases.
So, you should keep the following in mind as you shop for your best travel gear:
Size and weight. Obviously, you want to avoid baggage fees, and checking a bag unless you absolutely have to. Your baggage has to be durable, light weight, and fit in the overhead and under the seat in front of you.
Comfort. Comfort on the plane is crucial. Pack eye masks and noise-canceling headphones or earbuds that will block light and sound.
Efficiency. Make sure your bags and accessory organizers let you get at what you need with a minimum of hassle.
Health considerations. Travel can be hard on your health. Keep yourself hydrated. Minimize your alcohol consumption. Get out of your seat and move around every hour or two. On long-haul flights, wear compression socks. It's always a good idea to get some sleep if you can. It's the first step to beating jet lag on international flights. Bring a neck pillow. Oh, and don't forget the little things like hand sanitizer, lip balm, and moisturizer.
All that said, here are our best travel accessories for men and women.
See all of our recommended travel accessories in one place in
our Amazon shop
.
The best travel tech accessories
If you're checking a bag – and sometimes that's necessary, you'll want to protect yourself by dropping an Apple AirTag in each of your bags you're entrusting to the airline. The tag syncs to your smart phone so if your bag goes to Istanbul when you're going to Indianapolis, you can set the tag to "lost mode" and the Apple cloud will hopefully tell you where it is.
Your AirTag then sends out a secure Bluetooth signal that can be detected by nearby devices in the Find My network. These devices send the location of your AirTag to iCloud. You can go to the "Find My" app on your cell phone and see it on a map. The whole process is anonymous and encrypted to protect your privacy.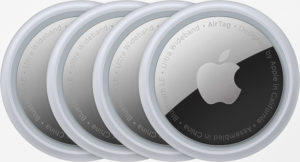 We've had this 3 in 1 charging station on our bedside table for a couple of months now, and find it so much easier to use to charge my iPhone and Apple watch than using the tangle of cords I used to have. The phone part of it folds flat for packing. Take it out and set it up in your hotel room and you're set.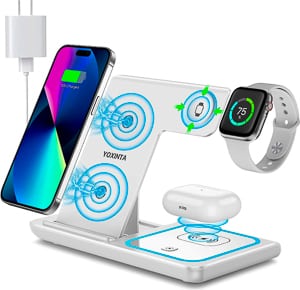 Buy charging station on Amazon
It's hard to keep current (pardon the pun) with chargers because they're constantly being improved. But the Belkin BoostCharge Plus is probably the best combination of light weight, versatility, and power available as of this writing. It's got enough power to give a full charge to your iPhone three times, and because it has both lightning and USB-C connectors, it will also work for your Android phone, laptop, or any other device that uses USB-C.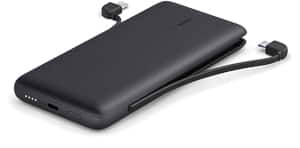 Before you plug into any public USB port, such as your hotel room or airport, add a PortaPow USB data blocker to the end of your cable. It does just what the name says: it allows the charge through to your device, but stops any data transfer. That way, the guys who hacked into the airport data port won't get all the info on your cell phone.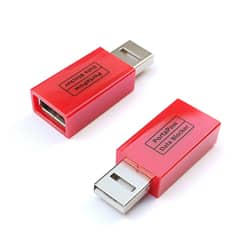 Buy the data blocker on Amazon
In an abundance of caution, we've begun carrying the EPICKA Universal Travel Adapter and charger, because it has a built in fuse that will protect your devices from power surges. It works in all different countries. It has four standard USB-A ports, one USB-C port, and an AC plug, so you can charge six devices at once. Be aware though, this is not a power converter. Be sure what you're plugging into it is compatible with the voltage of the country you're in. (Most phones, laptops, etc. are these days.)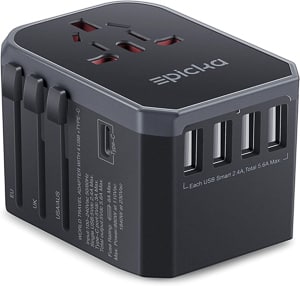 Buy the Epicka travel adapter on Amazon
These Jabra Elite 85t Bluetooth noise cancelling earbuds could also be categorized under the Health and Wellness category below. Not only do we use them for the plane's entertainment system, but we also wear them even when we're not listening just for their noise cancelling feature. And noise cancelling on a plane is definitely a health benefit. Of course, when you're not on the plane, they also work great with your phone.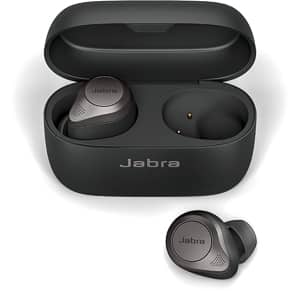 Buy the Jabra Elite 85t earbuds on Amazon
If you want to use wireless headphones or earbuds on the plane, you're going to need a Bluetooth transmitter to get the plane's entertainment system sound to your head. That's where the 1Mii Bluetooth 5.3 transmitter comes in. It's small, light, and works great. What I really like about using it is you don't have to go through the hassle of disconnecting yourself when you get up from your seat.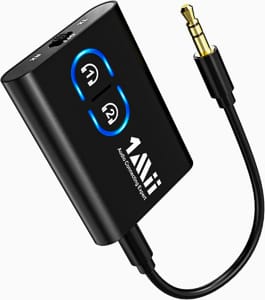 Buy the 1Mii Bluetooth 5.3 transmitter on Amazon
We're both big readers, and would never think of traveling with out our Kindle readers. It's a whole lot easier than carrying the stack of physical books on a trip.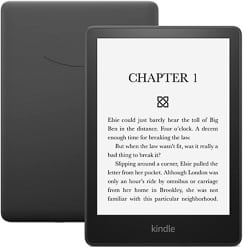 Buy the Kindle Paperwhite on Amazon
The best accessories for packing and organization
Recently Tom switched from a roller bag to this Cotopaxi Allpa 35L backpack. He likes it for a couple of reasons: it's very light, it opens like a book for easy access to everything. And, it's a backpack, which he prefers when traversing airports. It also has a laptop sleeve and an easily accessible top pocket, which can effectively to carry stuff you need to get to.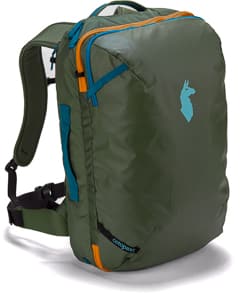 Buy the Cotopaxi backpack at REI
Buy the Cotopaxi backpack at Amazon
Kris uses this Lite Gear roller bag as her main suitcase, because her "personal item" is a backpack.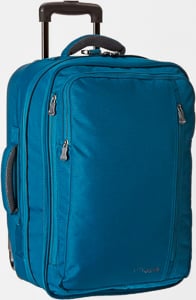 Buy the Lite Gear roller bag at Amazon
Tom's "personal item" is the Timbuk2 Messenger Bag. It's got a handy pocket under the flap that allows easy access to everything he takes out of his pockets at airport security. Once you pass security, it's easy to reach into this small space and grab it all to go back into his pants pockets.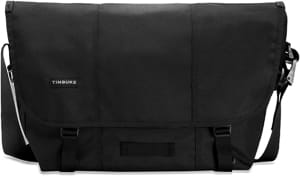 Buy the Timbuk2 Messenger bag at Amazon
Kris's carry-on is more substantial. She loves that the Lite Gear Mobile Pro backpack is expandable, has a separate zipped sleeve for her laptop, a couple convenient exterior pockets, and a secure interior hook to attach our house keys while we're away. This bag has plenty room for her small camera bag, medicine, a sweater, spare glasses, eye mask, a reusable water bottle, and all the other in-flight items she needs.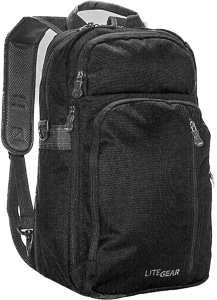 Buy the Lite Gear Mobile Pro bag at Amazon
We've destroyed at least two sets of packing cubes over our years of full time travel. So, we finally opted for something a little more sturdy: The Eagle Creek mesh packing cubes. We like these for a couple reasons. You can see through the mesh so you don't have to remember what you put in which cube. And, as I said, they are a bit more substantial while still being very light weight.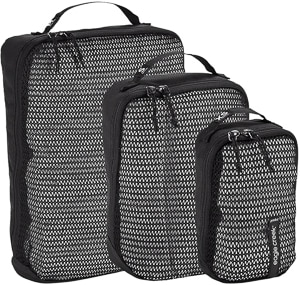 Buy Eagle Creek packing cubes at REI
Buy Eagle Creek packing cubes at Amazon
Tom loves his Sea to Summit ultralight toiletry bag. It's small, but has enough pockets and pouches to carry all his toiletries. And the hanging hook is very convenient when you get where you're going.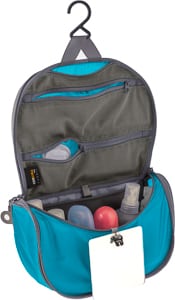 Buy the Sea to Summit toiletry bag at REI
Buy the Sea to Summit toiletry bag at Amazon
After carrying all my little electronics gear around in one small case for years, I finally broke down and got this FFY Travel Cable Organizer to keep it all straight and accessible in one dedicated tech organizer. It's so much nicer not having to dig around to find the right cable, my earbuds, extra SIM cards for my camera, and whatever other small electronic devices. It's a big improvement.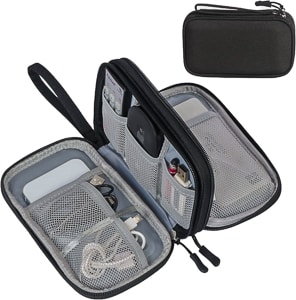 Buy the FFY Travel Cable Organizer at Amazon
This set of Gemice travel bottles are as good as any – and cheaper than most – that we've found for carrying all those liquids in small enough containers to meet those annoying TSA 3-ounce regulations. Sunscreen, shaving cream, after shave lotion, and moisturizer are what fill Tom's bottles. They all fit, albeit a bit reluctantly, in my toiletry bag.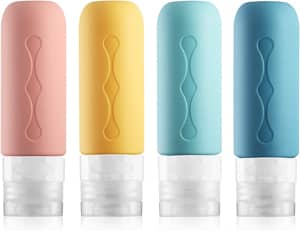 Buy the Gemice travel bottles at Amazon
Travel accessories for comfort
We've tried several types of neck pillows and found many of them to be too bulky. The big ones are too padded around the neck and actually push your neck forward off the seat back. That's not good. The best travel pillow we found is the trtl Travel Pillow. It wraps around your neck like a scarf and gently holds your head upright, which is what you want while you're trying to sleep sitting up. You can adjust it to be as tight or loose as you want so you can turn your head to the side, if that's your preference.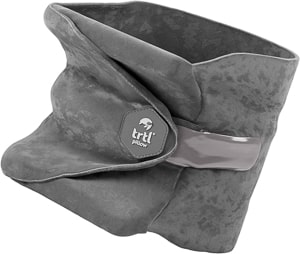 Buy the trtl Neck Pillow on Amazon
Sometimes, the airline will give you a sleep mask when you're on an overnight flight, but trust us, these contoured sleep masks are more comfortable. The contour holds the mask material off your eyelashes. Although it looks like you have a little bra on your face, these are a small, but significant, improvement in comfort.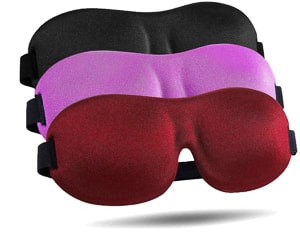 Buy the contoured sleep masks on Amazon
The first thing I usually do when I take my seat for a long flight is take off my shoes. That said, whatever you do, don't go in your stocking feet to an airplane bathroom. So, you either have to slip your shoes back on, or pick a pair of minimal slippers out of your bag to wear around the plane. I wear an old pair of disposable slippers I once got in my overnight package from KLM. Kris has a pair of what are really kind of cheap ballet slippers she puts on as soon as she sits down.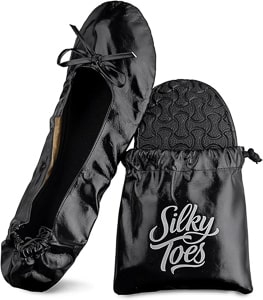 Buy the minimalist slippers on Amazon
Best travel accessories for health and wellness
No, Covid (and flu and RSV) are not over. And it just makes sense to wear a mask on a plane. Of course, that's up to you. But we do.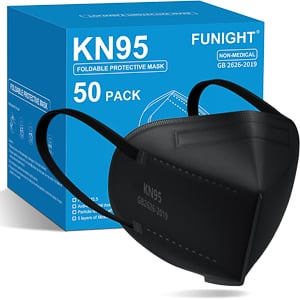 One water bottle is pretty much as good as another, but I've been carrying this stainless steel Kleen Canteen water bottle for several years. I like that it has a screw off top for filling and a pull up cap for drinking. I carry it empty to the airport in my "personal item" and then fill it on the other side of security and carry it on the plane. The flight attendants will gladly refill it for you during the flight. Think of the $6 you'll save by not buying plastic water bottles at the airport and the single-use plastic cups you'll save by not using them on the plane.

Buy the Kleen Kanteen water bottle on Amazon
Wear compression socks on long flights. That might be the best piece of advice in this entire post. We had a friend who suffered an embolism on a long flight and almost died. It's easy, and comfortable, to wear a compression sock of you're going to be on the plane for more than a couple hours. Tom likes Point6 socks in general. (He also wears Point6 for hiking.) But the brand really doesn't matter. Just get good ones. And, don't forget to move around every hour or two to keep your blood flowing.
Buy Point6 compression socks on Amazon
Some final travel advice
Choose the smallest suitcase for your purpose. To avoid extra fees and the hassle of lugging around heavy bags, choose a smaller bag and adapt what you're taking on your trip to the bag.
Create a packing list. Make a general list of things you need so you don't have to remember and recreate it every time you hit the road. You can always make a few adjustments for your specific trip.
Give enough thought to your personal item. Getting a good-sized bag – perhaps a smaller backpack – for your personal item is an easy way to carry a jacket, medicine, small electronics, and essential toiletries.
Put your valuables in your personal item. By valuables, we mean everything you can't do without should you have any problems. (Our best advice regarding jewelry is leave it at home.) That means your passport, wallet, glasses, phone, etc. Then, add things you'll want on the plane, e.g. headphones, book, eyeshade and neck pillow. If you are checking a bag, in addition to using the AirTags, take a picture of your checked bag so you can show it to the baggage office should it go missing.
Make a photocopy of your passport or ID, your credit cards, and any other important travel documents and put them in your suitcase. If your ID or cards are lost or stolen, you will need to show proof of identity. Be sure to have copies someplace other than where your original documents are stored. An even better idea is to take a photo of your ID and passport ID page and email them to yourself and a trusted person or family members who can quickly email them back to you should everything go really wrong. The peace of mind of knowing you are backed up is worth the trouble.
Carry at least a rudimentary first aid kit. It's easy to make one up yourself.
See all of our recommended travel accessories in one place in
our Amazon shop
.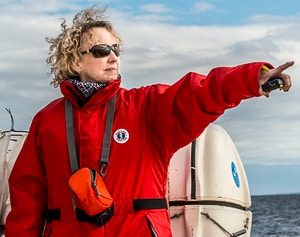 Want more tips like these?
Join the 3000 other travel enthusiasts getting our best advice right in their inbox.
Travel Planning Resources
Looking to book your next trip? Use these resources that are tried and tested by us. Flights: Start finding the very best flight deals by subscribing to
Thrifty Traveler
. Book your Hotel: Find the best prices on hotels with
Booking.com
. Find Apartment Rentals: Find the cheapest prices on apartment rentals with
VRBO
. Travel Insurance: Don't leave home without it. We recommend
Allianz Travel Insurance
. Need more help planning your trip? Make sure to check out our
Resources Page
where we highlight all the great travel companies and products that we trust. See all of the gear and books we like in one place on our
Amazon shop
.