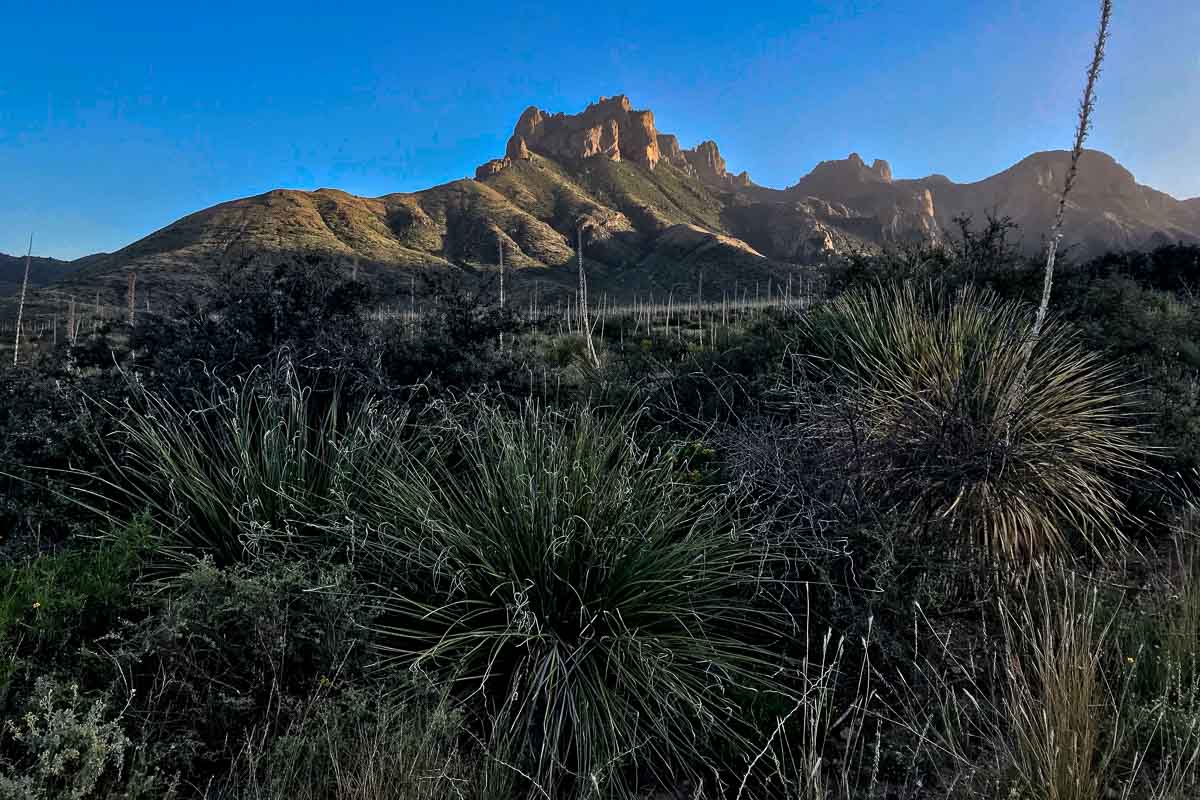 We didn't really know what to expect from the Big Bend National Park area of south Texas. Honestly, all of Texas is sort of an enigma to us. We've visited Austin a few times. And I used to go to Dallas on business occasionally, but that's about the extent of it. I never got out of the cities, really.
So when Kris had a Society of American Travel Writers' conference in El Paso, I flew down to join her and add Big Bend to our quest to visit all the United States National Parks.
We didn't know then that we'd not only get to visit the stunning landscape of the park, but that we'd also get several days of genuine Texas fun.
Some posts on Travel Past 50 may contain affiliate links. If you buy something through one of those links, we may earn a small commission. As an Amazon associate, we earn from qualifying purchases.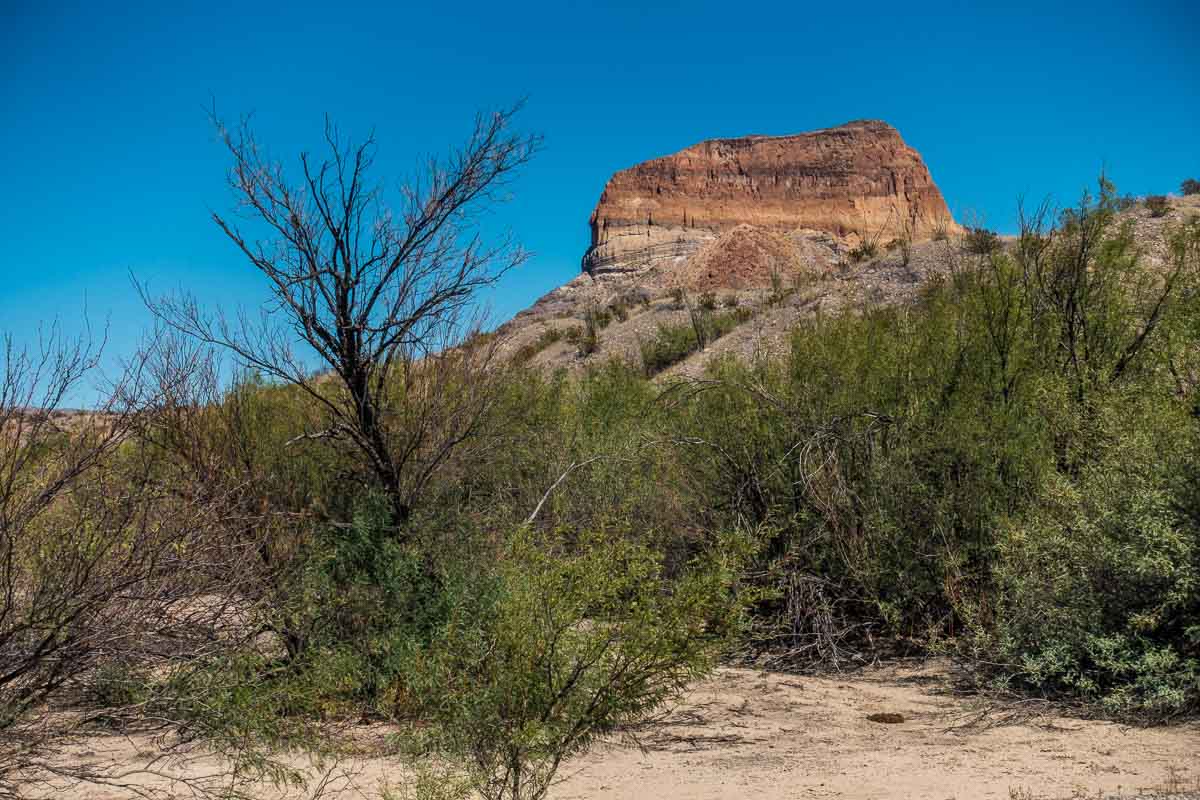 What to see and do in Big Bend National Park
Part of the Big Bend experience is the dramatic approach across miles of Chihuahuan desert, spectacular in its flat dull terrain and surprising in its long ridges and jutting peaks. The final few miles to the park entrance draw up through ranges left and right, across a great flat ancient seabed now sprinkled green with mesquite. Between El Paso and the park were a few border patrol stops, a few more border patrol vans, and one tethered blimp that might have been keeping an eye on us for some 60 miles.
The best thing to do for a short visit to the park is to take the scenic drive down every road, getting out occasionally for some short hikes into the desert or to take photos of the stunning landscape. And that's just how we approached Big Bend National Park.
The first drive, from the north entrance of the park, takes you on a steady winding climb up to the main visitor center at Chisos Basin, which is at a surprising altitude of more than 5400 feet (1645 meters.) When we arrived late afternoon after the drive from El Paso, we were surprised yet again by the chill of the high desert. So, even in early autumn, be sure to bring warm clothes.
We stayed one night at the Chisos Mountain Lodge, the only lodging that is within park boundaries. As with lots of National Park concessionaires, the lodge is in need of an update. But, its location overcomes all such obstacles and it's normally full. We were only able to get one night's lodging there, and campgrounds and RV parks were also full.
The Lodge's restaurant is just what you'd expect from a typical Texas chow house: chicken fried and other varieties of steak, flapjacks, sausage, and eggs for breakfast, and a selection of Tex-Mex items are the highlights.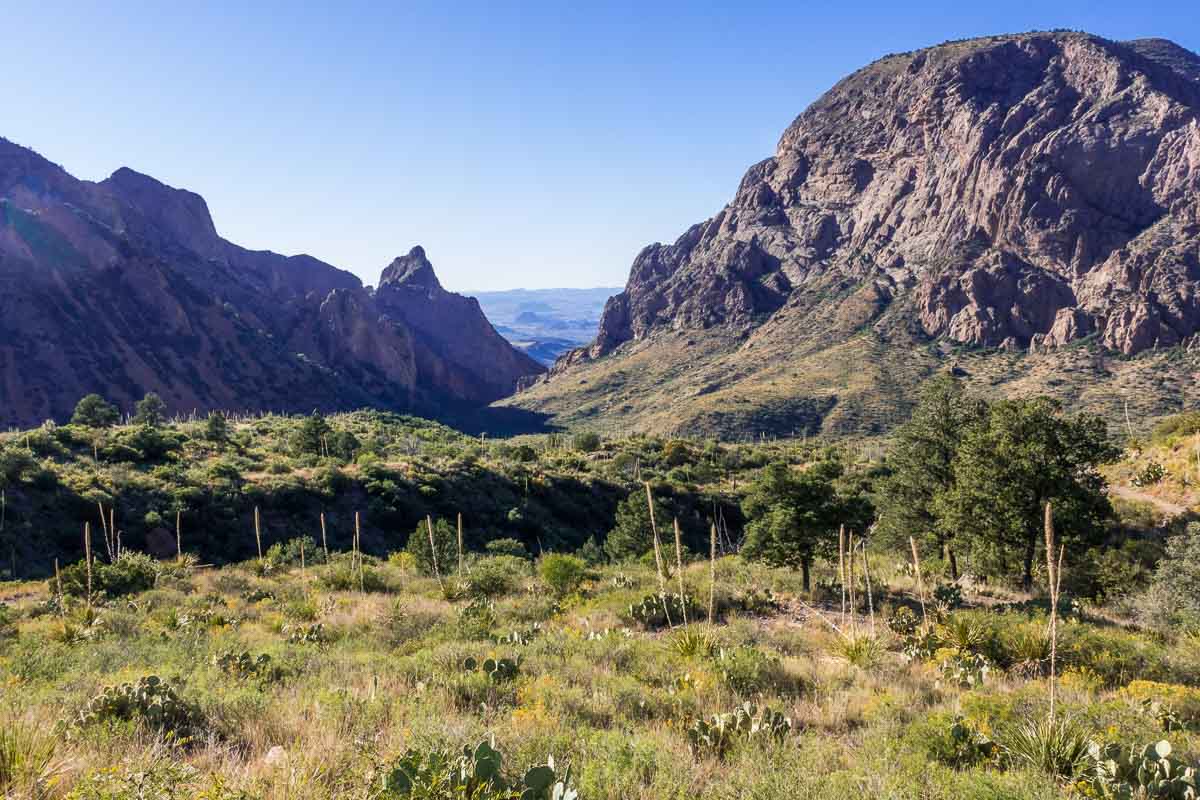 Near the lodge is the trailhead for a hike down the mountain toward a feature called The Window that gives you a view between two mountain ribs to the valley below. Dawn is the best time to see it as the sun will hit the rock walls and play across the valley. Unfortunately, we got a late start and missed the best light. Many hike here for sunsets, too. Either way, photographing a cloudless desert landscape can be difficult, as the flat sky lacks the color and drama with clouds. There are two Window Trails. The longer gets you much closer and is about six miles (ten kilometers) long. It's classified as "moderate" difficulty. There's also a much shorter paved trail that gets you to the spot where you can get a nice look at the Window. This is a good one for small children or people with mobility issues.
Not far from the Chisos Mountain Lodge there is also the South Rim and other trails that will give you about an 12 to 15-mile (19 to 24 kilometer) workout replete with stunning views. This long hike is probably best attempted in the fall, because the summer heat can be brutal. No matter what time of year you attempt it, take plenty of water and wear a hat. The Park Service classifies the hike as "strenuous," so don't take it lightly.
From Chisos Basin you can backtrack to the main east-west road where you have your choice of going to either end of the Park and approach the Rio Grande at the Mexican border. We started by going west, past the Castelon peak, and to the dramatic Santa Elena Canyon Overlook and access point.
The access point is also the start of the Canyon Trail, where you can walk along cut trails in the steep canyon face on the United States side of the river. (No crossing to Mexico is allowed here.) However, to get to the trail, you have to cross Terlingua Creek at the point where it flows into the Rio Grande. The creek varies in depth and speed depending on how much rain there's been lately. The one thing that doesn't vary is the mud. This was apparent from the people we watched cross, people who were better prepared with shorts and water shoes than we were. The water was only mid-calf deep, but the underlying mud sucked the intrepid hikers down at least to their knees. That, combined with a stiff current, admittedly made for some chuckles as we watched people struggle across. We opted to come back another day when better prepared. Like with a small boat.
(If you're more adventurous than we are, and have more time, you can arrange a raft trip 21 miles down the river through the canyon. You put in west of the Park, with a professional guide who knows what's ahead, and have to shoot some serious rapids to get down to the placid river at the canyon's mouth.)
But, the view up the narrow canyon, even though we didn't see more than the mouth, was impressive. And, we got one of our very rare selfies.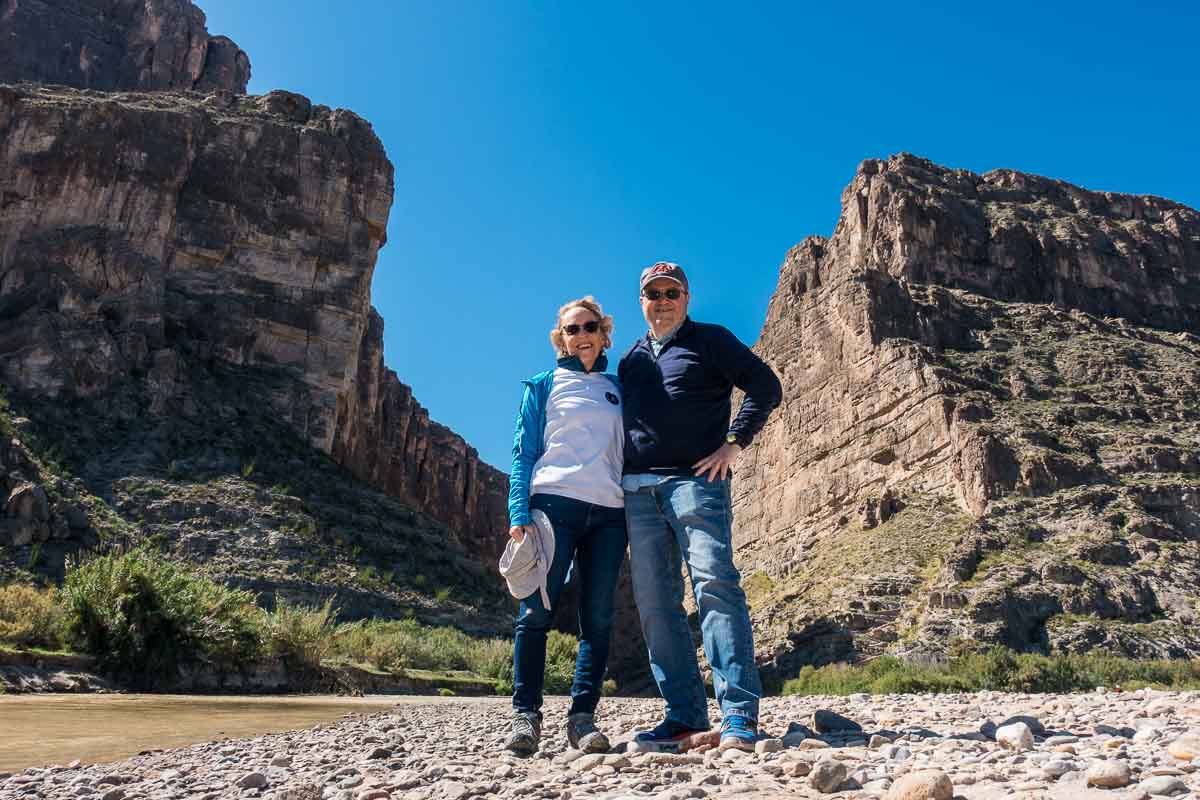 Crossing into Boquillas, Mexico
The following day, we drove to the east end of the park to Boquillas, where we could officially cross the river into Mexico. And when you get a chance for an experience like that, you shouldn't pass it up.
At the Boquillas immigration station, there's a short document check (bring your passport) by the armed Park Ranger and a lecture on what to expect. From there, it's a short walk down to the river where licensed Mexican guides are lined up to row you across the river in a skiff ($5 round trip) and then pick you up on the other side in the most decrepit pickup truck you've ever seen and drive you about a mile into the village of Boquillas. Alternately, you can walk or hire a mule for a ride into the village. Boquillas, to put it frankly, exists only to sell food, drink, and embroidered crafts to the likes of us.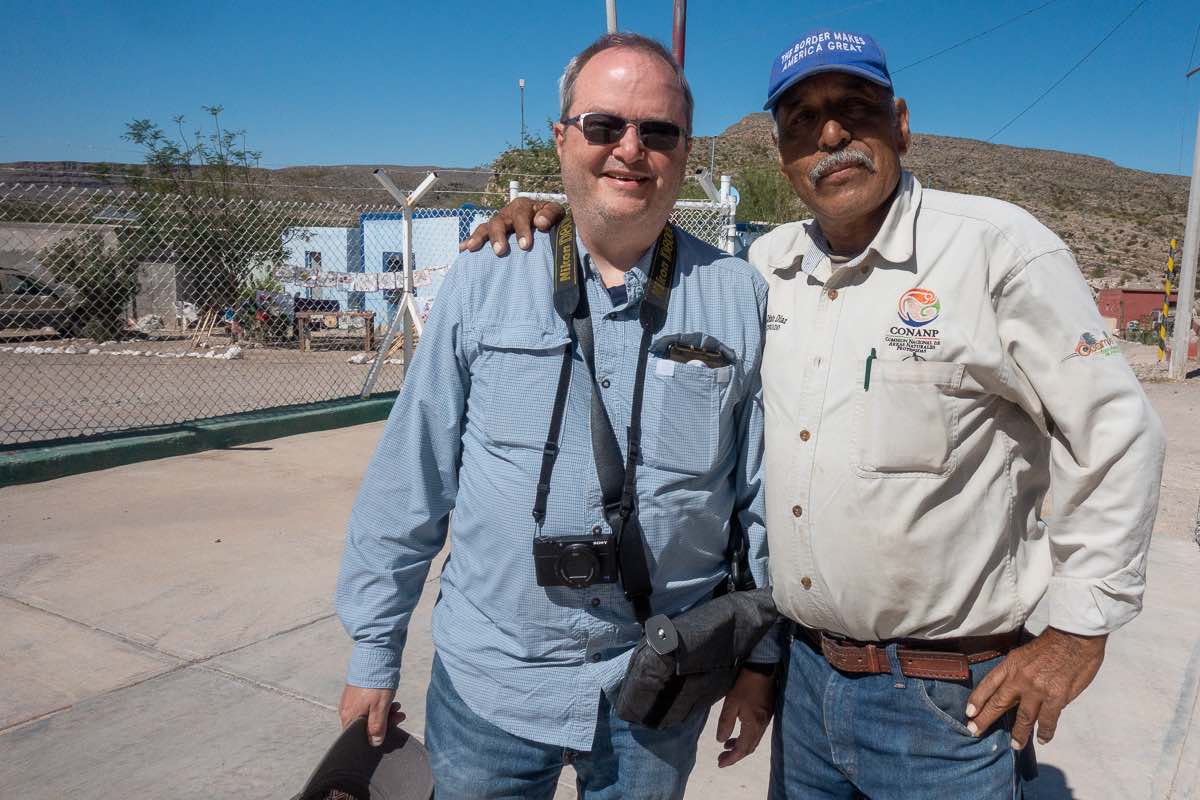 Our driver, who was called out of the line of pickups waiting for the tourists, was the genial Estéban Diaz. Estéban obviously has worked hard at his English and is quite good, but it became quickly apparent that our Spanish was better than his English, and he was more than happy to continue in Spanish, especially when I told him that I needed the practice.
The first stop in Boquillas was a trailer where a Mexican park ranger sold us a permit for the Boquillas protected area for $2 each, and directed us to an adjacent nice display of the history of the Boquillas area with some interesting historical photographs with legends in both English and Spanish.
We fairly breezed through that before being guided by Estéban to a restaurant right on the edge of town where he quickly negotiated us two very cold bottles of beer to carry on the walk through the sun drenched and dusty town. When I offered money, the restaurant manager said to pay him when we came back for lunch.
Nice marketing move.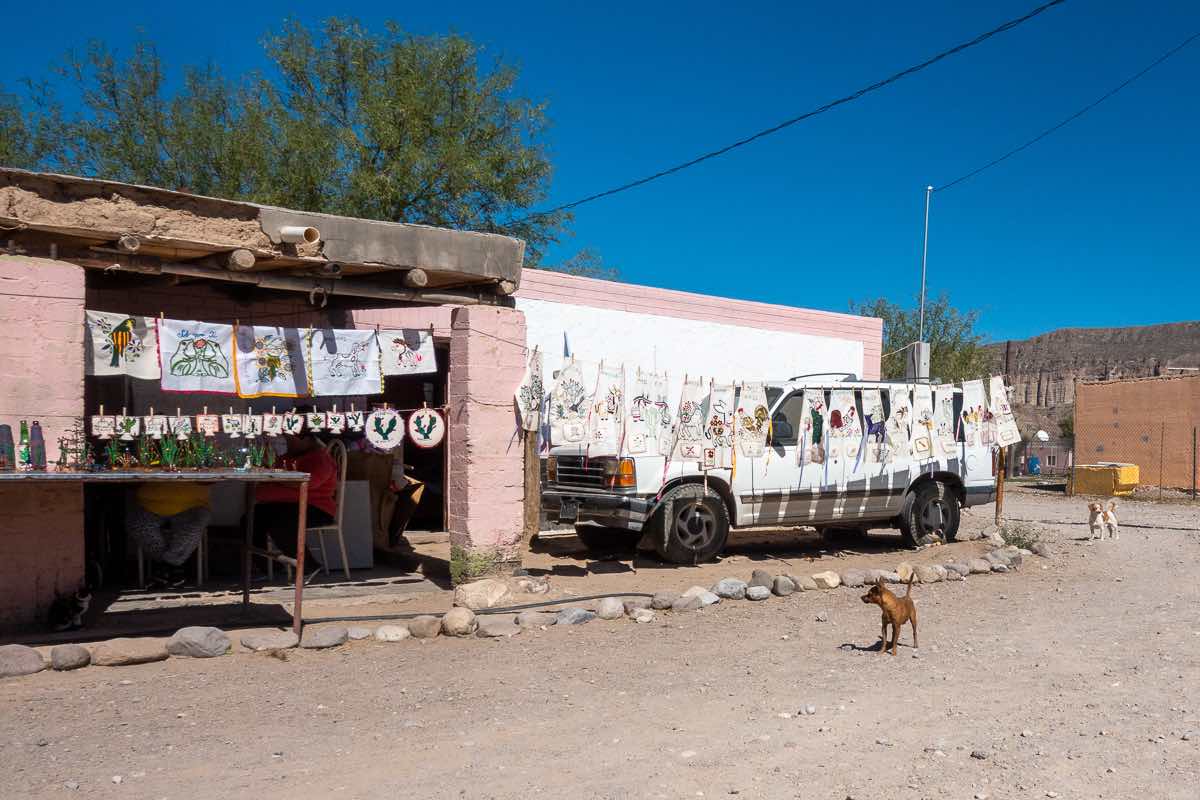 We walked along from shop to shop, each just a stand of tables loaded with hand beaded wires shaped into scorpions and framed with displays of embroidered goods, of varying degrees of quality, pinned to lines above. We talked to all the vendors, and not surprisingly, most of them turned out to be Estéban's cousins.
Alongside the embroidered aprons, there were some t-shirts that attracted me. "Chinga tu Muro" (Fuck your wall) was the verbiage, and I have to admit I admired the sentiment. I bought myself one. Kris bought a very cute embroidered cloth with a donkey pulling a cart filled with flowers for our one-year-old granddaughter, who likes to carry things around wherever she goes.
We soon ran out of beer, though, and headed back to the restaurant patio that was crowded with tourists eating at the tables and with locals who mostly sat in chairs tipped back against the cantina walls, sipping Dos Equis and eyeing the gringos.
Kris had enchiladas and I had the pork tacos, and we both agreed that it was probably the best Mexican food we'd ever had. Whether that was because we were particularly hungry, I'm not sure, but damn, those tacos were good. And, as long as we were at a table, we traded our empty beer bottles for margaritas. A very good idea.
Unfortunately, because we'd dawdled getting to Boquillas, we didn't have time to explore more of the Mexican national park on their side of the river. There are hikes, forests, caves, high sand dunes, and hot springs waiting for us next time. And we promised Estéban, as I paid him $25 (on top of the $5 ride) for the totally unnecessary guiding, that we'd be back some day.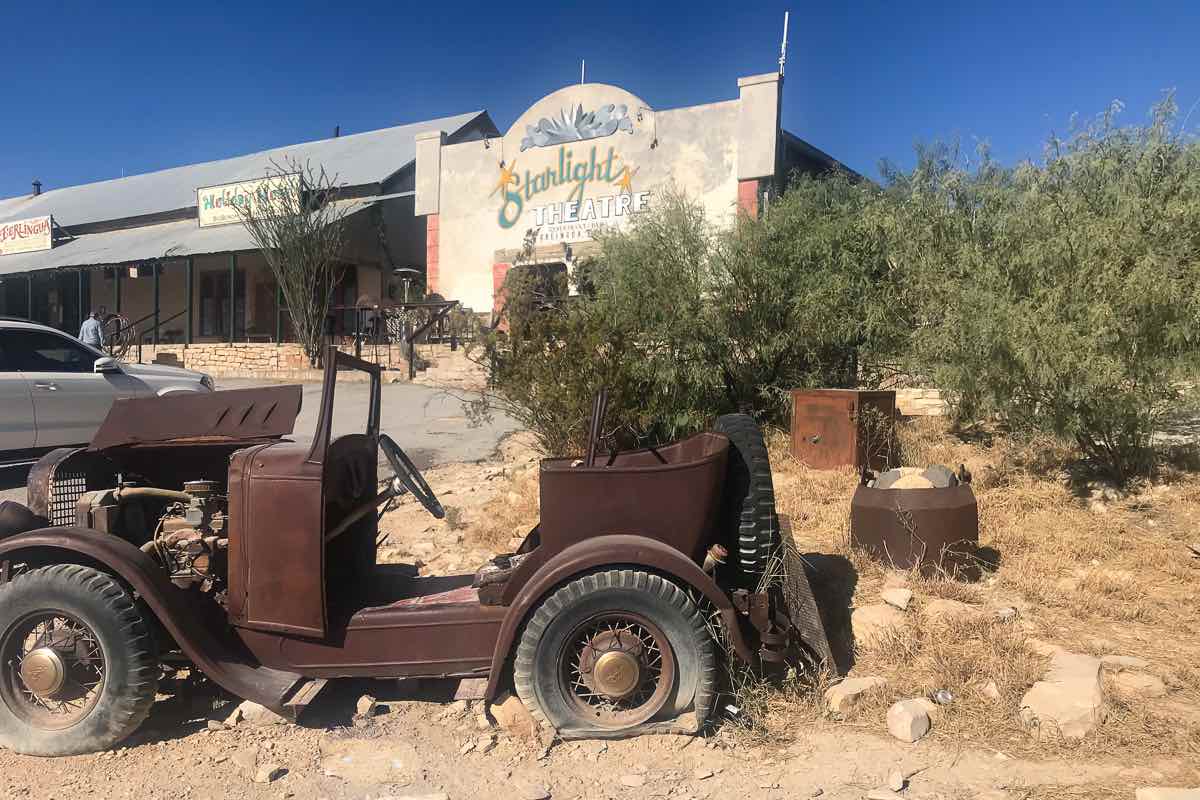 What to do in Terlingua
After one night at Chisos Lodge, we moved just a few miles out of the park to the west to a hotel in Terlingua Ghost Town (its actual name.) Terlingua is a ramshackle agglomeration of just a few dozen buildings that features a few Tex-Mex restaurants, a couple guest houses, and some interesting souvenir shops and art galleries.
We stopped in the Terlingua Trading Company, which has a great collection of locally made stuff–Texan and Mexican–that you might actually want: ceramics, Catrinas, hats, and some original and funny t-shirts. Kris bought a Catrina mask for Halloween, which is now hanging on her office wall. And we got a t-shirt memorializing the local icon, Clay Henry the Beer Drinking Goat, for our daughter.
The Earth and Fire Gallery is a small cooperative shop that sells the work of local and nearby Mexican artists. Jewelry and ceramics dominate the selection. There are a few paintings and photos of the area, too. Here, Kris treated herself to some nice hand-hammered silver earrings, and we picked up a set of Mexican ceramic shot glasses as a gift for our tequila connoisseur son. I admired some lovely Catrina pairs, but didn't buy. I'll probably regret that.
Terlingua also hosts regular tented art shows and events. We ran into one, the "Green Scene," held at the community garden where there's nary a green thing in sight. That was being sponsored by the Texas State Parks Dark Skies program and we spent half an hour chatting with a park ranger, a local photographer, and water color artist. If you go, chances are you'll be lucky enough to have some good conversations as well.
And, maybe most important, Terlingua is the home of the first ever Chili Cookoff. Unfortunately, the annual event was being held the weekend after our visit. They were looking for volunteers with strong stomachs to judge the competition. Maybe next year. First weekend in November every year. Mark your calendars.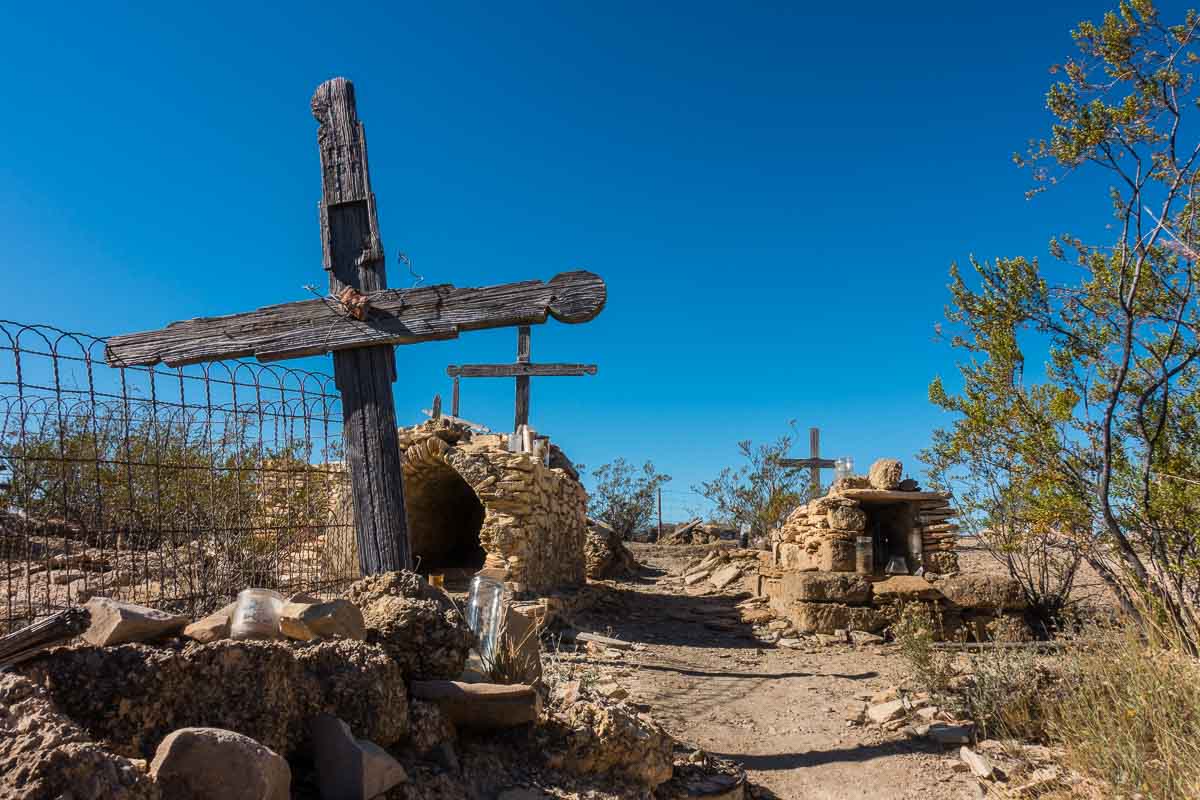 Finally, spend some time walking around the Terlingua cemetery. Terlingua's original reason for existence was the nearby Study Butte mercury mine, which as anyone who has visited any areas where mercury is mined can tell you, will provide the area a constant stream of disease and death.
The cemetery dates from the early 20th Century, although it seems much much older. If you stop to read the crosses, you'll note that many Terlinguans died young. Note, too, that the graves are mostly suffering the effects of the harsh desert climate, but are still being tended. Flowers and candles placed by families sprinkle the plots. And the odd custom of spreading a few coins on the graves becomes apparent after the first time you bend over to pick up a quarter and notice that the ground is littered with them. I draw the line at robbing the dead.
Terlingua's El Dorado Hotel is a run-of-the-mill hotel/motel distinguished mostly by the fact that it's connected to the High Sierra Bar and Grill.
We arrived at the El Dorado/High Sierra about 5 p.m. The friendly folk in the bar bought us a couple of beers while we waited for our room to be ready. We ended up meeting most of the regulars, including One-Eyed Luke and One-Eyed Bob. They were missing their left and right eyes, respectively. We ended up spending the entire night in the bar.
The High Sierra doesn't waste one nickel on decor, but nevertheless is the ideal of a bare wood paradise. It's notable for its chili, its wedge salad with bleu cheese, and the small stage that featured real Texas honky-tonk musicians playing for tips. So have the chili, which is the chef's award winning Cookoff entry and comes with sliced up jalapeños already in it. Smooth out its bite with the wedge salad and at least two cold Modelo Especiales ($4) and let the locals show you how the Texas Two-Step is done. One caveat: the High Sierra only has a beer and wine license. There's a wide selection of domestic and Mexican beers and also a cooler full of local micro brews. But the wine list pretty much amounts to red, white, and a tequila "wine" that is poured out of a three gallon plastic jug. My counsel is admire the effort on the tequila wine, but don't drink it unless they've run completely out of every other possible libation–including tap water.
The High Sierra doesn't serve breakfast, which is fine, because La Posada Milagro is just a short way up the road and makes delicious coffee and a wide selection of breakfast burritos. You can tell it's the place to go because there's a line out the door to order, and the shaded patios in front and on the side of the tiny kitchen are packed.
Unfortunately on our second night, we didn't make it to the highly recommended Starlight Theatre Restaurant, because the wait to get into Saturday dinner was an hour and a half–which must be testament to how much the locals like the place. Of course, it could also be that it's the only joint in town that has a full liquor license. Back to the High Sierra for a burger, which was excellent. Texans do know their beef.
Lajitas Golf Resort
After two nights in Terlingua, we moved further west down the highway along the river to the far more refined Lajitas Golf Resort on the edge of Big Bend Ranch Texas State Park.
I'd been gifted two nights stay at Lajitas Golf Resort as a reward for a North American Travel Journalists Association gold award winning photo. I remember thinking at the time of the incongruity of winning a stay in a hot desert location for a photo taken dog sledding in arctic Sweden. But, we like deserts, too.
The resort completely lived up to its elegant reputation. Our room was a mini-suite with a separate sitting room with very comfortable stuffed leather chairs. And that room opened out to a small patio that was perfect for the morning coffee and watching the eagles that hung effortlessly in the cloudless sky above.
The restaurant was a large open space with floor to ceiling windows that opened onto a patio, where you could also eat, and where strategically placed ceiling fans kept the persistent flies at bay. The food was befitting the resort vibe, and the bar was lively. For our two dinners we had excellent steaks, and perhaps surprisingly so far from the ocean, a great broiled salmon.
Although we were invited to play, we did not do a round of golf. Kris, though, took out a cart for a sunrise tour of the layout. The golf resort's contrast to its surroundings is punctuated by the statue of Robert E. Lee near the first tee. It was removed from a Dallas park in 2017 and recently donated to the resort (owned by oil and gas billionaire Kelcy Warren).  Beyond that, the course offers amazing elevation changes and a nice place to catch the dark night skies the region is known for.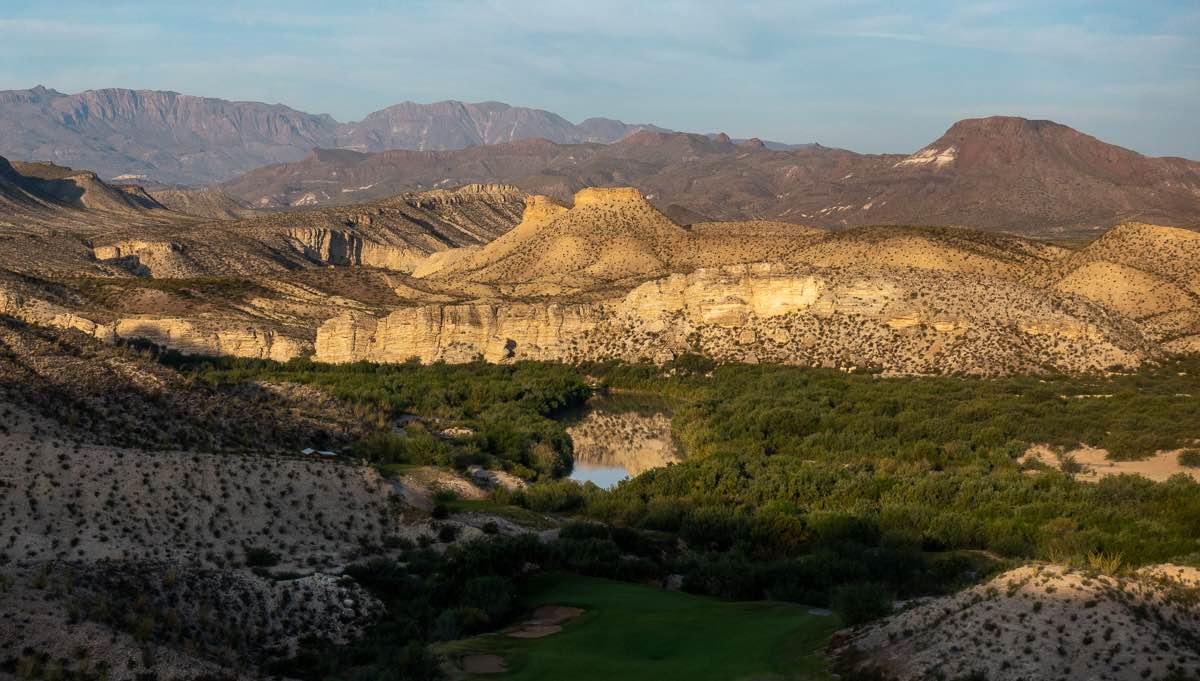 Big Bend Ranch Texas State Park
Lajitas is just at the edge of the Big Bend Ranch Texas State Park, which could probably be characterized as the National Park's little brother. We started by visiting the worthwhile exhibit at the Barton Warnock Visitor Center, which details the natural history of the Chihuahua Desert. With map in hand, we drove west along Texas State Highway 170 that runs 70 miles to the west to Presidio, keeping the Rio Grande hard on the left.
As long as you stay on the highway, you don't have to pay a state of Texas park fee, but if you do turn off onto one of the many parking spots leading to some day hikes, it will cost you $5 per person for a day permit. You can buy the permits by filling out an envelope on the signs at the trail heads.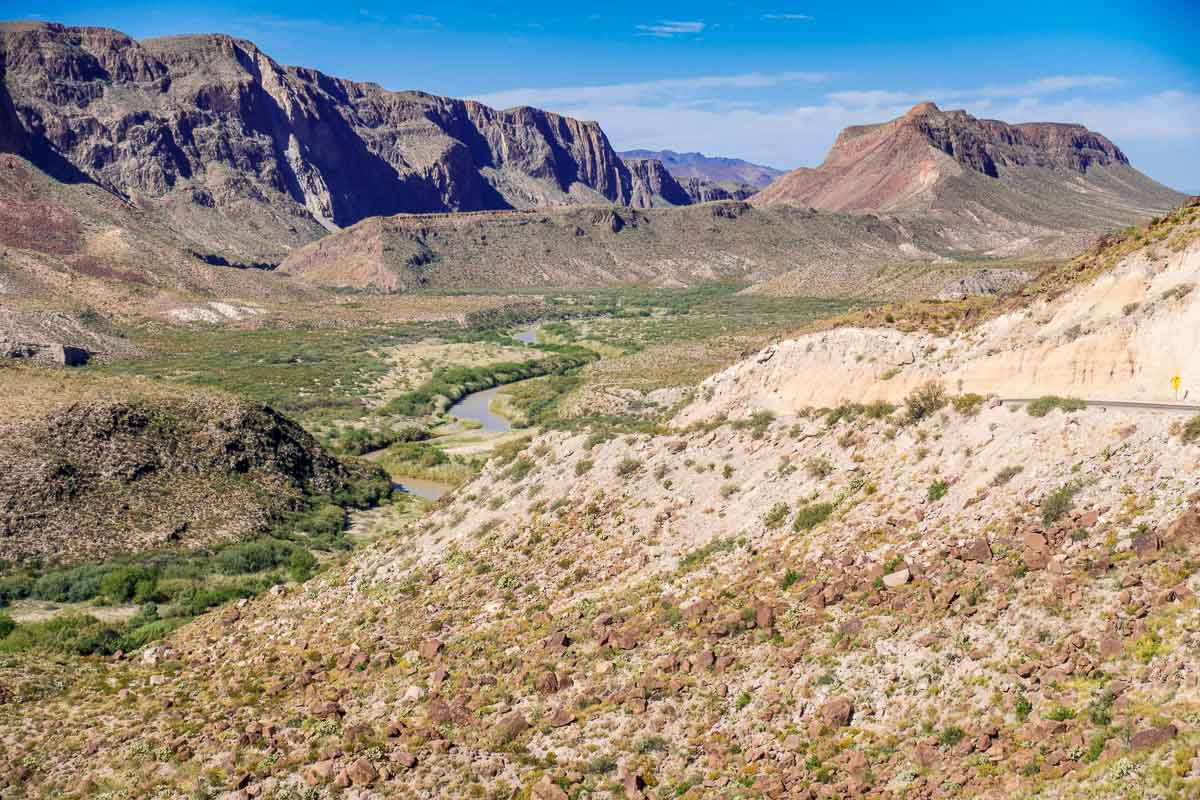 We made a couple of stops along the highway to photograph, and to work our way gingerly down the Closed Canyon Trail, which is a sometimes slippery, partly sandy, one-mile hike through a deep cut canyon and its tinajas (depressions) shaped by water. At Hoodoo Trail, we opted for the short elevated loop for best views.
Big Bend Ranch State Park has lots more activities, from camping, to hiking, mountain biking and rafting, and includes vast regions to the north that we didn't see at all.  Like the Big Bend National Park and Boquillas, we'd be very pleased to return another time.
How to get to Big Bend National Park
The closest large commercial airport is El Paso. From El Paso, it's about a 4-1/2 hour drive to the park entrance. San Antonio is also a possibility, if that's an easier flight for you. (There are more direct flights into San Antonio than into El Paso.) If you choose San Antonio, your drive to the park will be about an hour longer. Odessa/Midland is another airport choice, although flights are probably not as convenient. Your drive from there to Big Bend is about three hours. Check the various flights and pick the one that works best for you.
Here are some more tips for hiking locations, routes, preparation and equipment, all in one spot.
Want to hear more about Big Bend National Park? We spoke with Travel Writers Radio about our visit. Have a listen and share it if you like.

Share the fun. Pin this, or use any of the social buttons above.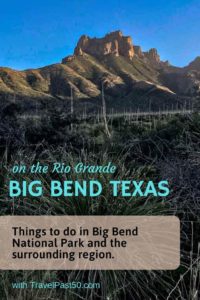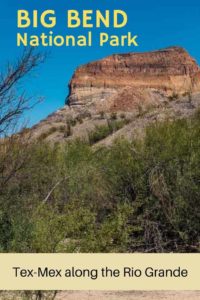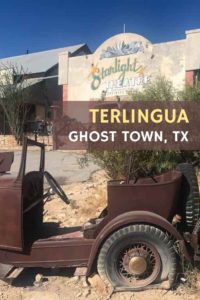 Travel Planning Resources
Looking to book your next trip? Use these resources that are tried and tested by us. Flights: Start finding the very best flight deals by subscribing to
Thrifty Traveler
. Book your Hotel: Find the best prices on hotels with
Booking.com
. Find Apartment Rentals: Find the cheapest prices on apartment rentals with
VRBO
. Travel Insurance: Don't leave home without it. We recommend
Allianz Travel Insurance
. Need more help planning your trip? Make sure to check out our
Resources Page
where we highlight all the great travel companies and products that we trust. See all of the gear and books we like in one place on our
Amazon shop
.