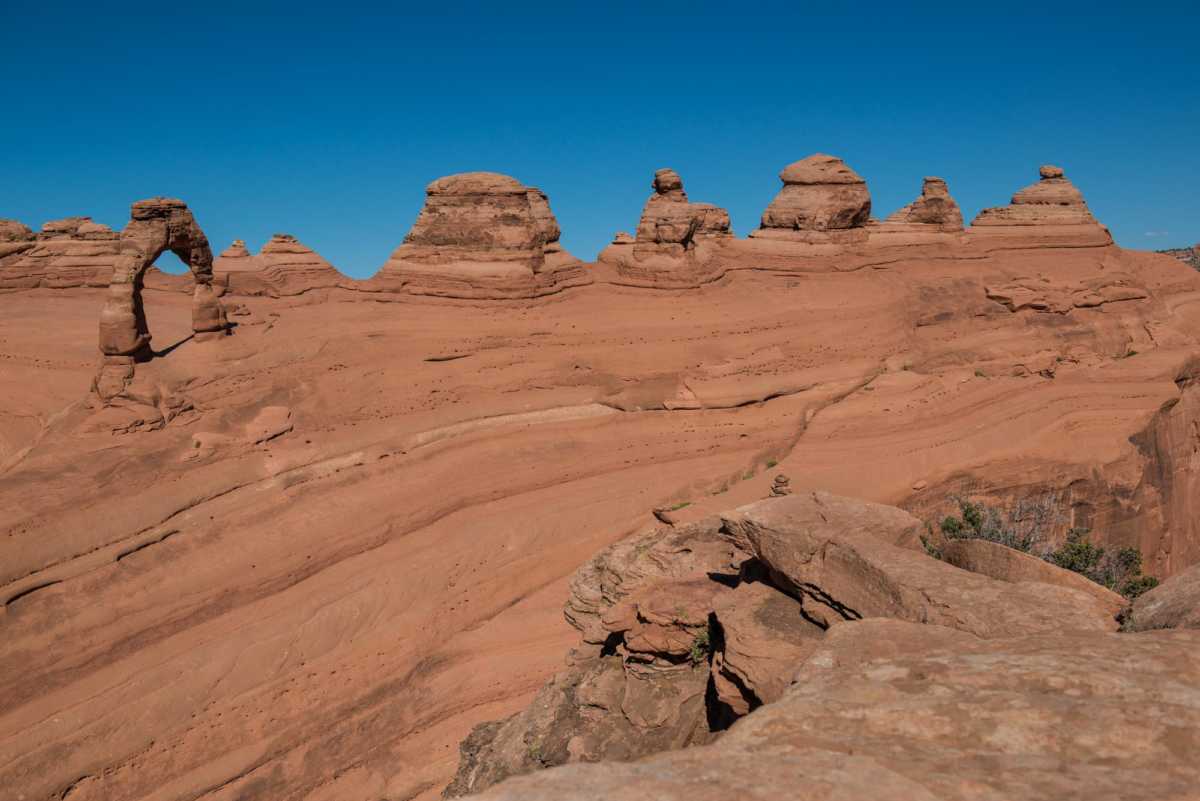 I can't say they didn't warn us. At the trail head for the Delicate Arch at Arches National Park, there's a big red, black, and yellow sign telling you emphatically "HEAT KILLS" and warning you to take plenty of water, and wear a hat, when you hike up the 1.6 mile (2.6 km) rock frying pan to Delicate Arch. We've been hiking in the heat every day for the past two weeks since we came out West, but this was, by far, the worst. Temperature was 100 F (38 C) and that was in the shade. Most of the hike was up was about a mile of steep grade on bright hard rock. So the sun is reflecting now only down on your poor head, but also up from the rock. And, did I mention, there is no shade for that hard slog of more than a mile?
Brutal.
Here's a shot that gives a small idea of what I'm talking about. That's Kris trudging ahead of me.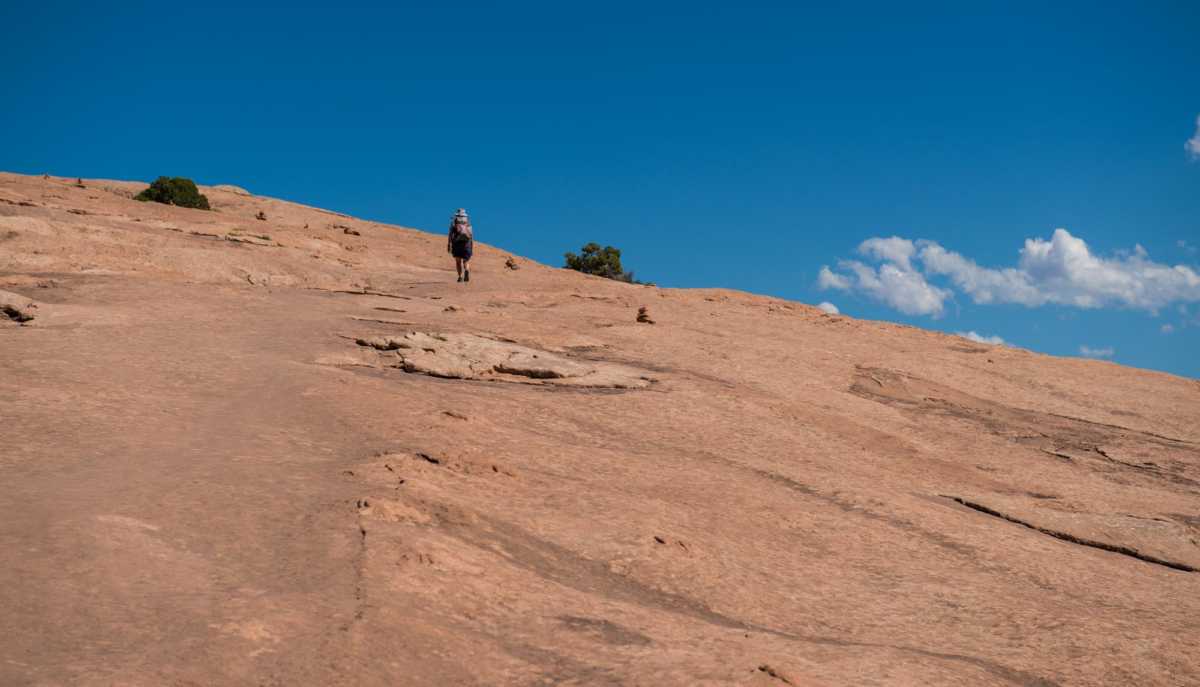 What makes this even crazier is that we got to the arch, and didn't like the shot, and especially didn't like the fact that you couldn't get a clear shot with all the tourists climbing all over it taking selfies.
So, we hiked back down about a third of the way, and then up the opposite butte, adding another hour or so to our tanning session. The shot at the top is the shot that resulted from that.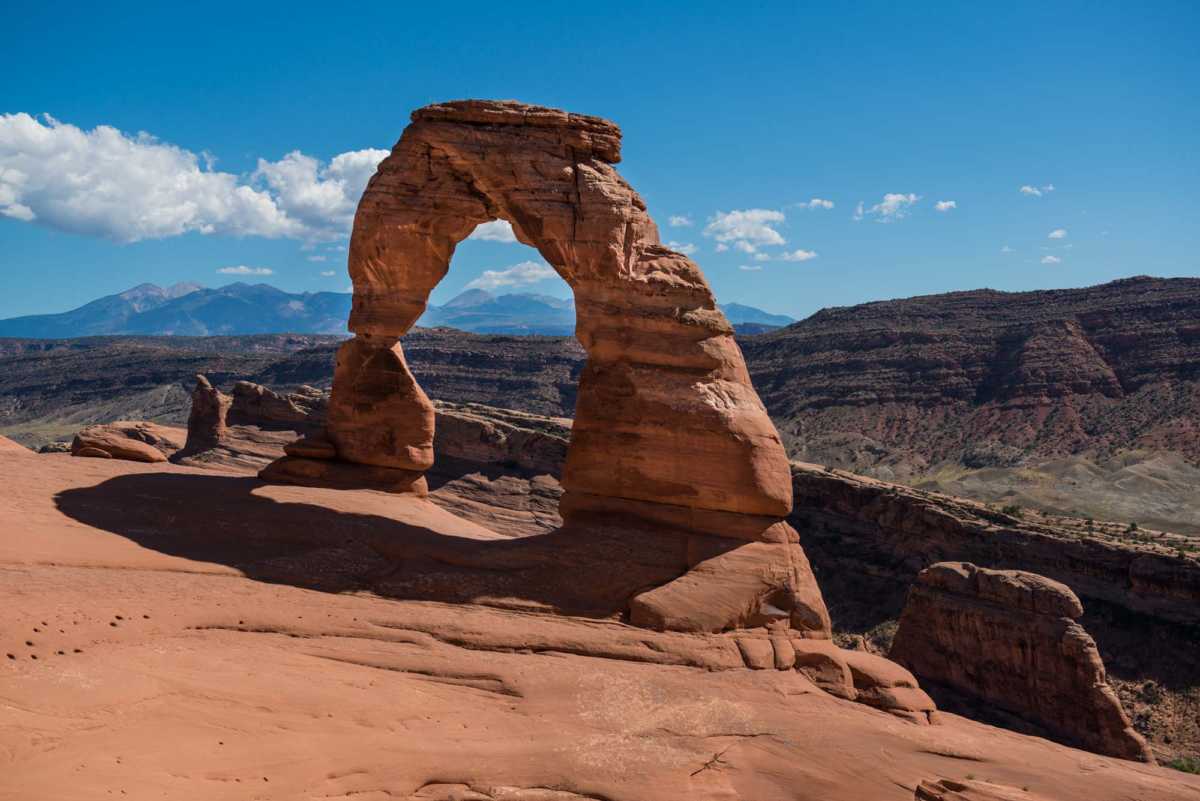 Here's a shot from the "typical" spot where the trail leads you.
You can see a list here of all the United States National Parks, with links to our stories about the ones we've visited.
We love traveling–with the right gear. You can check out a lot of the stuff we use to make all our travel much more pleasant and efficient all on one page. Click here to see it. If you purchase something from this page, Travel Past 50 will receive a small commission at no extra charge to you. Thanks.