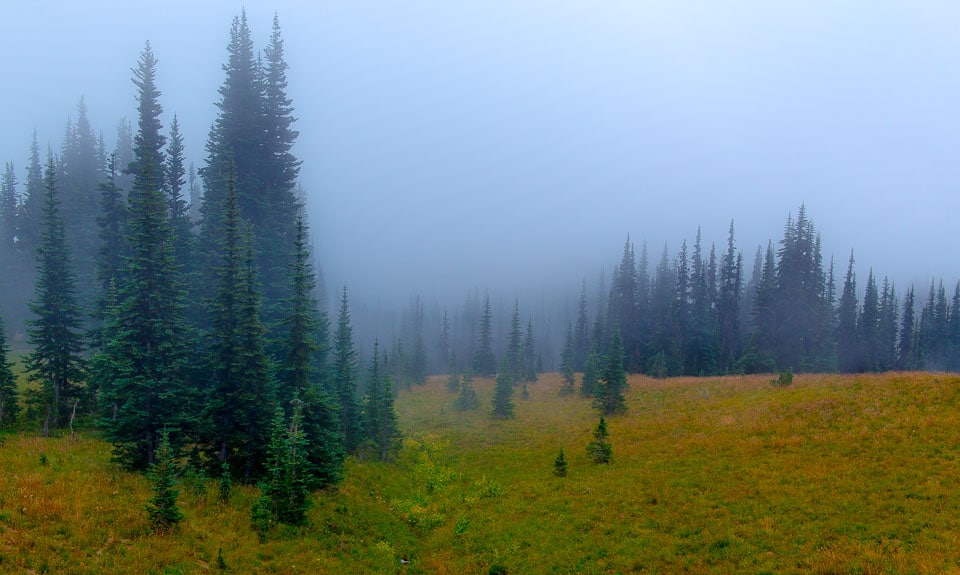 Since we started this western road trip, every day has been hot and relentlessly sunny. So when we woke to a foggy, cloudy and rainy sky on the day of our trip to Mount Rainier National Park, we were optimistic that it would clear and we'd get a good look at the mountain.
No such luck.
We drove through the park up to the lookout point at Sunrise Point, which is the highest point you can reach in the park by car. It's 6400 feet (1950 meters) and we figured we'd perhaps get above the clouds to get a look at the mountain, which soars above the lookout to 14,410 feet (4392 meters.) We could see small patches of blue in the sky here and there which fueled our optimism.
Again, no such luck.
We had lunch and waited a couple of hours. The clouds only got thicker.
So, I offer this photo, which I took on the way up to the lookout point. It gives a nice idea of how cloudy it was, and how pretty the rain forest is. It's a long way from the sere landscapes of Montana we've been in recently, and we were actually glad it was foggy and raining all day as we continued our drive from Mount Rainier all the way up the Washington coast line almost to Canada.
We need the rain, no matter if it spoils the picture of the mountain. There's always a sunny day ahead. We can go back.
You can see a list here of all the United States National Parks, with links to our stories about the ones we've visited.
We love traveling–with the right gear. You can check out a lot of the stuff we use to make all our travel much more pleasant and efficient all on one page. Click here to see it. If you purchase something from this page, Travel Past 50 will receive a small commission at no extra charge to you. Thanks.