To see all of our posts on tips for the Camino de Santiago, click here: Camino de Santiago.
Probably the question we get asked the most is, please give me your Camino de Santiago packing list. It will take more than one post to do that. (See all the links at the bottom of this post.) But, here's a stab at most the essentials, other than the backpack and shoes, which deserve their own posts.
So, here's a complete Camino packing list of all of (ok, most of) the gear you'll want on the Camino.
The Guidebook
The Bible of guidebooks for the Camino de Santiago is John Brierly's A Pilgrim's Guide to the Camino de Santiago: St. Jean-Roncesvalles-Santiago. It used to be (see below) the most comprehensive of all the guidebooks we saw. This is the version for the Camino Frances–from Saint Jean Pied de Port in France to Santiago-which is the most traveled route. There are other books for the myriad other routes. Make sure you get the one for your route.
The useful part of the book is divided into daily stages. You certainly don't have to follow his daily recommendations. Some days we did. Others we didn't. But, Brierly includes great info on all the intermediate stops along the way, so if you can't make it the 30 or so kilometers he sets out for a day, you can always stop short, and he'll have the lodging info you need to do just that.
Beware though, John Brierly is a bit of a zealot, and there's a lot of stuff in the book about his own spirituality that, to my mind, is excess baggage. For example, the entire section in the front of the book about the history, etc. of the Camino doesn't really need to be carried all the way across Spain. Do what I did. Read it. Appreciate it. Then take out your knife and cut those pages out of the book and throw them away.
One of our fellow walkers who carried Brierly's book did that before she started, then as she arrived at each night's stop, tore out that day's page that she didn't need any more and tossed it. So, when she arrived in Santiago, she only had the cover left. That's efficiency.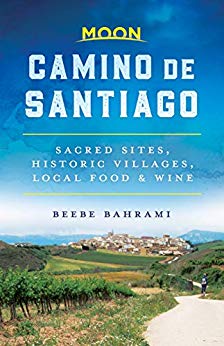 As of May 2022, there's a new guide to the Camino: The Moon Guide to the Camino de Santiago, by Beebe Bahrami. Bahrami has walked the Camino dozens of times, and, in somewhat of an understatement, she's taken good notes. This book far exceeds Brierly as a guide for what you'll actually see along the Camino. She doesn't skimp on all the detail you'll need to keep on the right path or find a place to stay in every little village you'll pass. But her accounts of the landmarks, the churches, the bridges, the food and wine, and the histories of darn near everything along the route make this book well worth the weight. Your Camino will be much richer if you understand more of what you're seeing, and Bahrami does an absolutely excellent job of providing that background. Finally, it's a good read, without the pious filler of Brierly.
The Headlamp

You will need one of these for getting around the albergues after lights out and before lights on. Also, if you're one of those who starts walking before the sun is up, you'll need one as soon as you get out of the light of the town. the Black Diamond Spot Headlamp is pretty much like the one I had. Black Diamond makes a great line of headlamps with various features. Look for a three way switch with high and low intensity beams and a red night light. The red night light is for use around the albergue so she could see without waking up your neighbors. There are so many variations, and the technology allows you to have extremely bright lights of hundreds of lumens, if you want. Check around to find the lamp that best suits you. But for the Camino, this one should do the trick.
Laundry kit
An essential item of your Camino list is a laundry kit. That's a clothes line, clothes pins (probably about six), a flat sink stopper, and laundry soap. The clothes line is rarely necessary, as most albergues have clothes lines, but if you stay in a hostel or a hotel occasionally, you'll need it.
About three meters (10 feet) of plastic cord is great. Don't buy the one in the travel store. It's stretchy, which you'll find you actually don't want, and it costs about $8. The plastic cord will be about $2 at the hardware store, and you can tie your own knots instead of using the sticky plastic things on the end of the expensive clothesline that don't work anyway. You may not be able to buy only the length you'll need, but just cut off what you do need from the 50-foot package. Be sure to melt the cut end with a match so it won't unravel.
The same purchasing advice goes for the flat sink stopper. You can get one of those in the travel store for about $5, or in a hardware store for about $2. Travel Sink Plug for Laundry at Amazon for about $3. (Watch out for the shipping charge, though.)
As for clothes pins, plastic are lighter than wood, although, believe it or not, I went to three stores looking for them before I finally gave up and settled for wood. You can buy highly concentrated liquid laundry detergent in the outdoor or travel store, too, and I did. However, you'll run out about half way through the Camino. The better solution is to buy laundry bar soap. Two normal bars will be plenty, and if you run out, they're easy to find in shops along the way. They're also a lot cheaper than the liquid. Again, you can often find this in the hardware store.
Earplugs
The thing on your Camino packing list you'll be especially glad you carried are ear plugs. Many options are available, up to and including custom fitted ones that cost a couple of hundred dollars. Or you can buy a box of a hundred disposable foam ones at the hardware store. I did the latter, and handed them out in pairs to other pilgrims along the way. The only alternative to ear plugs would to be to strangle the snorers in your albergue, but that's frowned upon. You might also want an eye mask.
Sleeping bag
Leave this off your list. You don't need a sleeping bag. Instead, buy a very light and washable Sea to Summit Adaptor CoolMax Sleeping Bag Liner, which is great for the albergues. When you're cold, you can more than likely get a blanket from the albergue. Or put your clothes back on.
You might also consider Sea to Summit Coolmax Adaptor Liner with Insect Shield, which is insect repellent. There will be at least one night on the Camino de Santiago where that will come it handy.
Miscellaneous other stuff
Knife/Multitool
You'll want one. There are a million of them available, so go to REI and pick one. Or get this one, which is what I'm carrying these days. It's the Swiss Army knife that is actually carried by Swiss soldiers. It's substantial. It's a bit heavy, but I love it.
Soap
I bought a nice bar of olive oil soap at Target that worked as both body soap and shampoo. Not sure if a woman would go along with that.
Washcloth and a microfiber towel
I used the Sea to Summit DryLite Towel. It's light, and it really dries you fast. And when you hang it up with your clothes, it dries very fast in the Spanish sun.
Spork
or lightweight camp silverware. Along with your multi-tool, all you need to eat on the road.
Duct tape
About two meters (six feet) wrapped around a pencil for emergency repairs. No need for a whole roll.
Insect repellent
I like the 100 percent DEET stuff. Why mess around?
Fanny pack
A fanny pack that you'll wear on the front is optional, and not necessary if your backpack has pockets on its waist band. And it should.
Glasses case
A light hard one is good. You want it for storing your sunglasses (or regular glasses) at night.
Toilet paper
At least once along the Camino, you'll be glad you have this as you duck behind a tree.
Electronics
Cell phone, and/or tablet such as an iPad or Kindle for reading and emailing. Don't forget an adapter if you're going to carry electronics. I'm carrying this one with built in USB ports these days. Much smaller and lighter than carrying all the charger blocks for your devices. Beware, outlets in the albergues are precious, and everyone will be trying to charge their phones, so you might consider carrying something like a multi outlet plug, with universal plugs and USB ports so your European companions can use it, too. If you do carry one, you'll be a hero to a lot of people.
The Camera
Finally, in in some ways the essential item for your Camino de Santiago packing list is a camera. A light one, but a good one. I made the choice to carry my big DSLR, and couldn't be bothered to stop and get it out of my pack every time I wanted to take a picture. Here's the one I would recommend: the Sony RX100-III. It's small, light, and an excellent camera. You're probably only going to do the Camino once. Make sure you get the best pictures. And lots of them.
You can read more about all my camera equipment here.
All the other essentials such as backpack, water bottle, blister kit, rain jacket or poncho, the right pair of shoes or boots, long sleeve vs. short sleeve shirts, hat, etc. are covered in separate posts listed below.
The backpack
The right clothes
Walking sticks
The low down on socks, socks, and blisters
The best way to carry water
Read Kris's post on what it's actually like to walk the Camino de Santiago.
This is a July 2019 update of a post originally published in 2013.

Here are some more tips for hiking locations, routes, preparation and equipment, all in one spot.
You can help yourself get ready for your own travels by reading our Get Started Planning Your Trip Now page.
You can see (and buy prints) of most of our travel photos in one place on this page.
We love traveling–with the right gear. We've gathered a lot of the stuff we use to make travel more pleasant and efficient all on one page. Shop our Travel Past 50 Amazon page to find our favorite gear. If you purchase something from the store, Travel Past 50, as an Amazon affiliate, may receive a small commission at no extra charge to you. Thanks.
We never leave home without our travel insurance. Nor should you. Search for the travel insurance from Allianz that best meets your needs, whether it be an annual plan or a single trip.
Note: This post and other posts on TravelPast50.com may contain paid or affiliate advertising links.