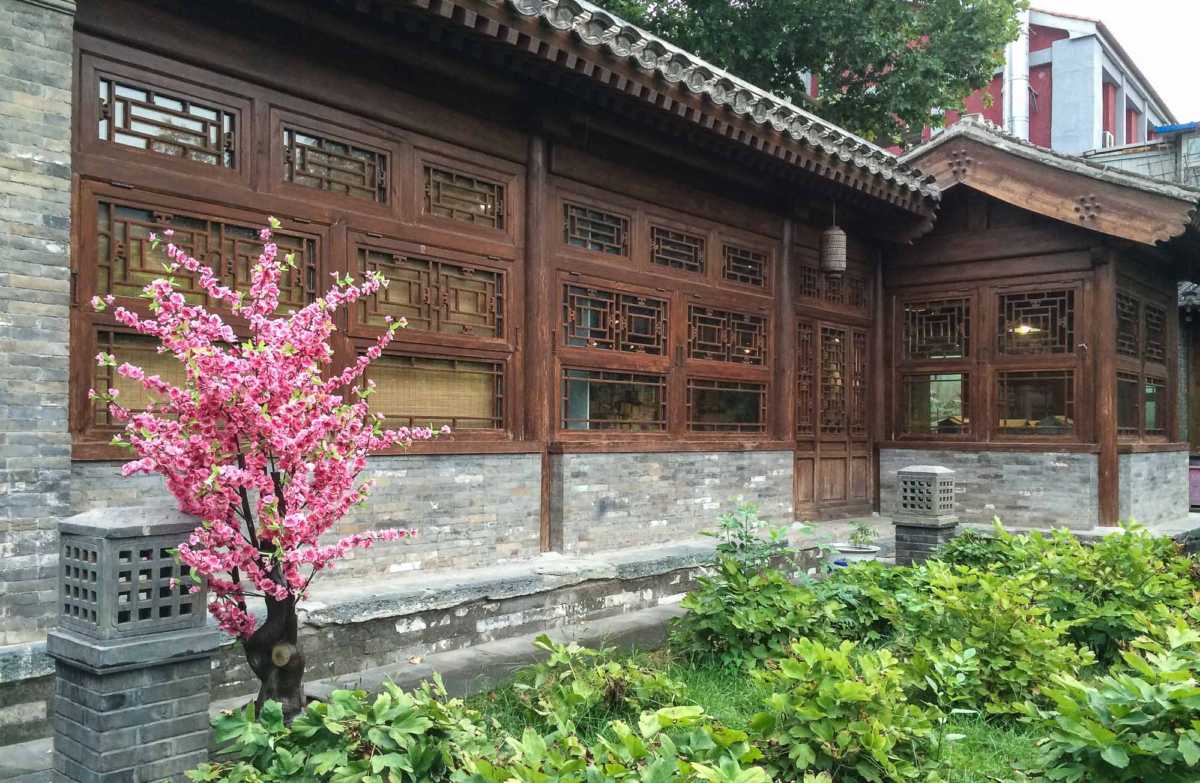 Editor's note: Want to learn more about Beijing from home? As a result of the 2020 pandemic, Context Travel has introduced an excellent series of virtual seminars. These live, scholar-led courses even allow time for discussion and questions. Browse the Context Conversations calendar and book your seminar today. When you register, use the discount code tp50 for a 15 percent discount on your first booking. Just pull up a chair and soak up the knowledge, even if you can't travel.
If you just pass through Beijing for a couple days to visit the major tourist sites, you might miss a fascinating story unfolding in this city, the story of transformation and change. The old neighborhoods and alleyways, called hutongs, display the city's deep history, expose pieces of the evolving communities, and reveal Beijing's quick run to the future.
To walk through the hutongs and get a real sense of place, connect with Context Travel for a private walk or ultra small group tour. Tom and I met with Jeremiah Jenne, an accomplished guide who's lived in Beijing for 14 years. He teaches Chinese history and philosophy to American students in China, and writes and blogs for a variety of media. We chose the historic Beijing "Hip Hutong Tour" to explore with Jeremiah, but our conversation naturally covered housing, economy, media, family, current affairs, ancient history, and modern consumerism.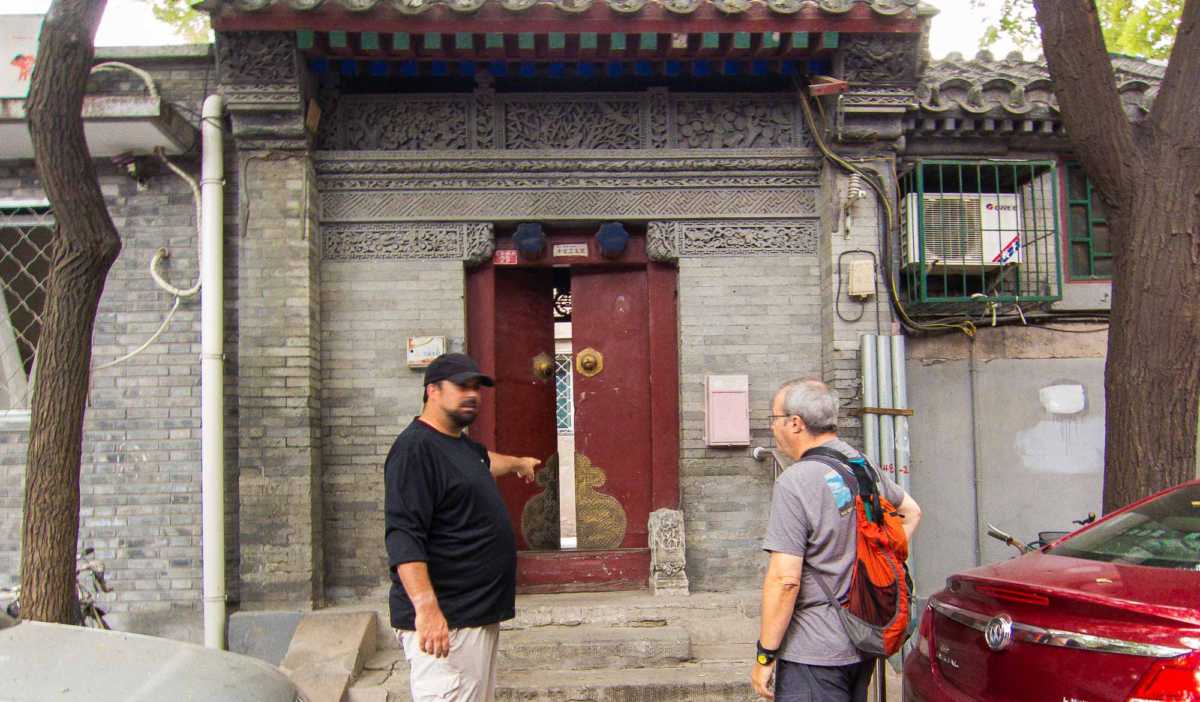 A city tour like this will catch you by surprise. A day after landing, all we'd seen in Beijing was low visibility, gray skies, gray buildings, gray streets, no shadows, no sense of direction, and our hotel. After meeting Jeremiah at a major intersection (in front of Lama Temple) we quickly turned down a small tree-lined street. Over the next hours and days we discovered intimate one-story neighborhoods and a couple impressive parks with gardens and greenery to soothe the soul. We even saw a day or two of sunshine and blue skies. Try staying in Beijing just a little longer.
The hutong alleys are lined with gray brick houses arranged around inner courtyards and closed off from the street by doorways, sometimes simple and often ornate. Originally populated during the Yuan Dynasty (1279-1368), and then rebuilt in the 17th Century, these structures were barracks for the city guard. The basic arrangement is as old as China: nine main latitudinal corridors and nine longitudinal. At the center of the grid pattern is the drum tower and bell tower, regulating time and routine through the ages.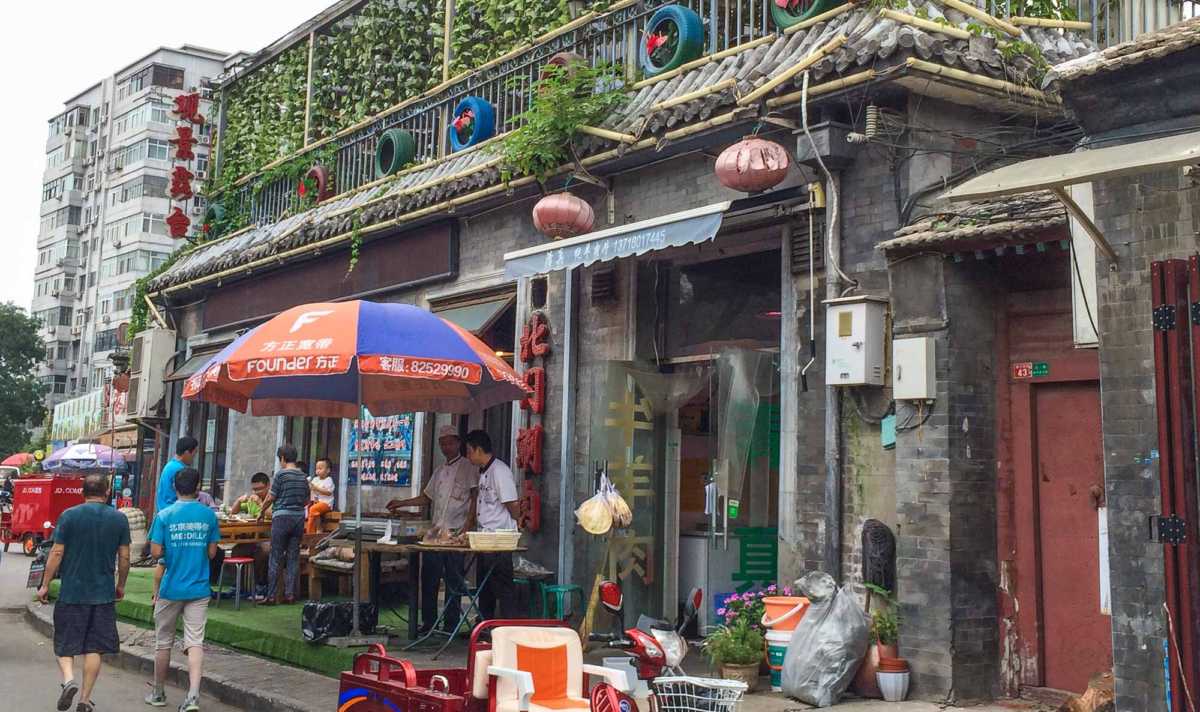 Within the grid, smaller neighborhoods had their own gates (now permanently open or dismantled) that were closed at night as guards accounted for the population. The hutong streets are named, still, for the trades that once thrived there: the arrow factory, canon depot, etc., Today the streets are paved with asphalt and wide enough for a car, though cars here are just heading home, not passing through. The alleys are lined with bikes in various states of disrepair, tuk-tuks and scooters. Motorized transport is mostly electric, so despite the mix of pedestrians with assorted traffic, it's pretty calm and people are patient. (Walking here is nothing like the pushing and prodding experience of entering a museum or the Forbidden City.)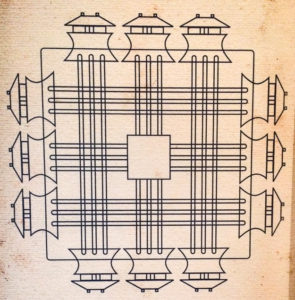 The hutongs are essentially little villages inside the city. People gather together to play cards or other games, to watch children play, and simply to socialize. Walking the neighborhood, we see a woman sitting outside knitting. A couple small dogs stay close to their owners, and two larger dogs flop inside an open door. The public toilets placed every 100 feet or so serve many households. Doorways reveal little kitchens or sitting rooms, maybe a new business or coffee shop. Some sites are under construction and piles of brick and sand are strewn out onto the walk.
Most doors and courtyards are closed, so electric boxes and treetops hint at the life inside. Still, the facades tell a story, a common one in China, of the relative rank and status of the inhabitant. The number of beam posts protruding above the door, the height of the threshold, the painting on the lintel above the door, stone drums, brass pomegranates: everything has meaning and signals the importance and aspirations of the residents, as it has for generations. Many hutong residents have held on to their family property–perhaps granted hundreds of years ago for services rendered–for generations.
For the young, the romanticism of hutong living wears off about the time they start dreaming of working and living on their own. The dichotomy between putting on a suit and going to a high tech job and returning to a home without a toilet is glaring. So much for tight communities sharing a courtyard and a public toilet.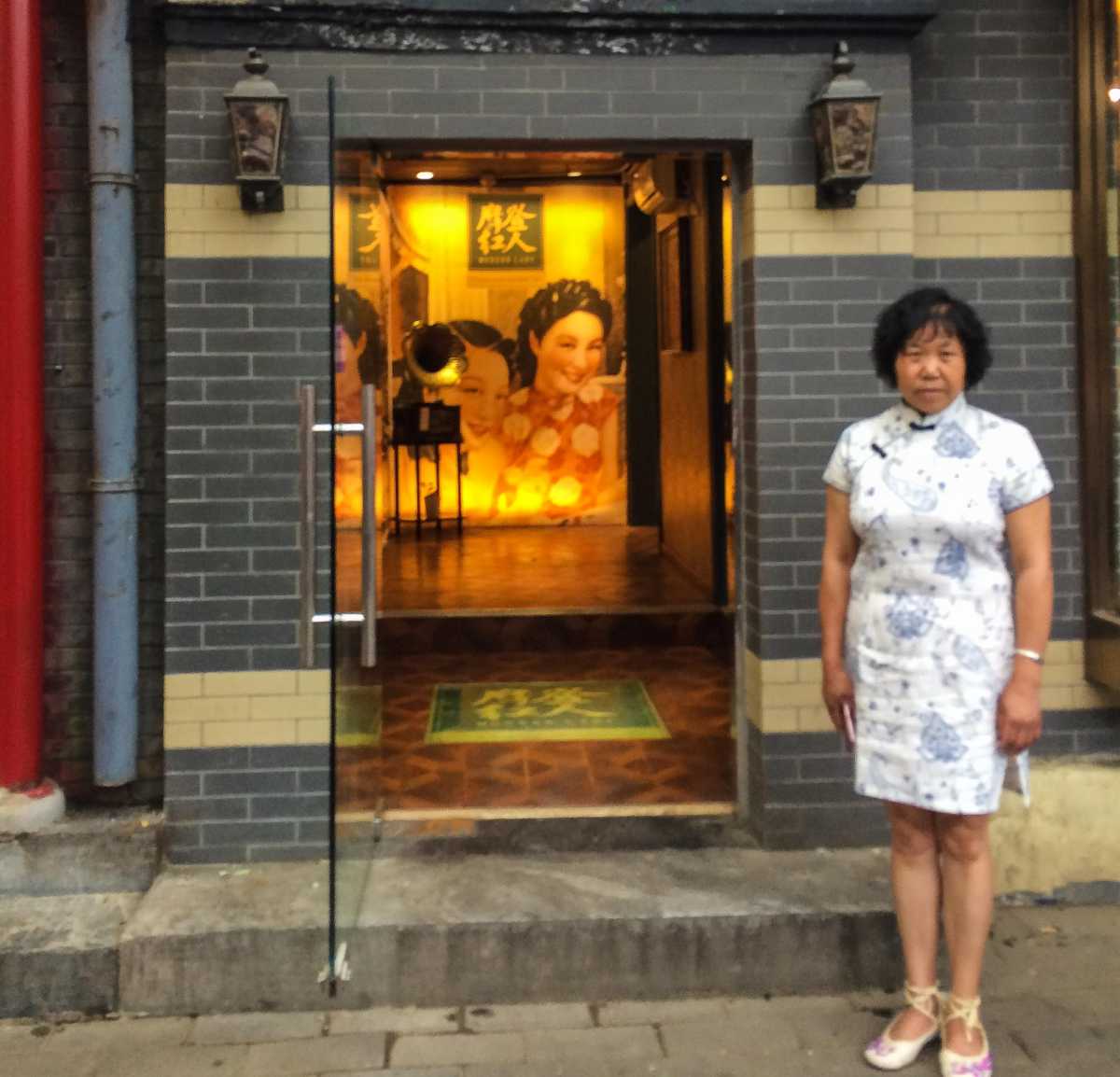 Now it's changing fast. Twenty years ago, some sections of hutongs were leveled to make way for tall office or commercial buildings. But attention now is focused on maintaining the feel of the hutong streets. Renovation work may start with demolition, but in many cases rebuilding proceeds with the original bricks.
Nearby you might find trendy coffee shops (supplanting the tea houses), or one of the four newish Beijing microbrew houses. Toward the scenic canal area bordering the hutong district, a new housing development looks a lot like any cookie cutter suburban gated community, without the lawns.
Visitors can watch the quick progress up and down many streets. Some examples:
Gulou Dongdaje, meaning the big street east of the drum tower. This was rebuilt in 1990s using old materials. It is constantly evolving as entrepreneurs start and change businesses. You'll find a range of shopping, markets, pharmacies–all the basics–plus rows of music stores specializing in stringed instruments.
Nanlouogu Xiang, the busiest and most up-to-date street, which makes it either highly attractive or very annoying, depending on perspective. This crowded lane is "authentic new China," and Chinese visitors flock here to browse and taste trending fast food (fried squid served in a paper cone). Witness how things progress as you wander the specialty shops, souvenir stores, and food counters. While some debate the use of these old neighborhoods for hip shopping, this is what most young Chinese want to see.
These days, the sounds of the hutong–the calling vendors, pet birds, and the pigeons equipped with bamboo that whistles as they fly–are memories. But the sights and sounds are being archived in the Shijia Hutang Museum, which highlights the artistic and intellectual heritage of the area. The recommended museum gives a good look, too, at a beautiful courtyard and typical architectural details like the wood carved window screens.
Strolling through the hutong, it's easy to forget the other Beijing–the traffic, Tiananman Square, tall offices, and endless condo buildings. Check out Context Travel in Beijing–or cities around the world–for a walking tour to add depth and perspective to your visit.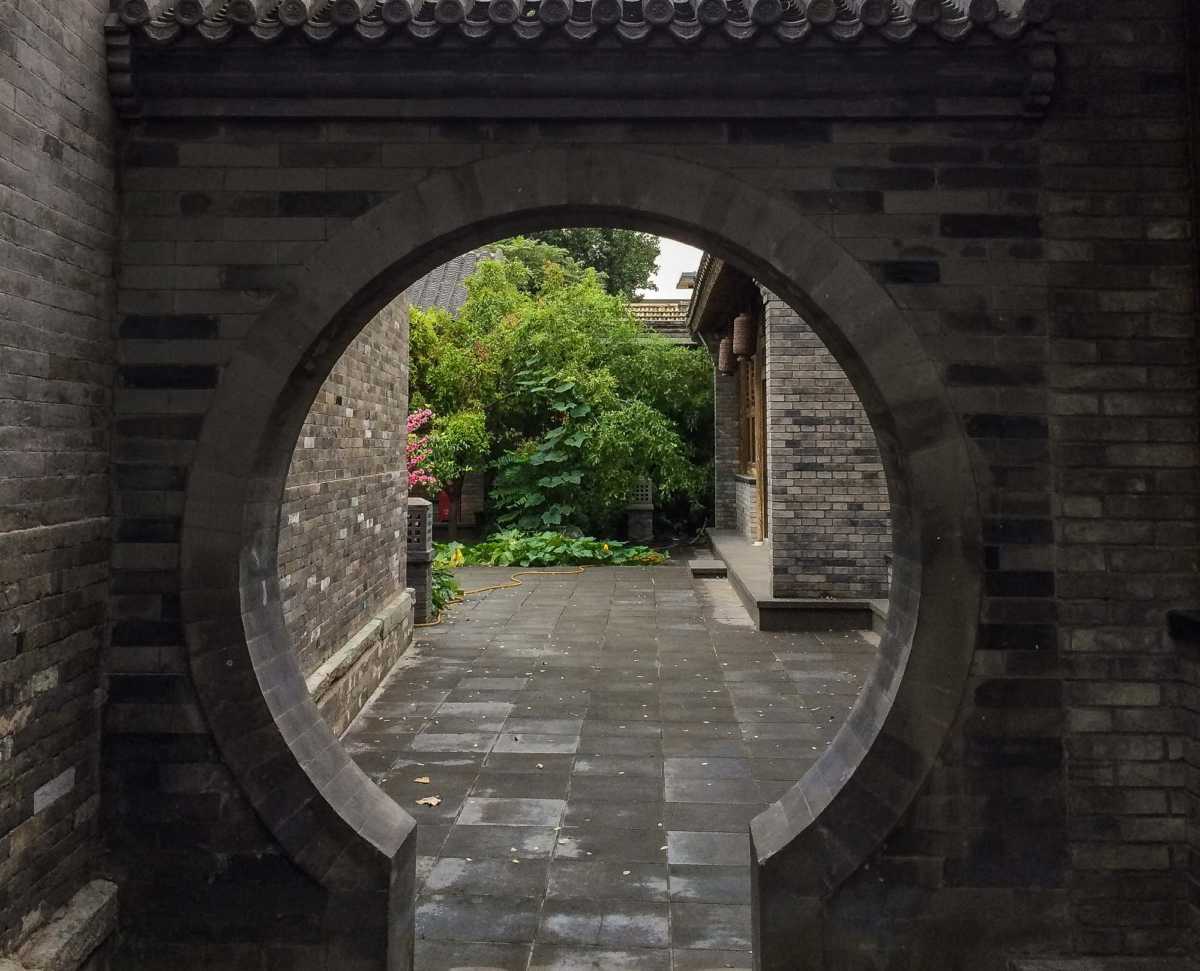 We have done more than a dozen Context Travel tours on four continents and have always found them excellent, informative, and enjoyable. You can see our other stories on our Context Travel tours in Buenos Aires, Paris, Berlin, Shanghai, Beijing, Hong Kong, Montreal twice, Budapest twice, Rome twice, Arles, Florence, and Venice by clicking on the links.
If you are thinking a Context Travel tour is for you, click here, and see if they have a guided tour available in the city you are visiting.