Our visits to cities along the Rhône River valley in southern France left us wanting more. After one day in Lyon, for example, Tom was leading us to the Alliance Francaise school to check out possibilities for enrolling in French classes. A Viking River Cruise, called Portraits of Southern France, was really just a teaser. What is it about this area that had us envisioning return visits or even a year's rest stop here? Our reasons for going back are tucked into the corners of these Provence towns.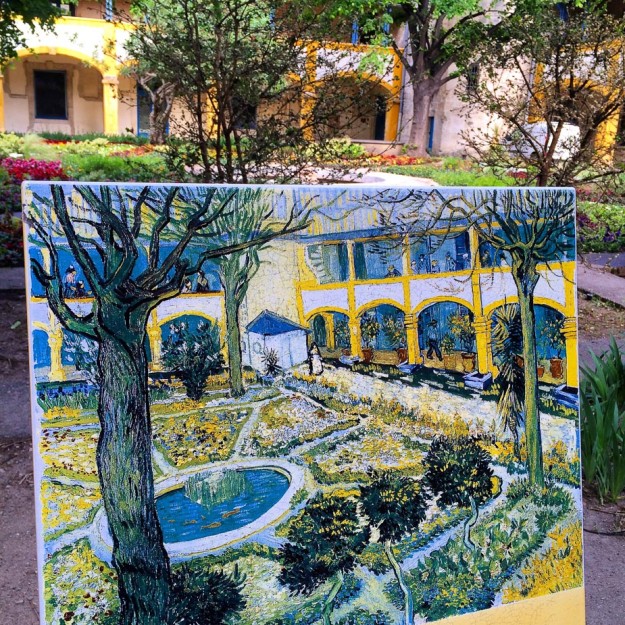 Arles (population 58,000) is at the base of the Rhône, where the Provence countryside changes to the the river's delta. Arles represents both modern and ancient times, noted for attracting Vincent van Gogh and for its Roman Arena. The town hall in Place de Republique, flanked by Romanesque churches, speaks to its strength through the middle ages. Around town, various Van Gogh paintings are reproduced on monuments facing the scenes he painted. Arles' best surprise is the Musée Réattu, displaying dozens of Picasso drawings donated by the artist in the 1970s. Arles is easily navigated on foot. It was named a UNESCO World Heritage Site in 1981 and is a European Capital of Culture.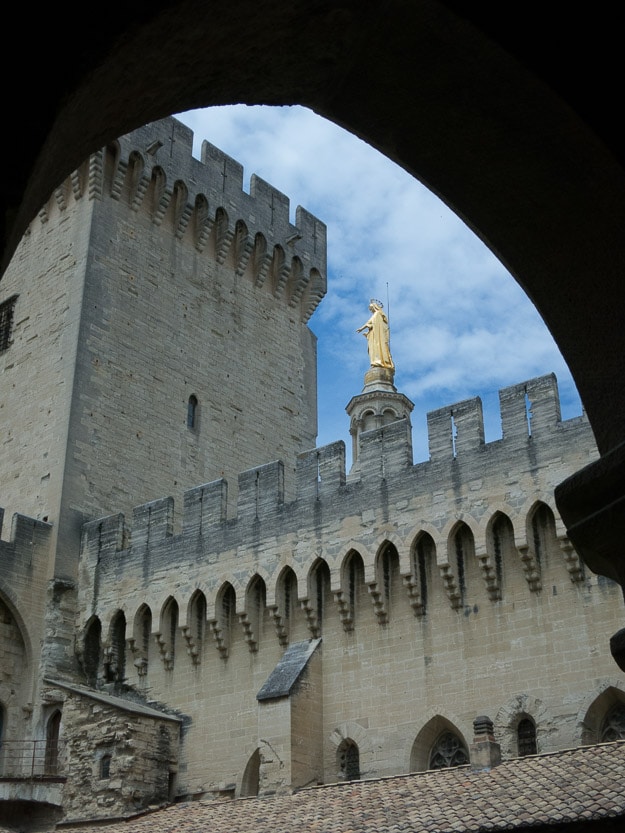 Avignon (pop.90,200) is a great jumping off point for the region of Provence and the Rhone river valley. It is remarkable for being the seat of seven popes in the 14th century. After centuries of destruction and misuse of the properties, the popes' palace and cathedral are bare bones, but enormous and impressive nonetheless. Perhaps the most famous bridge over the Rhone is here–or was here. Half remains, including a 12th Century chapel built right into a pier. From prehistory through Greek and Roman times, Avignon was a hub for visitors from the Mediterranean. Today, it's a center for Renaissance to modern art. The Calvet Museum features 17th-18th Century paintings, the Angladon Museum is home to a rich 20th Century collection, the Louis Vouland Museum displays decorative arts, and the Museum of the Petit Palais exhibits Italian Primitive paintings. Avignon was named a UNESCO World Heritage Site in 1995. We stayed at the lovely Autour Du Petit Paradis, and enjoyed a nice dinner at L'epice et Love.
Some posts on Travel Past 50 may contain affiliate links. If you buy something through one of those links, we may earn a small commission. As an Amazon associate, we earn from qualifying purchases.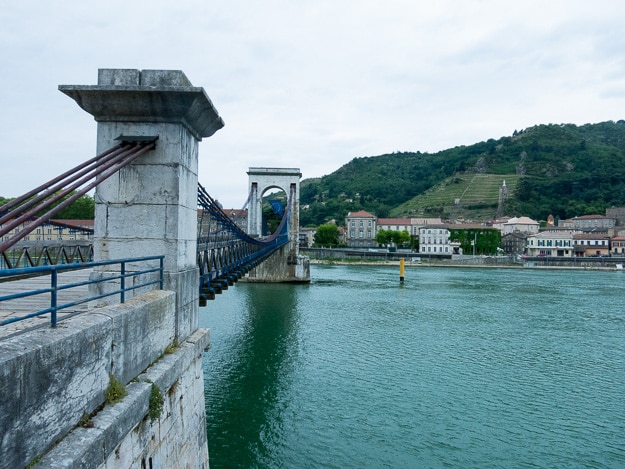 Tournon-sur-Rhone and Tain l'Hermitage (pop. 11,000) If you've come for the wine and chocolate, don't miss these small twin towns, positioned across the river from each other and lorded over by the ruins of a picturesque feudal castle. The historic bridge connecting the two towns, designed by Marc Sequin, is the first suspension bridge to use wire versus chain cables. The Valrhona Chocolate store (plenty of sampling!) is the most popular stop here, on the way to outlying Côte du Rhone wineries. Art and architecture buffs will enjoy a visit to the 16th Century home of Marie Palué, daughter of painter Pierre Palué (1925-2005). His life's work was part of Paris' post-impressionism school and is now on display at this Tain l'Hermitage museum, opened in 2000.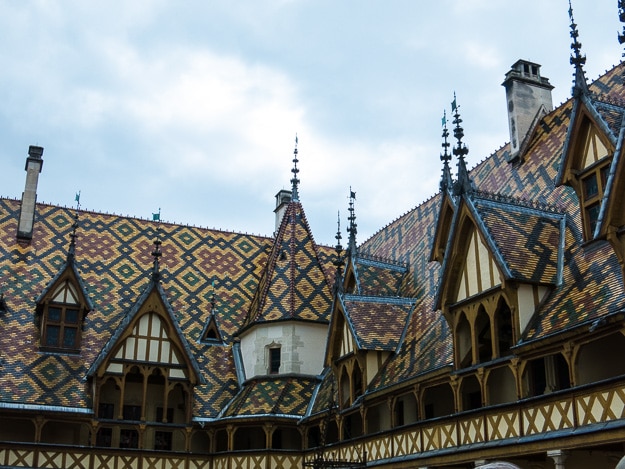 Beaune (population 22,500) isn't on the river, but is approached through the beautiful Burgundy countryside. It's known for The Hôtel-Dieu of the Hospices de Beaune, a hospital from the Middle Ages (now a museum) that was built in 1443 and is now a UNESCO World Heritage Site. Driving through the area offers a glimpse of a few of the 1,247 Terroir Burgundy vineyards of Côte du Beaune.
Vienne (pop 30,000) Well worth a visit for any fan of Roman history and archeology. The Roman Gaul museum is top notch, with exceptional mosaics and models of the city's homes, warehouses, and functioning daily life. And right in the center of town you might stumble on the Augustus and Livia Temple as well as a small archeological garden and the remnants of a Roman theater used for the annual jazz festival and other cultural events. The Cathedral of Saint-Maurice is highly recommended for its plainly visible transitions from Romanesque to Gothic styles.
Lyon (population 500,000) is a big city, but still a charming river town. Situated at the confluence of the Rhone and Saone rivers, it is distinguished by its slender peninsula section between the two rivers, by its scenic bridges, by the hills rising quickly from river level, and by the Basilique Notre-Dame de Fourviere. The Basilica is an enormous and bright white fixture atop the hill on the western side of the city, and deserves a lengthy visit. Though the basic architecture is drawn from Romanesque and Byzantine styles, the 20th Century mosaics inside bring contemporary iconography and whispers of art nouveau styling to the church.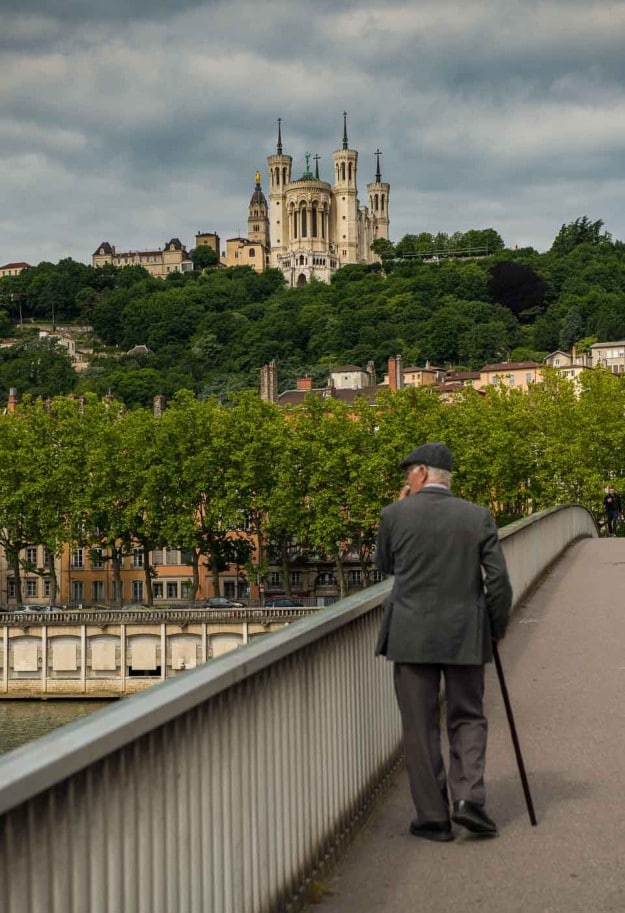 Lyon is fun to explore on foot, especially the old textile district and historic neighborhoods of le Vieux Lyon (Old Lyon). The city gets extra credit in our book for its central role in printing and the development of lighting and film techniques. Visit the Museum of Printing and Graphic Communications and The Lumiere Museum, or any number of other museums of textiles, decorative arts, archeology or contemporary arts. To top it off, Lyon is a great food town, with bragging rights to quintessential Provence cuisine, the pride of French and international foodies. Lyon was designated a UNESCO World Heritage Site in 1998.
We found a lovely and spacious room at Le Phénix Hôtel in Lyon for our extra couple of nights in Lyon. Highly recommended.
Aix-en-Provence (population 143,000) was a bonus for us, sort of the exclamation mark to our tour of the Rhone River Valley with Viking River Cruises. We visited Aix on our own (traveling there on the TGV train with our Eurail Pass) and treated ourselves to a tour of the town and its Paul Cézanne sites with the guidance of Pamela Morton of Context Travel.
Thanks to the tour, we caught up quickly on the history of this Côte d'Azur village and began to understand why the town still draws well-heeled holiday makers. The area's hot springs and Roman baths were central to the earliest settlement. Later, the town was divided into the counts' and bishops' sections. The region became part of France in 1501 when Good King Rene died, though it remained a fairly sleepy outpost. Its university (originally connected with Marseilles) dates back to the early 15th Century but now boasts a law school and a hefty endowment.  Aix-en-Provence was largely unaffected by the the Industrial Revolution due to being skipped over by the rail system. So it's not hard to see why vacationers from France and elsewhere love to escape to Aix.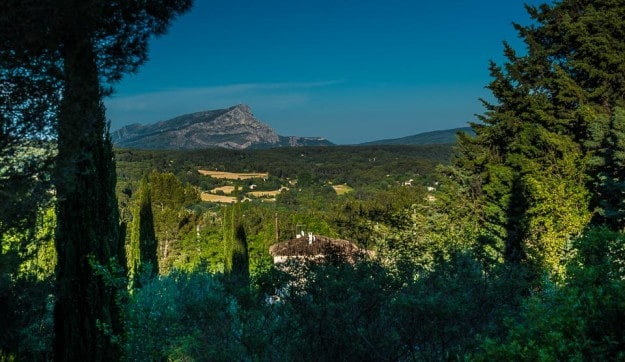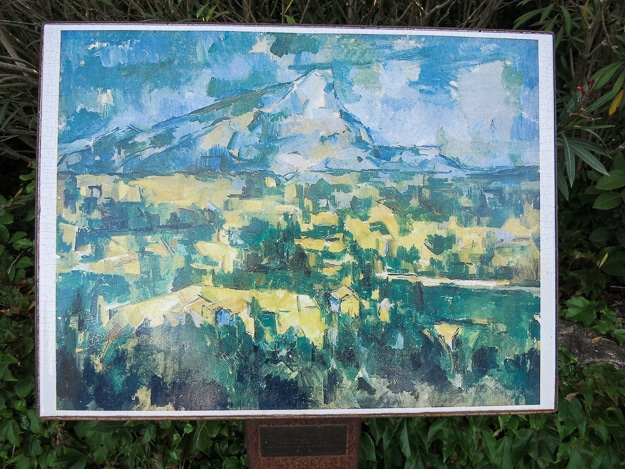 We started our tour on the lovely tree-lined boulevard of Cour Mirabeau, where the hat shop run by Cézanne's father stands just across the street from the famous Deux Garçon Restaurant.  Cézanne (1839-1906), who was born in Aix and returned to Provence after his Paris years, is credited with leading artists of his time from impressionism to modernism and cubism.
Aix-en Provence's principle museum, The Museum Granet, was closed for changing exhibitions the week we visited, but we took advantage of free access to the Annex to see the Jean Planque collection, including works by Picasso, Monet, and Van Gogh. Of course, walking up to the Cezanne studio and the site where he painted so many versions of the mountain view is a great exercise in visualization. Or sit in the Place Hotel de Ville (town hall square) to take a coffee or beer, and view another subject of a Cezanne painting. We're convinced this is one of the most iconic outdoor cafes in Europe, where one is simultaneously in the scene and viewing the scene.
But there are many other highlights in Aix. San Savior church includes a 6th Century baptismal, reused Roman columns, a later Gothic-style cloister, and a rare painting of Moses and the burning bush, depicted in an Italianate landscape.  Aix-en-Provence offers a great little taste of France with its wide boulevard, cafe culture, notable fashion, and delicious food. These days, the fast SNCF train does stop in Aix, but only at the station a few kilometers outside of town. You'll want to hop a shuttle bus into central Aix, or pay around US $40 to take a taxi.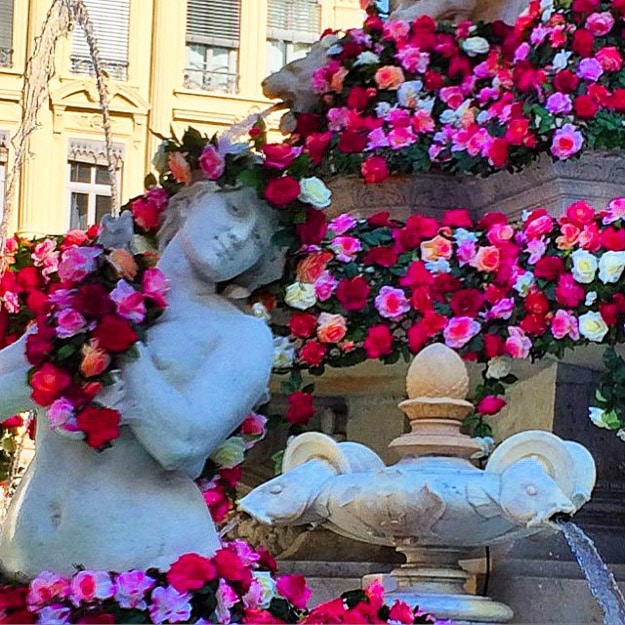 Festivals
Each of these towns has its own energy and culture. We were excited to see the number of festivals that have been established through the region and specifically in these towns. Next time, yes, next time we visit Southern France, we'll plan on taking in one or more of these arts events.
Aix-en-Provence Opera Festival
Arles International Photo Expo
Avignon Theater Festival
Avignon Blues Festival
Lyon, Land of Roses – Lyon hosted the 2015 World Convention of Rose Societies, but it's perennially a center of botany and floral art.
Lyon Festival of Lights
Vienne Jazz Festival
Look for plenty of other cultural and culinary festivals in Provence: Think truffles, garlic, chocolate, and wine.
We have done more than a dozen Context Travel tours on four continents and have always found them excellent, informative, and enjoyable. You can see our other stories on our Context Travel tours in Buenos Aires, Paris, Berlin, Shanghai, Beijing, Hong Kong, Montreal twice, Budapest twice, Rome twice, Arles, Florence, and Venice by clicking on the links.
If you are thinking a Context Travel tour is for you, click here, and see if they have a guided tour available in the city you are visiting.
Travel Planning Resources
Looking to book your next trip? Use these resources that are tried and tested by us. Flights: Start finding the very best flight deals by subscribing to
Thrifty Traveler
. Book your Hotel: Find the best prices on hotels with
Booking.com
. Find Apartment Rentals: Find the cheapest prices on apartment rentals with
VRBO
. Travel Insurance: Don't leave home without it. We recommend
Allianz Travel Insurance
. Need more help planning your trip? Make sure to check out our
Resources Page
where we highlight all the great travel companies and products that we trust. See all of the gear and books we like in one place on our
Amazon shop
.