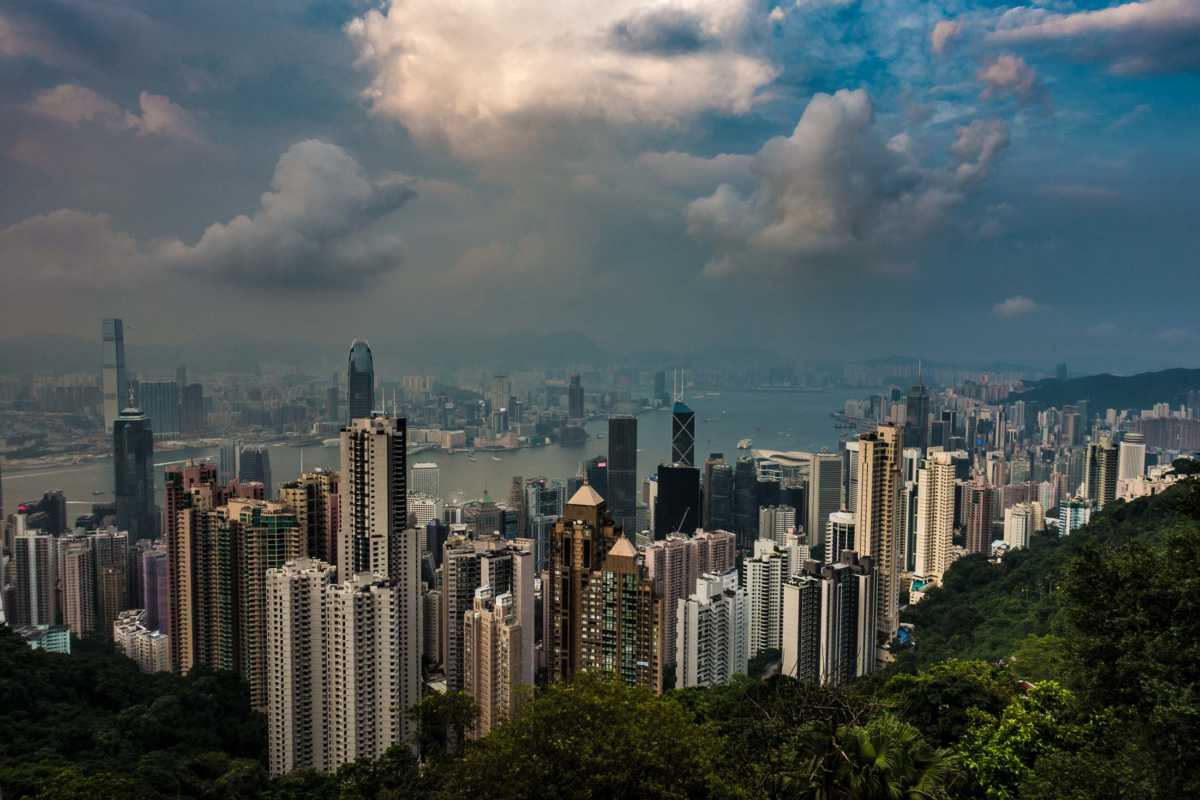 Editor's note: As a result of the 2020 pandemic, Context Travel has introduced an excellent series of virtual seminars. These live, scholar-led courses even allow time for discussion and questions. Browse the Context Conversations calendar and book your seminar today. When you register, use the discount code tp50 for a 15 percent discount on your first booking. Just pull up a chair and soak up the knowledge, even if you can't travel.
Showing up for a walking tour of Hong Kong on a hot muggy morning after some jet-lagged sleep and less than a day on the ground is maybe not the best way to greet a new city. But by now we've learned that joining a Context Travel tour is sort of like having an old friend pick you up at the airport. They'll take you as you are, lead you around, and hold up their end of the conversation until you're ready to contribute something.
We joined our Context group in Statue Square for a Hong Kong city tour covering the span from British colonial days to the present. (Context offers a couple other orientation walks, plus a look at the modern day Kowloon area, and a food tour. There's no reason not to try them all.) Other than our metro ride from our hotel in Kowloon (the peninsula north of Hong Kong Island) and a stabilizing cup of Starbucks coffee, we were decidedly unprepared for Hong Kong.
Within three hours, though, we had some idea where we were, and an even better idea of some of the complexities of Hong Kong. This was not a chronological walk, nor an architectural survey (though our docent Adelina is a scholar of architecture and heritage preservation). It was more of a discussion about the long history and fast paced changes here.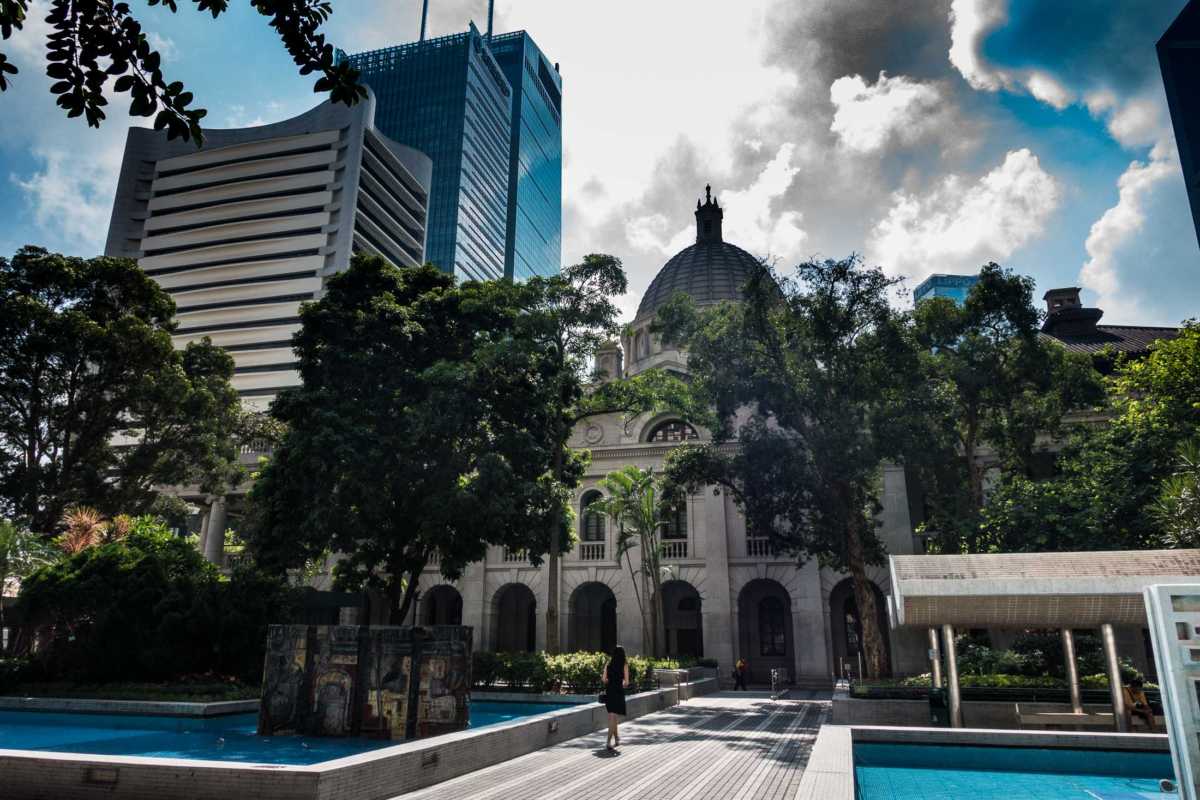 Hong Kong has been a Special Administrative Region (SAR) since 1997. That's almost 20 years into its 50-year reunification plan (the transfer of sovereignty from Britain to China). Until 2047, Hong Kong is, as the saying goes, 'one country, two systems.' Observers, stunned at the changes over the past 20 years, can hardly imagine what the picture will look like in another 30. Which way will the wind blow then? It seems no two people can agree on it's current political and social state, much less where it's headed.
In 1841, when the City of Victoria was established on Hong Kong Island, the opium wars were just getting started. That is, Great Britain was plying the locals with opium in hopes of maneuvering the best trade deals on silk, tea, and other precious goods. So that's how British rule came about, and why HSBC (originally Hong Kong and Shanghai Banking Corporation) started up in 1865. Our small touring group had a good time commenting on the feng shui and hypocrisy of HSBC's new 'transparent' architecture, a noted departure from old fortress-style bank buildings.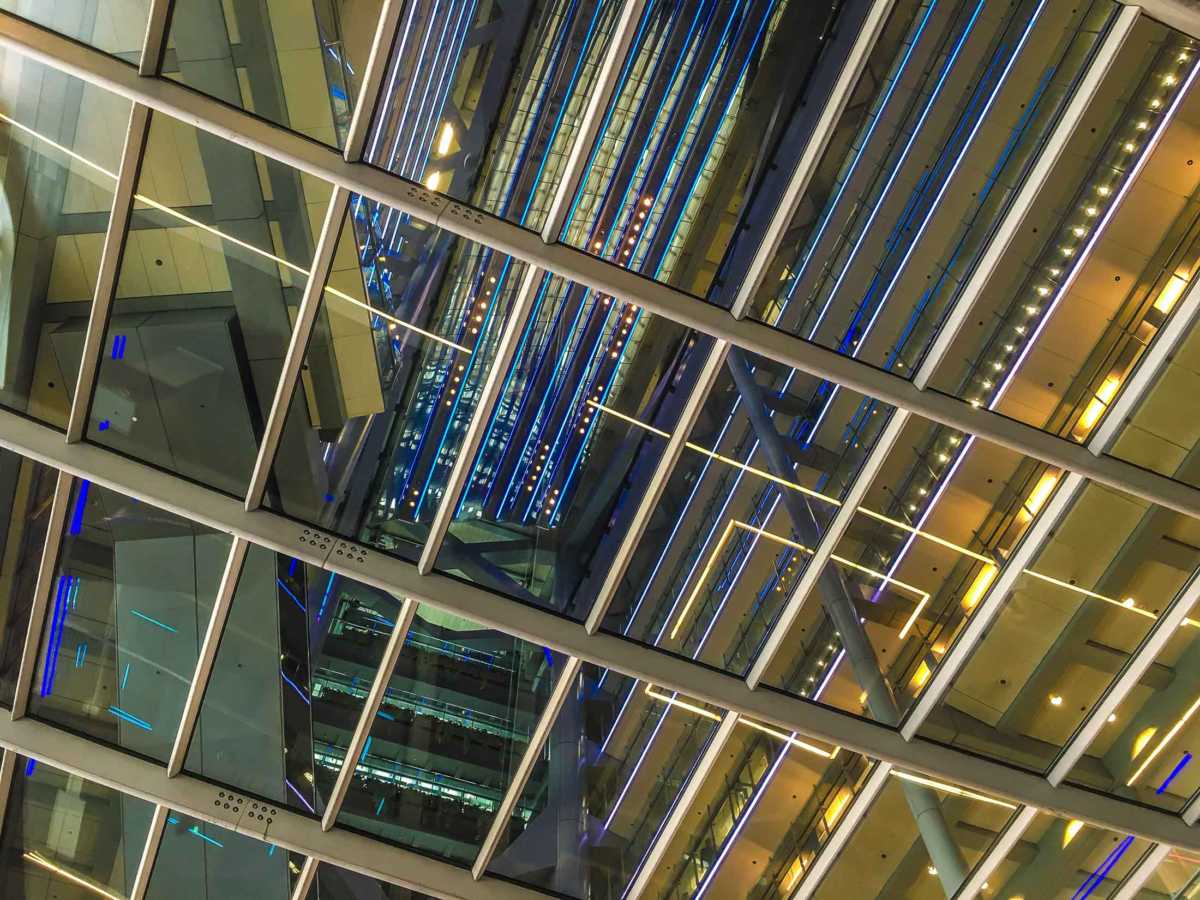 Controlling trade has always been key to this place. Seeing how compact and frenetic the deep water Victoria Harbor port is hints at the importance of trade and transport. The resulting fast-paced growth of the city has included border land grabs (the 'New Territories" section of Hong Kong) and extensive land reclamation.
Hong Kong Island is only 30 square miles (2.7 square miles of that is reclaimed from the sea). The island's middle is occupied by steep mountains on granite bedrock. So to accommodate people and business, everything gets built along the perimeter, and when developers run out of space, they a) build taller, and b) create more land mass out into the water. Skyscrapers are constructed in front of skyscrapers, and the whole demeanor of the city is one of jockeying for position. People scramble to The Peak for views, or jostle onto ferries for the waterfront perspective. Nearly 20% of Hong Kong's population lives on the island, which is only about 7% of the city's total area.
The fun of touring Hong Kong is witnessing how this SAR deals with past and future bumping up against each other, and how it blends Chinese heritage with British influence. The dichotomies pop up everywhere. Here are just some of the visual anecdotes that we enjoyed as we walked with Context Travel:
Our walk from east to west across Central Hong Kong included visits to the Anglican St. John's Church, and to the Taoist Man-Mo Temple.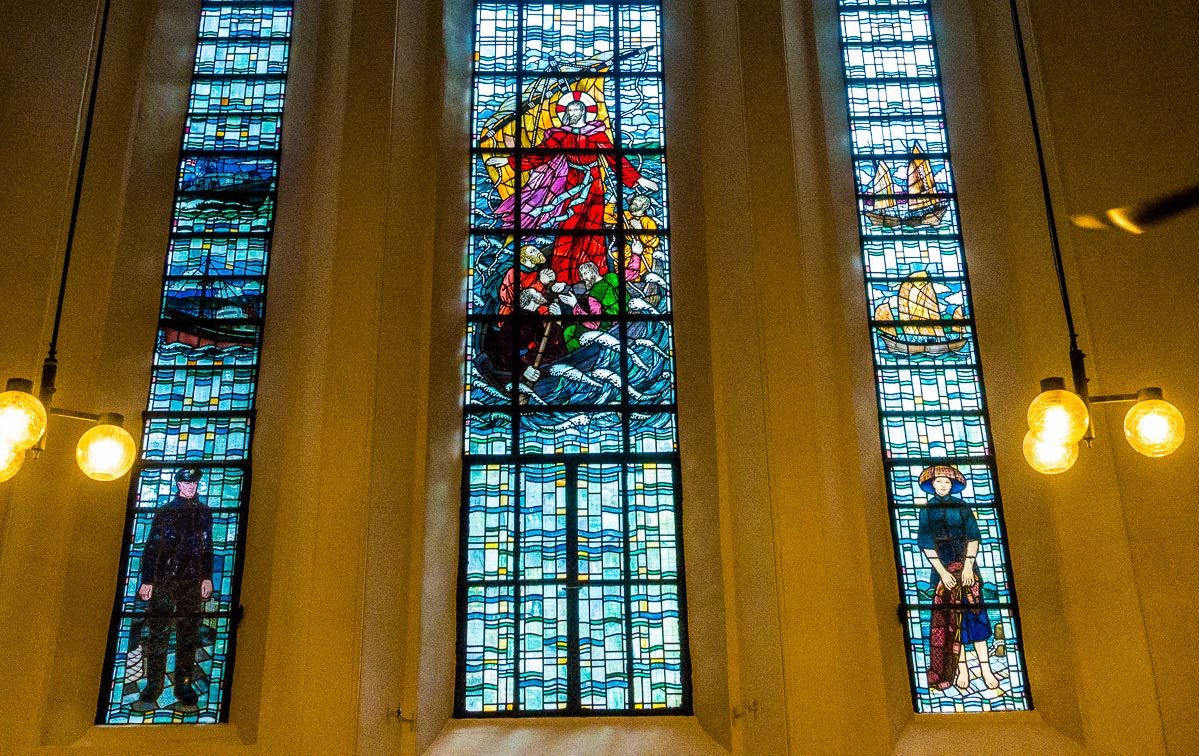 We paused at the romantic granite staircase adorned with Asia's earliest gas lamps. We were also carried up hill by the world's longest outdoor covered escalator system, connecting Stanley Street with mid-level neighborhoods.
We found examples of British architecture, like the high court building on Statue Square. Its classic facade (same architect as Buckingham Palace) faces the sparse square now devoid of statues since the Japanese melted them down during their occupation from 1941-1946.
Various government buildings, in all their 1970s design regularity, are plunked in between the British classics and the 21st Century skyscrapers. With little hierarchy, they reflect their public or businesslike function. Many having been repurposed over time. Others, like Jardine House built in 1972 and dubbed The Building of 1000 Assholes, reflect people's skepticism about growth and change.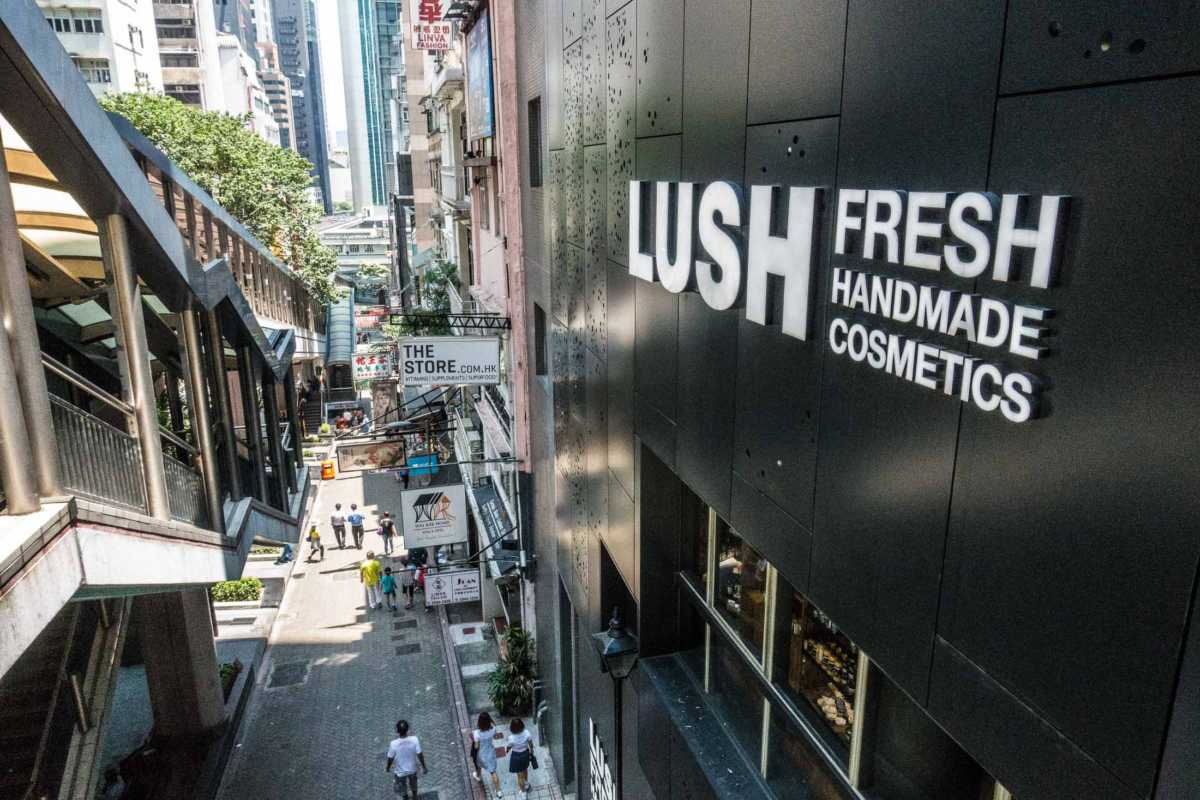 We stopped for tea, and noted the popularity of milk tea a la the Brits, iced lemon tea, coffee-tea blends, and untold variations of leaves served in tea houses across the city.
We passed shiny shopping centers and skirted crowded back streets with market stalls–enterprises which are gradually being pushed out of the central neighborhoods.
Urban renewal marches along. Hong Kong's SoHo stands for South of Hollywood, and inexplicably, Hollywood Street is right near Queen Street. A traditional Chinese neighborhood is filling up with hipster joints. ("If they are decorated in black and white, you know they are hipster.")
We asked about election signs (some legislative areas hold elections this first weekend in September) and we heard wildly different takes on voter engagement and the current political atmosphere.
We stopped in the shade at Pak Tsz Lane Park, a "sitting out" place which was a late 19th Century hang-out for revolutionary types. The network of small alleyways shooting in several directions was handy for quick escapes. This park also commemorates Sun Yat-Sen, whose revolutionary activities are noted on plaques throughout the neighborhood.
The Police Married Quarters (PMQ building) shows the layers of time. It now houses art studios and shopping galleries built over exposed excavations of an earlier school on the site.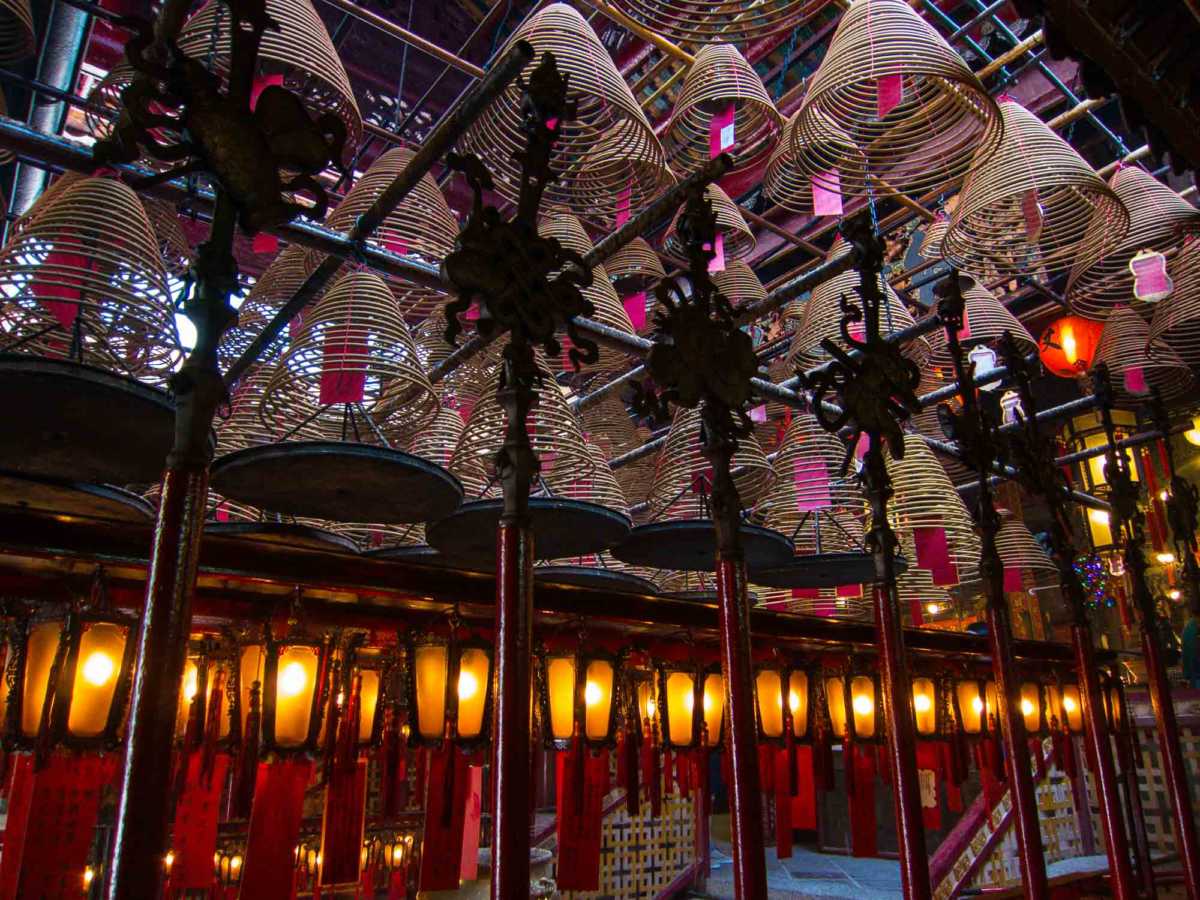 Surprisingly, one of the busiest places on our walk was the Man-Mo Temple. Built in the 1850s, it includes three parts: the main temple in the middle, the community hall, and the temple for literature and martial arts. A steady stream of visitors paid tribute under an array of incense lanterns to those time-honored means of advancing in society: literature and martial arts.
Despite our sorry state and the heat, our walk through central Hong Kong was relaxed and informative. Even better, as is customary with Context Travel tours, we had made new friends and went on our way loaded with recommendations for the rest of our stay. Over the next few days we took those suggestions for hikes, restaurants, and other attractions, and carefully applied our first impressions and Deep Travel questions to get the most enjoyment out of our Hong Kong experience.
We have done more than a dozen Context Travel tours on four continents and have always found them excellent, informative, and enjoyable. You can see our other stories on our Context Travel tours in Buenos Aires, Paris, Berlin, Shanghai, Beijing, Hong Kong, Montreal twice, Budapest twice, Rome twice, Arles, Florence, and Venice by clicking on the links.
If you are thinking a Context Travel tour is for you, click here, and see if they have a guided tour available in the city you are visiting.