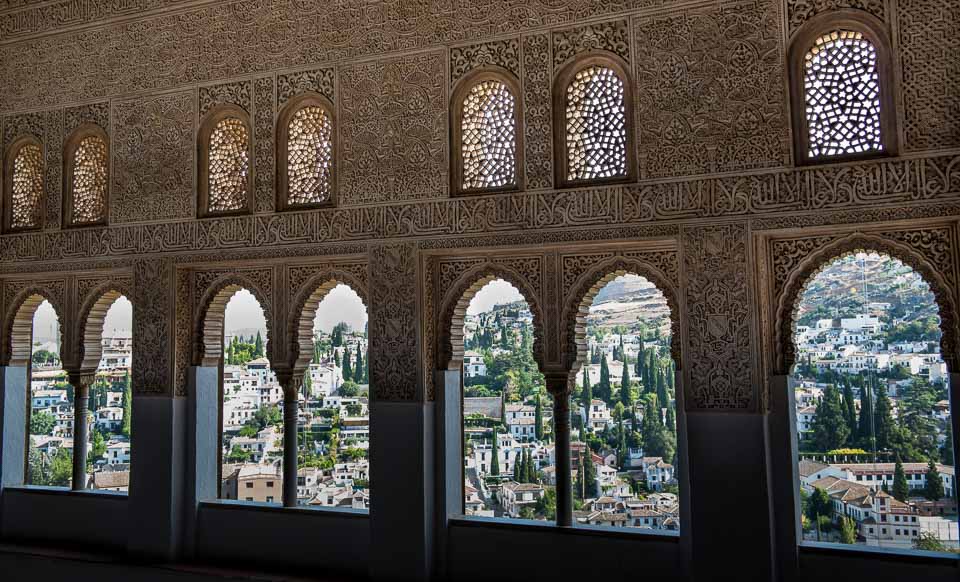 The only problem with photographing the Alhambra is imagining the view and thinking "Where do I start?" And, then, "Where do I stop?"
It's so full of intricate and beautiful decoration that there's really no end to it, except that it's nearly impossible to get the angles you'd really like to shoot because of all the tourists. So you usually end up aiming up so as to avoid heads, and you miss the sort of expansive horizontal views that must have greeted the original residents every day before the advent of tour buses.
But, I got lucky and this hallway cleared for a brief second so I could get this view, and imagine myself as maybe a servant of the Caliph in the early 15th Century who could drop my work for just a second and stare out the window at the view of Granada below and wonder.
The Alhambra in Granada is a Unesco World Heritage site. Spain is the country with the third most Unesco sites. To see a list of all the Spanish sites, with links to our posts about them, click here.
Get all our travel tips delivered to your inbox
Subscribe to our email newsletter