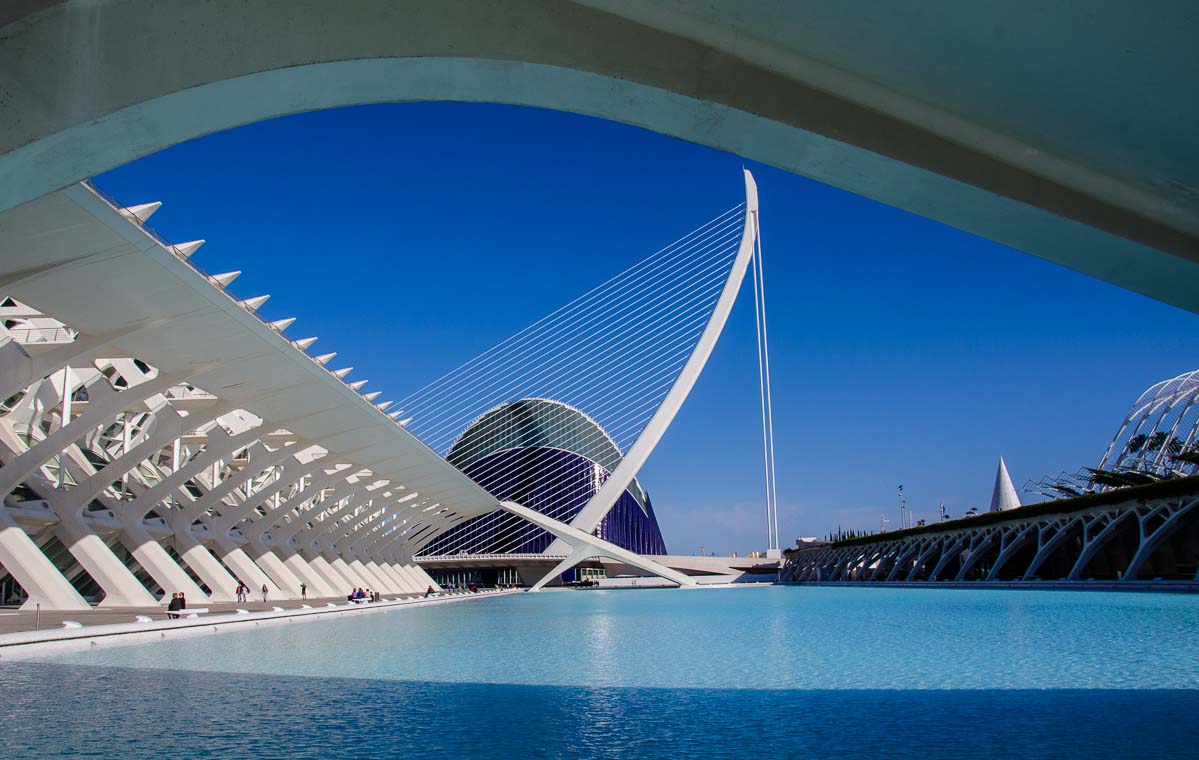 When you exit old Valencia and enter the new City of Arts and Sciences (in Valencian: Ciutat de les Arts i les Ciències; in Spanish: Ciudad de las Artes y las Ciencias), you don't necessarily have to enter the buildings to see something marvelous. From the outside, the futuristic city designed by architects Félix Candela and Santiago Calatrava will impress you enough. Native Valencian Calatrava was Candela's student.
The components of the City of Arts and Sciences
The myriad elements of the City of Arts and Sciences were inaugurated over a period of seven years, from 1998 to 2005. The City of Arts and Sciences occupies the old flood plain at the mouth of the Turin river. The City of Arts and Sciences has seven main elements:
The Hemisphere, L'Hemisfèric in Valencian–a planetarium with an Imax theater and laser show venue. It was the first building completed in 1998. It is designed to resemble an eye, and in combination with the surrounding glass bottomed pool, creates a spectacular effect.
The Museum of Science, El Museu de les Ciències Príncipe Felipe–is an interactive museum of three floors. The outside ribs are designed to evoke the skeleton of a whale. It's the largest building in the complex and is 220 meters (720 feet) long.
The Umbracle, L'Umbracle-is a covered walkway limning the site. It's filled with plants mostly indigenous to the Valencia. There's also rows of modern sculpture by Spanish artist and artists from other countries, including Yoko Ono.
The Oceanographic Aquarium, L'Oceanogràfic–is an open-air park, designed by Candela. It is the largest oceanographic aquarium in Europe with 110,000 square meters and 42 million liters of water.
The Performing Arts Center, El Palau de les Arts Reina Sofia–has four performance halls and is the home of the Valencia Opera.
The Suspension Bridge, El Pont de l'Assut de l'Or–a work of art in its own right spans the old river bed and connects the City of Arts and Sciences to the city of Valencia.
The Agora, L'Àgora-is a covered sports and concert arena.
Vistas afforded by the City of Arts and Sciences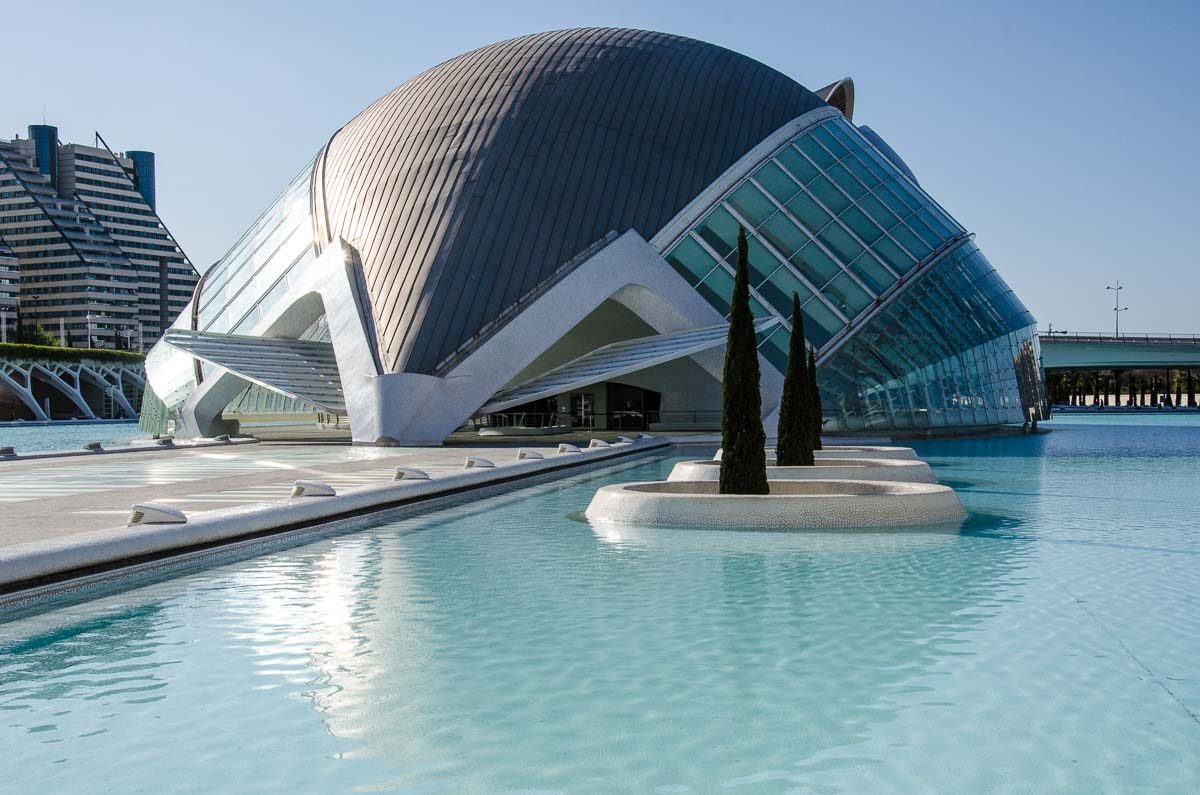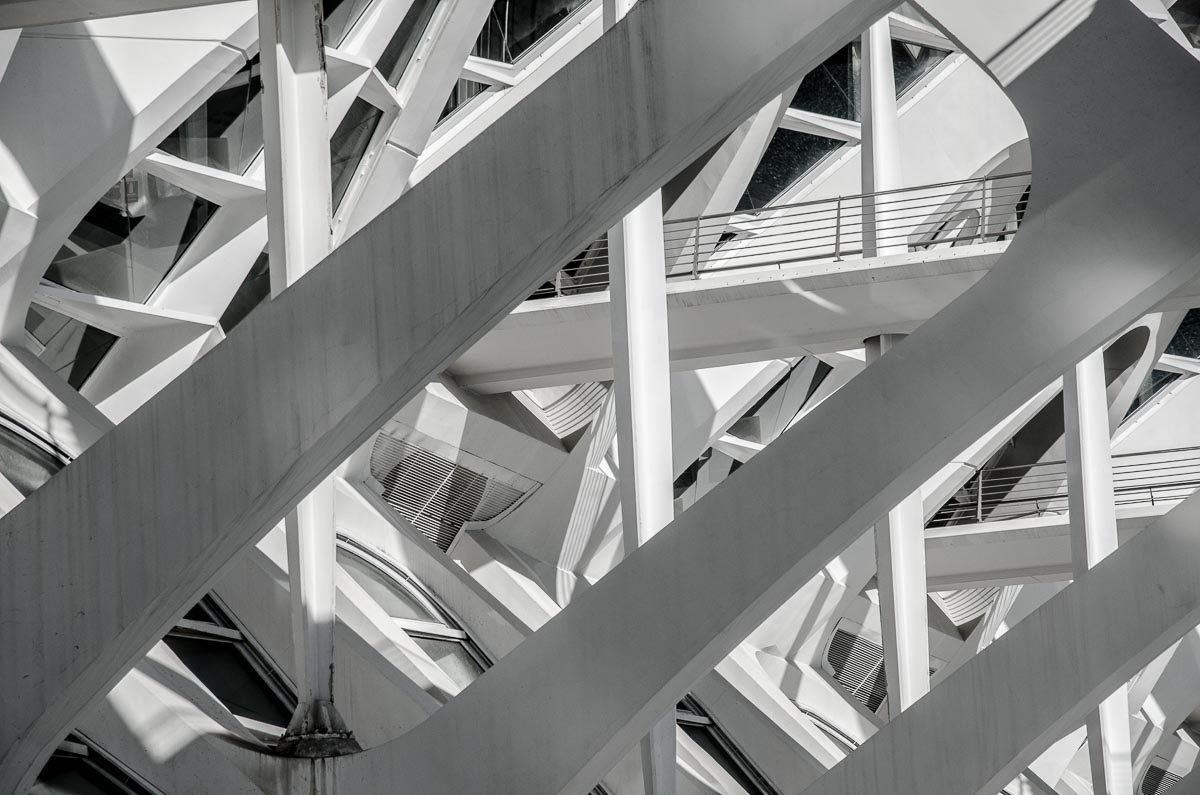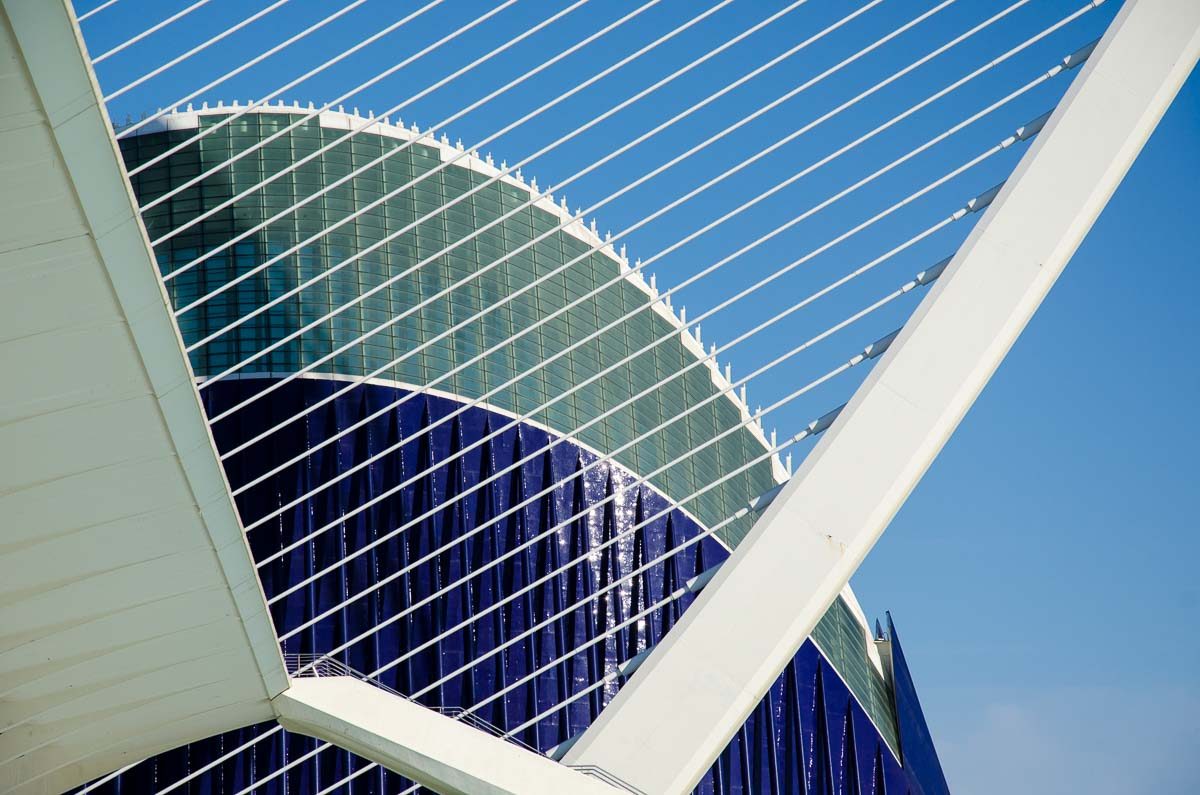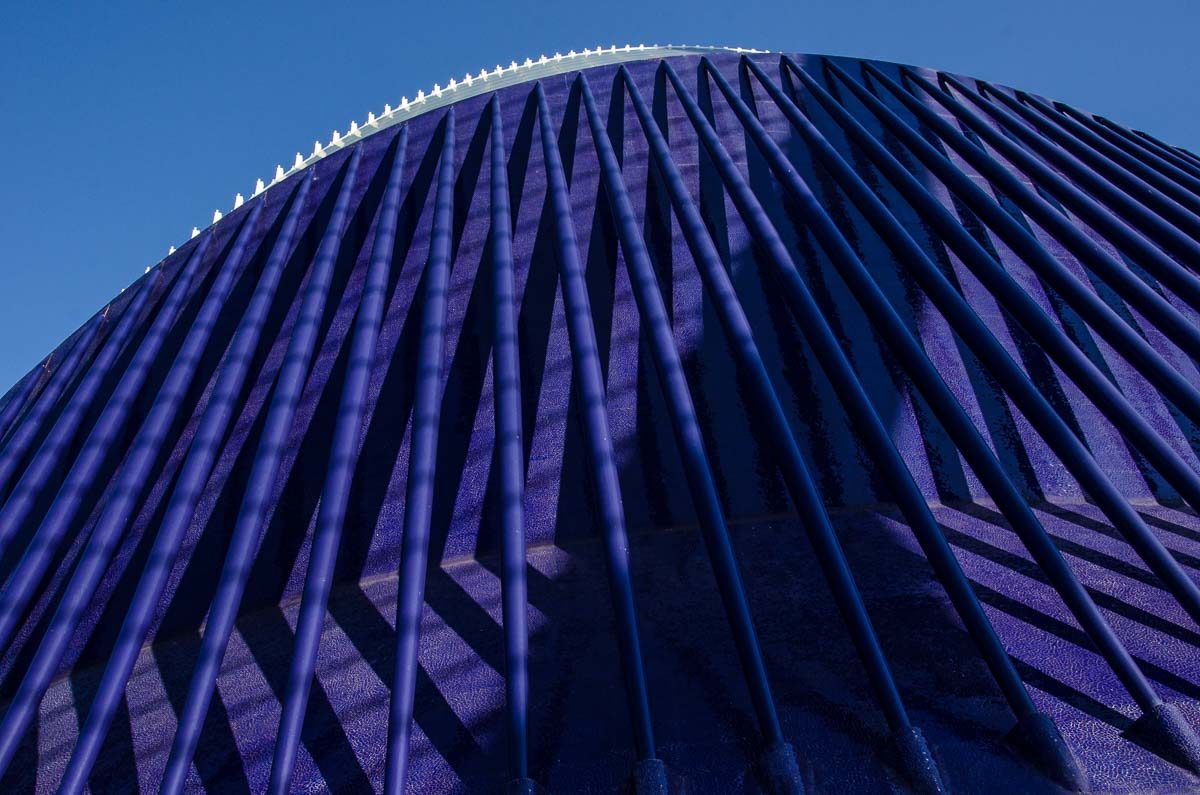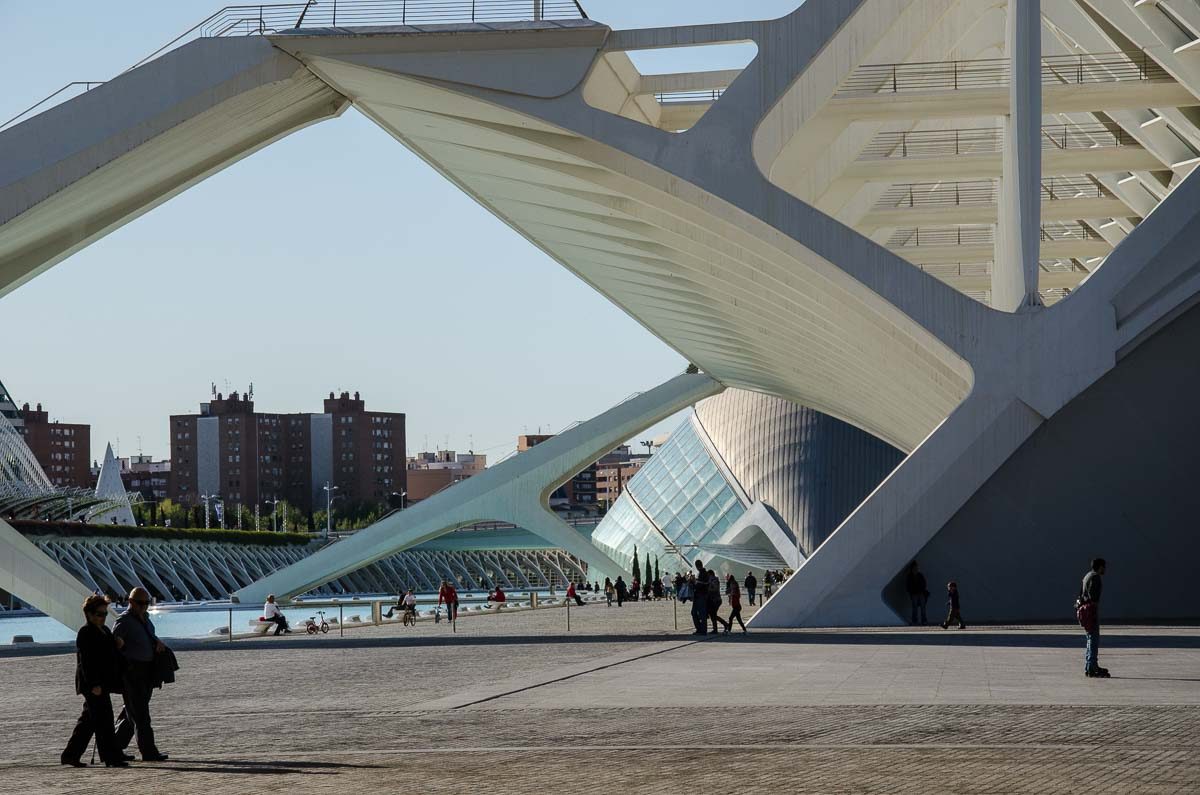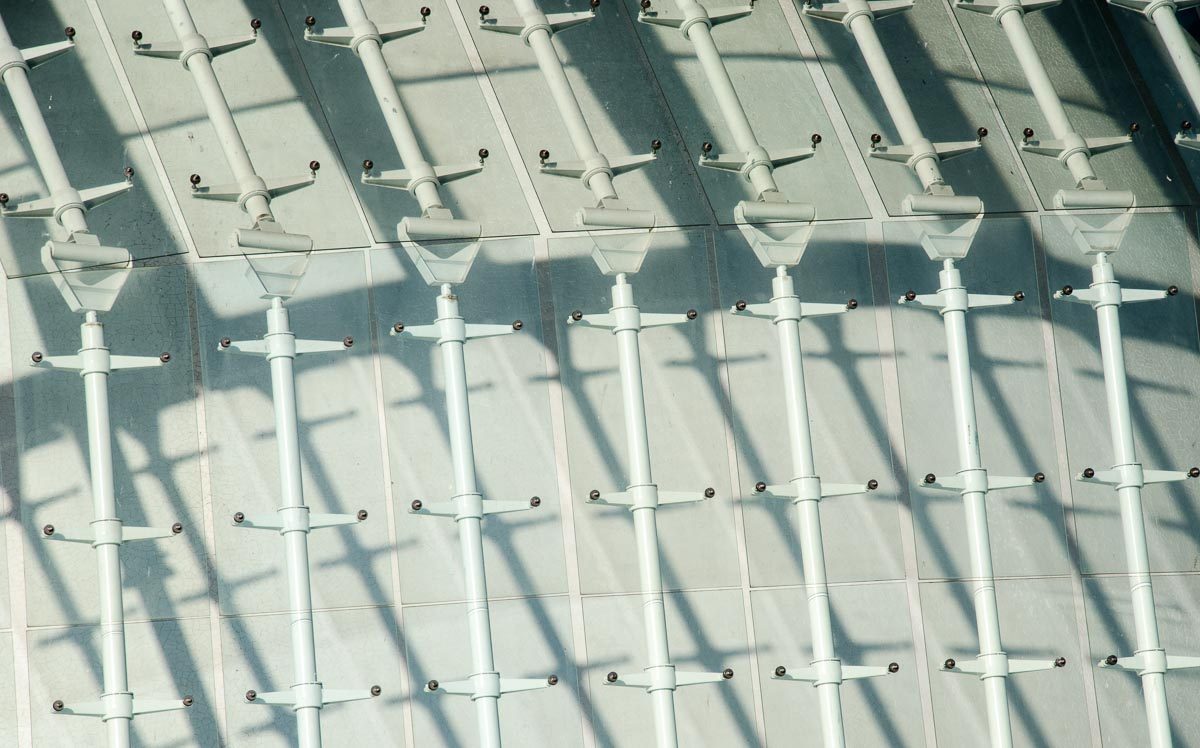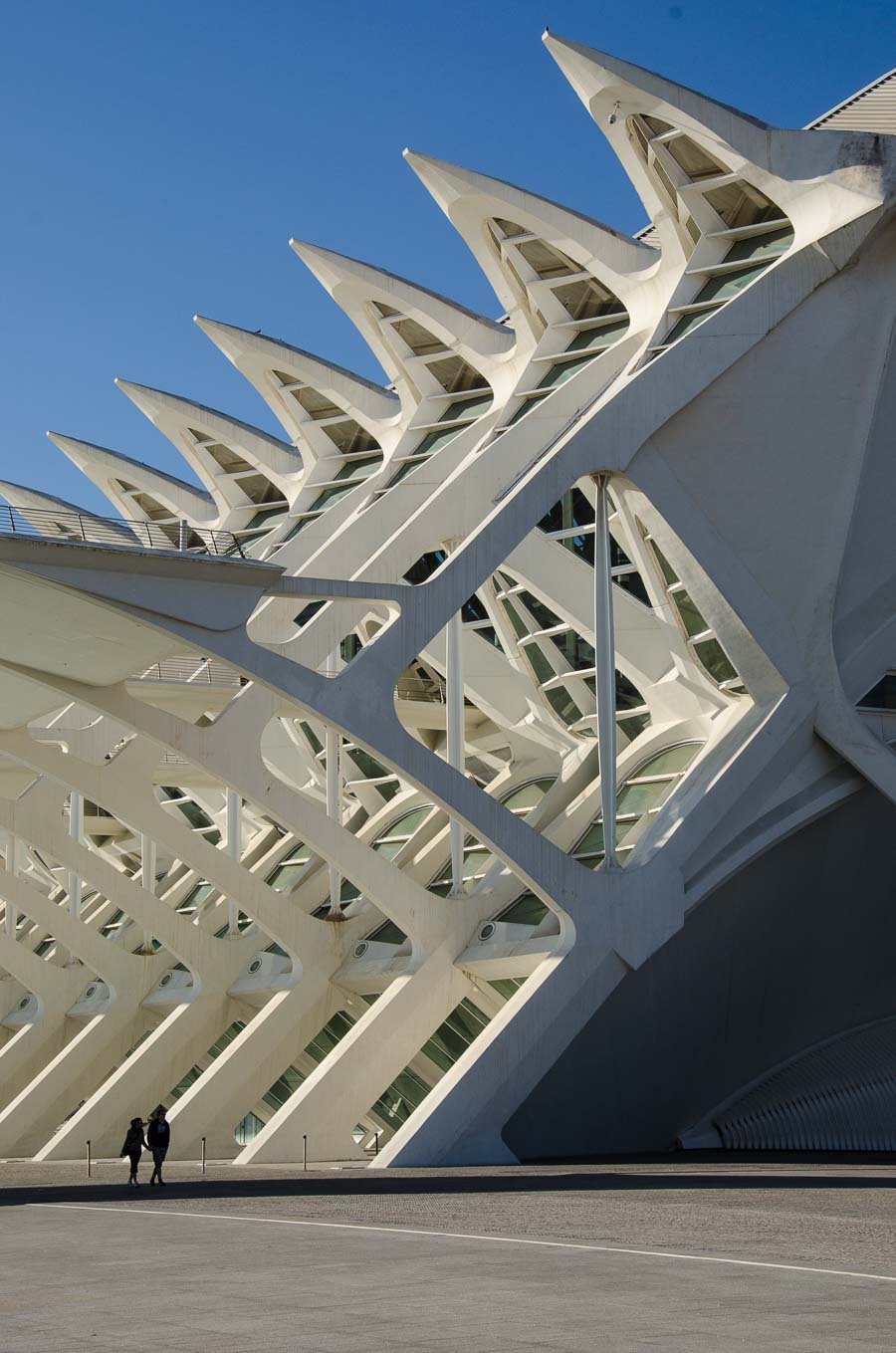 This is an updated and expanded version of a post originally published in 2013.
For another look at one of Santiago Calatrava's buildings in Toronto, see this post: A Tour of Toronto Architecture.
Also, see this post for more of the architectural wonders of Spain: Seven Wonders of Spain. And for even more wonders of Spain see UNESCO World Heritage Sites in Spain.