Our Itinerary
The hardest part about traveling with our Eurail pass, good for 15 travel days within two months, was deciding where to go. We studied the maps, solicited ideas, hemmed and hawed, started in one direction and changed course midway.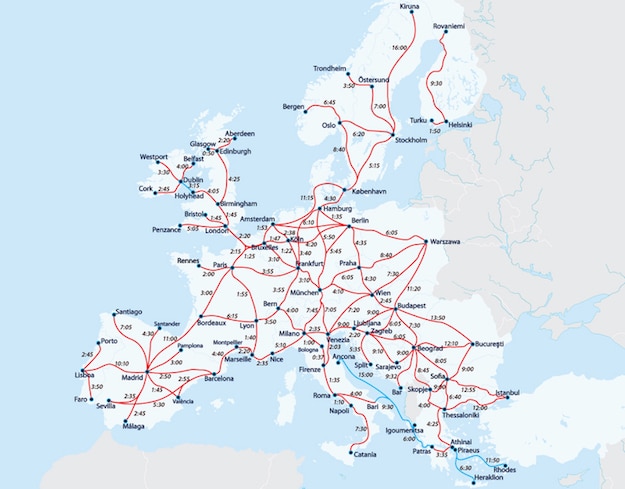 Now that we're at the end of our two Eurail months, I'm beginning to see a pattern. (I'm a little slow to pick up on these things.) We've chosen to visit "B" markets. That doesn't mean second-class cities. It means we've visited medium to smaller-sized towns that are not, generally, foreign tourists' top picks. For the most part, our stops have been in towns we haven't visited before, and towns that are not major airline hubs. These are places one doesn't happen upon on the way to somewhere else. If you are there, it's on purpose. On the other hand, these charming cities attract plenty visitors from their own countries.
The other pattern I've noticed is not a conscious choice, just fact. We've spent most of our time in river towns. Of course, that's because towns have grown up on rivers and because rail lines follow rivers through mountain passes. The towns we stopped in with Eurail are connected by their historic flow of commerce.  The rivers make themselves known in these towns, no matter how the riverfronts have changed.
Some posts on Travel Past 50 may contain affiliate links. If you buy something through one of those links, we may earn a small commission. As an Amazon associate, we earn from qualifying purchases.
Finally, we've been reminded of one of the great things about cities supporting train travel. Instead of landing somewhere in the distance, we arrive right in the center of town. Usually, we found accommodations within a kilometer of the station, and walked to our hotel. Easy and pleasant.
You'll see the complete itinerary at the bottom of this post.
Using the Eurail Pass
For the most part, using the Eurail pass is a breeze, and we felt especially lucky and pampered to be able to hop on first class coaches. We always looked forward to our travel days and the time we'd have reading, writing, and looking out the window. At this time of year, in the off-season, we usually had four seats with a table between us all to ourselves.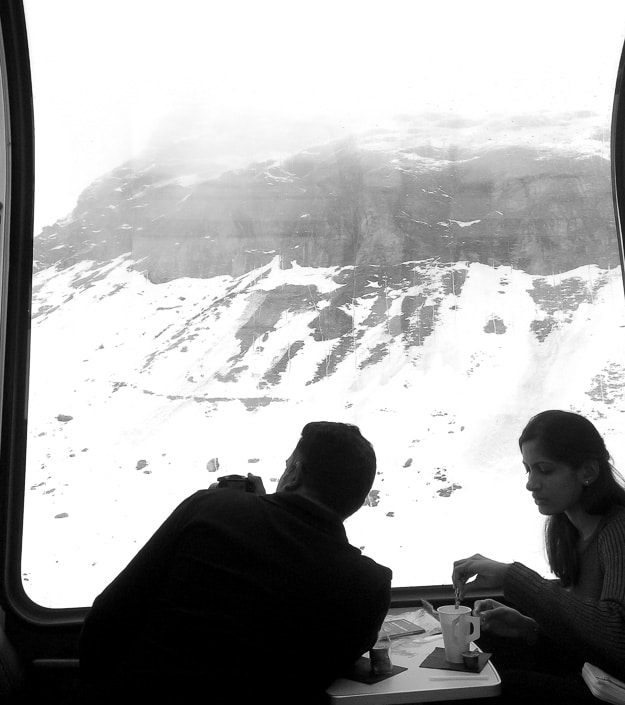 Except for the high speed trains, reservations are often not needed. But that's where things might get confusing. Every country operates differently and manages Eurail pass holders differently. France regards Eurail passes a lot like airline miles; they limit the number allowed (it seems) and charge according to the advance purchase time and who knows what else. We eventually learned to get on the train first and ask questions later. Reservations really weren't required on the regional trains, no matter what you might be told. But that's France. In Italy we tried that and had to pay a surcharge to buy the required reserved seats on board. Another day in Italy, there was not a conductor to be found. Switzerland gets the award for best service. The conductors always confirm where you are getting off or changing trains, usually with specific platform information, too.
We only missed one train, trying to get from Trieste, Italy, to Ljubljana, Slovenia. We took a taxi over the border to the Slovenian station, and waited with a few other people for about twenty minutes. All of a sudden, everyone was gone. It turns out the trains were canceled because of a big ice storm a couple weeks earlier. Unbeknownst to us, a bus was replacing the train. We missed the bus, too, while we were watching the tracks.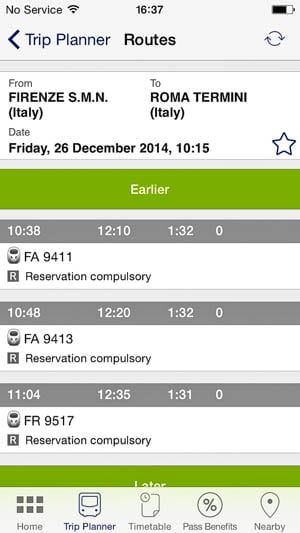 The best bet is to use the Eurail website and Eurail app for timetables and planning. If it says reservations required, go to the train station and make the reservations. This will usually cost ten to twenty Euros. If it doesn't say anything about reservations, just get on the train. The Eurail app also outlines additional pass benefits, country by country, like lounge use, airport transfers, etc. We liked being able to read the timetable using the app, and leave town when we were ready. But do allow extra time on weekends and rush hours for making your way through train stations.
We traveled by train a few times without using the Eurail pass. We thought (incorecctly) that we'd need to save travel days, so we bought tickets to Caen from Paris. Also, the United Kingdom doesn't participate in Eurail (they have their own system), so we needed to buy our London to Paris tickets, our first time through the Chunnel. Our Eurail passes supposedly saved us some money on this leg (?) but the reservations did not count toward a Eurail travel day.
Italy's fast trains serve beverages and snacks in first class. The London-to-Paris train served us a meal. The rest offered food and beverage service for a charge. As in Japan, the best bet is to take food and water with you if you're feeling peckish. Most of our rail travel, though, was under three hours., so we weren't going to starve.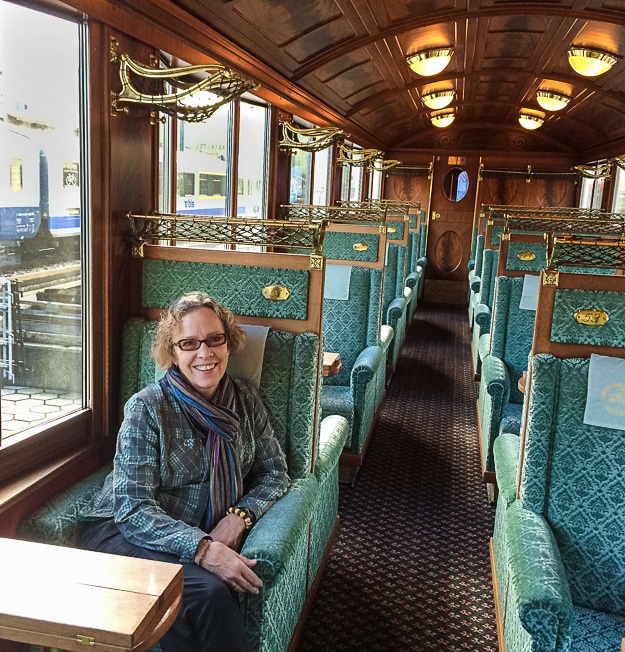 Swiss Travel Pass
We inquired about train travel in Switzerland at the World Travel Market in London before we started our Eurail journey, and based that portion of  our itinerary on their recommendations. Plus, they provided us a special Swiss Travel Pass that includes discounts on the most scenic routes. Most of our Swiss Travel would have been covered by Eurail, but we saved a couple Eurail travel days by using the Swiss pass. The Swiss Travel Pass also includes entrance to over 450 museums and public transportation in Swiss cities. That's a fantastic deal if you have more time in Switzerland than we did. The U.S. agent for the Swiss Travel Pass (including the Grand Train Tour of Switzerland) is Rail Europe.
As it was, the journey was the destination in Switzerland. We took the Golden Pass Classic from Bern to Montreux, followed the Glacier Express lines from Zermatt to Chur (the Glacier Express Panorama train wasn't in effect at the time), and the UNESCO World Heritage route using the Bernina Express from Chur to Italy. Another route uses both rail and boat travel. In all there are ten panorama routes,  and the Swiss Travel Pass can pretty much cover them all on its Grand Train Tour of Switzerland. Yes, we could go back and cover entirely different routes.
For all of you who encouraged us to travel through Scandinavia or end up in Istanbul, we wanted to do that, too. Maybe next time. On this trip, we've tried to include scenic train routes (Switzerland), new destinations (Strasbourg, Ljubljana), day trips (Eurail includes many bus lines, too), and stops to visit with friends and family (Paris, Bern, Milan). Before this Eurail trip came about, we'd planned to spend this time, well, who knows where? We'd talked about the Balkan countries, Romania and Bulgaria. We just might need a Eurail trip, Part II.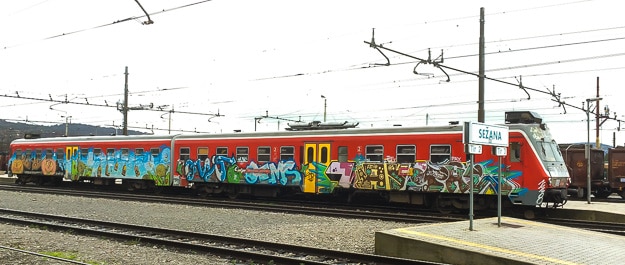 Here's our Eurail route, listing cities (and rivers or bodies of water) where we stopped. We're posting city-by-city commentary on our hotels, restaurants, and good finds. Stay tuned for the best round-up of all time!
Paris, France; Nov. 9-12, 14-17; Seine
Caen, France; Nov. 12-14; Orne
Strasbourg, France; Nov. 17-20; Rhine
Colmar, France; Nov. 20-23; Lauch, tributary to the Ill; also Rhine via canal
Bern, Switzerland; Nov. 23- 25; Aare
Montreux, Switzerland; Nov. 25- 26; Lake Geneva
Zermatt, Switzerland; Nov. 26-27; Vispa
Chur, Switzerland; Nov. 27-28; Rhine
Verona, Italy; Nov. 28-Dec. 1; Adige
Trieste, Italy; Dec. 1-4; Gulf of Trieste/Adriatic
Ljubljana, Slovenia; Dec. 4-8; Ljubljana
(daytrip to Idrija;  Idrijca River)
Venice, Italy; Dec. 8-11; Venice Lagoon/Adriatic
Milan, Italy; Dec. 11-13; answer to the trivia question
Florence, Italy; Dec. 13-27; Arno
Travel Planning Resources
Looking to book your next trip? Use these resources that are tried and tested by us. Flights: Start finding the very best flight deals by subscribing to
Thrifty Traveler
. Book your Hotel: Find the best prices on hotels with
Booking.com
. Find Apartment Rentals: Find the cheapest prices on apartment rentals with
VRBO
. Travel Insurance: Don't leave home without it. We recommend
Allianz Travel Insurance
. Need more help planning your trip? Make sure to check out our
Resources Page
where we highlight all the great travel companies and products that we trust. See all of the gear and books we like in one place on our
Amazon shop
.