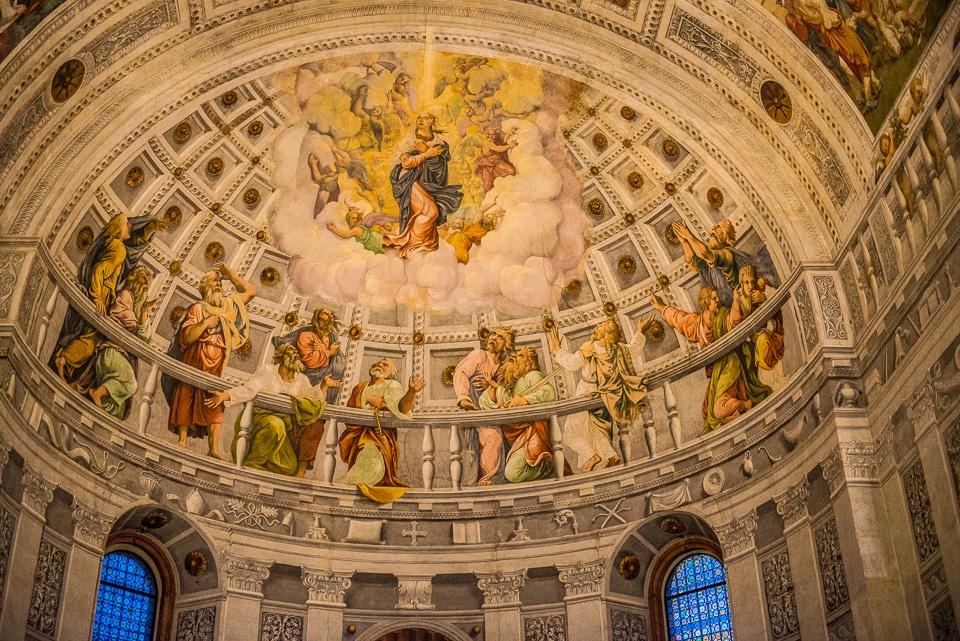 We were in the Verona Cathedral at night. Consequently, the light inside was even dimmer than normal in an old church. So, I almost missed this amazing feature of the church because it was so dark. But I did notice it as I was gazing around while listening to an Italian nightingale practicing some Christmas music.
But I was struck by this unusual piece of fresco–of the saints themselves seeming to lean on the dome gallery rail as they watch the Assumption of Mary into heaven. It seems to put those saints on a virtual par with us poor mortals, left on the ground to stare up at the painted wonders of the Renaissance art that decorates Italy.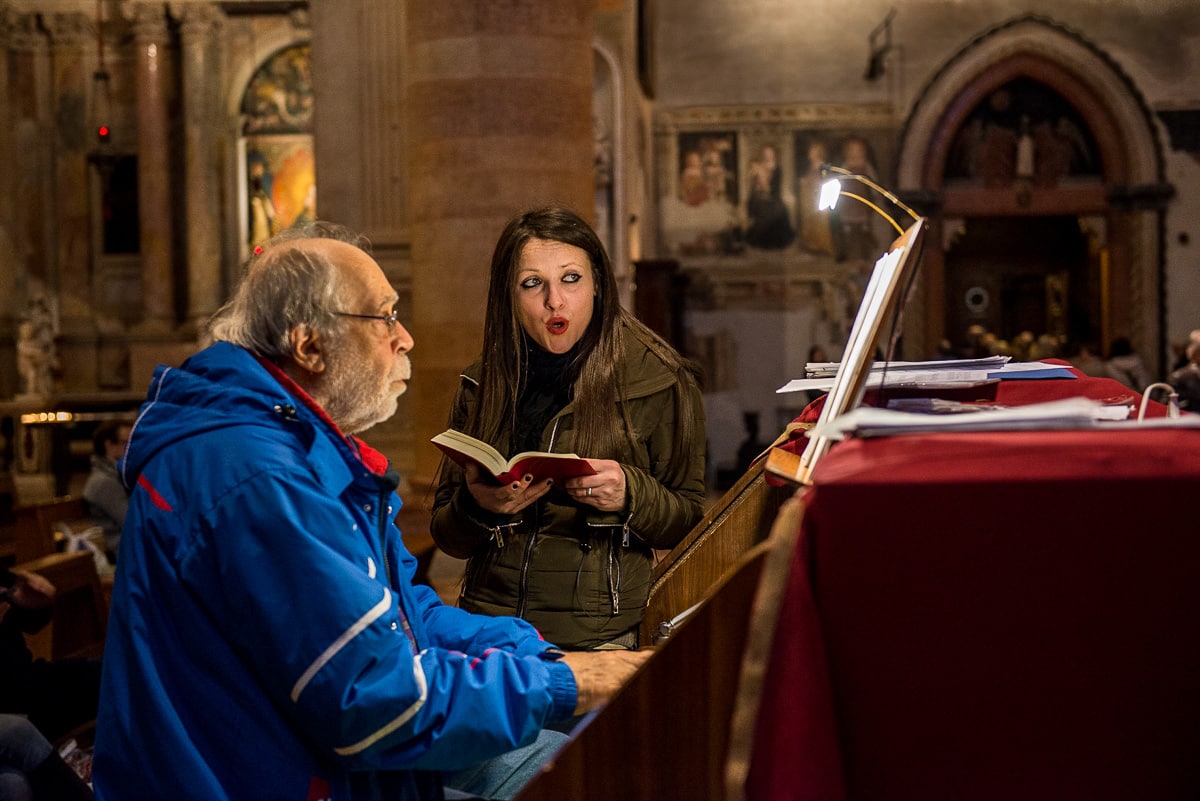 While we were doing our typical stroll through the cathedral, we were treated to the lovely voice of this young woman rehearsing Christmas music with her accompanist. She wasn't belting it out, but the quality of her voice, even in restrained rehearsal mode, was so lovely that I just stopped and listened for as long as she was singing. She was practicing without any amplification other than the remarkable acoustics of the cathedral itself. The church organ, which was sitting at the intersection of the nave and transept, seemed to be right at the sonorous sweet spot. When she'd hold a note, it would reverberate and fill the church with beauty. I want to go back for Christmas services.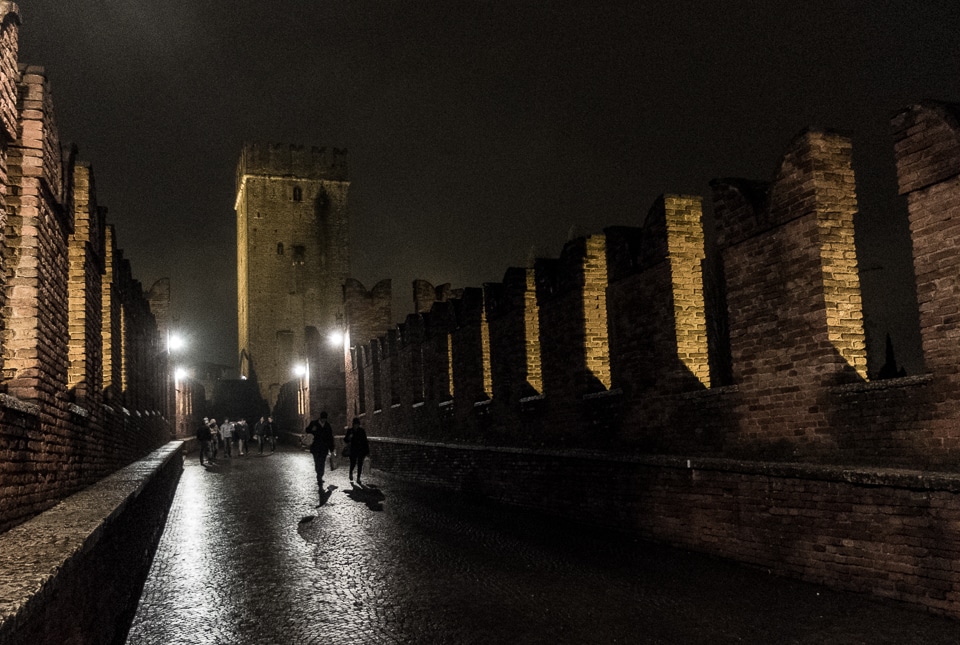 The Old Castle Bridge, also known as the Ponte Scaligero, is a fortified bridge spanning the Adige River in Verona. Originally built in the 14th Century, it provided a quick exit for the occupiers of the city's old castle, just in case things came to that.
Things really didn't get that bad until 1945, when the retreating Germans completely destroyed the bridge. A reproduction was started in 1949, and was completed in 1951.
There's not so much drama today. The bridge is mostly part of a peaceful promenade for Veronese out for a walk around the old city on a Sunday evening.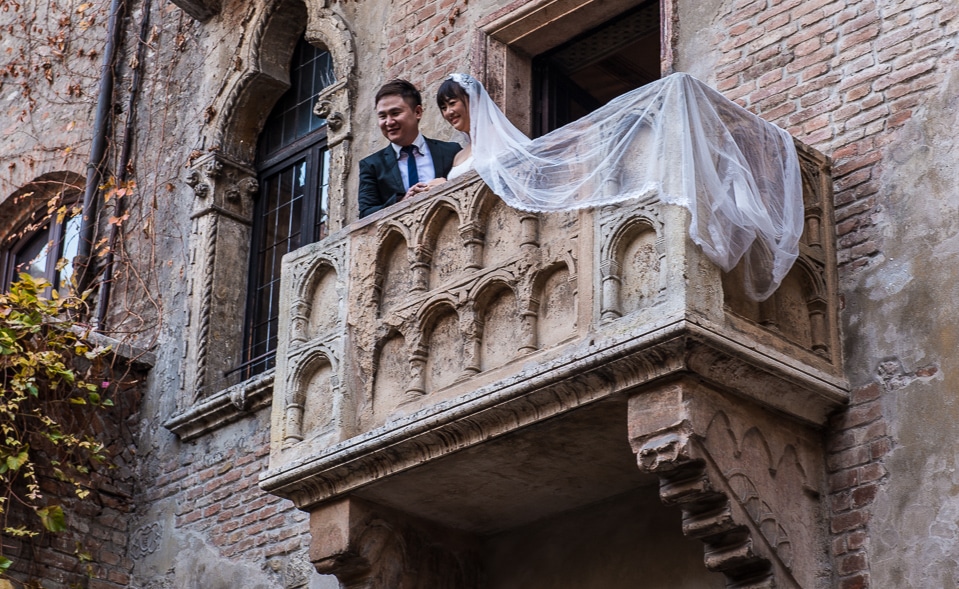 "But soft, what light through yonder window breaks? It is the east, and Juliet is the sun."
There actually is a balcony in Verona that purports to be the inspiration for the balcony scene in Act 2, Scene 2 of Romeo and Juliet. It's part of an old home that was once owned by the Capelletti (Capulet) family and has been turned into a rather nice small museum dedicated to the preservation of the 14th Century frescoes within–and to the sainted memory of a fictional character.
In addition to the frescoes, there are lots of prints and paintings of the famous star crossed lovers from the time of Shakespeare until now. There are also a couple of costumes from the Franco Zefferelli version of Romeo And Juliet.
I saw that movie when I was 16. I think I'm still in love with Olivia Hussey.
All in all, Juliet's balcony and its home is a much better exhibit than I expected. And made even better by the couples who seem to walk through the home and sigh at the displays, and in this case enact their own Juliet's balcony scene.
My only question for those couples is, "You do know what happened at the end of Romeo and Juliet, right?" Star-crossed lovers is not a benediction. It's a curse…as you can sort of see by how the statue of Juliet outside the balcony is treated by the tourists.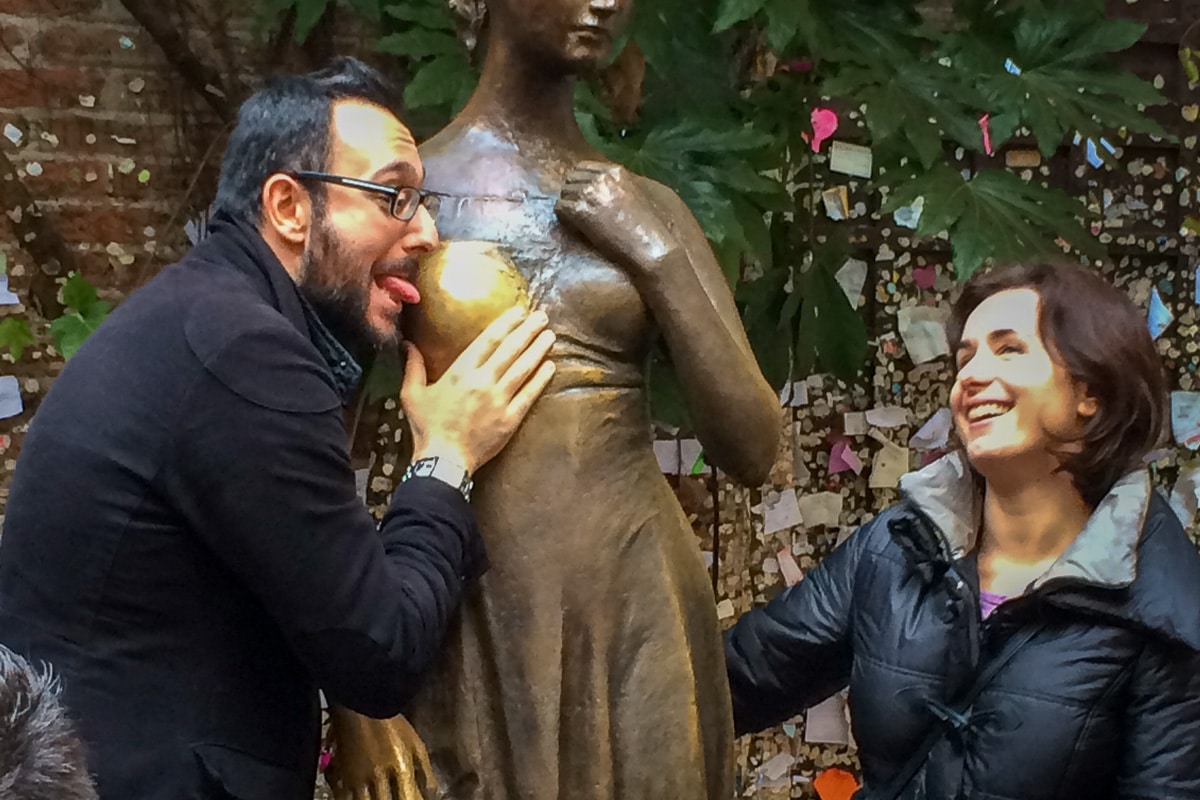 The City of Verona is a UNESCO World Heritage site in Italy.
When you're thinking of traveling, your first stop should be our Travel Resources page, where we list all the essentials you need to make your travels easier, cheaper, safer, and more fun.
You can also help yourself get ready for your travels by reading our Get Started Planning Your Trip Now page.
We love traveling–with the right gear. We've gathered a lot of the stuff we use to make travel more pleasant and efficient all on one page. Shop our Travel Past 50 Amazon page to find our favorite gear. If you purchase something from the store, Travel Past 50, as an Amazon affiliate, may receive a small commission at no extra charge to you. Thanks.
We never leave home without our travel insurance. Nor should you. Search for the travel insurance from Allianz that best meets your needs, whether it be an annual plan or a single trip.
You can see (and buy prints) of most of our travel photos in one place on this page.
Note: This post and other posts on TravelPast50.com may contain paid or affiliate advertising links. As an Amazon Associate we earn from qualifying purchases.