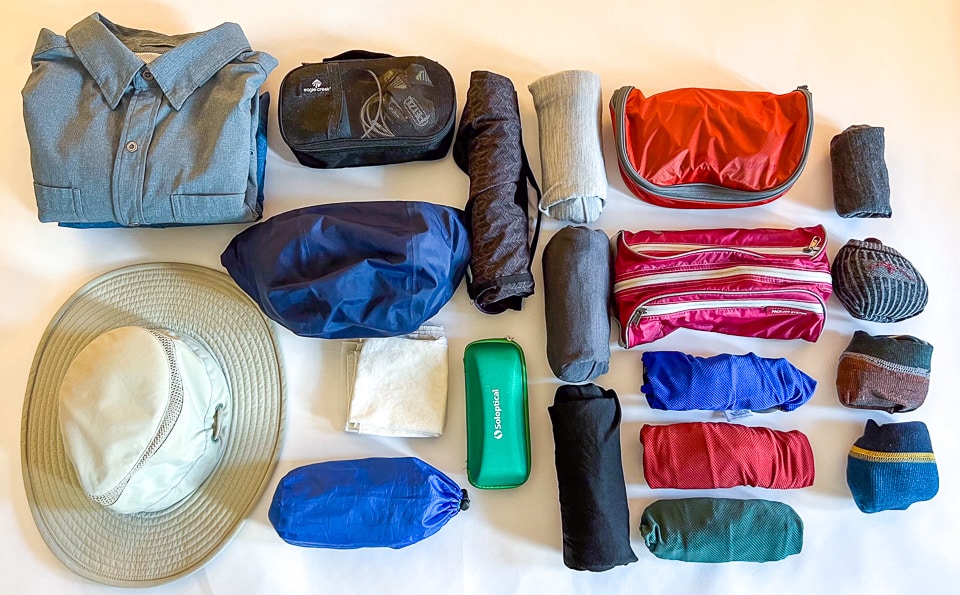 I will cut straight to the bone. The bare bones of my super light travel packing list. This list should be more than adequate for a week-long trip – or even more.
This is my ultimate ultra light men's packing list for warm weather travel. The details on the actual products I use are below, although any equivalent garments and products should work just fine. All of this, if folded/rolled properly will fit easily in my 35 liter Cotopaxi backpack.
If you're going really stingy, you could fit the warm weather version in an even smaller backpack, such as my Osprey Talon 22 liter backpack that I primarily use for day hiking.
Men's Ultra Light Packing List – Warm Weather Version
1 pair of shoes
3 pairs of boxer briefs
3 pairs of mid-weight wool socks
3 t-shirts
2 long sleeve shirts
1 pair of pants
1 pair of shorts/swimsuit
1 belt
1 rain jacket
1 lightweight wool Buff
1 pair of sunglasses
2-3 handkerchiefs
Microfiber towel
Optional: 1 lightweight down vest
Optional: 1 wide brim hat
The Backpack
The Cotopaxi Allpa 35L Travel Pack is my first choice. Everything above easily fits into it. And, I have converted to a backpack instead of a roller bag because I just find it much easier to navigate airports and cobblestone streets without a wheeled bag. Packing the way I do, it's light enough to carry easily.
The Cotopaxi also has a separate padded sleeve for a laptop and tablet, if you don't feel like carrying a separate hand item.
Like I said above, if the absolute minimum is your goal, you can, with very careful folding and rolling, fit all the warm weather gear into a 22 liter pack, such as my Osprey Talon 22.
The shoes
Nearly 100 percent of the time, unless I'm in for some serious country hiking, I take one pair of my favorite trail/walking shoes, the Adidas Terrex, in black. I wear them on the plane and every day, which means they don't take up space in the bag. I like them because they're rugged, and they fit my foot. Also, in black, they can pass a little bit for dressier shoes. Ultimately, you'll want a shoe that's comfortable for you.
Update: I recently got my first pair of Xero Prio shoes and have been wearing them now for a few days. I put more than 10,000 steps on them the other day at the Minnesota State Fair and my first impression is that I love them. Wide toe box, barefoot feel, super flexible, light weight. And they come in a variety of colors and styles for in-city walking and tough trail trekking. I think they're going to supplant the Adidas as my new favorite traveling shoe. Let their Find Your Shoe feature help you select the right Xero shoe for you.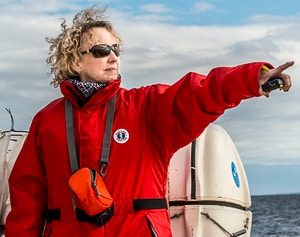 Want more tips like these?
Join the 3000 other travel enthusiasts getting our best advice right in their inbox.
Boxer Briefs
I've been wearing Ex Officio Give-N-Go boxers since I discovered them years ago. They're light weight. They don't retain odor. And when you want to wash them out in your hotel sink, they'll dry overnight.
Mid-weight wool socks
I have several sock brands I like, but Darn Tough is as good as any. They wick moisture, which is essential.
T-shirts
The only t-shirt I travel with are Unbound Merino. They're light. They resist odor for days. And, you can wash them out in your sink and they'll dry overnight.
Long sleeve shirts
I have two ExOfficio insect repellent long sleeve shirts, but unfortunately ExOfficio seems to have quit making anything other than underwear. I've just ordered a Clothing Arts pickpocket proof shirt to try out. Until I get it, I'll stick with the ExOfficio shirts. BTW, ExOfficio shirts are still available on Amazon and at REI.
Pants
I like Kuhl pants a lot. Lightweight, washable, comfortable. And they don't necessarily look like "travel pants." An alternative that I take if we're mostly going to cities is the Clothing Arts pickpocket proof pants.
Shorts/swimsuit
I like Vuori shorts a lot. Not sure how I got onto them, but they're my everyday shorts in summer, even when at home.
Belt
I really like Arcade Belts for a couple of reasons. They come in dozens of colors and styles. And they have plastic buckles. You don't have to take them off to go through security.
Rain jacket/shell
Patagonia is my go-to brand for weather resistant clothes. I love my Torrentshell Rain Jacket.
The Buff
A merino wool Buff neck gaiter keeps the sun off your neck. You can configure it into any shape you want pretty much for sun and wind protection. You can also pull it over your nose and mouth for when the air is bad. In cooler weather, it subs for a scarf.
Sunglasses
Since I had cataract surgery which corrected my nearsightedness, the world of sunglasses has opened up for me. I like the wrap around kind like these Hobies. Very light weight, which is my primary criterion for glasses of any kind.
Lightweight vest
The Scottevest Featherweight is a great product. Not only does it provide just a little bit of warmth, but also has 16 internal and external pockets that can stow your phone, keys, wallet, Kindle, and other electronic gear. When you go through airport security, just drop it in the bin with your backpack.
Hat
I've had my Tilley AirFlo Hat for more than 15 years. It's maybe the most durable and useful piece of clothing I have. It's wonderful in hot weather, too. Soak it in water, wring it out a bit, and it's like an air conditioner on your head.
Microfiber tower
If you're staying in a hotel, this microfiber towel is probably optional. Even if you're not going to use it to dry yourself, however, it's great for rolling up items you've washed out in your sink to get the last bit of water out of them before hanging them up to dry.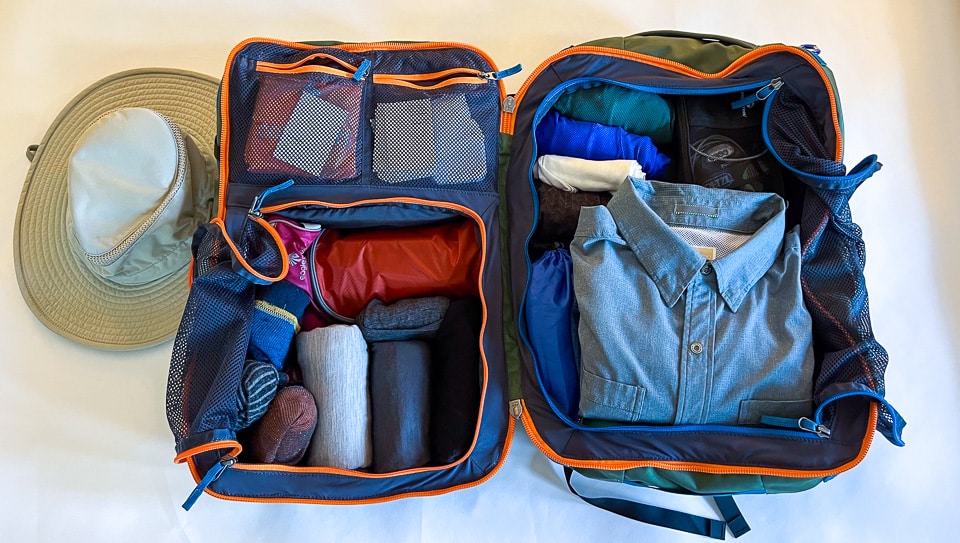 Men's Light Packing List – Colder Weather Additions
When I'm going somewhere colder, I pack the warm weather package with the following adjustments. Of course, if you're going somewhere really cold, like Minnesota or Sweden in the winter, you'll need even more rugged stuff. Obviously, in those rare cases, you'll want a parka, long underwear, and serious gloves and boots.
This list will take care of you down to freezing and a little below.
Switch 2x midweight socks for 2x heavyweight socks
Switch down vest for down jacket
Add 1 pair of lightweight gloves
Add 1 lightweight wool hat
Switch t-shirts for long-sleeve undershirts
Add 1 heavyweight wool hat
Heavyweight socks
Again, I'm partial to Darn Tough. These Darn Tough socks are my standard winter socks. I do live in Minnesota.
Down jacket
Again, a Patagonia down jacket is as good as any. A lighter jacket will keep you warm down to the freezing mark, if you layer with your long sleeve undershirts, a long sleeve shirt. In a pinch, put your raincoat over the thin down jacket for even more warmth. You'd be surprised how warm it is. (This is exactly what I once wore in Berlin in January.)
Gloves
Living in Minnesota as we do, I have about 10 pairs of gloves in all weights. For lightweight gloves, I like these Black Diamond screen tap gloves. It's nice not having to take them off to use your phone. Pack these in the pockets of your down jacket.
Wool hat
I like this Smartwool Merino Wool beanie. It's warm enough if it's above freezing, and it packs down really small. Like the gloves, pack this in the pocket of your jacket.
Long sleeve undershirts
Unbound Merino again. Unbound Merino's long sleeved shirts are just the best for layering when it's cold.
Men's Light Packing List – Hot Weather Variations
When traveling somewhere we know is going to be hot, i.e. constantly above 80 F (27 C) I pack the basic package and make some adjustments. Note: even for hot environments I usually pack long sleeves and pants to add a little bit of protection from mosquitos and other pests.
Switch 2x mid-weight socks for 2x no-show socks
Add 1 pair of shorts/swimsuit (see above)
Optional: 1 pair of sandals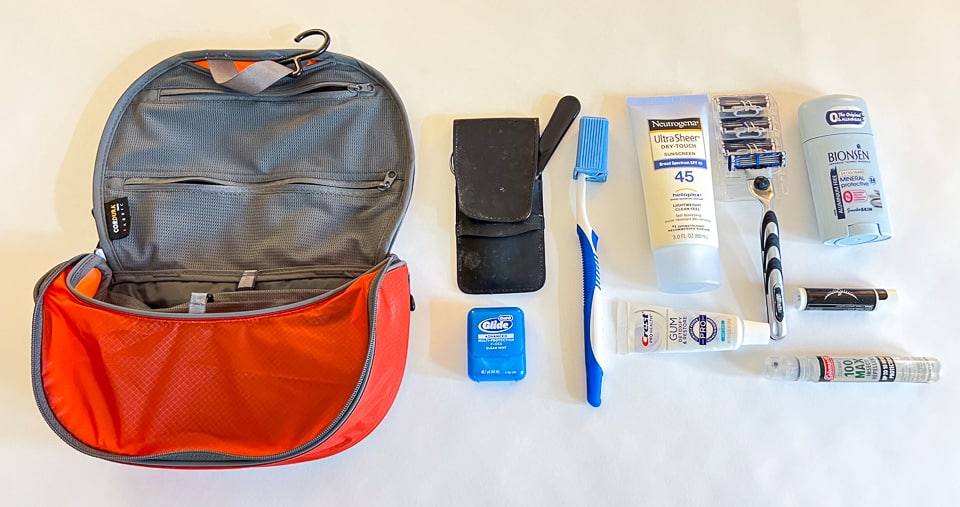 Minimal Toiletry Kit
Other than recommending the Sea to Summit lightweight hanging toiletry bag, I'll leave it up to you to pick your own toiletry brands. For the toothbrush, floss, and travel sized toothpaste, I use what my dentist gives me at my semi-annual cleaning.
Toothbrush
Floss
razor
Lip Balm
Sunscreen SPF-50 or higher
Small insect repellent, if you're going where you'll want it
Nail clippers and file
Tweezers
Travel-sized toothpaste
Deodorant
Medicine
Minimal Electronics
Phone, loaded with apps
Adapter/charger. We like this one, because it combines all the plugs adapters you'll need anywhere in the world with four USB charging ports.
Cables for phone, watch, and computer. We like the Amazon Basic cables as well as any.
Kindle or iPad for books
Auxiliary power supply for when you wish you hadn't spent so much time looking at videos and realize at the end of the day that you're out of juice.
Optional: headlamp
Homemade First Aid Kit
This entire homemade travel first aid kit will fit into a sandwich sized ziplock bag, although I recommend something a little more durable. I actually use a heavier weight plastic envelope that my ExOfficio underwear was packed in.
When you're thinking of traveling, your first stop should be our Travel Resources page, where we list all the essentials you need to make your travels easier, cheaper, safer, and more fun.
We love traveling–with the right gear. We've gathered a lot of the stuff we use to make travel more pleasant and efficient all on one page. Shop our Travel Past 50 Amazon page to find our favorite gear. If you purchase something from the store, Travel Past 50, as an Amazon affiliate, may receive a small commission at no extra charge to you. Thanks.
We never leave home without our travel insurance. Nor should you. Search for the travel insurance from Allianz that best meets your needs, whether it be an annual plan or a single trip.
You can see (and buy prints) of most of our travel photos in one place on this page.
Note: This post and other posts on TravelPast50.com may contain paid or affiliate advertising links. As an Amazon Associate we earn from qualifying purchases.