EURAIL 2014
[Note: this is one in a series of 'Stay and Eat' overviews covering the cities we visited while using first class Eurail passes in November and December 2014. See our itinerary and read a bit about our Eurail experience here. Come back soon for more on other cities on the tour.]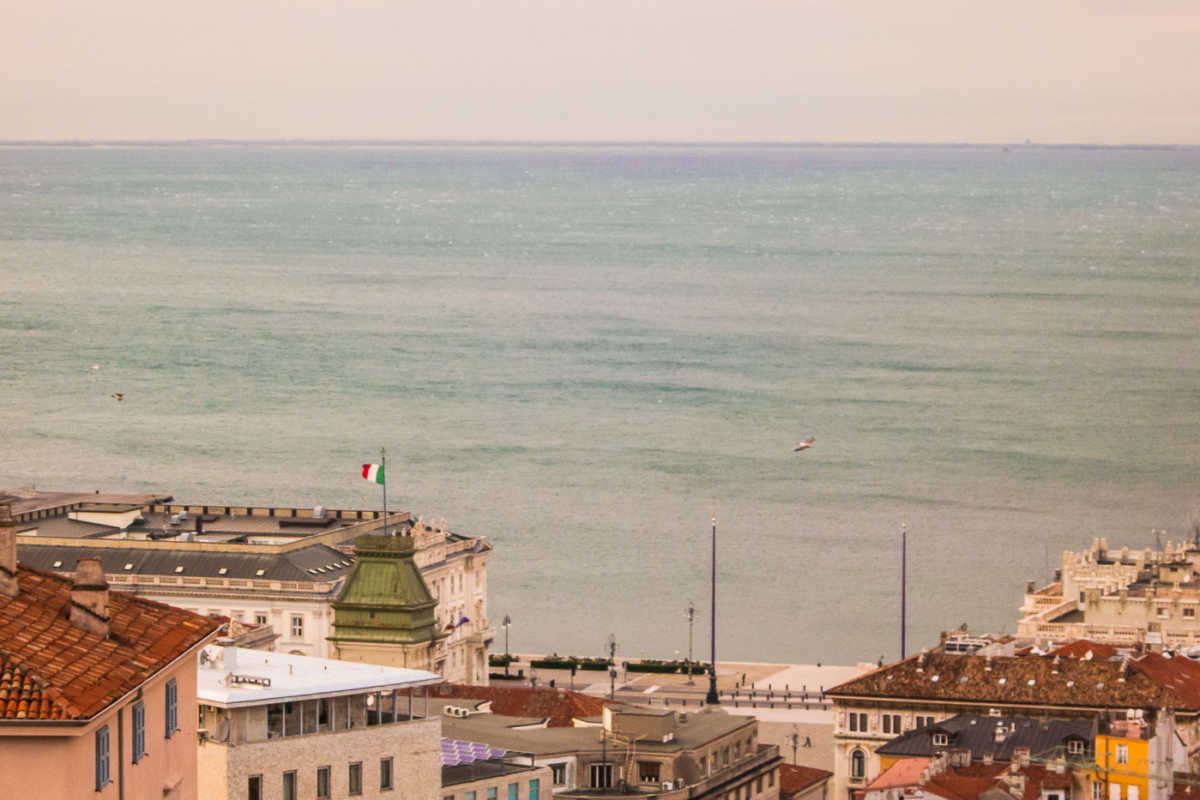 (Trieste December 1-4)
We are drawn to Trieste because of its position on the border of Italy and Slovenia, and because of all the complicated history that goes with the location. It's been lobbed back and forth over time among Italy, France, Austria, Germany, Yugoslavia, and Slovenia.  It's a port city, a border town, an ancient Roman city, and a literary hotspot (James Joyce lived here for a time).  I'd recently read "Trieste," by Daša Drndić.  And the name reminds me of the Spanish word for sad: triste. Mussolini was here. What could possibly go wrong?
Hotel
Hotel James Joyce – A reasonable hotel in a really good location in the old section, but not far from Piazza Unità d'Italia. In this case we took a taxi from the rail station. Good Wi-Fi. Thin walls. A temporary hot water problem was resolved within an hour.  Note, the reception desk and breakfast are at Urban Hotel, just across the back street. There's a comfortable lounge there, too, which can serve as an office.
Sites
Castle of San Giusto – A fun place to explore. Highlights include the Roman exhibit of statuary, inscriptions, and mosaic floors in the bowels of the castle. Military armament is displayed in the spacious old castle director's quarters. (Apparently, this wasn't a bad gig.) And views over the city are really good, if not too windy. Some say the wind is what makes the people of Trieste a little off their rockers.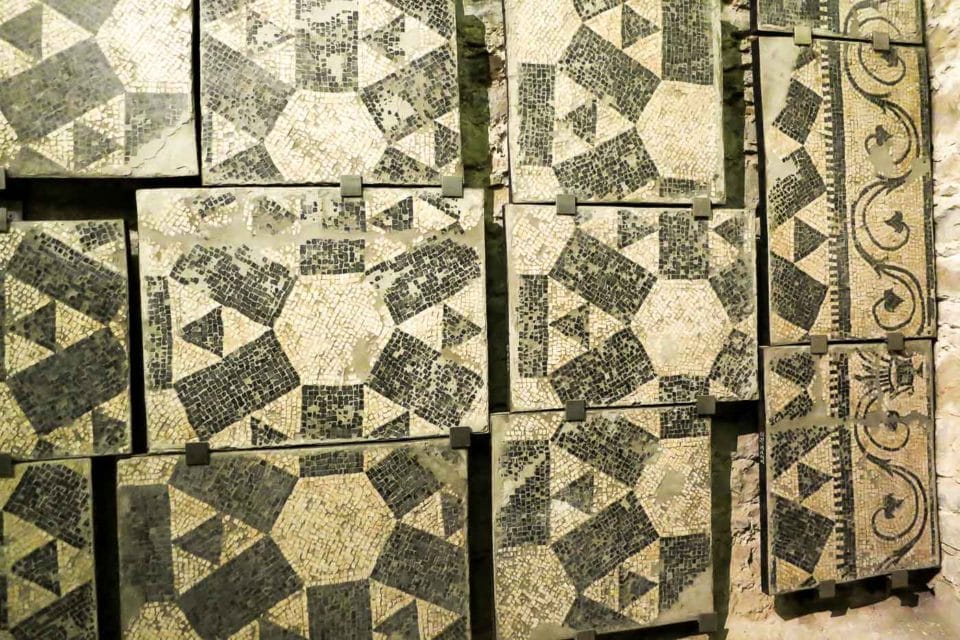 Trieste Cathedral – Cattedrale di San Giusto is a 9-11th Century Romanesque church built on top of a 6th century basilica. It is small but outstanding for its impressive–and purple!–mosaics. Pay the 50 cents to light up the chapels to see these works of art. This, like the Castle of San Giusto next door, is built above Roman ruins.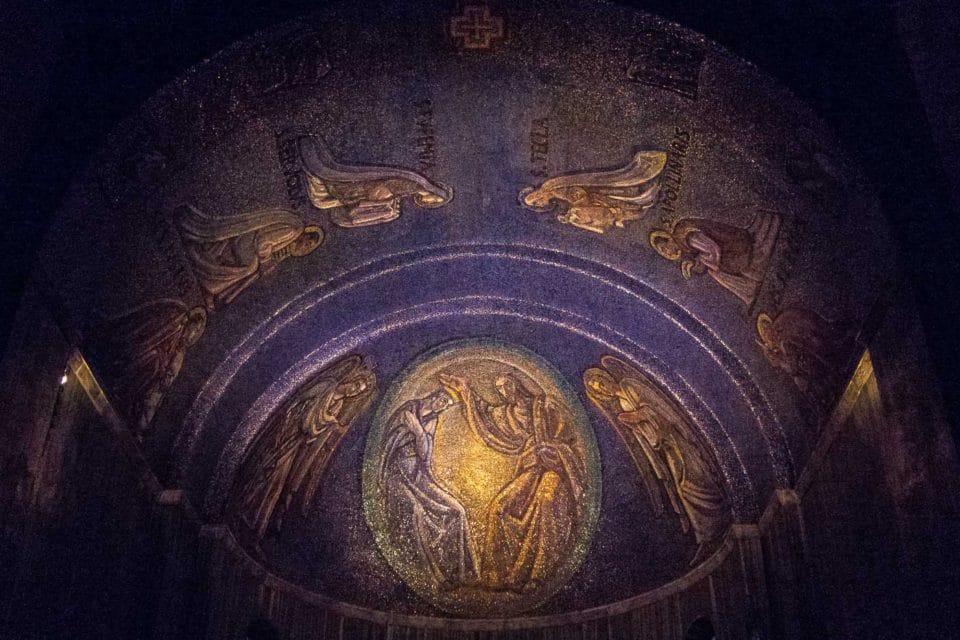 Museo Revoltella – We hadn't set out to visit a modern art gallery in Trieste, but this was the only museum open that day. A happy surprise. There's some really good work by sculptors Arturo Martini,  Franco Asco, and Marcello Mascherini, exhibited in a studio-like setting. The visit includes the extant rooms of the Baron Revoltella's home with portraits and decor by Alfredo Tominz. The museum has expanded beyond the original palatial home to include a a new wing with large collection of genre paintings and portraits from the last century, as well as an impressive cycle of sculpture.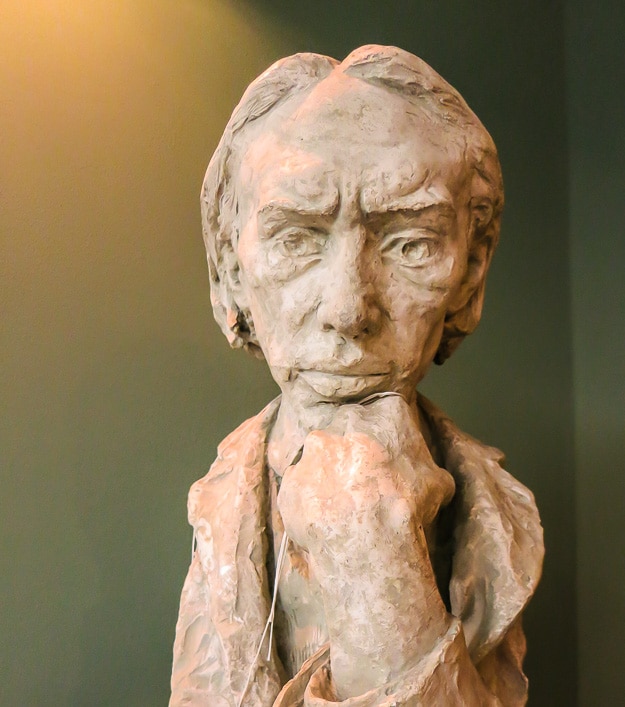 Restaurants
L'Etrusco Enoteca – This wine bar is a great stop for a light dinner or late night plate. The board of cheese and sausage (including Prosciutto di cinta senese from those fancy black pigs w white neck bands) is memorable. With that, enjoy a glass of Villa Antinori (a blend of Sangiovese and Cabernet Sauvignon). Alberto and his staff offer a warm welcome.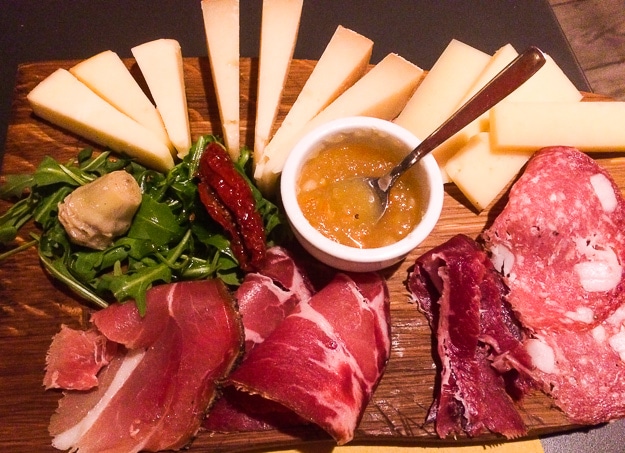 ArcoRiccardo – This fine but relaxed restaurant, in a locale formerly frequented by James Joyce, is named for the Roman arch it sits atop. The arch is a local landmark, and once inside the restaurant, you can view more of the excavations. But the star of the show is the food. This was easily one of the best meals of our Eurail trip. We ordered with good advice from the smart staff, shared dishes (also with staff encouragement), and thoroughly enjoyed penne pasta with shrimp followed by fresh sea bass. We couldn't resist a coffee and Lepanto brandy, because it was there. Kudos to this owner/chef for his courage in re-opening the historic site after it had lain empty for years.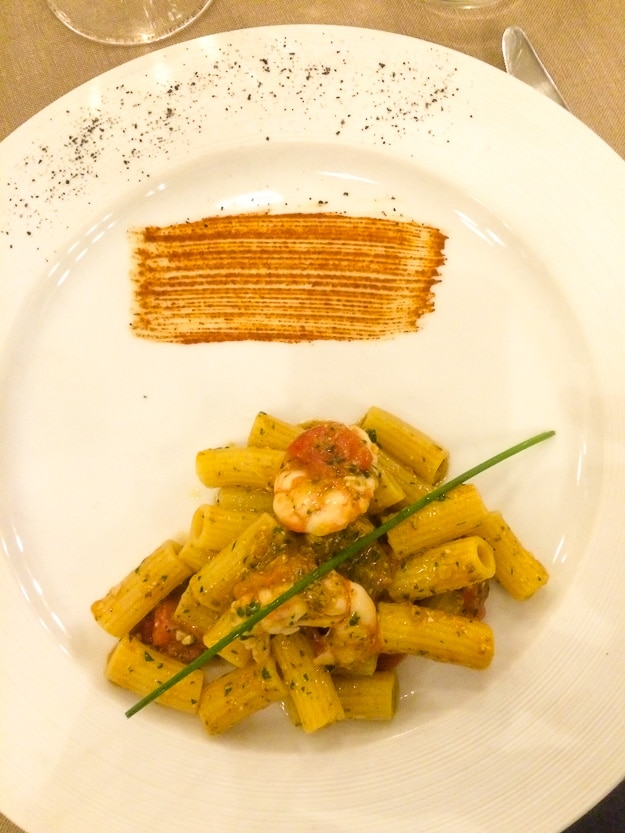 In the City – This isn't a place you'd walk across town for, but we were lucky in that it was open when we were hungry, and they offered a couple staple items found on most Trieste menus. One of those is Stinko, a big, fatty roasted knuckle of pork, and another is Jota, a potato, bean, and slaw soup that tastes better than it looks.
Get all our travel tips delivered to your inbox
Subscribe to our email newsletter