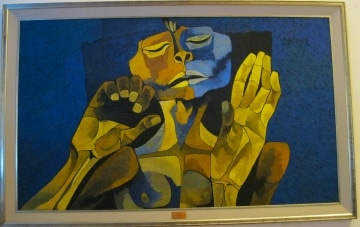 Oswaldo Guayasamín, who died in 1999, is undoubtedly Ecuador's most famous artist. You see his images everywhere you go. Even the shops that sell Indian handicrafts appropriate his work for everything from sweaters to painted peanut bowls.
Inside the Capilla; you can see the scale
It was his final gift to his country to establish two incredible museums of his work–the Capilla del Hombre (Chapel of Man) and the Fundación Guayasamín. He was extremely generous.