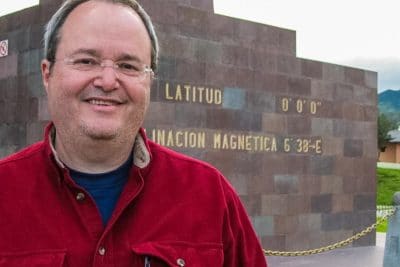 I first went to La Mitad del Mundo the week I got to Ecuador. I was taken there by the family I stayed with for a month while I was first working at the school. They took me there because it was the monument to the site of the equator, and damnit, this is Ecuador, after all.
I read in the Lonely Planet guidebook later that the monument is actually off by 240 meters, and that some Indians had accurately sited the equator and built their own monument in the proper site about a thousand years ago. But, the Indian site is on the steep side of a mountain, and this site is in a little valley, so I'm betting that, while they knew where the equator was, the tourism types decided that a flat site near the side of the highway was, shall we say, more efficacious when it came to charging admission and selling souvenirs.
And, what's 240 meters between friends? Especially when that 240 meters is pretty much straight up.