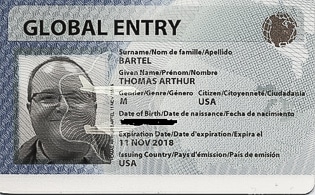 (Note: this is an update of a post originally published in 2013. Since then I have renewed my Global Entry status. Even easier than the first application.)
Why Global Entry?
If you're a frequent international traveler, you know how frustrating it can be to fly home for twelve hours and then have to wait for another hour to get through the immigration lines. But, as of a few years ago, there's a way to beat the queues: Global Entry.
Once you have it, here's how it works. In most points of entry at US airports, there are electronic kiosks off to the side of the main immigration line. You insert your passport, scan your fingerprints, and answer a brief customs declaration questionnaire about anything you might be bringing into the country. The kiosk prints out a receipt which you display as you breeze through the special Global Entry line. Unless you are issued a receipt with an X, you should be able to go through without stopping.
An X might be issued as a random security check, or because of your customs declaration, or because the machine isn't reading your fingerprints. They're rare.
How to get Global Entry
The process for getting your Global Entry Trusted Traveler status is fairly simple. You apply online via this web site. You'll be filling out a fairly extensive questionnaire, and you need to have your passport and driver's license handy to complete it. Before you log on, you might also make a list of all the countries you have traveled to in the last five years, because they will ask you that. Also, you'll need accurate information on your addresses for the past ten years.
By the way, the application costs a non-refundable $100, which you can pay by credit card, so you should review the eligibility requirements before you ante up. You should check with your credit card company, too. Some credit cards, such as the American Express Platinum card or Chase Sapphire Reserve card, will refund your Global Entry fee once per year as part of your card benefits. So, if you can stagger family enrollments into another year, you'll save the fee.
Once you've successfully filled out this questionnaire, (and, they'll remind you when you get to the end if you've missed anything) you'll go into an approval queue. It can take up to 30 days to receive notification via email that your application status had changed. At that point, you have to re-login to the Global Entry application site to check your messages. My message was that my application had received preliminary approval and I had to schedule a personal interview to complete the process.
At the site, you are offered locations for your personal interview. These are usually Homeland Security Department offices at major US international airports. The waiting time to get a personal interview varies, but it seems to be scheduling out as long as a month or two, so make your appointment as soon as possible.
(Recently, the Department of Homeland Security is also doing "on the spot" interviews the next time you enter the United States. There will be a DHS officer at a booth, and he'll complete your interview in just a few minutes. That's how my 5-year renewal was just processed.)
The interview itself is relatively painless…or as painless as being interviewed by a uniformed Homeland Security agent who has a gun on his hip can be. My interviewer was a courteous young man who asked me a few questions about my work, what traveling I've done, what were my favorite countries to visit, and so forth. My guess is the answers didn't matter as much as his watching me for signs of any evasions. I got the feeling after it was done that this officer really knew his business and his apparent youth was a clever disguise for someone who was exceptionally competent. Honestly, I felt better after the interview that such people are on the job.
After the interview, he took my fingerprints and submitted them via computer to some database in the cloud and within a couple of minutes, he told me I had been approved and could begin using the program immediately.
He then took me over to a demonstration kiosk and showed me how the kiosk worked. The whole process took about twenty minutes.
He also told me a Global Entry ID card would be mailed to me within two weeks. (It actually took only one.) The card is an extra benefit of the Global Entry in that it serves as a valid federal government ID. (Some state's (Minnesota) driver's licenses will soon no longer work for airport ID.)
After you receive your card, btw, you have to go back to the Global Entry site yet again to register it.
Be sure to register your TSA Pre status
Finally, to take advantage of the TSA Pre status, you have to go to every one of your airline frequent flyer programs and enter your new Trusted Traveler number into your profile. From then on, all your boarding passes should display a TSA Pre notation. That will get you into the TSA Pre security line so you can skip some of the TSA rigamarole, such as removing your laptop, belt, shoes, and liquids from your carryon.
Easier leaving and easier coming home. Well worth the $100 every five years, if you ask me.
Here are some helpful Frequently Asked Questions on the Global Entry process and eligibility.
And here are the places where you can have your Global Entry personal interview.
Don't lose your Global Entry privileges
Once you get your Global Entry status, there are three basic ways you can lose it.
1) Don't let it expire. Global Entry expires on your birthday of the fifth year after you get it. Be sure you apply for renewal before that date. You should receive a notice six months and also 90 days before your renewal date at the email address on file, but don't count on it. The expiration date is on the Global Entry card. If you have applied for renewal before the expiration date, even if the renewal process is not completed, your status is renewed for a year. If you forget to apply before the expiration date, you lose your status and have to apply all over again.
2) Avoid customs mistakes. You can lose your status by arriving in the U.S. with an apple in your carry on. You must declare any fruits, vegetables, meats, dairy–pretty much anything you can eat–when you arrive. (There's a check box for that on the arrival questionnaire at the Global Entry kiosk.) Also, declare if you've been near any agricultural animals, e.g. pigs, chickens, cows, even if you haven't been to a farm, per se. Don't screw this up. Customs are particularly strict about agricultural violatons. If the sniffing dog finds your apple, you're done, will probably get fined, and you'll definitely lose your Global Entry status.
3) Don't commit a crime. This should be a no-brainer, but you get Global Entry status because you are a "trusted traveler." Conviction for a criminal offense will cost you your trusted status.
Check this post for some more tips to make your flying more comfortable.
When you're thinking of traveling, your first stop should be our Travel Resources page, where we list all the essentials you need to make your travels easier, cheaper, safer, and more fun.
You can also help yourself get ready for your travels by reading our Get Started Planning Your Trip Now page.
We love traveling–with the right gear. We've gathered a lot of the stuff we use to make travel more pleasant and efficient all on one page. Shop our Travel Past 50 Amazon page to find our favorite gear. If you purchase something from the store, Travel Past 50, as an Amazon affiliate, may receive a small commission at no extra charge to you. Thanks.
We never leave home without our travel insurance. Nor should you. Search for the travel insurance from Allianz that best meets your needs, whether it be an annual plan or a single trip.
You can see (and buy prints) of most of our travel photos in one place on this page.
Note: This post and other posts on TravelPast50.com may contain paid or affiliate advertising links. As an Amazon Associate we earn from qualifying purchases.