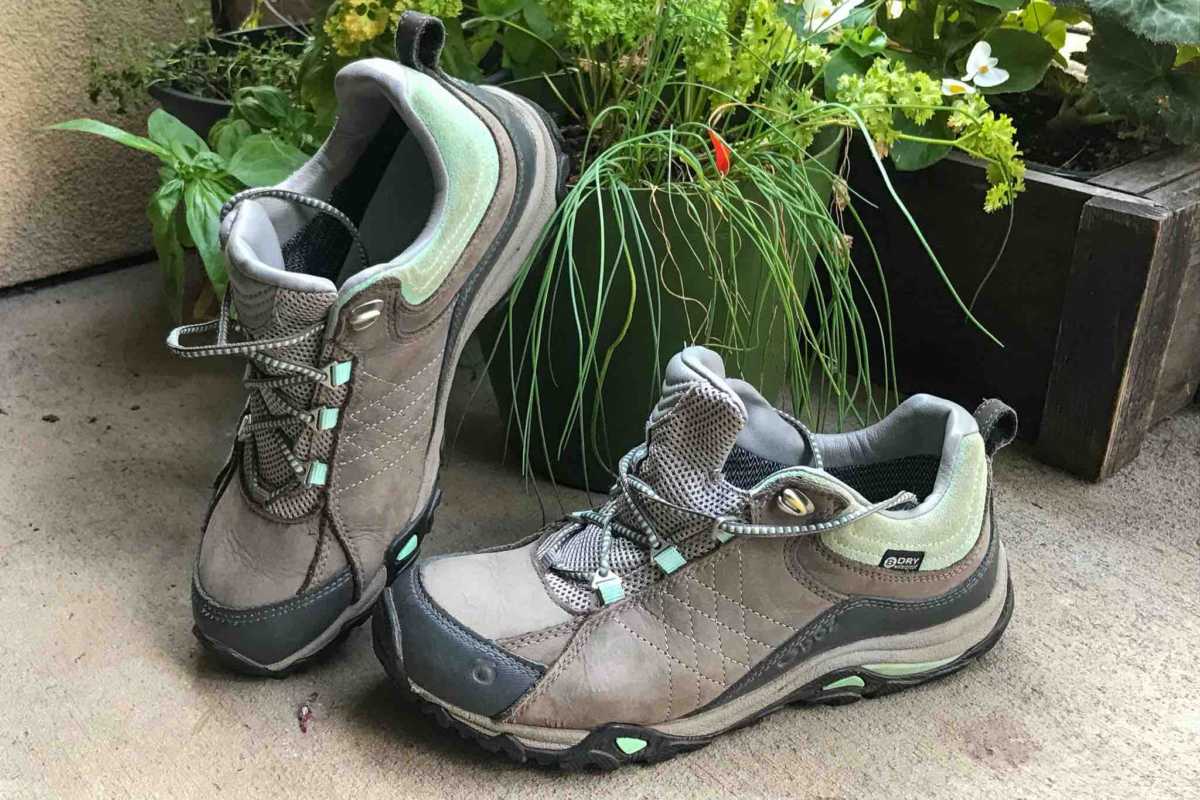 This is a July 2019 update of a post originally published in 2016.
My outlook on the best travel shoes for women was defined early on. My mother regularly reminded my sister and me not to skimp on shoes; cheap shoes would hurt and not last, she warned us. She also told us that shoes would last longer if you didn't wear them every day, but alternated to give them a rest. (I guessed they would last twice as long, but I internalized that my feet, too, required an alternating set of footwear.)
These days, the most frequent question I get about packing is "what about travel shoes?" Even my doctor asked, wanting to pass on the information to her inquiring traveling patients. What are the best travel shoes and the best walking shoes? Let's face it. Travelers walk a lot.
So, finally, on these last days of National Foot Health Awareness Month (oh, cruel April) I reveal the shoes I love and how I narrow down the selection for travel. Thanks to the publicist for Therafit shoes, who pointed out this month's focus on healthy feet and good posture. I'm sampling a pair of their Therafit clogs, now my go-to slip-ons. They are great for standing in the kitchen and for the frequent errands I've been running while I unpack and try to settle into our first home spot in six years. While these might not go around the world with me (I'm going to try the Therafit trail shoes for that), these will be great for road trips.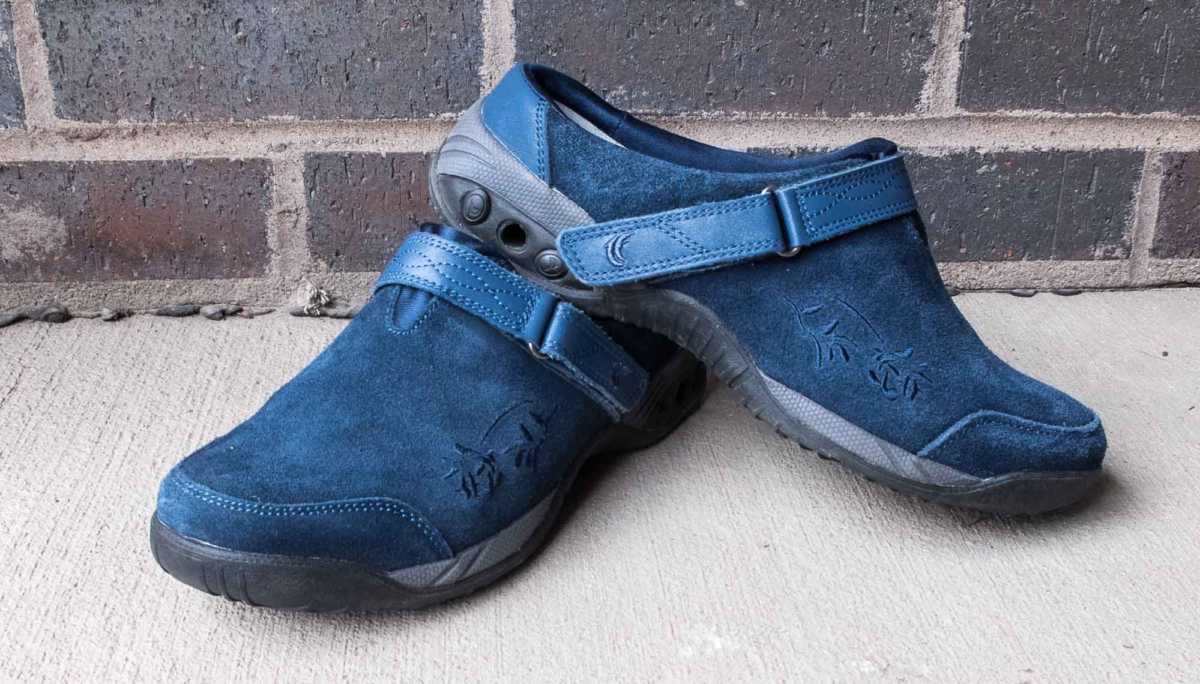 My feet are weird, with super bendy ankles and loose joints. I've had two foot surgeries, spent a small fortune in Dr. Scholl's aids and orthotics, have moved up a half shoe size about every decade since I had children, and discovered you can get arthritis on the top of your foot.
At the same time, I love shoes. In career days past, I'd often decide what to wear to work by first picking out shoes that would feel good that day, then building the outfit from there, literally from the ground up. For traveling, forget about the specific shoes that you wear with a certain dress. Travel shoes are all about comfort and range of use. Don't overthink it: style will follow if comfort comes first.
A simple plan for packing best travel shoes for women
Think of taking three types of shoes for your travels, and you'll be fine. What every distance traveler needs is: first, a substantial hiking shoe or boot; second, an attractive yet comfortable city shoe; and third, a sandal or similar slip-on that can be worn around the hotel and to the pool or beach. Of course you get bonus points if you actually hold it to these three types, one of which you are wearing on the plane. But I'm not stupid; there are exceptions to every rule. That's why the headline says "four" best travel shoes for women.
For serious walking: trail shoes and hiking boots
This is for active wear, so don't get hung up on the look or color. Just add good socks, and wear for lengthy city walks, hiking in rough terrain, and even jogging and running.
A low waterproof Oboz trail shoe, shown here, is my current favorite. Besides being a great fit with good support and substance, I like the hooks for upper laces. That makes it easy to slip these on and off during flights. They look good enough for long days of city walking, too.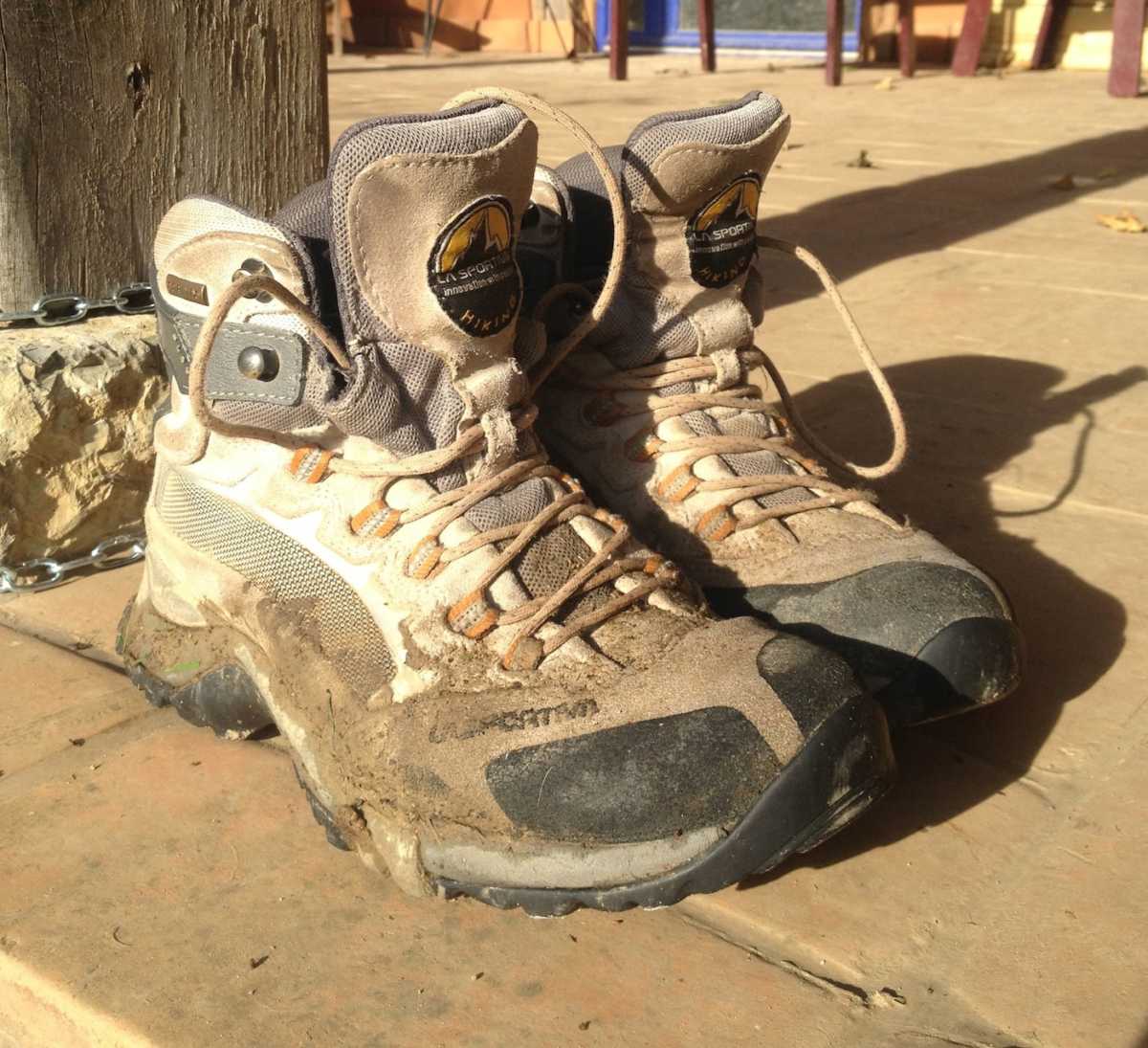 But also in my hiking/trail shoe arsenal are another pair of trail shoes and a pair of hiking boots. The La Sportive Ultra Raptor GTX Trail Running Shoe has excellent traction and stability, like a low boot. It feels cooler to me than the Oboz shoe, so I prefer it in summer. In winter, or to alternate with a lower shoe, I don Keen's indestructible boot, similar to this Voyageur Mid Hiking Boot.
In the past, Adidas running shoes were my favorite for backup knockabouts. I still wear them around town for casual wear and to the gym. When they wear out, I go to the outlet store and buy two more pair. I'm also checking out HOKA shoes, made in the U.S. I like the height the deep sole gives me, but over time the comfort factor wears away.
Note: If I'm setting out for multiple days of trail hiking, I choose to pack two pairs for hiking. On the Camino de Santiago, I was glad to have my La Sportiva hiking boots (pictured above), great for rocky or uneven trails. I literally alternated these with my Adidas every other day, and loved how thankful my feet were for the new treads each morning. I recommend a substantial boot alternated with a lower, breathable trail shoe. Read all about our Camino de Santiago footwear suggestions here.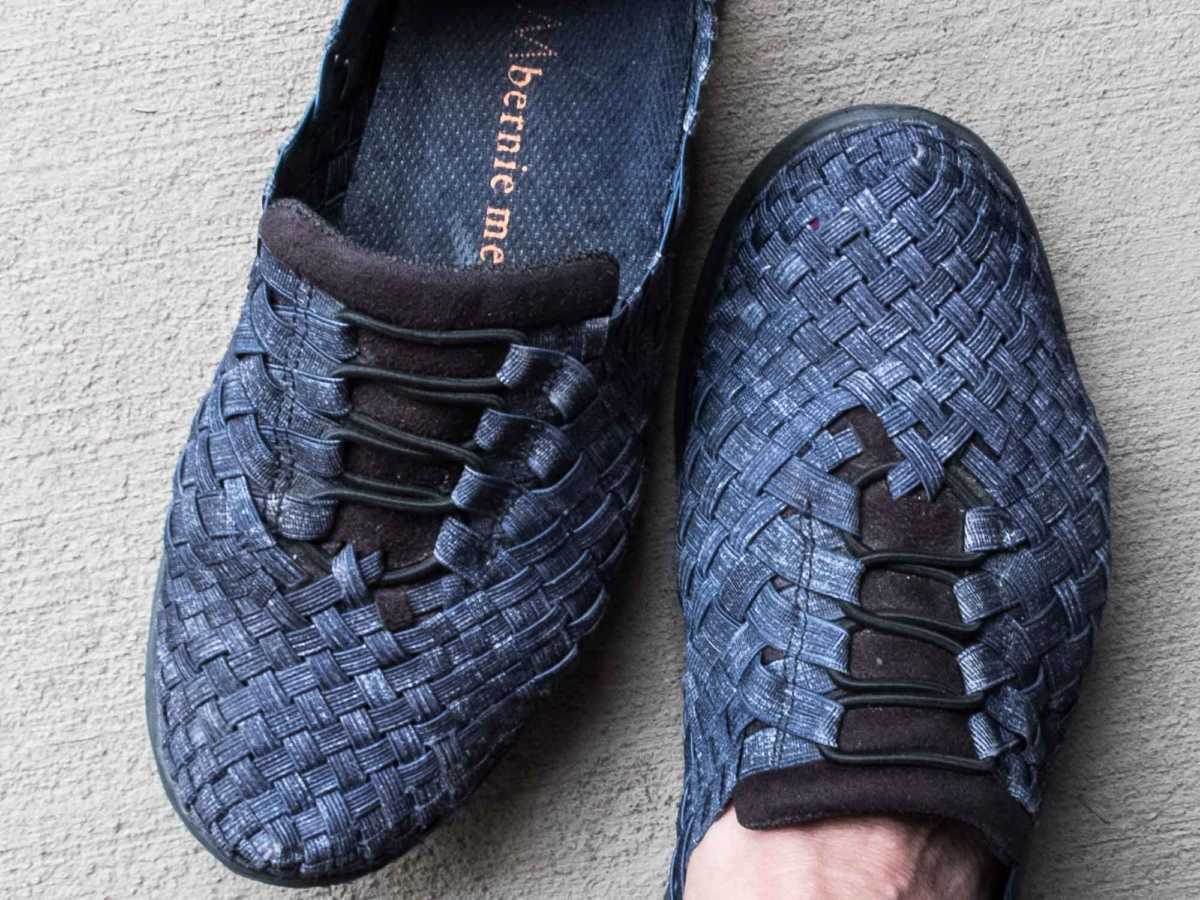 City Shoes
I always pack what I call my city shoes, the shoes that are versatile around town, fine with jeans or skirts, OK for going out to dinner when you want to shed the hiker look, but still substantial enough for hours on concrete. Bonus points go to shoes you can wear with or without socks. My current favorites are these Bernie Mev shoes. They are easy to slip on without socks, offer great comfort in all temperatures, are super lightweight, and they get the most compliments. Other favorites include a Mary Jane style NAOT shoe (featured in an earlier post here) and the AHNU brand. For colder climes, these are both fine with socks, but pack small. Do avoid the cute little flats that aren't all that comfortable and have thin soles and no arch. They are worthless.
For warm climate destinations, I've traveled with Dansko sandals instead of closed shoes. These are heavier to pack than most of my shoes, but offer exceptional support and comfort all day, and look decent.
Occasionally I'll wear boots for city trips in the winter, but they have to be comfortable for traveling through airports and across towns. In the mix are my cowboy boots (most comfortable), the Mephisto boots I bought in Berlin, or the old, old Taryn Rose black boots that look a bit dressy even without any FMB heels.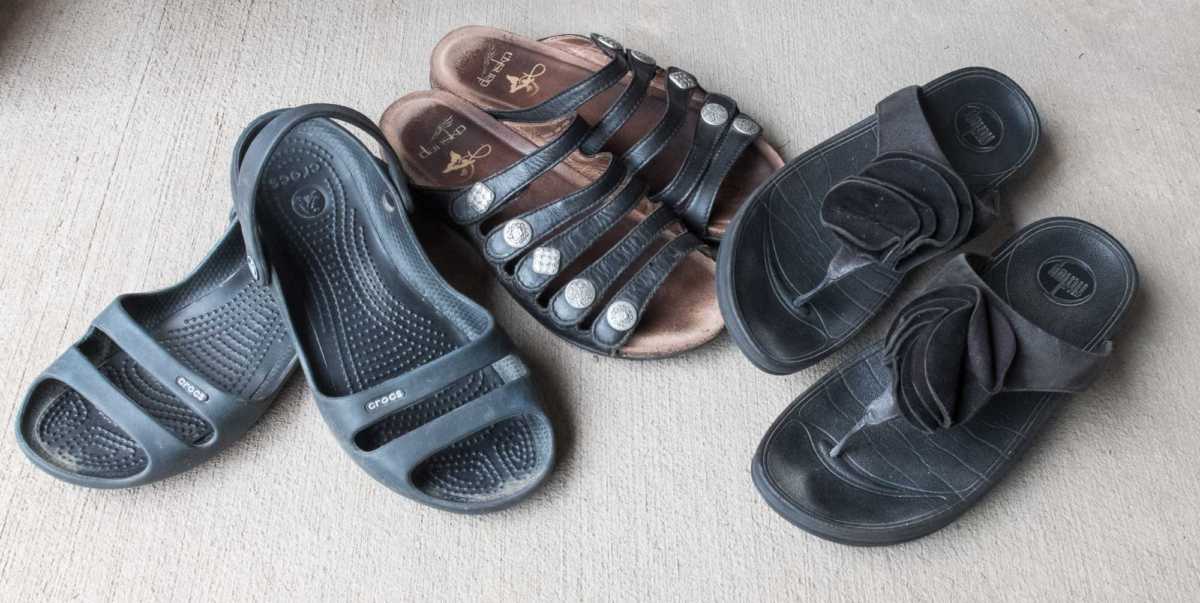 Sandals or Slipper-like
Depending on the destination and the weather, I'd recommend packing either the city shoe or the city sandal, not both. But I'm pretty good at justifying both. I like something that I can step into easily from bed and to wear around the hotel like a slipper–something that helps me feel at home.
Of those above, the Crocs are handiest–both lightweight and transferable to the beach or pool, into a shower, or through the driving rain for that matter. The footbed offers a mini foot massage. Lately, I leave the heavy Danskos behind. The FitFlops, long-time favorites because they feel great and go into evening without embarrassment, are now looking their age.
So I've updated my latest picks for best women sandals for travel. Oboz flip flops have great arches and comfortable straps and look fine. Haflinger sandals have replaced my long lost Birkenstocks and are lighter weight. For the waterfront or to rest weary feet after hiking, I'm now testing Oofos flip flips and "Oomg" shoe, the cushiest ride ever.
At home, I've taken to my new moose-skin Minnetonka Moccasins, founded and formerly constructed here in Minnesota. I might opt for these if I were to do a couple-month-long housesitting gig.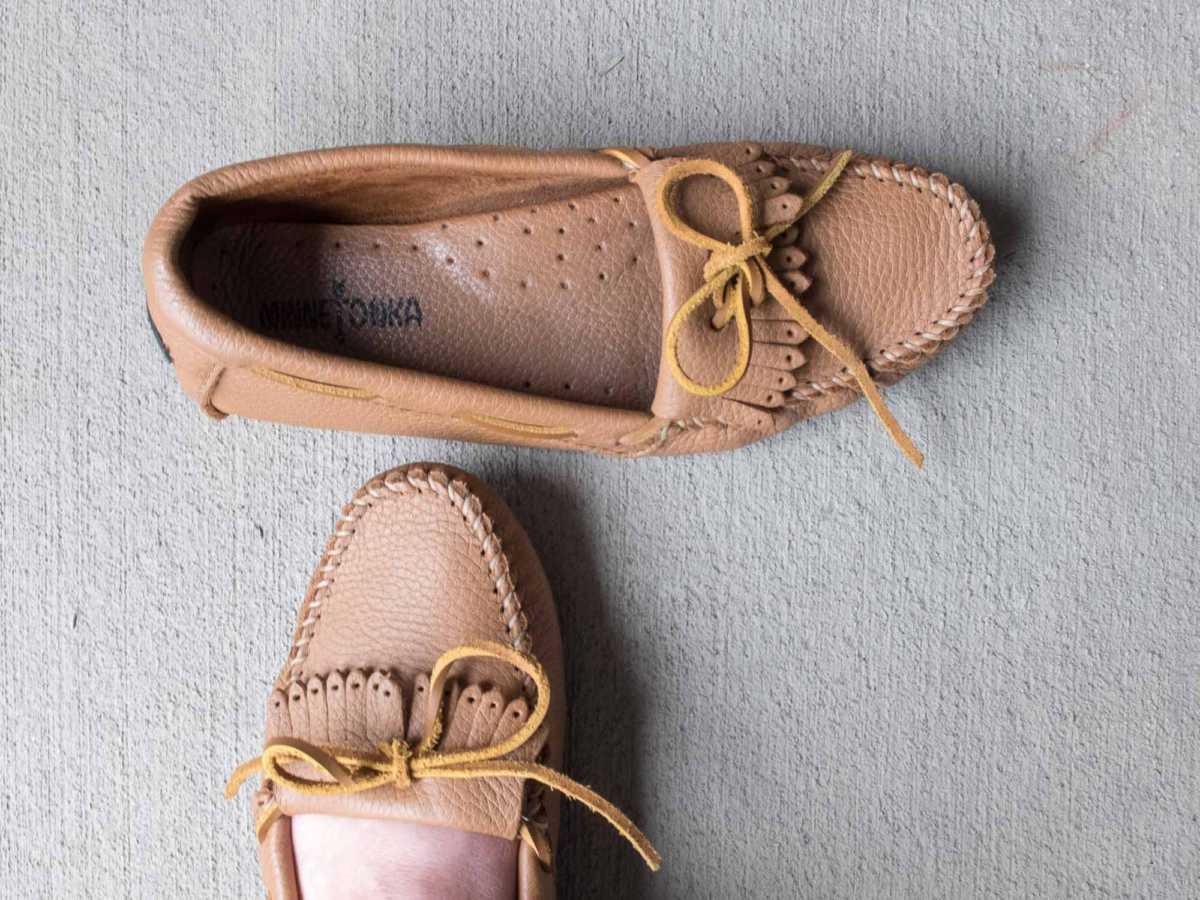 Specialty Footwear
Water shoes are finally part of my arsenal. I picked up my Jambu brand at REI a couple years ago–after having to walk the Virgin River in Zion National park in my trail shoes. Water shoes are handy–almost necessary–when snorkeling off shore, and are great for kayaking or canoeing. Update: The Jambu style took on a lot of sand, so I've upgraded my water shoes this past year to something with more coverage and support, the Sea Dogs by Bzees. See more about my latest shoe selections here.
The trick in packing shoes is to know which shoes feel the best. (And don't listen to anyone who tells you which shoes to eliminate.) I get it: shoes are the ultimate accessory. But they literally influence how we carry ourselves, how we project ourselves, how we feel. Color, heel, and profile are secondary features–just for outside observers. Only you are walking in your shoes, so don't hesitate to grant yourself something that keeps your feet and posture healthy. It's a long road.
See our Girls Packing Tips post for ways to simplify your packing for extended travel.
When shopping for shoes online or around the world, click here for a handy international shoe size chart for women's shoes.
You can help yourself get ready for your own travels by reading our Get Started Planning Your Trip Now page.
We love traveling–with the right gear. We've gathered a lot of the stuff we use to make travel more pleasant and efficient all on one page. Shop our Travel Past 50 Amazon page to find our favorite gear. If you purchase something from the store, Travel Past 50, as an Amazon affiliate, may receive a small commission at no extra charge to you. Thanks.
Note: This post and other posts on TravelPast50.com may contain paid or affiliate advertising links.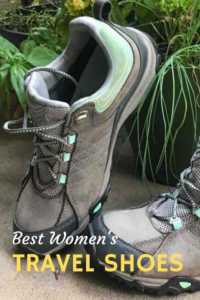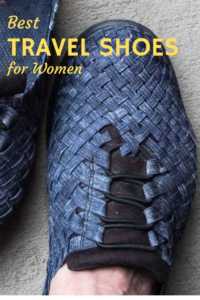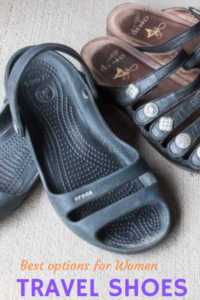 Get all our travel tips delivered to your inbox
Subscribe to our email newsletter