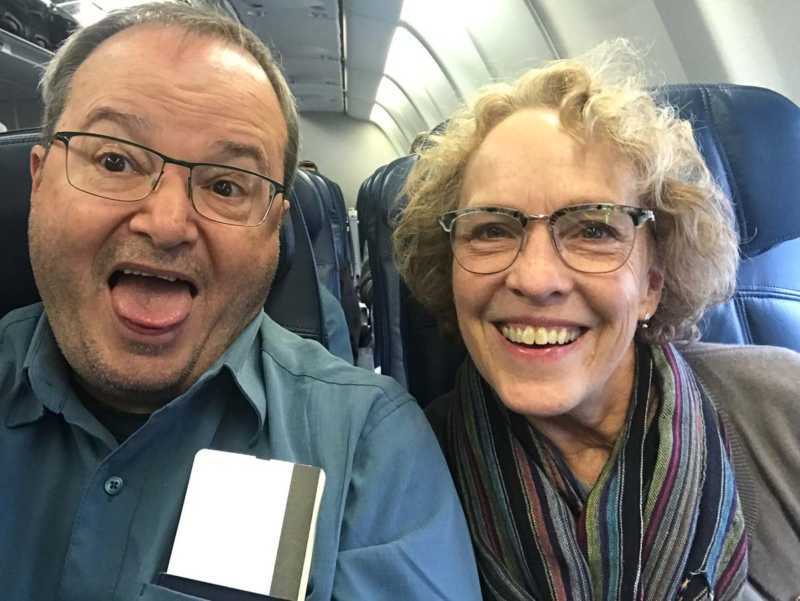 (Note: this is an update of a post originally published in 2013.)
If there's one thing that's certain, it's that flying is increasingly uncomfortable. Most United States airlines have squeezed legroom so much that, even though I'm only 5'8" (1.72 m) tall, I can't even bend over to pick something up off the floor. As for eating or working on my laptop when the seat ahead of me is reclined, forget it.
If you can, get more legroom
So, the first tip is upgrade to the "Comfort" category whenever you can. Often, if you have "status" with an airline, you'll make it up there as one of your perks, but if you don't, and you're going to be on that plane for a while, consider paying the extra for a few more inches of legroom
But even with six inches more legroom and a comfortable seat cushion, flying long distance can be cramping. I've done a lot of long haul flying in the past nine years, and I've developed a routine and "uniform" that make flying a lot easier.
Let's start at the bottom.
Comfortable clothes are a must
Shoes. I'm not particular. I only want something that is easy to get on and off. I take them off immediately when I'm seated on the plane, so I don't worry much about the shoes' comfort per se. I suppose if I thought about it a bit, I'd probably go with sandals. Something that's easy to slip on when using the plane's bathroom is a good idea, probably. Lately, I've been carrying a small, flat pair of slippers that I copped from a nice hotel. I put those on my feet when heading for the bathroom.
You don't think of socks as a comfort item necessarily, but I have two pairs that are my perferred flight companions. First, for shorter flights, I always plan to wear these Falke light trekking socks. As the name suggests, they're light. What you don't know about Falke socks is the elastic is good, but never binds. And, Falke socks are made for left and right feet. Yes, the socks are fitted to each foot. They're expensive, but give them a try. Comfort is simply the best.
For longer flights, when embolisms can happen, I wear a pair of long Point6 Compression Surge Ultra Light over the calf socks. Although they're compression socks, they are extremely comfortable. I have several pairs of Point6 socks that I also use for hiking, and they're fast becoming my favorite.
For pants, I usually wear my REI convertible pants. I wear these pants about 50 percent of the time anyway when traveling, but they're even more useful for flying. They're light. They breathe. They have lots of pockets (including one that zips closed) for your passport, wallet and so forth. But most important for flying: they have stretchy elastic bands in the waist. So when you're sitting and fidgeting, they expand and move with you. And, like the Falke socks, they don't pinch.
Under those pants, I wear ExOfficio Men's Give-N-Go Boxers. They're light. They wick moisture. They dry quickly, and they're flat out comfortable. (They have other models than just the plain boxers, if you're one of those guys.) Also, when you get where you are going, you can rinse them out and wear them tomorrow. In fact, you can travel with two or three pairs of these and it's all you need.
For t-shirts, I favor the REI Merino Wool tee. In general, my life has been so much more comfortable since discovering Merino wool clothing. Comfortable. Odor resistant. And, like the Ex Officio underwear, you can rinse them out. They dry quickly and you can wear them tomorrow.
For a shirt, it's back to ExOfficio. I've got several ExOfficio Air Strip shirts in various colors. They're lightweight, have expanding pockets, and are loose fitting. Most important, they have side and back vents to let them breathe. They're a bit pricy–from $60-90 on Amazon–but, like the underwear, you can get by with packing two of them. They wash out and dry overnight hanging in your hotel room. And they look great.
One of the essential elements of the pants and shirts I've mentioned is their abundance of pockets. When you carry all the stuff I do all the time those pockets come in handy.
A good small carry-on bag
Here's what I always have with me when I'm out of the house or hotel. Sunglasses, Sony RX100-III camera, a pocket sized notebook, pen, wallet with credit cards and driver's license, little pill box, small Swiss Army knife (omit this if you're not checking a bag,) handkerchief, keys, and my iPhone. If I'm actually getting on a plane, add a passport.
This all fits in various pockets when I'm walking around, but it's a pain to unload all of this into the bin when going through airport security. My go-to carry-on bag is now the Timbuk2 Classic Messenger Bag. It's got a handy pocket under the flap that takes everything out of my pockets in one easy spot. When you pass security, it's easy to reach into one small space and grab it all to go back into my pants pockets.
The messenger bag also carries my Macbook Air, my noise canceling headphones, my Kindle, and sometimes even a book that isn't on my Kindle. I also usually carry a serious camera bag, since I've got two big DSLRs, three or more lenses, a flash unit, a tripod, filters, memory cards, cables, and more. But that's for another post.
Noise cancelling headphones
Noise cancelling headphones are maybe the best invention for flying ever. I had no idea how much the droning of the airplane engines annoyed me, and tired me, until I got a pair of these. They also make the in-flight movies and music sound much better. They're expensive, but completely worth it.
A neck pillow and eyeshades
For a long time, I resisted getting one of those neck pillows that you see so many people with. But last year, someone gave me an inflatable version and, I have to say, I love it. First, it's inflatable, which means when you're not using it, it deflates and folds down flat–which makes it much easier to stick in your carry-on bag. Also, and I only realized how important this was after I forgot it for a long flight and bought a standard foam neck pillow in the airport before a 12-hour flight. When you have an inflatable one, you can deflate it a bit so the back is not pushing your head forward at an uncomfortable angle. By blowing air in, or letting it out, you can get it just how you like it.
As for eyeshades, I've got about a dozen pairs that I've been given by airlines. Not as comfortable as some, I'm sure, but they do the trick. If you want nicer ones, there are a lot to choose from.
Peace of Mind
Travel Insurance. Don't leave home without it. Whether it's flight delays, lost luggage, rental car damage, or on-the-road medical expenses, you'll fly and sleep a lot better knowing you are covered if anything goes wrong. We use Allianz Travel Insurance. Since we travel a lot, we buy an annual plan, but there are single trip coverage plans, too. We've recovered over $1400 in medical expenses this year, btw.
Get Global Entry with TSA Pre
Finally, the best way to get through security with minimum hassle is with TSA Pre, which we get as part of our Global Entry status. Here's how to get the Global Entry status to get you into the US, and through the TSA lines a lot more quickly. If you're traveling internationally, Global Entry is an absolute must to ease your reentry into the US.
Some more travel tips
If you want some more tips about traveling, check out this post on apps we use, this one on the electronic gear we carry, and this one on the bags we use.
You can help yourself get ready for your own travels by reading our Get Started Planning Your Trip Now page.
We love traveling–with the right gear. We've gathered a lot of the stuff we use to make travel more pleasant and efficient all on one page. Shop our Travel Past 50 Amazon page to find our favorite gear. If you purchase something from the store, Travel Past 50, as an Amazon affiliate, may receive a small commission at no extra charge to you. Thanks.
We never leave home without our travel insurance. Nor should you. Search for the travel insurance from Allianz that best meets your needs, whether it be an annual plan or a single trip.
Note: This post and other posts on TravelPast50.com may contain paid or affiliate advertising links.
Like it? Pin it.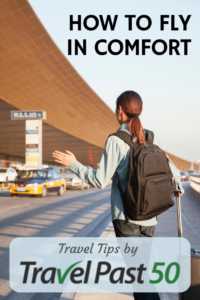 Get all our travel tips delivered to your inbox
Subscribe to our email newsletter