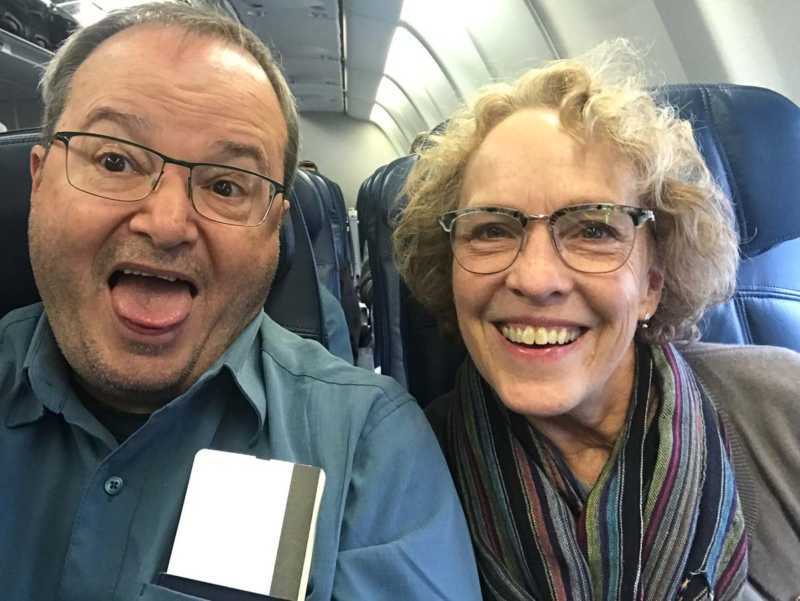 (Note: this is an October 2023 update of "His-and-Her" posts originally published in 2013.)
If there's one thing that's certain, it's that flying is increasingly uncomfortable. Most United States airlines have squeezed legroom so much that, even though I'm only 5'8" (1.72 m) tall, I can't even bend over to pick something up off the floor. As for eating or working on my laptop when the seat ahead of me is reclined, forget it.
We especially hate to start a long flight by pulling a muscle contorting ourselves into our seats or banging our heads on overhead bins. So let's focus on how to make flying more comfortable and less stressful. We hope you can use these tips on your next trip.
Some posts on Travel Past 50 may contain affiliate links. If you buy something through one of those links, we may earn a small commission. As an Amazon associate, we earn from qualifying purchases.
Book directly with your airline
Even when we use search engines like Google Flights or Skyscanner to find the best airlines, airfares, and times for our travel, we book the flights directly with the airline. Passengers who've booked directly are often given preference when flight delays or cancellations require re-booking. If you participate in frequent flyer programs, all the better. You can keep your frequent flyer numbers and TSA Pre numbers saved in the airline booking system, knowing that the essential info will show up on your boarding pass. Preload your airline's app onto your smartphone, too, in order to stay up to the minute on flight status, gate changes, and baggage claim.
Get more legroom if you can
When it comes to legroom, more is better. Our first tip is to upgrade to a premium seat: First Class, Business Class, or "Comfort" category whenever you can. That's especially important on long-haul flights (or if you have long legs.) If you have status with an airline, you might be upgraded as one of your perks, or you can purchase an upgrade with dollars or points. Exit rows might also offer more leg room. We know plenty of people who don't like exit rows because of limitations in seat reclining, more complicated in-flight entertainment screen and eating trays, and lack of under-seat storage space. But we'll trade those inconveniences to keep Kris from growing claustrophobic.
As for best seats, Tom always prefers the aisle seat. The ideal situation on international flights is planes with a two seat on a side configuration, where Tom can take the aisle and Kris can take the window seat. The window seat has the advantage of giving you a wall to lean on if you want to sleep. (And sleeping on an overnight flight is the best way to get a jump on defeating jet lag.)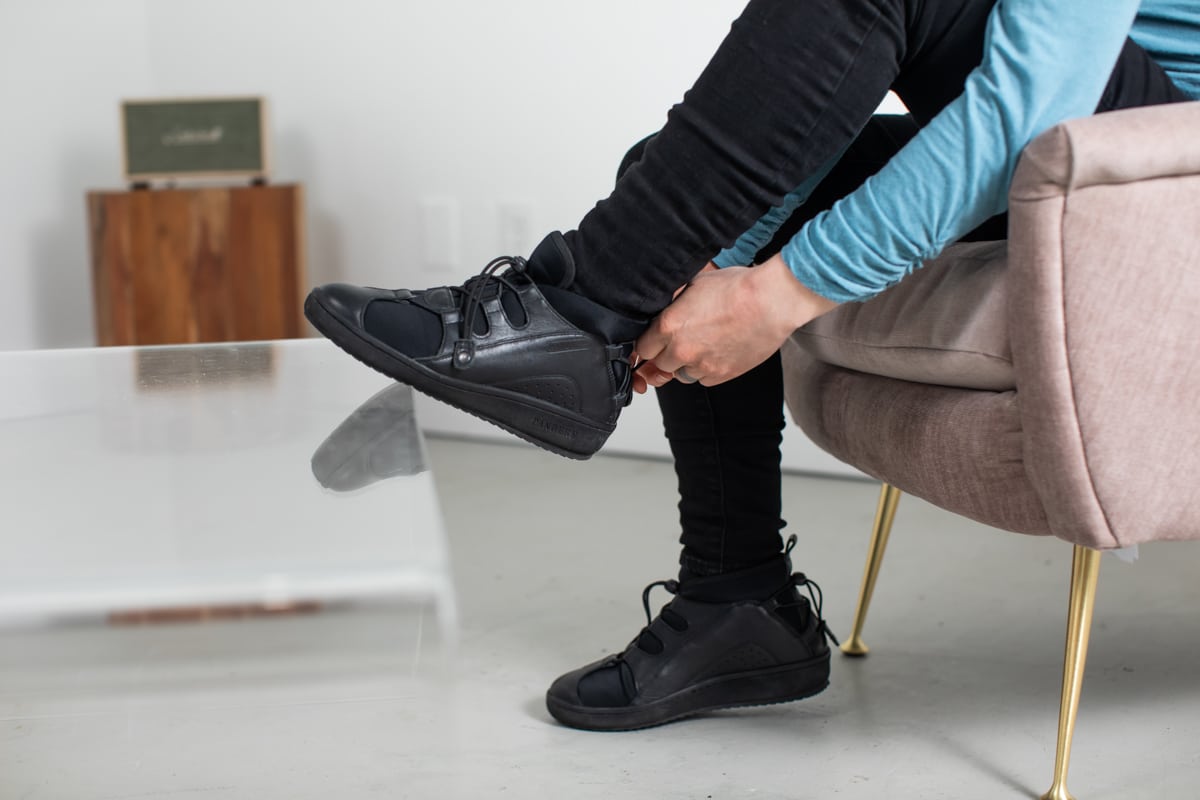 What to wear on the plane
Shoes. We both agree that comfort starts from the ground up. But let's face it: we are usually wearing the shoes we don't want to pack. I'm not particular; I only want a shoe that is easy to get on and off. I take them off immediately when I'm seated on the plane. I either slip them on to use the plane's bathroom or, lately, use a small, flat pair of slippers that I copped from a nice hotel.
Kris looks for shoes that can handle the inevitable swelling that happens with long flights, like these clever Pandere shoes that adjust every which way. They are easy to get on and off, and plenty comfortable and supportive for long walks through airports with heavy backpacks. (Check out her post about essential travel shoes for women.)
Kris, who's barely 5' 1", also likes to use bulky hiking boots, too large to pack, for a footrest inflight. Open them wide and stuff the laces inside so that you can slip them on to use the bathroom.
Socks. You may not think of socks as a comfort item, but I have two pairs that are my preferred flight companions. First, for shorter flights, I always plan to wear these Falke light trekking socks. As the name suggests, they're light. I like that Falke socks' elastic is good, but never binds. And, Falke socks are made for left and right feet. Yes, the socks are fitted to each foot. They're expensive, but simply the most comfortable socks. Give them a try.
On long-haul flights, when embolisms or deep vein thrombosis can happen, I wear a pair of compression socks, the long Point6 Compression over-the-calf style. Although they're compression socks, they are extremely comfortable. Kris, too, endorses compression socks for health reasons and to alleviate the soreness of restless legs. By the way, I have several pairs of Point6 socks that I also use for hikes, such as the Camino de Santiago..
Kris likes Pear Compression socks which are made especially for women and aren't overly tight. They are available in sport and knee-high lengths, the shorter version a good options for summer travel. Or see the compression legging in the pants section below.
See Tom's post on the ultimate light packing list for men.
Pants. For pants, I usually wear my Kuhl light weight pants. I wear these pants about 50 percent of the time anyway when traveling, but they're even more useful for flying. They're light. They breathe. They have lots of pockets. But most important for flying: they have stretchy elastic bands in the waist. So when you're sitting and fidgeting, they expand and move with you. Like the Falke socks, they don't pinch.
Kris advises: Don't wear jeans and don't wear anything that will show your plumber's puff when you bend and reach under the seat. Ick. You could wear sweatpants, but you'll regret it later when you want to look smart hailing a cab or checking into a hotel. You are not a college kid on spring break, after all.
For the past few years, Kris has relied on various versions of Athleta pants for all her travel days, whether by plane, train or automobile. Look for styles with zipper or hidden pockets. She wants easy but secure pocket access to her ID and one credit card so that she doesn't have to go digging in case of airport or airline purchases.
Especially for long flights, Kris has adopted 'flight leggings' by Urban Undercover. They preclude the need for compression socks, have a good size hidden pocket in the waistband, and despite the name, look more like dress pants than yoga wear.
Underwear! Under those pants, I wear ExOfficio Men's Give-N-Go Boxers. They're light. They wick moisture. They dry quickly, and they're flat out comfortable. (They have other models than just the plain boxers, if you're one of those guys.) Also, when you get where you are going, you can rinse them out and wear them tomorrow. In fact, you can travel with two or three pairs of these and it's all you need.
Thanks for asking, dear readers: Kris does not wear boxers, but is also a fan of ExOfficio. She may pack some scantier styles, but for travel days, the Give-N-Go Bikini Brief is perfect. For women, just be sure to wear a pair that doesn't bind. The consensus among experienced travelers: thong variations just aren't that comfortable for the long haul.
Your basic, everyday bra, sports bra or cami is going to be most comfortable for hours of flying. For trekking (and the inevitable dressing and undressing in semi-public places) Kris suggests wearing a light sports bra.
Do toss an extra pair of underwear in your carry-on. Kris's packing theory is, since panties are so small, just toss in twice as many, stuffed in a small packing cube.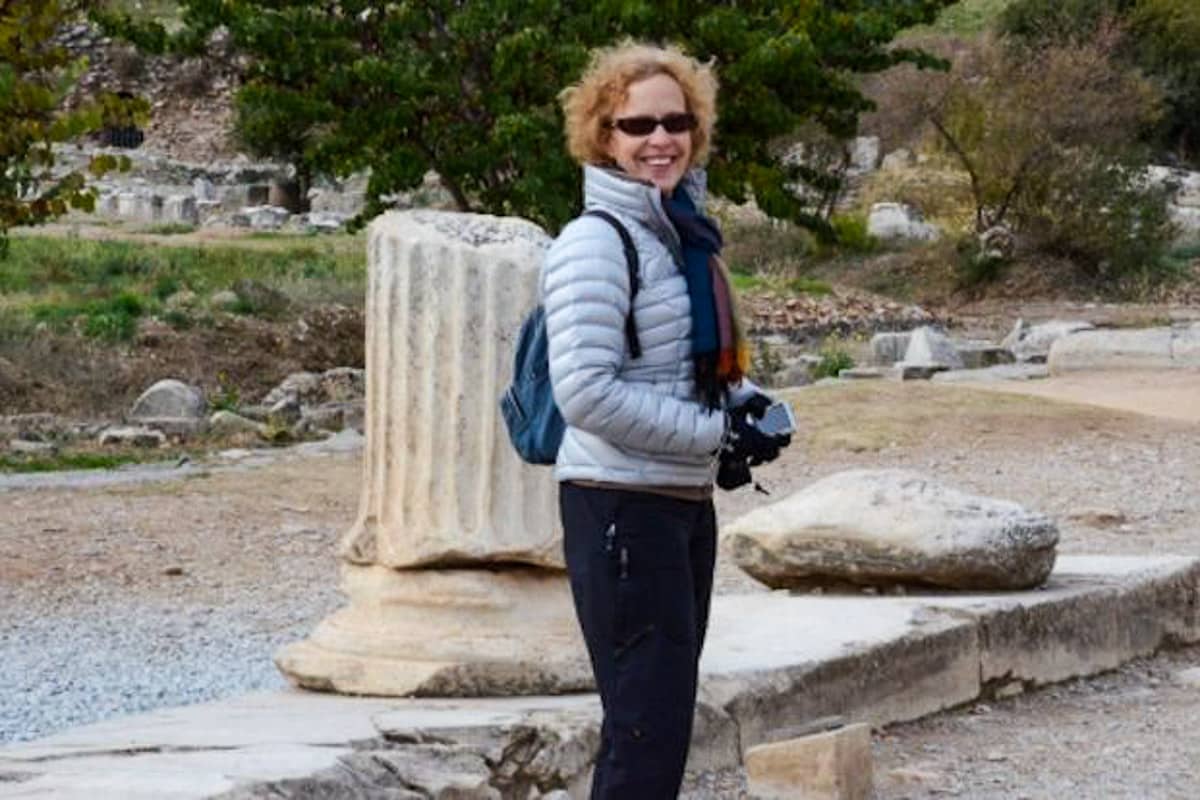 Shirts. For t-shirts, I favor the Unbound Merino Wool tee. In general, my life has been so much more comfortable since discovering Unbound merino wool clothing. Comfortable. Odor resistant. And, like the Ex Officio underwear, you can rinse them out. They dry quickly and you can wear them tomorrow.
Both of us wear long-sleeved button shirts for travel. They look respectable, layer well, and sleeves can be rolled up or down for temperature control. I currently prefer Clothing Arts pickpocket-resistant shirts. I like the fabrics and styling (a little more sophisticated and a little less camping wear). I've got two Clothing Arts shirts, one light colored and one dark. They're lightweight, have "hidden" zipped pockets, and fit nicely. They're a bit pricey – $100 on the Clothing Arts site – but, like the underwear, you can get by with packing two of them. They wash out and dry overnight hanging in your hotel room. (P.S. if you buy Clothing Arts via the link in this paragraph, you get $15 off your first purchase.)
Kris is most comfortable in button-up shirt like Columbia's Tamiami Long-Sleeve Shirt, or similar. These look smart and work in any climate and for any mode of travel. Long sleeves and collar protect in case of drafts; roll-up sleeves with fasteners offer comfort for hot spells; fabric stretch prevents feeling constraints in the armpits. And, best of all, these shirts drape well with no wrinkles so that you can look fairly 'put-together' when you walk out into public. No tucking in shirttails. That would be silly.
One of the essential elements of the pants and shirts I've mentioned is the abundance of pockets. When you carry all the stuff I do all the time, those pockets come in handy. Kris eschews all but one pocket, and waits patiently while I try to remember which pocket has the claim ticket. Her advise: get in the habit of using the same pocket(s) for the same items all the time. It's easy to take inventory of your belongings as you board and disembark.
Accessories. Kris always travels with a lightweight scarf. Unfortunately, the one pictured above disappeared in the Delhi airport. But never fear, there are plenty in her arsenal. On flights, the scarf serves as a wrap for warmth, or sometimes as an eye shade or neck support. Otherwise, it's a simple way to change the look of those two shirts.
In addition to a scarf, Kris got in the habit of carrying a bandana when hiking across Spain. It's a splint, bandage, mop, hat, eye shield, face mask, sunscreen, water filter, handkerchief, and pretty much whatever else you want it to be.
Jewelry: Leave the good stuff at home. Though Kris doesn't carry much jewelry, she makes sure to wear earrings in flight that won't catch, poke, snag fall out, or otherwise be of concern.
Glasses: Even though contact lenses are an option, Kris wears glasses, not contacts, when flying. She favors the more comfortable plastic frames, which also have a slight tint. Keep an extra soft case to stash eyewear when you are ready to doze off to prevent bent frames. (Avoid, at all costs, putting personal items into the pocket in front of your seat. Yuck!)
Outerwear
For guys, outerwear might substitute for a purse to stash those accessories. Tom says consider buying a Scottevest. The Scottevest features dozens of internal pockets specifically designed as the easy way to carry all your electronics, glasses, passport, wallet, and whatever else you like to have at hand. An added bonus of using the Scottevest is that you can take it off at security, drop it in the bin, and retrieve it on the other side. A whole lot easier than digging around in your briefcase or carry-on to re-equip after going through security.
For an extra layer, Kris wears a nano puff jacket which doubles as a sweater. (In summer or to hot destinations, she may fly with a light sweater but still packs the nano jacket.) Her Mountain Hardwear brand is no longer available, but look for variations by REI, Patagonia, or Cotopaxi. It's light, washable, zip-up, and doubles as a pillow when in its stuff bag. It easily fits in her carry-on or even in her purse, always at hand. This is lighter and more compact than sweaters, sweats, or polar fleece, and can be layered with anything without a lot of tugging.
Things we carry on with us
Whether or not we check bags or carry everything on, we know flying is a whole lot easier when we're organized and can easily access the essential items we want to use in flight. First, what do we take onboard?
Here's what I always have with me–whenever I'm out of the house or hotel. Sunglasses, a pocket sized notebook, pen, wallet with credit cards and driver's license, little pill box, small Swiss Army knife (omit this if you're not checking a bag,) handkerchief, keys, and my iPhone. Lately, I've also been carrying a face mask and eye mask.
Electronics and essentials. To this, for air travel, we add our passports, Macbook Air computers, Jabra noise-canceling headphones, a plug-in Bluetooth transmitter to use the wireless ear buds on the plane, our Kindles, and sometimes even a real book that isn't on Kindle. On our iPhones we have our boarding passes, airline and TripIt apps, The New York Times (with puzzles), The New Yorker and music.
Reusable water bottle. We both carry an empty reusable water bottle through security and fill it on the other side. Drinking lots of water is a great way to counteract the effects of dry air and dehydration on longer flights. Just be sure the water bottle is empty when you head to the airport, and also when you are transferring internationally through customs, because you'll go through security again.
Between her purse and carry-on, Kris adds a face mask and hand sanitizer to this list, plus lip balm, eye drops, hand lotion, and a tiny travel toothpaste, all packed together in a little pouch. Another pouch keeps all the earbuds, headphones, and power cords and blocks handy.
Neck Pillow and Eye Shades. For a long time, I resisted getting one of those neck pillows that you see so many people with. But last year, someone gave me an inflatable version and, I have to say, I love it. First, it's inflatable, which means when you're not using it, it deflates and folds down flat–which makes it much easier to stick in your carry-on bag. Also, you can deflate it a bit so the back is not pushing your head forward at an uncomfortable angle, or adjust for reading versus sleeping positions.
Kris likes this inflatable travel pillow with quick pump and release valve. She keeps her own eye shades right in the pillow pouch, but rarely packs the pillow unless it's a flight over three or four hours. As for eye shades, I've got about a dozen pairs that I've been given by airlines. If you want nicer ones, there are a lot to choose from.
Organization. As for the nasty liquids restrictions, Kris uses a 1-quart, durable, zip-up travel ditty bag, but rarely has enough liquids to even bother pulling it out. Toothpaste, lotion, toner, shampoo and conditioner are about it, minimized by using soap and shampoo bars versus liquids.
Kris advises, if you are checking, to keep only medicines, contact lenses, and minimal toiletries for inflight use in the carry-on. Pack the rest and save yourself carrying that weight through the airport. Or relegate it to the overhead bin bag you won't access while flying. Pack in your carry-on only those things you want during flights and layovers.
So in her carry-on, she carries any medicine, cash, papers, jewelry, all the cords and chargers, camera, laptop, accessories noted above, and maybe a change of underwear and an extra sweater or under layer. What she DOESN'T carry on board are any traveling tools (pens, knife, corkscrew, scissors), no manicure set, and no back-up supplies of OTC meds or toiletries. (Try not to take any back-ups at all; they probably have stores where you are going.)
A good small carry-on bag
Just as with pockets, consistent organization of your carry on bag is important to safe, hassle-free and comfortable travel. This is especially true if you're in basic economy class or on budget airlines that limit you to one "personal item" as your carry item.
My carry-on bag is now the Timbuk2 Classic Messenger Bag. It's got a handy pocket under the flap that allows me easy access to everything I take out of my pockets at airport security in one spot. Once you pass security, it's easy to reach into this small space and grab it all to go back into my pants pockets.
Kris's carry-on is more substantial. She loves that the Lite Gear Mobile Pro Backback is expandable, has a separate zipped sleeve for her laptop, a couple convenient exterior pockets, and a secure interior hook to attach our house keys while we're away. This bag has plenty room for her small camera bag, medicine, a sweater, spare glasses, eye mask, a reusable water bottle, and all the in-flight items mentioned above.
I also usually carry a separate serious camera bag, since I've got two big DSLRs, three or more lenses, a flash unit, a tripod, filters, memory cards, cables, and more. But that's for another post.
Check out our stable of travel bags in this post covering the whole range, from roller bags to hiking daypacks. Currently, Tom is very happy with his Cotopaxi Allpa 35L backpack.
Peace of mind
To stay healthy, wipe all hard surfaces around your seat with antiseptic wipes, including air vents, emergency info cards, seat belt buckle, tray tables and armrests. Avoid those nasty seat pockets. Drink all the water you can. Walk about periodically to keep circulation moving.
Travel Insurance. Don't leave home without it. Whether it's flight delays, lost luggage, rental car damage, or on-the-road medical expenses, you'll fly and sleep a lot better knowing you are covered if anything goes wrong. We use Allianz Travel Insurance. Since we travel a lot, we buy an annual plan, but there are single trip coverage plans, too. We've recovered over $1400 in medical expenses in past years, btw.
When to buy your insurance? Recently, software improvements have streamlined the process of purchasing travel insurance while booking flights or tours. If you, like many, are confused about the best window in which to purchase your travel insurance, read this story.
Get Global Entry with TSA Pre
Finally, the best way to get through security with minimum hassle is with TSA Pre, which we get as part of our Global Entry status. Here's how to get the Global Entry status to get you into the U.S. and through the TSA lines a lot more quickly. If you're traveling internationally, Global Entry is an absolute must to ease your reentry into the U.S.
A savvy reader who is without Global Entry recently pointed out the Mobile Passport App. This does not include TSA Pre, but (for U.S. citizens) can expedite your return through U.S. borders by queuing up your data on your smartphone and bypassing the longer lines.
Some more travel tips
If you want some more tips about traveling, check out our 50 Favorite Travel Tips. Also, see this post on apps we use, this one on the travel accessories we carry, and this one on the bags we use.
Travel Planning Resources
Looking to book your next trip? Use these resources that are tried and tested by us. Flights: Start finding the very best flight deals by subscribing to
Thrifty Traveler
. Book your Hotel: Find the best prices on hotels with
Booking.com
. Find Apartment Rentals: Find the cheapest prices on apartment rentals with
VRBO
. Travel Insurance: Don't leave home without it. We recommend
Allianz Travel Insurance
. Need more help planning your trip? Make sure to check out our
Resources Page
where we highlight all the great travel companies and products that we trust. See all of the gear and books we like in one place on our
Amazon shop
.