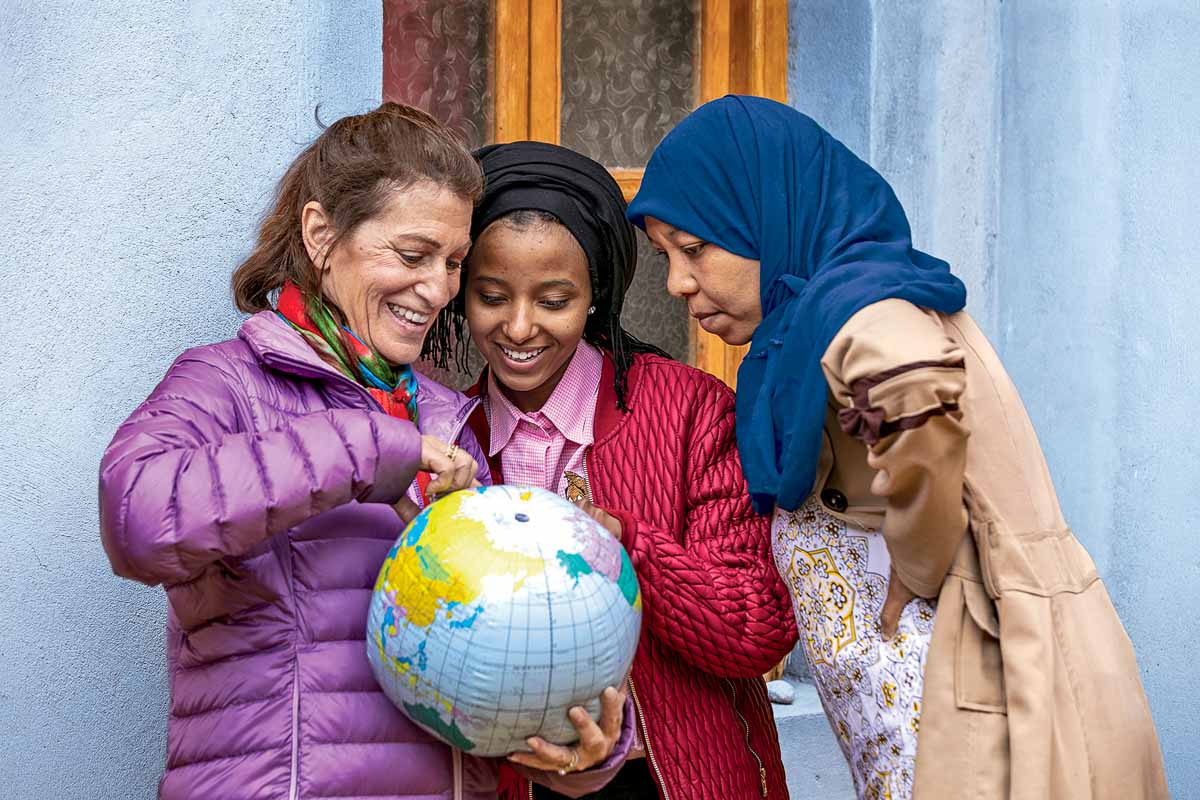 You might be thinking: what credibility do Kris and Tom of have for writing a post about solo travel for women? Tom and I are a team, after all. We're married to each other, we have a family together, we've worked together throughout our careers, and we travel and blog together. That's a lot of togetherness.
One of the best ways to keep ourselves and our relationship happy, we know from experience, is venturing out on our own. Whether it's solo travel for business, going our separate ways for personal retreats, or joining up with family or friends independent of the other, we love solo travel.
We've also befriended many solo travelers, men and women, and have lent an ear to many more who seek our travel advice and best tips for solo female travel in particular.
"Loving life is easy when you are abroad. Where no one knows you and you hold your life in your hands all alone, you are more master of yourself than at any other time."
Hannah Arendt
We learned earlier this year that Overseas Adventure Travel (O.A.T.), a small-group tour provider that's been around since the late 1970s, has been paying close attention to the needs of single women travelers. O.A.T. recently published a handy book on the subject: 101+ Tips for Solo Women Travelers. You can get a complimentary copy mailed to you or view your copy online by following the link.
The definition of solo travel
Solo travel isn't just for single people. We write with full awareness, however, of the societal backdrop that colors the perceptions of single women and feeds the concerns of solo female travelers.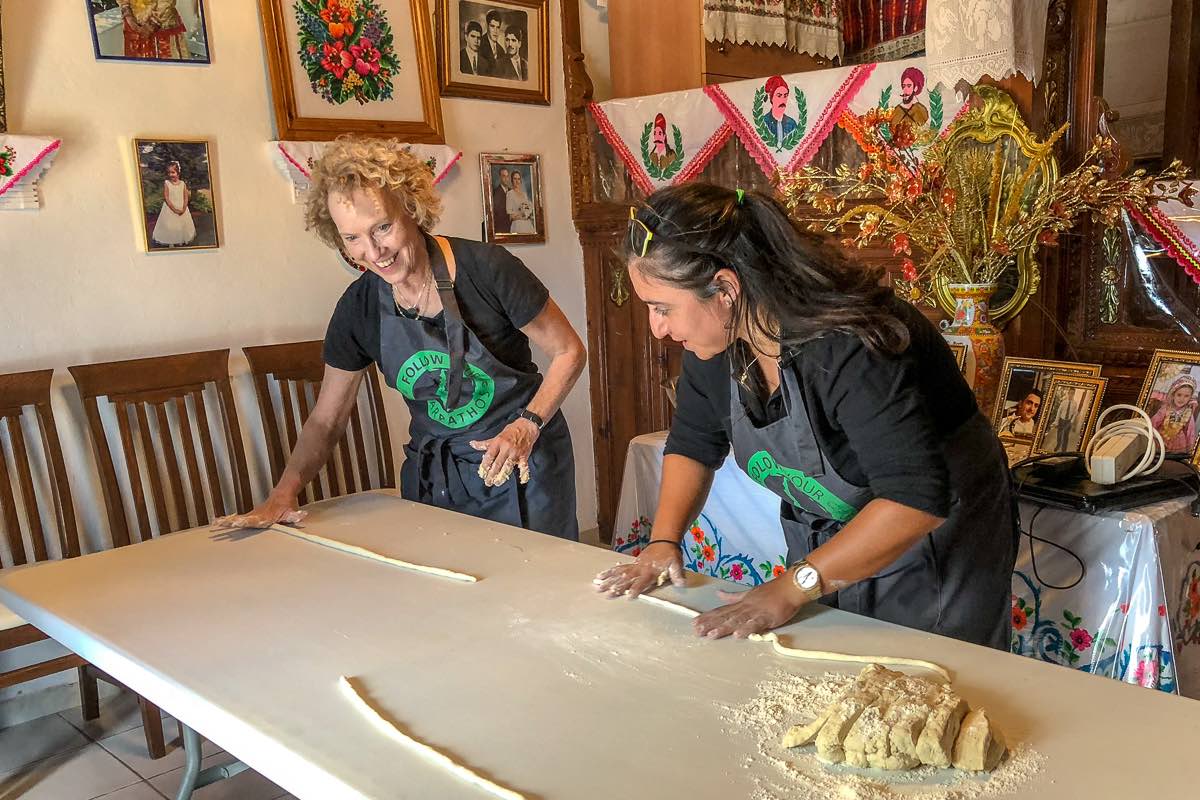 In reality, solo travelers are sometimes single, sometimes married, widowed, or divorced. Some are young, exploring the world before deciding on jobs and the future; some are mature adults discovering the world again after careers and family. Some travel alone frequently; others are venturing out solo for the first time.
Some solo travelers look for solitary experiences, while others seek company. Some solo travelers set out on their own; others plan travels with a sibling or friend.
Many use their love of travel as a jumping off point for adventure. Destination: anywhere! Many others find a specific special-interest tour (think history, theater, hiking, birding, or arts and crafts) that bring like-minded people together.
Given travel trends and our United States demographics, it's not surprising that one out of four O.A.T. travelers go independently and 85 percent of their solo travelers are women.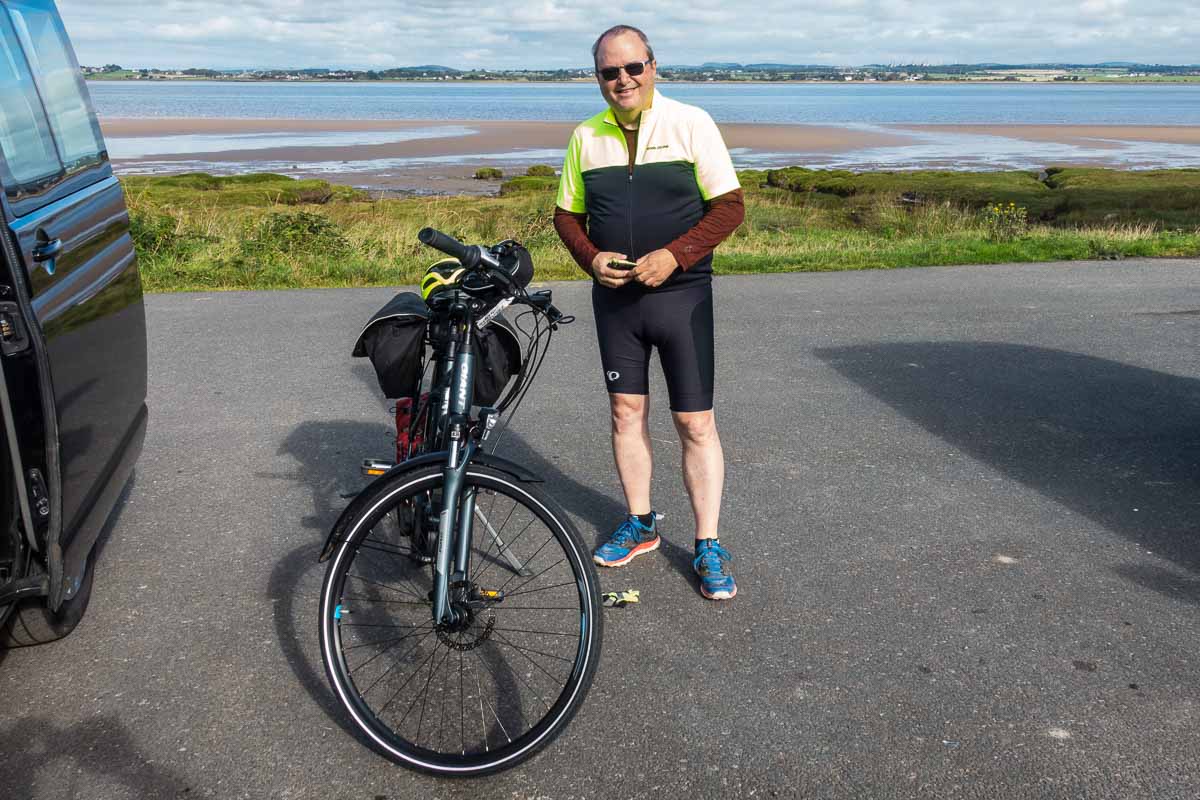 The benefits of solo travel
The point is: if you want to travel, you can. Once you set out on your own, you'll see why solo female travel is one of the fastest growing tourism segments.
Here's what we enjoy most about solo travel:
Seizing the opportunity. Choose to travel.There's no need to wait for a willing partner or to convince a reluctant friend to accompany you.
Making decisions for one. Many of us try to please everyone with detailed travel plans. This leads, of course, to decision fatigue and unnecessary time spent managing some phantom consensus on where to go, what to eat, and when. Solo travelers have the freedom to do what they want when they want.
Enjoying uninhibited fun. As a solo traveler, I don't need to cut short my time paddling or snorkeling, for example, to appease a partner who isn't into water sports (such as Tom.) A dance class or yoga session? Why not? When you travel alone, it's easier to try new things and indulge in favorite activities.
Meeting new people. It's often easier to get to know fellow travelers when you are on a one-to-one basis. Yes, if you're so inclined, solo travel can be more sociable, not less, than traveling with a companion.
Having time to yourself. We frequently advise that "downtime" is essential to happy travels. Maximize your personal time by traveling solo, and you'll discover more precious time to read, write, reflect, relax. Rejuvenated by your breaks, you'll face new travel experiences with more energy.
Discovering self-confidence. There's nothing like making your way through an airport, train station or metro transit system to earn a badge in self-reliance and confidence. Traveling solo means you are responsible for finding your way, minding your surroundings, managing your money, tickets and papers. This feels so much better, more empowering, than being steered through, unaware.
Flexibility. This is where O.A.T. excels. Knowing the fluctuating needs within a small group, O.A.T. trips offer included tours, free time, and the option (and encouragement) to choose how to spend your days. This personal freedom, in my book, describes luxury travel, no matter how many stars assigned to your hotel.
Some trips we've taken separately include Tom's solo bicycling across England and Scotland, Kris's hiking in Patagonia's Torres del Paine National Park, plus various small group tours and lots of independent city breaks. You can do it!
Cycling Across England and Scotland: Hadrian's Wall to Edinburgh
Surprises Along the W: Trekking Patagonia's Torres del Paine
Sustainable Travel Starts in Sweden
Baja Cruise: Active on the Sea of Cortez
Volunteering in Africa with Biosphere Expeditions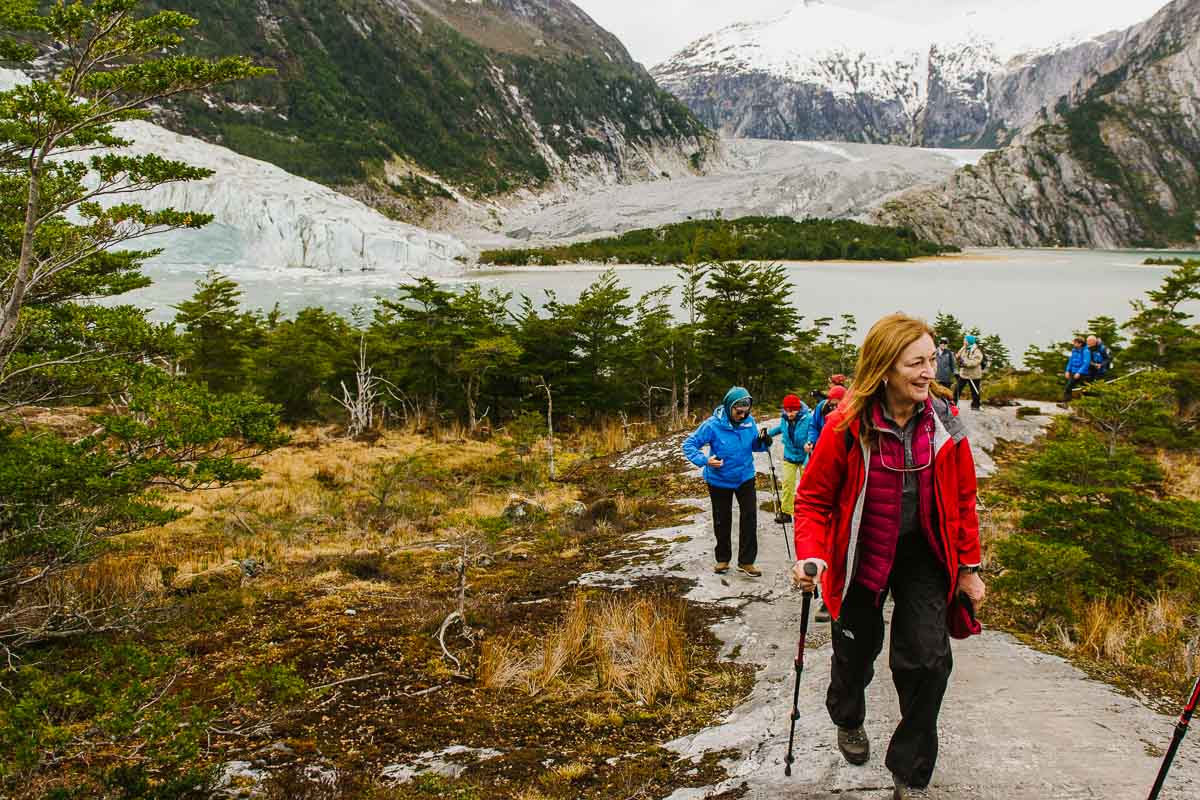 Overcoming obstacles
Budget. The dreaded single supplement is a big deterrent to many would-be solo travelers. O.A.T. gets it; in 2022, 30,000 of their available bookings specifically accommodate singles, and 92% of those are without a single surcharge.
Safety. With the guidance of a small group tour provider and with a bit of research and preparation, the smart solo traveler will find safe environs and practice safe and healthy travel habits.
Eating alone. We know many friends who have an aversion to eating alone. (Give me a book, smart phone, notebook, or picture window and I relish dining solo.) If you're not in the mood to appear alone, do as I do and pull up a stool at the bar. Or use a meal-sharing app. (It's in the 101+ Tips book.)
Feeling like a fifth wheel. You have options. Depending on what suits you, find tours for women only, or choose from the various trips welcoming solo travelers, couples, friends, and multi-gen family pods all together. No even numbers required.
Handling all the details. With the right travel company, you can travel independently but still have the support of travel professionals to take care of logistics.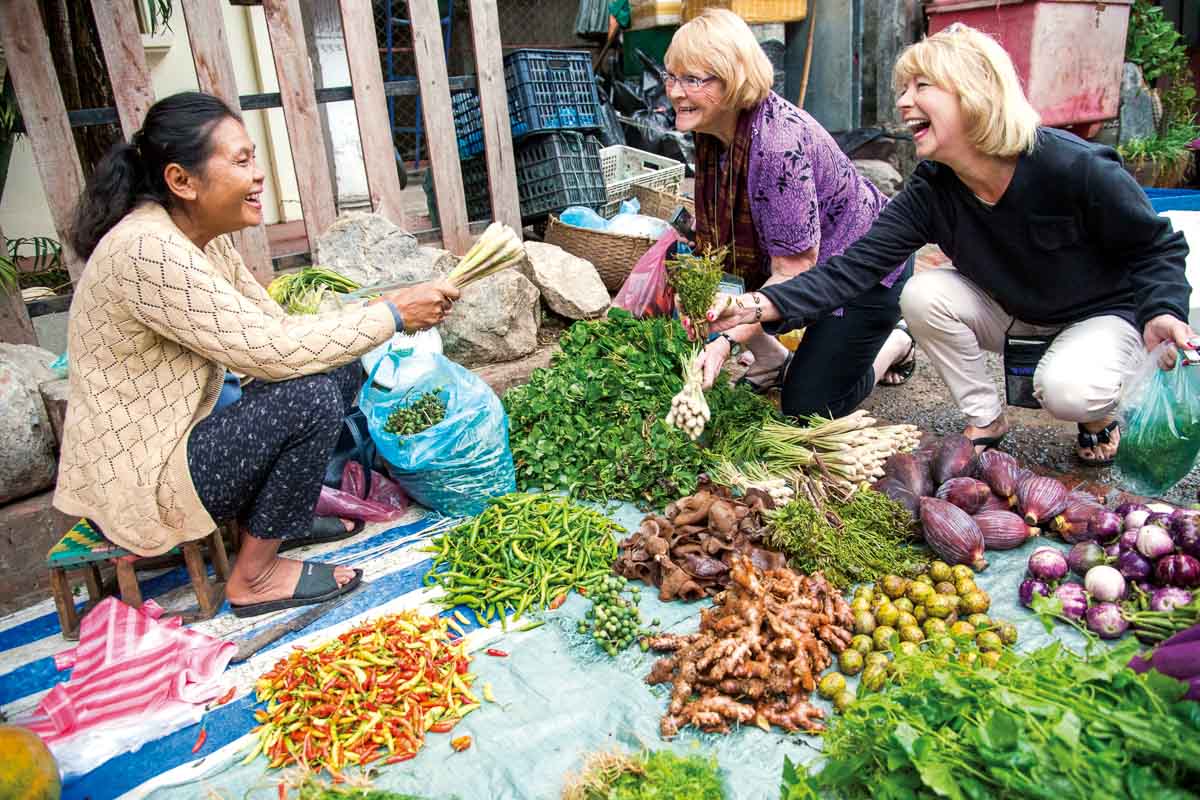 Tips for solo women travelers
Traveling solo needn't be intimidating. Simple tools for planning and packing, getting there and immersing yourself in the destination are compiled in this 96-page book. Tips even cover money matters, travel tech, and photography. Dive in to start anticipating the fun adventures ahead.
Reading 101+ Tips for Solo Women Travelers, we chuckled at the number of suggestions we've already built into our own travel habits. Some truths are universal.
Here's a smattering of tips we happily endorse:
Carry the business card (or matchbook) from your hotel with you so that you and your driver can find your way back home. This is especially useful when an address is in a foreign alphabet. (China!)
Check to see if the city you're in offers hosted home dinners or volunteer guides (like we found in Tokyo).
Pack some duct tape (always handy in a pinch) wrapped around a pencil.
Load your phone with the apps you'll want. The O.A.T. booklet has some nice recommendations. Google Translate, What's App, Google Maps, Rome2Rio, Uber, and XE are among the apps we use. We'd add TravelSmart to the list for on-the-spot directory of clinics, ERs, and embassies.
Know about your destination's Wi-Fi availability or use a data plan like we have with T-mobile.
Pack a mobile battery charger as well as your cords with adapters. Read more on our Travel Past 50 tips for best tech gear for travel.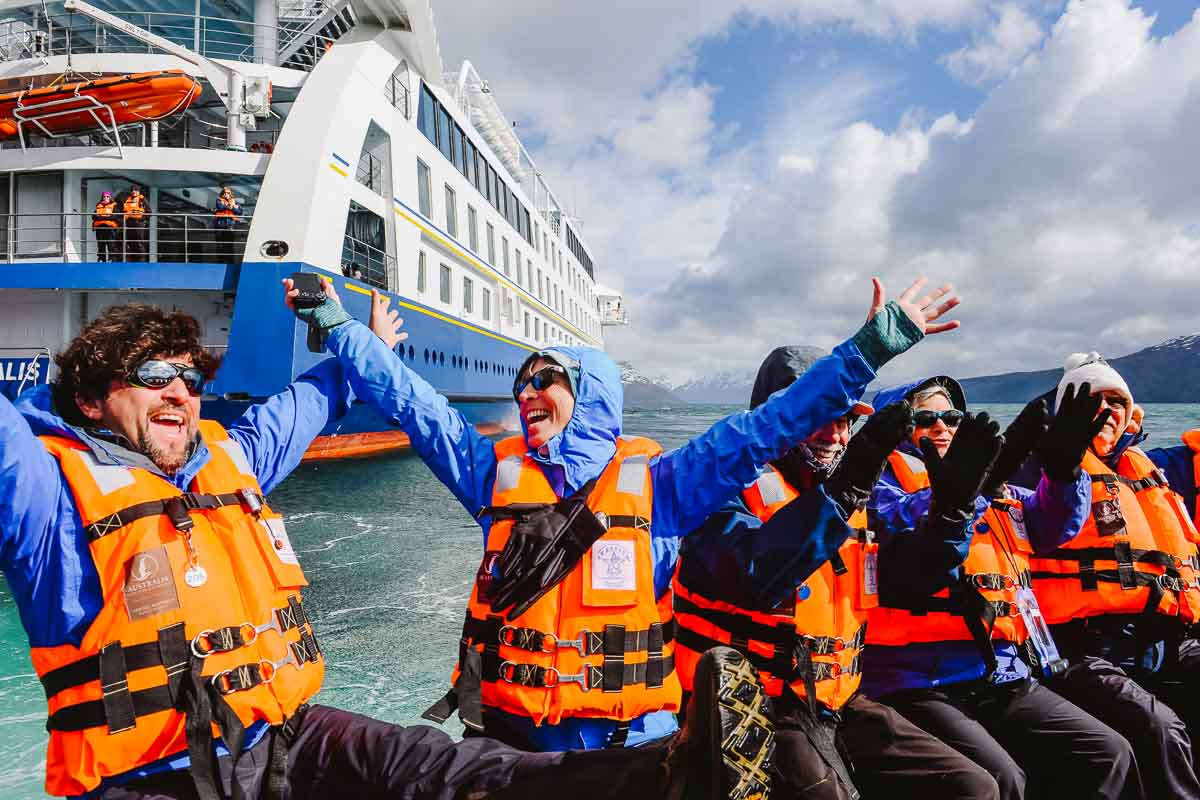 Destinations for solo female travelers
Many seeking information on solo travel for women want to know what destinations are 'safe' or suitable for women. We'd like to think this section is unnecessary. As long as women take the sort of safety precautions all travelers are advised to follow, there is no continent or country we've been to that we'd dissuade you from visiting. Go for it but be prepared.
O.A.T. breaks down good travel opportunities in Africa and the Middle East, Central and South America, Asia, Australia and New Zealand. We agree that solo travelers might especially love destinations like Tibet or Bhutan that require guides, because solo travel certainly doesn't mean you need to (or are even allowed to) make arrangements on your own.
101+ Tips for Solo Women Travelers offers bonus destination-specific tips addressing issues such as local customs, food, and currencies. All the better to get pre-excited about your journey.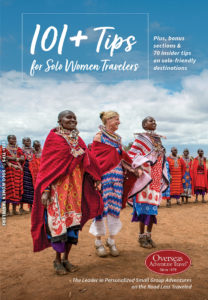 Since starting our travels over a decade ago, we've been happy to observe a growing diversity among travelers. Within that, we see many more solo women travelers. We benefit from their enthusiastic reports and we're united in encouraging others to get out there and try independent travel.
Get a jump start on traveling independently by ordering your copy of the O.A.T. complimentary 101+ Tips for Solo Women Travelers. Sprinkled in with the practical tips are inspiring words from experienced women travelers.
It's a winning combination representing what all seasoned travelers have in common: the joy of new travel experiences and the fun in sharing their stories.
Note: Thanks to O.A.T. for sponsoring this post on a subject we treasure: independent travel. O.A.T. has been designing trips especially for active life-long learners ages 50 and older since 1978. Over time, because they've focused on cross-cultural learning, small groups, and safety, they've become a leader in solo travel for women. In 2022, 92% of the 30,000 single booking options are without single supplements.
You can help yourself get ready for your own travels by reading our Get Started Planning Your Trip Now page.We love traveling–with the right gear. We've gathered a lot of the stuff we use to make travel more pleasant and efficient all on one page. Shop our Travel Past 50 Amazon page to find our favorite gear. If you purchase something from the store, Travel Past 50, as an Amazon affiliate, may receive a small commission at no extra charge to you. Thanks.
We never leave home without our travel insurance. Nor should you. Search for the travel insurance from Allianz that best meets your needs, whether it be an annual plan or a single trip.
You can see (and buy prints) of most of our travel photos in one place on this page.
Note: This post and other posts on TravelPast50.com may contain paid or affiliate advertising links.