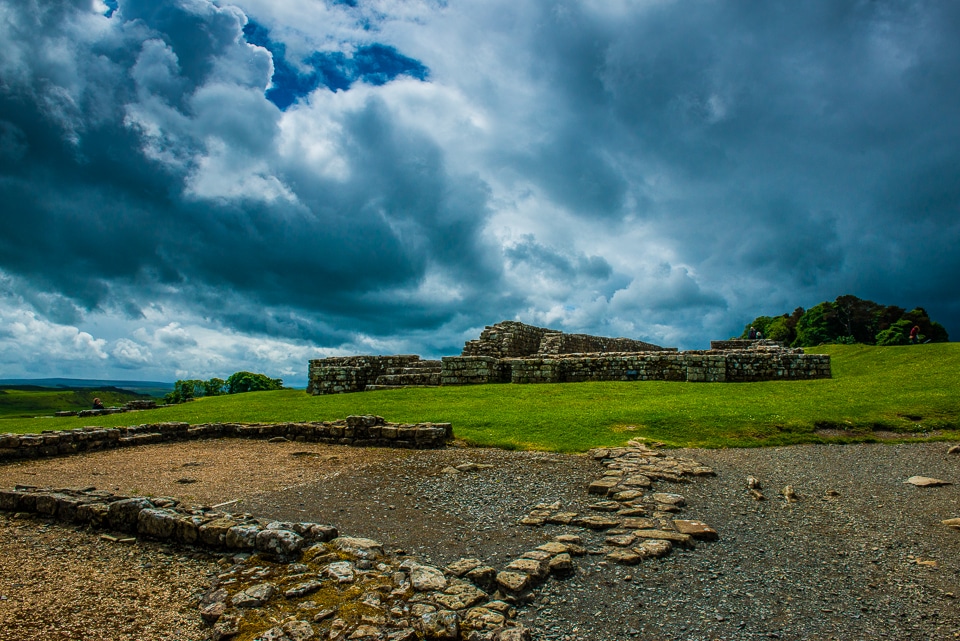 All along the wall built by the Roman Emperor Hadrian across the width of northern England in the second century are forts which housed soldiers who actually manned the wall. Every mile, there were towers which housed a couple of dozen soldiers. At larger intervals were forts, such as this one at Housestead, which held a full garrison of up to 800 soldiers.
This is a picture of what is left of their storehouse, which held the food necessary to supply the cohorts.
Note the sky in late June. That's the weather we faced as we tried to hike the length of Hadrian's Wall across the island of Britain. And why we abandoned the effort after two days.
But I did come back to cycle the length of Hadrian's Wall in the fall of 2019. Never say die.
You can read more about Hadrian and his other major construction project here.
Hadrian's Wall and the other Frontiers of the Roman Empire in Britain are a UNESCO World Heritage site of the United Kingdom. Click the link to see our other posts about UNESCO World Heritage sites in the UK.
You can help yourself get ready for your own travels by reading our Get Started Planning Your Trip Now page.
We love traveling–with the right gear. We've gathered a lot of the stuff we use to make travel more pleasant and efficient all on one page. Shop our Travel Past 50 Amazon page to find our favorite gear. If you purchase something from the store, Travel Past 50, as an Amazon affiliate, may receive a small commission at no extra charge to you. Thanks.
Note: This post and other posts on TravelPast50.com may contain paid or affiliate advertising links.
Get all our travel tips delivered to your inbox
Subscribe to our email newsletter