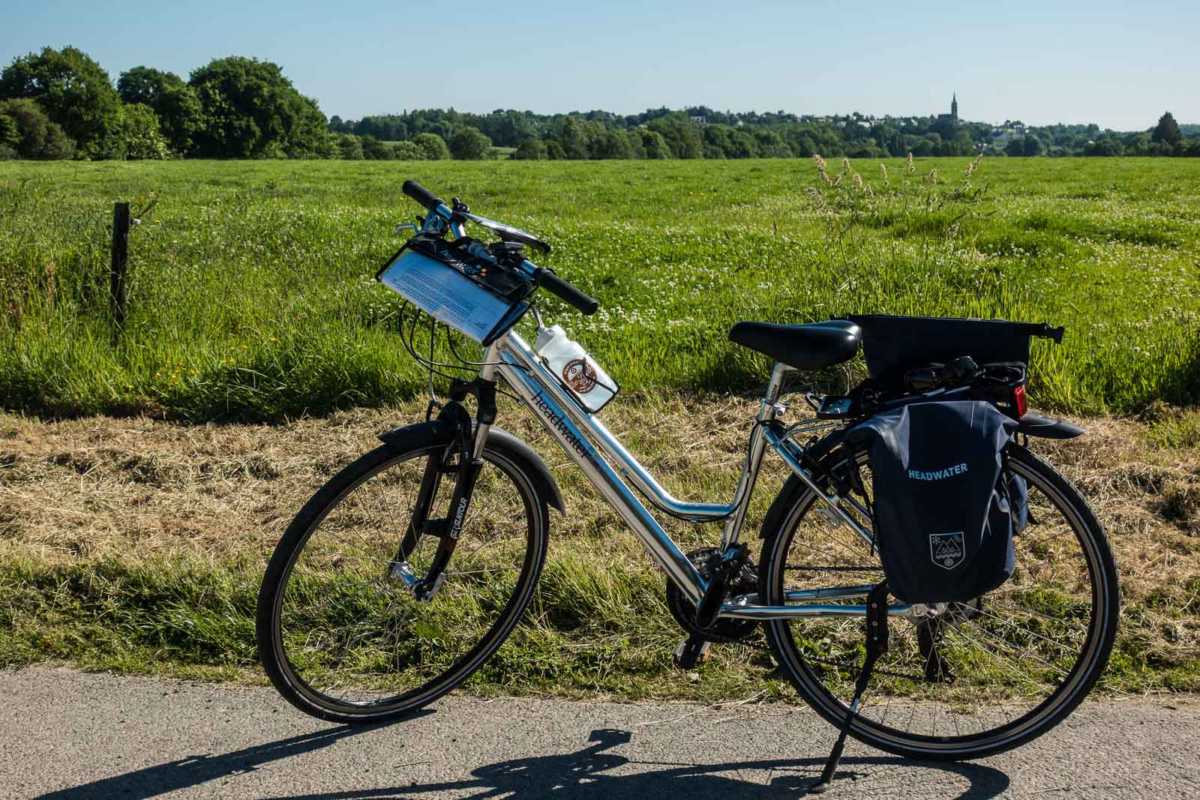 Note: In May, we took a week-long bicycling trip around the northern part of Brittany, France. We'd never done anything like this before; our only biking experience had been rides across town and on urban trails. Over five days of cycling in Brittany, we covered 200 kilometers (125 miles) and climbed a cumulative 2,000 meters (6,562 feet). We were hosted on this self-guided tour, "Backroads of Brittany," by Exodus Travels, who rate this itinerary's difficulty 2 out of 5. We say it was just right, and if we can do it, so can you.
We were both unsure of how this bike trip would go, but neither of us wanted to admit it. Tom would occasionally wonder out loud if my knees were sufficiently recovered from meniscus surgery to handle a week on a bike. His worry increased as I continued to limp around Europe in the weeks leading up to the ride.
For a list of the equipment we carry while cycling, check out Our Best Gear for Cycling.
I wondered how Tom would manage the hills, and my worry increased when I looked at the detailed itinerary, did some research, and realized this route might not be as flat as we thought. (Then I got psyched out learning the Tour du France had done a stage near here in 2015. I kept that to myself.) Like the old married couple we are, we kept moving forward without expressing specific reservations.
No need to worry. Our bodies held up and the whole ride was a joy, particularly fun because Exodus Travels did all the planning and provided the maps and detailed directions. The self-guided tour was a great way to go; we could move along at our own pace (slow) and stop whenever we wanted ("We Brake for Historic Churches").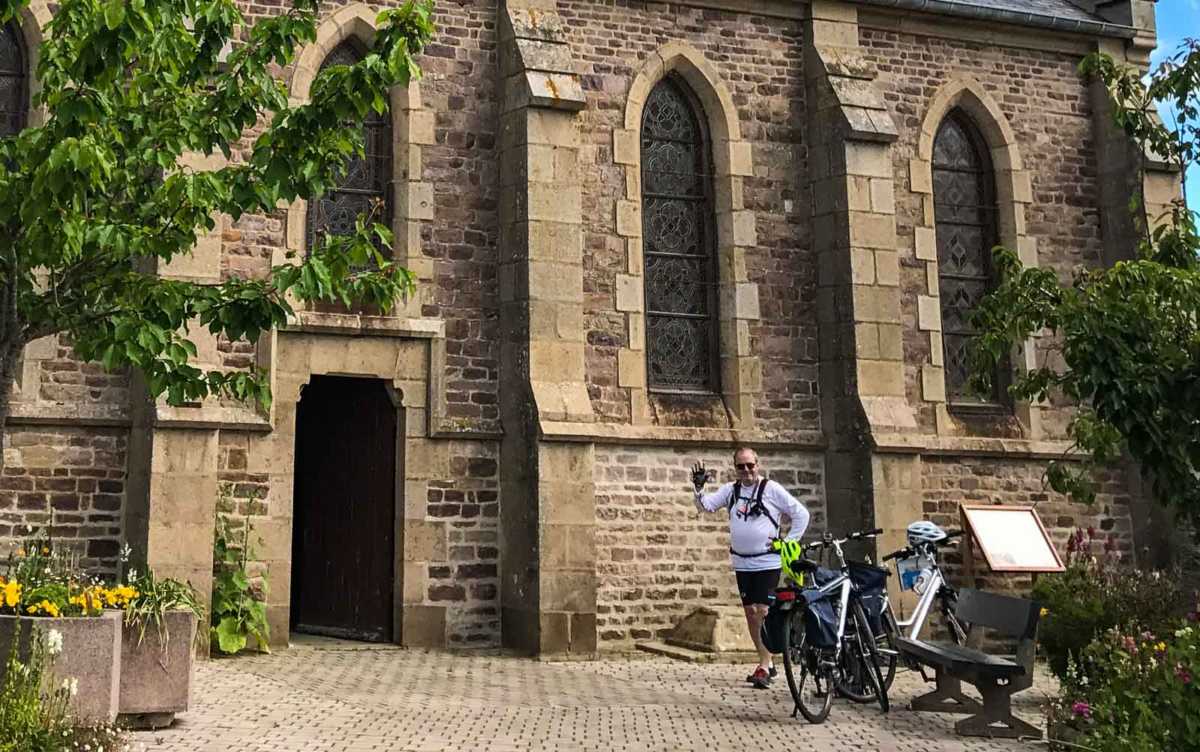 Self-Guided Tour
Here's how the self-guided thing works: Exodus booked our hotels and also transferred our luggage from place to place. Their representative, the affable Steve Barrington with local operator Headwater, met us at the train station in Lamballe (about three hours train from Paris with a change in Rennes), provided us with bikes, panniers, maps, notes, and downloads.
So all you have to do is pedal…and read a map and refer to detailed notes (maybe better suited to walkers that cyclists). We happened to be among the first to use the tour company's Ride With GPS app, which was a great asset. It's hard to imagine trying to cycle and stop to confirm every turn along the way.
The best parts of the route were lovely stretches through small farms, a grand entrance to the coastline at Préneuf Val-Andre, and numerous river stretches that combined challenging valley hills with serene waterside pathways.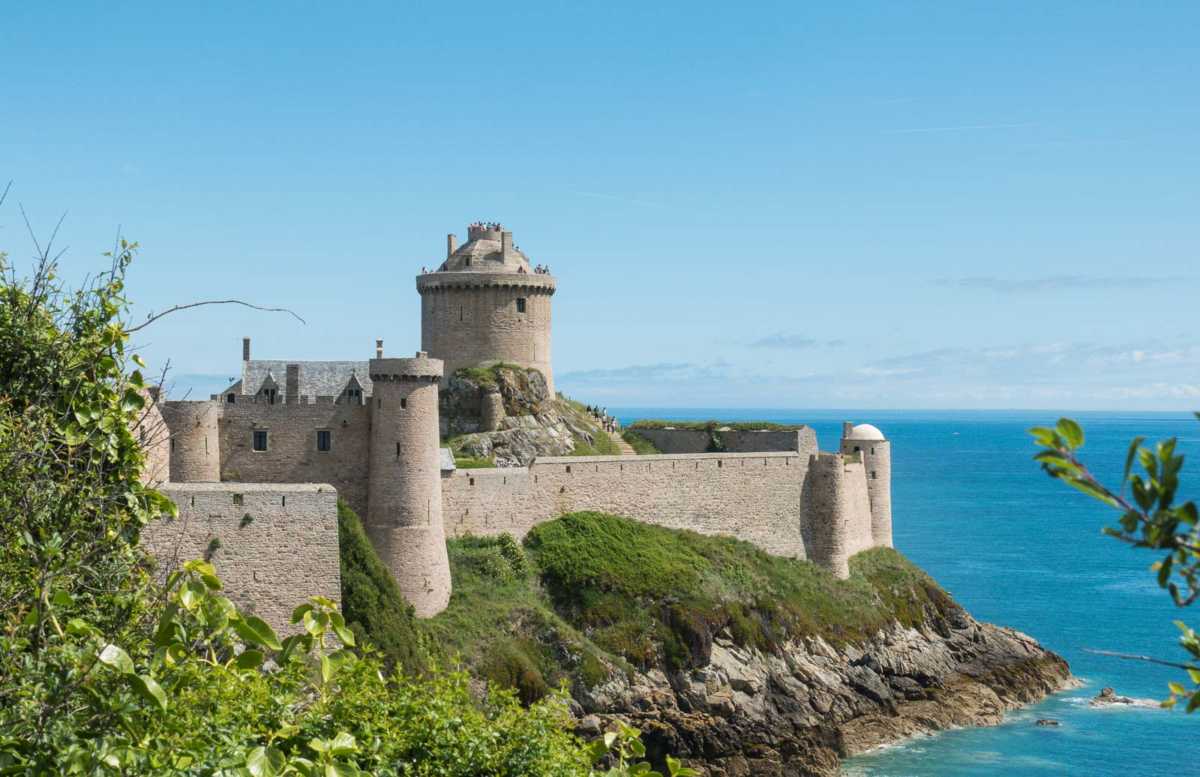 Lamballe to Sables d'Or les Pins
This itinerary starts at the gorgeous Le Manoir des Portes in La Poterie outside Lamballe, where we ate an extraordinary al fresco meal from the kitchen of Hervé. (He and his sons operate the manor hotel and restaurant.) While we took in the gardens, Steve gave us the lowdown for the first couple days. After one night at the Manoir, the week would consist of three two-night stays in the towns of Sables d'Or, Dinard, and Dinan, before returning to Lamballe.
Having two nights in one place makes it easier on everyone. Luggage is transferred only every other day. On 'rest' days, riders are free to tour by bike to recommended sights, or explore the towns and environs on their own. The Brittany Backroads itinerary used well-chosen local back roads, mostly paved routes that could barely handle two cars abreast. Some portions were on designated bike paths, both dirt and paved. Only a few short sections were on busy roads, just to jump over to other trails. We found drivers to be quite aware and courteous, only overtaking us if they could move into the oncoming lane. France has a long history of respecting cyclists.
Our first day, to Sables d'Or les Pins was uneventful, mostly because we were concentrating on following directions, staying together, staying on our bikes, and feeling out our physical condition. Sables d'Or des Pins ("golden sands of the pines") offered the best beach of the trip and the best sunset. (Later in the season, a swim would have been in order.)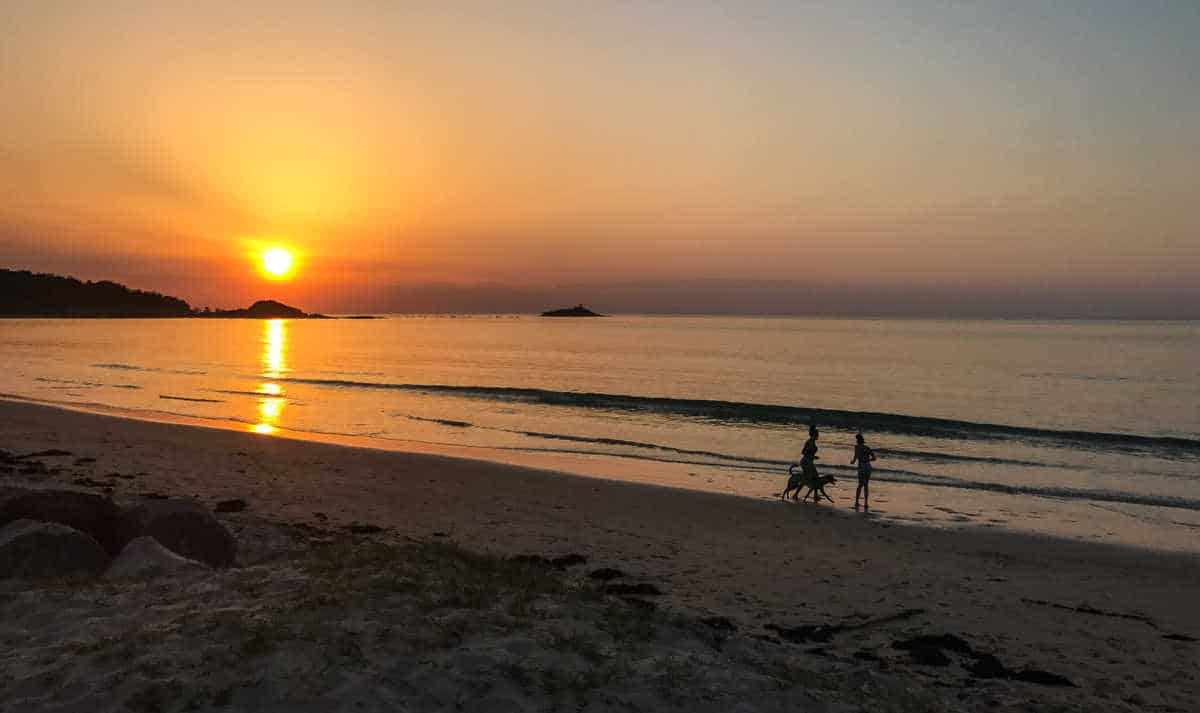 Did I mention we took it easy? We stopped for photos, for coffee, to peek inside churches, to check directions, to pee, and every now and then to walk our bikes up the last incline of a long, steep haul.
Day two was an easy side trip–and we packed our panniers a little lighter. The scenic fortress and lighthouse out on Cape Frehel are well worth the 26 kilometers, and we were just pleased to still be going on day two. The Cape Frehel ride happened to be on a holiday weekend, and traffic was gnarly. It's akin to Memorial Day weekend in the States, marking the beginning of summer, so we got a kick out of observing all the activities: farmyard weddings, picnics, vintage cars, family dinners, and many people taking advantage of the coastal trails.
Sables d'Or to Dinard
Steve met us again to review the next couple days. Surprisingly, we were ready for day three's ride to Dinard, covering more climb and more distance than before. We took some time in the friendly town of Matignon to buy sandwiches and pastries at La Madeleine Boulangerie. Later, we ate our sandwiches at the historic ruins of Chateau Gilles De Bretagne overlooking the L'Arguenon River. This scenic spot above the tidal river waters was complemented by the views riding into Dinard: tony estates and exceptional horses grazing the green pastures.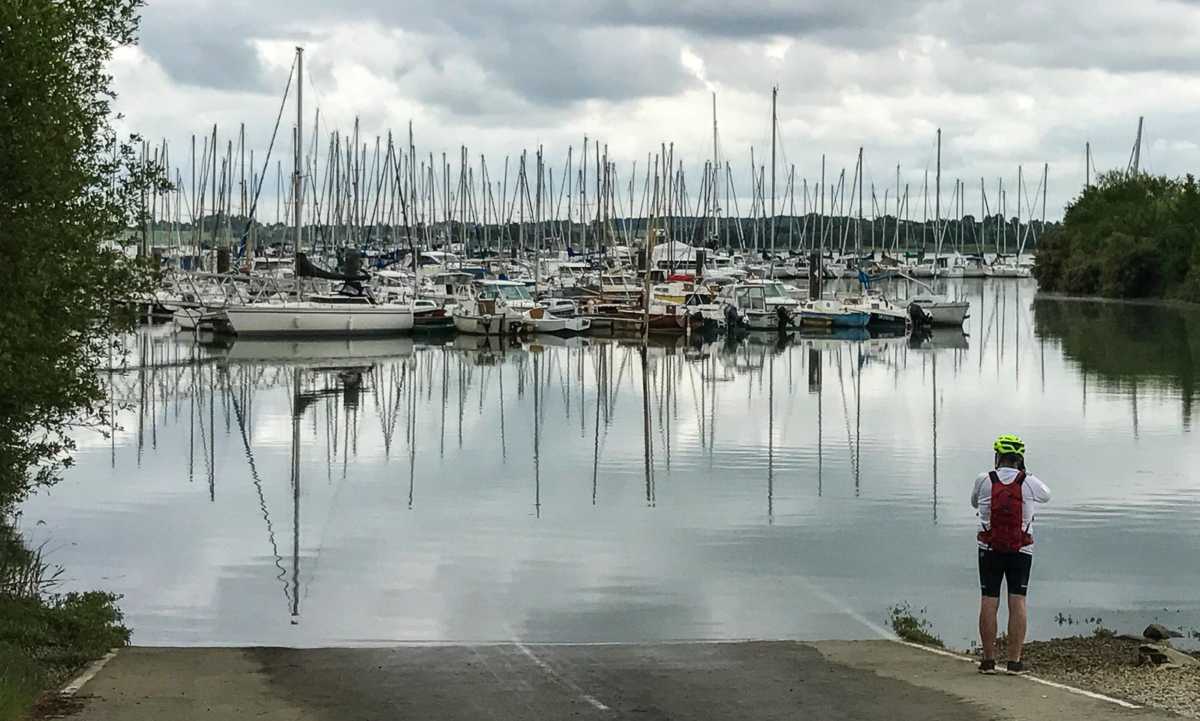 We took the cool and cloudy day off in Dinard to watch the tides (among the highest in the world) from our hotel balcony. We enjoyed a couple nice meals, and ferried over to the historic town of St. Malo–a good excursion on a rainy day.
Dinard to Dinan
Fully rested, but not interested in crossing a busy bridge, we followed the westerly route from Dinard to Dinan through farms and along the banks of the Rance River. Lots of ups and downs were more fun than challenging, and we stopped for more pictures of horses, churches, and the sweet port of Plouer-sur-Rance where we lunched at a scenic and relaxed waterside restaurant. (Crab cakes!)
Before the last stretch along the Rance, we stopped in a park to watch a game of Petanque. Did I mention we kept a leisurely pace?
Dinan, a medieval hilltop town, gave us another chance to goof off. Given a little more ambition, we'd have biked out to some other sites, but we enjoyed our day and night of wandering the town and settling in our accommodations along the river.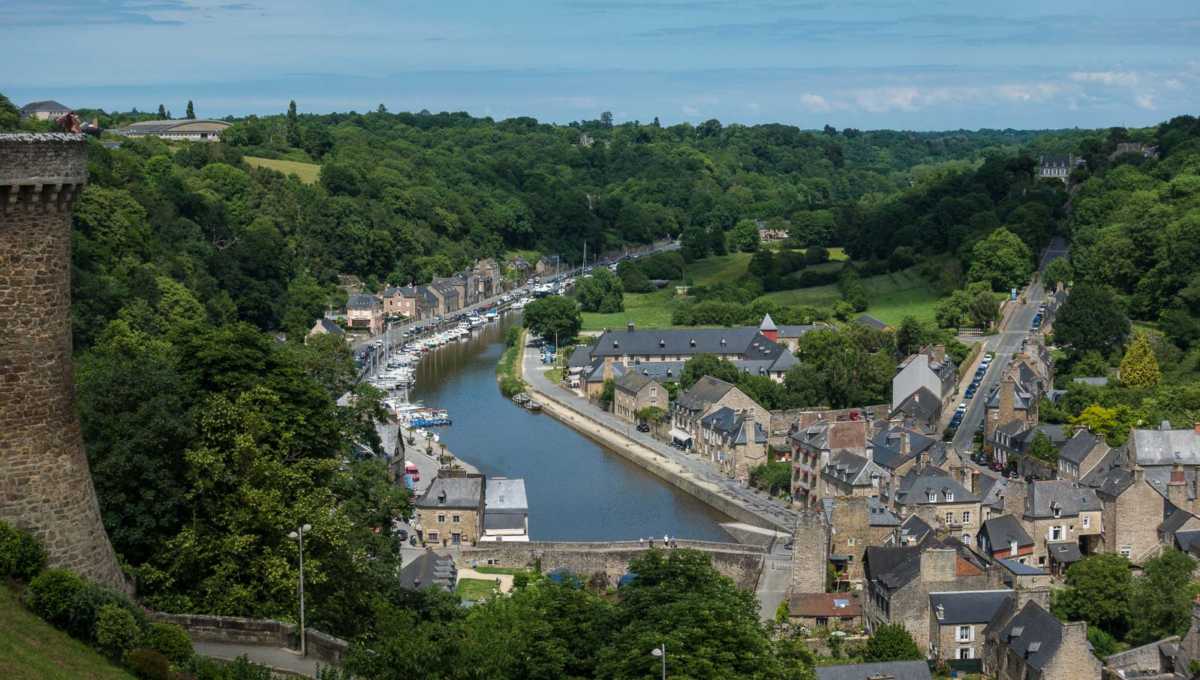 Crazy as it may have seemed when we first set out, on our last day we actually added on a detour–to visit a ruined castle on our way back to Lamballe–making our final stage a 55 kilometer ride with almost 600 feet of climbing. Our butts might have gotten a little sore that day, but we couldn't help being a little impressed with how we'd adapted to cycling through the week. Even when you start slow, you'll quickly gain the ability and confidence to go a little further the next day. Thanks Steve, and thanks Exodus!
Would you like to know more about where we stayed and what we ate? Check out this post about the culinary highlights of our Brittany bicycle tour.
And, here are some photo postcards of Brittany, by Tom.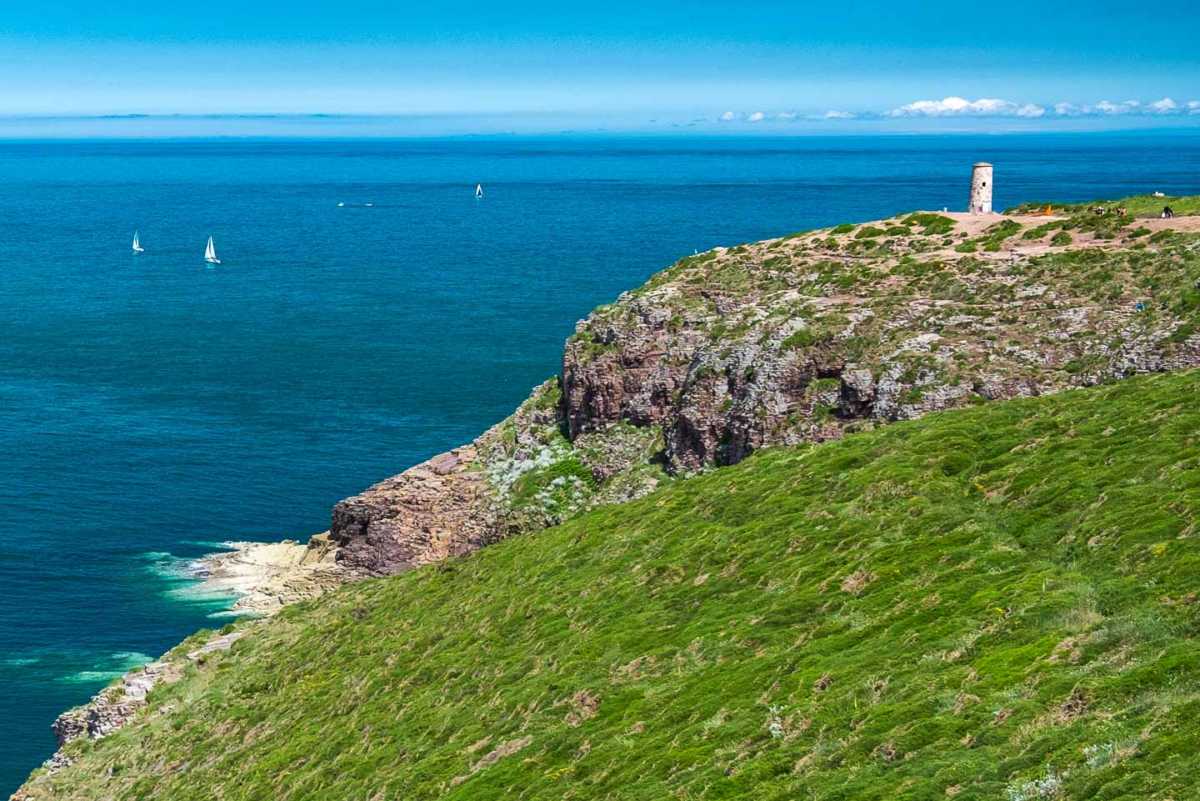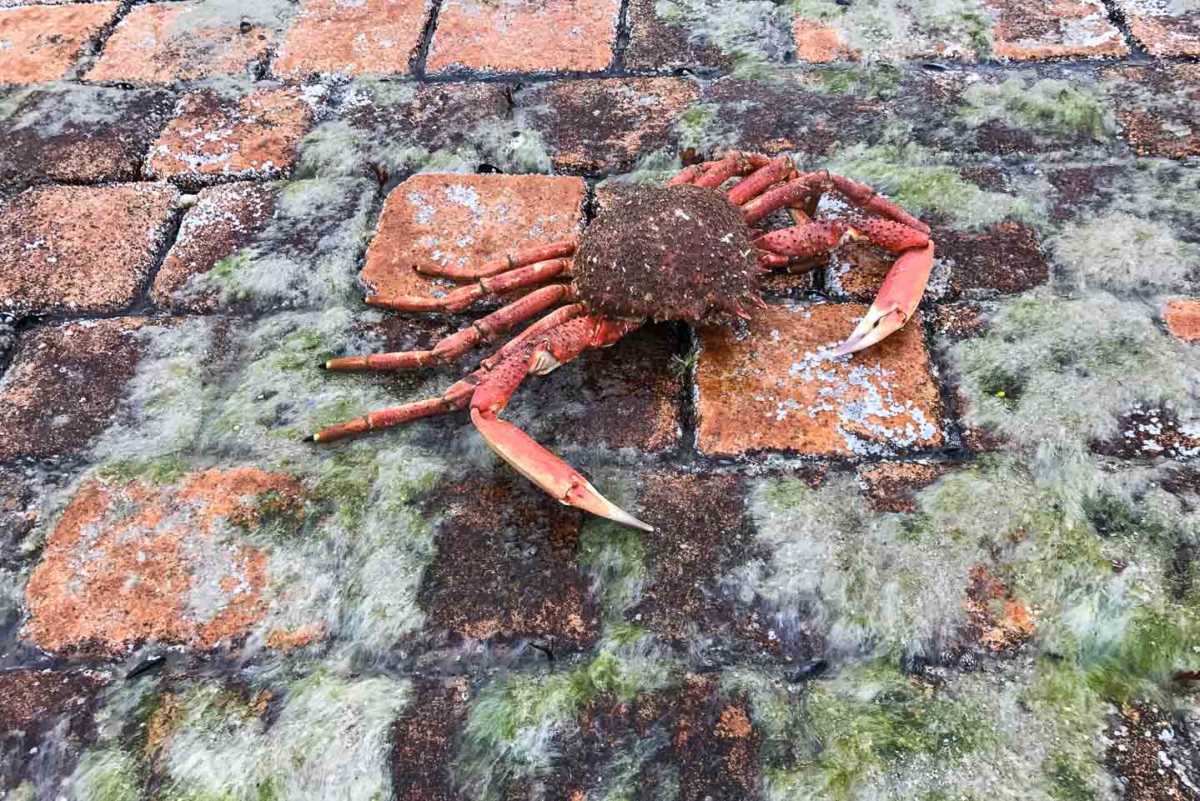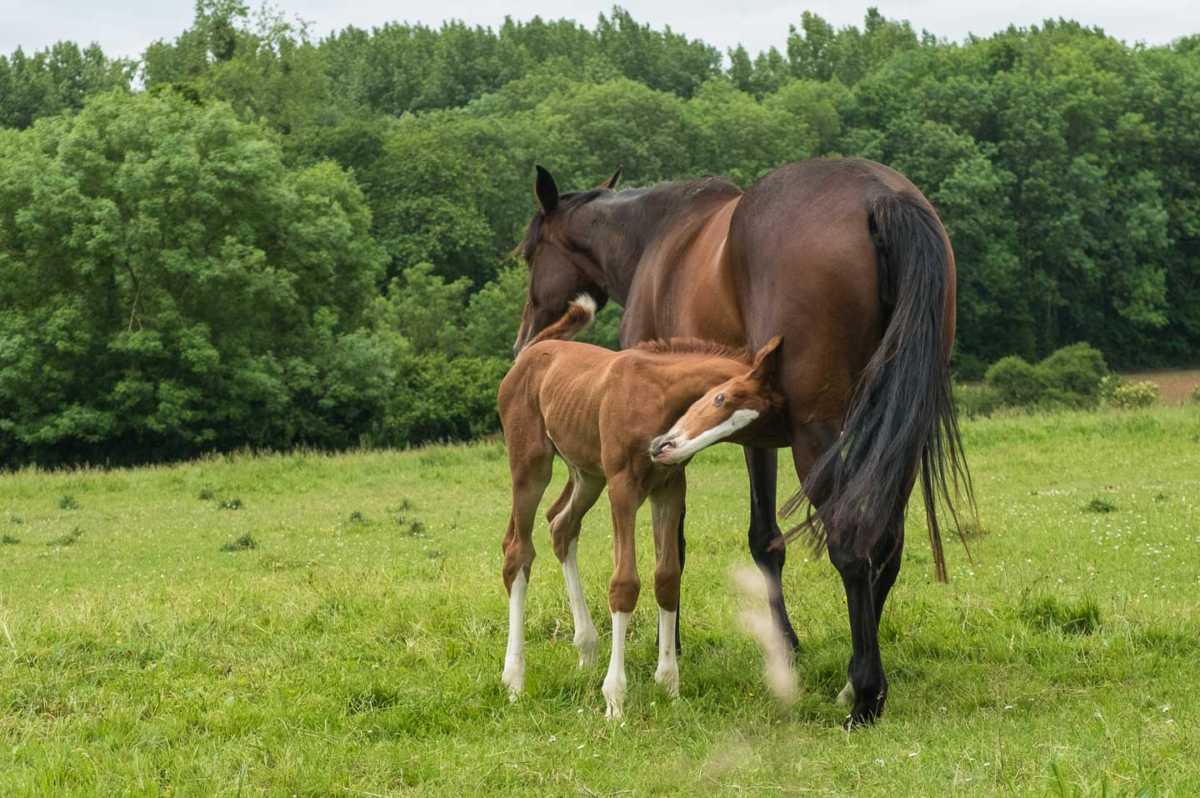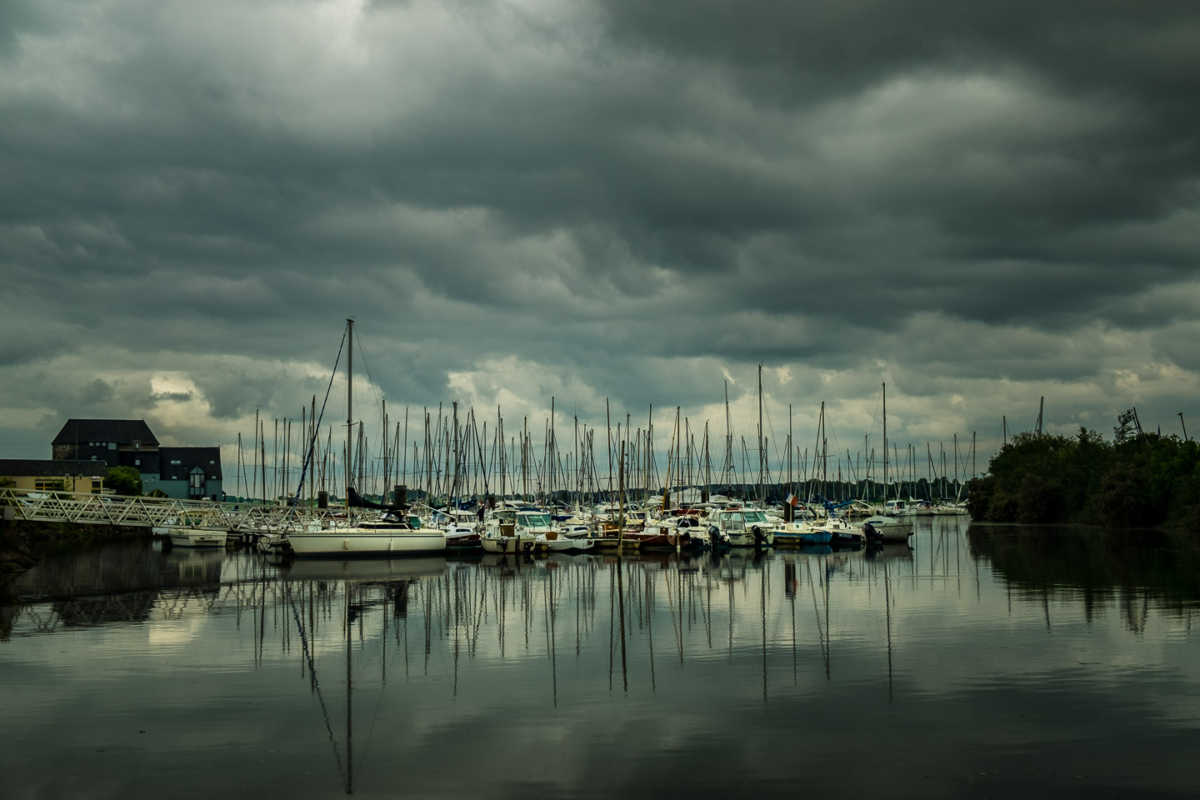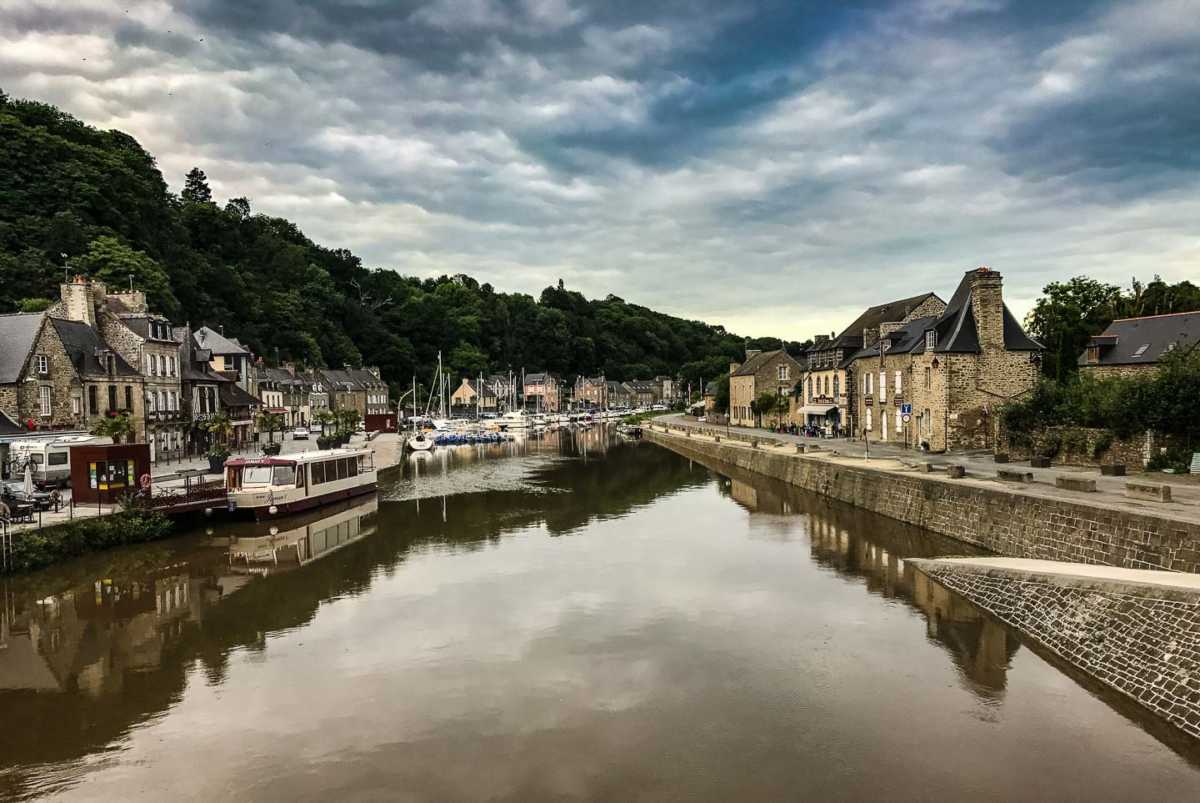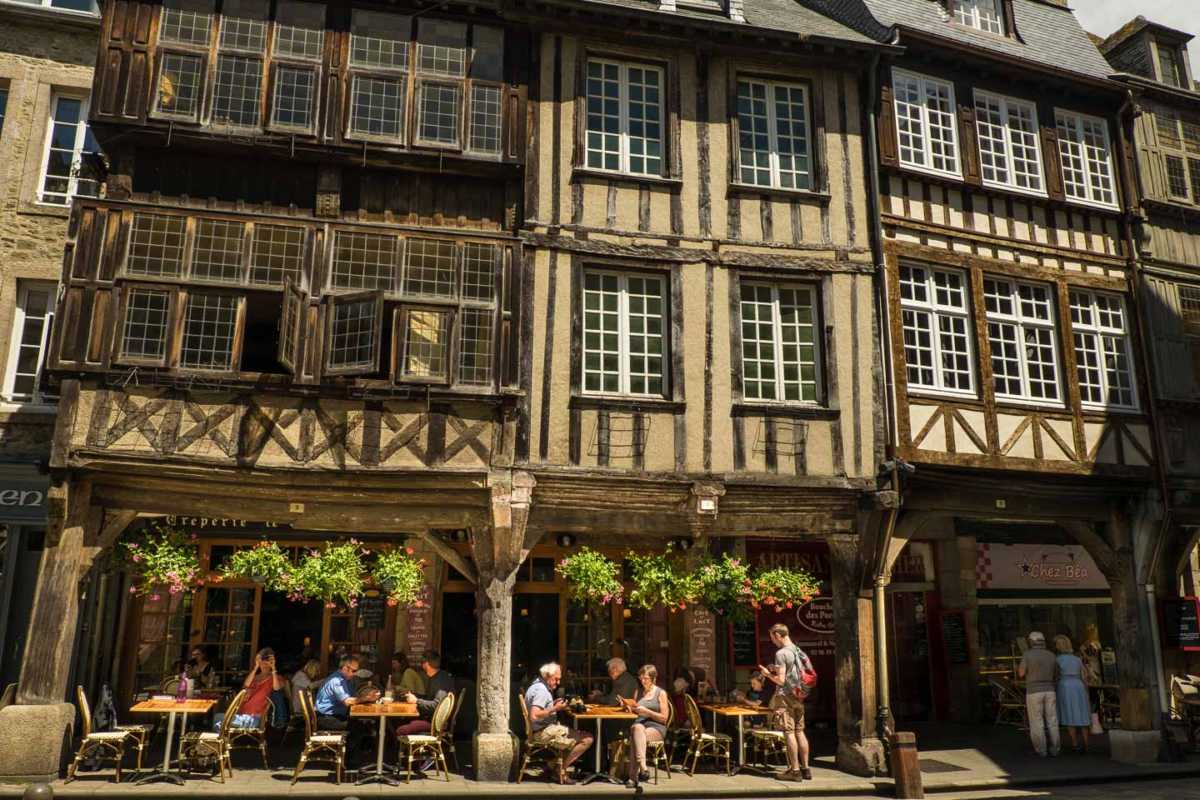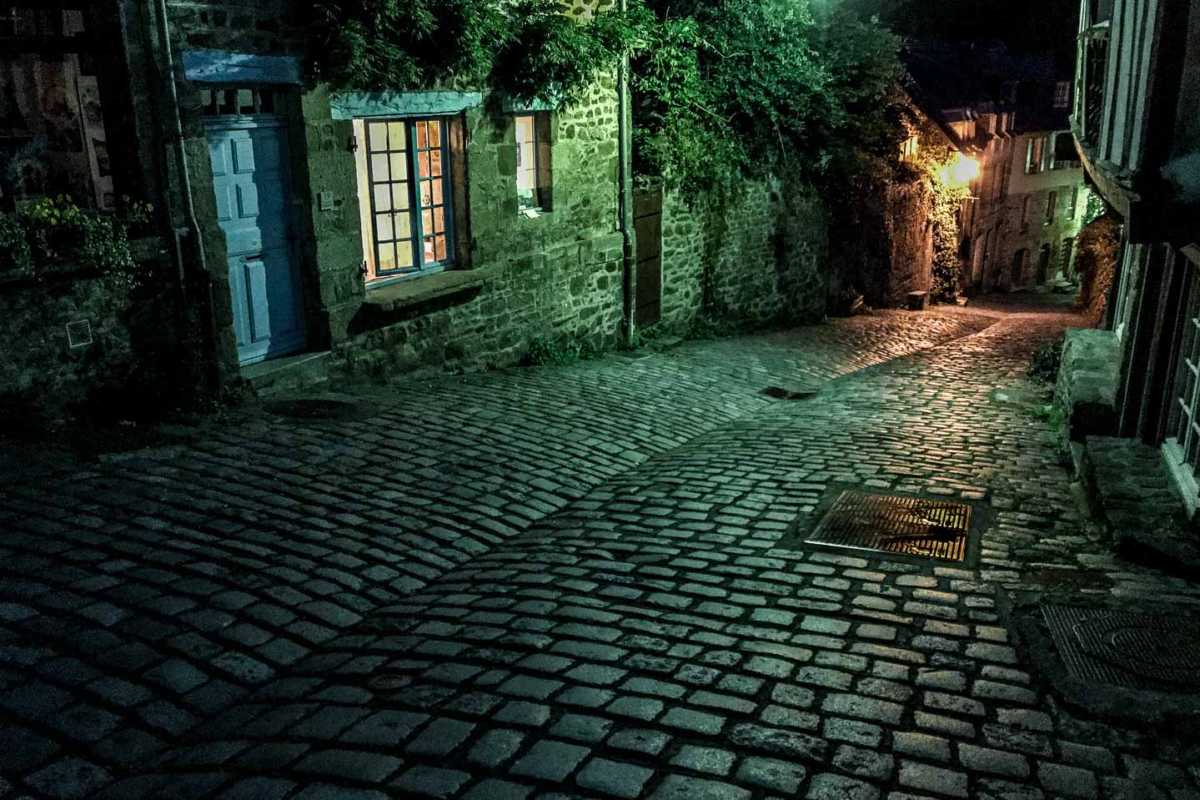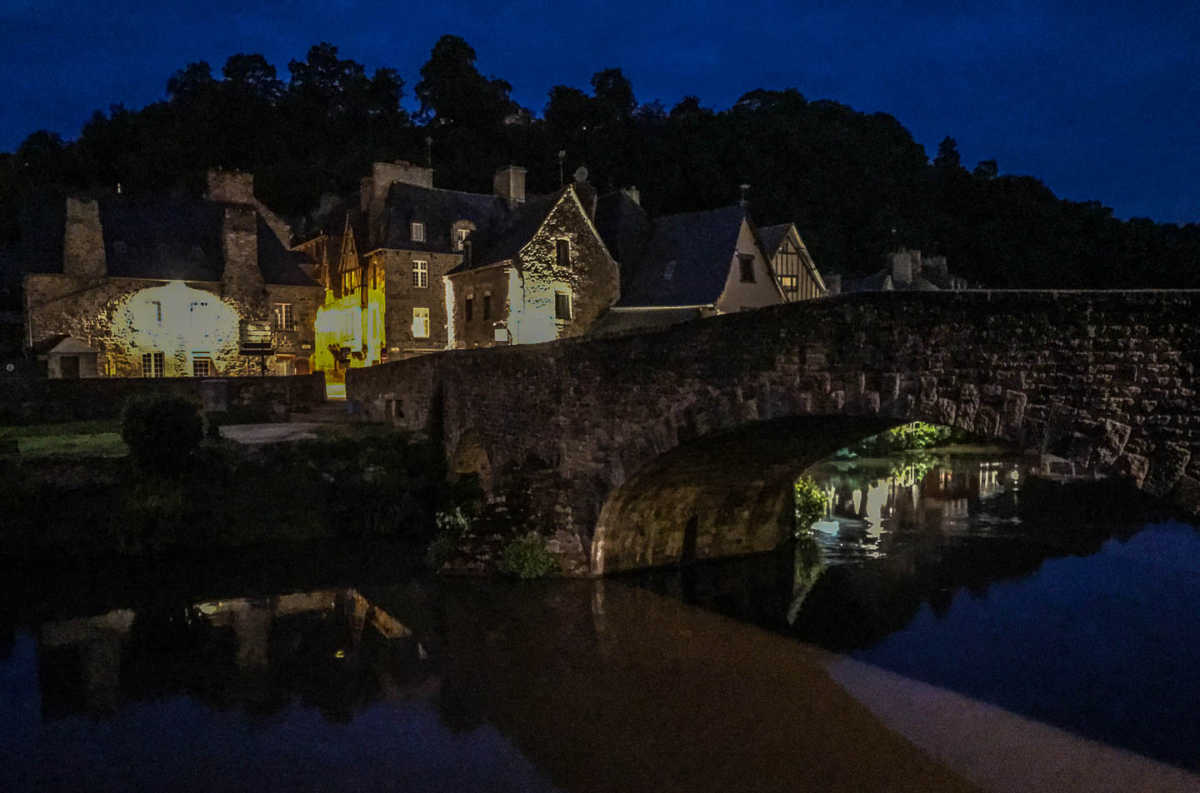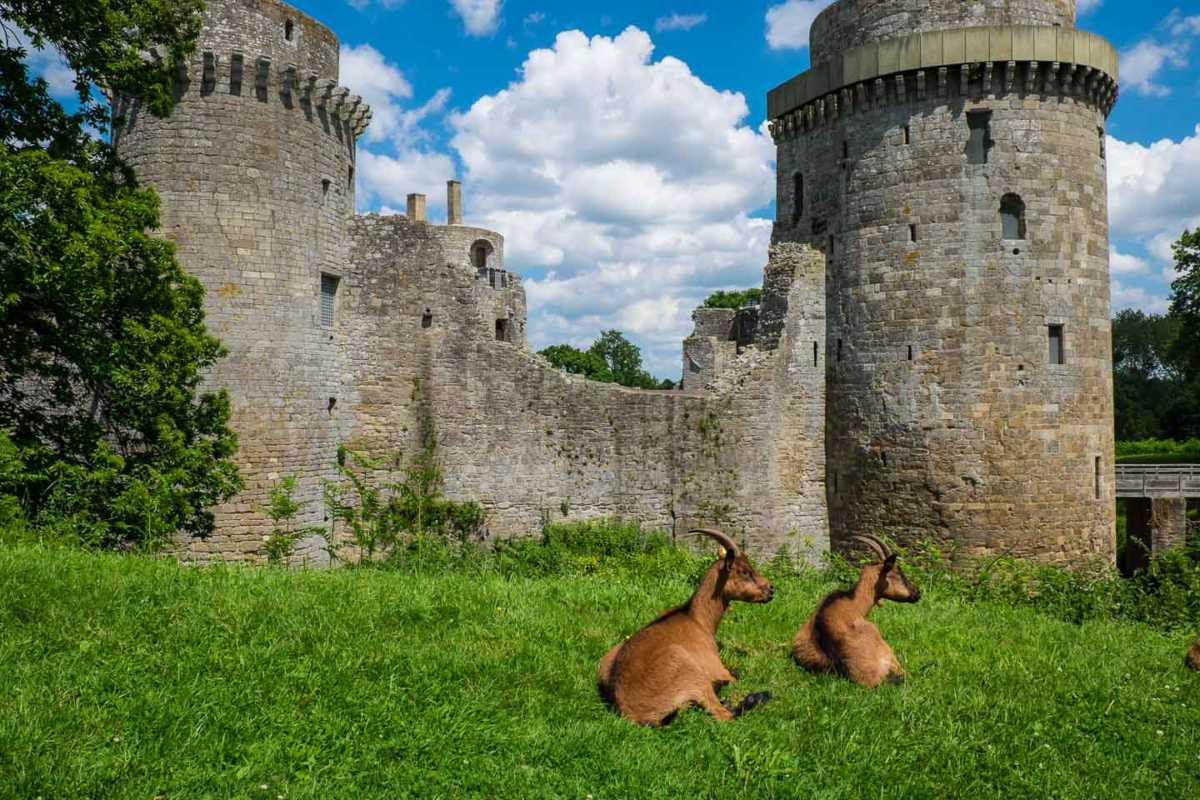 You can also read about another bike tour, this time through Italy's "heel of the boot," Puglia.
When you're thinking of traveling, your first stop should be our Travel Resources page, where we list all the essentials you need to make your travels easier, cheaper, safer, and more fun.
You can also help yourself get ready for your travels by reading our Get Started Planning Your Trip Now page.
We love traveling–with the right gear. We've gathered a lot of the stuff we use to make travel more pleasant and efficient all on one page. Shop our Travel Past 50 Amazon page to find our favorite gear. If you purchase something from the store, Travel Past 50, as an Amazon affiliate, may receive a small commission at no extra charge to you. Thanks.
We never leave home without our travel insurance. Nor should you. Search for the travel insurance from Allianz that best meets your needs, whether it be an annual plan or a single trip.
You can see (and buy prints) of most of our travel photos in one place on this page.
Note: This post and other posts on TravelPast50.com may contain paid or affiliate advertising links. As an Amazon Associate we earn from qualifying purchases.