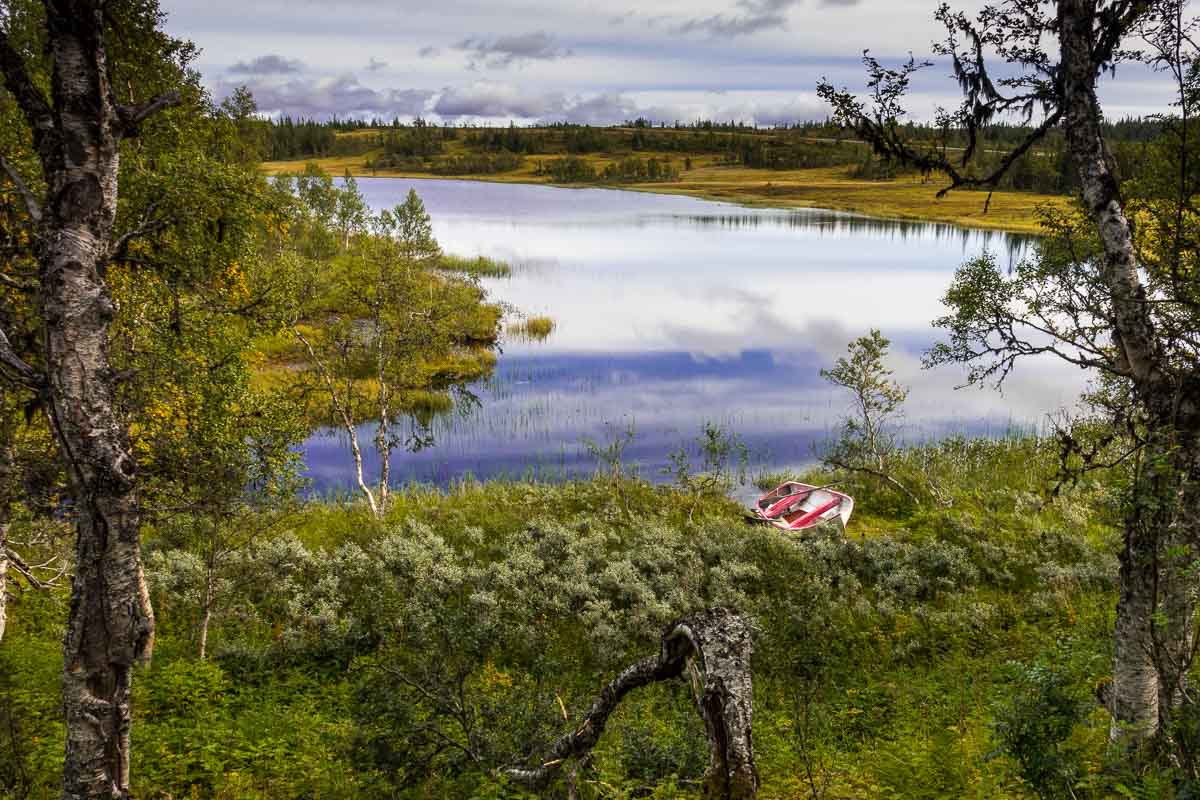 Lists of the best hiking trails in Sweden abound. We haven't tried them all, or even a fraction, but after four visits to Sweden, we have some favorite hiking routes. We keep returning to Sweden's north and west regions where some of the best walks and hikes converge around the towns of Östersund and Åre.
In August 2019 we arranged a visit specifically to introduce some Travel Past 50 readers to hiking in Sweden. As it turned out, this was the first visit to Scandinavia for each of our group of four. So it was occasion not only to view the beautiful scenery on foot, but to sample the extraordinary cuisine, get a sense of the region's history, and meet some friendly locals who inevitably reminded our guests of their Scandinavian neighbors back in the U.S.
Tom has written about one of the most famous hikes in Sweden and Norway, St. Olav's trail. The 1000-year-old St. Olavsleden pilgrim path begins in Selånger, Sweden, at the Baltic Sea on the east and runs nearly 600 kilometers west to the Atlantic, where it culminates at the Nidaros Cathedral in Trondheim, Norway. In Norway, another pilgrim path option is the Gudbrandsdalen Path which runs north from Oslo to Trondheim.
Some posts on Travel Past 50 may contain affiliate links. If you buy something through one of those links, we may earn a small commission. As an Amazon associate, we earn from qualifying purchases.
The other major trek, entirely in Sweden, is called the King's Trail, or Kungsleden, and runs 400 kilometers north to south. Like St. Olav's Way, the King's Trail may be tackled in its entirety over weeks or even months by ambitious and hardy souls. The Swedish Tourism Association facilitates many sections with well-placed mountain huts offering basic to luxury accommodations. In all cases, arrangements to sleep need to be made in advance, or plan on camping on your own.
Our style is more attuned to day hikes punctuated with great food and comfy sleeping quarters.
Other top hiking trails crisscross the country, from southern Sweden immigrant trails to Skåne foodie treks to hundreds of regional trails.
But don't be overwhelmed. The best of these hiking trails can be approached by moderately experienced hikers (like us) on a selective basis. Our style is more attuned to day hikes punctuated with great food and comfy sleeping quarters.
Our top picks for day hike trails in Sweden
Here are the five day hikes we featured with our Travel Past 50 Tour to Sweden and Norway. We were based in Ostersund (pop. 60,000) for two walks, and in the ski town of Åre (pop. 1,500 in the summer off-season) for the other three hikes. Both of these towns in Jämtland county–the adventure capital of Sweden in our opinion–offer wonderful accommodations, food, and shopping, See our quick guide below. Everyone agreed each hiking route was unique and beautiful in its own way.
Hikes near Östersund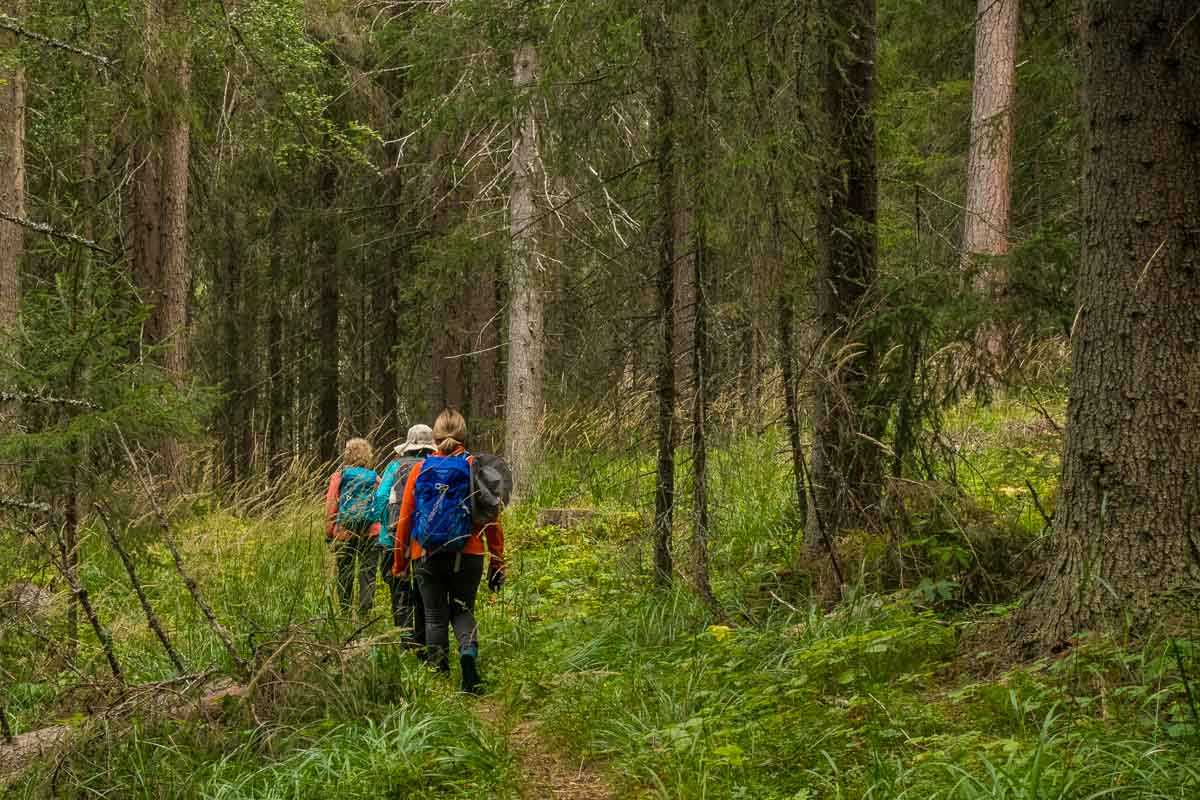 St. Olav's Trail Revsund to Pilgrimstad
11.5 kilometers (7 miles)
A lovely walk through woods is a great way to start a week of hiking. The trail begins beside the Revsund church and an historic farm. The old road gives way to a footpath through the thick woods of birch and pine, creeping past rocks and forest floor covered in moss and lychen. The middle section rolls up and down the east side of Revsund Lake for beautiful views and an encounter with merganzers who danced far out onto the lake when startled by our passing.
We stopped for lunch at a bench in a clear cut area where we enjoyed butterflies, wild flowers, and approaching rain clouds. For a more protected spot, we might recommend eating at the rocks beside the lake next to the rundown hut. You'll know it when you see it.
The last stretch of trail into Pilgrimstad cuts behind an industrial area on asphalt lots, losing charm at the end.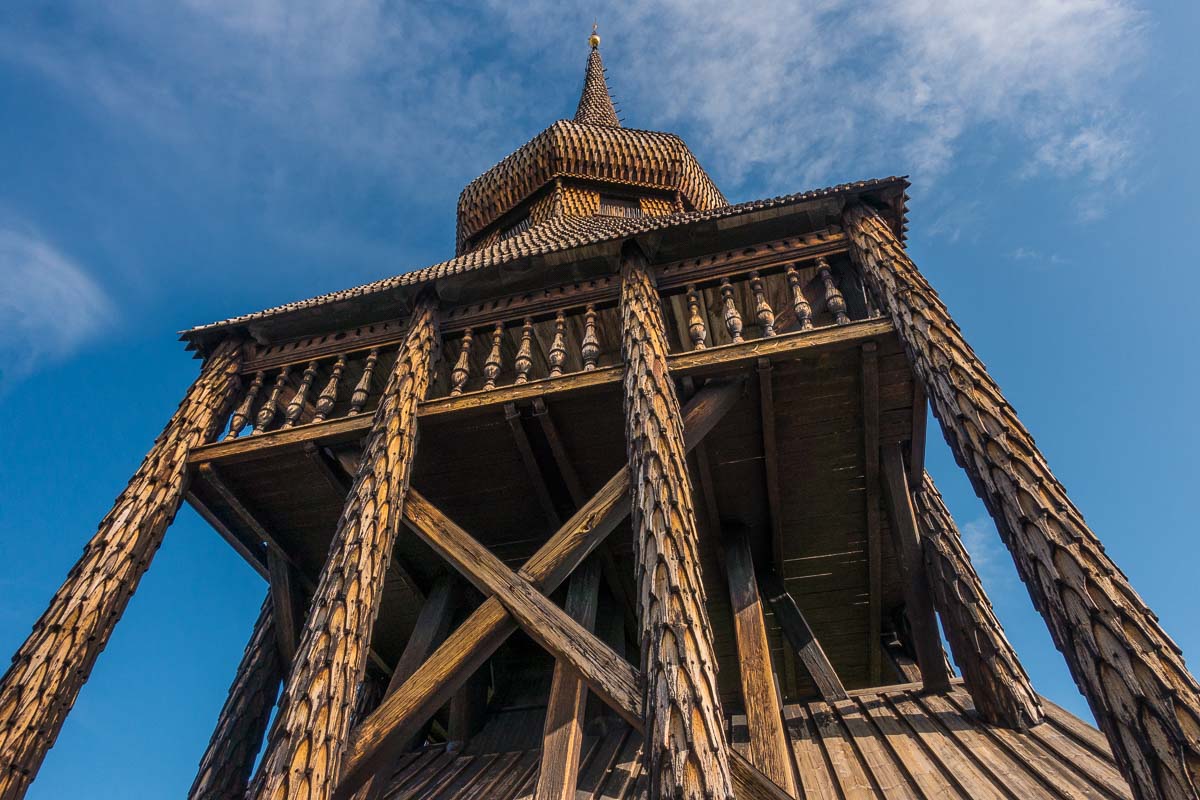 Frösön via Ändsjön Nature Reserve to Frösö Church
Less than 5 km (3 miles)
Even with a little detour, this was a short and easy walk. We designed this as a short day so that we could catch an afternoon train from Östersund to Åre.
Frösö is an island connected to Östersund by bridge, and site of the Östersund airport, a local ski hill, some historic homes, and plenty of picturesque farmland. The trail starts next to the wonderful recreation area used by locals for winter sports training. After a short section through the wooded nature reserve, where we saw signs of first leaves changing to autumn red, the track emerges onto farmland. Distant views over the rolling landscape overlook big Storsjön Lake. The trail also meanders through the historic village of Vagled, dating to Middle Ages, where we admired the architecture, organization and upkeep of the farm buildings. After a little unplanned detour–our only missed turn of the week–the trail turns toward the Frösö church (kyrka) and its picturesque old graveyard on the southwest edge of the island. This is a landmark on St. Olav's Trail.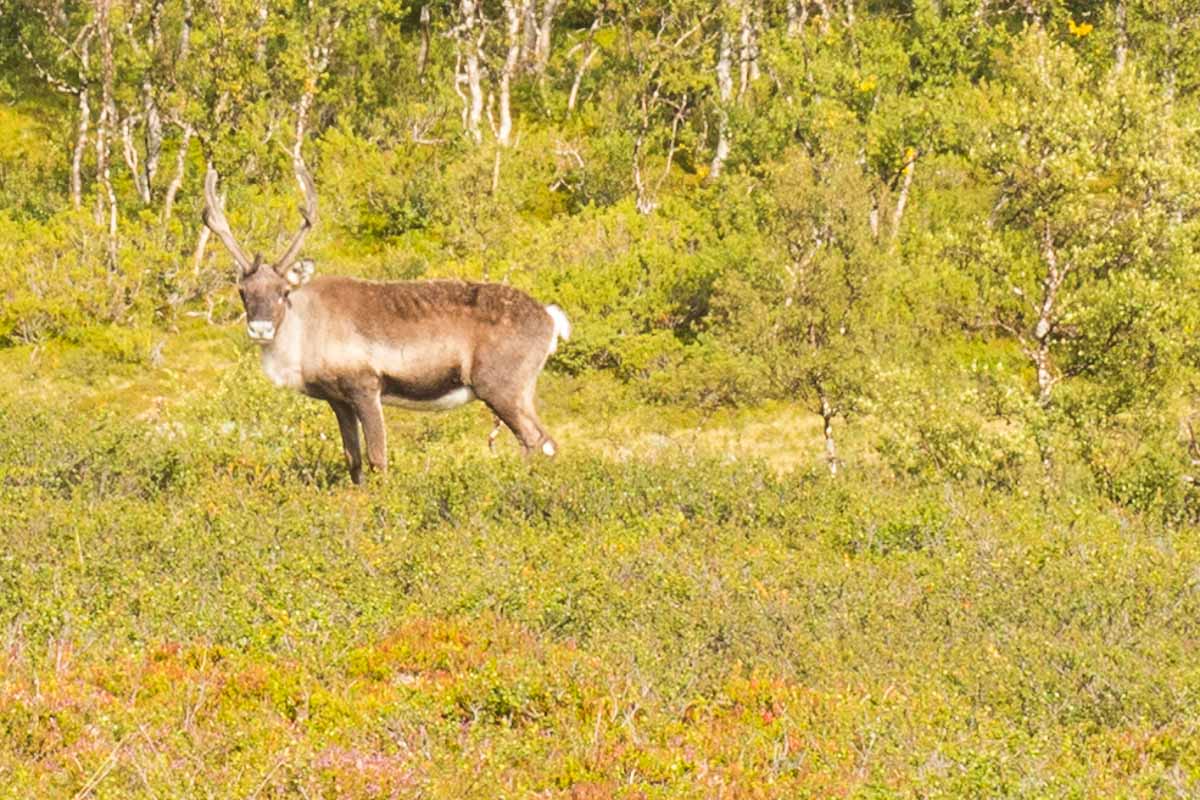 Hikes near Åre
Jämtland Triangle
13 kilometers (8 miles), or as much as you want. Total route is 47 kilometers (29 miles)
This is one of the quintessential hikes in Sweden–a three-day trek or any portion thereof, with opportunities to stay and eat at the Swedish Tourist Association (STF) huts/stations. The route is well maintained and includes x-country ski trails as well as hiking paths. The Jämtland Triangle offers a great opportunity to discover what the all-volunteer STF organization is all about, and to understand the Swedish tradition of Allemansrätt, or 'freedom to roam,' the right to enjoy all lands when done so respectfully.
Expect these alpine trails to emerge quickly out of the trees to easy rolling trails, crossing multiple streams and wetlands. Steepest climbs are up to Blähammeren. The paths shift to planks or boardwalks where the terrain may be wet or in need of extra protection. Most of the way is above the tree line, with spectacular open views across valleys from mountain to mountain.
The triangle's three points are mountain stations at Storulvan, Sylarna and Blähammaren. Since only Storulvan is accessed by road, that's where most hikers start. Through-hikers usually head to Sylarna first and then reach Blähammaren the second night to enjoy STF's highest mountain lodge and its renowned kitchen. Given the distances, and with mountain station reservations, the entire triangle can be hiked with day packs. We spotted a few hikers who'd camped on their own, too.
For our day hike, we just started toward Blähammaren, stopped for lunch, and returned to Storulvan for a ride back to Åre. Even our short itinerary was a great taste of the Jämtland Triangle and an inspiration to return to do the whole thing. (Tom did the Storulvan to Blåhammeren link in its entirety last year, through sleet, rain, and snow. In September. Watch the weather.)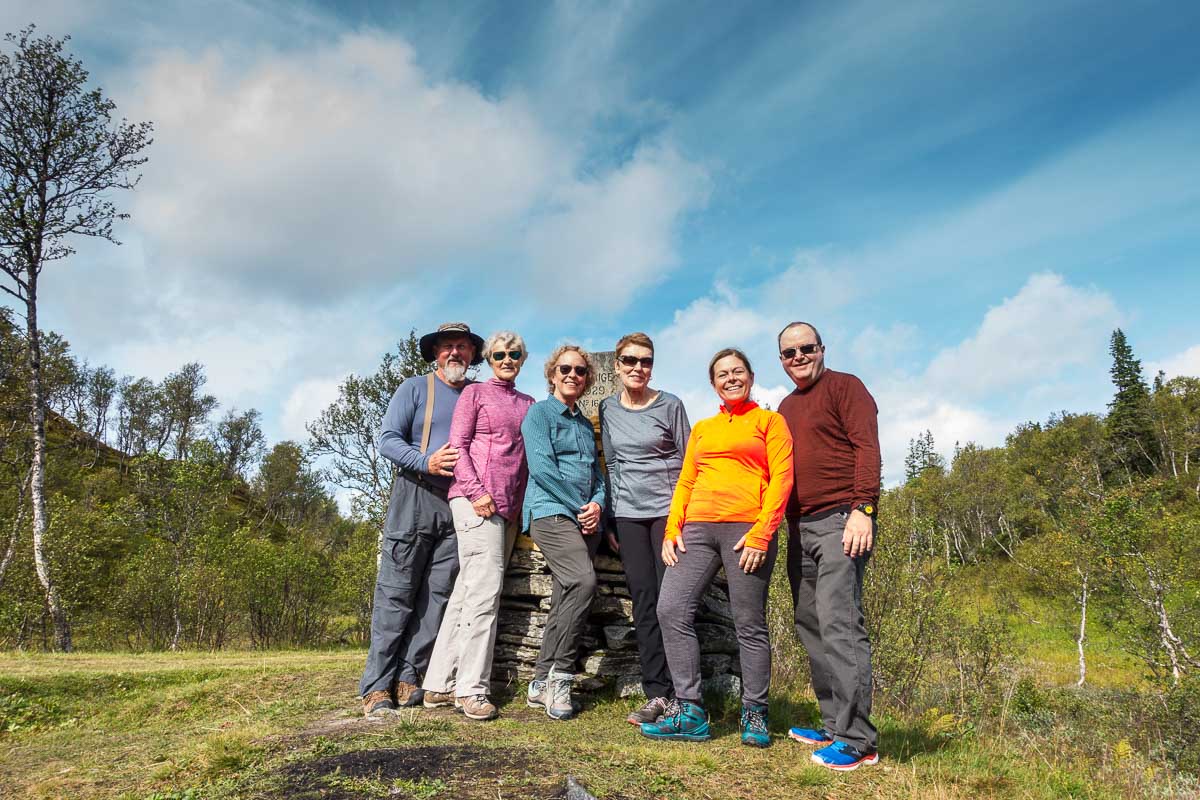 Old Road, St. Olav's Way, from near Storlien Sweden to Kräksjokrysset Norway
16 kilometers (10 miles)
Of all our hikes, this one offers the most diverse terrain, probably the most history, and the added treat of stepping across the border between Norway and Sweden, marked simply by a cairn with marker. (Mind you, it's a newish demarcation. Norway claimed independence from Sweden in 1905, and these border marks are dated 1929.)
Starting from a turn off the main road signed "Old Road", the trail starts as just that: a two-rutted dirt and grass road through the forest. The road diminishes into a single track and rolls west with gentle hills and some roots and rocks to keep it interesting. The elevation gain is gradual until the trail seems suddenly to open onto high ground dividing the river to the right from the valley to the left. Just after the border, the views really open up, with sparkly quartz-embedded rock lining the opposite side of the canyon, and large boulders and rock steering the hiker down on the Norway side, beside gathering streams.
Markers on the way recognize St. Olaf's Way, the Carolean march of the mid 1800s, and the establishment of the road from that time period and into the 20th Century.  On the late August Saturday we were there, an organization was promoting the hike and St. Olav's Way, but still, we only occasionally ran into other walkers.
Our only difficulty was that we expected this to be a 12K hike, so the day was longer than we anticipated. Once we came upon the parking lot where we'd catch a ride, a fast cold stream soothed our feet. While we waited for our ride, it was a treat to meet a couple locals out picking blueberries, just enjoying the day outside.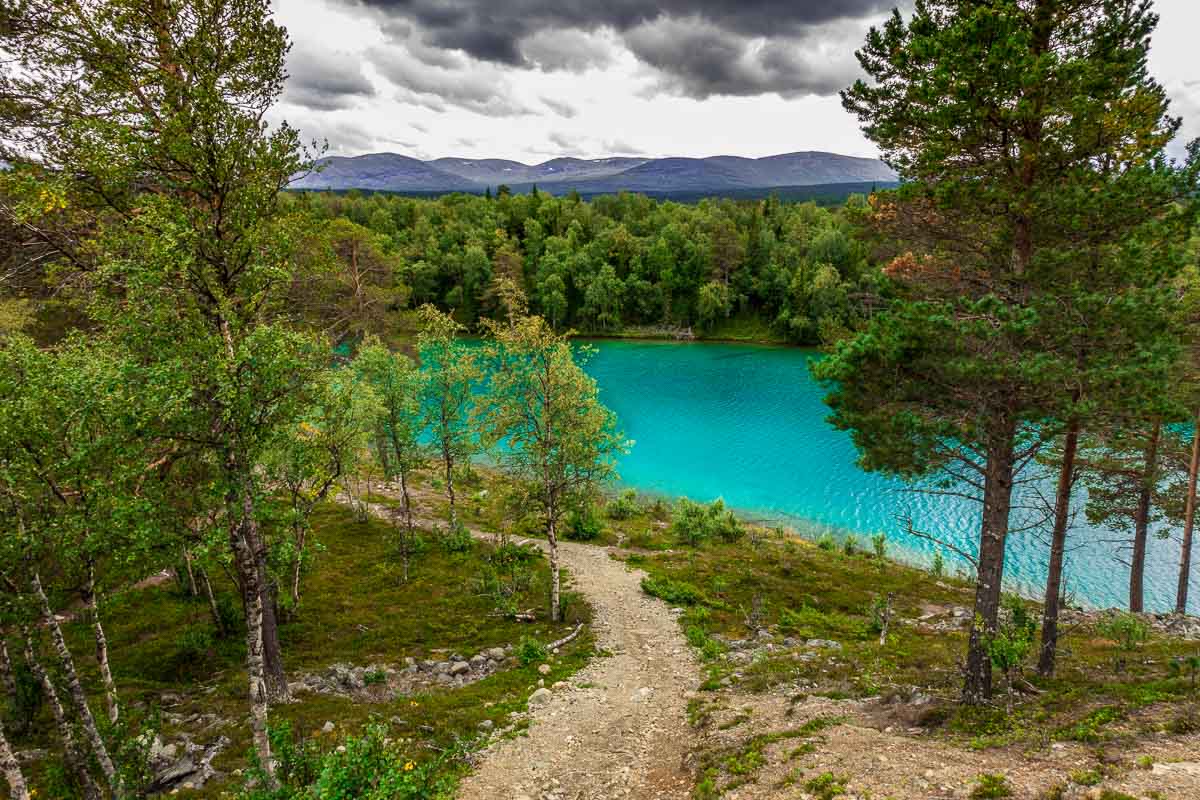 Lake Blanktjärnarna from Vålådalens Trail Center
14 km loop (8.5 miles)
Our last day hike was from Vålådalen, a popular center just outside of Åre that features eight mountain routes. Vålådalen's just one of four sections of the whole "Årefjallen" network of mountain experiences. A well-equipped station at the base offers route maps, toilets, café, and a little gift shop.
We chose the famous Blankstjärnarna trail which is a circuit route encompassing the emerald green lake Blanktjarn. In fact, it's such a popular area that steps have been taken to keep hikers back from the shore so that moss and plants can recover and protect the clear waters. We could still enjoy the views from above the lake and appreciated the well-described conservation efforts.
With a couple short steep sections, and a finish that covers uneven ground speckled with roots and rocks, this trail was the most difficult hike of the week for my knees.
Base towns: Where we stayed and ate
With five days' hiking under our belts, all of us were ready for a rest. In this part of the world, we were never far from a great restaurant and a good night's sleep, all the better to recount how much we loved the fresh air and scenery of our walks.
While the hikes were the centerpiece of this Travel Past 50 itinerary, the food and accommodations inspired–and satisfied–everyone! We can recommend all these places:
(For Stockholm recommendations, check out this post and another to appear here soon.)
Östersund Hotels
Clarion Östersund. A top tier hotel with an intimate feel, and right on the main street of Östersund.
Leopold Bed and Breakfast. We have no experience here, other than meeting the owner while elsewhere in Östersund.  He's involved in local tourism, works hard, knows a lot, and that's reason enough.
Östersund Restaurants
Kitchen and Table at Clarion Ostersund. Marcus Samuelsson (of New York's–and Minneapolis'–Aquavit restaurant fame) has joined with Clarion to create cuisine that consistently invokes local ingredients and flavors. Among our sated group, we ordered reindeer, arctic char, beef, roasted vegetables with grilled fish, and more.
Republiken. The kind staff at Clarion recommended this place based on our desire to eat light: the lobster soup is a specialty. But some were won over by the halibut, and others the potato dumplings with lentils and beans…and lingonberries! It's impossible we ordered a dessert, but there it landed in all its glory: pear ice cream/chocolate mouse/lingonberry cake.
Lille Saluhallen. A fine place to spend more hours at lunch than anticipated.  We savored a charcuterie plate, a delicious vegetarian lasagna, and soup before heading to the Jamtli Museum.
Åre Hotels
Copperhill Mountain Lodge. The mountain-top luxury hotel. Ski or hike out from the doorstep, and enjoy views of Åre Mountain. We love the design, the spa, and the rental ski wear, and the great people watching in season.
Hotel Åregarden. Down at the base of the mountain, in the center of town and steps to the gondola, find this cozy and historic hotel. The lounge and lobby areas exude comfort; the whole place feels like home.
Åre Restaurants
Copperhill Biblioteket. Just order the tasting menu and forgetaboutit!
Vinbaren. Locals gather here, around snug tables in the lower level of the Åregarden Hotel, for everything from comfort food to inspired plates and desserts, and a great big wine list to boot.
Broken. A nice burger joint from the same owners as Vinbaren.
Liten Krog. A reliable family run restaurant, with pizzas bigger than my head, right in the center of Are.

Here are some more tips for hiking locations, routes, preparation and equipment, all in one spot.
Travel Planning Resources
Looking to book your next trip? Use these resources that are tried and tested by us. Flights: Start finding the very best flight deals by subscribing to
Thrifty Traveler
. Book your Hotel: Find the best prices on hotels with
Booking.com
. Find Apartment Rentals: Find the cheapest prices on apartment rentals with
VRBO
. Travel Insurance: Don't leave home without it. We recommend
Allianz Travel Insurance
. Need more help planning your trip? Make sure to check out our
Resources Page
where we highlight all the great travel companies and products that we trust. See all of the gear and books we like in one place on our
Amazon shop
.