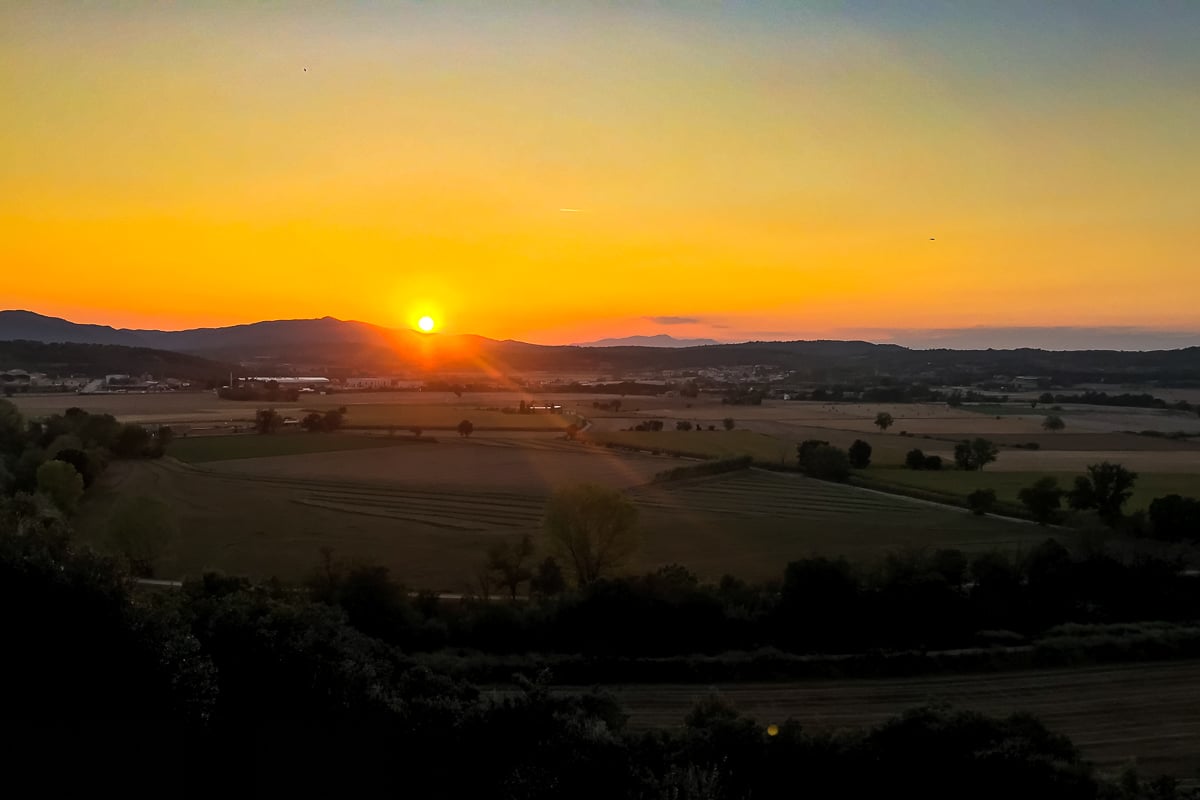 We love every corner of Spain and are fortunate to have the experience (read: age) to have returned to some of our favorite destinations for closer views and more adventures.
Our recent return to Catalonia was orchestrated specifically to hike the trails of Costa Brava, the 'wild' rocky coast of northeast Spain. The scenic coast is broken by intimate coves, fishing villages and beaches, and accented by neighboring historic towns and castles in the foothills of the Pyrenees. This is where I first set foot in Spain more than four decades ago, and where I first swooned over a small plate of olives served atop a copa de tinto, a small glass of red wine.
As a bonus this trip, we'd start in Barcelona and pass through Girona, two favorite Catalan cities we'd last visited in 2015.  And, if we were lucky, we'd spend a bit of time with a couple Australian mates passing through the area, one of whom we'd taught with in Madrid way back in a previous lifetime.
For us, Costa Brava comes through with all the essential ingredients of happy travel: natural beauty, history and culture, fine foods and wine, and great friends. We think you should book your trip today.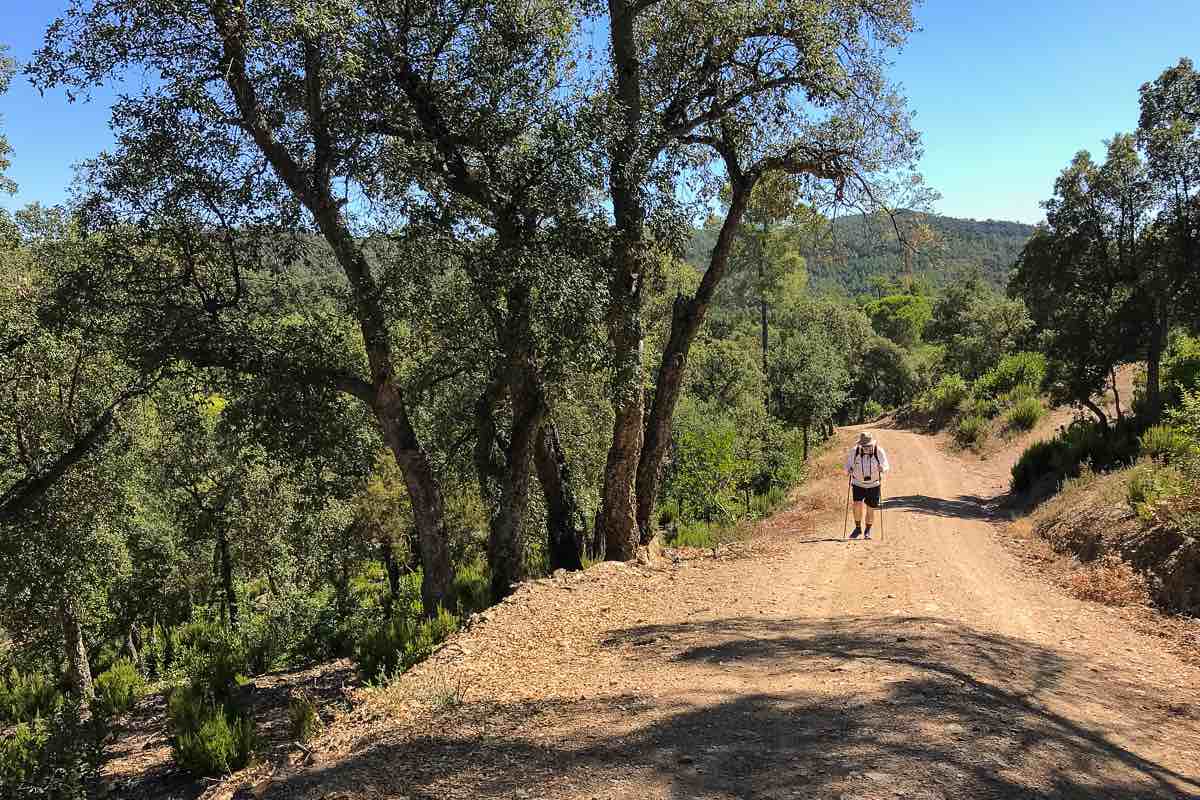 Choosing an Itinerary with Exodus Travels
The centerpiece of our trip planning, however, was the hiking itself. We chose a self-guided hike with Exodus Travels with an appealing itinerary called, "Catalan Coast and Castles." This would combine some hiking inland through medieval villages with a day walking down the coast on a portion of the famous Mediterranean through-hike called Camino de Ronda.
We chose the itinerary for reasons big and small. The thought process exemplifies our serendipitous travel planning style, but might also guide you in planning your own hiking adventures.
The dates worked for us, as we were already in Europe. This was immediately following our Travel Past 50 hiking tour of Sweden, and prior to our splitting up for more travels. (I was headed to a conference back in Gothenburg, Sweden, and Tom was about to bike Hadrian's Wall in the UK.)
The itinerary offered flexibility. Two of the five days of hiking are optional. We wanted one free day to visit our friends.
It offered a combo of nature (the coastal trails) and history (the castles and old towns).
The accommodations were appealing.
The possibilities for relaxing and eating well were apparent. Who doesn't want to pause for lunch by the sea?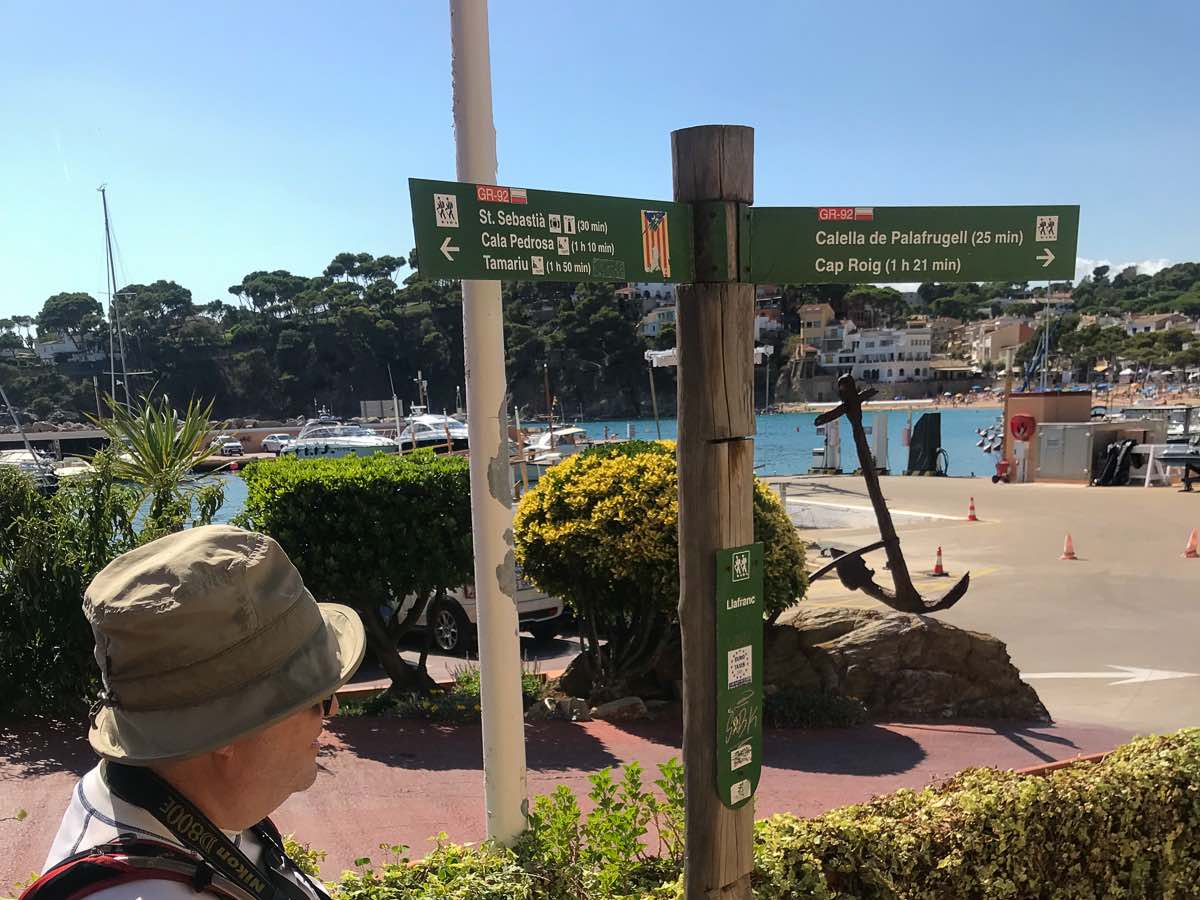 We selected a self-guided tour as opposed to a group tour but, as it happened, we enjoyed the company of two other couples also touring on their own. The six of us hiked separately but compared notes daily when we ran into each other in villages and at our hotel.
A cool thing about self-guided tours is that while we're feeling self-sufficient and independent, the logistics have already been handled, saving us time and stress. Our train to Girona from Barcelona was already ticketed; we were met at the Girona train station for a ride to our first night's lodging; we were handed maps and trail notes and chatted at length with our friendly (Scottish!) guide who pointed out local landmarks as we drove; and all our accommodations and luggage transfers were accomplished smoothly. That left us with…no worries.
The Hikes and Scenery in Catalonia
What's billed as an 8-day itinerary, counting arrival and departure days, calls for only three days of hiking, each about 20 kilometers (12 miles). That doesn't mean you can't add on two optional days described in the notes, plus a couple more by extending your travel dates. (Consider arriving a day early for beach time or a short walk to test your shoes and gear.)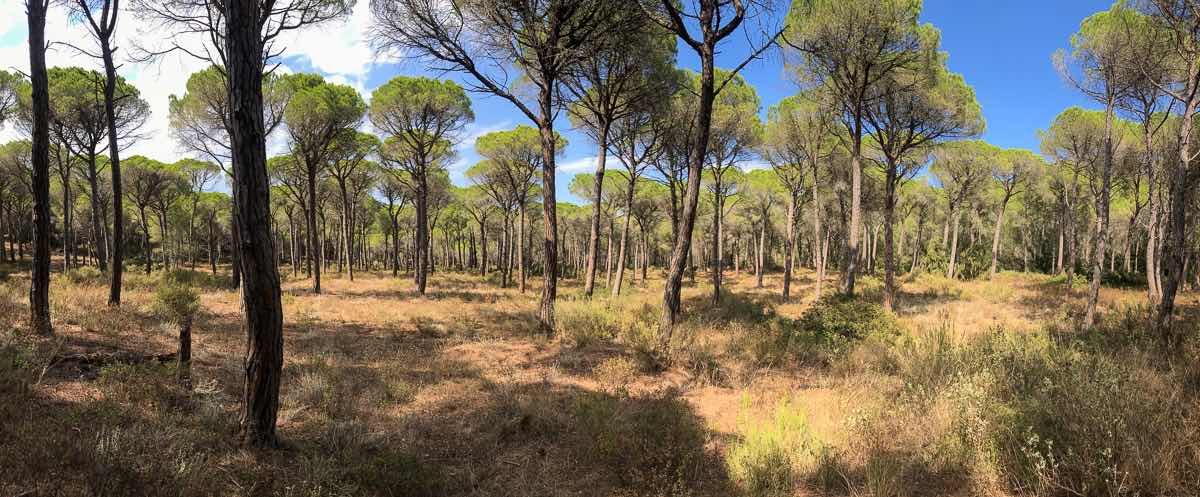 Calella de Palafrugell to La Bisbal
The first of the three main hikes started outside Calella de Palafrugell and wound through pine- and cork-forested hills ending at the castle hotel outside La Bisbal. We found pros and cons to this first day's trail. It is mostly shaded, so it would be pleasant even in hotter weather. The forest path was peaceful; we saw no other hikers. The way passes by some interesting dolmen, rock slab remains of tombs from around 2000 B.C. But the first section is on roads (tar and gravel). In the woods, while the easy trail sloped up and down hills, long views over the valleys were few and far between. Having turned inland from the coast, we were wondering if this 'coasts and castles' itinerary was going to offer either. The hike wasn't broken by villages either, so the first day was given over to following directions and putting one foot in front of the other. At the advice of our guide, we had stocked up on food and water, and we found a sandy patch in the woods to rest and eat. Our only real break came later at "the bar by the gas station, you can't miss is," at which point we were on the home stretch. That beer tasted really good. And our destination, Hotel Castell d'Emporda, made it all worthwhile.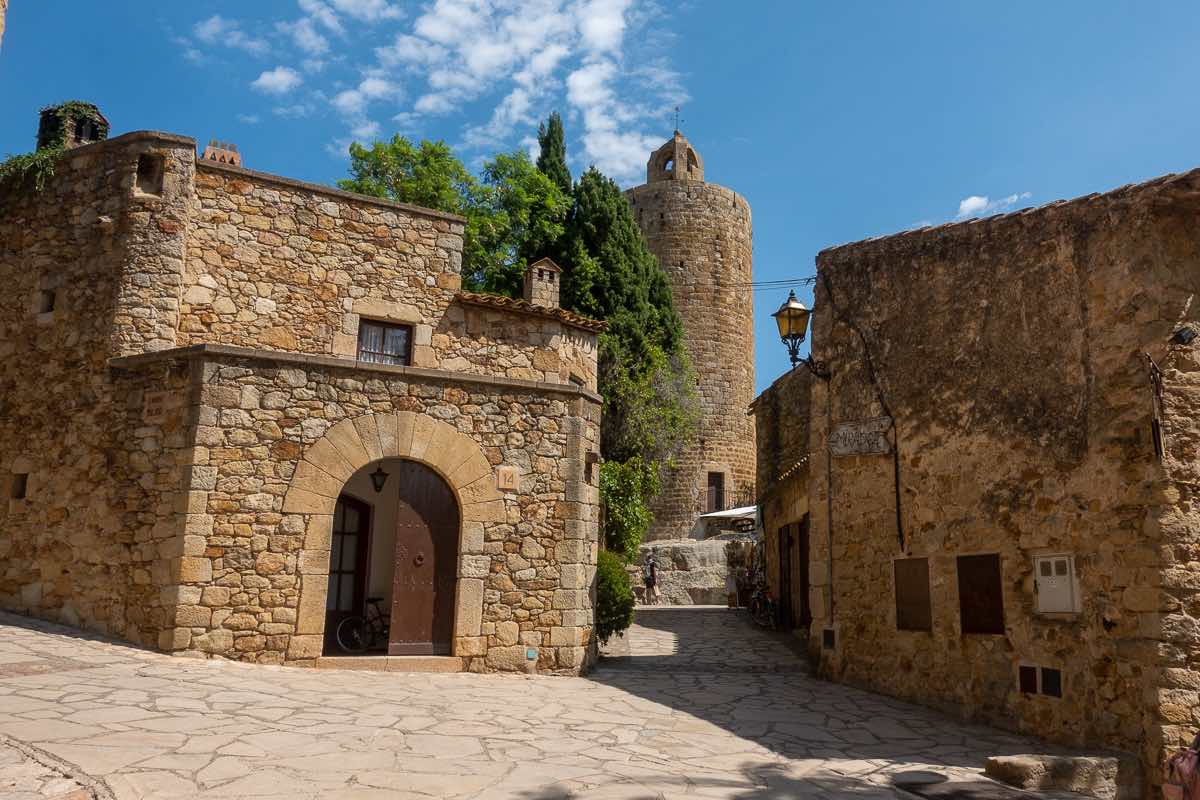 La Bisbal to Begur
This day was a nice change of pace from the first hike, broken up by some of the best preserved medieval villages in Spain and crossing enjoyable, changing landscapes: plains, farms, and a bit more forest. The last stretch crawled up beside a giant working sandpit, with beach-like footing to match. The towns along the way were the highlights, so check out our notes below.
Begur to Calella de Palafrugell
Finally, our coastline hike: what we'd been looking forward to most. Our day started with a big climb and descent as we left Begur. Frankly, we could have skirted that first hill, since we'd climbed to the Begur castle ruins for great views the day before. Either way, viewpoints from Begur are quite stunning, looking both North and South from the cape.
Once we'd dropped into the little coastal town of Tamariu, we decided to depart from the Exodus itinerary and follow the GR92 along a section of the famous Camino de Ronda. This is the trail running all down the coast of Costa Brava. For serious hikers, the entire GR92 trail is worth checking out. (The GR, short for Grand Recorrido in Spanish or Grande Randonnée in French, refers to the great trail network running through Europe, but primarily in France, Spain, Belgium and the Netherlands.) This is a bit more challenging than the route described in the itinerary, but both end up in the coastal villages.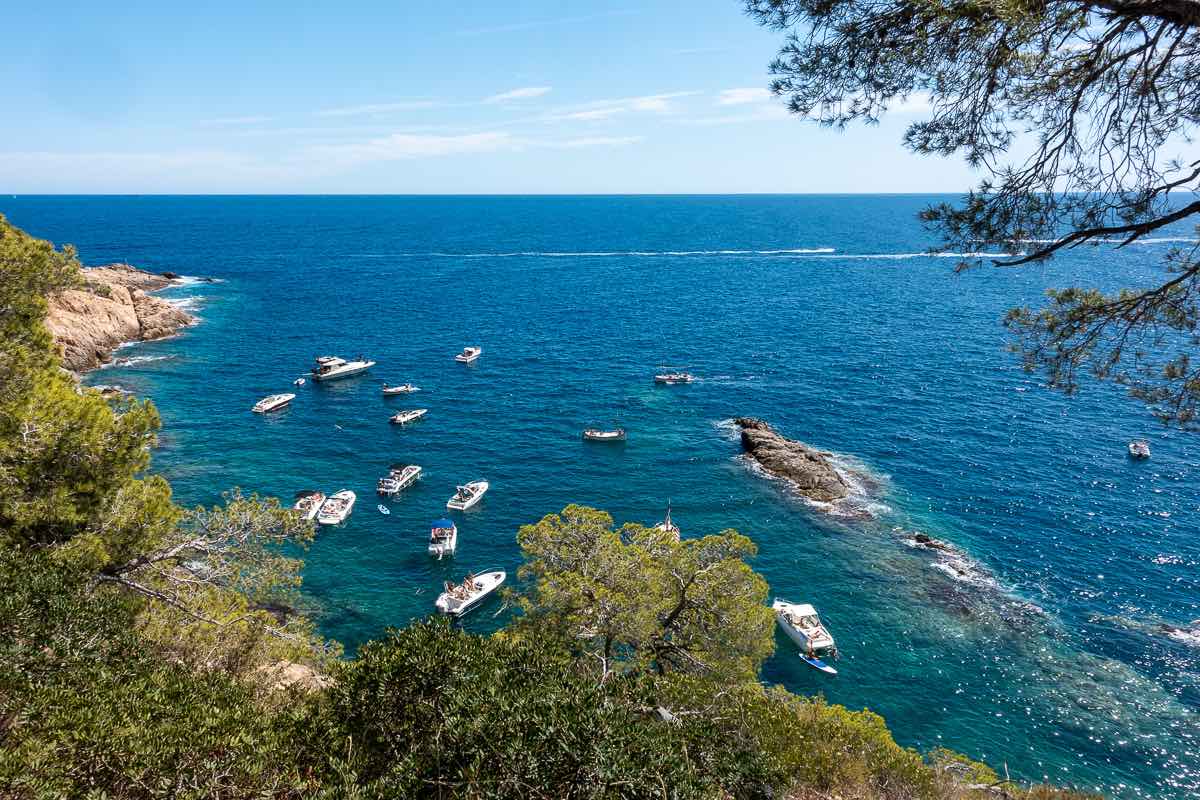 From Tamariu, we started south by picking our way over and around boulders, following trail markings, asking others for assurance, and marveling that some people were doing this section in flip-flops, headed to the next secluded beach. Don't be intimidated by that boulder section. Soon it gives way to well-marked trails which wind up and down and along steep cliffs. I was glad to have knee braces and walking sticks as we descended to a small cove (Cala Pedrosa) and climbed up again. Eventually, after one scramble up an embankment (had we lost our way?) we arrived at the lighthouse and archeology area at Cape Sant Sebastiá. This site and the dolmens we visited the first day were unexpected reminders of the ancient history in these parts–often hidden in plain sight!
From the lighthouse, we headed downhill again and along the coast. On the way to our starting point, Calella de Parafrugell, we enjoyed seeing neat houses overlooking the sea, quiet villages, lots of moored fishing boats, and many families extending summer fun into this September weekend.
Our stops to enjoy the waterfront scenes were in Tamariu and Llafranc, both lively cove communities lined by restaurants. A festival soundcheck in Tamariu had interrupted power, so many places were closed at lunchtime. But the friendly Es Dofí restaurant allowed us to sit and order beverages. Unfortunately, that was cut short by a sudden kitchen fire startling everyone. Dofí's owner pulled out a fire extinguisher and doused the flames, allowing the kitchen staff to escape unharmed.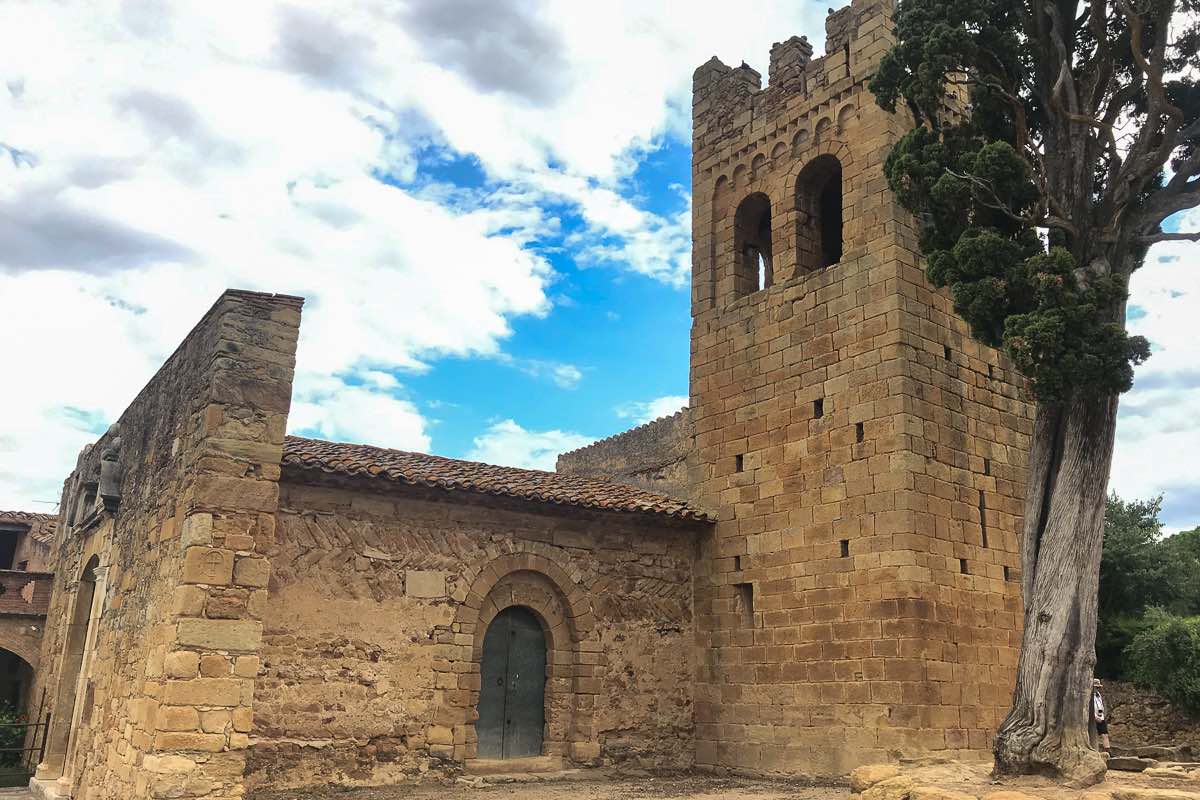 The Medieval Towns
Walking La Bisbal to Begur took us through several historic towns. Our tip: start out early this day and stop often to check out the sites.
Canapost, barely mentioned in the hiking notes, is a sleepy little village centered around Sant Esteve church and its graveyard. The necropolis, dating to the 10th Century, was excavated about 20 years ago. Illustrated signs describe the findings.
Peratallada attracts visitors to the castle built on the site of a former fortress dating back to 1065. The current structures include fortified towers and a palace. Chances are neither will be open as you pass through. But do walk into the walled old city to see the intriguing arches and passageways.
Sant Feliu de Boada. Hearing from other travelers, we were sorry we didn't take the time for a slight detour to visit this small village, known for its medieval tower, narrow streets, and charming B&Bs just outside Pals.
Pals, another medieval village not far from the coast offers lots of cultural alternatives to the beach. Food festivals and recreation options are plentiful. We settled for lunch in the square and a walk to the tower.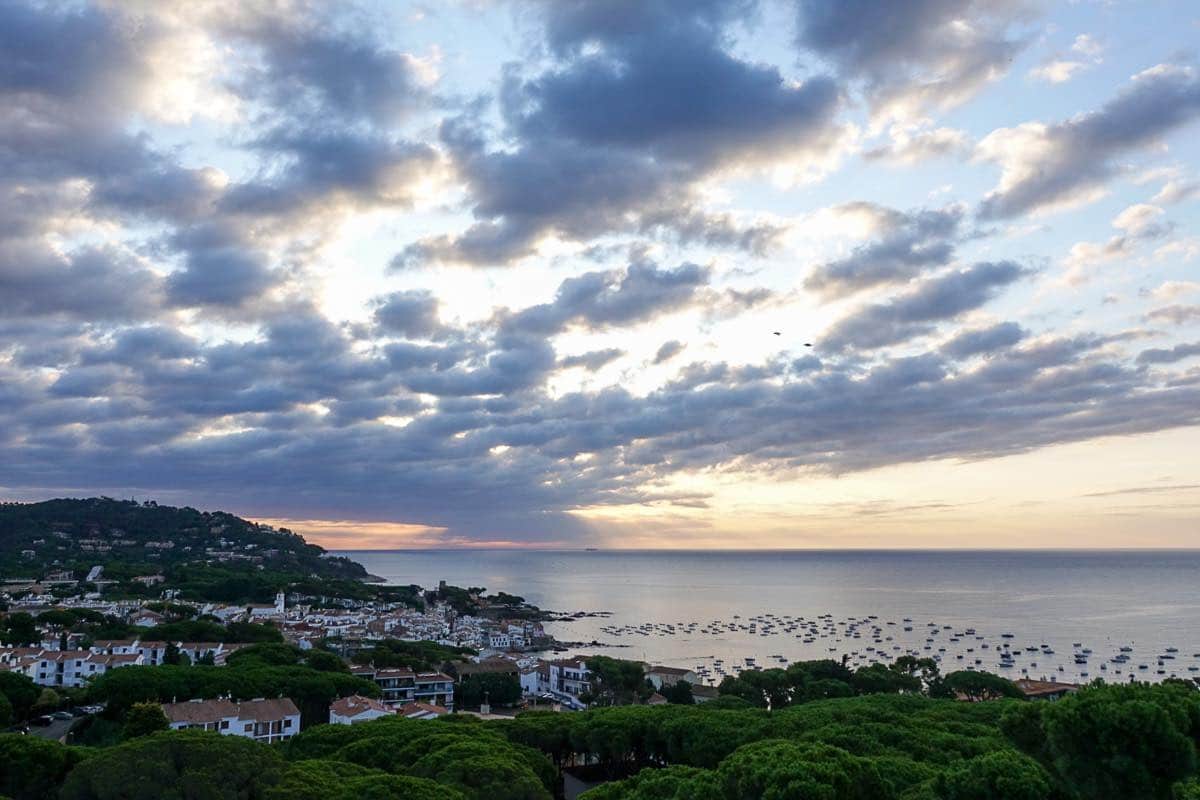 Accommodations and Food
We enjoyed having two nights at each of the three towns we visited: more time to explore and less time packing and unpacking. As we had hoped, we ate well all along the way!
Calella de Palafrugell
Calella de Palafrugell, where we started and ended, is the beach section of the larger town of Palafrugell (and not to be confused with another Catalan beach town called Calella). Both Spanish and Northern Europeans frequent this active resort area. But it's low key–the kind of place you could live year round. Calella de P features a wide beach for swimming plus a second cove for fishing and recreation boats. Wooded hills surround the bay and stretch to the botanic gardens of Cap Roig just to the south. (We'd recommend a hike here as a warm-up to the itinerary.)
Our Hotel Garbi sits in the trees up the hill overlooking the cove. It's a sprawling hotel with pool, large indoor/outdoor restaurant, and event space. Ask for a room overlooking the cove and you'll be happy watching the night sky or sunrise from your balcony.
Calau Bar. This Basque-style eatery offers pintxos (stacks of tasty goodness on a toothpick) from the counter or from passed trays. When you're all finished, the bill is totaled based on the number of toothpicks on your plate. We liked it so much, we returned on our way back through town. get there early for best seating.
Habana Cafe. A nice place to plop down for a Mojito while you are waiting for a table at Calau. Outdoor seats overlook a small pedestrian thoroughfare. And the mojitos remind us of the close connection, based on emigration, between Cuba and this part of Spain.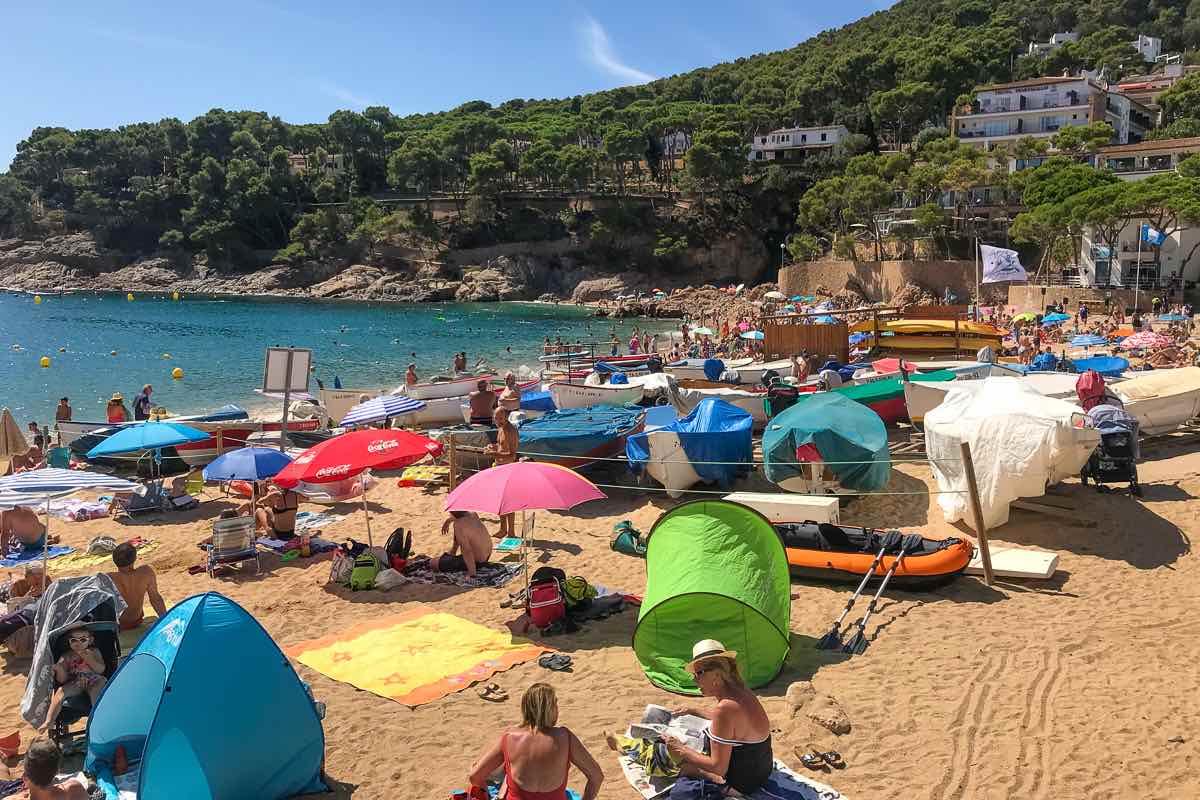 La Bisbal d'Empordà
We skirted the town of La Bisbal on our way to our lux accommodations. ('Empordà' refers to the Empordà plains between the mountain ranges to the south and the foothills of the Pyrenees to the north.) Bisbal is known for its ceramic industry, and visitors enjoy related workshops, shops and museums. We strolled along the dry river bed and past the cathedral (closed) on our way to a wonderful lunch.
Hotel Castell d'Empordà Top notch accommodations in this renovated castle property complete with chapel, two swimming pools, a small orchard, and a fabulous restaurant. Our room with balcony had great views of the plains divided by farms and streams and beyond to the distant mountains.
Drac Restaurant in the Castell d'Empordà rises to the quality of the surroundings. We were delighted to have two dinners here, plus cocktails one afternoon at the poolside restaurant, Tres Margarit. Just a sampling: a cauliflower amuse bouche, a colorful beetroot salad, and delicious seabass prepared perfectly. The breakfast spreads were memorable, too.
La Cantonada. In the town of La Bisbal, about 20 minutes walk from the hotel, we think we might have found the best restaurant in town. I grabbed the last order of of the pulpo (octopus) special, and savored every bite. Chilled leek and apple soup for starters promoted appetite.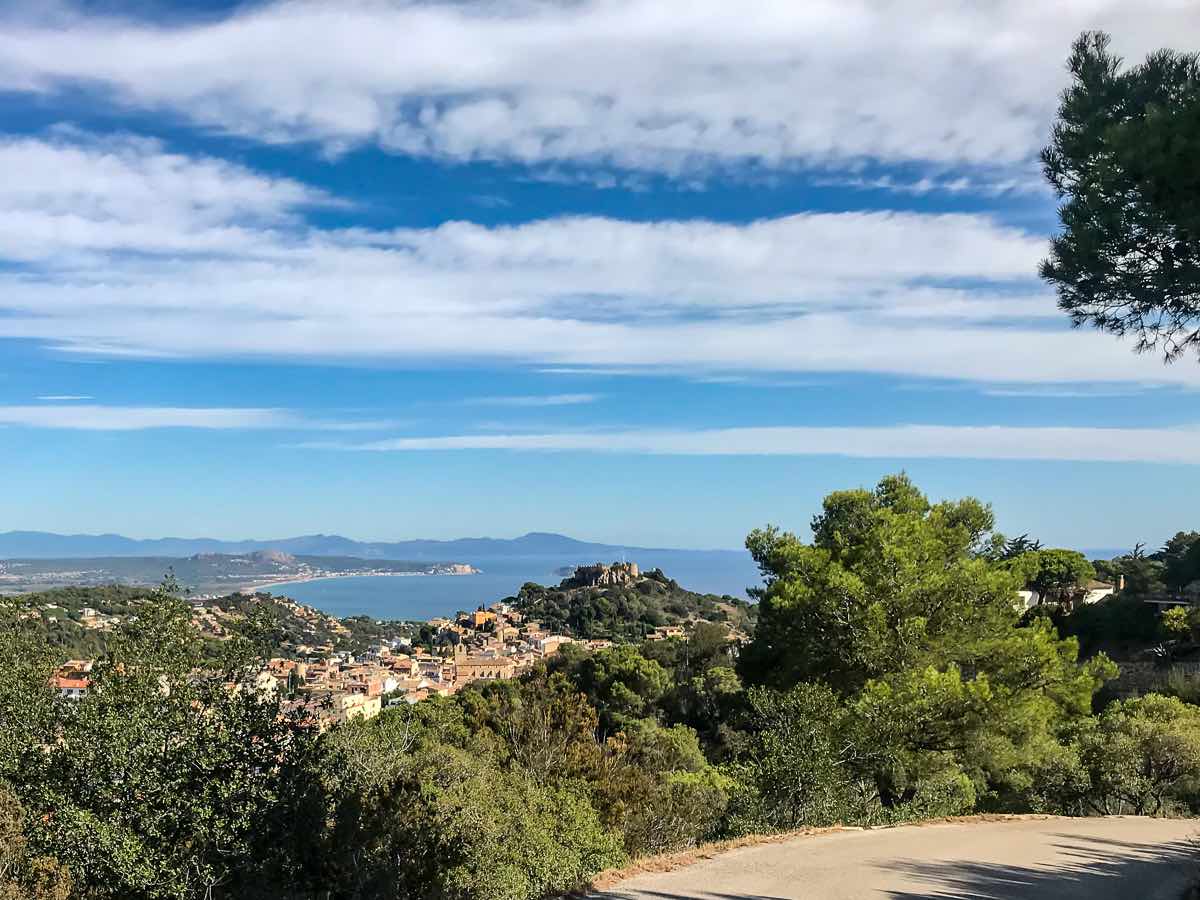 Begur
What fun to discover this town, especially because we landed here the weekend of their annual "Fira d'Indians" festival celebrating Cuban heritage.
We stayed at Hotel Rosa located right in the center of town. This family run place also manages the adjoining spa and restaurant. Weather permitting, ask to be seated on the rooftop patio for dinner.
The heritage festival featured several stages of music, street vendors (mojitos!) and a special exhibition about Cuban gardens, the theme of this year's fair. Any time of year, the tourist office will provide a map to guide you on a walking tour of the Colonial houses built by residents returning from Cuba.
Your Self-Guided Hiking Tour
After all these years of independent travel, we were reminded again of the advantages of signing on to a prepared itinerary (self-guided or not), as it lead us to plenty of towns and sites we would not have otherwise seen. We were challenged, pampered, educated, and allowed to relax and have fun.
A note on the hiking notes themselves: everyone was a bit overwhelmed when given the trail notes, which detail every twist and turn. Just don't try to sit down and read the whole thing, or even an entire day's worth. The notes are to be used as you go, and especially when you come to a fork in the road! But also keep your head up and look for signposts. I'd have preferred to rely exclusively on signs. I started out with the notes tucked away in my pack. But eventually I realized I needed the two sets of directions working together and kept the notes accessible. The first day we were the only pair not to take a wrong turn. One pair had at least one detour per day. Our main beef, not surprising I suppose, was the writing style of the notes. We wanted to edit the text for brevity and to focus on turns we should take, not on landmarks we should ignore.
Exodus Travels hosted us on the Catalan Coast and Castles itinerary, but have not sponsored nor reviewed this post.

Here are some more tips for hiking locations, routes, preparation and equipment, all in one spot.
You can help yourself get ready for your own travels by reading our Get Started Planning Your Trip Now page.
You can see (and buy prints) of most of our travel photos in one place on this page.
We love traveling–with the right gear. We've gathered a lot of the stuff we use to make travel more pleasant and efficient all on one page. Shop our Travel Past 50 Amazon page to find our favorite gear. If you purchase something from the store, Travel Past 50, as an Amazon affiliate, may receive a small commission at no extra charge to you. Thanks.
We never leave home without our travel insurance. Nor should you. Search for the travel insurance from Allianz that best meets your needs, whether it be an annual plan or a single trip.
Note: This post and other posts on TravelPast50.com may contain paid or affiliate advertising links.
Pin it, or share using the social media buttons above the post.