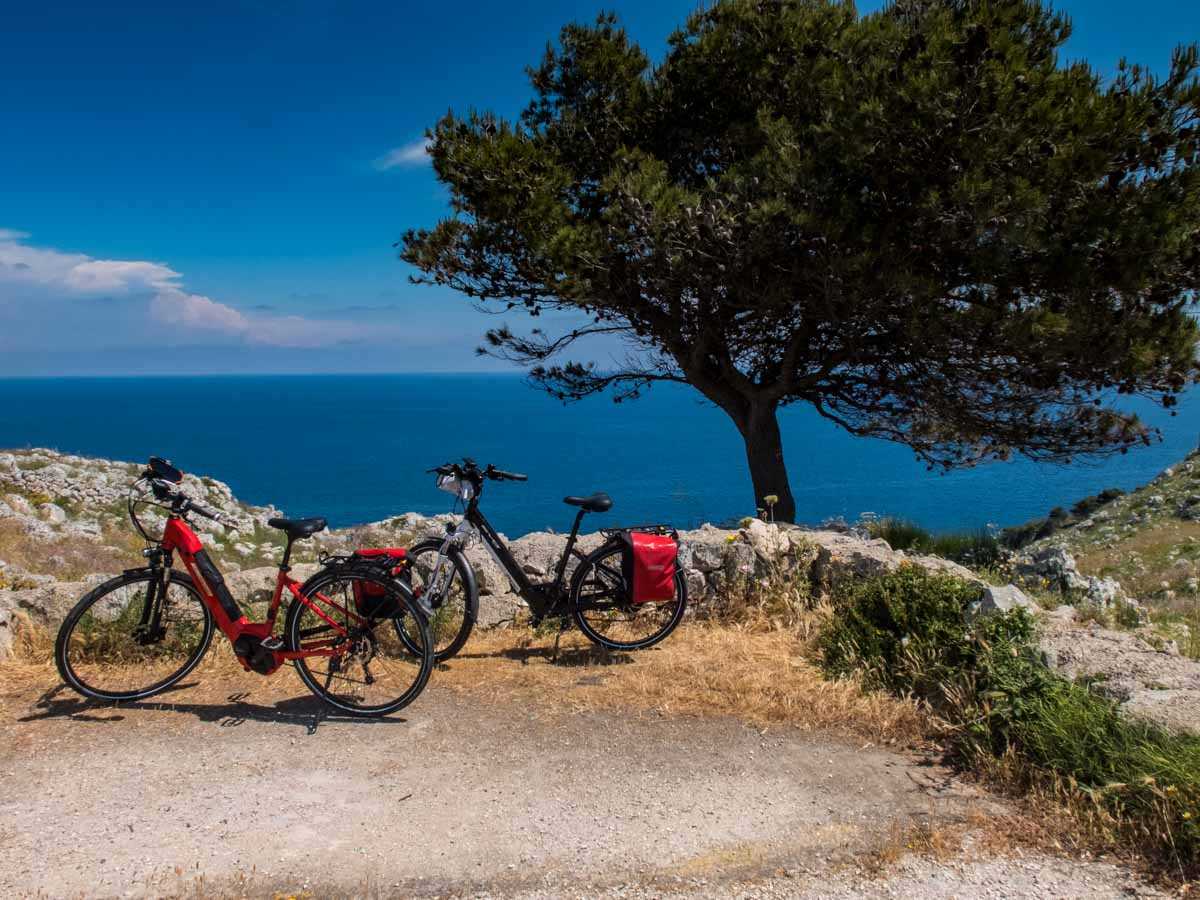 This post was updated in May 2020, from an article originally published in 2018.
While air travel is largely suspended and we continue to stay close to home, taking walks and riding bikes allow us to get out of the house and into a traveler's state of mind. Even a short outing can be the day's salvation! Apart from the season's first ride, when the bike needs a clean and tune-up, we know that we're more inclined to get out for a ride if we are prepared with the right gear, ready to go.
The point is to plan for a long day's ride and changes in weather: be prepared for the unexpected and even a short bike trip will be easy. Whether your cycling experience consists of short bike rides around town, a regular commute, a serious full day ride, or an annual bike tour, you'll want to organize your bike clothes and gear so you can hop on your bicycle without delay and enjoy the ride.
Be ready to go for bike ride. On our way out the door we grab helmet, water bottle (or backpack with water bladder), phone with map and/or Strava app, house/bike keys and garage door opener, face mask, ID plus cash or credit card, energy bar and an extra clothing layer.
We've only taken up cycling in semi seriousness the last two years. I'm not going to talk about our bikes too much except to say that they're the Jamis Coda brand that we bought from the local Hub Bike Co-op in Minneapolis based on their recommendation. In my too-oft fashion, I did research on the Jamis Coda after we'd made the purchase and found out that several bike sites, and The Wirecutter, like the Jamis a lot as a moderately priced bike. So, I guess we lucked out.
BTW, as part of the recommendation we got on the Jamis, we were told that, for our style, a steel framed bike is better than aluminum. It holds up a lot better on rough roads, we were told. So far, it's been great.
So much for the bike, now on to our opinions on the best cycling gear.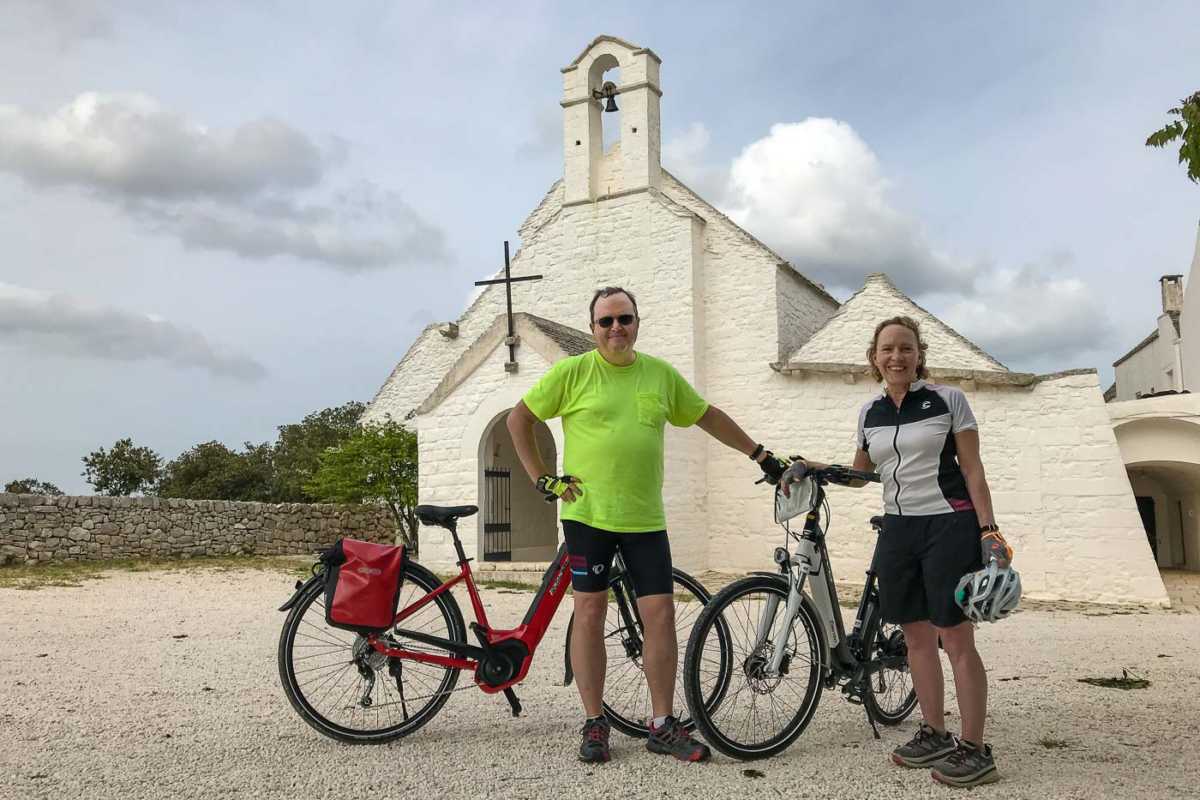 The best cycling shorts
As anyone who has ridden a bike for a while will tell you, a sore butt comes with the territory. Other than a comfortable saddle, the best remedy for this is good biking shorts. After trying out a few cheap pairs, I settled, again based on a recommendation from a serious biker, on the Elite model bike shorts from Pearl Izumi.
They're lightweight stretchy fabric, which is perfect because they stay where you put them, and yet they don't constrict. The silicon padding is very spongy and thick and definitely does the job. I've ridden hundreds of miles in these, and they definitely are the best cycling shorts for padding the ride. Believe me, this is somewhere you don't want to scrimp.
Of course Pearl Izumi makes biking shorts for women, but Kris alternates between her favorite Terry brand bike shorts and the newer Co-op Cycles Mountain Bike Shorts which come with an outer shell for a more decent look in town. Both from REI.
The best biking gloves
Again, padding is important here. When you're doing a lot of bouncing along, pounding your palms on your grips is a pain. In addition to bruising, your hands might go numb after a long ride. So, I went with Pearl Izumi Elite brand again. Same as the shorts. Padding on the palms, breathable fabric on the back, and your fingers are free to shift. Perfect. Kris doesn't normally wear gloves, but packs a pair for multi-day tours.
The best biking shirt
I've never seen the use of a specific biking shirt myself. The considerations are is it cool and can it be seen. If you ask me, the best and cheapest option is the high visibility work t-shirts you can get online or at your favorite discount store. I bought a couple of them at Wal-mart last year for about $5 each. I prefer the models that have a pocket so I have an easy place to stash my lens cap when I stop to take photos. But then again, I got a Pearl Izumi yellow shirt on sale once, and I like that, too. The back pockets are nice. Kris like her bike shirts for cool comfort, stretch for easy movement, reflective seams, and back pocket for ID and cash.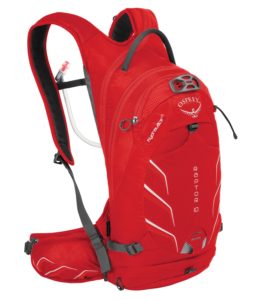 The best cycling backpack
This is another place where you can scrimp a bit if you like, but I've gone through about four small daypacks before settling on the one that has all the features that make, for me, the perfect biking backpack.
And that is the Osprey Raptor 10-liter pack. Here's a list of the features I love.
First, it's small. At only 10 liters, it can fit everything you need for your day ride yet makes sure you're not overpacking. It's low streamlined profile is great, which is kind of important when you're fighting wind all day.
The features specific to biking are well thought out. First, there's a helmet clip on the back that is an easy attachment point for, you guessed it, your helmet, when you're off the bike.
Second, there's a lower external pocket with an included pouch for a tool kit. There's room there for wrenches and a spare tube. It easily detaches from the pack to put on the ground if you have to do some work. Tools are not included, btw, but this one will do about anything you need to do.
Just above the tool pocket is an attachment point for a light. I clip a red light there that I can set to be on constantly or blink. Just one more thing to make you more visible.
Oh, and the pack itself has plenty of reflective strips.
Of course, there's a hydration bladder which holds up to 3 liters of water. I rarely fill it up, because, after all, water is heavy. My standard load is 1.5 liters, which is usually more than enough for a 30 mile/50 kilometer ride in all but the hottest conditions. What I particularly like about this bladder is that the back is stiff and the front has a handle. Both features make it easy to fill the bladder and drop it into the dedicated compartment of the backpack without having to mess with trying to hook the top of the bladder to an internal loop. The bladder compartment zips down the right shoulder strap leading the hose to just the right place. Thread the mouth piece through a loop on the strap, and you're all set.
Aside from being about the best bite down mouthpiece I've ever used, the mouthpiece also contains a bit of genius. There's a little round bit of metal at the bottom of the right angle valve. And that clicks effortlessly onto a very strong magnet on the horizontal chest strap. So, your mouth piece is always at the same place so you can easily reach it without looking while you're riding. When you've had your sip, just get it close to the chest strap and the strong magnet will grab it.
The main compartment of the pack has two nice features. First there's an interior webbed pocket that holds miscellaneous small stuff you don't need to reach often. My extra camera batteries and lens filters go here. Also, there's a sleeve that runs down the side that's the perfect size for a small pump. The main compartment is where I put my rain jacket and hard sunglasses case.
There's also a smaller exterior pocket above the main pocket that's just the right size for your wallet. Within that pocket there's yet another smaller mesh pocket that holds a few bills and a credit card. That's my emergency supply when I forget my wallet.
Finally, there's an outside pocket that fits a water bottle, your phone, or maybe an energy bar or apple for the road.
But, as they say on the infomercials, that's not all. On the waist belt there are small pockets on both sides. That's where my bike lock key, auxiliary phone charger, cable, pocket knife, and lip balm go.
I also use a carabiner to clip a whistle on the backpack's chest strap. A whistle is a useful tool, especially if you need to communicate with a partner that's gotten a long ways ahead of you. Also good for signaling for help if you need it. The whistle I use is the Fox 40, which I used when I was a soccer referee in an earlier life. It's really loud, and a lot easier than yelling.
Around town, Kris uses a simple lightweight Kipling Mini Backpack for keys, sunglasses, portable hand sanitizer, handkerchief, and sundries.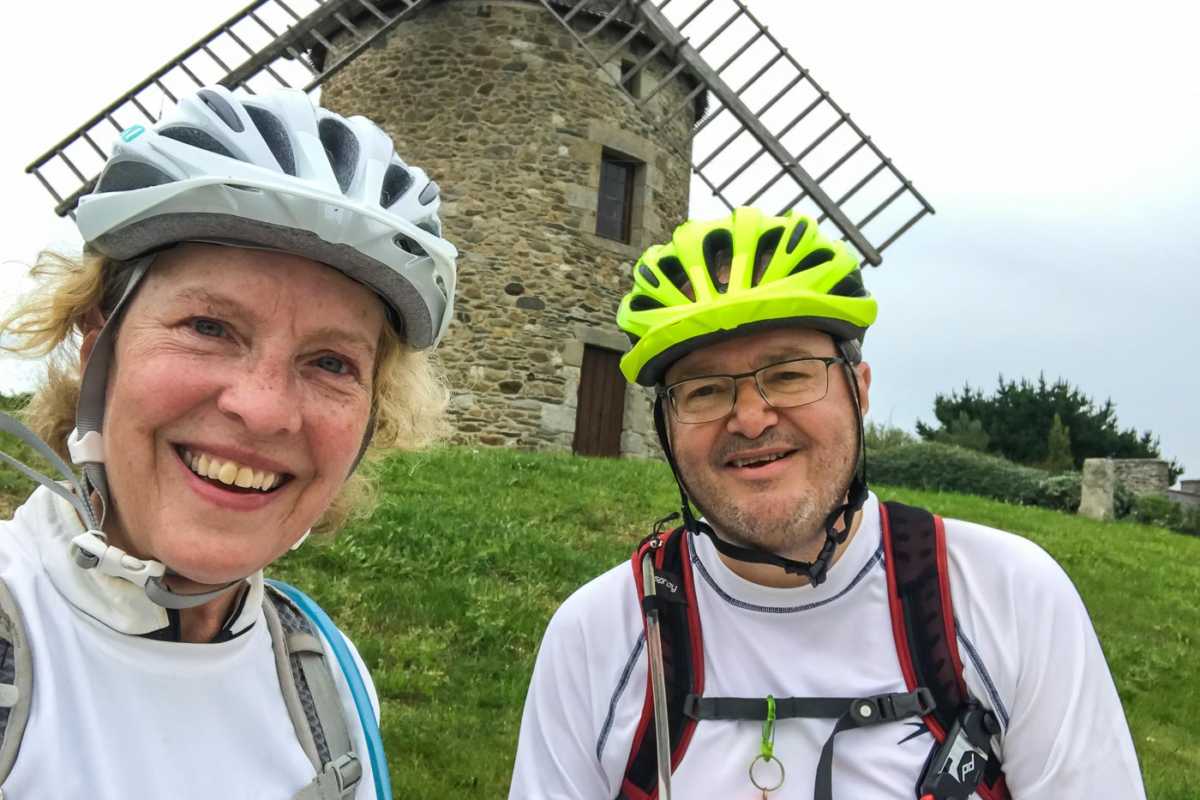 The bike helmet
The features you want to keep in mind for your helmet are: Does it allow air to flow, i.e. is it cool? Is it light? Is it high visibility? And, will it protect you if you fall? The Giro Revel helmet in bright yellow does the job for me.
The Peak Design backpack strap camera carrier
Without doubt, the Peak Design Capture camera clip is the most ingenious device a biking photographer can carry. It's a mount that attaches via two thumbscrews to the shoulder strap of your backpack. You screw the included baseplate onto the tripod hole on your camera, and then snap the plate into the carrier. How many times have you passed up a shot because of the hassle of getting your camera out of your backpack or pannier? No more excuses. Your camera is right at your fingertips.
Handlebar mount for phone
I'm not someone who has to look at my phone every five minutes to see if I got another like on Facebook. But my phone is an invaluable biking tool mostly because of the Strava app. So, I've got a gadget, the Taotronics phone mount, that makes it easy to take your phone on and off the bike before and after your ride.
You'll have to check out Strava for yourself, but I love that it maps my route as I go, keeps track of time, mileage, elevation change, average speed, and a couple of other metrics if you want to spring for the paid version. It also allows you to share all that info on various social media, if you do feel like you need some likes. Now Strava can track walks and hikes, too, not to mention canoing, kayaking, skiing, and skating routes.
Of course, having Google Maps at your fingertips is pretty darn handy as well.
The lock
As anyone will tell you, any bike lock can be defeated by a determined thief with power tools such as a drill or angle grinder. So, it's best to make him carry those tools if he wants your bike. All that aside, this lock is the one we use. It attaches easily to the bike. The locking mechanism is smooth, and no way anyone is getting through this with hand tools.
The best cycling panniers
Again, on the recommendation of the biggest bike freak I know, we went with Ortlieb panniers. I don't use panniers very often in the city, but on the road, they carry everything that isn't going to fit on your back. The Ortliebs are rugged, waterproof, have large reflective patches front and back, and, maybe best of all, clip effortlessly on and off your back bike rack simply by lifting the attached handle.
Biking shoes
Like with biking shirts, I'm not a huge fan of spending money on dedicated biking shoes. I guess they're ok if you're never going to get off the bike, but I prefer to wear my Adidas trail shoes. They have harder soles than running shoes, so you're more comfortable on the pedals, but if you want to get off and walk around, they're actually designed for that, too.
Biking lights
There are hundreds to choose from. I have the battery powered Bell Radian lights in white on the front and red in back. Both can be set to continuous on or to blink rapidly. I like this feature a lot. Kris has Blackburn 2-FER USB lights front and back that work the same but are charged by USB. If I had do-overs, I'd buy the Blackburn lights. Aside from not having to buy batteries again, the other advantage is that they are really bright and both of them can shine in either red or white and constant or blinking.
Very light rain gear
I'm a big Patagonia fan, so into the backpack goes the Patagonia rain shell. The main feature is that it's light, and I would have to say it's more of a windbreaker and rain resistant than a heavier, hotter rain jacket. Of course, if you're expecting a hard cold rain, there are plenty of other alternatives.
Other miscellaneous stuff
Keychain flashlight: For a lighter and smaller alternative to a headlamp, consider the Fenix E05R rechargeable flashlight. It's about the size of your little finger, weighs less than one ounce (25 grams) and packs a 150 lumen punch. I like that it's small enough to fit in the belt pocket of the pack, too. And, of course, it's also convenient just to attach it to your everyday key ring.
And, don't forget a first aid kit. You can make up your own. We do.
Read about our favorite bike tours and see how we put this gear into action!
Our Italy Bike Tour through Puglia
Our First Bicycle Tour: Brittany Backroads.
Cycling Across England and Scotland: Hadrian's Wall to Edinburgh
A Self-Guided Bike Tour of Stockholm
You can help yourself get ready for your own travels by reading our Get Started Planning Your Trip Now page.
You can see (and buy prints) of most of our travel photos in one place on this page.
We love traveling–with the right gear. We've gathered a lot of the stuff we use to make travel more pleasant and efficient all on one page. Shop our Travel Past 50 Amazon page to find our favorite gear. If you purchase something from the store, Travel Past 50, as an Amazon affiliate, may receive a small commission at no extra charge to you. Thanks.
We never leave home without our travel insurance. Nor should you. Search for the travel insurance from Allianz that best meets your needs, whether it be an annual plan or a single trip.
Note: This post and other posts on TravelPast50.com may contain paid or affiliate advertising links.