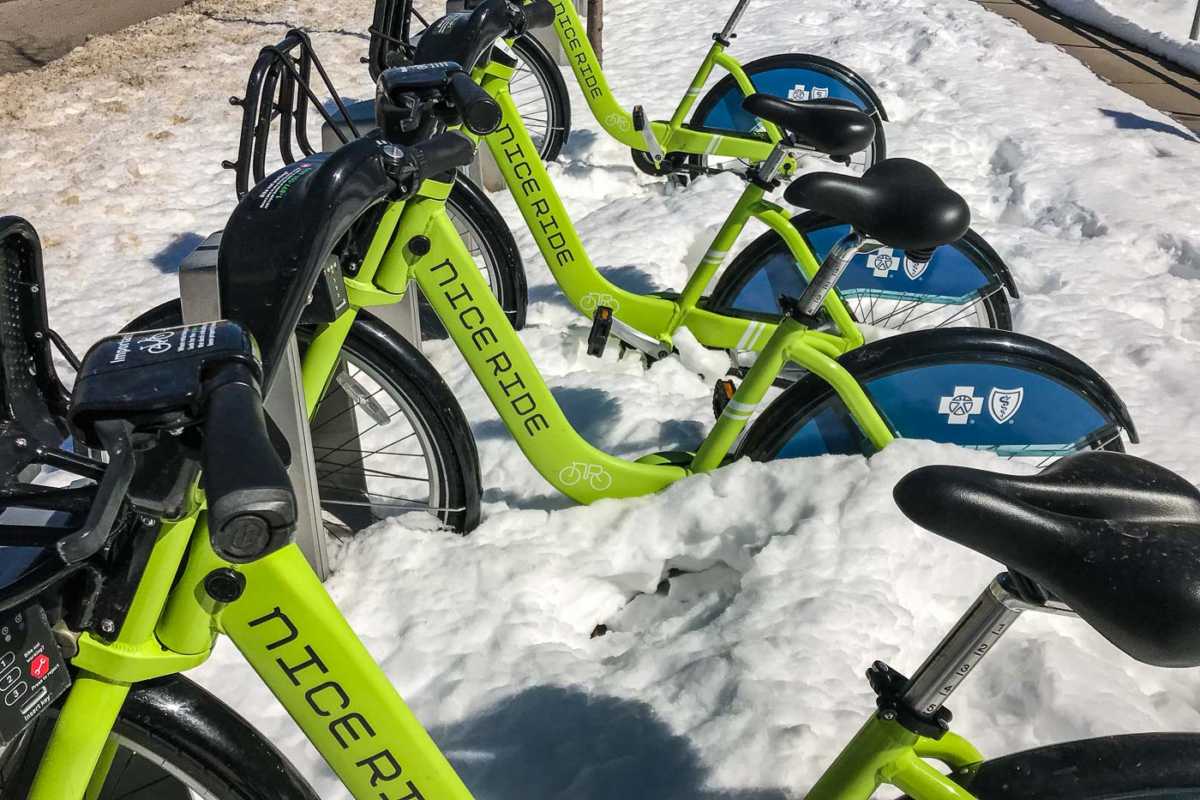 This seems like a good day to talk about the extensive training Tom and I are factoring into our upcoming Italy bike tour. As you may recall, we've already decided on our tour, a week in Apulia and Basilicata, biking from Matera to Lecce, Italy.
We booked the trip with BikeTours.com, which represents some 70 local bike tour operators across Europe, and we wrote about the planning process in this post. That was about two months ago, and our thoughts then were primarily aspirational, in our heads, imagining the beauty of the ride.
For a list of the equipment we carry while cycling, check out Our Best Gear for Cycling.

Some posts on Travel Past 50 may contain affiliate links. If you buy something through one of those links, we may earn a small commission. As an Amazon associate, we earn from qualifying purchases.
Today, twenty days before we start our ride, we address the more practical side of things. Are we ready for a bike tour? Ready or not, here we come. Here's how we're training and preparing–NOT necessarily how we advise you to get ready.
Look at a Map
First, we need to find Apulia and Basilicata on a map. This will be our first time visiting the heel of Italy. Puglia, a.k.a. Apulia (I had to look that up, too) is the region situated at the southeast corner of Italy. It's made up of six provinces and its capital, the port city of Bari, was a big player in trade with the ancient world across the Adriatic Sea. History, check.
Basilicata is the region just to the west of Apulia. It's more mountainous and forested, and is known for its ancient cave dwellings and churches. Our starting point, Matera, is in Basilicata. So I'm guessing the ride goes generally downhill from here to Lecce (pronounced lay-cha), since Lecce is at the very bottom of the spike heel. Just a guess. Should I check elevations? At any rate, Lecce has been compared to Florence, and we'll surely visit the landmarks in this city of baroque architecture.
Physical Training
Oops. Here's the thing. We just got 18 inches of snow over the weekend. This was the week we were going to cram eight weeks of training into 3-5 days. We have many other excuses, but snow and blizzard conditions pretty much cover it, along with our travel schedule. Let's just say one of us was on a stationary bike for 30 minutes in a hotel basement last week. We try to justify our lack of training with our general fitness level, but that's breaking down, too, what with knee injuries and old age. Still…we'll be fine, she repeated.
BikeTours.com offers a nice schedule to help you plan your training. In a nutshell, they suggest biking whatever your average daily tour distance is about 2-3 times a week for eight weeks in advance of your trip. Be realistic: four weeks is better than no weeks.
Our ride will average about 35 miles a day. The difficulty rating is 3 out of 5, meaning we'll have some rolling hills. This tour covers longer distances than our previous tour, and with no days off.
Given our lack of training, we decided a couple weeks ago to request electric-assist bikes. When it comes right down to it, we're confident we'll be able to do the ride, though we may be the slowest ever. We're also certain we'll have some sore butts. Our consolation: we'll be impressively primed for rides back home later this summer.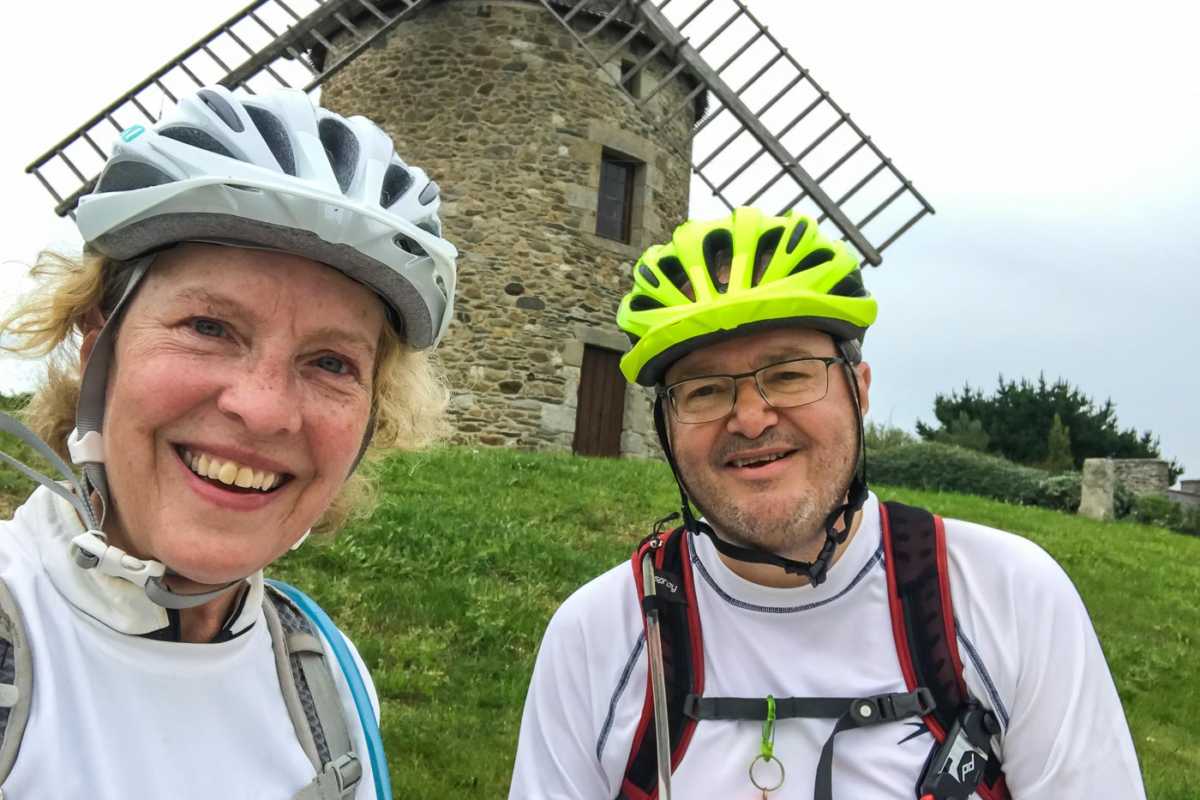 Packing for a Bike Tour
Now we're getting down to real business. BikeTours.com offers some great tips for packing for your bike tour. Our advice, parallel to theirs, is to include the following:
Packing for the Ride
The provided bikes have panniers to stash essentials for the day. Just remember you don't have to fill the panniers just because there's space. Light loads are easier to pedal.
A small hydration pack. We both like being able to sip water as we ride. Others may not enjoy having a pack on their back, especially if it's hot. We bring our own water bottles, too.
Bike helmets. We want our own helmets that fit us.
Layered clothing. The days may start chilly. A long-sleeved, loose fitting 'rash guard' type shirt works well against chills, rain and sun.
Optional gloves. Some bikers need the padding so that their hands don't go numb.
Sun protection. Always pack that.
Miscellaneous: our go-to kit includes kleenex/handkerchief, pocket knife, energy bar, ibuprofen, sunglasses, chafing powder and blister kit.
Cameras, phone, charger.
Packing for the rest of the trip
Remember you are moving every night, and even if you aren't schlepping your luggage to the next hotel, you are still checking in and out, packing, unpacking, lifting and loading, and traveling through cities, subways, trains, planes, stairs, cobblestones, or some combination of these. Pack light, and then remove another few items from your bag to go even lighter.
Sandals for the hotel
A nice shirt for dinners
Quick dry underwear and clothes so you can launder along the way
Heavy Lifting: Read Up
We don't always do a lot of research before we travel, figuring we'll learn as we go. We chose this ride, though, partly because we knew of the UNESCO World Heritage Sites here in Italy. Two are on our itinerary: The Sassi of Matera (Basilicata), and the Trulli of Alberobello. Perhaps we'll visit the third, the Castel del Monte (Puglia) on our own later. With some discipline, we might research other nearby sites and cities, like Brindisi, that may not be on our route.
Meanwhile, we've updated our Travel Past 50 list of all the World Heritage Sites in Italy.
Plan Extra Time
Any tour, be it with a group or self-guided, shines brighter when participants show up rested and ready. It's no fun to start with jet lag or feeling rushed, frazzled or drained. We're biking because we want to travel slow and see the sites at our own pace. The best way to ensure easy travels is to allow an extra day at start and finish points to savor the experience.
We'll arrive in Rome May 1, and travel to Matera on May 3. That gives us an extra night in Matera (we'll book that on our own) and a full day of rest and exploration in Matera, rather than arriving just in time for our first meeting. Our briefing for the ride is May 4 at 4 p.m.
After our itinerary? We've planned a Eurail Pass for the month of May in Italy. Part of our training program will be to plan those travels. For us that means agreeing on some priorities; the actual bookings will be done as we go. Because, who knows? We may decide to stay in Apulia.
Post script: Here are the posts we wrote after completing our Italian Bike Tour: Eleven Things We Loved on Our Italy Bike Tour through Puglia and Where to Stay and Eat in Puglia.
Note: We were hosted on our tour in Italy by BikeTours.com, and our Eurail Pass is also provided to us for marketing considerations. We partner with BikeTours.com and Eurail because we're big fans of active travel, train travel, and travel in Europe. The experiences written about here are authentically ours, as are our opinions.
Travel Planning Resources
Looking to book your next trip? Use these resources that are tried and tested by us. Flights: Start finding the very best flight deals by subscribing to
Thrifty Traveler
. Book your Hotel: Find the best prices on hotels with
Booking.com
. Find Apartment Rentals: Find the cheapest prices on apartment rentals with
VRBO
. Travel Insurance: Don't leave home without it. We recommend
Allianz Travel Insurance
. Need more help planning your trip? Make sure to check out our
Resources Page
where we highlight all the great travel companies and products that we trust. See all of the gear and books we like in one place on our
Amazon shop
.