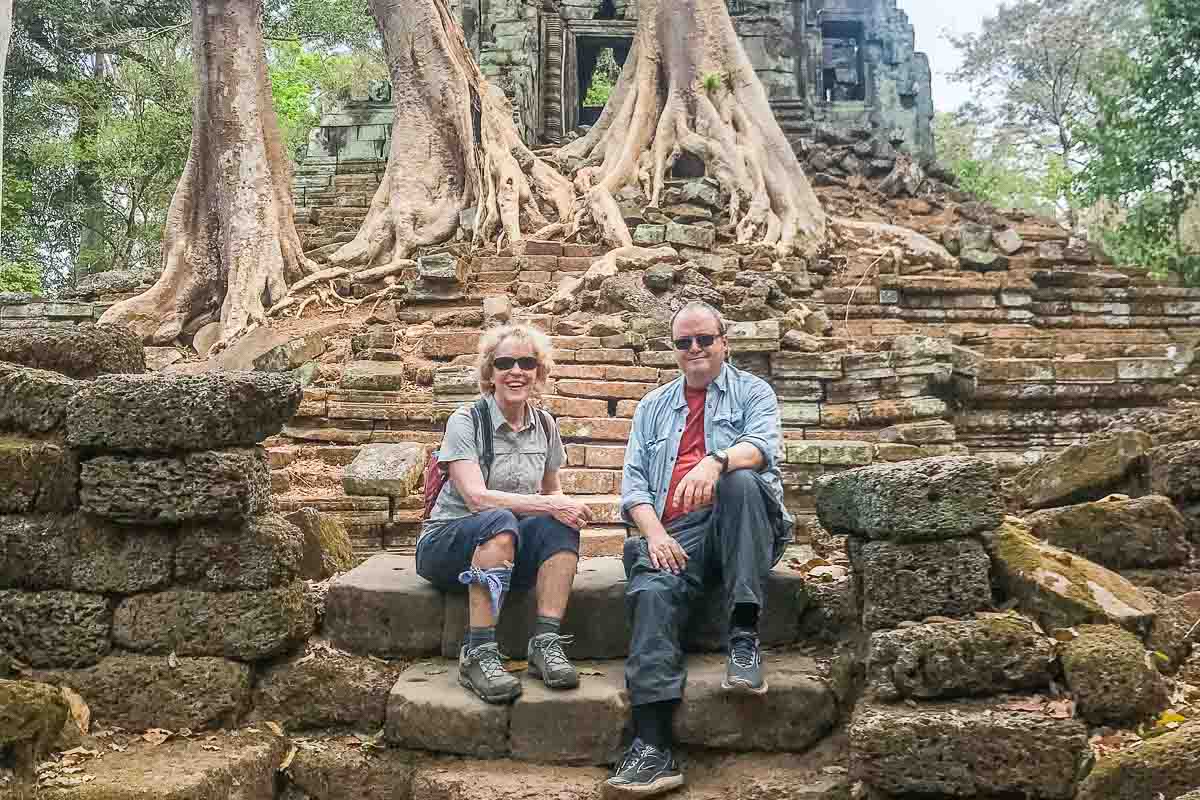 Many moons ago, Tom posted about little things he'd learned from traveling. His random observations prompted me to write a post about things I've learned traveling with him. That was in 2011. Since then, we've been asked frequently how we do it: how we stand so much togetherness and how we manage making travel decisions as partners. Unwittingly, I've become an authority on couples travel. So here, with only minor updates from the original post, are my tips for sane traveling as a pair…and other miscellaneous lessons learned from our life on the road.
1. The morning is for people who have someplace to go. The afternoon is for wandering around aimlessly, long lunches, reading, or napping. Do what you need to do in the morning or you'll never get it done. If you arrive at a bank or office after hours, you can be sure it won't open again for three days.
2. Look like you know where you are going (or follow someone who does.) You'll be subject to fewer hassles, vendor attacks, and restaurant pitches. And sometimes, if you stay the course, you might get to where you are going.
3. If you have to consult each other or a map, pull over to one side of the walk or, better yet, find a bench. (DO NOT stop at the top of the subway stairs to ponder your next move. I will run you over.) Avoid yelling across the terminal, "No! This way!" First, you can't be heard because you are walking away as you speak, and second, you could be wrong, in which case, I ask, "Exactly where is the sign that makes you think you are going to the bus stop, (you idiot)?" Of course, the last is unspoken, and the question isn't asked unless you are absolutely certain the bus stop is in the opposite direction from where the idiot is walking.
4. No one wants to take your word for it. Both travelers want to know the flight number, check-in desk number, gate number, and boarding time. Carry your own boarding pass, your own shit, and pay attention as if you were on your own, or soon you will be.
5. Just because you are traveling together doesn't mean you have to talk to each other.
6. Expectations and other pitfalls: Don't plan too far in advance. Don't expect your travel to go as planned. Don't be fueled by inflated expectations. Don't expect you can see everything everywhere. Assume you can tolerate just about any place for a day; if you still don't like it, move on. (This is a good argument for not using pre-paid accommodations.) Cheaper is better. But once in a while treat yourself by moving up to a nice hotel for a night, or sending your laundry out.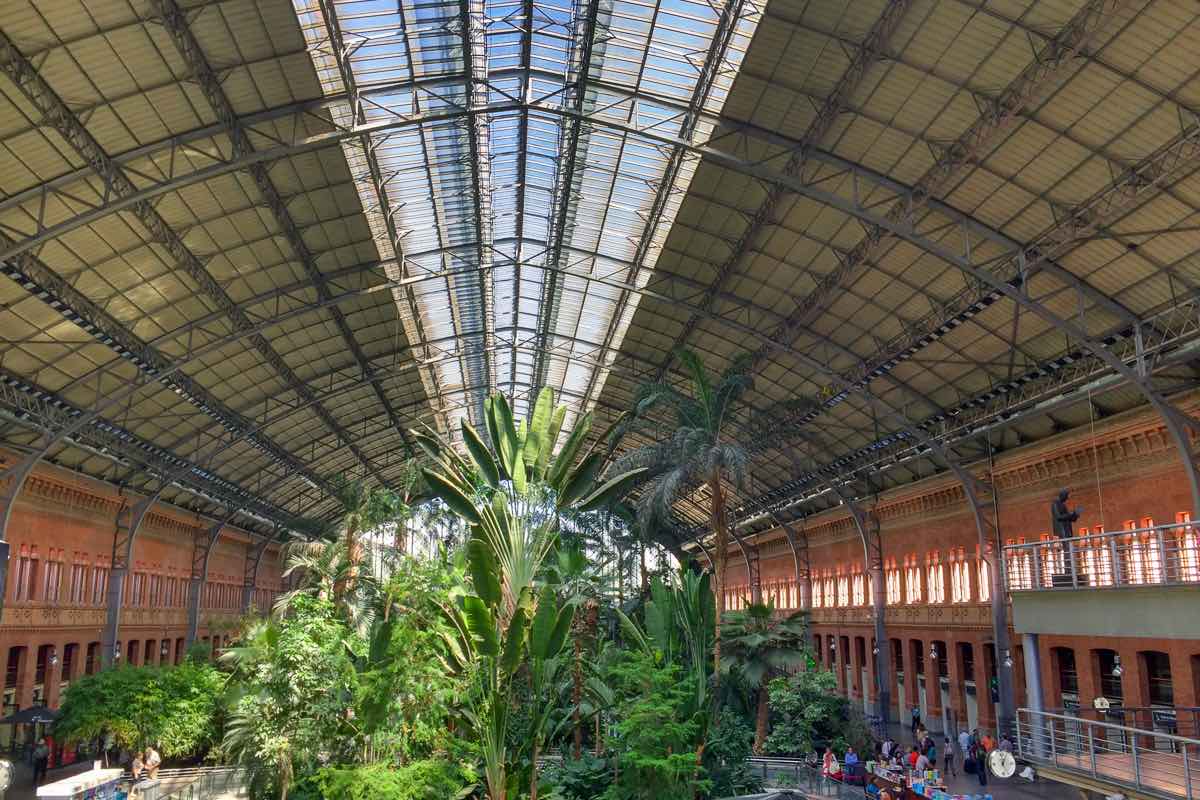 7. Get some background. Float your upcoming destination to friends through Facebook or similar, and ask for connections and recommendations from travelers you meet along the way. In just our first year of travels, we met friends or friends-of-friends in Quito, Santiago de Chile, Istanbul, and Milan, where we previously had no connections. Research your destination through blogs (boomer blogs, influencers, or other favorites of ours), Trip Advisor, guidebooks, tourism board web sites, and Wikipedia, even, to help steer yourself in the right direction. Reading about the history and culture of the place you are visiting makes it more enjoyable and gives you are starting place for conversation with locals.
8. Tour groups: avoid them. If necessary, make sure it is small group (under 10 people) and that you and the guide have some language in common. We've seen groups of 40-50 emerge from archeological sites like clowns from a circus car. Hey, did you get some nice pictures?
Crowds: avoid them. Crowds come and go in waves even at the busiest sites. Ask for the best time to visit and return later. It's also advised to avoid public demonstrations, but we don't follow our advice much.
Guides: There are the best of guides, there are the worst of guides. Often it's luck of the draw, but you can ask beforehand if the tour can be altered along the way according to your wishes. Or in our case, in Turkey during the off-season, we had a couple excellent guides all to ourselves, because our flight was late and the group left without us. We hit it off and spent the next three days with this driver/guide, customizing our itinerary as we went. Even small groups can agree to make decisions, like skipping that craft demonstration/shopping stop that interests no one. In recent years, we've been impressed with the ultra small and uber smart guided tours by Context Travel, generally focusing on art, architecture and history.
On our own: This is what we love best. For example, we were told to allow 5-6 hours to visit Pompeii ruins. Tour groups often cover it in two hours. We spent nearly ten hours roaming around, retracing our steps to see some especially cool stuff, and were satisfied we'd really taken it in when the day ended.
9. Have either local phone service (SIM cards) or international plans with data–for both of you. (We use T-Mobile and these apps.) This saves so much anxiety when someone (Tom) has wandered off. It's great to be able to contact people you meet along the way, drivers or taxis, your hotel, or anyone else you might want to call when you are lost or late. Plus, having Google maps in hand prevents those 'just landed, don't know where we're going' tiffs.
10. Enjoy making fun of the tourists, especially Americans, at all times in all places. But insist you are a resident and deny that your curly, light hair and predictable wardrobe make you stand out.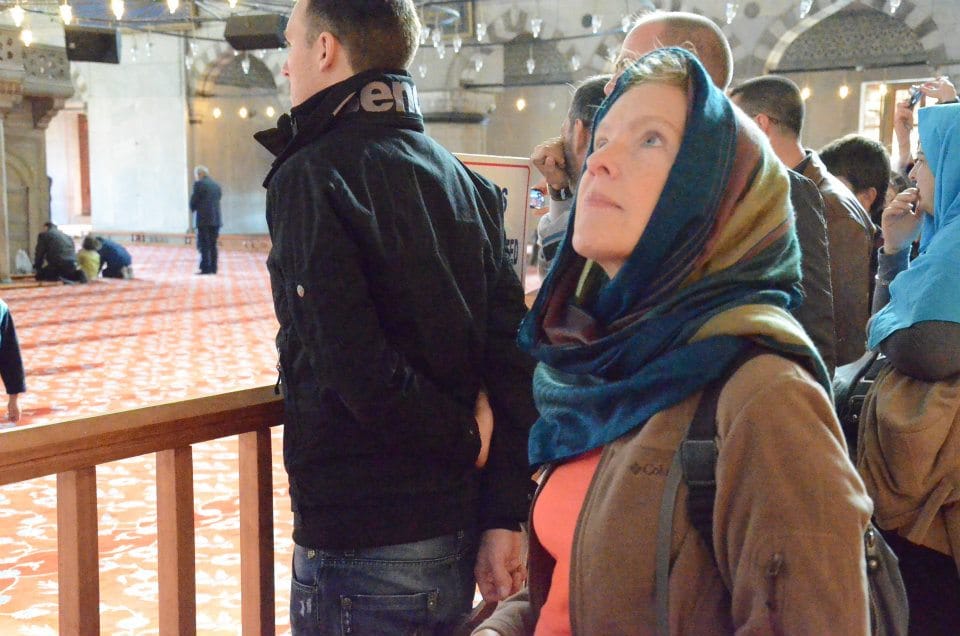 11. Bonus
Every time you leave home, take less.
And, for discussion:
If you are asked if you'd like help carrying a bag, do you say yes or no? I say it depends on whether you'd like to be chastised for packing too much or ridiculed for being extremely stubborn and never accepting help from anyone.
Mr. Traveler has commented on this post, and here's his side of the story:
10 Things I Learned from Traveling – Travel Past 50
You can help yourself get ready for your own travels by reading our Get Started Planning Your Trip Now page.
We love traveling–with the right gear. You can check out a lot of the stuff we use to make all our travel much more pleasant and efficient all on one page. Click here to see it. If you purchase something from this page, Travel Past 50 may receive a small commission at no extra charge to you. Thanks.
Note: This post and other posts on TravelPast50.com may contain paid or affiliate advertising links.