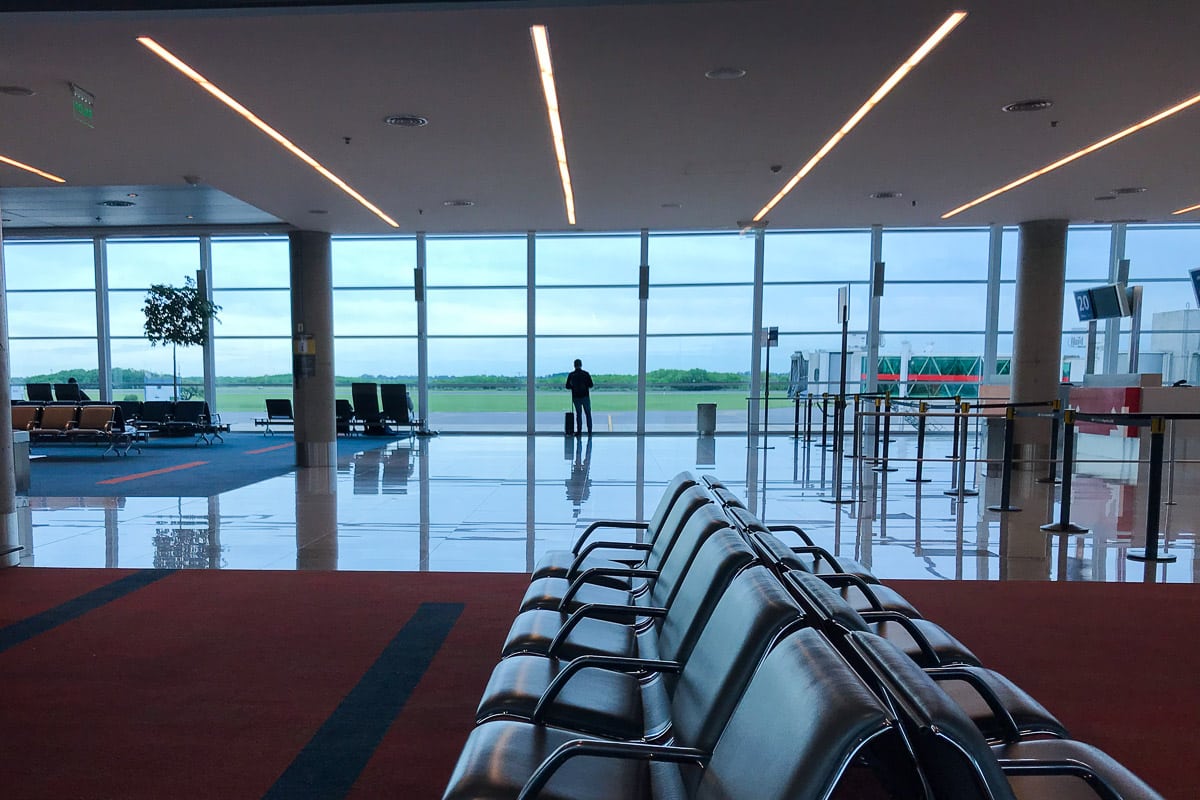 Packing for travel can be daunting for anyone, but especially for women who have acquired (as most of us have) a sense of duty to be dressed right for any occasion.
Try to balance packing light, packing stylish clothes, packing activewear, and packing for comfort. Then think about shoes, outerwear, make-up, medicine, chargers, emergency kits and that perfect accent scarf – and it's understandable some people balk at the whole idea of travel. But break it down and it's as simple as getting dressed in the morning.
Full disclosure, I almost forgot how to pack. Through nine years of non-stop (nomadic and slow) travel, I was rarely unpacked, so the decision-making steps were moot. Since COVID, everyone has forgotten to pack. Therefore, here we go again with our newly revised, perfect-for-women and useful-for-men, all-in-one "What to Pack for Your Trip" post. These packing tips, geared to extended travel, apply no matter where you are going and no matter how you get there. Just pare down from here for your weekend getaway.
We'll start with what to pack, answering questions we typically get, then move on to things you can do in advance to minimize stress. Interspersed are our tips for how to pack these items and stay happy with your minimalist style.
Note: This post on TravelPast50.com may contain paid or affiliate advertising links.
What goes into packing
Thinking about your trip is a good start. Consider the destination's climate and customs and the season and weather variables. Evaluate your itinerary and activity level, always assuming you're going to be on your feet more than you imagine. And realize if you yearn for anything, it'll be that lounge wear or T-shirt you want at the end of the day when you curl up in your room. No one sees it!
Before packing, keep in mind your means of travel, too. Luggage is handled differently on trains versus buses versus flights. Are you getting around big cities on your own using public transportation? Will you be spending many hours on a tour bus? Or in a car? What do you want to have at hand? Will you be unpacking or living out of your suitcase? Can you lift your bags easily to board a train or go up a flight of stairs? Are you staying in an AirBnB, a hotel, a ship, or at a friend's house?
We don't necessarily pack different clothes for those alternatives, but the way we pack may be adjusted. At the least, you are reminding yourself to go light.
To carry on or to check?
We're not strict about either choice but evaluate this with each trip.
Good reasons to carry on all your luggage are if you have tight flight connections (these days that means under 2-3 hours) or if you have a firm deadline for departing on a tour for which you really want your accompanying luggage. (N.B. that person who has to board a river cruise with only the clothes on their back.)
On the other hand, when we plan to be in a destination for several weeks, or when we want to pack hiking poles, tripods, a pocketknife, more than the carry-on limit in liquids or other items which can't be carried on, we check a bag.
Take note of your type of aircraft. It's not easy to fit some bags, even those supposedly within proscribed measurements, into the overhead bins of small old planes. Flight attendants may require you check a bag you thought you'd be carrying on. Plan and pack accordingly.
Part of our motivation to check is that we're already carrying on plenty of weight in cameras, laptops and other work-related accoutrement, so the idea of juggling everything around multiple airports and on and off aircraft isn't that appealing.
I suppose we could check one bag between us and carry another on, but that would require way too much thinking. Tom and I each pack our own bags and keep everything separate.
Read more about carry-on packing below. The main reminder here is that if you check a bag, do keep an extra set of clothes in your carry on, along with electronics, medicine, wallet, documents, and eyewear.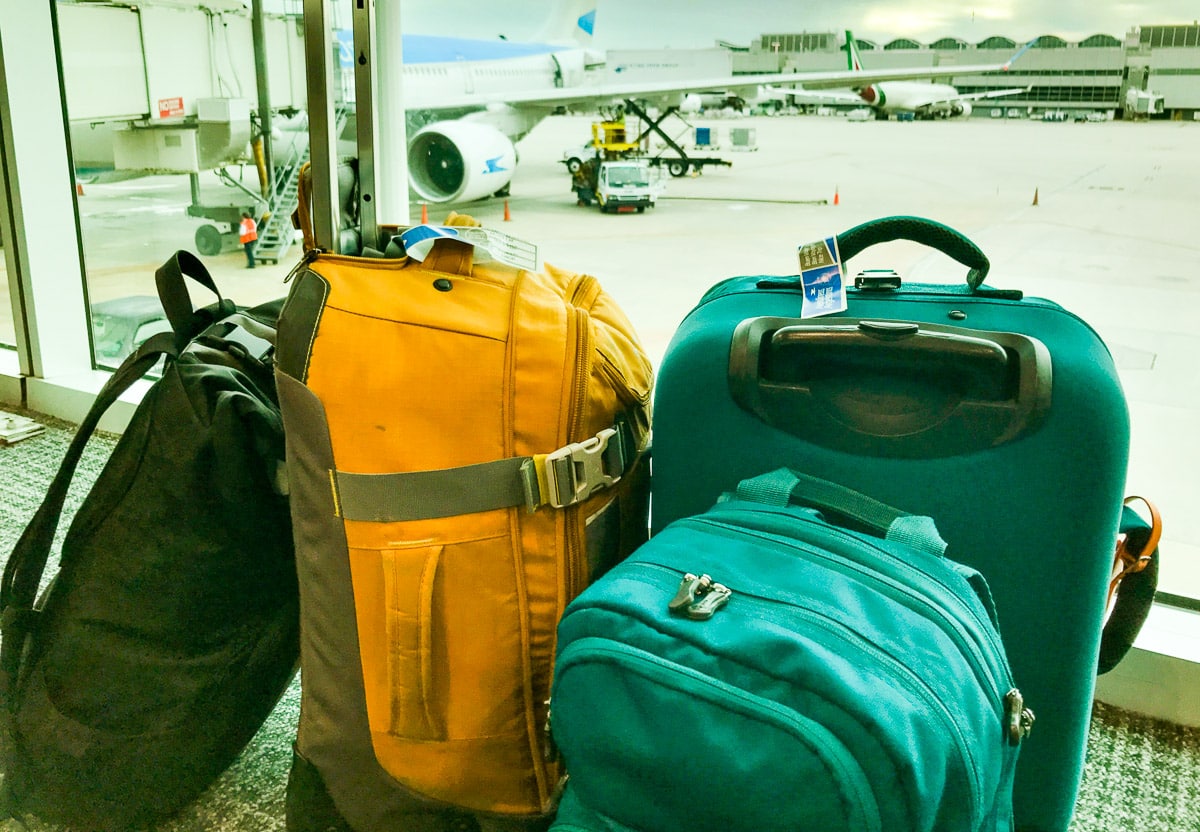 Basic Clothes: What to pack
Let's start with the nitty gritty of what's going into that bag. These guiding principles to packing come from the well-traveled. We include ourselves in that group, and also nomads, flight attendants, luxury and cruise travelers, adventure travelers, slow travelers, RV travelers, and many others we've met along the way.
Philosophically, we adhere to the "less is more" theory: No dresses or outfits for 'special occasions,' and no counting "outfits" to keep up with the number of days on the road. No matter how long your travel, you are packing clothes for a week or so, and doing laundry. (Besides, you are generally seeing different people each day. Nobody cares that you're wearing the same pants and shirts several times a week.)
Pack clothes that are easy care, lightweight (no jeans), and quick dry. If you are shopping for clothes, you might need to rethink your approach, as I did, from shopping quality that would last a lifetime to shopping for clothes to wear constantly for a year or so and then cycle out of your wardrobe. Either way, simple lines and classic versus trendy styles will serve you well.
PRO TIP: It's easy to wash underwear or T-shirts while you're in the shower. Just use some of that hotel shampoo and squish clothing under your feet as you shower. Rinse clothing in the sink and hang to dry.
The Rule of Twos
I subscribe to the Rule of Twos. Maybe I made that up, but it's my mantra as I set clothes out. HINT: Go ahead and set more items out on your bed as you pack, and then eliminate to meet the Rule of Twos. These 'twos' don't count the clothes I travel in.
My basic wardrobe
Two pairs of pants
Two shirts, long sleeved button-down with collar, equally fine for hiking or dinner
Two to four T-shirts (short-sleeve, long-sleeve, or a couple of each, depending)
Optional: a skirt and/or pair of shorts, or maybe a third pair of pants, depending on the climate and your activities. Skirts work with the same tops as pants.
Layers
One or two sweaters, light fleece, or thin sport zip-up layers for warmth. I usually opt for either a light cotton cardigan sweater for evening or a light zip-up for athletic wear, and sometimes both.
Jacket. As much as I'd like to pack a jean jacket sometimes, I've lived exclusively with my lightweight, warm, and versatile down sweater jacket for the past ten years. I keep the stuff bag in the pocket while I'm wearing it and, when it's squeezed into the bag, it fits easily into my day pack, purse or carry on.
Rain and more outerwear. I always pack a Patagonia hooded rain jacket and a super lightweight Mountain Hardware nylon shell (windbreaker) in the outside pocket of my suitcase. Either or both can be grabbed or stashed in an instant as you transition between the airport and local weather.
Seasonal items. When traveling to winter weather, just wear all the bulky clothes on your flight. Consider always packing light gloves (like runners' gloves) and a stocking cap. They take up so little room and com in handy when the temperature dips or when you need gloves, say, to scramble around rocky hikes. If you are headed to hot weather, consider yourself lucky and toss in an extra skirt, shorts, and T-shirt.
We return to REI regularly to restock and replace our travel wear.
PRO TIP: layering a T-shirt with a long sleeve shirt, plus a shell or sweater layer, plus the rain jacket with stocking cap and gloves will set you up for the most inclement weather.
Sports Gear
Hiking sticks, unfortunately, can't go in carry-on luggage, says TSA. (Another reason we frequently check bags.)
Hiking/Biking packs. We tend to pack an empty little hydration hiking/biking backpack at the bottom of our checked bags. Bike helmets, however (we're partial to our own), can just be clipped to the outside of your carry-on.
A bathing suit (always)! I pack a one-piece if I think I'll just be doing laps in a hotel pool, or 2-piece with rash guard/sun cover if I think I might be doing water sports. The gym shorts and T-shirt (see Lounge Wear below) can double as swim cover-ups, too. Tom's gym shorts and swim suit are one and the same.
Remember rental equipment is available for most sports. Even ski clothing is available to rent at exceptional places like Copperhill Mountain Lodge in Åre, Sweden.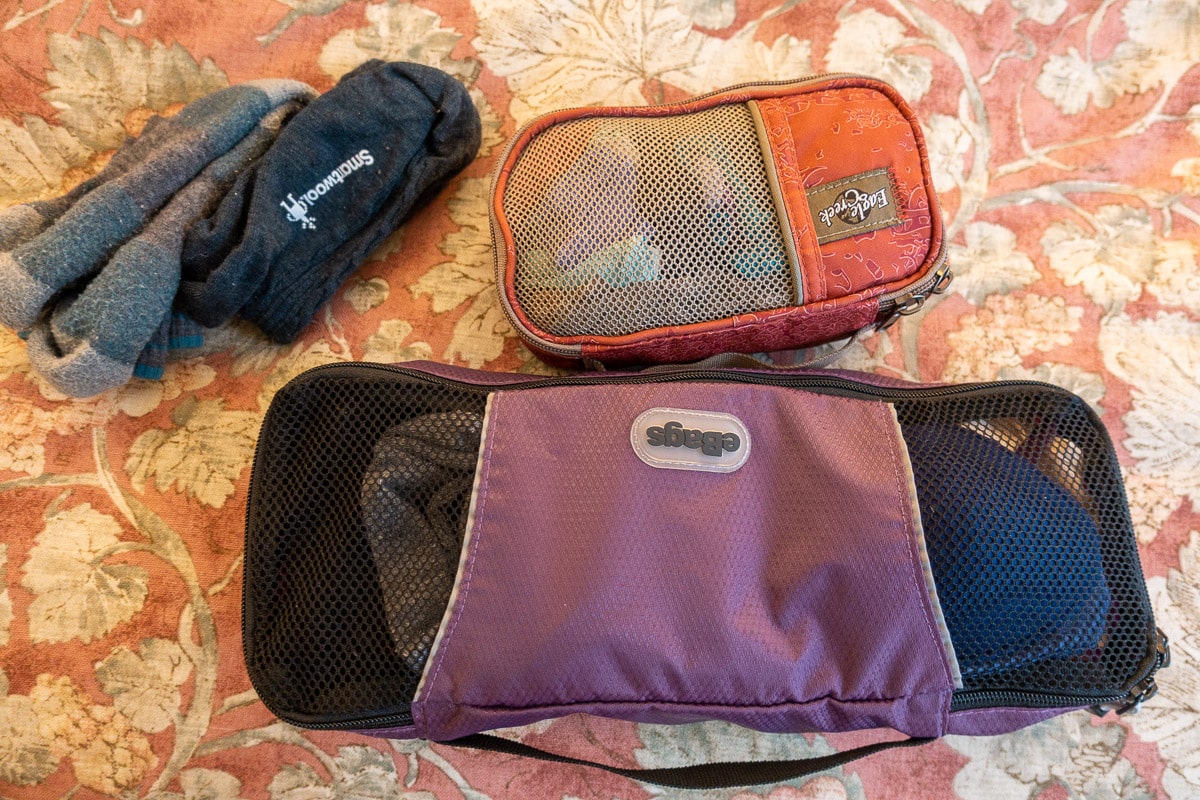 Underwear and Lounge Wear
There is nothing magic about the packing cube sizes; they are just what I acquired along the way. Fully stuffed, they are about two inches deep. But except for the tiniest, mine are never full. Mostly they serve as a super easy way to live out of a suitcase, each cube serving as a dresser drawer, if you will.
4″ x 8″ packing cube of underwear
5″ x 15″packing cube of bras, socks, handkerchiefs
Small (7″ x 11″) packing cube of t-shirts. Alternatively, these could be rolled into corners of your bag, but the cube system makes 'unpacking' or accessing your wardrobe easy.
Sports bra and/or camisole for sleeping, packed in one of the cubes above. I'm always prepared in case I need to rise from sleep to walk down a hall for a bathroom, a good habit leftover from walking the Camino de Santiago
Gym shorts (or capri leggings?) and a soft snuggly t-shirt for lounging. Do not forgo the clothes you can really relax in, in the comfort of your hotel room.
Our favorite brands for these items in ExOficio and Unbound Merino Wool.
Shoes
Tom generally travels with two pairs of shoes; I travel with three.
Wear the shoes that are your most rugged, required wear. That may be a serious hiking boot or shoe, it may be winter boots, or it might simply be the walking shoes you'll spend most days wearing.
My second pair are going to be equally good for walking, but I might refer to them as city shoes – the ones I wear on alternate days or in the evenings to help keep my feet happy. Changing back and forth between two shoes really helps.
Third are a pair of sandals. I prefer these to be easy to slip on in case I need them at night. And I generally select sandals (or the city walkers above) to be water friendly, either for poolside, beach, or shower.
Read more about best choices for women's travel shoes here. I pack shoes heel-to-toe in plastic or cloth bags in my suitcase. To save more space, consider attaching a pair to the outside of your carry-on bag.
Accessories
Scarf. Besides the scarf I have with me inflight, I carry little jewelry.
Jewelry. Remove any precious jewelry, wear your most comfortable basics (earrings you can sleep in and that won't fall out during flights). I may take an extra pair of earrings, and an extra ring or bracelet for fun, but I often forget to even wear them unless my trip is more than a few weeks. Only pack jewelry in your carry on, never in checked bags.
Watch. I used to wear a cheap watch I purchased just for travel, with a face that lit up for night viewing. Now that's largely redundant with my smartphone. Still, you might find a watch convenient…or fun if you are counting steps.
Other items in my suitcase
You'd be surprised how often a bandana or neck gator, stocking cap and gloves come in handy. Whether the concern is heat, cold, sun, dust, air pollution, or rocky scrambles, you'll be glad you're prepared.
A nylon bag that doubles for laundry or shopping. It might even hold snacks for long bus or car trips.
Neck gator or bandana, sun hat, sunscreen
Bug repellent, first aid kit, knee braces
Light washable gloves, stocking cap
PRO TIP: Always pack your basics in the same pockets and same manner. It's like muscle memory: You'll be less likely to forget key items, and you always know where to retrieve them.
Toiletries
See notes below. Toiletry pouches are packed last, on top for easy access by TSA or inflight. Even in checked bags I pack toiletries on top. I can then settle in quickly when I reach a hotel room.
Colors
Note: when you are selecting your wardrobe using the Rule of Twos above, think of how everything works with everything else. That's why it's helpful to spread options out and then eliminate. Our friend Annie B, long time flight attendant, traveler, and teacher, keeps it simple: "Two basics colors (like black and white or navy and tan) plus an accent color. That's it."
What to wear on long flights
Set your travel clothes out as you are packing. My in-flight travel uniform is easy:
The heaviest shoes or boots of your wardrobe, so that you don't have to pack them, with socks.
Either travel pants with stretch or compression leggings. I like Athleta brand travel pants, many of which are as good for hiking as they are for sitting on a long flight.
A long-sleeved collar shirt, because the collar can be adjusted to avoid drafts in flight and the sleeves can be rolled up upon landing in a warm climate. I actually put my two shirts over one light hangar, folding that into the "suit" pocket of my bag. They aren't likely to wrinkle, and I hang them immediately upon check-in.
Scarf, to be used as a wrap for warmth in flight and as a warm layer and fashion accent during travels.
Sweater layer or jacket accessible if not worn.
We've written sort of "his' and 'her' versions of what to wear on a plane in these posts. Tom's tips to Make Flying Easier and More Comfortable include booking as well as wardrobe advise. Kris's What to Wear on a Plane offers packing tips for those long travel days, on planes or trains.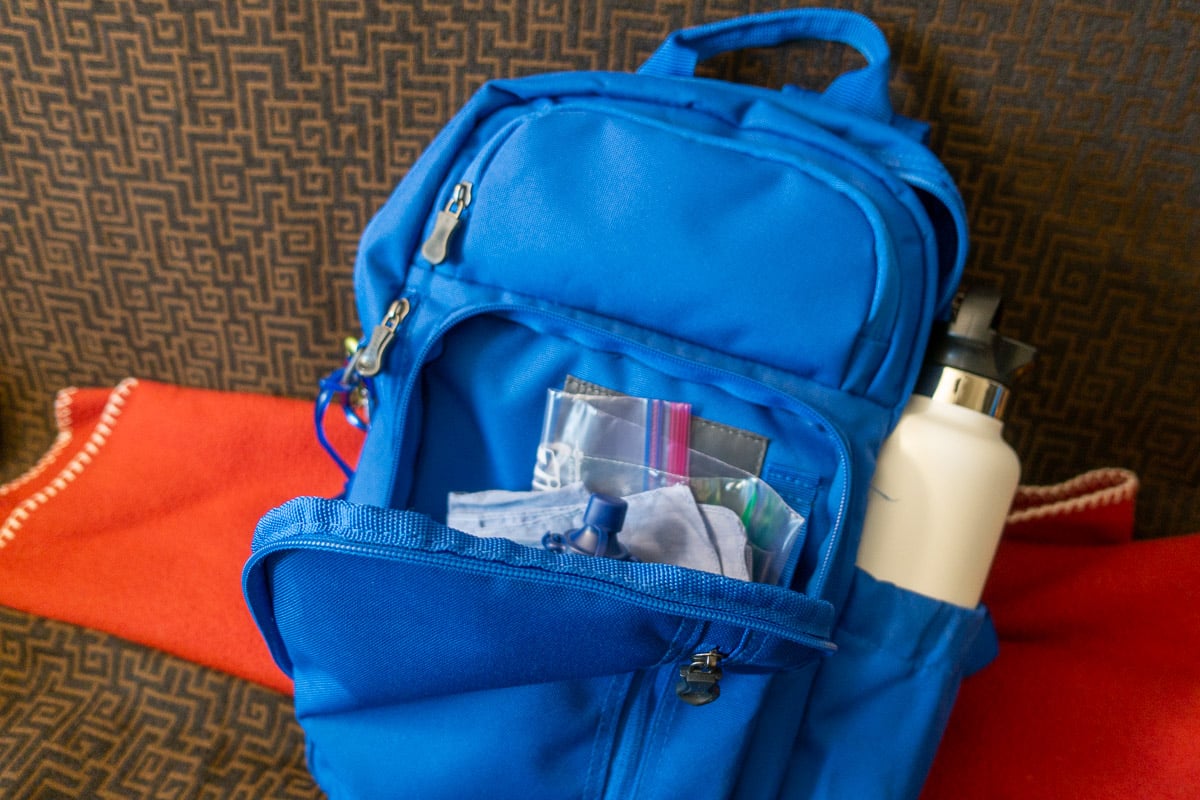 What to pack in your carry-on bag
Note: Also check out our posts about what to wear on planes and how to make travel days easier and more comfortable.
If you aren't checking a bag, remember your carry-on allowance is TWO bags, one to fit in the overhead and another below your feet. So, ladies and gents, if you usually board carrying a tote or backpack plus a purse or briefcase, note these must be combined to allow for the carry-on suitcase. Organize so that as soon as you board you can remove the smaller bag containing everything you need in flight.
Men and women can be mindful to pack their carry-on with TSA security checks in mind and for easy access to the items you will want in flight. Pro travelers know to have these items at hand before stashing bags in the overhead bin.
Masks
Medicine
Water bottle. Be sure it's empty through security and all airport transfers.
Sunglasses/spare glasses/contact lens
Scarf
Sweater or warm layer
Phone charger/adapter
Earbuds and/or noise cancelling headphones
Kindle or book
Phone, of course. Check out the phone apps we recommend and download what you want in advance.
Passport of course, along with any necessary contact and travel docs
Jewelry, if any
If you require a neck pillow, select an inflatable version.
Optional carry on items
Flashlight/headlamp
One change of clothes
Antiseptic or cleansing wipes
A couple ziplock bags
What can be organized in advance
If packing is stressful, it's probably because you are looking for everything all at once. Break it down and gather the essentials together days in advance.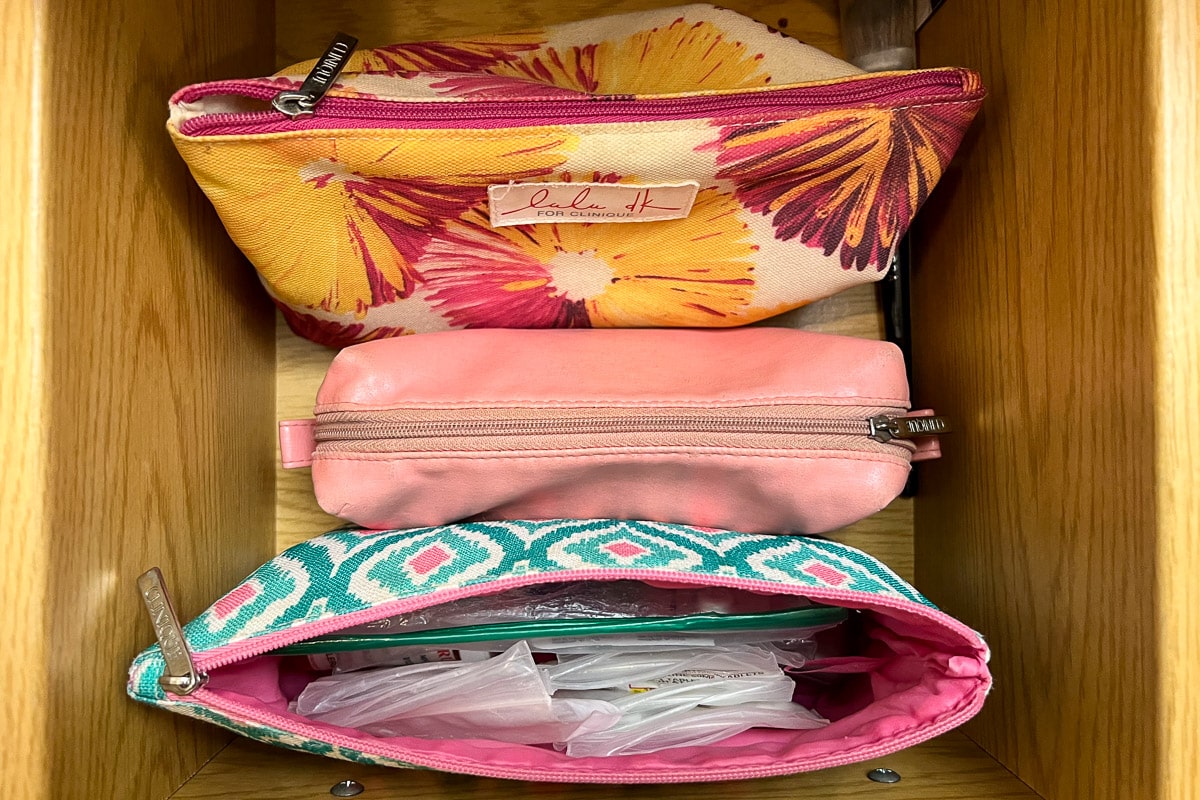 Toiletries
For medicines, we recommend you refill well in advance. Pack any pills in plastic pill pouches which can be provided by your pharmacy along with labels to attach. I use this method whether I'm on the road or at home, because its lightweight, compact, and easy to access.
Soaps and hair products. Depending on the length and style of travel, you can use provided product. I generally pack my own hair conditioner and styling, if not shampoo. Check out shampoo bqrs versus liquids for a lightweight alternative. (BTW, we favor environmentally conscious hotels that supply bath products in bulk. Give them kudos for avoiding all the little plastic bottles.)
Regarding make-up and other first aid and body products, first eliminate the multiples that may have found their way into your ditty bag. Think about checking sunscreen or insect repellent or purchasing small quantities at your destination. Go with your faithful standbys – products you use regularly, not new products – and don't overfill your bottles. You don't need choices and back-ups on the road. There are stores for that.
In order to pack toiletries in one thinner layer atop your suitcase, and to help you find small articles, we suggest multiple smaller pouches. I use one for shower/sink products, another for medicine, another for make-up/sunscreen/general, and a little sleeve for eye pencils and lipstick (with sun protection).
Forget manicure scissors and just carry a good quality paper emery board. If you are checking, you can toss the invaluable mini Swiss Army knife with tweezers, toothpick and tiny scissors into your checked bag.</li
Camera/Electronics
Maybe you are traveling with a phone camera only. (Consider a dry bag for your phone if you plan to be out on the water.) But if you're more serious about photography, decide on your camera, lenses, and accessories, and gather the necessary data cards, batteries and chargers. In this post, Tom goes into detail on the photo equipment he uses when traveling.
Your phone and your wallet
For many people these are becoming one and the same.
Wallets. For international travel, I shed credit cards, affinity cards, punch cards, and other accumulated crap from my wallet. (I use a lightweight little folding wallet for travel.) Take out all those extraneous or local credit cards that you won't use.
Do keep your ID, at least one credit card and at least one debit card. I also carry extra identification (passport card, Driver's License, and/or Global Entry ID) and my health and travel insurance cards.
I might also have up to $100 or $200 in U.S. cash, but we never change to the destination currency before travel. In fact we rarely use cash in any country. But I do keep a wallet at home with currency and metro cards leftover from previous trips, separated by continent for easy grab and go.
Phone. It's your defacto wallet. We rely on 1Password as our primary password safe, saving us all kinds of aggravation when we need to tend to business from afar. Keep credit cards here too, for easy online shopping or reservations.
Run through your various phone apps to be sure you can log in or have downloaded the necessary apps. Our favorites are Trip-It Pro, Google Maps, TravelSmart, Booking.com. You can read more about our favorite travel apps here.
Finally, know your phone plan for international roaming and check all your settings. If you have T-Mobile, you won't be charged for roaming. Do you know how to turn data roaming off and use Wi-Fi only on your phone? (Hint: if you don't you could end up with a huge bill when you get home.) Can you turn off background activity to save your battery?
Are you carrying the appropriate chargers and adapters?
Pre-Travel Preparation
The earlier you can start preparing, the less stressed you'll be as departure approaches, and the more likely you'll be able to pack smart. That's why we're re-capping these Pre-Travel Preparation Basics. Take steps before you even start packing to streamline your travel and lower your risk of trip complications.
TSA PreCheck and Global Entry
For international travelers, procuring Global Entry can save a good hour upon return to the States. For domestic and international travel, TSA Pre-check (or Clear) makes a big difference in the timing getting through security and in ease of packing. For starters, you don't have to pull laptops out, and you don't have to take off your shoes. (But remember that's a United States status. You'll be going through normal channels in foreign airports.)
Here's a post with more details about Global Entry. And here's the link to apply for TSA PreCheck
Passport and Visa requirements
First, be sure your passport expiration date is more than six months from your trip RETURN date. Many countries require this. Many also ask for a certain number of blank pages in your passport. Allow plenty of time to renew your passport, or be willing to pay expedited fees which you may or may not be eligible for.
No matter where you travel, even if it's somewhere you've traveled easily before, do check with the State Department regarding travel to that country. Travel alerts around the world can impact your return to the United States. Also check with your destination country's official (government) travel website to understand requirements for entry. These might include visas, health certificates, testing, QR codes, etc. None of this is too onerous if you are simply aware and in compliance.
Health/Vaccinations
See passport and visa requirements above. One thing we know is that requirements change. We are proponents of vaccinations and staying up to date with boosters, prescriptions, and general health awareness. For travel to more far-flung places, we highly encourage a visit to a travel clinic. Read this post as an example of why we value travel clinics and health insurance.
Travel insurance
We never leave home without our travel insurance. Nor should you. Search for the travel insurance from Allianz that best meets your needs, whether it be an annual plan or a single trip. We, both children of insurance people, tend to want excellent coverage for health, travel interruptions, and even evacuation as necessary.
Look for a plan that suits you, or just add on insurance when you book your flight. We use Allianz's annual plan, which probably pays for itself after just a couple trips a year. It applies to road trips, too, of over 100 miles from home.
Additional Resources
When you're thinking of traveling, your first stop should be our Travel Resources page, where we list all the essentials you need to make your travels easier, cheaper, safer, and more fun.
We offer packing tips for different styles of travel, from adventure to road trips, in this Gearing Up for Travel post.
You can also help yourself get ready for your travels by reading our Get Started Planning Your Trip Now page.
If you are interested in reading more about the logistics of adopting a frequent-travel lifestyle, you might enjoy this guest post we contributed to Nomadic Matt, "Retirement Travel: How to Get the Most out of Senior Travel."
We love traveling–with the right gear. We've gathered a lot of the stuff we use to make travel more pleasant and efficient all on one page. Shop our Travel Past 50 Amazon page to find our favorite gear. If you purchase something from the store, Travel Past 50, as an Amazon affiliate, may receive a small commission at no extra charge to you. Thanks.
You can see (and buy prints) of most of our
travel photos
in one place on this page.
Note: This post and other posts on TravelPast50.com may contain paid or affiliate advertising links. As an Amazon Associate we earn from qualifying purchases. Occasionally, part of our travels are provided complimentary, but we never relinquish editorial control. Paid content is clearly labeled as such.