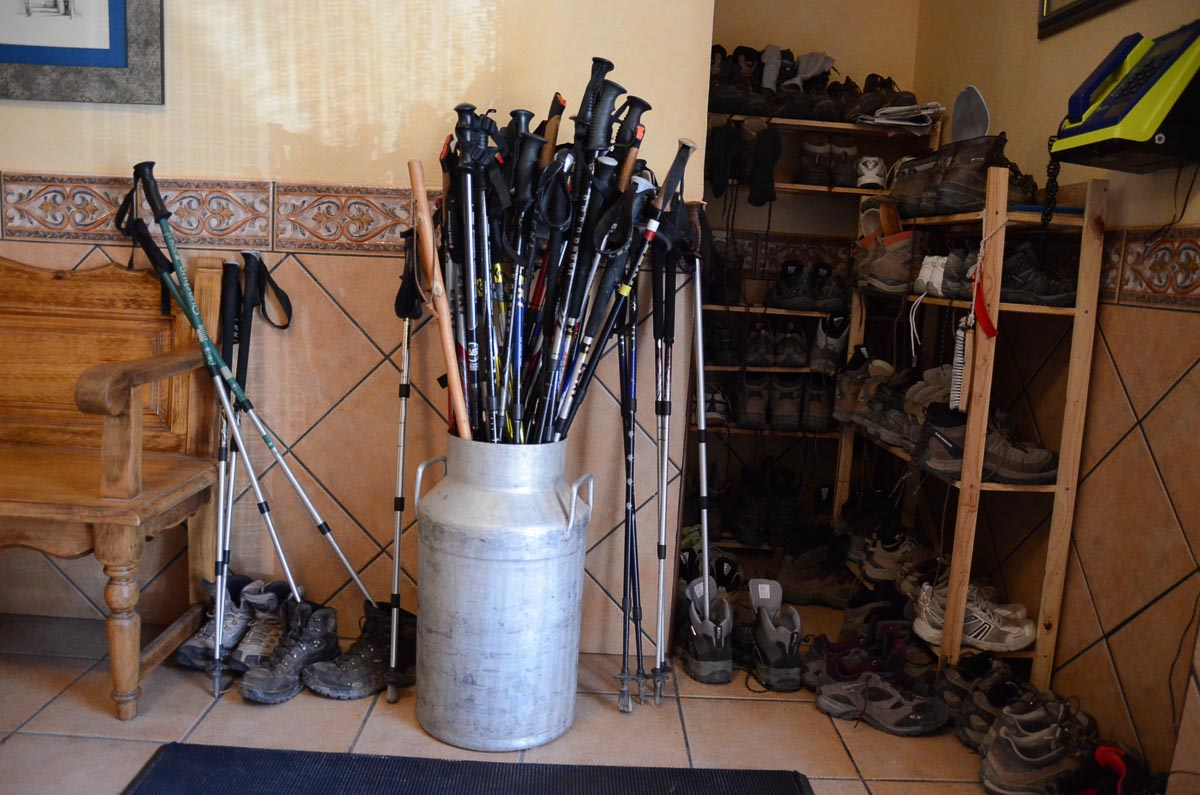 Kris and I walked the Camino de Santiago in the year I turned 60. We walked the Camino Frances from Saint-Jean-Pied-de-Port to Santiago in 40 days, including three rest days. We averaged walking 22 kilometers (14 miles) per day.
The Camino de Santiago is a long hike. Your Camino footwear – and the way you care for your feet – matter. A lot. Take the time to pick the right Camino socks and shoes for you, and break them in together before you start. Here are some things to consider as you are selecting your socks and shoes.
To see all of our posts on tips for the Camino de Santiago, click here: Camino de Santiago.

Some posts on Travel Past 50 may contain affiliate links. If you buy something through one of those links, we may earn a small commission. As an Amazon associate, we earn from qualifying purchases.

This is an update to a post originally published in 2013.
The best socks for the Camino
I'm going to start with socks instead of shoes, which you may think is backwards, but here's why: the all important fit of your shoes will depend on your socks. Thin socks? Thick socks? Two pairs of socks? The answers to those questions will matter for your choice of shoes.
Two layers of socks? No thanks
There are many theories about choosing socks and as many types of socks as there are theories. Here are the two that I used.
I started out with WrightSock Coolmesh II Lo Socks that are a sock within a sock. The theory of this type of sock is that the inner sock moves with your foot while the outer sock moves with the shoe. If all works as planned, the friction is between the socks rather than between foot and sock, and blisters are prevented.
Their Amazon pages says, "Blister-Free socks – No Blisters, Guaranteed!" I got blisters while wearing the WrightSocks. From what I know now, I would say these are more short distance running socks than hiking socks, and I'd avoid them. The synthetic fibers don't do a good job of wicking sweat away from your feet.
This two-sock method could also be tried by actually wearing two pairs of socks, and I did see people with a very light pair of inner liner socks and a heavier pair of outers. I don't see why this wouldn't work, except that that's just one more layer of heat being held into your shoe as well. And heat means sweat, and sweat increases friction, and you know the rest.
Blisters.
The main thing is find socks that absorb moisture and wick it away. The wicking away moisture is absolutely key. Those kind of socks are the ones that really prevent blisters.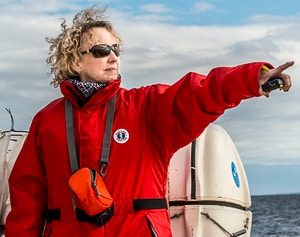 Want more tips like these?
Join the 3000 other travel enthusiasts getting our best advice right in their inbox.
Padding is important
Friction prevention and heat and moisture dispersion isn't the only function of your socks. Padding is also important. On many days you'll be walking for hours over sharp broken rock. On many other days, you'll spend a few hours on asphalt or hard crushed pebbles. On most days, you'll get a little of both. That pounding bruises feet.
I ended up buying a pair of Lorpen Coolmax Socks at a store along the way. These were trekking socks, medium weight, made in Spain, and provided some of the padding that the WrightSocks were lacking. (In fairness, WrightSocks are available in heavier varieties. I was using the Coolmesh variety, which are pretty thin.) The Lorpen socks were made of a blend of material called Coolmax and Merino wool and did a great job of wicking away moisture. Those turned out to be my first socks of the day from then on.
First socks of the day?
Probably the best piece of advice I got on the Camino, and will now pass on, is to change your socks midway through your daily walk. Sit down, take off your pack. Take off your shoes and take off your socks. Take a rest while you let your feet dry out in the air. Rub them for a while and work out any knots. Re-powder or re-grease your trouble spots. Take out a fresh pair of socks (which I packed every day in the outside pocket of my pack) and put them on. It will change your whole outlook on the day when you stand up and your feet feel like you're just starting out instead of like you've already been going for three hours.
Some other hiking sock choices you should try
One more note on socks: I've recently bought a few pairs of Falke Men's Cool Trekking Socks. They are expensive, but they're, believe it or not, made for right and left feet, just like shoes. They also come in more or less exact sizes, unlike most socks which come in at most two sizes. I have now worn them day after day on long walks and they are very comfortable on my usual day walking around town. These are definitely worth considering.
But that's not all. In my never ending quest for the perfect sock for hiking, I've recently acquired a couple pairs of Point6 Merino wool heavy hiking socks. If you favor a lot of padding, these are for you. I wore them for several days hiking the the St. Olav's pilgrimage in northern Sweden. If anything, that might be a tougher test than the Camino de Santiago. I've used them on a couple of day hikes around the Twin Cities area so far, and the short story is I love them. I also wore these socks on several 10-kilometer hikes on hot days in the African bush.
One thing I particularly like about the Point6 is their fit. They seem a little tighter and molded to my foot. In addition to providing a bit more arch support, that also means they slide around in the shoe a bit better, and that's a friction reducer.
Finally, another socks choice I discovered is Farm to Feet. They are unique in that they have padding on the top of your foot as well as the bottom. You don't know how good that feels in a shoe until you've tried it. I also like that Farm to Feet fit tight around the instep, which kind of supports your arch as well as keeps the sock from sliding around on your foot. Highly recommended.
As I said above, padding is important. My Camino experience is that thicker socks (as long as they breathe) are better than thinner ones. The Camino surface is often hard, and the padding is important. The Lorpen, Falke, Point 6, and Farm to Feet socks come in various weights. I love them all, but for long distances like the Camino, I lean toward heavier padding.
One final thought: another choice is between crew socks and ankle socks. A personal preference only, but I like crew length socks better. I don't know if the moisture wicks up the leg and out into the air, but it's a theory anyway. It seems to me that with ankle socks, all the moisture would stay in the shoe. You can dispute if you like and you'd probably be right, but I just don't know.
So, now that you've chosen your socks, be sure to try on your shoes with the socks you are going to wear. If you bought your shoes for thin socks, and you end up wearing thicker socks, it's not going to be as pleasant as you would like.
What are the best shoes for the Camino de Santiago?
Shoes or boots? What type of shoe?
Those are the questions. And the answer is, it depends on lots of things.
Shoes or boots?
Wear trail shoes. Not "running" or "walking" shoes. The harder soles and deeper treads of trail shoes are essential. And heavy high top hiking boots are overkill. You don't need them.
I wore two identical pairs (except for the color) of Adidas trail shoes that I alternated daily. (They don't make that exact model any more, but there are plenty of Adidas Terrex trial shoes I've had since then that I love.) Kris wore one pair of Adidas Trail shoes and one pair of high ankle hiking boots that she alternated. We were both right.
Another pair of hiking shoes I've tried recently and really like are Xero. Xero's philosophy is extreme light weight, extreme flexibility, big toe box, and the "barefoot feel" of minimal heel elevation. I've worn my pair of Xero Prio shoes around town and on some light hikes and, the preliminary verdict is I love them. As I said, they're light weight, they breathe, and they keep my feet cool.
For the Camino and heavier duty hiking, though, I'd probably go with a different model of Xero, specifically the Xero Mesa Trail II, which, as the name suggests, is a trail shoe. Honestly, I haven't tried this model yet, but will soon and will get back to you on how they work.
One thing I love about the Xero website is their "find your shoe" feature, which prompts you with some questions about your shoe use and then will suggest the shoes that meet your needs.
The advantages of a good pair of trail shoes is that they're lighter than boots, yet still have a tough tread that works on the various surfaces you're going to encounter. Another feature of trail shoes over walking shoes is that the sole is harder and protects the bottom of your feet from the uneven and sometimes sharp rocks you'll be hiking over. Another advantage of this particular shoe (and many other trail shoes) is that the upper is a mesh fabric that allows your foot to breathe and cool better.
The disadvantage of trail shoes is that they provide less ankle support than high top boots. As you consider high top boots, remember this: you're always just one rolled ankle away from the end of your Camino. A high top boot can save you from injury if you do turn your ankle slightly. Hiking poles may also save you, btw. They saved me on more than one occasion.
But, even better, keep this in mind: while you hike the Camino, hike. Don't gape distractedly at the beautiful landscape. Always watch where you're stepping. If you want to gaze at the countryside or take a photo, stop walking and look. Pay attention while you're walking.
What is the best trail shoe for the Camino?
I'm not saying you should buy the Adidas shoes just because I did. The best advice I can give is go to your local outfitter and try on several pairs (with your chosen hiking socks) and pick the ones that fit you the best.
Then, try them out and break them in. Take them on a few long hikes before taking off for Spain and make sure they are the ones for you.
As for breaking in your shoes, obviously, only an idiot starts an 800-kilometer hike in new shoes. (We met such a person. She was incapacitated by blisters by day three and had to abandon the Camino.) However, the cushioning inherent in a good trail shoe is important. Don't wear it out before you start. A week or two of wearing the shoes before you start is probably plenty.
Another bit of advice: buy your shoes a half size or a full size bigger than you think. There are two reasons for this: 1) you're feet will grow one size on the Camino. Trust me on this. Almost everyone I talked to said it happened to them; and 2) you want plenty of room in the toe box, especially when you're going downhill, which you will be doing a lot. If you're jamming your toes into the end of your shoes, you're going to end up with black toenails, and that's a lot worse than blisters.
Buy two pairs of shoes
Why two pairs of shoes? Aside from being able to change if one gets wet from rain or wading across the occasional shallow stream, you will find that the sweat from one day's walking will often not dry before the next morning. I found it a lot more comfortable to be able to put on a dry pair of shoes every morning. That was worth the weight of an extra pair to me.
Every day, I'd tie yesterday's shoes to the outside of my pack with the packs straps and two carabiners. As I walked, they got the air and sun they needed to be nice and dry for the next day.
Another note on hiking boots: I have a good pair of low top Oboz hiking boots that I've used for mountain hiking in the Rockies and Andes mountains and am very fond of, but I decided to leave them at home and just go with the trail shoes. The amount of rugged terrain on the Camino is limited (although sometimes very uneven and challenging) and you have to decide whether it's worth trading the extra weight for the extra support for about five percent of the path. I'd say the verdict as expressed by most pilgrims was about 50-50.
The best women's shoes for the Camino
As I mentioned above, Kris also had two pairs Camino footwear: one pair of trail shoes and a pair of high top La Sportiva hiking boots. All the above advice for picking and fitting your footwear goes equally for men and women, with one distinction. I've been told by a favorite orthopedist that women tend to have "looser" joints than men, i.e. they're more flexible. The implication of this is that women are perhaps more susceptible to ankle injuries, so consider that when you are choosing between high and low top shoes.
How to tie your shoes
The final best piece of advice on shoes is learn how to tie them properly. You've all looked at that extra set of holes behind your top lace holes and wondered what the heck they're for. The answer is: to keep your shoe from sliding around on your foot, especially to keep your foot from sliding forward and jamming your toes into the end of your shoe.
Learn how to tie your shoes properly by watching this video. You'll be glad you did.

What to wear at night
You don't want to have to wear your shoes or boots in the evenings when you're hanging out and having dinner and a glass of wine with your new Camino friends. Get yourself a nice padded pair of flip flops like the Teva Mush flip flops. (These will also serve as your shower shoes.) These are ultra light, dry almost immediately, and will give your feet the breathing and cooling time they need. I hung these on the outside of my pack as I walked, too.
Blister Prevention and Treatment
As you walk, you'll begin to think that everyone around you is getting nasty blisters. Despite what you may think and hear, blisters are not inevitable. You may get some, even if you're very careful with your foot care. (I admit, I had a few early in the Camino.)
The real trick is to limit your foot problems to just blisters. I saw much worse.
The best blister prevention is dry feet
There are, again, two theories of how to treat your feet before putting on your socks: powder and grease. I'm a powder guy. Specifically, Gold Bond Medicated Foot Powder. Some people insist putting a Vaseline-like substance on your heel and between your toes is the best way to stop friction, and they're entitled to their opinion.
I like keeping my feet as dry as possible as the best way to reduce friction. And that means powder. Put it between and on the top and bottom of your toes, on your heels, the top of your foot, your instep. In fact, just coat your foot in it before you put your sock on. Then sprinkle some inside your shoe.
Do it all again when you change your socks midday.
The other advantage to powder is that it's light weight. A small container will last you the entire Camino, with enough left over to treat the inside of your shoes every now and then to help dry them out (and smell better.)
Your blister first aid kit
You do need a first aid kit, but make it up yourself. You don't need to buy one off the shelf. In one of the many plastic bags you'll be carrying, put a roll of athletic tape, Band-aids of various sizes, a few needles, a tube of antibiotic cream, several alcohol swabs, and a small scissors for trimming the Band-aids or athletic tape. And the foot powder mentioned above. That's your blister kit.
For other eventualities, include an elastic or crepe bandage wrap for a temporary fix of a sprain or joint soreness until you can get a better solution when you get to the next town. Also, include a gauze pad in case of a larger cut or scrape. Also, carry ibuprofen. Lots of ibuprofen. Finally, antacid tablets and anti-diarrhea tablets such as Immodium are a good idea. You also might get a prescription for an antibiotic from your doctor, just in case. In Spain though, a pharmacist can give you antibiotics without a doctor's prescription. You will probably have to have enough Spanish to explain to the pharmacist what you need it for, though. (Luckily, the Spanish word for diarrhea is la diarrea. Pretty similar pronunciation.)
How to treat a blister
Here's how to treat a blister. (I got this from a Major League Baseball team's head athletic trainer and discussed it with a doctor. They both agreed this was the way to do it.) Wipe the blistered skin and your needle with an alcohol swab. Puncture the blister at its base by passing the needle all the way through it from one side to the other. After you've made the holes on each side of the blister, push gently on the blister with the alcohol swab to squeeze out as much liquid as possible. Put a generous drop of the antibiotic cream on the blister and cover it with the appropriate sized Band-aid. Cover the Band-aid with athletic tape to hold it in place as you walk. Finally, pour some foot powder on the tape to make it slip easily inside your sock. Otherwise your shoe will pull the tape and the Band-aid off pretty quickly. Then you have a lump of tape and Band-aid in your sock. That's another blister, for sure.
That's it.
Probably the foot blister will refill with fluid at least once or twice as you walk the next day or two. Repeat the draining and bandaging process if it does. When the blister no longer fills up, I found the best thing to do was not cover it any longer. Just powder it well and put your sock right over it. The skin will eventually harden into a callus, which is just what you want.
A variation which also worked for me was to skip the bandaging at night. At night, I wore only flip flops, which left the blister open to the air. That felt better, and I'm sure also accelerated the healing.
If you have any other injuries, you can get what you need at Spanish pharmacies that are in any of the larger towns. The albergues can also direct you to actual medical professionals who serve the peregrinos. Usually, doctors and other health professionals who donate their time provide these services free to peregrinos.
Read Kris's post on what it's actually like to walk the Camino de Santiago.
To see all of our posts on tips for the Camino de Santiago, look here:
The gear you want to pack
The right clothes
Walking sticks
The best way to carry water
The backpack

Travel Planning Resources
Looking to book your next trip? Use these resources that are tried and tested by us. Flights: Start finding the very best flight deals by subscribing to
Thrifty Traveler
. Book your Hotel: Find the best prices on hotels with
Booking.com
. Find Apartment Rentals: Find the cheapest prices on apartment rentals with
VRBO
. Travel Insurance: Don't leave home without it. We recommend
Allianz Travel Insurance
. Need more help planning your trip? Make sure to check out our
Resources Page
where we highlight all the great travel companies and products that we trust. See all of the gear and books we like in one place on our
Amazon shop
.