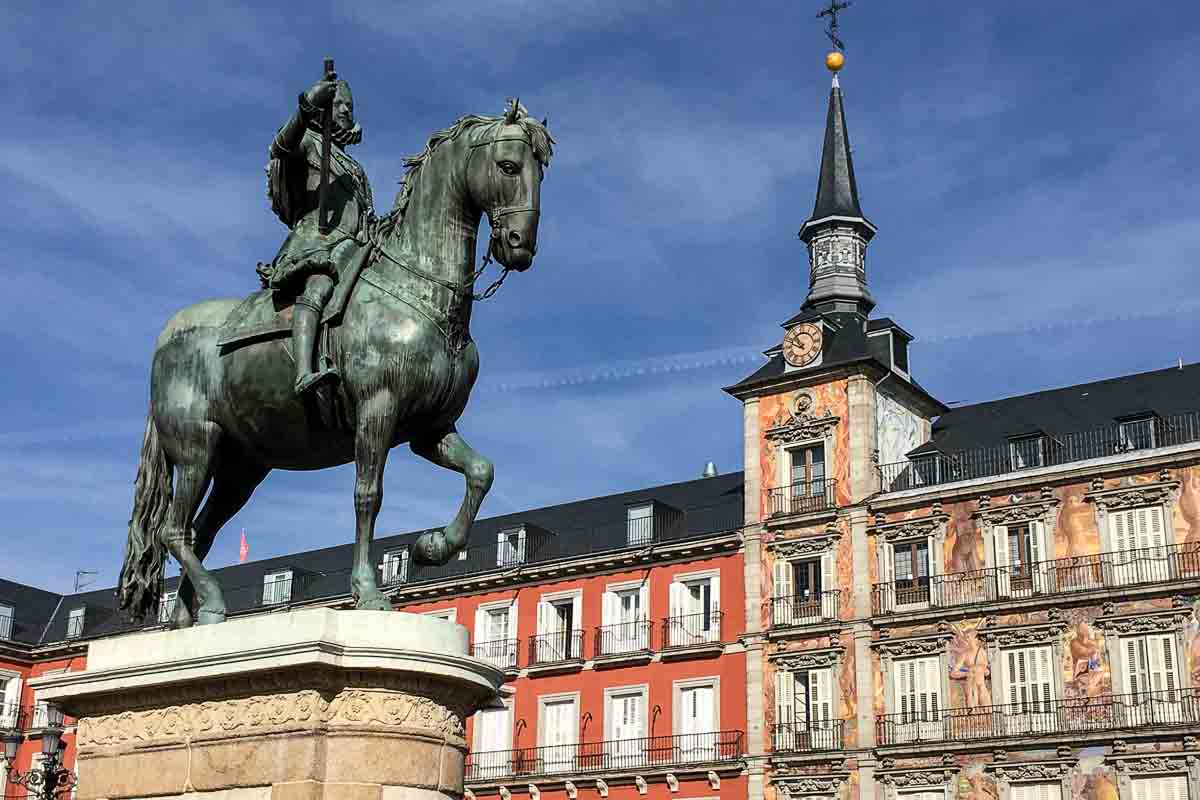 This is an update of a post originally posted in 2021.
It is hard to write about Madrid as a place to visit, since for us it was a place to live. We lived in Madrid for nearly two years, and since then, we've been back dozens of times. To us, it is more than the sum of its substantial parts.
Our essential Madrid combines the memories and emotions recalled when we see a favorite painting in the Prado for the tenth time. It is the friends we made long ago and visit when pandemics permit. And, it's the new friends we make, even if briefly, in the rounds of tapas and glasses of sherry we share with the people on the other side of the bar.
Since first reading about Fernando and Isabel in grade school history, imagining myself in the hysterical adventures of Don Quixote and Sancho Panza in high school, and finally coming to a mature understanding of Spain's role as a tragic background in Hemingway's The Sun Also Rises and For Whom the Bell Tolls, I knew before I got there that this history and literature and landscape had to be experienced firsthand.
This is the country of Flamenco, and to a lesser extent today, bullfighting. (Today, it's the fútbol.) It is jamón that's been cured for years instead of being boiled, and it's cuisine of subtle flavor that is meticulously curated, then cut into small bites and given away with a glass of wine. And yes, the wine. The heady Priorat, the perfect Rioja, the pungent Amontillado sherry, the bright vermouth, and the copa of working man's brandy sometimes taken with breakfast.
All of this–and more–makes up Madrid for me. Madrid is the capital of Spain in the sense that it's the head and the essence of all that makes Spain the place for both intellectual and visceral sensation. It is ambience that needs to be inhaled by visiting all the things and people that populate this ineffable city.
Here are some places to start.
What to eat in Madrid
While many Spaniards will dismiss Madrid's cuisine in favor of the country's distinct regional hubs, the fact is that all of Spain's culinary traditions are represented in Madrid restaurants and bars. Find everything from Basque pintxos to Andalucian gazpacho, from Extremaduran jamón to Catalan rice dishes, to Castile and Leon roasted lamb. And, of course, the specialty of Madrid, cocido Madrileño. Madrid has everything from Michelin Star to dive bar. Try them all.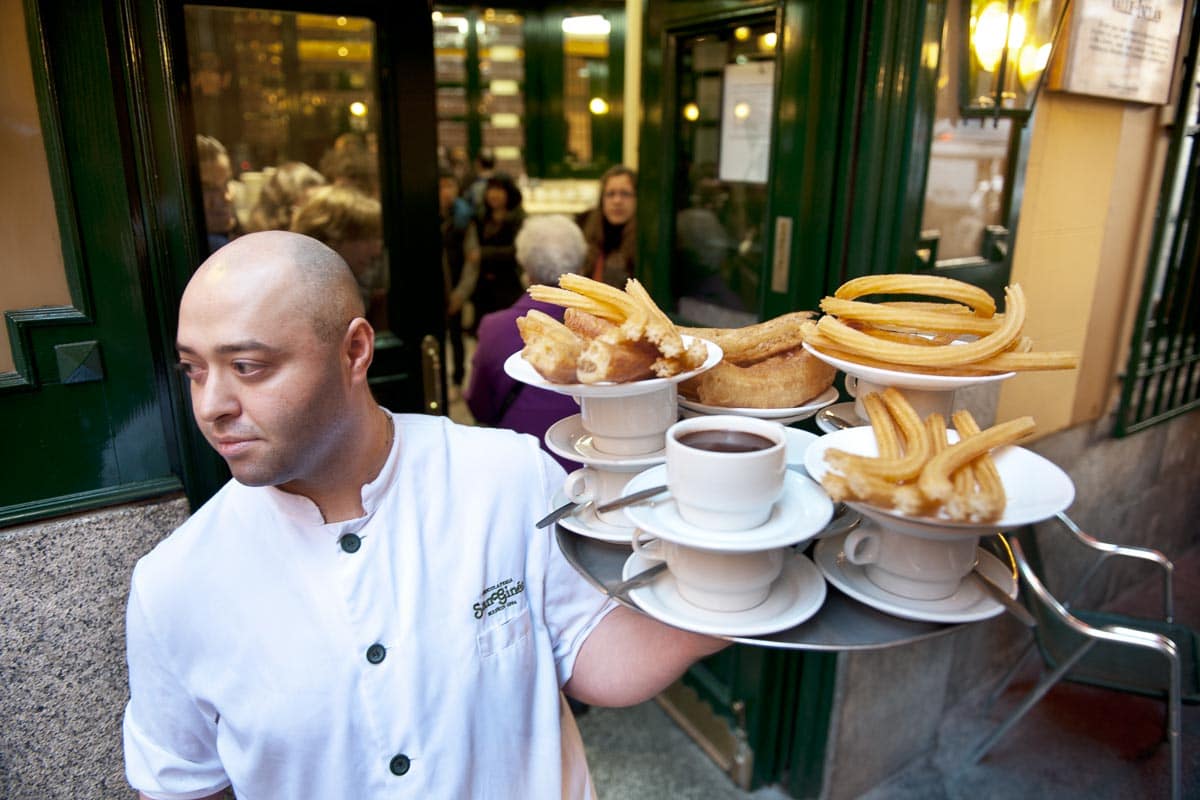 Breakfast in Madrid
First La Mallorquina, on the west end of the Puerta del Sol at Calle Mayor 2, is a classic Madrid pastry bakery. When you enter the narrow doors, you're typically confronted with dozens of Madrileños queued up for the astonishing variety of pastries. If you're not satisfied with a croissant, you'll have scores of sweet and savory pastries to choose from. Never mind trying to name them. Just point, order a café con leche, stand at the counter and enjoy. Alternatively, you can go upstairs and sit at a table and be waited on. But then, you won't be able to point at what you want, and if you're not versed in the names for various pastries, you're stuck with a croissant.
But my favorite Madrid breakfast is at Chocolateria San Ginés, at Pasadizo de San Ginés, 5, about two short blocks from the Puerta del Sol's west end. There, you'll also get a real Madrid experience, thick hot chocolate in a cup and churros to dip. The Chocolateria is open 24 hours, so it's not just for breakfast. You'll see lots of people stopping by after clubs close for dessert following a long night of partying. But, you're having breakfast, so go ahead, stand in line, and enjoy.
For some other suggestions for chocolate and churros, you might want to read this.
Lunch in the neighborhood of the Puerta del Sol
There are hundreds of choices within eight to ten blocks of the Puerta del Sol, and I do recommend getting off the Puerta itself, or you'll find yourself paying too much for mediocre tourist fare.
Here are some of our favorites:
Bar Ñeru, at Calle Bordadores, 5, is an Asturian restaurant that specializes in Fabada Asturiana, a hearty bean stew with three types of sausage providing savory punctuation to the big flavorful beans. Start with an appetizer of grilled octopus and wash it all down with typical Asturian cider. You can stand at the main floor bar and take this all in in tapas fashion, or head downstairs for a more leisurely sit-down lunch.
Bar La Ideal just off Plaza Mayor at Calle Botoneras 4, is about as traditional as it gets. You can have a calamares sandwich, or just a pile of lightly breaded rings on a plate. There are some other options on the limited menu, but trust me. This place has great calamares that are deep fried right in front of you. And it's cheap. Wash them down with a caña–a small glass of beer.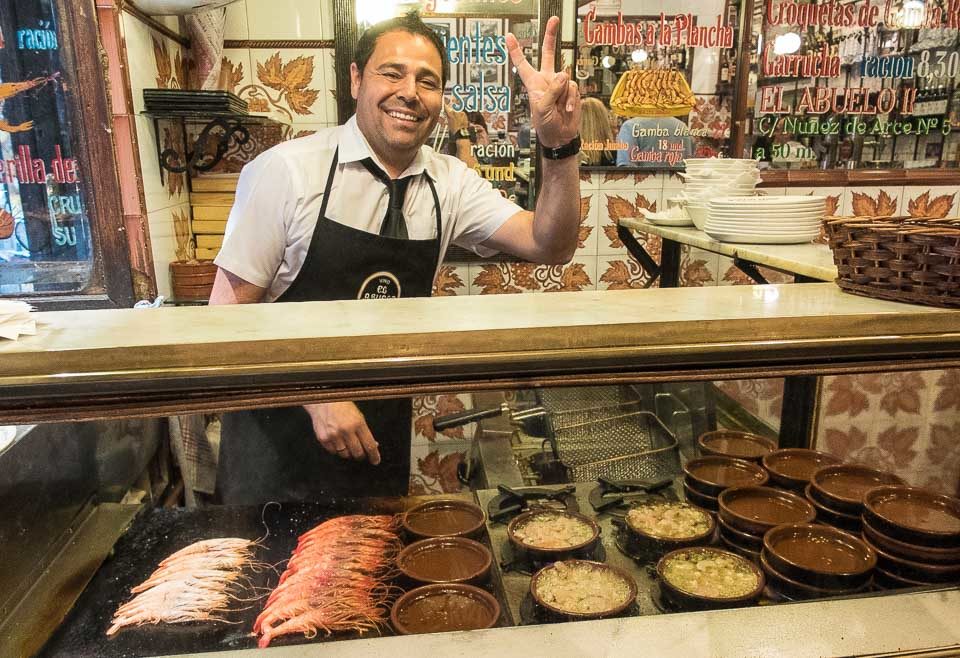 La Casa del Abuelo, Calle Victoria, 12, just off Plaza Mayor. The gambas al ajillo, (shrimp in garlic) are significantly spicier than the Madrid standard and shouldn't be attempted by the faint of heart. But with a few beers and some bread to sop up the oily goodness, you'll be fine.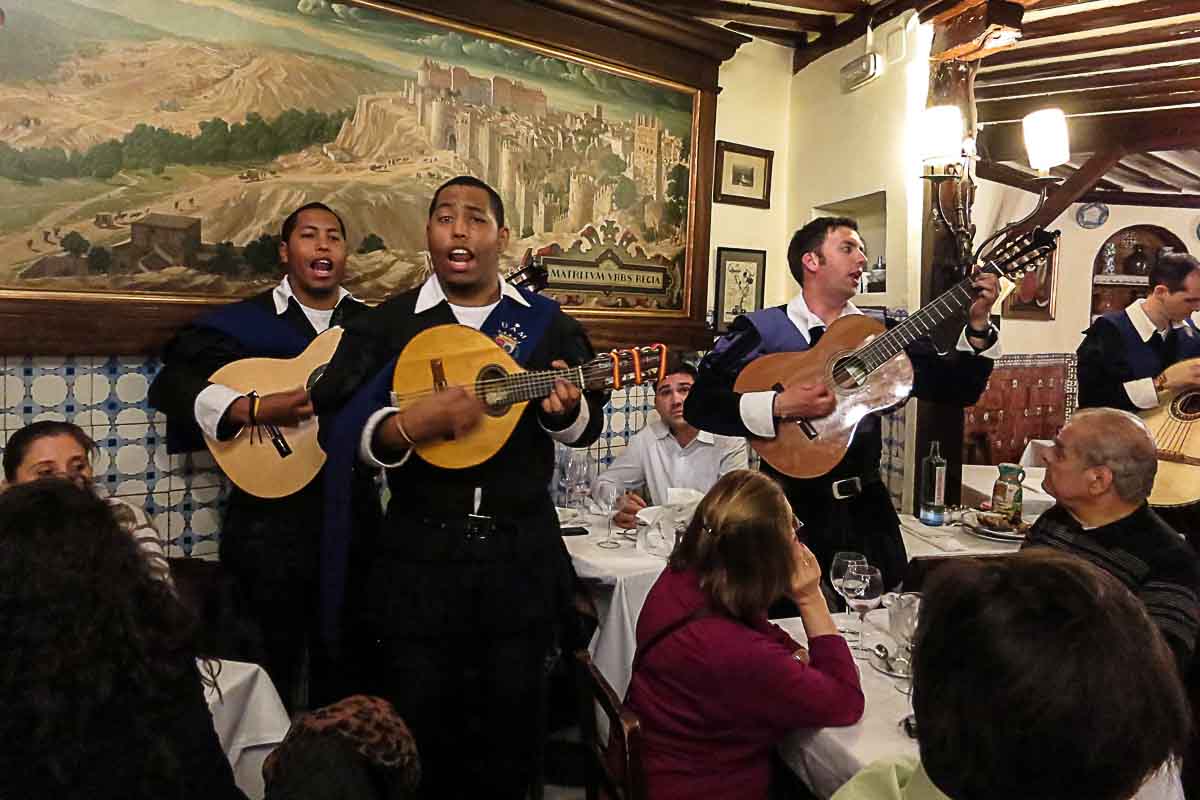 Dinner in Madrid
A lot of Madrileños will tell you it's a bit touristy, but don't let that dissuade you. Restaurante Botín, or if you want to get picky and go by its full name, El Sobrino del Botín, just down the hill from Plaza Mayor, is an experience you need to have at least once. For one thing, it's the oldest continually open restaurant in the world, dating back to 1725. But more important, it's the old traditional Castillian cuisine that sets this place apart. There is a long menu, but take my word for it, there are only two main courses you should choose from: the cordero asado (roast lamb) or the cochinillo (suckling pig.) My best suggestion is go with a friend, each order one, and share. For starters, split an order of asparagus with mayonnaise, and maybe a green salad. But go easy and leave room for all the meat. You will be licking your fingers afterward. As for wine, a Pesquera from Ribera del Duero complements the lamb and pig perfectly. You'll need reservations, btw, and your hotel can help you with that.
Finish with an espresso and a Spanish brandy, such as Cardinal Mendoza or Carlos I. The whole night will be a splurge, but you'll remember it for the rest of your life.
Tapas
Once you've done Botín, your next nights should be spent on the small plates, or tapas, tour.
There's even a Spanish word for how barhopping is done here. It's tapear and it means, literally, to have tapas. By extension, it means go from bar to bar and have a tapa in each one. It's a great way to live, a great way to eat, and a great way to strike up a conversation with the people standing next to you at the bar.
Here are a few suggestions for where to tapear.
There's a street called Cava Baja that is lined with small restaurants that mostly serve little plates for €2-4 that are elaborations on the simple tapas you'll get with your drinks in most bars. Check out a few of them. They're all good. But Restaurante La Chata near the top of the Cava Baja stands out. They also have a long wine list, which is a relative rarity for a typical Madrid bar.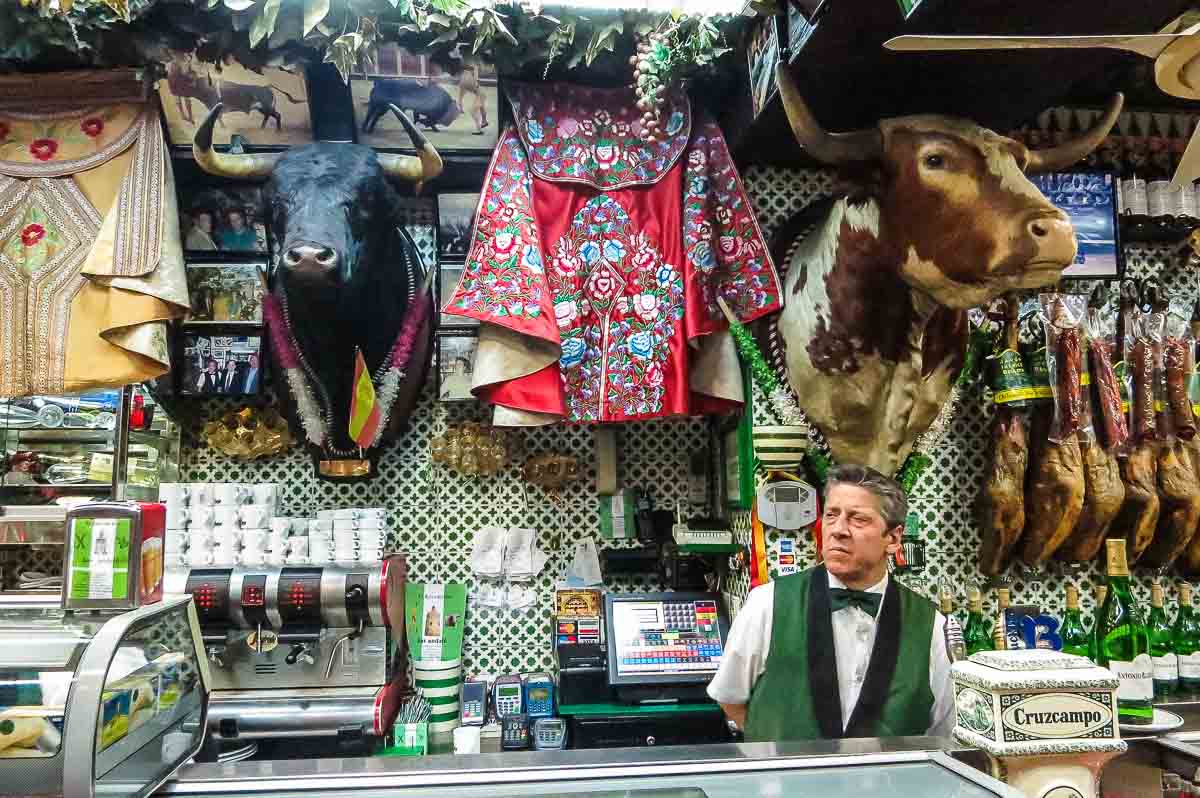 La Torre del Oro on Plaza Mayor. This place is recommended more for the atmosphere than the cuisine, although their pimientos de Padrón, fried green sweet peppers (with an occasional surprise spicy one thrown in) and pescaíto, fried fish, are typical and tasty. If you want to endear yourselves to the Andalusian proprietors of this place, order a fino, a dry sherry, instead of a wine or beer. If bullfighting turns you off, skip this one, as the walls are hung with bullfight photos and bulls' heads.
The other must do is the Mercado San Miguel just near the Plaza Mayor. This market used to be the food market for the neighborhood but has now been turned into a huge carnival of Spanish cuisine. Just browse the stalls and get your choice of a plate of paella, grilled eels, smoked white fish, or, my favorite, an assortment of olives to go along with a glass of earthy vermouth. If vermouth isn't your deal, there are martini bars, a massive selection of wines, and one bar that serves a dozen varieties of sherries. Of course, if it's summer, there's always a place mixing a vast assortment of gourmet gin and tonics.
The more modern and less touristy Mercado de San Antón in the trendy Chueca neighborhood offers gastronomic delights to enjoy onsite at bars, at a sit-down restaurant, or for take away.
Finally, the Arco de Cuchilleros street, where you ate at Botín, also features many typical Madrid bars that serve very traditional plates of cured meats and cheeses and more. Of particular note is Rincón de la Cava for a plate of olives, jamón, and other meats. Next door is the Meson de Champiñones, the House of Mushrooms. Have at least one order of grilled mushrooms with chorizo and a short beer.
Cervecería Alemana in the Plaza de Santa Ana is one of our favorites. You can see from the decor that it hasn't changed much from when expat luminaries such as Ernest Hemingway, Orson Wells, and Ava Gardner with her bullfighter boyfriend Luis Miguel Dominguín used to hang out here. It's one of the best places for all traditional raciones such as boquerones (sardines in vinegar) and some sliced chorizo or jamón with crusty bread.
If you are adventurous, end your tapas expedition at the famous Sherry bar called La Venencia, at Calle Echegaray, 7. Hemingway used to drink here, and it hasn't changed much. It's shabby and raucous. You can get a bottle of fino sherry for about €8, and something to soak it up with for a couple of euros more. Walk it off on your way back to your hotel.
If you're having trouble deciding on your culinary itinerary, consider the Madrid Food Tour from Devour Tours. It is simply the best introduction to Madrid cuisine, and may take you to a couple of the places named above.
For a list of what foods to eat in Madrid, see this post from Spanish Sabores.
Lauren Aloise, the owner of Devour Spain and Spanish Sabores, also suggested a couple restaurants with a more "modern" take on Spanish cuisine. Lauren says, "I would recommend Celso y Manolo (Calle de la Libertad, 1,) and Sala de Despiece (Calle de Ponzano, 11,) as two great more modern options. I also love Angelita (Calle de Reina, 4,) for both food and wine selection; and for craft beer and wine from tap with Galician food and amazing cheese platters, go for La Caníbal, (Calle Argumosa, 28.)"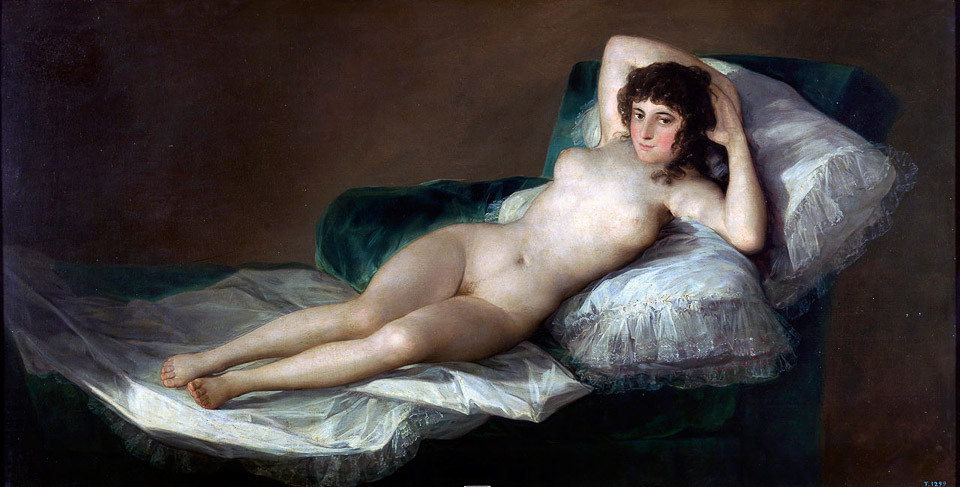 What to see in Madrid
Like all great cities, Madrid offers a blend of places to visit. Art museums and galleries, shopping streets, parks, historic monuments, and modern markets to inspire visitors and continually engage residents. Madrid's museums, in our opinion, are often underrated, so check out this guide to Madrid museums to ensure you don't miss out.
The Prado
Madrid has several special art museums, but in a limited visit, you should hit the big two, The Prado and The Reina Sofia. If you have time, pick another. We  advise you to spend an entire day in the Prado, from opening to close–and you still won't begin to take in the whole thing. If you need convincing of The Prado's importance, keep in mind that its anchors are the collections of the kings of Spain during the period it was the richest and most powerful country in the world. King Felipe IV gave his court painter, Diego Velazquez, a blank check and sent him all over Europe to buy the best paintings he could find. The result is amazing.
Here's what to look for in The Prado:
First is the spectacular Descent from the Cross by Roger van der Weyden, one of the very best paintings of the Renaissance. I can stand in front of it for the better part of an hour and not get tired.
Another of the most famous and marvelous paintings you can't miss is Hieronymous Bosch's The Garden of Earthly Delights. A surrealistic fantasy that predicted Dali, it's also a sick theology lesson for the illiterate congregation you want to frighten into following the teachings of the Church. Paradise, Earth, and Hell. It's all there.
There are plenty of other highlights, particularly Goya's Majas, the Albrecht Durer self portrait and his Adam and Eve, and, of course Velazquez's Las Meninas.
I've skipped over mentioning the Rembrandts, the Titians, the Rubens, the El Grecos, and Goya's Black Paintings. Don't you skip them, though. The Black Paintings room alone is worth an hour.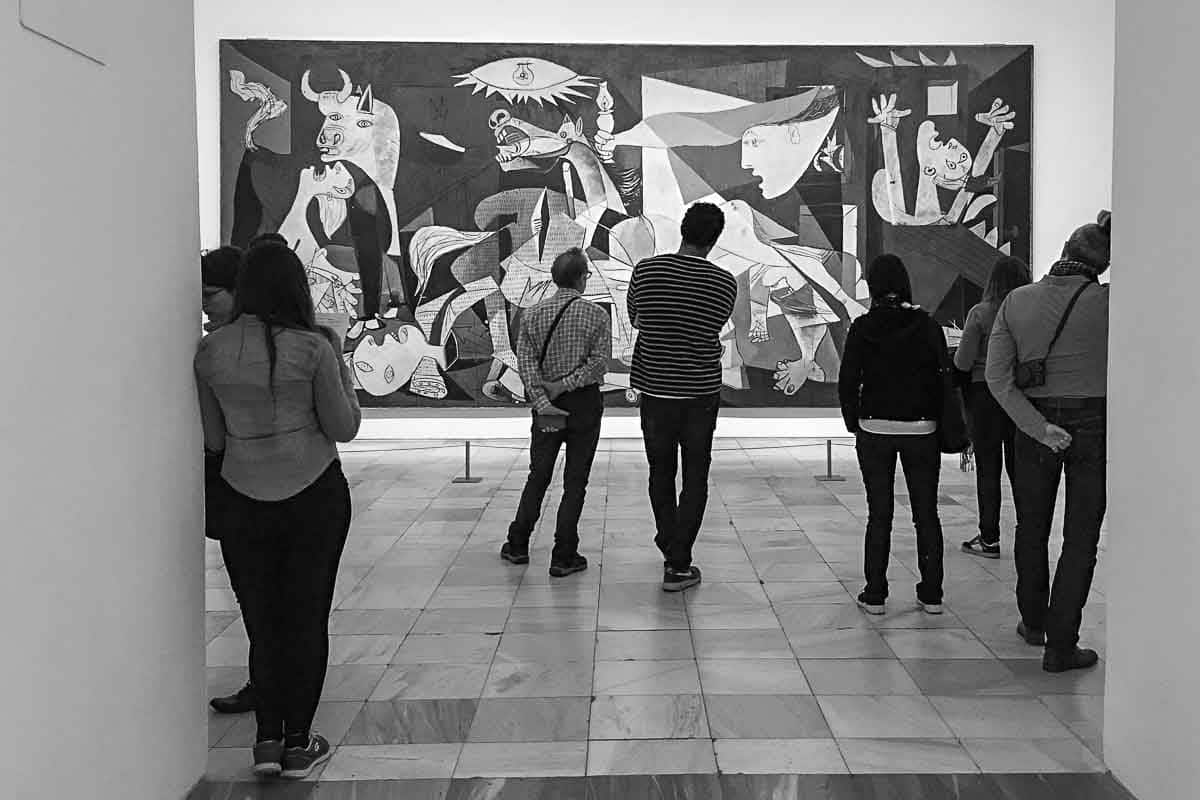 The Reina Sofia Museum
If you haven't exhausted yourself by your day in the Prado, spend the next day in the Reina Sofia, which is nearby. Here you'll see much of the best of Spain's more modern art such as Miró, Dalí, and especially Picasso. The main reason to visit the Reina Sofia though is one painting, Picasso's Guernica.
Guernica, a huge painting in black, white, and gray, depicts Picasso's impression of the bombing of the defenseless Basque village of Guernica by the German Air Force during the Spanish Civil War. The village was leveled and most of the inhabitants were killed in what amounted to an act of terrorism and practice for Hitler's Blitzkrieg he'd later loose on the rest of Europe.
Like the Prado's Bosch, it's also full of hellish details that can transfix you for an hour. Combined with the adjacent rooms that house most of Picasso's studies for Guernica, you can realize a pretty good art history education in a short afternoon.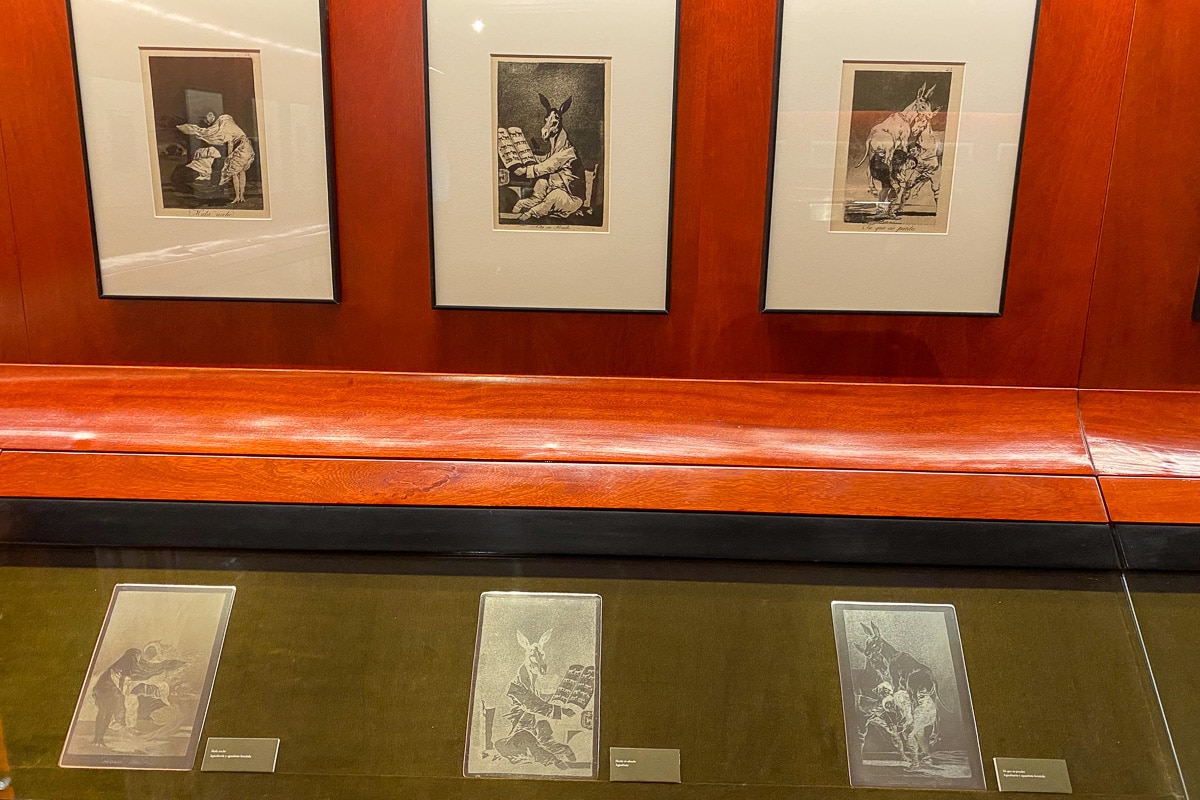 The Real Academia de Bellas Artes de San Fernando
The Royal Academy of Fine Arts on Calle Alcala is worth a stop for a few reasons. There is always a rotating exhibit of current interest. It is the home of the famous etchings of former professor at the school Francisco de Goya, and most are on display, along with the original plates. And finally, there's the atmosphere lingering from its famous professor and students, whose names you might know. Picasso, Dali, Oscar de la Renta, and the Colombian Fernando Botero.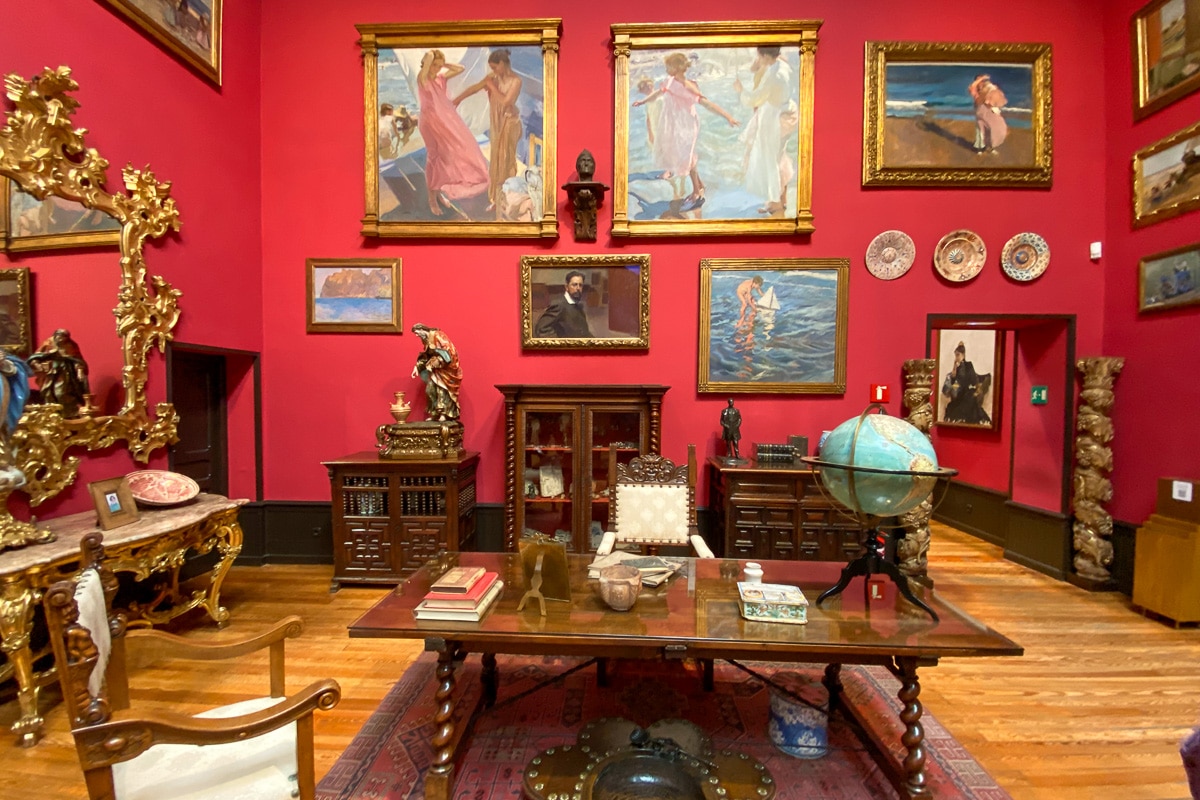 Museo Sorolla
The Sorolla Museum was the home in which the artist Joaquin Sorolla lived from 1911 until his death in 1923. The house and all its belongings were bequeathed to the Spanish government by his widow Clotilde García del Castillo who asked for a museum to be opened in Sorolla's memory.
In the museum, you'll find most of the objects Sorolla acquired throughout his lifetime, including sculptures, ceramics, traditional clothes and jewelery, letters and photographs. It is also home to the collection of over 1200 of his paintings and drawings.
Other Madrid Museums
Some smaller museums worth looking at include the Monastery of the Descalzas Reales. This is not a museum, per se, but it's a little oasis of interesting art and history in the middle of the center of old Madridm including some very interesting tapestries and more, which you can read more about here.
If you like classical landscapes, check out the Thyssen-Bornemisza Museum.
Of course, there's also the Royal Palace, if opulence is your thing.
Some other gems of Madrid
Sunday is special in Madrid because El Rastro, the open air flea market, comes to life. (It's also open on most holidays.) El Rastro is located along Plaza de Cascorro and Ribera de Curtidores, between Calle Embajadores and the Ronda de Toledo (just south of the La Latina metro station). It is basically one long street in the La Latina neighborhood–a 10 minute walk from Puerta del Sol–full of booths selling clothes, hardware, antiques, toys, electronics, and almost anything else you can think of. There's a fair amount of Chinese dreck, which you should ignore. Concentrate on finding hidden treasures such as, perhaps, a slightly damaged Goya etching or a Renaissance-era coin. Also, every side street shop–usually featuring tonier antiques and art–is open as well. Even if you're not ready to buy, it's a lot of fun to look. On a normal Sunday, it's a mob scene, so beware. The word rastro literally means slaughterhouse, and there are some of the crowded aspects of that included in the experience. Luckily there are several nice bars along the route where you can retreat for refreshment.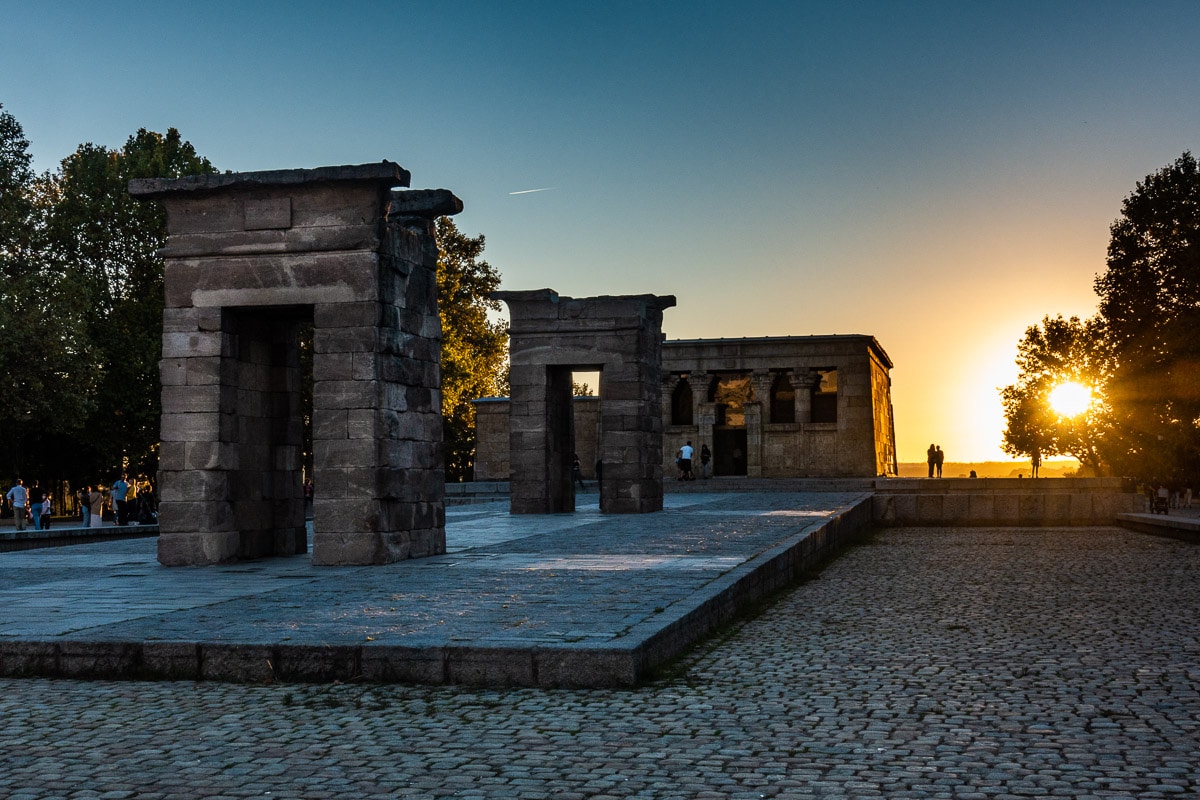 The Egyptian Temple of Debod in the Parque de Oriente. The Egyptian government gifted the temple to Spain in gratitude for its help relocating monuments during the construction of the Aswan High Dam on the Nile. Fun to walk around and perhaps have a picnic. From the park, there is an overlook of part of the city.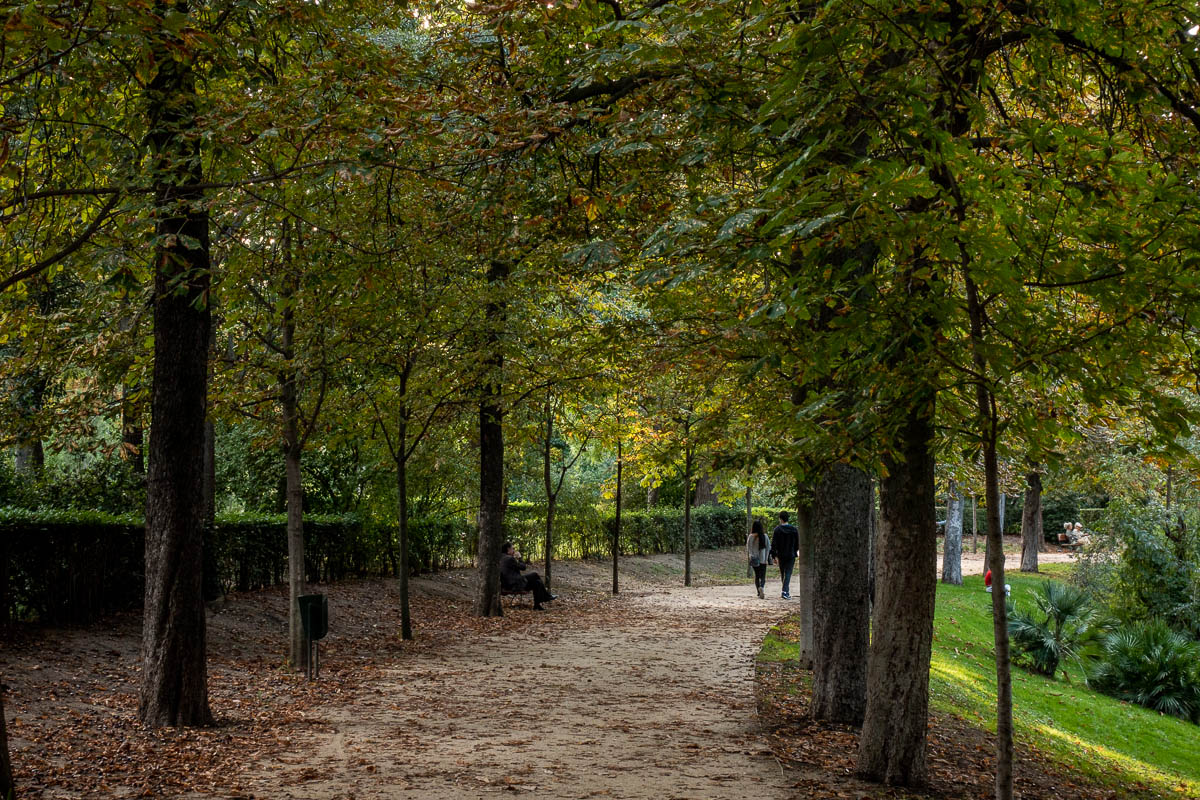 The Retiro Park, (Parque del Buen Retiro) when you need a break from the city, take a lovely quiet walk through the Retiro. Be advised, though, there will be lots of Madrileños joining you.
The Santiago Bernabéu football stadium, the home of Real Madrid, which is without doubt the historically greatest soccer club in the world. (Sorry Manchester United, but it's true.) Take the Real Madrid tour for a taste of the history of the club and the stadium.)
The statue of Don Quixote and Sancho Panza at Plaza de España. If you can figure why the Spanish revere a literary character designed to mock them, you'll be way ahead in your understanding of the Spanish people. I'd even suggest reading Don Quixote. One might argue that you can't appreciate Spain truly if you haven't. By the way, Cervantes' tomb was only recently discovered in Madrid.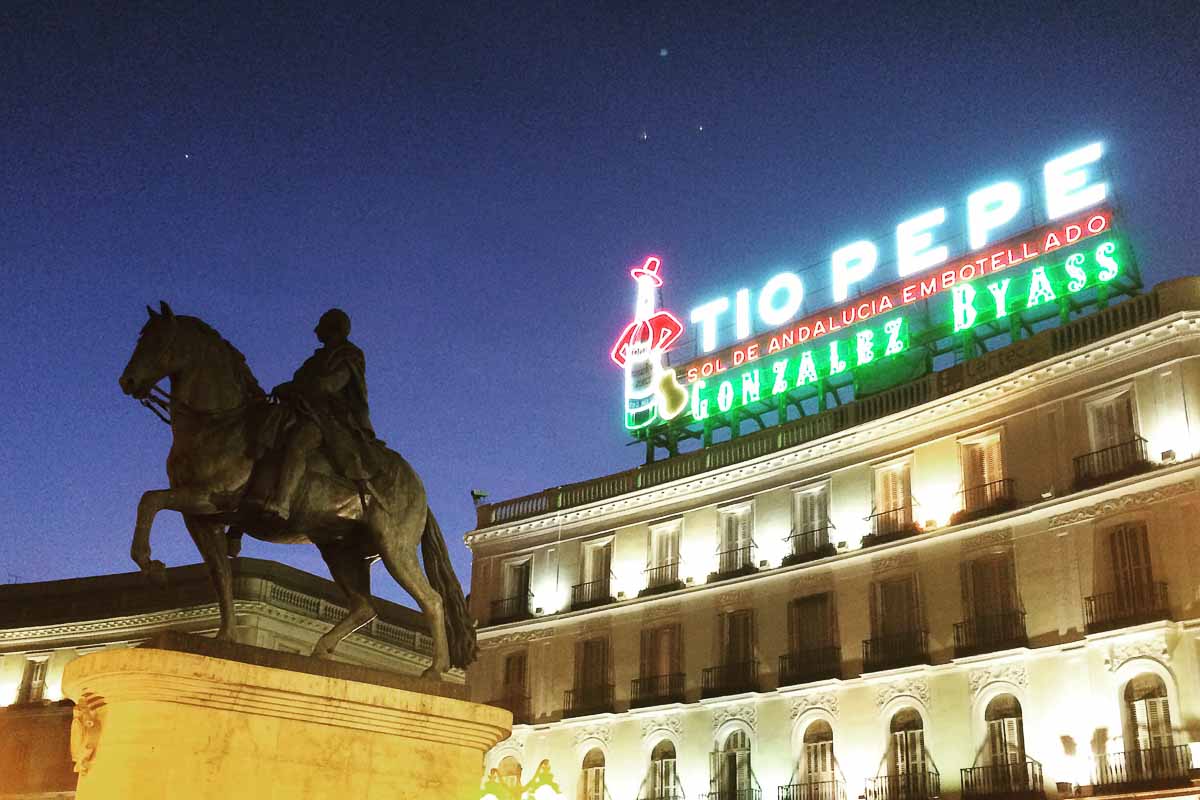 Puerta del Sol and Plaza Mayor I lump these together because they're very close to each other and both could claim to be the epicenters of traditional Spanish and Madrid Culture. The Puerta del Sol is a large square from which ten walking streets lined with stylish shopping and tapas bars radiate. Sol is also the center of all things spontaneously political in Madrid, maybe because those ten streets all lead to the Puerta. The Spanish are passionate about their causes, and any demonstrations for or against any matters of the day will always start, or end up, here.
The Plaza Mayor, on the other hand, is the mellow counterpoint to Sol. It's a square dominated by outdoor cafes where you can sit and watch street musicians and other performers throughout the night. The Spanish have a word, trasnochar, which means to "go all night." Plaza Mayor, especially in the summer, is the center of Madrileños' propensity to do just that.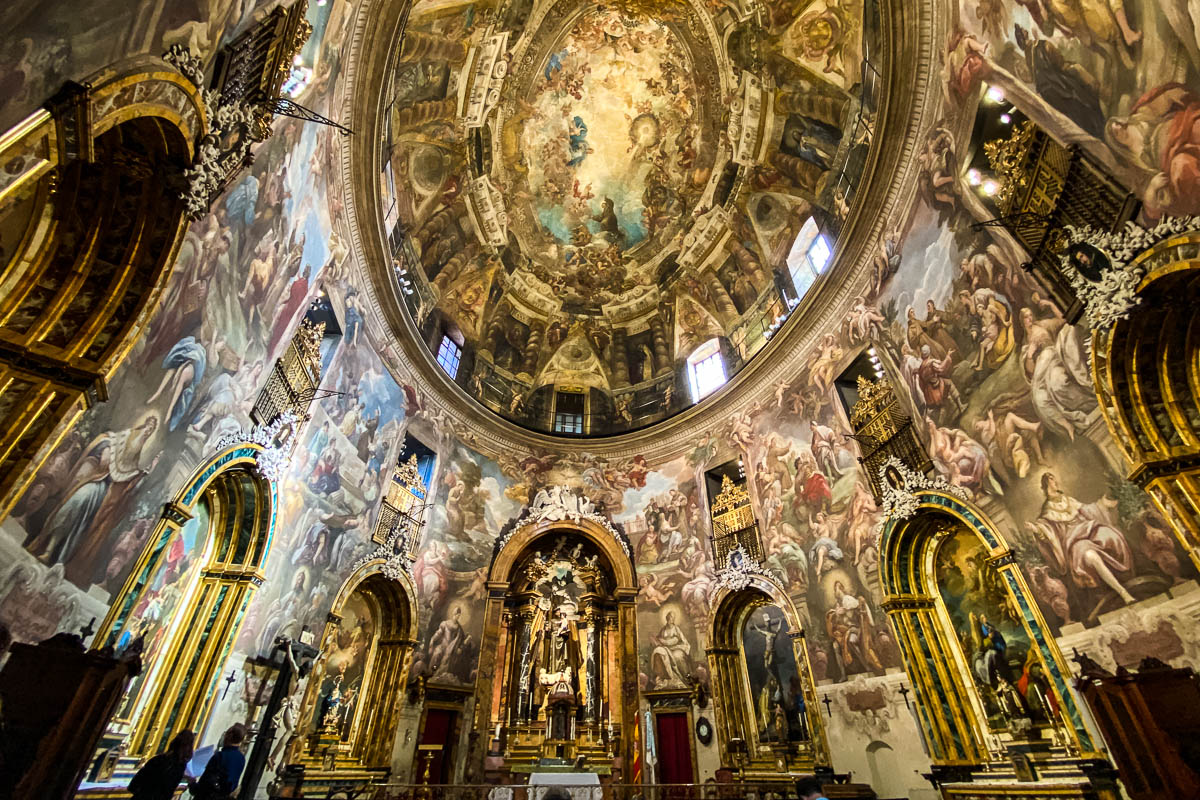 And, if you're up for a bit of a walk to see a relatively obscure, but amazingly beautiful church, check out the church of San Antonio de los Alemanes on Calle de la Puebla, 22. Magnificent frescoes displaying the life of the saint line the walls and ceiling.
Take a walk
Spaniards love to walk. They do it all the time, but particularly in the early evenings and Sundays when they habitually dar un paseo with their girlfriends, or their extended families, or whomever. They don't necessarily have any destination in mind, except perhaps a restaurant or bar. They just like to walk.
Madrid is a great walking city. And the best way to discover it is by walking. If you are staying anywhere near the Puerta del Sol, you'll perhaps first notice that Madrid got smart several years ago and banned all car traffic in the Puerta itself as well as all streets leading out of it for a distance of several blocks. Usually the only vehicle you'll ever have to contend with is the occasional taxi that has received dispensation to come into the center to drop passengers at the hotels.
Based on where we lived and worked in Madrid, one of our most trodden routes was west of Sol on Calle Arenal. This will take you to the Plaza Isabel II. Stop at Taberna Real on the plaza for a fortifying glass of wine, and then continue past the Opera House to the Plaza de Oriente and a view of the Palacio Real (Royal Palace.)
And, of course, if you really want peace and quiet on your walk, go to the Retiro Park.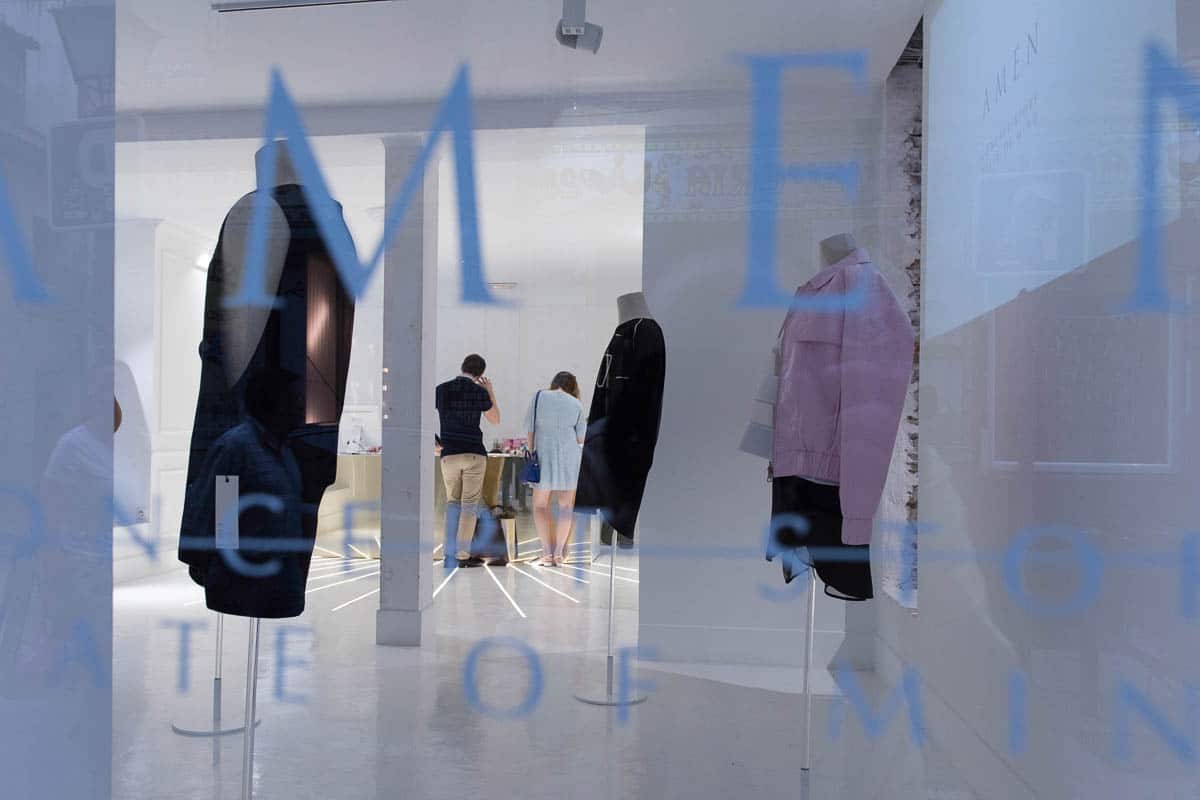 Shopping in Madrid
Also from the Puerta del Sol area, it's easy walking to the Gran Via and north up Calle Fuencarral to the trendy Chueca and Malasaña neighborhoods where you'll discover the best in idiosyncratic and stylish shops, bars, and restaurants. For clothing and design, Malasaña delivers a host of fashionable young designers and established Spanish labels. For luxury shops, head to the Salamanca district. Besides remaining at the top of the fashion world, Spain is still highly regarded for its leather goods, shoes, and great day-into-night dresses.
Tours of Madrid
If you're not completely versed in the history and art of Madrid, it might be worth it to take one of these guided tours. In general, Spanish guides are well educated on what they are showing you, and the information you'll get is worth the price.
And, a tour that's is definitely worth it is the Madrid Food Tour from Devour Tours. Use this link to book.
Where to stay in Madrid

Although many Madrileños would scoff at this, for your first taste of Madrid, I suggest staying in the area of the Puerta del Sol. First, it's an easy ride on the Cercanias train from the airport. And second, it's the heart of "Old Madrid" and so within walking distance of lots of the attractions and bars and restaurants you'll want to try.
We often stay at the Hotel Europa, which is right on the Puerta del Sol, and is comfortable and reasonably priced for its location. If you do stay at Hotel Europa, there's a very typical cafeteria on the ground floor that has perfectly adequate coffee, fresh orange juice, and terrific croissants. (Yes, Spain's croissants are just as good as France's.) But, don't be so lazy that you just eat there and not try the two classic spots we mention above.
There are also several other reasonable hotels within easy walking distance of Sol, such as Petit Palace Arenal, Petit Palace Puerta del Sol, and the Hotel Regina. We've stayed in them all. They're all in the middle of the action.
One other benefit of Sol is that it is a centrally located station on the Madrid Metro, and from there, you can get anywhere in the city quickly and cheap.
Other areas you should consider for your hotel are the above mentioned Chueca and Malasaña neighborhoods. In general, I'd say these neighborhoods are a bit younger, livelier, and less traditional than the area around Sol and Plaza Mayor. So, if you are looking for a little more "action" give them a look.
For a more rustic location for your Madrid stay, you could try the La Latina neighborhood south of Sol and Plaza Mayor. It's older, a little shabbier, but you're going to run into a lot fewer tourist buses down there. We love to prowl the bars of La Latina.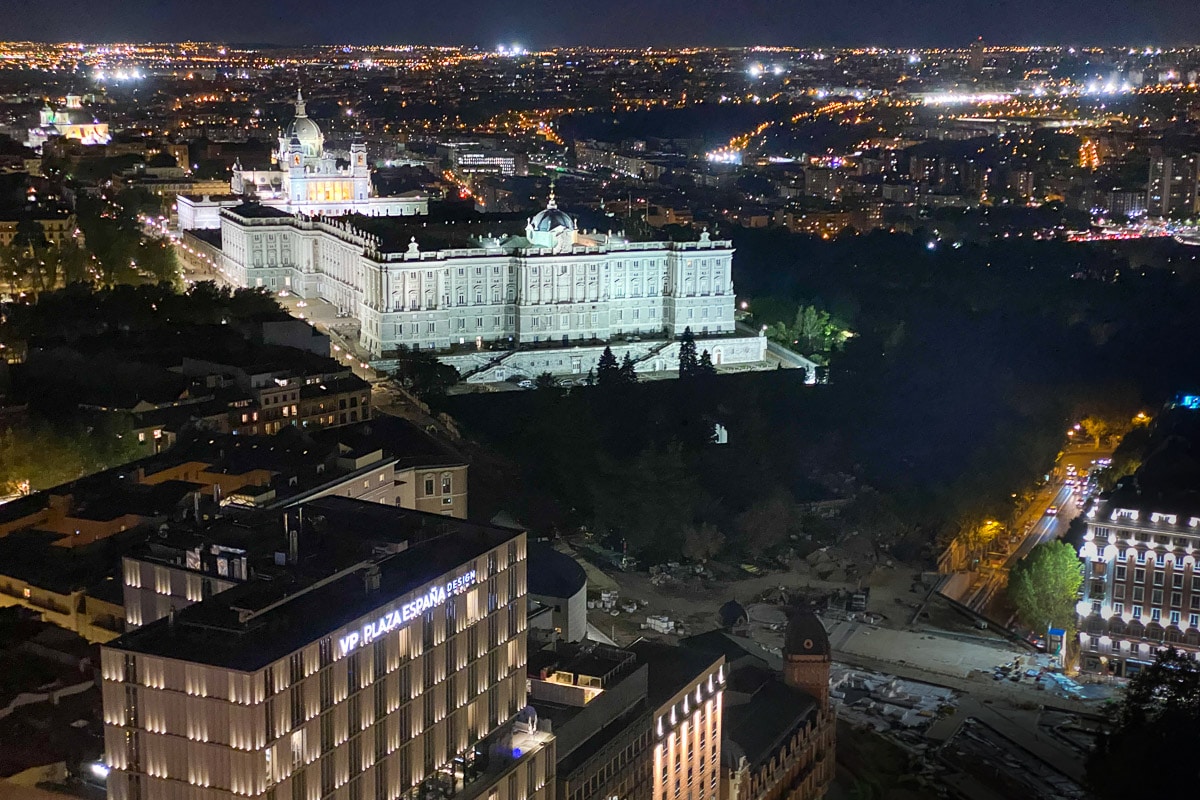 For something a bit more upscale, try the Hotel RIU Plaza España, at, as the name suggests, Plaza España on the western end of the Grand Via. It's an elegant spot, and features a rooftop bar that both Madrileños and tourists line up for a nighttime view of the city. As a guest, though, you have a reserved elevator and get to go straight up while the tourists wait on the sidewalk.
Also elegant, but in one of our favorite spots in Madrid, just off the Plaza Santa Ana, is the Hotel NH Collection Palacio de Tepa. The hotel is one short block from the busy Plaza, which is lined with some of the best – and most authentic – bars and restaurants in Madrid, such as the above-mentioned Cervecería Alemana. So, it can be a bit noisy if you are one of the "early to bed" types. Either join in the fun outside, or bring ear plugs. We recommend the former.
Another nice feature of this hotel is that it is within easy walking distance of the Prado Museum.
Day trips from Madrid
If your time in Madrid allows, be sure to take a day trip or two from the city. Because of the excellent Spanish trains, some cities such as Salamanca, Ávila, and Segovia are within an hour or two. The amazing city of Toledo is only 45 minutes away by train. And, El Escorial, especially the royal library, are worth a visit.
Here is some more info on those day trips:
3 Unesco World Heritage Day Trips from Madrid: Segovia, El Escorial, and Alcala de Henares.
The Cathedral of Toledo, Spain.
The Cathedral and walls of Ávila.
The Spanish train system, especially the high-speed AVE trains can get you anywhere in Spain faster than you imagine.
Finally, when your trip to Spain takes you out of Madrid, consider these destination attractions that I call the Seven Wonders of Spain. For reference on travel in Madrid and all around Spain, including, of course, Barcelona, be sure to browse the helpful Spain tourism website.
Also, we have some recommendations for a few day trips from Madrid, including what to do in Toledo and Three Unesco World Heritage Sites you can see on day trips from Madrid.
And, if your travels might include the holidays, check out Christmas traditions in Spain.
While you're on the Iberian peninsula, you might also check out what to do in Lisbon.
Here are some suggestions for tours in and out of Madrid from Viator.
When you're thinking of traveling, your first stop should be our Travel Resources page, where we list all the essentials you need to make your travels easier, cheaper, safer, and more fun.
You can also help yourself get ready for your travels by reading our Get Started Planning Your Trip Now page.
We love traveling–with the right gear. We've gathered a lot of the stuff we use to make travel more pleasant and efficient all on one page. Shop our Travel Past 50 Amazon page to find our favorite gear. If you purchase something from the store, Travel Past 50, as an Amazon affiliate, may receive a small commission at no extra charge to you. Thanks.
We never leave home without our travel insurance. Nor should you. Search for the travel insurance from Allianz that best meets your needs, whether it be an annual plan or a single trip.
You can see (and buy prints) of most of our travel photos in one place on this page.
Note: This post and other posts on TravelPast50.com may contain paid or affiliate advertising links. As an Amazon Associate we earn from qualifying purchases.