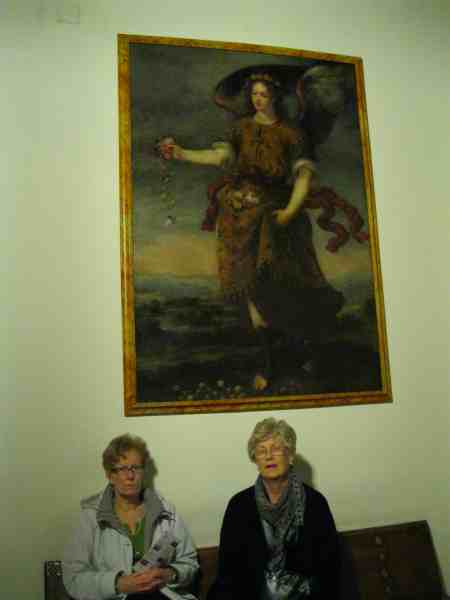 When Kris and I lived in Madrid thirty-two years ago we worked at a language school that was about eight blocks from our apartment. One of the routes we often took to work took us past a nondescript building with two large oak doors and a small sign beside one of them which identified it as a convent. (Here's the Google map.)
The same sign offered tours during limited hours, but in all the time we lived here, and in our many subsequent visits to Madrid, we never got around to seeing what was inside the Monasterio de las Descalzas Reales. We remedied that this time.
Visiting hours are more liberal now. The convent is open for visits every day but Monday. Unfortunately, you can only visit on a guided tour that costs €7, and they only do English tours very occasionally when there's demand. We speak Spanish, so it was no problem for us, but if you want a visit, get there early in the day, ask when they'll do an English tour, and book for that.
One other caveat: this is still an operating convent. (Monasterio is the Spanish word for both monastery and convent. Religious men and women are both called "monks" in Spanish.) But, it's a cloister, and so, during visiting hours, you are not going to meet one of the cloistered nuns. And, you're not going to get much of an idea of how the nuns live here now–or how they did 450 years ago when the convent was founded. There is a book available which talks about the nuns' lives, but again, it's in Spanish, so you English-only folks are SOL.
Don't feel left out though. One of the people on the tour with us asked the guide about the daily life of the nuns. The guide replied that she, too, had never met one of them, and she'd been guiding here for eight years.
So, on to the tour.
The Monasterio de las Descalzas Reales was founded in 1559 by Juana de Austria, the sister of Spanish King Felipe II. She was widowed fairly young, and she decided to turn her home in Madrid over to an order of nuns. This turned out to be a very good deal for the art fans among the nuns, as the princess made sure, through her own fortune, and that of her brother, to call in the best artists of Spain, and to paw through her brother's art collection, to outfit the place in style.
I'm not going to catalog the place in its entirety, because I'm a little sketchy and my note taking was a bit slow as we were going through the place. But, you'll see some paintings by students of Leonardo da Vinci, a couple by Rubens (or his students,) a Greco, a Rivera, a Titian, and many other Spanish artists of note. Also interesting are several paintings and sculptures by Filipinos and Mexicans that arrived at the convent via the ships which sailed  the reaches of the Spanish empire of that era.
You'll also see some copies of paintings, including an Annunciation by Fra Angelico. The original, along with some paintings by Rubens, have been moved to the Prado, where they have a much wider audience. That's a decision I can't really disagree with.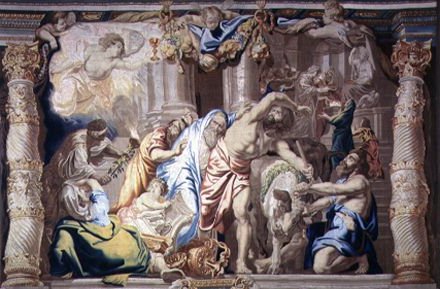 But, something you won't see in the Prado are the tapestries. In a remodeled large hall, which used to be where the nuns once slept in tiny cells, there are 22 tapestries woven in Brussels (which Spain ruled at the time). They were designed by Rubens and are of such an impressive size and quality that you can from them alone get a very good idea of the power and wealth of the Spanish royal family of the time.
I wonder if the cloistered nuns of the sixteenth century and later weren't (aren't) a little taken aback by the wealth of iconography that surrounded them. One day, I'm going to read that book about their lives and find out.
While you're in the neighborhood of the monastery, here are a couple of suggestions for places to eat.
And see this post for another short list of things to do in the neighborhood.
Get all our travel tips delivered to your inbox
Subscribe to our email newsletter