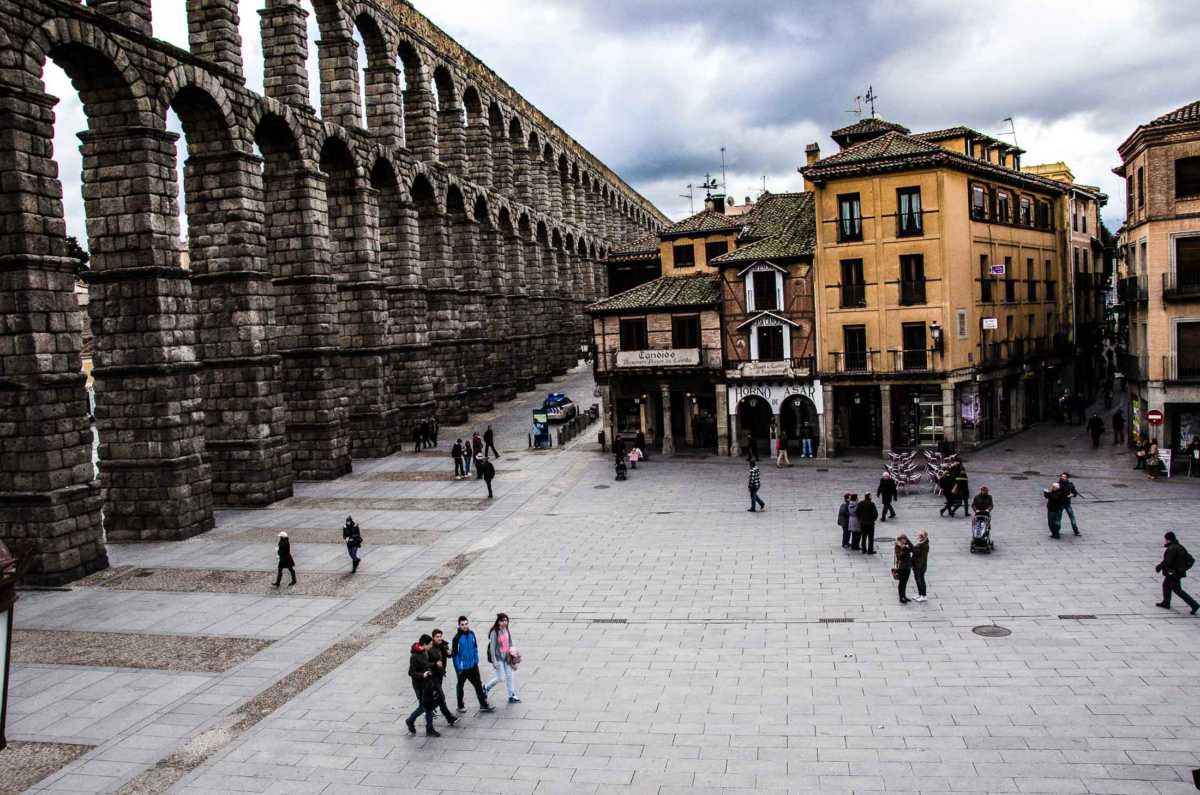 Without actually counting, it's impossible to say for sure, but it's at least likely that Spain has the densest concentration of Unesco World Heritage sites. (Well, maybe Italy.)
And, if you're into Unesco World Heritage sites, it's great that there are several that are easy day trips from Madrid.
Kris and I had just spent a week in a small town in the province of Segovia teaching English to Spanish business executives. It was an intensive course that gave us a total of an hour and 45 minutes to explore the city of Segovia, and we took good advantage. After the course, we came back to Madrid. One of the best things about Madrid is it's centrality. It's pretty close to a lot of the fantastic historical sites which dot Castilla. And, Madrid has a great train system that allows you to connect to any number of these treasures for day trips in under an hour and for less than €15 round trip. Since we've been to Toledo several times, we chose two new places to visit, Alcalá de Henares and El Escorial.
Some posts on Travel Past 50 may contain affiliate links. If you buy something through one of those links, we may earn a small commission. As an Amazon associate, we earn from qualifying purchases.
Segovia
Segovia has lots to offer. There's a beautiful cathedral, a castle that served as the model for Snow White's castle in Disneyland, and a Roman aqueduct. (There's also the most famous roast lamb and pig in Spain, but that's for another day.) But, like I said, I only had an hour and forty-five minutes that day and I can stand and look at Roman architecture and Unesco World Heritage sites for at least that long without getting bored. So I did. Actually, I only spent an hour walking up and down the path of the aqueduct, and spent the other time running back and forth to the cathedral.
I could summarize the history of the aqueduct here, but if you're really interested, you can read Wikipedia or this article from the Segovia tourism site. I preferred to just look, and wonder at the Romans who built such a thing and how the hell they got those enormous stones all the way up there, and how they graded the thing so over fourteen kilometers or so they maintained a constant one percent grade that kept the water flowing. And, they did this 2000 years ago.
You reach Segovia by taking the RENFE train from Madrid-Chamartin. It takes about two hours.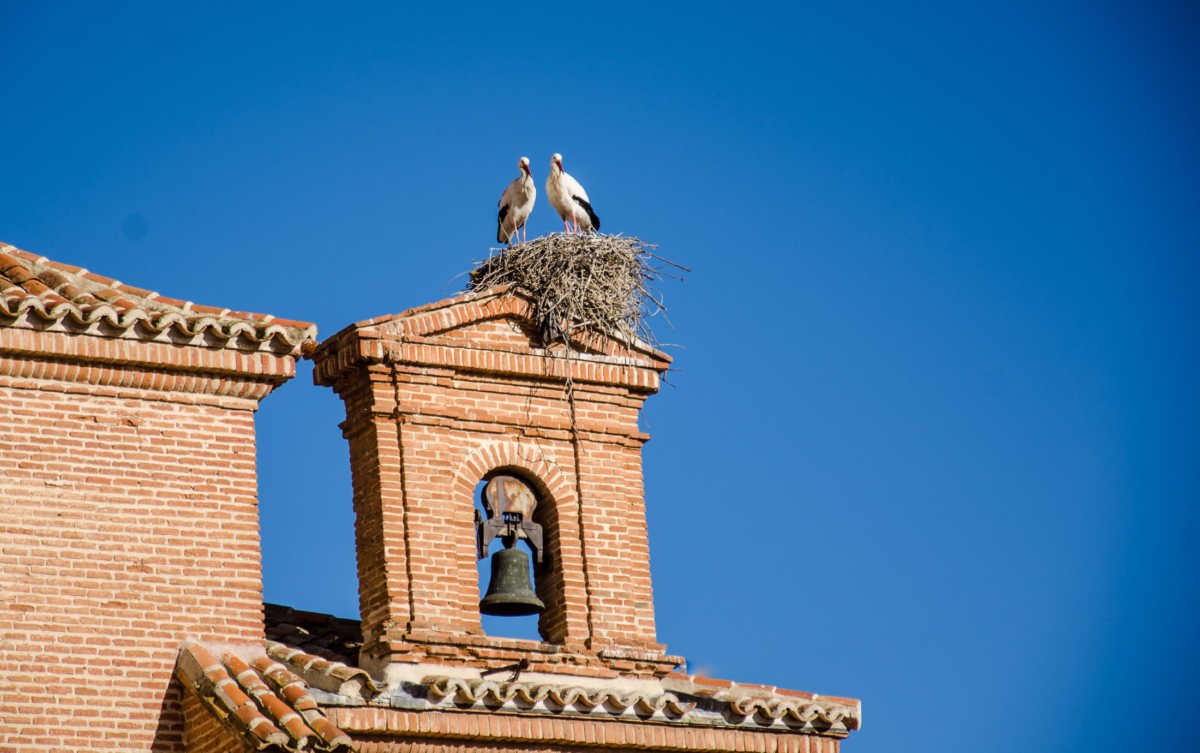 Alcalá de Henares
Alcalá was also a Roman city, but the reason it's really famous is for its University, the second oldest in Spain. It was founded by Cardinal Ximénez de Cisneros in the early 16th Century, but, again, you can read a lot more about it in Wikipedia if you're interested. Alcalá is also noted for the most famous native of the city and alumnus of said university, Miguel de Cervantes Saavedra, who wrote Don Quixote.
The entire old part of Alcalá which surrounds the campus is the Unesco World Heritage Site. You can admire the medieval columns which line a walk in front of the old buildings. You can visit numerous churches, the archbishop's palace, the cathedral, Cervantes' birthplace, and more. But, you can see stuff like this all over Spain.
In fact, other than the ceiling of the University's "Room of the Nymphs," which is a small auditorium where students take their final oral exams and where the Cervantes Prize for Spanish Language Literature is awarded, we didn't see much that distinguishes Alcalá.
Except damn near every church tower had at least one family of storks living in it, so I guess that's something.
So, we're really left with Cervantes to set Alcalá apart. As you look at his statue in the main square, you have to ask yourself, why is this fellow, who wrote an hilarious and scathing satire of the Spanish–and in the process adding the phrase "tilting at windmills" to a language not even his own–the most revered figure in Spanish history? If you can answer that, you can then begin to really appreciate Spain.
Alcalá is an easy and cheap day trip from Madrid-Atocha on the Cercanias train system. It takes about 40 minutes.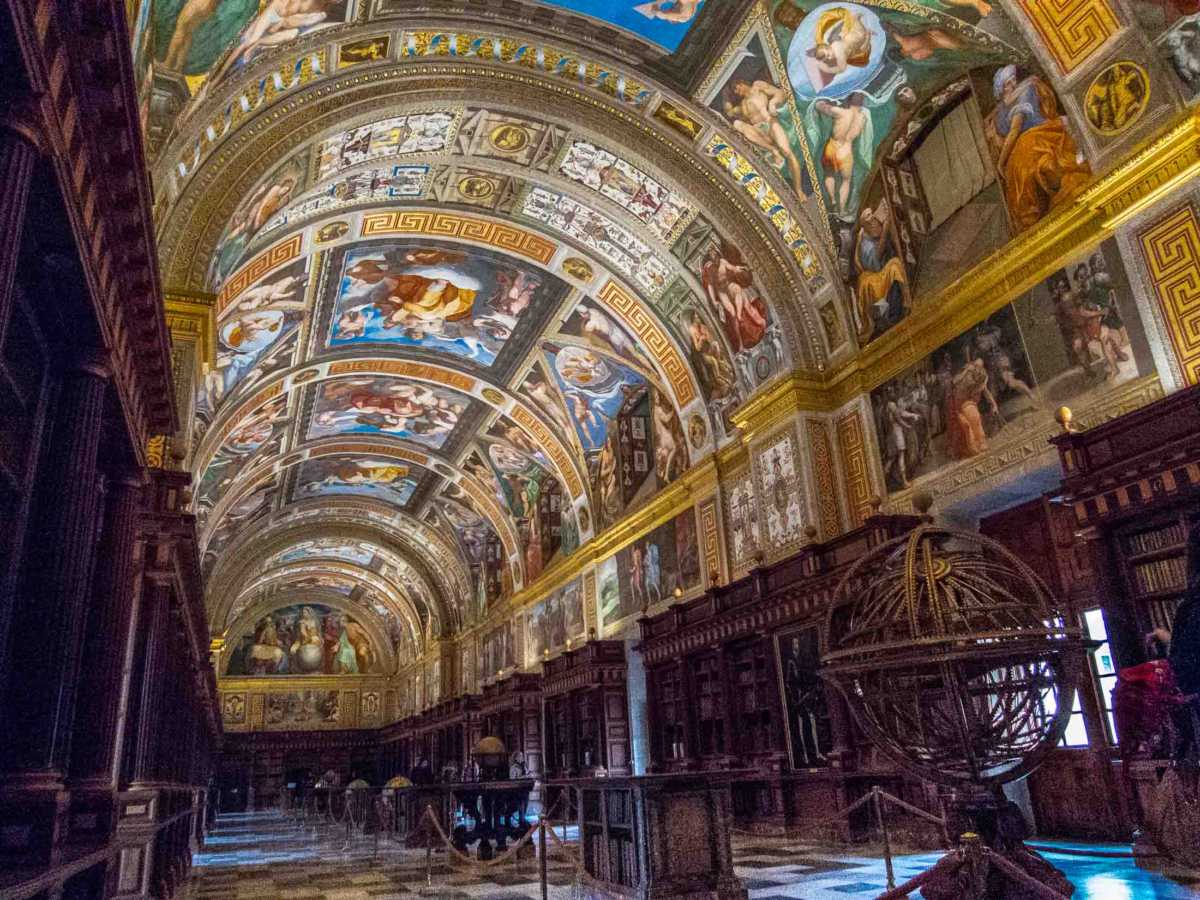 El Escorial
In contrast to the relative austerity of Alcalá, you have the palace of El Escorial, which is a one hour train ride from Madrid in the other direction. The outside of the palace-monastery-cathedral complex is mostly plain stone and features none of the carvings of saints or other similar ornamentation that usually decorate Spanish palaces and churches.
Instead, the architecture is austere and essentially unimpressive from the outside, except for its sheer volume. There's lots of that.
We started our tour by heading down to the basement, where there was a very nice exhibit of the original architectural drawing and models of El Escorial, along with rooms full of masons', glaziers', and carpenters' tools from the era. One room featured a large reconstruction of a medieval crane which was used to hoist huge stones to the tops of walls. That was impressive.
These exhibits would have been vastly improved, though, with some better explanatory signs. Many of the signs simply stated the obvious, e.g. "saw" or "chisel" or "trowel." And, you'd think, if that's all they were going to give you, they could at least do it in a few languages in addition to Spanish. Doesn't bother me, but I'd be damn frustrated if I were Japanese or English.
From there, you proceed to several rooms of paintings by Flemish, Italian and Spanish masters. There are a few from Bosch, Titian, Roger van der Weyden, Matsys, El Greco, and more that I'm always surprised to see outside the Prado. But, if you're the king, you don't have to put all your masterpieces out for the public.
You have the usual religious subjects, for the most part, because Philip and his heirs were reputed to be quite pious. And after a while, those begin to bore. As do the subsequent room after room of portraits of the royal family.
But, after these, are two more rooms which make the whole tour worth while. There's a long gallery called the Battle Room which features scenes from, on one wall, a battle with the French, and on the opposite wall, a battle with the Moors outside Granada. Aside from the sheer volume and detail of the tableaux, historians believe the frescoes are accurate depictions of what actually happened and provide good information of how medieval battles were fought on a large scale.
Finally, (and by finally I mean about five hours after you started–did I mention this place is big?) you get to the most interesting room in the palace–the library. There are 40,000 books here, some as old as the fifth century. The ceiling is decorated with various images paying homage to the liberal arts. You've got damn near everyone who was anyone in learning and the arts up there, from Pythagoras to Pan. It's really quite lovely. In addition, there are lots of, for want of a better word, knick knacks. Globes, glasses, figurines, etc. that lend to a general air of contemplation, which was intended. It works.
There are more rooms, including a couple where the floor has been made into a sundial and one great long arcade of maps from the 15th and 16th Centuries. I love maps, especially ones that sort of stop just north of Baja California on the west coast of North America and just leave a blob of light blue which says, "Terra Incognita."
At the time of this writing, the self guided tour is €10. If you want a live guide, that's €7 extra per person. An electronic audio guide is €4. I recommend the latter. It's available in English and fills in some of the gaps of the didactics, which are sometimes both a little skimpy and only in Spanish. I don't understand why they translated some and not others, but maybe they ran out of money. The Spanish government ain't what it used to be.
El Escorial can be reached on the RENFE train from Madrid-Chamartin. The journey takes about 45 minutes.
The cities of Segovia, Alcala, and the palace at Escorial are Unesco World Heritage sites. Spain is the country with the third most Unesco sites. To see a list of all the Spanish sites, with links to our posts about them, click here.
You can help yourself get ready for your own travels by reading our
Get Started Planning Your Trip Now
page.
We love traveling–with the right gear. We've gathered a lot of the stuff we use to make travel more pleasant and efficient all on one page. Shop our Travel Past 50 Amazon page to find our favorite gear. If you purchase something from the store, Travel Past 50, as an Amazon affiliate, may receive a small commission at no extra charge to you. Thanks.
We never leave home without our travel insurance. Nor should you. Search for the travel insurance from Allianz that best meets your needs, whether it be an annual plan or a single trip.
You can see (and buy prints) of most of our travel photos in one place on this page.
Note: This post and other posts on TravelPast50.com may contain paid or affiliate advertising links.
Travel Planning Resources
Looking to book your next trip? Use these resources that are tried and tested by us. Flights: Start finding the very best flight deals by subscribing to
Thrifty Traveler
. Book your Hotel: Find the best prices on hotels with
Booking.com
. Find Apartment Rentals: Find the cheapest prices on apartment rentals with
VRBO
. Travel Insurance: Don't leave home without it. We recommend
Allianz Travel Insurance
. Need more help planning your trip? Make sure to check out our
Resources Page
where we highlight all the great travel companies and products that we trust. See all of the gear and books we like in one place on our
Amazon shop
.