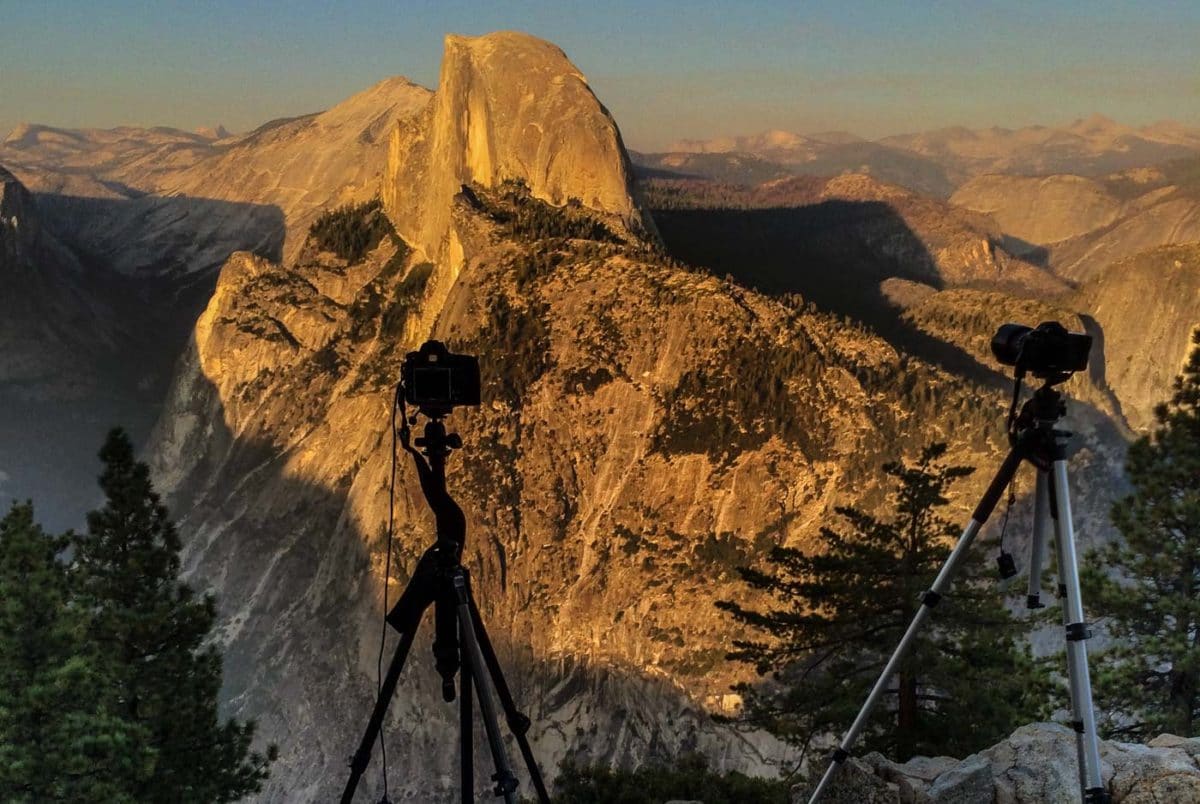 People often ask, "What is the best travel camera?"
The easy answer is: the best travel camera is the one you have with you.
However, the honest answer is slightly complicated. I have several cameras, and the one I use on any particular day depends on what I'm shooting, how much walking I'll be doing, and where I am. Obviously, the gear you need to photograph African animals is different than what you want when you're cycling around a the French countryside or inside a spectacular Spanish cathedral.
So the real answer is: it depends. Because I use a few different setups, including my iPhone 13 Pro. Here is the travel camera equipment I'm currently using – again, depending on the situation, to illustrate Travel Past 50 for the past ten years. Some equipment comes and goes, but this is what's currently in my bag(s).
Unless I'm definitely going somewhere that requires all possible variables, such as the above-mentioned Africa trip, I don't carry it all with me. All my equipment is certainly too heavy to lug around all day, so even when I do have most of it with me, I pare it down in the morning to to what I'll actually be using that day before I start out. Sometimes, that's just one camera body and one lens, depending on what I'm after.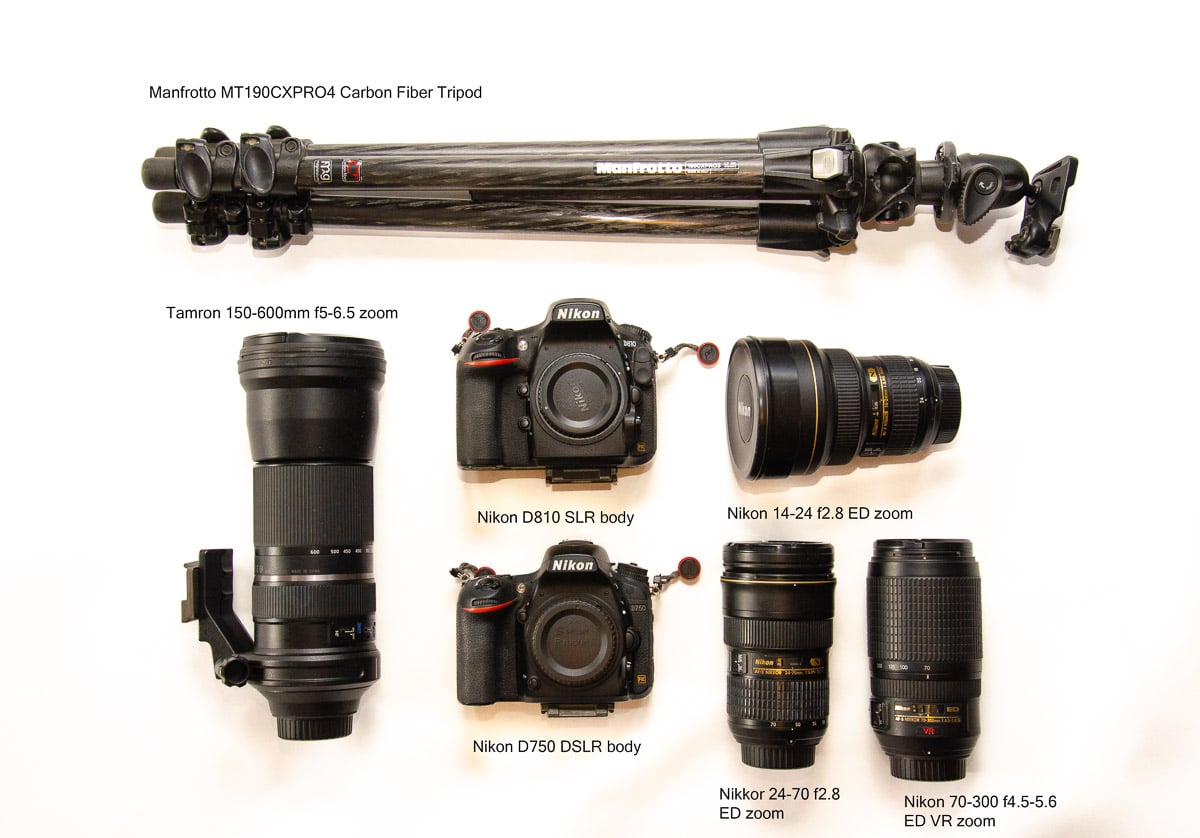 So, here is all the camera equipment I'm currently using.
Nikon Camera Bodies
I carry two Nikon camera bodies, the D810 and the D750. I bought the D810 just before Nikon issued the D850, which is their current flagship DSLR. The D810 is a 36-megapixel full-frame camera, so it allows for some serious cropping without losing much detail. You can see what I mean in this photo of a hippo I took in Kenya.
I use the Nikon D750 for two purposes: as a backup in case the D810 fails – which it never has – and to carry another lens when I need to make a quick decision. In Africa, I was using the D810 with my Tamron 150-600mm zoom for most of the animals when they were far off. But occasionally, they approached our vehicle and I could quickly switch to the D750 where I'd mounted my Nikon 70-300mm zoom when the 150-600 lens was too much.
I bought the D750 because it was $1000 cheaper than the D850 and because it still has the Nikon quality. However, if I were doing it again today, I would have bought another D810 or D850 for one reason only. The control buttons on the D750 are in a different place that the D810 or D850, and sometimes it takes me a few seconds to remember where things are when I need to change a setting. It's a small annoyance, but an annoyance nevertheless. The other solution, of course, would be to buy another D750.
See the Nikon D850 at BH Photo Video
See the Nikon D750 at BH Photo Video
Nikon Zoom Lenses
As I mentioned above, I carry two telephoto zoom lenses: the Tamron 150-600mm f5-6.3 and the Nikon 70-300. I should just say right now that I chose the Tamron over the equivalent Nikon lens because of the expense only – and because I use it infrequently. It is plenty sharp, as the hippo photo proves, and it makes a great and less expensive alternative.
The 70-300 zoom is also extremely sharp, and especially useful when your subject is a bit, but not too far away. I also should point out that it has occasional use for landscapes. It was the lens I used to take this award-winning shot of a sunset at Joshua Tree National Park.
The other zooms in my kit are the workhorse Nikon 24-70mm f/2.8 and the wide angle Nikon 14-24mm, also f2.8.
The 24-70mm lens provides the "normal" focal lengths that you use the most. A nice wide angle at 24mm for landscapes, and the 70mm setting is just about right for a portrait. The fact that it is a constant 2.8 aperture makes it nice and bright at its entire range and also gives you the speed to shoot in lower light situations.
The 14-24 zoom, also a fixed 2.8 aperture lens, is spectacular for wide angle landscape stuff, and because I shoot inside churches a lot, allows you to get dramatic, detailed images of the elaborate artistry of medieval cathedrals. For example, there is this shot of the Spanish Cathedral of Salamanca that ended up being used in a book Cathedrals: Masterpieces of Architecture, Feats of Engineering, Icons of Faith by the English architectural historian Simon Jenkins.
See the Tamron 15-600mm zoom at BH Photo Video
See the Nikon 70-300mm zoom at BH Photo Video
See the Nikon 24-70mm zoom BH Photo Video
See the Nikon 14-24mm zoom at BH Photo Video
Prime Lenses for the Nikon
Prime – fixed focal length – lenses are occupying more of a place in my photography all the time. An expensive and heavy zoom can't do anything a good assortment of primes can't do. And the primes are much cheaper – in some cases 1/10 the price of a fast zoom. And, they're much lighter. And lighter gets more important as a long day of shooting wears on. I can see that I'm tending more and more toward using primes. And the day might even come when I get rid of my zooms. It's not here yet, but someday.
The Nikon 35mm f2.0 is, more and more, the first lens I'm putting on the camera if I'm shooting outdoors in a city. It's the perfect "people on the street" lens. It's small, light, and a lot less obtrusive than the 24-70mm zoom. And the focal length is right in the middle of that range. If you set the camera settings right, when you're using this lens, the camera almost becomes a point and shoot. Great for that elusive moment involving people.
The Nikon 24mm f2.8 is the other prime I'm using a lot. It's wider than the 35mm, and is small enough that it can go in my pocket – literally. It's the lens to use when I need a bit wider city shot such as an interior or an architectural tableau. It's the same speed as the zoom it substitutes for too, so it's plenty fast to use inside.
The Nikon 50mm f1.8 is my least used lens, since I've pretty much fallen in love with the 35mm. But, the 50mm is the so-called "normal" lens. And it is the fastest lens in my bag. And, I've taken some very nice shots with it. So, maybe I just need a little more practice. It's also a great "street" lens and was the focal length used most by the greatest street photographer who ever lived–Henri Cartier-Bresson. So, maybe I need to give it more of a workout.
See the Nikon 33mm prime at BH Photo Video
See the Nikon 24mm prime at BH Photo Video
See the Nikon 50mm prime at BH Photo Video
The Small Sony RX100
A camera I'm becoming increasingly fond of is the small Sony RX100-III "point and shoot." Although it's much more than a point and shoot. It has a pop up viewfinder, and an amazing 20 megapixel sensor which allows a lot of enlargement with no drop off in detail. It has the equivalent of a 24-70 mm zoom lens, which is exactly the same focal lengths as the Nikon lens I use most often. And the lens is made by Zeiss, which is simply the best glass there is. And, best of all, it is very small and light and absolutely quiet. And, for street shooting, that's important. And, if you don't want to make the substantial investment in a top level professional system, this is a fantastic camera at a fraction of the price.
We recently bought the updated version of this camera, the Sony RX100-V, which is essentially the same camera, but with more buffer (for continuous shooting) and 4K video capabilities. It's still tiny and light, but what a camera! My only complaint is that it doesn't allow for a third party microphone.
Sony has now introduced even more models of the RX100, with more video capability and different (longer) zoom lenses. Be sure to shop all models and pick the one that's right for you. If you're just going to shoot stills, like I do, then the RX100-III is fine.
See the Sony RX100-III at BH Photo Video
See the latest Sony RX100-VII at BH Photo Video
Photography Accessories
Here are all the things, other than the cameras themselves, that you need to fill out your kit.
Manfrotto MT190CXPRO4 Carbon Fiber Tripod with Ball head: There are many cheaper – and many more more expensive – tripods out there, but this one is a good balance of cost, weight, and stability. It's not as heavy duty as many, but, honestly, there's only been one time I felt I needed something more substantial. And that was when I was way up in the Swiss alps and a serious wind was blowing. (When that happens, by the way, hook something heavy to the bottom of the center pole to keep the tripod in place.) The ball head I use doesn't offer all the convenience of having a handle to exactly position things the way you want them, but again, it's a small compromise to save a few hundred dollars. Don't forget to get a head for the tripod. It won't work without it.
Vello Shutterboss Cable Release and Timer: If you're using a tripod, you're going to want one of these. You can use it as a timer for taking a selfie. Or for setting up a time lapse shoot for those gorgeous moving clouds. But why you'll use it the most is for image stabilization. There's no sense of mounting your camera on a tripod to eliminate camera shake, and then just reintroducing camera shake by pushing the shutter button manually. This trips the shutter electronically. That keeps things motionless. That's better, especially for a slow exposure landscape or moving water shot. Believe me on this.
The Peak Design Black Slide Camera Strap: I absolutely love this strap. I traded up to this from the Black Rapid strap I used to use because the Peak Design attaches to the camera in two spots instead of one like the Black Rapid. That means that the camera will lie flat against your hip instead of swinging and bouncing around like one that attaches at a single point. The Peak Design strap also detaches from the camera at the push of a button, which is very handy when you want to quickly mount it on your tripod or anytime you are shooting when you don't have to worry about carrying or dropping the camera. Another feature I like about this strap is the instant D-ring length adjustments
The Mind Shift Backlight 26 Liter Camera Bag: I was turned on to the Mind Shift Backlight camera bag by my friend Mark Harris. I've now been using it for three years, and, of the million or so camera bags I've tried, it's clearly the best. First, it opens from the back, which allows you to set it down on the ground to get to your gear without getting the shoulder straps dirty. It has a dedicated tripod mount, ample inside room, a 15-inch laptop pocket, and large side pockets for your water bottle or whatever. Maybe the best feature, though, is the "daypack" attached to the front of the bag. You can stash all your other stuff there, such as an accessory or two, a rain jacket, your lunch.
Speaking of accessories, there are four accessory products I've also been using for a while to keep me organized. One is just a little clear sided The Think Tank Cable Management bag where I keep my cables and other miscellaneous parts. Another is the Mind Shift Filter Nest Mini which is a filter wallet where I put all my various polarizing filters. It's so much easier than carrying all the little plastic cases the filters came in. Third is the Think Tank Pocket Rocket wallet where I keep my extra memory cards. Fourth is the Think Tank DSLR 4 Battery holder. It's important to protect the pins on your batteries, which this does. I once ruined a $60 battery because I didn't have a padded case like this. I could have bought about four of these cases for what that battery cost.
Now remember, of course, to have plenty of memory cards and extra batteries at all times. And, if you're using a big file camera, like both the Nikon and Sony mentioned above, get the fast memory cards. Believe me, there's a difference.
Here are the SD cards I use in both cameras. Get three or four at least.
Here's the CF card that the Nikon D810 also uses.
Here are extra batteries for the Nikon and for the Sony. Get at least three of each. There have been days when I wish I'd had four.
I use a photo storage and sharing service called Smugmug, too. There you can organize, display, store and share your photos. If you buy certain programs, you can even allow people to buy prints or digital versions of your photos. Please click here to see my photos at Smugmug, or here to sign up for your own plan. It's worth it.
Finally, I use Adobe Lightroom to both edit photos and organize them. There's a great book that teaches you how to do both by a guy named Scott Kelby, who is editor of Photoshop Magazine when he's not being a terrific sports photographer.
Why BH Photo and Video?
Although your local camera store probably has knowledgeable staff that can help you choose the right camera for you, BH is the place the pros shop. I know lots of professional photographers, and all of them buy from BH. Why, because the staff at BH, who are easy to reach on the phone, are simply the most expert in all aspects of camera and audio-visual equipment. Give them a call and give them a test with any questions you might have. Or, next time you are in New York City, stop in the store. No pretensions at all, just the straight dope.
Also, because of BH's volume, they usually have the best prices. And, if you use their Payboo credit card, they'll pay the sales tax in whatever state you're in. That's hard to beat.
Warning, one quirk you sometimes have to work around: BH is closed for the Jewish sabbath every week and for all Jewish holidays.
This post was originally from 2017 and has been updated April 2022.
When you're thinking of traveling, your first stop should be our Travel Resources page, where we list all the essentials you need to make your travels easier, cheaper, safer, and more fun.
You can also help yourself get ready for your travels by reading our Get Started Planning Your Trip Now page.
We love traveling–with the right gear. We've gathered a lot of the stuff we use to make travel more pleasant and efficient all on one page. Shop our Travel Past 50 Amazon page to find our favorite gear. If you purchase something from the store, Travel Past 50, as an Amazon affiliate, may receive a small commission at no extra charge to you. Thanks.
We never leave home without our travel insurance. Nor should you. Search for the travel insurance from Allianz that best meets your needs, whether it be an annual plan or a single trip.
You can see (and buy prints) of most of our travel photos in one place on this page.
Note: This post and other posts on TravelPast50.com may contain paid or affiliate advertising links. As an Amazon Associate we earn from qualifying purchases.