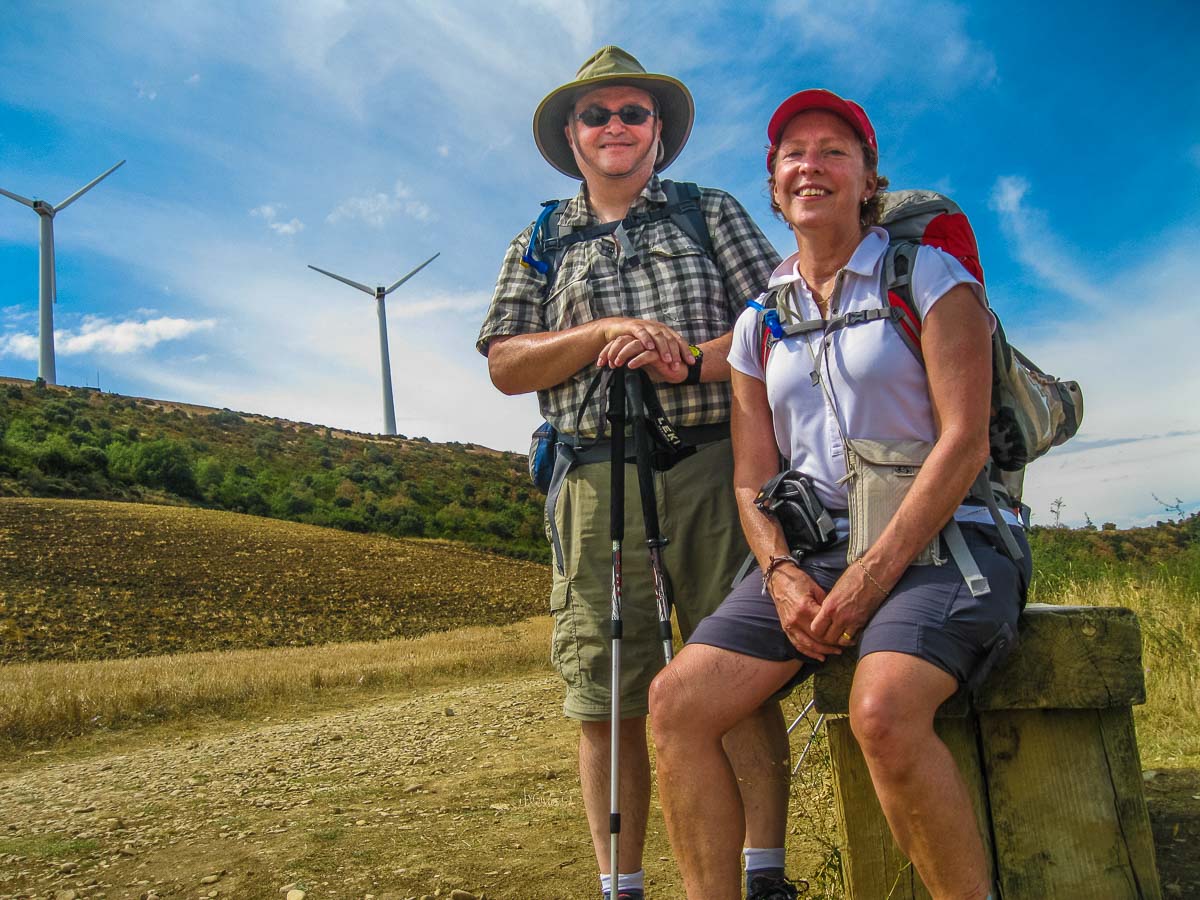 To see all of our posts on tips for the Camino de Santiago, click here: Camino de Santiago.
Light weight clothes for the Camino de Santiago aren't necessarily critical equipment, but if you choose right, you'll be cool when you want to be, and warm when you need it. (Mostly the former.) And, maybe most important, you won't be carrying any more weight than you have to.
Here's the sartorial version of our Camino de Santiago packing list.
Some posts on Travel Past 50 may contain affiliate links. If you buy something through one of those links, we may earn a small commission. As an Amazon associate, we earn from qualifying purchases.
The all important hat
You want something to shade your face. So at minimum, a baseball cap will do. I saw one guy who had cut up a t-shirt and sewed it to the back of a ball cap to cover the back of his neck. I wore a broad brimmed Tilley Endurables LTM6 Airflo Hat, which shades not only your face, but your whole head and neck. It has a great sweatband, and, one of my favorite features, ties front and back, which make it pretty impossible to blow off your head. It's washable and dries quickly. Often on hot days, I would soak it in a fountain, shake it off and wear it. It felt great. I can't say enough for this hat. It's perfect, indestructible, and guaranteed forever.
Light weight underwear
As with all your clothes, you want lightweight, breathable, and quick drying. I'm a big fan of the ExOfficio brand and wore their ExOfficio Men's Give-N-Go Boxer many days. They were supremely comfortable, and they dried fast. Next time, I'm sticking with Ex Officio, but am going with the Boxer Brief, which offers a little more support.
Kris wore ExOfficio Women's Give-N-Go Bikini Briefs and said they were great.
Light weight and light colored T-shirts
I wore with Under Armour HeatGear t-shirts and they were just fine. But since we did the Camino, ExOfficio has come out with a nice ExOfficio Men's Give-N-Go Tee that I like a lot better. I wore it hiking in the Guatemalan jungle, and it was very cool and wicked away sweat very well. I'd recommend going with light colors. A lot better in the heat.
The long-sleeve shirt
ExOfficio again. This time the ExOfficio Men's Air Strip Long Sleeve Shirt. It's vented on the sides and back, has expanding pockets, and a collar that you can turn up or down depending on the sun. I wore it over my t-shirt at the beginning of every day, then shed it as the sun got higher and warmer. It washed out easily every night, and was usually the first thing on the line to dry. And, it weighs less than 0.2 kg (6 ounces.) There are now variations of this shirt that are impregnated with insect repellent, which would have come in handy on some days along the Camino. Next time, perhaps. I carried two of these in light colors. Again, you'll want light colors to ward off the Spanish heat as much as possible.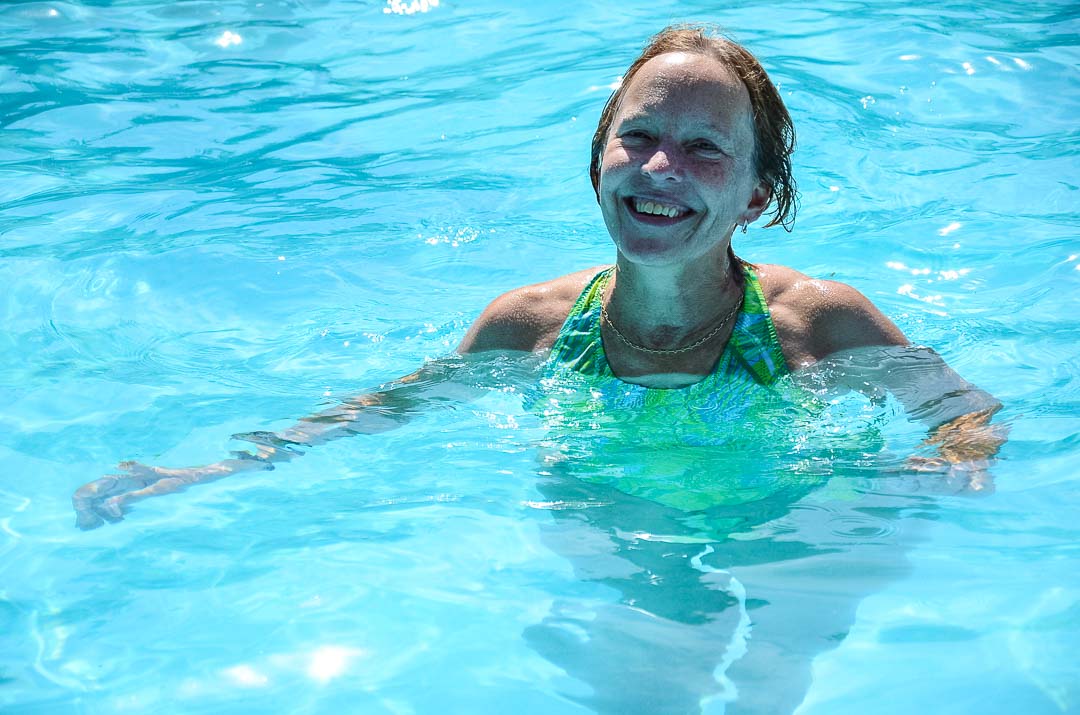 Rain jacket
As I mentioned before, some people had a poncho that also covered the pack, but I decided to go with a separate pack cover and rain jacket because you can also wear the rain jacket just for warmth on a cool night or morning. I had a Columbia Men's HydroTech Packable Rain Jacket, which worked great for both warmth and rain, but frankly was a little hot when the rain came during the warmth of the day. I sometimes ended up wearing the jacket unzipped so I wouldn't overheat while walking in the rain. I think the brand is unimportant here. What you want is one that will keep the water off, and yet won't be too hot when you're wearing it. Do some research on what suits you best.
Pants
Columbia Men's Silver Ridge Convertible Pant. Very light and quick drying, and easy to zip the bottoms off and on. Often, I'd start a cool day with the bottoms on, and zip them off when I took off my shirt when it got warm. Two pairs are a good idea. I like, too, the cargo pockets, where I carried my sunglasses in one and a kerchief in the other. I carried my money and credit cards in the zip front pocket, where they were easy to get to, yet there was no danger of them falling out. I think the style of these pants has been changed since I had them, so try a few brands, maybe at your local REI store, before you decide what's best for you.
Clothes for the albergue and evenings out. I had a pair of gym shorts Adidas Performance Men's Essential Shorts, a Patagonia short sleeve quick dry sport shirt, and the Teva Men's Mush II Flip Flops. They were comfortable, and best of all, very light weight. (The Teva flip flops make great shower shoes, too. And, when you see some of the showers in the albergues, you'll be glad you have them.) If I needed warmth if the evening got cool, I added my spare ExOfficio long sleeve shirt or my rain jacket.
Wallet
On the Camino, I carried a Columbia front pocket wallet with money clip, which they don't seem to make any more. Never mind. Because all you need is a light weight wallet that has enough space for about three cards and some bills. Also, you can carry a copy of your passport here, just in case you need identification. I always carried this in my zipped front pants pocket. (I carried my actual passport deep in my pack where it would be hard for a thief to get to. I never needed it on the Camino. The copy always sufficed for those albergues or hotels who required ID.)
Since the Camino, after my Columbia wallet wore out I switched to Eagle Creek Travel Gear RFID Bi-Fold Wallet Vertical, which I like very much. It's a little bigger, but still fits nicely into a front pocket. It holds a little more, but it's just as light.
Read Kris's post on what it's actually like to walk the Camino de Santiago.
To see all of our posts on tips for the Camino de Santiago, look here:
The gear you want to pack
Walking sticks
The low down on socks, socks, and blisters
The best way to carry water
The backpack

This post is an updated version of a post originally published in 2013.
Travel Planning Resources
Looking to book your next trip? Use these resources that are tried and tested by us. Flights: Start finding the very best flight deals by subscribing to
Thrifty Traveler
. Book your Hotel: Find the best prices on hotels with
Booking.com
. Find Apartment Rentals: Find the cheapest prices on apartment rentals with
VRBO
. Travel Insurance: Don't leave home without it. We recommend
Allianz Travel Insurance
. Need more help planning your trip? Make sure to check out our
Resources Page
where we highlight all the great travel companies and products that we trust. See all of the gear and books we like in one place on our
Amazon shop
.