Tom's Bags
I have two main bags, both Eagle Creek. There's not much difference between the two–other than one is larger and must be checked. I bought the larger one specifically to hold both Kris's and my walking sticks and my camera tripod. There are times when you just can't carry on.
Cotopaxi Allpa 35L Travel Backpack:
This is Tom's new go-to luggage for all our trips. It's about the same capacity as the roller bag I have been using for about 13 years, but instead of rolling, it's a very light weight backpack. And, keeping my hands free and not having something dragging behind me makes getting around airports, trains, and rough streets a lot easier. I love the internal pocket organization scheme, too. And that it opens up so you can see everything you've packed right in front of you. There's a small compartment on the top where I put my jacket and chargers so I can get to them easily when on the move without having to open the pack all the way. The backpack straps fold into the back compartment just in case you want to check the bag.
Try the Cotopaxi backpack at REI
Some posts on Travel Past 50 may contain affiliate links. If you buy something through one of those links, we may earn a small commission. As an Amazon associate, we earn from qualifying purchases.
Eagle Creek Gear Warrior 22 Inch Carry-On
This is the bag I've been carrying for about ten years now. It's small enough for carry on. It's light and yet it's damn near indestructible. It's got reinforcement at all the edges. It's made from a rip-stop material that's light and strong. The wheels have survived being dragged over every surface from concrete to sand to gravel to cobblestones.
It has a few thoughtful touches I really like. It has long soft zipper pulls. There's a small outside pocket that makes an easy stash place for all the stuff you can't carry on, such as my little pocket knife, when I need to check the bag. It also has a zip up compartment that covers the retracted handle to protect it from the rough handling the airlines dish out. And it has handles top and bottom, on the side, and on the top. Whichever way you want to grab it, it's convenient.
I also like that it comes in various colors. Mine is orange, which makes it easy to spot when it comes off the baggage carousel. The larger one is bright blue, like in this picture.
I just had the main zipper repaired (for free, because of the wall-to-wall Eagle Creek lifetime guarantee) and the repair shop man told me he thoroughly checked the entire bag and found nothing amiss. That's durability.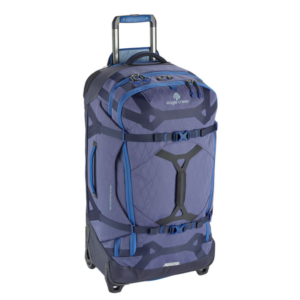 Eagle Creek Gear Warrior 30 inch
This is essentially the same bag as above, but bigger. I haven't used it as much as the smaller one, because I haven't had to carry the walking poles for a while, and sometimes I can strap the tripod onto my camera bag and sweet talk them into letting me carry it on. But when that doesn't work, this is the one that fits the tripod and trekking poles and almost anything else. I don't think I've ever filled it up.
I usually take this bag when we're on driving trips. It allows me to be a lot less picky about what I'm packing because there's so much more room. Take note, this bag definitely will not carry on a flight. Be prepared to check.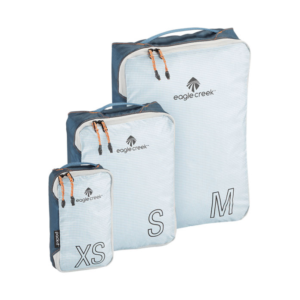 Eagle Creek Pack-It Specter Cube Set
Two great things about these Eagle Creek packing cubes. They're ultra light and they're durable. It's that simple. I've had my set for about four years, and despite their apparent flimsiness they've held up fine. I use the largest one for underwear. The middle one is for socks. And the small one is for random other stuff such as my spare glasses, toothbrush, etc. Don't overpack them though, because you can pull off the zipper.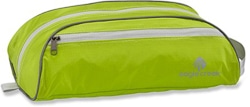 Eagle Creek Pack-It Specter Quick Trip Toiletry Bag
The toiletry bag is made of the same material as the packing cubes. So again, ultra light. I have two of them-one for my toiletries and one for my vitamins, medicines, etc.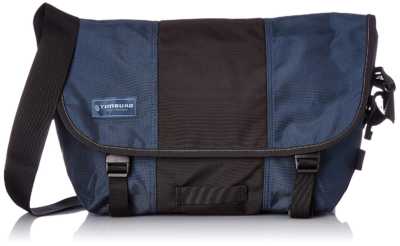 The Timbuk2 Classic Messenger Bag
This is my everyday briefcase, and my "personal item" for carry on. It is light and very durable. It has separate compartments for my laptop and my tablet, and the usual briefcase inside pockets for pens, business cards, and other miscellany. The best idea, though, is an inside pocket that's exactly passport size.
I also like the outside pocket that is just under the flap. That makes it very handy for dumping out the contents of your pockets as you go through airport security.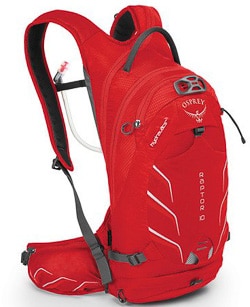 Osprey Raptor 10 liter Hydration Pack
This is my day pack. It is primarily designed for biking. (I do a lot of biking when I'm home in the US.) It has a little tool kit pouch in the bottom pocket where I carry my bike tools and a dedicated clip apparatus for my helmet. I've attached a couple of carabiners to it for fixing my walking sticks when I use it for day hiking. It's small and flattens nicely, which means it can be packed within my suitcase. Even though it's small, it has room to carry an extra lens for photo expeditions. Of course, it has a built in 3 liter water pack, which I rarely fill all the way. But it's good to know the capacity is there for a long hot day. There's a woman's version, fitted for a woman's body, too.
For a list of the equipment we carry while cycling, check out Our Best Gear for Cycling.
Kris's Bags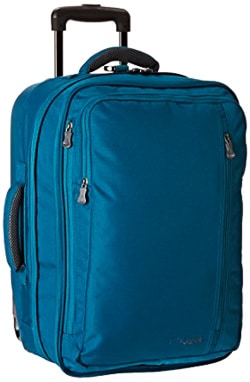 Lite Gear 20 Inch Hybrid Carry-On
I was inspired to try the newish Lite Gear line of bags when my old faithful Eagle Creek two-wheeler (EC Adventure Carry-On) was hospitalized for damage incurred by Eastern China Airlines. What sold me on the Lite Gear 20" Hybrid Carry-On was the weight (6 lbs), size (two inches smaller than the Eagle Creek), and the capacity (2,835 cu. in. and up to 3,645 when expanded). I've yet to put the miles on this bag to test its durability, but I'm liking the interior webbed sleeve where I slide my shirts with wire hangers for quick packing and unpacking. Three outer pockets are positioned both horizontally and vertically, and the expansion adds considerable leeway. I'm hoping the zippers are substantial enough for the long haul. The handles and wheels appear to be plenty durable. (Update August 2018: I reported a couple zipper problems and was quickly notified that because of a production flaw early on, Lite Gear would replace both my bags. Sweet.]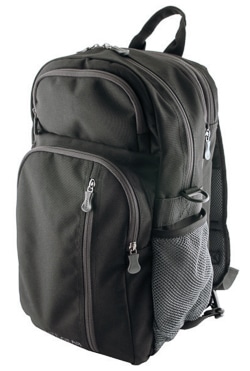 This backpack replaces my Patagonia convertible sling/backpack weekender bag, and my body loves the difference. This compact backpack is great for my shorter frame, and it expands nicely to hold everything I want in a carry-on that can also serve as my airline-approved "personal item." It can be carried as a backpack or with a cross-body strap, or hooked to the top or the front of the Hybrid roller bag, so the whole system can be carried on without breaking a sweat or alarming the gate agents. The pockets are great for access to all the little things you need on the fly. We like the bonus "apps," too, including a mini flashlight and a thermal food container (which has already been lifted by a certain family member who continues to use it for baby bottles). (Update: See the note above. With my replacement, I'm extra happy to have the little cooler to complete my Lite Gear accessories.)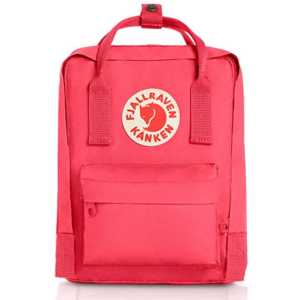 Fjallraven Kanken Mini Classic Backpack
The newest weapon in my arsenal of bags is my Fjallraven Kanken Mini Backpack, which is both my purse and daypack for all but the most active travel. I call it my city bag as opposed to my hiking or biking pack. The fabric feels like a waxed canvas (it's called Vinylon) and resists water and dirt. I like that it takes on a nice patina with use. The secret ingredient is a foam pad which slides into an internal pocket. It serves both to keep sharp edges from poking into your back and, when removed, makes a great little seat for resting on damp ground. The open side pockets will handle a small water bottle, keys or a phone, though I zip those items and my passport inside when need be. This little bag holds a lot-including half my office and all my airline reading and accessories–while sneaking through apart from my carry-on.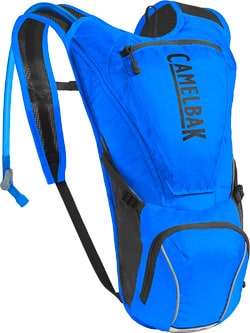 For serious day hikes, I try to stay with my petite Camelbak pack. Its hydration system is just 1.5 liters, and the zip pockets for snacks and keys are really small. But with an external pouch that can be cinched with straps, and by adding exterior capacity with carabiners, I can manage to make it work. My version seems to be smaller than anything on the market today. It's small enough to pack in my roller bag, and offers really comfortable shoulder and waist straps.
This is an updated version of a post originally published in 2017.

Here are some more tips for hiking locations, routes, preparation and equipment, all in one spot.
Travel Planning Resources
Looking to book your next trip? Use these resources that are tried and tested by us. Flights: Start finding the very best flight deals by subscribing to
Thrifty Traveler
. Book your Hotel: Find the best prices on hotels with
Booking.com
. Find Apartment Rentals: Find the cheapest prices on apartment rentals with
VRBO
. Travel Insurance: Don't leave home without it. We recommend
Allianz Travel Insurance
. Need more help planning your trip? Make sure to check out our
Resources Page
where we highlight all the great travel companies and products that we trust. See all of the gear and books we like in one place on our
Amazon shop
.