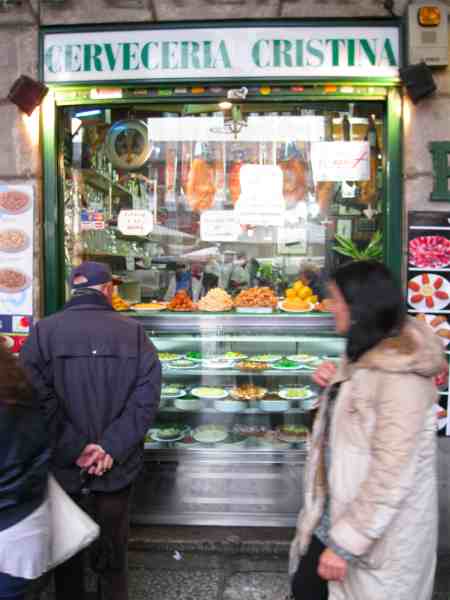 Don't get me wrong. Walking in Madrid is good pretty much any day of the week.
But Sunday is really good.
Madrid, first of all, is a great walking city. If you are staying anywhere near the Puerta del Sol. you'll perhaps first notice that Madrid got smart several years ago and banned all car traffic in the Puerta itself as well as all streets leading out of it for a distance of several blocks. Usually the only vehicle you'll ever have to contend with is the occasional taxi that has received dispensation to come into the center to drop passengers at the hotels.
Spaniards love to walk. They do it all the time, but particularly in the early evenings and Sundays when they habitually dar un paseo with their girlfriends, or their extended families, or whomever. They don't necessarily have any destination in mind, except perhaps a restaurant or bar. They just like to walk.
So, when we're here, we join in.
Sunday is distinct in Madrid because that's the day the open air market, El Rastro, is open. (It's also open on most holidays.) El Rastro is located located along Plaza de Cascorro and Ribera de Curtidores, between Calle Embajadores and the Ronda de Toledo (just south of La Latina metro station). It is basically one long street in the La Latina neighborhood–a 10 minute walk from Puerta del Sol–full of booths selling clothes, hardware, antiques, toys, electronics, and almost anything else you can think of. And every side street shop is open as well. Even if you're not ready to buy, it's a lot of fun to look.
Yesterday, we bought a couple of cheap gifts in the two hours we spent browsing. Then got down to the real business of being in Madrid: bar hopping.
There's even a Spanish word for how barhopping is done here. It's tapear and it means, literally, to have tapas. By extension, it means go from bar to bar and have a tapa in each one. It's a great way to live, a great way to eat, and a great way to strike up a conversation with the people standing next to you at the bar.
Yesterday, we had (starting at the end of El Rastro and working our way back toward Sol) a plate of small olives mixed with little pickled peppers and onions, a piece of toasted bread layered with crushed grilled eggplant and fried chicken strips, slices of chorizo with little hard rosemary bread sticks, pickled sardines in vinegar and some more olives, and finally fried calamares with crusty bread. I stuck with cañas (small glasses) of beer as we went along. Kris had a glass of wine now and then.
The streets and bars were all crowded, as they usually are here. Mostly, bars are small and have a row of chairs or standing room along the bar, and perhaps one row of small tables opposite. Most all of them are full on such Sunday afternoons as people break their walks for a little refreshment.
Madrid is one of the great cities of the world for museums, fashion, music and more, and we always take advantage when we're here. But, when it comes down to it, it's the walking and tapearing that really make it my favorite place.
Get all our travel tips delivered to your inbox
Subscribe to our email newsletter