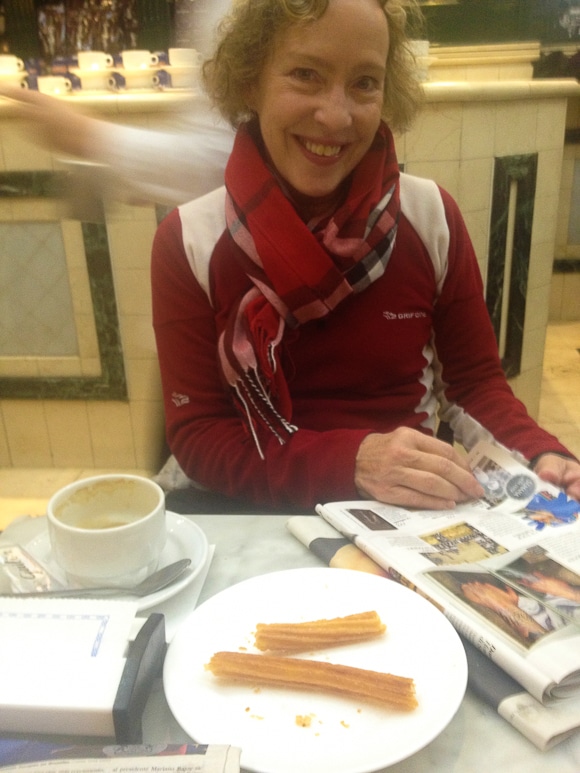 It's impossible for us to even think of Spain without Spanish food being at the top of mind. In particular, I'm partial to a Madrid breakfast, especially of the characteristic churros, which are sort of a Spaniard's answer to the French croissant. (Not that the Spanish don't make excellent croissants. They do.)
For Americans, it's easiest to travel back and forth to Spain via Madrid or Barcelona. Since we haven't been ending up in Barcelona the last few trips, it's a no brainer that we end up in Madrid on the way in and out. (It also has something to do with the cheapest flights for us being via O'Hare on Iberia. I'd also recommend these flights for another couple of reasons: because of the economic crisis in Spain, the planes for the past two years have been half full; and, because Iberia has good food and good service–way better than any American airline I've been on recently.)
So, after our last two and a half month stay in the north of our favorite country, we decided to come to Madrid to renew our acquaintance yet again three days before our flight home. As I've written before, we usually stay in the neighborhood of the Puerta del Sol, which is the center of "old" Madrid, and is easy walking distance to hundreds of places where we can do our favorite thing to do in Madrid–eat and drink.
We just spent a week volunteering at an English language boot camp for Spaniards–mostly from Madrid–in a village in the province of Segovia–a side benefit of which was getting a slew of recommendations for their favorite places to eat and drink in Madrid.
Chocolate and Churros for breakfast
As a consequence, we now have some new favorites of our own: for the morning coffee or chocolate and churros, you can't do better than Chocolatería San Ginés, which is just off Calle Arenal about halfway between the Puerta del Sol and the Plaza de Ópera. (According to their web site, they've just opened a store somewhere in China. I don't know where because I don't read Chinese.) We went to the original Madrid location on both Saturday and Sunday mornings, and both times had to stand in line for a few minutes to order at the cashier just inside the door, get our ticket, and then wait a couple more minutes for a table to open up.
The place has seating on two levels in the main shop, and another large room next door. The turnover is quick, so the wait is never long, but, even if it were, it would be worth it. Basically, there are two times two combinations that are the standard fare. You can either have coffee with milk or hot chocolate, and you can either have churros or porras, which are basically just bigger churros. (You could, I guess, have tea. But who the hell dunks their churros in tea?)
In case you don't know, churros and porras are the Spanish equivalent of donuts. They are basically just fried dough–and are usually sprinkled with powdered sugar–although they are so delicious, you can certainly forego the sweet garnish. I do.
The essence of the Spanish churro breakfast is not the churros, however. It's the chocolate. Warning, this isn't the thin gruel that Americans call cocoa or hot chocolate. This is a thick, dark, bitter chocolate that comes in a cup, but is really too thick to drink. It exists solely for dipping your churros. And then using your spoon to get the last bit out of the bottom of the cup, if you don't coordinate the last of your churros with the end of the chocolate.
An order of chocolate with six churros costs €3.20 (about $4.) Add a glass of fresh squeezed OJ for another €3, and you've got three of my favorite Spanish tastes, all before noon.
Tapas and raciónes from Asturias
As far as other Spanish tastes go, the cuisine of the region of Asturias ranks right up there with the Basque Country. The characteristic tastes of Asturias are too diverse to easily summarize, but a description of the land itself lends a hint. It's extremely mountainous, and the mountains are not unlike those of Cantabria, where we just spent two months. The terrain of Asturias does not lend itself to growing much but livestock and the odd legume and fruit. Believe me, the Asturians get the most out of what they've got. There are the aforementioned goats, sheep, and cows that make the marvelous cheese. And, there are pigs. Pigs that become delicious chorizo and morcilla.
Since we weren't going to Asturias this time around, we settled for Bar Ñeru (the name means "cave" in the Asturian dialect.) Of course, to say we "settled" is a long way from the truth.
This place is a little bit of Asturias in the middle of Madrid. It, too, is just off Calle Arenal, about half way up the Bordadores street (Calle Bordadores, 5, to be exact) toward Calle Mayor. You step down off the street into a characteristic narrow bar. Along the bar, as is typical in Spain, are the various offerings. At one end is an enormous mound of Cabrales–a sharp blue cheese made from a mixture of goat, sheep and cow milk in the Asturian caves. Along side are plates of such Asturian staples as tuna stewed with tomato and onion, chorizo and morcilla (blood sausage,) chorizo ground with eggs that is spread on bread, and fish empanada.
As for the legumes, the specialty of any Asturian menu is fabada Asturiana–Asturian bean soup. It's simple, but so hearty, that you'll want to make a meal of it alone. In essence, it's fava beans, chorizo, morcilla, and paprika, and some other probable spices that I couldn't distinguish. I dare you not to use your bread to wipe the bowl clean.
Ok, there are apples in Asturias, too. And, as anyone knows, the best use of apples is hard cider. The natural cider available at Ñeru is cloudy, subtle and tart at the same time. As is typical of Asturias, it's served in a big glass that is filled by holding it at arm's length as low as you can, and filling it from the bottle which is held at arm's length as high as you can. On other words, it takes good aim. You can tell a real Asturian because he can do it without looking.
So, here's the menu for our stop last night. We started by ordering cider, which was accompanied by a (free) tapa of Cabrales spread on slices of bread. We ordered another round of cider, but, instead of another tapa of chorizo, we opted for a half bowl of the fabada. Although we were invited to have another course of grilled baby squid and a dessert of rice pudding, we were full, and so declined.
Next time we go to Ñeru, I'm not eating such a big breakfast.
Here are some more suggestions of where to eat in Madrid, and in Barcelona, Girona, and more from Madrid.
Get all our travel tips delivered to your inbox
Subscribe to our email newsletter