Now that Tom's published the Big Reveal about his travel clothing, it's time for another viewpoint. So here's a look at my travel look, designed for comfort, effortless pass through airport security, and adaptability to climate change.*
*I refer to the old-fashioned climate changes one encounters in the course of a long traveling day or two, including but not limited to stale forced-air ventilation on planes, humid jetways, stuffy trains and subways, breezy concourses, hot flashes, 40,000-foot chills, and luggage-hauling sweats.
Following Tom's format, I'll start at the bottom.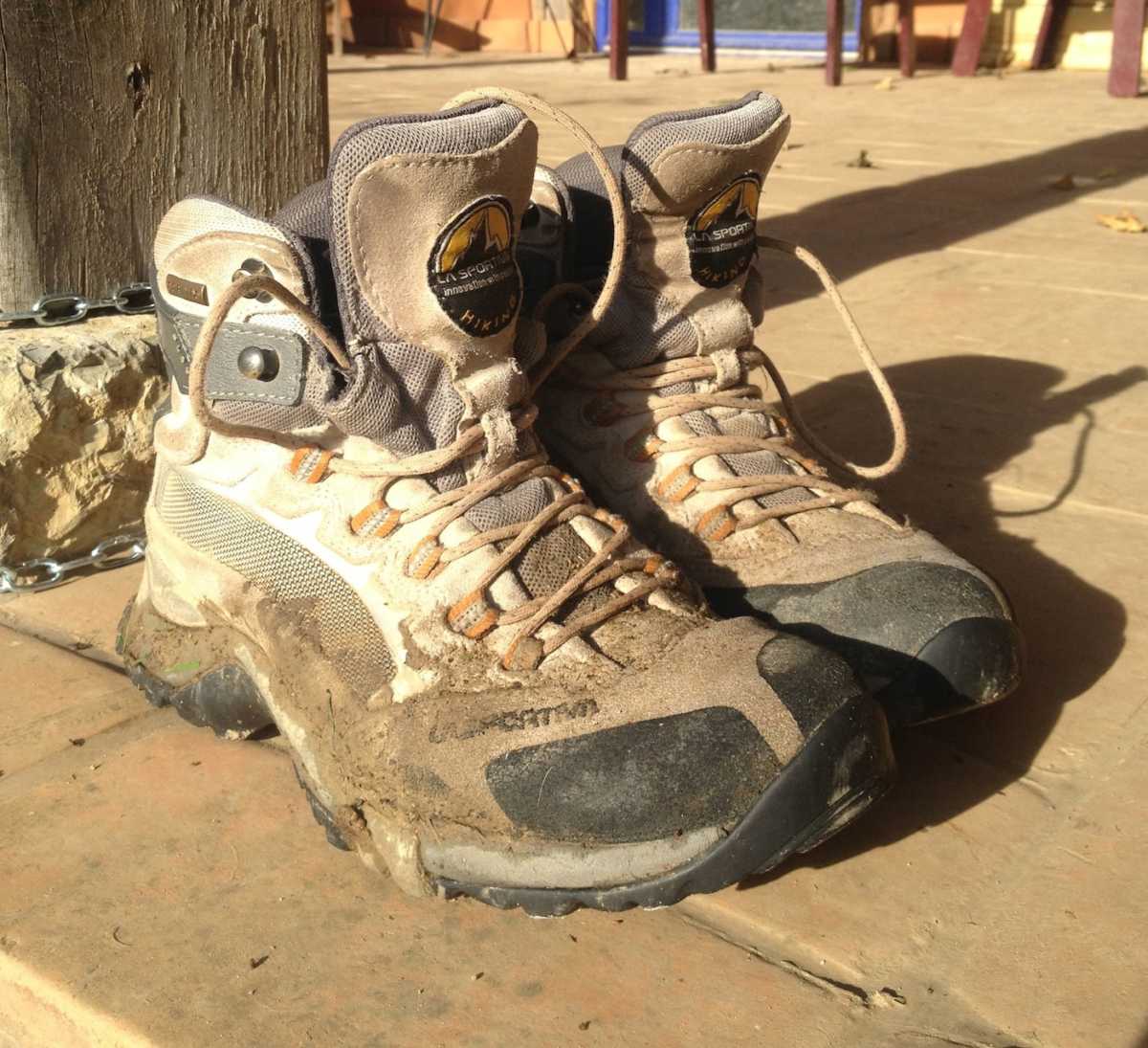 Shoes
The bane of my packing existence! The first thing to consider when packing is how many pairs of shoes you'll carry, then wear the bulkiest in flight. I like to keep the total to four or five pairs, unless backpacking, in which case it has to be two, plus flip-flops. See my detailed outline of travel shoes for women here.
My feet are my first priority. I assume I'll be walking a lot, so I require good hiking boots, which I alternate with good trail/running shoes. For the city, I add another pair of walkers that look halfway decent, and the aforementioned flip-flops for hotels, showers, indoors.
Mind you I've broken these rules on my last two trips, wearing cowboy boots to Napa Valley (a short trip which required only one pair of hiking shoes), and also to Northern Spain. (Hey, there were horses involved, and I was not traveling around a lot.)
I used to be concerned about what footwear I wore through security. Really, it's no big deal whether your shoes slip off or not. The lines move slowly no matter what, and I usually end up waiting for Tom to be patted down. My concern is comfort in the air. Shoes come off immediately. Since I'm barely 5' 2", I like to use my hiking boots for a footrest. I open them wide and stuff the laces inside so that I can slip them on to use the bathroom. Once we land, these ankle high boots are perfectly comfortable no matter how swollen my feet.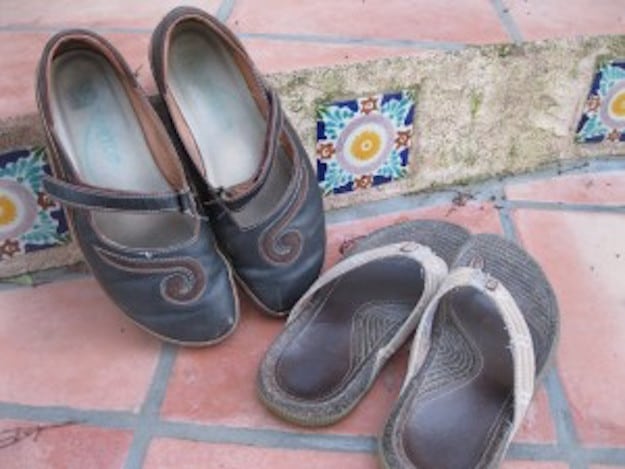 Pants
Anyone who has traveled with me will tell you I Love My Pants! I bought my Mountain Hardware Ancona Trek Pants for hiking. They fit, they look good, they wash and dry fast, and they have plenty of pockets, including a lower thigh pocket good for hotel and credit cards. N.B. the zippers show up through the airport scanner, so you'll get double checked.
Don't wear jeans and don't wear anything that will show your plumber's puff when you bend and reach under the seat. Ick. You could wear sweatpants, but you'll regret it later when you want to look smart hailing a cab or checking into a hotel. You are not a college kid on spring break, after all.
Underwear
Yes, do pack it. Brazil, string, French, sports, granny, what have you. Do toss an extra pair in your carry-on. My theory is, since they are so small, just toss in twice as many. The consensus among experienced travelers: thong variations just aren't that comfortable for the long haul.
Tops
Your basic, everyday bra is going to be most comfortable for hours of flying. For trekking (and the inevitable dressing and undressing in semi-public places) I'd advocate wearing a sports bra at night.
As for shirts or T-shirts, I'm most comfortable in my Columbia Silver Ridge Long Sleeve Shirt. This works in any climate and for any mode of travel. I like the long sleeves and collar in case of drafts; I like the roll-up sleeves with fasteners for hot spells; I love that they stretch so that I can sleep without feeling constraints in my armpits. And, best of all, they drape well with no wrinkles so that you can look fairly 'put-together' when you walk out into public. No tucking in shirttails. That would be silly.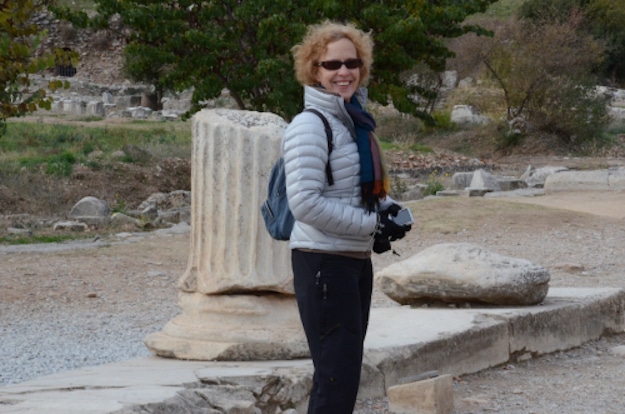 Outerwear
For an extra layer, I wear the Mountain Hardwear Nitrous Jacket, which doubles as a sweater. It's light, washable, zip-up, and doubles as a pillow when in its stuff bag. I stuff mine into my carry-on or even into my purse, so that it's handy. This is lighter and more compact than sweaters, sweats, or polar fleece, and can be layered with anything without a lot of tugging.
Accessories
Jewelry Though I don't carry much jewelry, I do make sure that I'm wearing earrings in flight that won't catch, poke, snag or otherwise appear in my consciousness.
Scarf A scarf is a wonderful thing. I always wear one for temperature control. (The neck is as important as the feet in that regard.) It can double as pillow or eye cover.
Bandana I got in the habit of carrying a bandana when hiking across Spain. It's a splint, bandage, mop, hat, eye shield, sunscreen, filter, handkerchief, and pretty much whatever else you want it to be.
Glasses I wear glasses, not contacts, when flying. Usually I go for the more comfortable plastic frames, which also have a slight tint. I keep an extra soft case to stash my eyewear when I'm ready to doze off. (Avoid, at all costs, putting personal items into the pocket in front of your seat. YUCK!)
Electronics
I board with the following in hand: my phone, kindle, noise canceling headphones, and laptop (depending on the flight duration). It's easy to gather these items at the gate so that when you find your seat you can simply stash your carry-on in the overhead and slide the rest under your seat.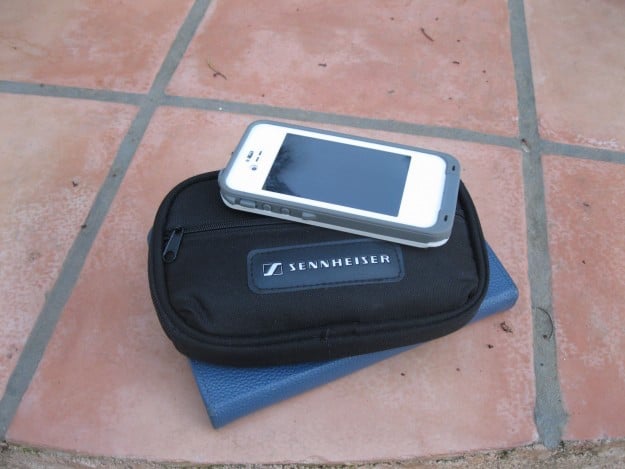 Accessible Items for Long Flights
Necessities for me include a notebook with pen and pencil, toothbrush and/or mouthwash, a bottle of water (purchased after security of course), hand lotion, and mints. With these items you can be sans electronics for take-off and landing, and refreshed enough to disembark without feeling like a slug.
As for the nasty liquids restrictions, I have a 1-quart, durable, zip-up travel ditty bag. I rearrange my toiletries to make room for toothpaste, lotion, toner, shampoo and conditioner, by moving out the toothbrush, soap bar, razor, and other non-liquids. My cosmetics are in a separate little bag, and in the past several years, they've never been checked. Maybe that's because I'm forthcoming with the bag of liquids, or maybe the make-up has some magic potion that not only makes me look youthful, but eases me through security. By the way, since contact solution doesn't come in travel size, I've discovered you can toss it in the bin with your quart bag (but outside that bag), and it'll be fine.
In my carry-on I also stash any medicine, cash, papers, jewelry, all the cords and chargers, and maybe a change of underwear and an extra sweater or under layer. What I DON'T carry on board is my traveling toolkit (pens, knife, corkscrew, scissors), my manicure set, and back-up supplies of meds or toiletries. (Try not to take any back-ups at all; they probably have stores where you are going.)
Organization
In one respect, we girls have it easy carrying purses. Everything we need on the flight can fit in your purse (and sometimes, my purse will fit in my carry-on.) But guys can lug more in their pockets. In order not to re-pack every time I need to get to my wallet, I fly with ID and credit card in my pocket or, for international flights, with a passport wallet around my neck. Recently, I've gotten better at separating currencies by pocket or wallet, so I can grab and go. New scanners require I place my credit card and ID in the bins, but it's great just using credit or debit from the hip for that on-the-go coffee.
That's how I fly. Stay tuned for variations.
We love traveling–with the right gear. You can check out a lot of the stuff we use to make all our travel much more pleasant and efficient all on one page. Click here to see it. If you purchase something from this page, Travel Past 50 will receive a small commission at no extra charge to you. Thanks.