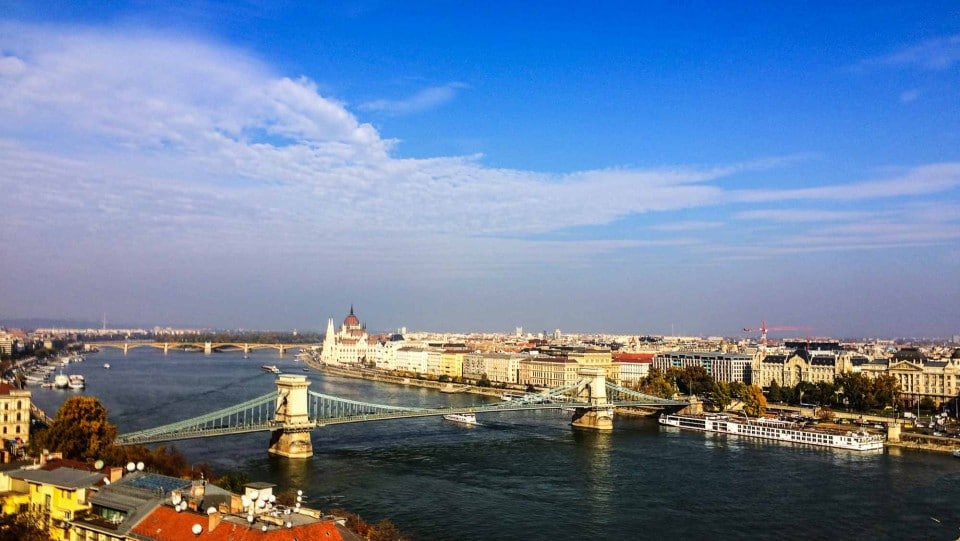 We took Viking's Danube River cruise, from Budapest to Bucharest. The trip is called "Passage to Eastern Europe," and ours was the last sailing of the year, from October 26 to November 5.
I enter this sort of thing with a fair amount of trepidation. First, there are the cruise stereotypes (old farts on a boat). Then there's the perception of group tours (know-nothing guides leading the lame and filling them with bad information). And of course there's the fact that Tom and I are veteran travelers, independent tourists, and skeptical listeners, all of which translates to: "We don't need no stinking tours." We have, shall we say, a healthy sense of disdain for all organized activities.
But, come to find out, Viking might have had us figured out. We gained a lot from the tours (read about them here), and got a kick out of our time on board, too.
Some posts on Travel Past 50 may contain affiliate links. If you buy something through one of those links, we may earn a small commission. As an Amazon associate, we earn from qualifying purchases.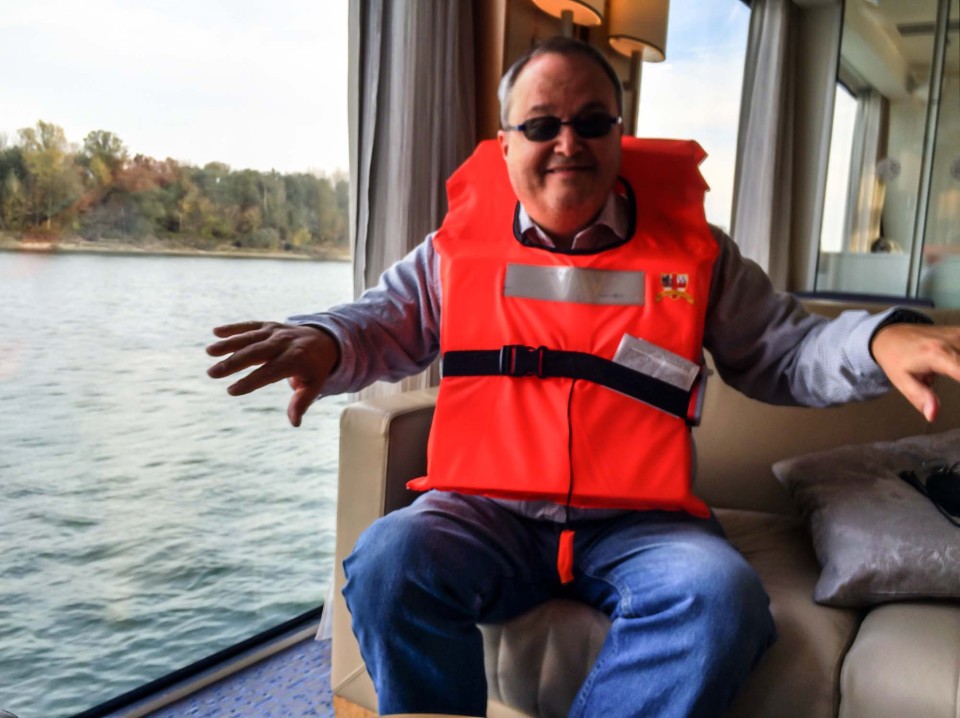 The Cast of Characters

First, a note about the people on board. Typical of Viking's river fleet, our ship, Lif, holds about 190 passengers plus crew. And like most of Viking's European cruises, the passengers are almost all native English speakers. (Viking markets specifically to Americans, who outnumbered all British, Irish, Canadian and Australian passengers put together.) The crew comes from all over, in this case mostly Eastern Europe–Hungarian, Ukrainian, Romanian, Serbian–but also Dutch, Norwegian, and Filipino.

This particular sailing was perhaps a little unique, too, in that a few dozen passengers had started with Viking in Amsterdam a couple weeks earlier, and simply changed boats midstream (well, while docked) in Budapest. So they had already made friends and were broken in. Surprising to me, 130 of the 190 passengers (including us) were repeat Viking passengers.

Whether it was the East European itinerary or the time of year, it was plain that the motivating factor among passengers was not to hang out on the sun deck. It was not the cuisine, although we were not disappointed. Nor was it the bus rides. Everyone was glad when the last bus excursion delivered us to our hotel in Bucharest.

Instead, we were among like-minded folk in having chosen this trip precisely to be introduced to new countries (countries we've never visited before) and to learn. This 10-day trip down the Danube, through five countries, is an eye-opener. These countries are new, or at least newbies in their current social and political garb. But they're also as old as earth.
.
We met people older and younger than ourselves. We met people who've sailed the world, traveled by RV, or taken dozens of cruises, and others who were on one of their first international trips. Most, but not all, were retired. Wow, it seemed like a lot of doctors! At times it was a challenge to steer conversation away from medical insurance. Sure, there was talk about grandchildren, as sure as there were political discussions. It's a sufficient sized group, though, that you can (surely you can if I can) manage polite and even deeper conversation as you wish.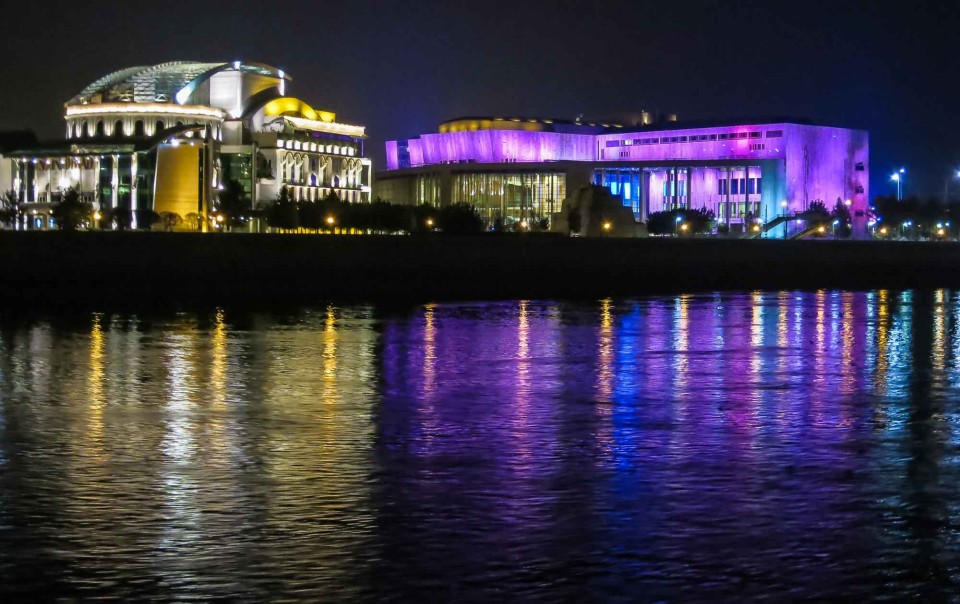 The Danube River and Cruising
There's a lot to be said (and we've posted) about our shore excursions. But let's not forget that we wake and sleep and eat on board a boat that is headed down a river. For pure love of the river and the cruise, this Danube River cruise didn't disappoint. As the captain pointed out, the Danube is a real river, not a canal, and it's not highly engineered. The channel changes; the lower Danube is sandy. It has it's own river personality. We passed through only two locks. (Since Bucharest was our last docking, we didn't see the delta. In fact, there's a canal that allows boats a direct approach to the Black Sea avoiding the northward swing of the river and delta.)
Leaving Budapest was beautiful for those who braced themselves against the brisk wind. We sailed up around Magrit Island, turned on a dime, and floated down past all of Budapest – with the gigantic gleaming Parliament on our left, Matthias Church and the Buda Castle on our right, and the whole busy riverfront around us until the modern art museum marked the end of the city. Budapest might be the most beautiful river town in the world.
We learned the picturesque trip around Magrit Island and back down river was not just for show; boats are required to dock facing upstream. This route was required to turn us around to our downstream lane.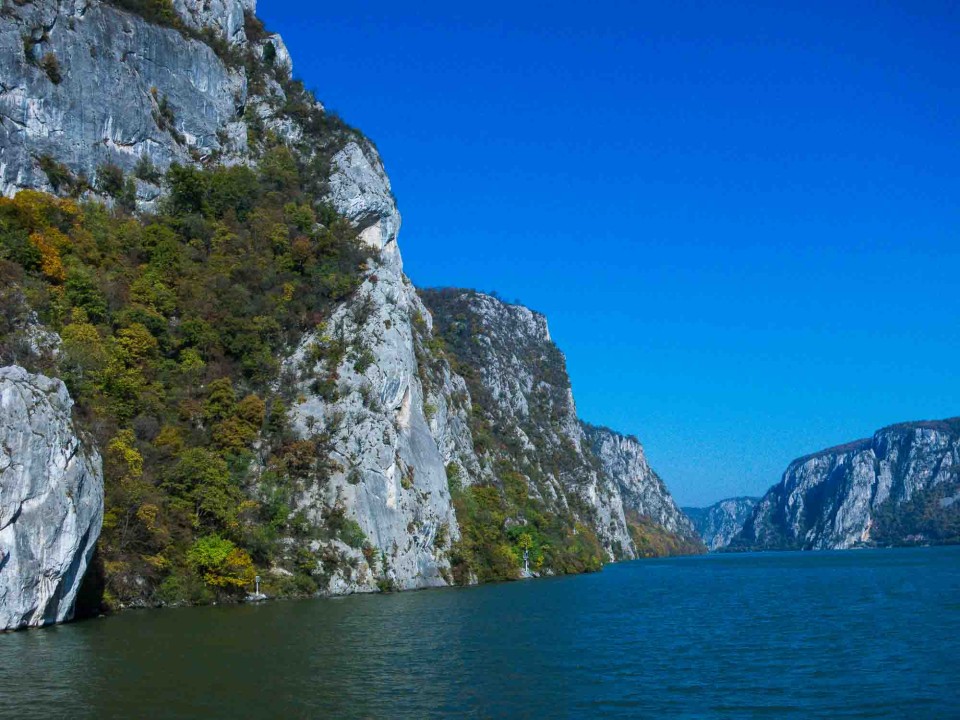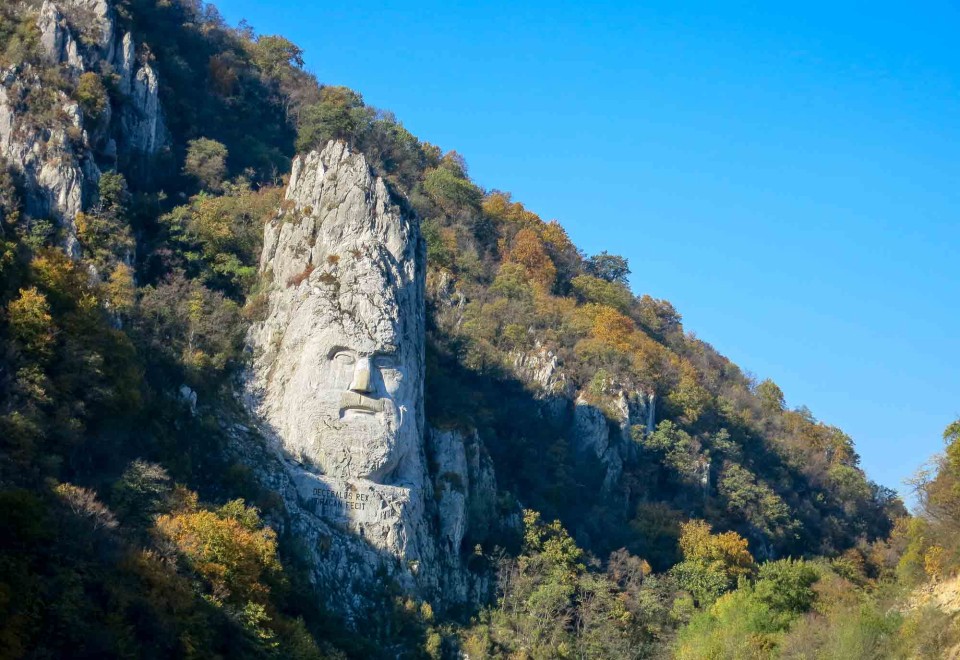 The most famous scenic spot on the cruise is The Iron Gate, a narrow in the Danube where the river sets the border between Serbia and Romania. Especially after passing through the great plains of Hungary and Croatia, the high cliffs are spectacular, even if some caves and Roman and Medieval ruins are now drowned by a later-day dam. We had all day on the ship to view the scenery, and we welcomed the day of rest on board with no excursions.
Relaxing on the boat, even in inclement weather, is a treat. (Oh, I wish there were a place for yoga stretches, though.) There's a constant supply of coffee and tea, and you can park yourself on lounge chairs, deck chairs, or at tables. The Amsterdam crowd seemed to have a good card game going. There's a walking circuit up top, and plenty of good movies available on your stateroom TVs. And there's no better place to read a book.
Other than that, on-board entertainment includes performances by local musicians and dancers and, on our cruise, as we approached Romania, a meandering history of the very real Transylvanian, Vlad the Impaler, prototype for Dracula. If you're going to spend a week on a boat, it's best to know as much as possible about your new friends…and vampires.
We were hosted on this trip. That means our time aboard Viking's Lif was complimentary, and that my airfare and hotels were included. Tom, the poor bastard, had to pay his airfare and hotel. The expectation is coverage in return, posted here on Travel Past 50 and via social media. But no particulars of the coverage are discussed. These impressions of the Danube River cruise lead into Part II, more about our tours in the five countries we visited.
Read about our other European river cruises with Viking on the Rhine and the Rhone.
Also, there are some other details about our shore excursions on this Danube river cruise in Romania, Bulgaria, Croatia, and Serbia.
Travel Planning Resources
Looking to book your next trip? Use these resources that are tried and tested by us. Flights: Start finding the very best flight deals by subscribing to
Thrifty Traveler
. Book your Hotel: Find the best prices on hotels with
Booking.com
. Find Apartment Rentals: Find the cheapest prices on apartment rentals with
VRBO
. Travel Insurance: Don't leave home without it. We recommend
Allianz Travel Insurance
. Need more help planning your trip? Make sure to check out our
Resources Page
where we highlight all the great travel companies and products that we trust. See all of the gear and books we like in one place on our
Amazon shop
.