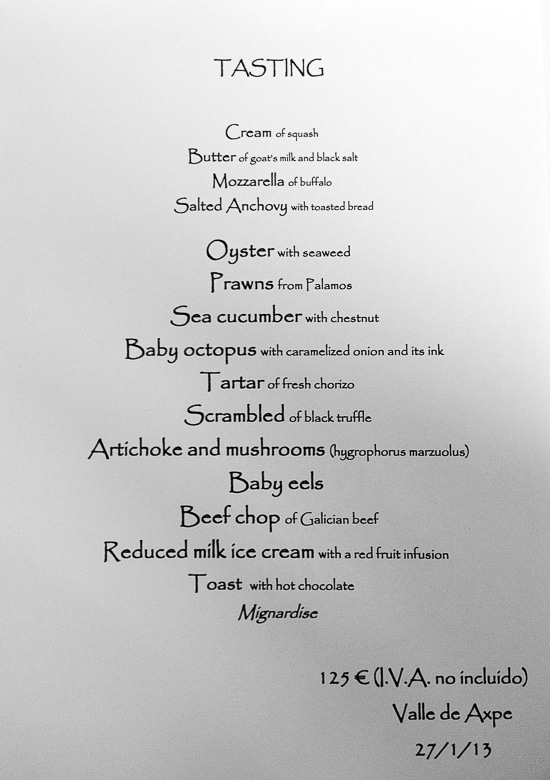 Cantabria is not the most touristy area of Spain. The spectacular churches and other artifacts that draw people like us are rarer here. The Spanish themselves come here in the summer for the beaches, but, for the most part, you won't see foreigners outside of Bilbao or San Sebastián. We like being as far from the tourists as possible.
So, since we've done the Cantabrian caves and looked at the beaches and fishing boats, what is left?
Food. Specifically Asador Etxebarri.
We usually make a point of searching for the best food we can, and don't mind spending for something exceptional. And when you have one of the 50 best restaurants in the world so close, how can you pass it up?
But, as any of you who follow the food porn trail left by such people as Anthony Bourdain know, the neighboring Basque country, especially the area around San Sebastián, is home to at least three restaurants that people who know such things consider to be among the best in the world.
We've read about them all, but the one that intrigued us most was the lesser known Asador Etxebarri.
The tradition of the Spanish "asador" is a rich one. Literally, asador means "roaster." When you apply the name to the entire restaurant, probably the best translation is "grill." Every town has one, and what is most typical is a smaller restaurant with a wood burning oven you can see and smell as you enter, and that turns out the most delectable roast suckling lamb (lechazo) or suckling pig (cochinillo.) These are very traditional Sunday afternoon meals in most of Spain and these asadores usually don't do much else except for steaks, and sides such as fried potatoes, salads, soups and vegetables.
We emailed Asador Etxebarri via their website for reservations. They're open, as is the Spanish style, for the midday meal six days per week. (They only open Saturday nights for dinner. They're closed the entire month of August, so, if you're coming in summer, make your plans for July.) We chose Sunday, because that's the traditional day for the "big meal." And, because we would have to drive about 120km each way and pass near Bilbao, we chose to avoid traffic as much as possible.
Finding Etxebarri is not easy. There are directions on their website, but you need to use your imagination in a couple of spots–and I also highly recommend Google Maps on your smart phone, which is what really got us there. The restaurant is actually in a small village called Axpe. (The fact that some of the road signs are only in Basque instead of Castellano can add to the confusion. You've been warned. Allow extra time.)
But, we had no trouble and we arrived four minutes early for our reservation. The restaurant building is two stories and there is ample parking in the back. The lower floor is a bar with a few tables and seems, charmingly, to be a real hangout for the locals. In one corner was a table full of old women playing cards and the other tables will filled with people chatting and munching on the grilled pintxos that lined the bar and drinking water glasses of wine. We asked the lone busy bartender about our reservation and she rushed upstairs to check if they were open yet and then came back to show us up.
The upstairs is one large open room with only seventeen tables spaced generously. The building itself is probably hundreds of years old, but has been restored and converted into a modern take on ancient Spanish stone construction. The walls are "plastered" half way up with a shiny white marble dust mortar that sparkles in the light. The only "decoration" are what seem to be vents for some sophisticated air exchange system built into the beams.
There are several options on the menu, which is offered in both English and Spanish. (We chose the Spanish, because the English translations of Spanish menus often are more confusing even than unfamiliar Spanish words. Not the case here, though. Someone at the place actually speaks more English than you can get out of a dictionary, it seems. We asked for an English copy to picture here.) The right side was a long list of seafood, fish, and meats priced according to weight. I perused them, but the choice was easy. The left side of the menu was the sixteen course "Degustación" or tasting menu. I didn't come all this way to let anyone but the chef make my decisions for me. Tasting menu it was.
Let's just go through this step by step.
To start, a bottle of tart, yet fruity, white wine from Rioja, Qué Bonito Cacareaba, and a bottle of water.
First came a cup of smoky cream of squash soup with a drizzle of olive oil. Very nice, but not too far out of the ordinary.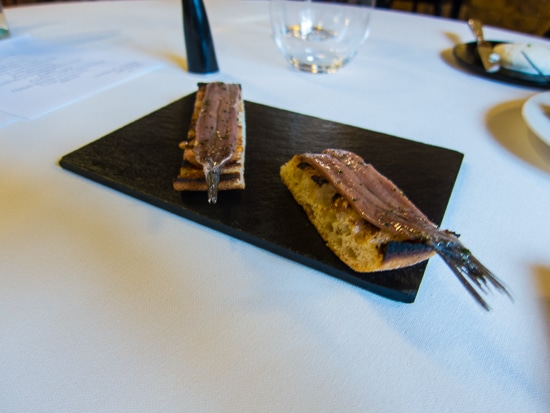 Next, we got the first tease of what was possible. Along with the crusty bread that had come with the soup, we now were presented by a slab of goat's milk butter which had been made in house and was sprinkled with something that was new to me: black salt. We also each got a spongy mound of Mozzarella made that day from the milk of the five buffaloes which are owned by the chef. Unfortunately, they're not at the restaurant for us to meet, but live on his farm up the hill. At the same time, we got one small slice of grilled bread with a salted anchovy. If the only anchovy you've ever had came out of a can, you have no idea what is possible. This anchovy was plump and firm and the salty taste just exploded as you bit into it. I didn't eat the tail as it was a bit too bony, but I did suck it to get the last drop of the flaky salty taste.
Next, was one giant oyster which had been removed, grilled slightly, then replaced in the shell on a bed of smoked algae and accompanied by its own juice which had been whisked into a salty foam. I asked about the foam, and whether it had been created with the compressed nitrogen famously used in the cuisine of the famous Spanish chef Fernán Adriá. The answer was, "No, just a whisk." Incredible–down to the last flake of algae which I scraped off the shell with my knife.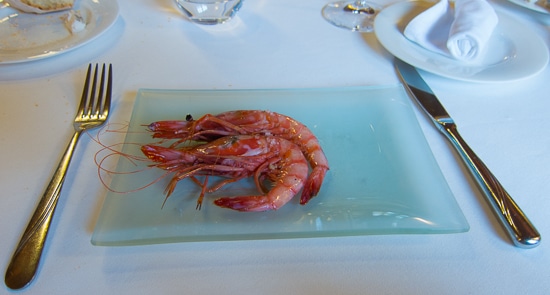 Now, prawns (shrimp to you Americans) again barely grilled and which, when you pulled off the heads, offered a brainy gooey consistency that puts off many people, but, for those of us who have spent much time eating Spanish seafood, know that the head is the best part. Let's just say, the first thing you do when you open one of these guys is suck on the head. Again, the effort is rewarded with the most intense flavor possible. I've never understood why it's almost impossible to buy head-on shrimp in the United States. We're throwing away the best part.
Next, something I've never eaten before: sea cucumber. It was described to us by our server as looking something like a squid, but tasting like a razor clam. Pretty accurate, except there are no tentacles. Actually the shape of what came out was more like a churro: a tube with exterior ribs. These "ribs" had the slightest darkened edges from the grill, and were fishy and smoky and chewy and delicious.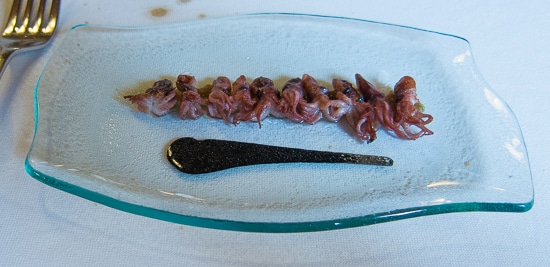 Next, a line of about ten baby octopi. And by baby, I mean these little fellows were only about two centimeters long. They were lined up side by side on an oblong plate and sat on a delicate base of caramelized red onion and one squirt of their ink. Again, there was just the very slightest evidence of a char from the grill. The grill's influence was evident in the smoky taste.
By now, we were out of our first bottle of wine and ordered another of red Rioja. We let the server pick, and were rewarded with a bottle of Artadi, something that had a little more oomph than the usual smooth Tempranillos from that region. It provided a nice counter as well as complement to the subtle smoky tastes we were experiencing so far.
Now, our first red meat. The house made chorizo that had been pureed, molded back into a little brick, then slightly grilled. It removed all the hard chewiness from traditional chorizo and replaced with with a little snap as your teeth went through the crisp outer layer. Wow again.
And then, the most incredible thing I've ever had in my life. The menu said revuelto, which means scrambled eggs. These were not like any scrambled eggs you've ever had. In the first place, they weren't scrambled. It was more like they were reduced like a sauce. I'm guessing a bit here, because I was so overwhelmed I forgot to ask how they were prepared. But what arrived was a shallow bowl of what seem to be pure yolk which had been grilled and smoked just enough for them to "set." This was topped with shaved black translucent truffles that also seemed to have been separately crisped.
There really aren't words for what this tasted like. But I looked over at the table across from us at a guy who was getting his courses just about one minute behind us. I wanted to see his reaction to the revuelto and I wasn't surprised. About three seconds after the first spoonful went from the bowl to his mouth, he leaned back in his chair, his eyes rolled back in his head, and he let out a long, slow sigh. I mentioned to Kris that it looked as though he were in the throes of some sexual ecstasy, and she agreed that that was exactly what it looked–and felt like–to her, too.
Actually, our description of his expression was a bit cruder than reported above, but you get the idea. It was that good.
Next, a selection of wild mushrooms and artichoke hearts, which were lovely, but unspectacular after the revuelto. But those were just a respite before the next course of baby eels.
On the website, it urges you to reserve in advance during baby eel season–November through March–and I can see why. I've had eels before, most notably in Murcia on one Sunday afternoon, but these were otherworldly.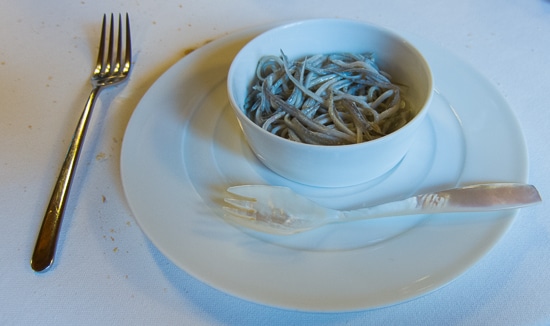 Barely grilled just long enough to impart a very slight texture and an intense smokiness, they were served with a carved mother of pearl spork, which I inferred was provided so a metal fork would not impart any hint of metal to the amazingly delicate flavor. All in all, another semi-sexual experience.
Finally, and a bit of an anti-climax–if you'll forgive the pun–the main course. Very tasty steak, grilled as expected perfectly with a carbon crunch on the outside and blood red inside. We couldn't finish it.
But, because we hadn't passed out yet, there was dessert. Three of them to be exact. First was a homemade ice cream made from milk reduced by setting it on top of the wood fired ovens and letting it absorb the smoke as it boils down. Let that swim in a reduction of wild red berries from the nearby hillsides until the fantastic sweetness can kill a sated diner.
Then, what was described as toast on the menu, but what was really sort of a firm flan-like custard concoction that had a toasted sugar topping. Provided along side was a pitcher of molten chocolate.
And, if that wasn't enough, coffee with Mignardise, which are sweet tiny muffins with a crunchy glaze.
I didn't really need it, but I finished off anyway with a generous pour of Gran Duque de Alba, one of the great top shelf Spanish brandies that, to my taste, completely shame their French cousins.
All of this took almost four hours. We had been the first ones into the dining room, and were now, along with one other table–a young American couple–the last ones left. I asked the server if the kitchen was still open and if we could see it. "And, is the Jefe here," I asked. "Of course," she said. "If he weren't here, we wouldn't be open."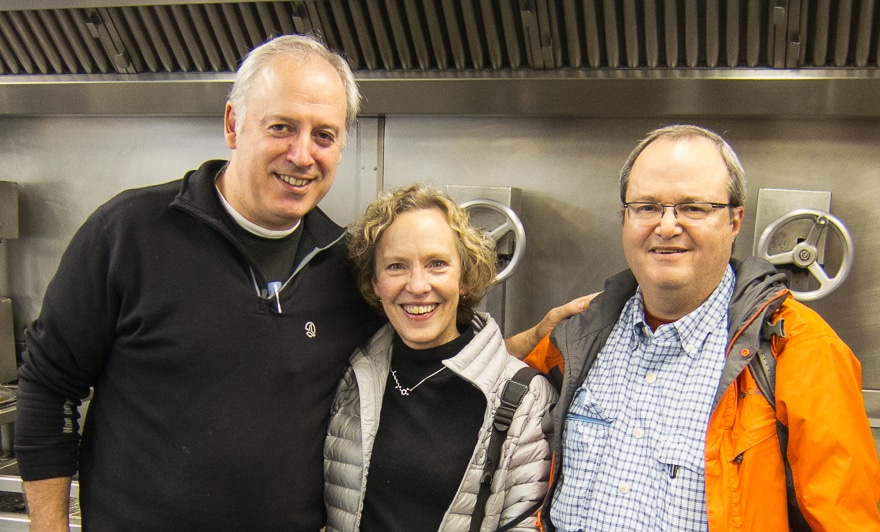 I've saved the best for last, because all this incredible food would not exist if not for Chef Victor Arguinzoniz. We were led downstairs to his kitchen, where he was finishing cleaning his work space, and where he graciously stood for another twenty minutes and explained his processes to us. (It's times like this that I'm so glad we speak Spanish.)
He showed us his grilling surfaces, which go up and down over the charcoal fires with an ingenious track and cable system that he invented. We saw the huge pile of various types of wood he uses to make all his own charcoal. He told us that different foods require different woods. He showed us his custom designed mesh pans that allow him to grill tiny octopi and eels, and he explained how he reduced the milk for the ice cream by letting it sit on top of the ovens. And, he pointed out the whisks he used for the oyster juice foam. He sort of chuckled when I asked whether he used any compressed nitrogen ever in his cooking, "or do you leave that to Adriá?" He just sort of smiled. "I just use the grill," he said. "I can do anything I want with that."
And, he can.
A few more details that are worth a few more words at the end of the longest post in the history of this blog:
After our conversation, Victor invited us upstairs for a glass of Champagne or brandy. When Kris opined that she'd love a glass of cava–the Spanish equivalent of Champagne, Victor scoffed. "Cava is for cleaning your shoes. You'll have Champagne." So she did. And I had a small glass of another of the wonderful Spanish brandies, Lepanto.
Food like this isn't cheap. The tasting menu was €125, plus 10 percent tax, each. The wine on the list ranged from €30 to €350 per bottle. We stuck toward the bottom of the range and weren't disappointed. So, our total, with tax and tip, was just north of €410 (about $550 at current exchange.) We also used about €50 worth of gas to get there and back.
There are those rare times when you pay a lot for life experiences. And, by the way, it was Kris's birthday dinner, so there's that excuse. No jewelry for her this year.
Here are a few other posts about eating in Spain: A Tour of the Tasty Tradition of Malaga, Spain; Stay and Eat in Barcelona, Girona, and Madrid; and The Best Introduction to Madrid is the Madrid Food Tour.
We love traveling–with the right gear. You can check out a lot of the stuff we use to make all our travel much more pleasant and efficient all on one page. Click here to see it. If you purchase something from this page, Travel Past 50 will receive a small commission at no extra charge to you. Thanks.