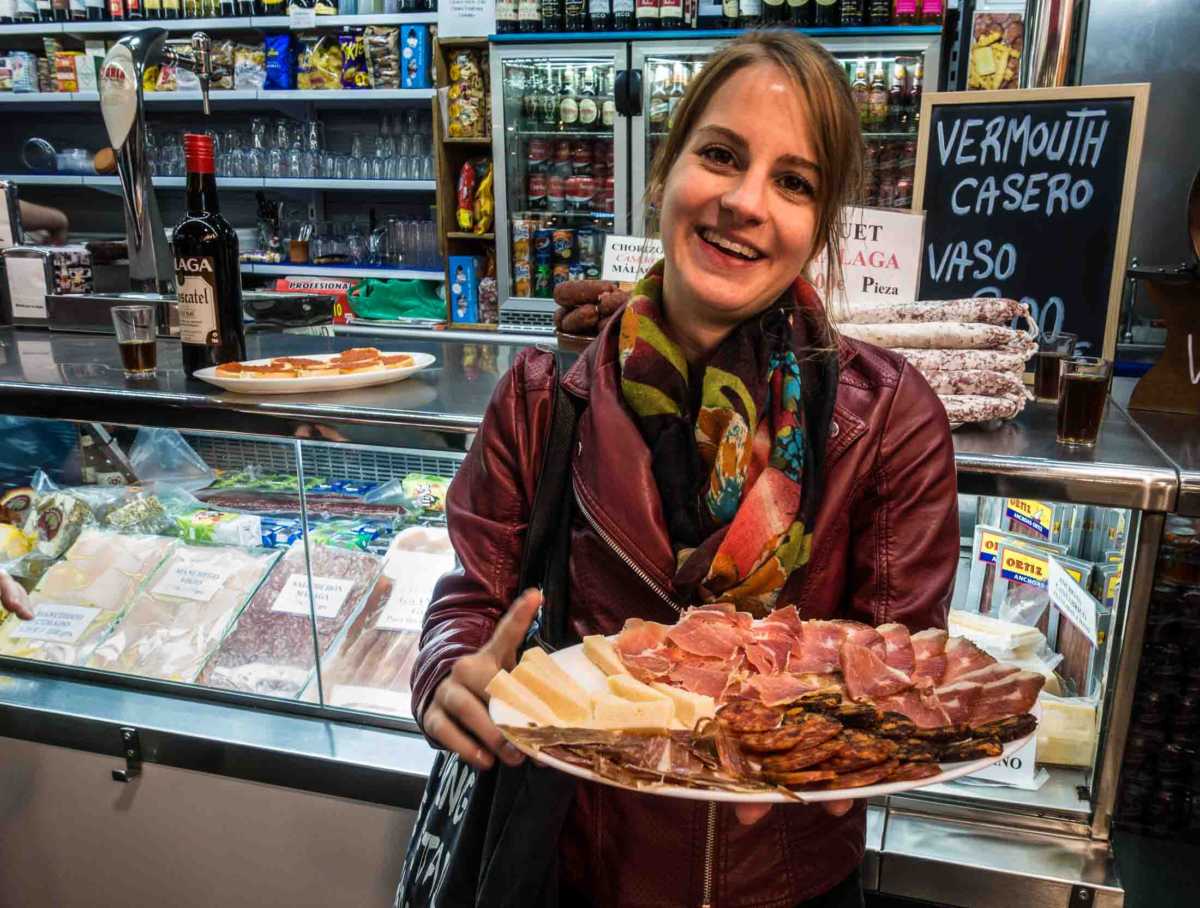 I've said it before, but the best way to be introduced to a city is through its food. Before we go anywhere, our first research is: What do they eat there, and how can we get the best of it? And that's why we took the Malaga food tour.
Luckily, in several cities in Spain, we don't really have to bone up before we get there. Madrid, Barcelona, Sevilla, and Malaga all are lucky enough to have Devour Spain tours. We did the Madrid tour a couple years back and absolutely were blown away by how much we didn't know about eating in a city where we'd spent years.
So, if we wanted to see Malaga from a local's perspective, it made perfect sense to take the Devour Malaga tour and jump in with both feet. Malaga tapas, here we come.
The Madrid food tour we'd done with Devour Spain was in the early evening, perhaps the more traditional time to sample the variety that Spain has to offer. But this Malaga tour started in late morning at 10:30, which is not really too late for a Spanish breakfast. Hell, when I lived in Spain, that's only slightly later than when I had breakfast anyway. And, of course, it's never too early for tapas.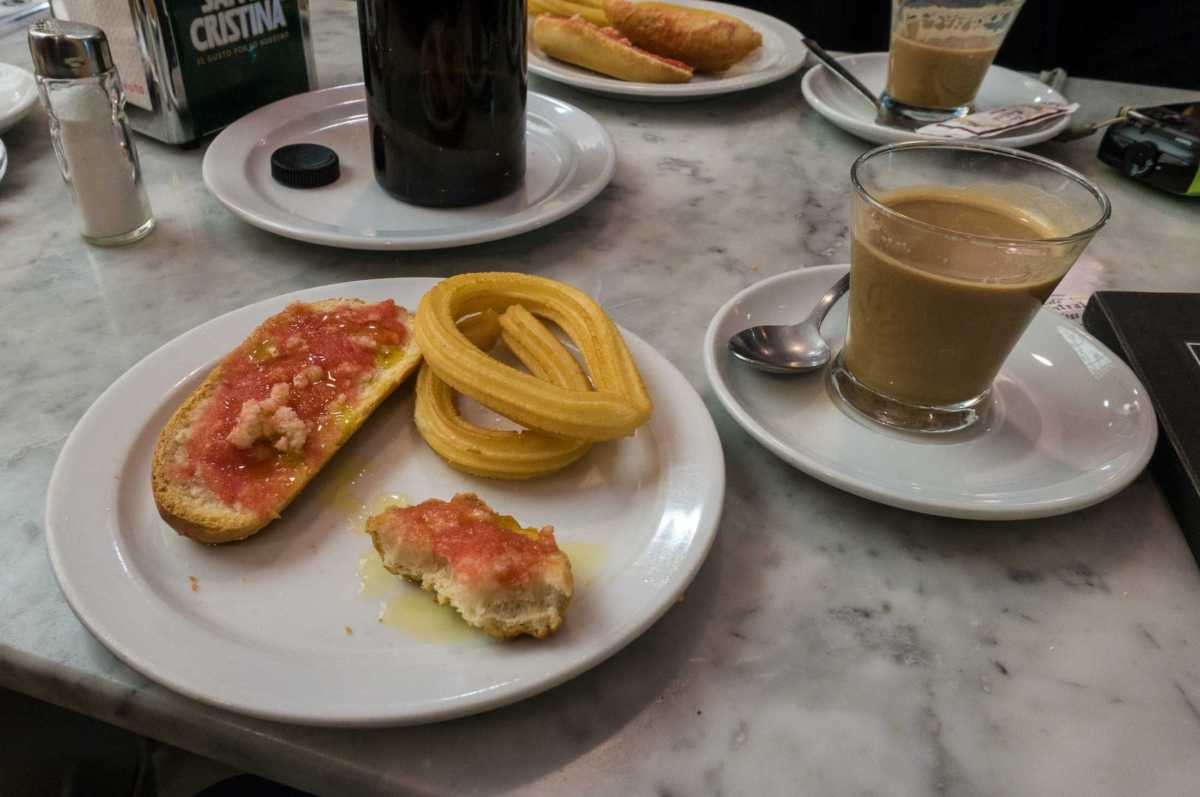 In Malaga, we met our guide Suzanne and started out at the iconic Cafe Central in the Plaza de la Constitución, the main square of the old part of town. Now, the Cafe Central doesn't just serve any old coffee. They have 10 ways you can order it, and have their own vocabulary for describing exactly how much coffee you want, and how much milk, and in what ratio. Don't worry about learning how to do it though, because there's a menu posted right on the wall, and you can just point if you have to. I especially liked the sense of humor. The 10th choice was "no me lo ponga" which means, "I'm not having any, thank you." Well, sort of. But that's the gist.
So, although the coffee was up to the usual Spanish standard of excellence, what really stood out was what they call a "pitufo" which literally means Smurf–as in those little blue cartoon characters. In this case, though, it was the traditional Spainish toasted small loaf smothered in crushed tomato and olive oil. Add salt to taste and you have my favorite Spanish breakfast. Toss in a churro or two, and you have breakfast with dessert. Delicious.
From breakfast, we moved right on to the large market of Malaga, the Mercado de Atarazanas, which is kind of the equivalent of following up a small temptation with an introduction to full on vice. Most markets in Spain will have stand after stand of exquisite fresh foods, and this one was no exception. I could have stayed there for a few days trying everything, but Suzanne led us to the stand of Cristóbal Rios, where we were urged along gently with small piles of marcona almonds (the best almonds in the world) tossed in olive oil, several types of local olives, including one named chupa dedos, which means "lick your fingers." And we did. The third course was raisins made from muscatel wine grapes. In short, a riot of tastes that expand and challenge the palate, and provide a light appetizer for the next stop.
Which was the stand of El Niño, where we got the plate of meats and cheeses you see Suzanne holding out so sweetly at the top of this post. I had to get between all the others on the tour at the same time disciplining myself not to destroy the plate before I could take a picture. What I suffer for my art!
Now I like cheese and chorizo and other Spanish meat preparations probably more than the next guy. But, I must admit I dived first, and almost exclusively, at the Iberian ham you see on the front left edge of Suzanne's plate. (Sorry to the rest of my tour mates if you didn't get any. Well, not really.) All of this plate was delicious, but I think anyone who has been to Spain will agree that the jamón iberico is the iconic treat that defines Spanish cuisine. The best of it comes from pigs who have eaten almost nothing but acorns all their lives, and this was a spectacular example of the jamonero's art. It's better than any candy you've ever had.
Trust me on this.
We washed our ham and cheese down with a small glass of home made vermouth, which is the earthy herby trend in Spain these days. Many places infuse their own, and you'd be well advised to try a small glass with your tapas almost everywhere you go. It's an interesting change from beer or wine you won't regret. Unless you drink too much. Then you will.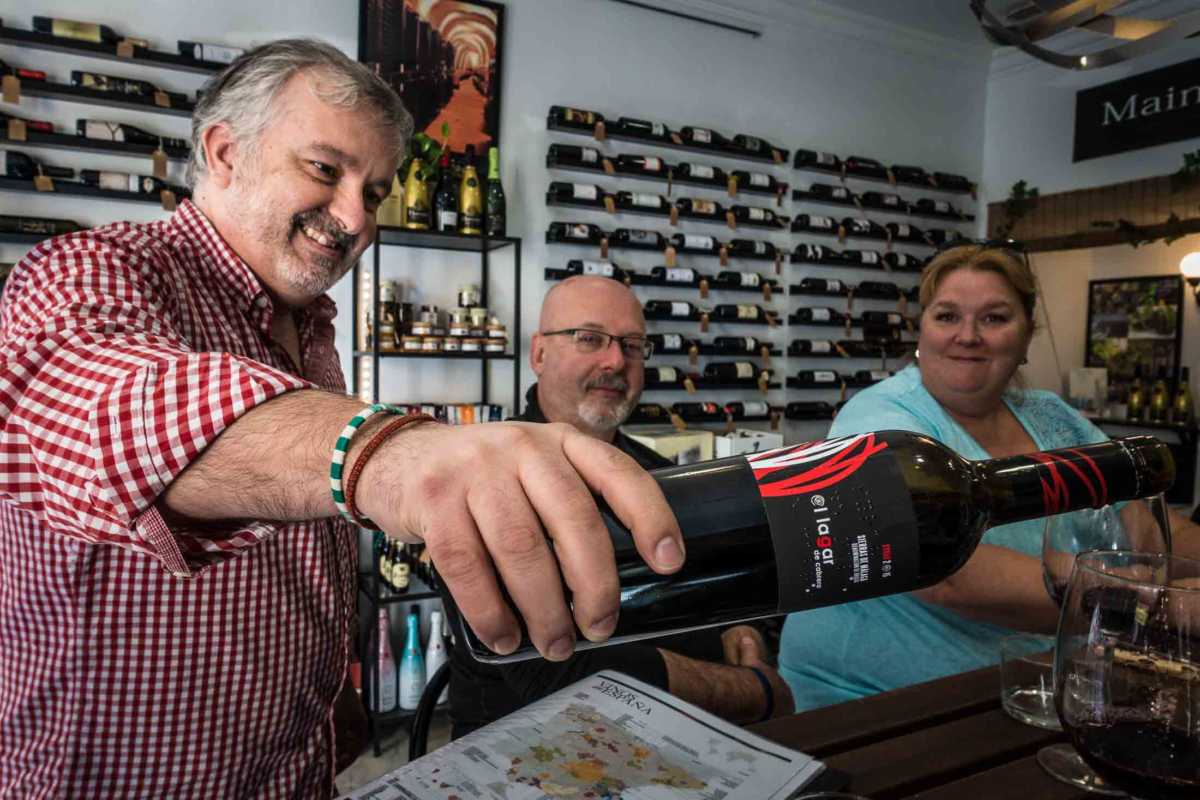 From the market, we moved on to a small and exclusive wine shop you'd never find on your own. Mainake, it's called, and they specialize in wines from the Malaga region. Now this is special, because as Spanish wine regions go, Malaga is quite new, and the production of most vineyards is quite small. We were treated to three pours from José, the owner of the shop. José, and his wines, were delightful. Make the effort to find this place if you are in Malaga. The selection and knowledge behind it are worth the short walk off the beaten path.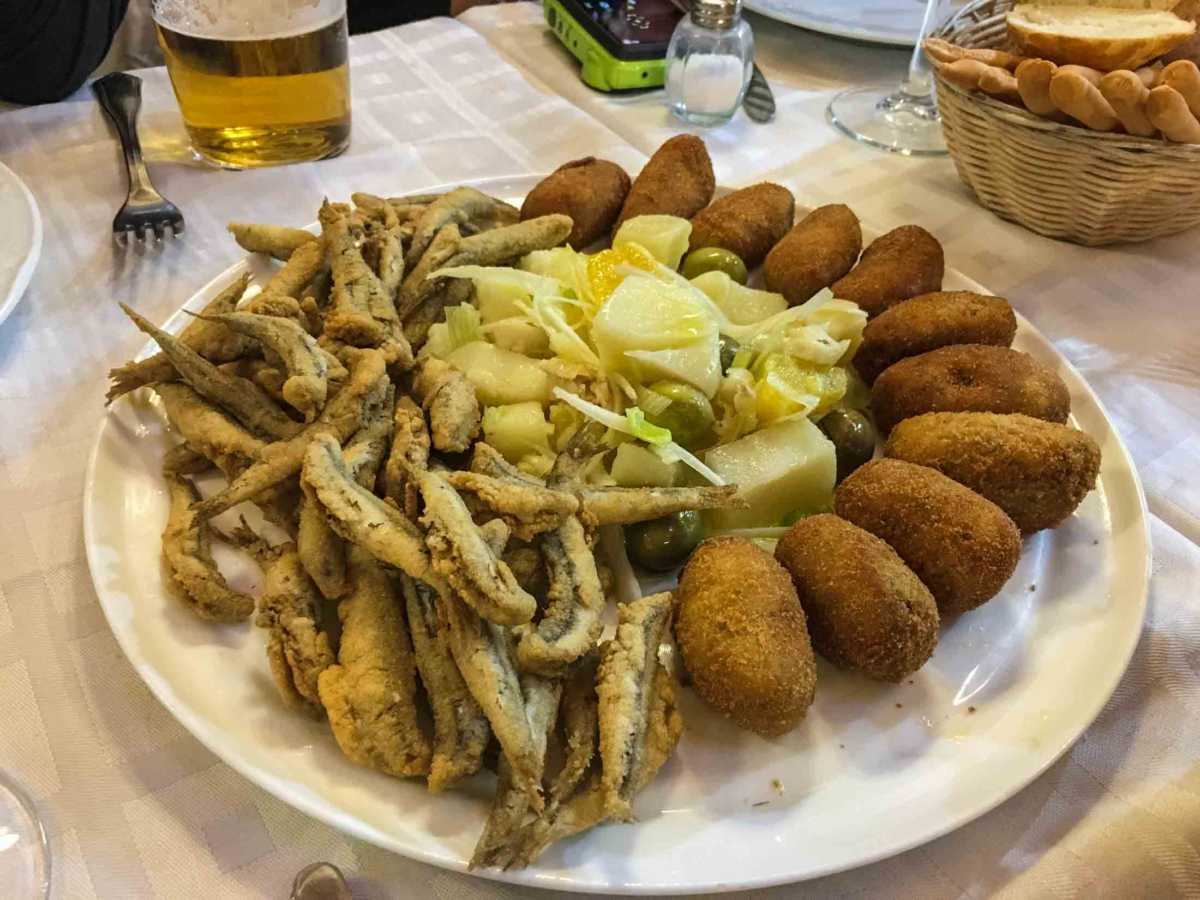 And, even though some of us were staggering just a bit, (well, maybe just me,) we moved on to our final stop at Mesón Antonio, to try another large assortment of tapas, and the other Spanish favorite warm weather drink, tinto de verano. That literally translates to red wine of summer, but really is a mix of red wine and either lemon soda or plain soda water. Refreshing, and it's what the Spanish drink instead of Sangria, the ordering of which will indelibly mark you as a tourist.
At Antonio, we had a sumptuous plate of fried anchovies, ham croquettes, and a delicious salad of lettuce and, surprise, bitter orange slices, which set off the fried foods perfectly. A dessert of a little ice cream topped with a sweet wine, and yes, it was time for a siesta.
If you'd like more info about Spanish food tours, here's a story about the Madrid food tour we took a while back. And, if you are in Madrid, be sure to check out these places, too.
It's worth mentioning that, at the end of your tour, all the Devour Spain tours give you a few pages of guides to restaurants, museums, and other attractions in the city you've just pigged your way through. As I said, a great intro to a city. Also, they have a blog at Spainsh Sabores, which is full of great info about all aspects of Spanish food and culture.
Disclosure: Devour Spain gave me and my friend Robert a complementary tour. Just so you know that when you think of whether my opinions are suspect. They aren't. I'd gladly pay for this tour. At €59, it's a bargain. Don't forget to tip Suzanne if you do go, too. She's absolutely knowledgeable and delightful.
Thanks also to Eurail, for providing me and my friend train passes that got us from Madrid to Malaga and Sevilla. Nothing better than the trains in Europe. And no better way for an American to take advantage of them than with Eurail.
You can read a bit more about Malaga, and its Cathedral in these posts.
When you're thinking of traveling, your first stop should be our Travel Resources page, where we list all the essentials you need to make your travels easier, cheaper, safer, and more fun.
You can also help yourself get ready for your travels by reading our Get Started Planning Your Trip Now page.
We love traveling–with the right gear. We've gathered a lot of the stuff we use to make travel more pleasant and efficient all on one page. Shop our Travel Past 50 Amazon page to find our favorite gear. If you purchase something from the store, Travel Past 50, as an Amazon affiliate, may receive a small commission at no extra charge to you. Thanks.
We never leave home without our travel insurance. Nor should you. Search for the travel insurance from Allianz that best meets your needs, whether it be an annual plan or a single trip.
You can see (and buy prints) of most of our travel photos in one place on this page.
Note: This post and other posts on TravelPast50.com may contain paid or affiliate advertising links. As an Amazon Associate we earn from qualifying purchases.