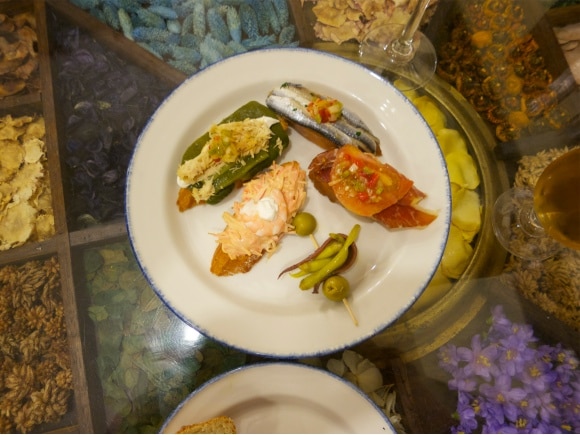 Since it's winter here, we didn't come to San Sebastián for the beaches, like most Spaniards and French do. We came for the food. All of the Basque Country of Spain is renowned for its food. Three of the top 50 restaurants in the world are within a short drive from our hotel.
We've tried one of them so far, but are skipping the other two until later trips, both to give our wallet and digestive systems a respite. Until then though, and as long as we're here, we're going to subsist on pintxos.
Pintxos are the Basque equivalent of the tapas that used to define casual Spanish cuisine. When we first came to Spain almost 38 years ago, every glass of wine or beer that was ordered in a bar came with a tapa. That, back in the old days, was usually a small piece of tortilla de patatas (potato omelet), a small dish of peanuts or olives, or maybe two boquerones (marinated sardines.) In a lot of bars in southern Spain, this is still how it's done.
But in the north, and now in the big cities like Madrid and Barcelona, there's no more free lunch. What you see now is plate after plate of pintxos lining the bar.
Perhaps now is a good time to go into terminology a little bit. Tapa literally means cap or cover. The use of the word as a little bit to eat came from the quaint practice of putting a little slice of bread on top of your wine glass to keep the flies out. A pintxo (which is the Basque spelling of the Spanish word pincho, a skewer) is named after the toothpick that often holds the concoction together. And a pintxo is a much more intricate undertaking than a mere tapa.
The most common form of the pintxo art is a slice of bread, either toasted or not, upon which has been piled a particular combination of, meat, cheese, vegetable, fish, or…well you name it. In pintxo-rich cities such as Bilbao, San Sebastián, or Logroño, bars up and down the street try to outdo each other in the elaboration of their offerings.
When you're in one of those cities, you'll often find older neighborhoods lined with bars. Customers spill out onto tables that line the narrow streets, and the sound of hundreds of Spainiards tossing back wine and beer and sharing the delicious finger food resounds off the close set walls. It's my favorite enduring vision of Spain.
To give you an idea of the sort of pintxos you might encounter in a place like San Sebastián, I'll just list what we had last night.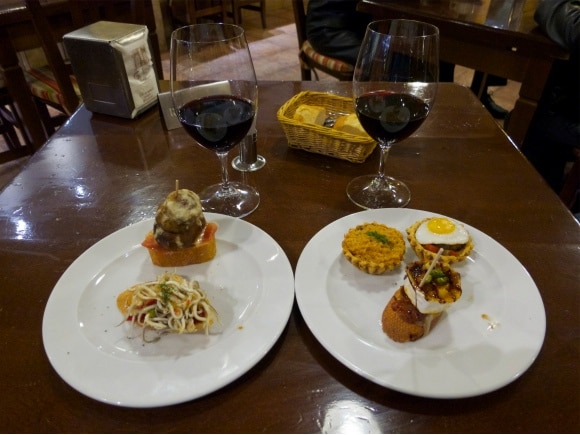 The essence of dining like this in Spain is to make several stops a night in different bars. Last night we went to three, which is maybe a bit below average. One night in Bilbao, our son came up from Madrid to meet us there, and we went to seven bars between the train station where we met him and the hotel where we were staying.
Here are the details from last night's excursion through the Parte Vieja (Old Part) of San Sebastián. Who can remember the details when you stop at seven bars? Three is the limit of my memory.
First stop was Taberna Juantxo at Embeltran Kalea, 6. This was a real locals joint, and the revolution in Spanish cuisine really hadn't reached it yet. There we tried four pintxos, shrimp breaded and fried with a bechamel sauce, a simple potato omelet, a shrimp with a puffy breading and deep fried, and a chili relleno (a pepper filled with cheese and deep fried.) They were all tasty bits of deep fried goodness, but not exactly what we were hoping for. (We didn't see them on the bar. They were just on a menu posted behind.)
The second stop, though, was exactly what we were hoping for, a long bar lined with elaborate pintxos. This was Bar La Cepa, at Calle 31 de Agosto, 7, and the method of serving was simple. The bartender handed you a plate, and you went down the line loading said plate with whatever appetized you. We chose five. They were (clockwise from the top of the photo above) 1) marinated sardines with a minced red pepper and garlic garnish, 2) jamon jabugo (jamon serrano's tastier cousin) with tomato and capers, 3) a skewer of olives, hot peppers and an anchovy, 4) lettuce and cheese slaw in a french dressing with a shrimp and aioli topping, and 5) a grilled green pepper with tuna and caper. I expect saying they were all great is sort of redundant at this point. To wash it down, I had two small beers and Kris had two glasses of Rioja. It all came to less than €20, even though Kris, being the snob she is, ordered the good wine.
Our third stop was Jatetxea (Restaurant) Gandarias at Calle 31 de Agosto, 23, just down the street. Same deal there. The bartender hands you a plate, takes your drink order and you make your way down the bar. There, we chose the following (after a few questions about what exactly we were picking) 1) a stack of grilled mushroom caps which had been drizzled with a sauce of limon and garlic and stuck on a thin slice of ham, 2) Smoked baby eels on a roasted red pepper, 3) a pastry shell with minced crab, 4) toast with sun dried tomato, camembert and goat cheese, topped with pine nuts and walnuts, and 5) a quail's egg atop a pastry shell filled with caramelized onion. One glass each of the good Rioja later, and we were ready to head home. This feast set us back €14.
I admit, though, to stopping for an ice cream cone on the way back to the hotel. Kris had hazelnut and I had coffee. €3 for the both of us.
Get all our travel tips delivered to your inbox
Subscribe to our email newsletter