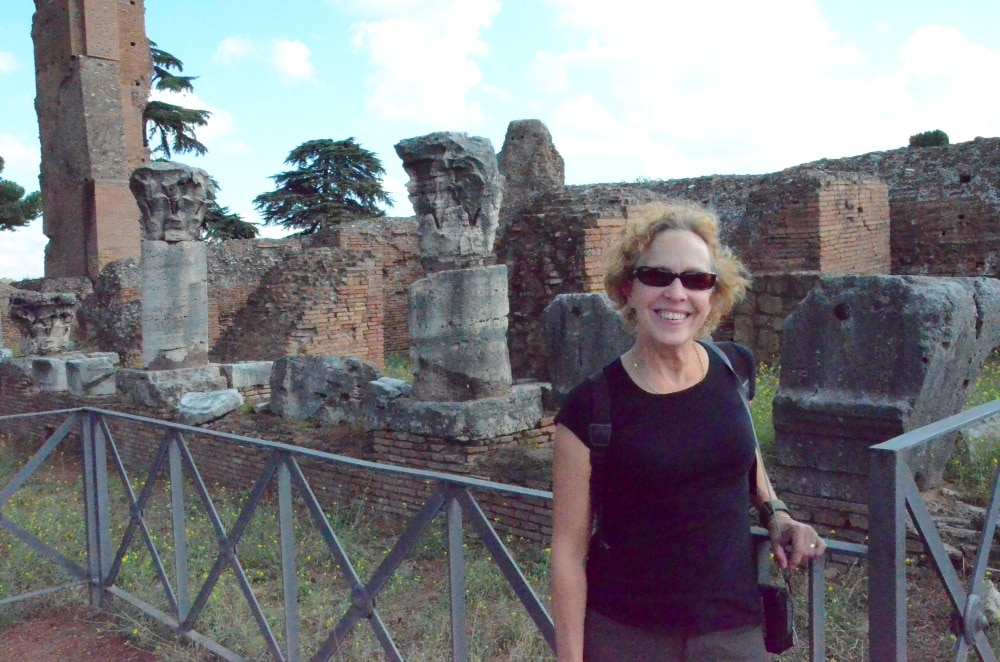 Rome, October 20, 2011
I've been pretty lax in writing lately, at least for this blog. I keep telling myself I'll write a long post when I get an internet connection, but they've been harder to come by lately it seems, and when I do get one, I have to spend an hour making train and hotel reservations, and, of course, screwing around on Facebook.
Kris and I just finished a 40 minute forced march across Rome (did you know we were in Rome?) to the train station. There was a hell of a lightning storm here this morning, and it took out the taxi dispatch system evidently, so because of that and because it was raining there were no taxis to be found anywhere. So, we were damn glad we're in shape from having walked across Spain, because if we hadn't been, we'd be dying somewhere on a Roman sidewalk and have missed our train to Pompeii.
First a little about Rome. We mostly just messed around my old neighborhood (the Pantheon, where I lived when I was studying Latin in 2000) after we got here Monday evening. Tuesday, we walked around and found there were long lines to see all the ancient stuff. This is still high tourist season here, and half of Japan and China seem to have moved here for the late fall. (And, when half of China is here, the sidewalks are really full.) So, we walked around the entire Forum area perimeter. It used to be free to enter the Forum and Palatine Hill area (where the emperors lived) but now they're controlling access and the huge area can only be accessed by two entry points, and a 12 euro ticket.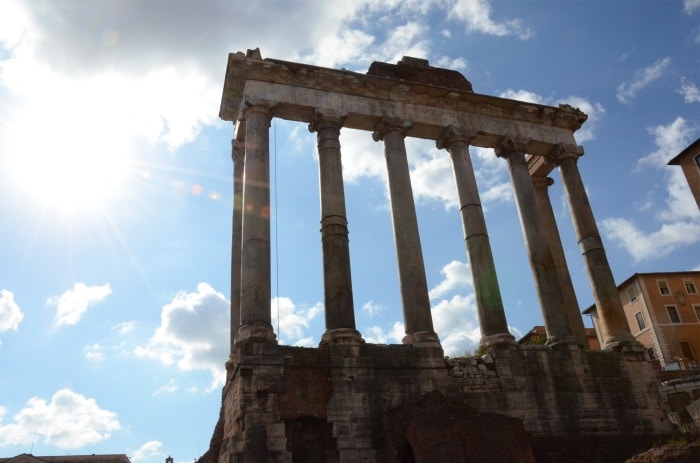 Of course, there are no signs telling you this anywhere until you stumble upon an entrance, (and have tried to get in where I used to just walk in 11 years ago) so you just have to figure it out and be able to read Italian when you do run across a tiny sign, which luckily we can. The wait to get into the Forum–as opposed to the Coliseum–was minimal though, and you could buy a combined ticket there which got you into both.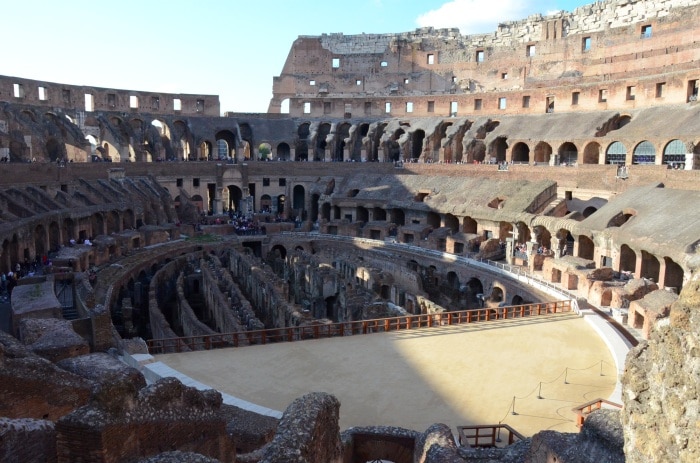 Anyway, the 45 minute wait to buy tickets for the Coliseum was thus averted and we were able to jump the line and go right in with the ticket we'd bought at the Forum entrance. Stupid Japanese.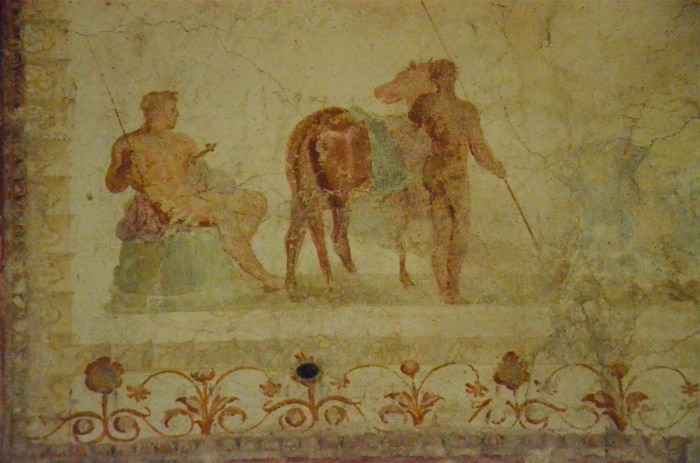 But before skipping the line at the Coliseum, we spent Wednesday morning in the Forum and the Palatine Hill, where we walked around for a couple of hours and went "Holy Shit" a lot as we looked at all the stuff that was up there, including the house of Augustus, which is now partially open.  (A couple of rooms. It had never been open at all before.) While there are some very nice frescoes in those rooms, the first emperor seems to have lived very modestly, especially when compared to his successors, like Nero, who tore down about half of Rome to build himself a palace which covered three of the seven hills.
Anyway, there was a great citywide exhibit about Nero that had displays at about seven or so sites in the Forum and Coliseum, and the didactics had all been beautifully translated into English (tough luck for the Japanese and Chinese.) So by the end of the day, we felt like we'd got a very detailed history lesson on the middle of the first century in Rome, as well as some good exercise. These days it's usual for one of us to turn to the other and say something like, "Sure glad we just walked the Camino de Santiago or we'd be really tired," and the other one says, "Yeah, but my feet still hurt."
A nice thing that's happening in Rome is that they're using all those 12 euro entrance fees they're collecting from half of China to finance some great further excavation and restoration projects all over the city. They've recently discovered the sites of the original settlement of Rome from the time of Romulus and even before, and are digging all over the Forum and Palatine exposing new treasures all the time.
The Area Sacra, near the Pantheon, is an small site (about a block square) of three temples they found only a few years ago when they were trying to dig a metro line in the old part of Rome. (They've given up on that line–it seems they keep running into ruins under ground. Who knew?) For many years the temples were barely uncovered and the area was only inhabited by about a thousand stray cats. Now they have rounded up most of the cats, and, believe it or not, fed them, gave them their vaccinations and found most of them other homes. The cats have been replaced by about a thousand stray archeologists who have dug the site out down a few more layers and have found some great stuff.
Like the Nero exhibit, there are big signs up near all the digs all over Rome saying what they're doing and what they're finding. Pretty cool if you ask me. It's a good time to be an archeologist here. We actually got to see them working with small trowels and brushes. Gonna take a long time to get to the bottom of Rome at that rate. Unfortunately, you can't get down to where they are actually working, but you can watch from above.
One more note about Rome, although we didn't go anywhere near the Vatican. You see pictures of John Paul II all over the place. Don't see pics of the current occupant of St. Peter's palace Pope Ratzinger anywhere. He seems to be less popular, which is only fair, I guess, if you're main job for several years was covering up the child abuse scandal.
So, now we're on the train for Naples where we'll change for Pompeii. We're going to spend five days there and see all the ancient stuff there and at Herculaneum, which was one of the other cities that was buried by the eruption of Vesuvius in 79. The best examples of the way the Romans actually lived are there, including entire homes, shops, etc, complete with their tools, wares, wall paintings and graffiti (which have mostly been removed to the Archeology Museum in Naples.)
Also, there are brothels there where supposedly the "specialities" of the house were depicted on frescoes. I'm always looking for new ideas. (Those specialties are in my Facebook albums, btw.)
After Pompeii, we're not really sure what exactly is next. Sicily for sure, and then we don't know. We're actually in Palermo right now, but it's raining, so we decided to write rather than walk, even though we have good rain coats.
So check my Facebook for lots of photos from the Vesuvian sites.  Here, here and here. Perhaps I'll actually write something about them soon.
But, I am working on a book about the Camino de Santiago, too, and can only juggle so much. All the notes I took manually while walking the Camino seem to be more conducive to a book than a series of blog posts, so you'll have to wait if you want more about the Camino.
Until then, random stuff about Italy will appear.
Such as this: Did you know that Italians talk with their hands, even when they're talking on their cell phones?
Get all our travel tips delivered to your inbox
Subscribe to our email newsletter