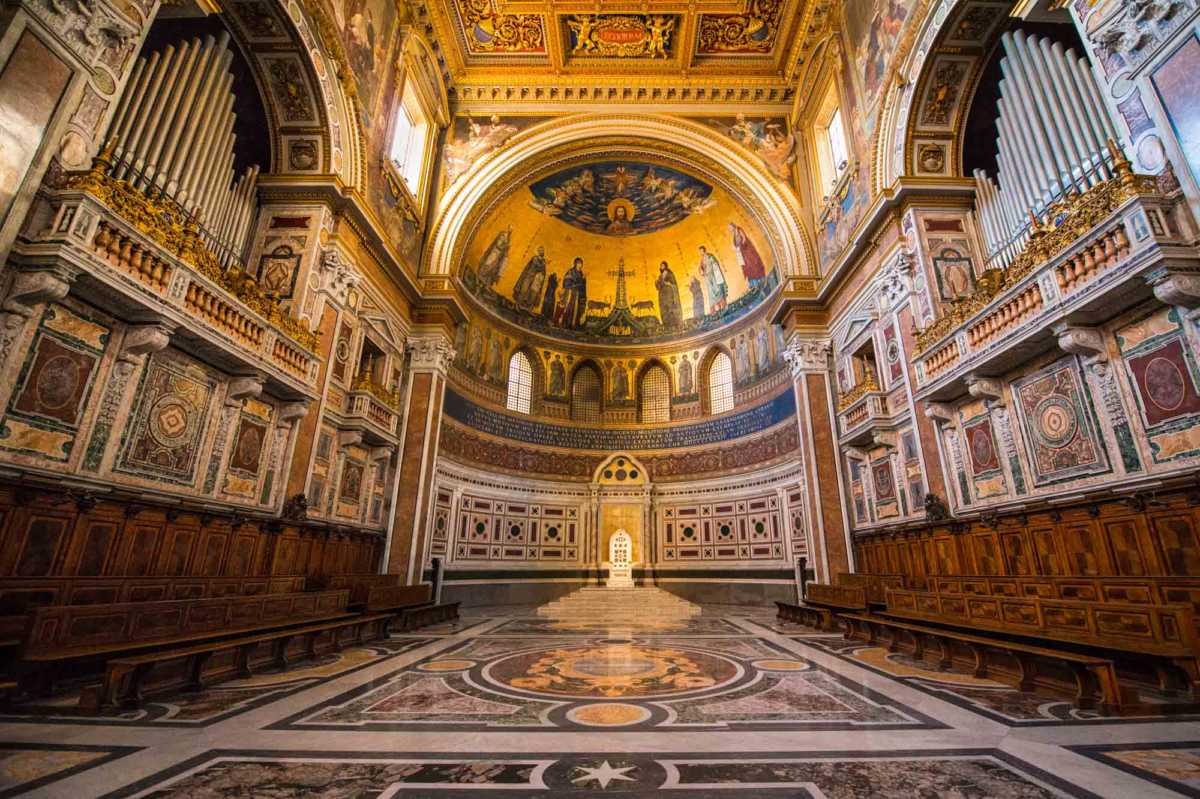 If you said that St. Peter's Basilica is the Pope's "home church" in Rome, you'd be wrong. In fact, the Pope's seat (cathedra in Latin, hence the English word cathedral) is at St. John Lateran Church, outside of Vatican City.
The original church was built in the 4th Century, just after Emperor Constantine legitimized the Christian Church in the Roman Empire. St. John Lateran is actually the oldest church in the Western Roman Empire. But over the years, and because of a couple of fires and an earthquake, the church was entirely rebuilt, and today is an enormous mostly 18th Century Baroque masterpiece, which you can see a bit of here.
But the half dome of the apse, over the cathedra, maintains an earlier style, derived from the Byzantine, called Cosmatesque, after the Cosmati family, the Italian masters of mosaic. So in the shot, you see the mosaic half dome and the inlaid decoration of the chair and platform, flanked by the two organs set into their more "modern" decorative style walls.
This was one of those days I did lug the Nikon D800E around, along with its wide 14-24 f/2.8 zoom. I had a feeling there was going to be one very wide shot I wanted, and I was right. It was a little dark in there, so the exposure was ISO 3200 at f/4.0 and 1/100 sec. I wanted a little more shutter speed and an f-stop not wide open to sharpen the image as much as possible. I don't think a little bit of grain brought on by the higher ISO is too high a price to pay.
I've recently updated my photo equipment page to account for a lot of recent purchases to enhance my kit, So please click here for more information.
You can buy prints of my photos–or just look at past photos–on my Travel Photos page.