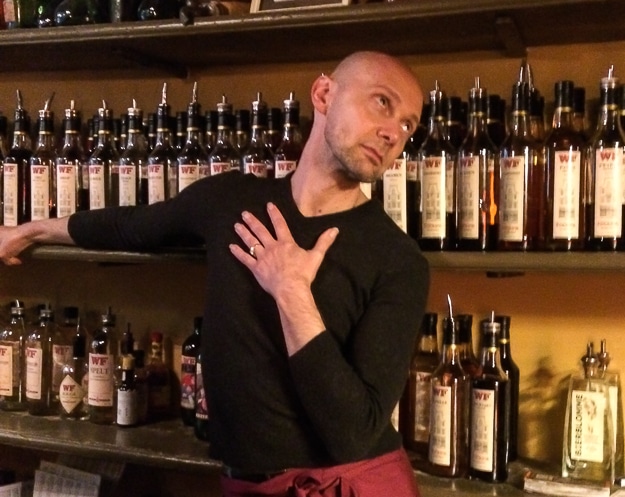 This was not our first visit to Amsterdam, but it was our longest stay, a full week. We finally got a feel for the city, and have some notion of how much more there is to do and see. Our week included the usual visitors' spots: the Rijksmuseum, coffeeshops (sic), the red-light district, wandering along the canals (no boat tour for us), and stopping in the old and new churches.
Fortunately, we experienced some less touristy, more out-of-the way sites and places, too, thanks to various friends and being guests in our Airbnb lodging.
We mastered public transport, including trams and buses and city-link trains. (Purchase bus passes from the drivers. They work on the trams and other buses by the same GVB company–but not on the 'Connexxion' company buses. Use the nice app 9292.com to plan your route.)
Some posts on Travel Past 50 may contain affiliate links. If you buy something through one of those links, we may earn a small commission. As an Amazon associate, we earn from qualifying purchases.
We discovered the taste sensation of fresh herring. Look for 'Haring' from street vendors and in open markets. A tray of bite-size pieces smothered with pickles and onions makes a good lunch for only 3 Euro.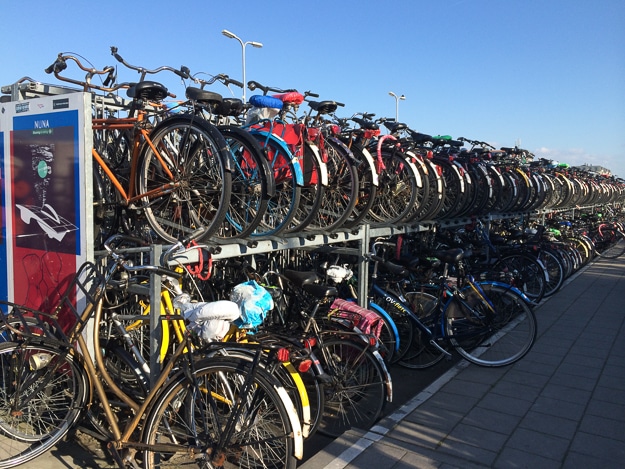 Bicycle parking: you can count on it. Although our hosts advised us against biking around the center, you can't really enjoy all the city has to offer without a bike. Watch out for street cars (and unpredictable pedestrians), but when you are ready to stop, most any clear space can be your parking spot. Just lock your bike, not necessarily to anything. We saw both impressive, organized commuter parking areas, and hodgepodge parking in open plazas.
Visit Wynand Fockink on Pijlsteeg Street for a wee pour of jenever, a gin made in the local distillery, along with some great and unusual liqueurs. Hans the mixologist does it right. We chose "Walk through the Woods" with a splash of bitters and orange liquor. Friends let us sample their tasty drinks, too: sour cherry, gin with licorice, and a sweeter apricot concoction. All the pours are filled to brimming over the lip of the delicate glasses, so the protocol is to bend over to take that first sip so that nothing is spilled. The tiny sampling room fills quickly, so the rest of your drink is consumed outside. The retail side of the business is located next door.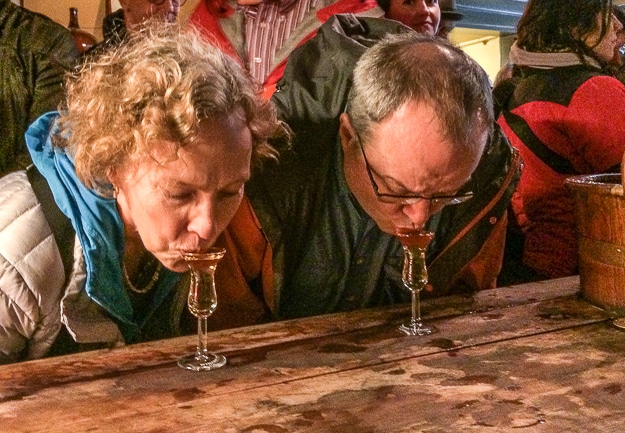 Walking around is as entertaining as anything in Amsterdam, and cheaper than everything else. Specifically the Jordaan area is interesting. Canals lined with houseboats, interesting architecture, quiet residential lanes, and some shops and cafes kept us busy for a few hours late one afternoon.
The Jordaan walk was our way of preparing for the Rijksmuseum. (We also decided against visiting the Anne Frank house, which is in the Jordaan area. The line to get into the visitor center built onto the house was blocks long. It looked to be two hours wait or more.) Because our first attempt to visit the Rijks was too late in the day, we were able to follow this good advice:
-Buy your tickets the day before.
-Enter the museum early, definitely before 11 a.m. (It opens at 9 a.m.)
-Don't carry packs or purses that require checking. That's another line.
Museum prices are high. Amsterdam City Cards are available, starting at 47 Euro for one day. But then you need to be realistic: how many museums can you handle in a day, or two days? No pass for us. The Rijks is worth it at 15 Euro; the Gemeentemuseum in The Hague is not. The Gemeente's 14.50 Euro entry does not include the GEM contemporary and photography museum adjacent, which costs another 5 Euro if bought in combo, or 8 on its own. Most visitors won't bother with those museums at all once the Mauritshuis re-opens in June of this year, putting the Vermeers and "The Goldfinch" back in their Hague homes. Although the temporary exhibit at the Gmeentemuseum wasn't all we'd hoped for, it did allow us to see some cool work, including Rembrandt's last self-portrait.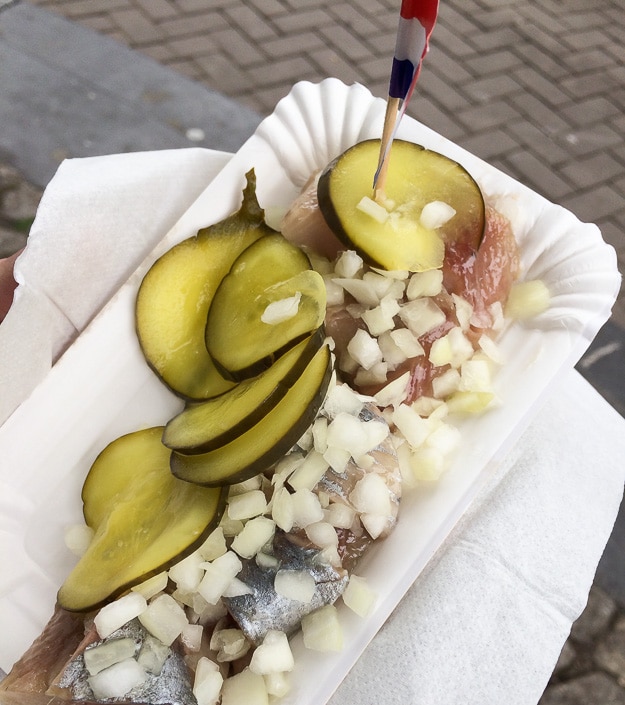 Back in Amsterdam, the Hermitage Amsterdam is 20 Euro, the contemporary Stedelijk Museum of modern art costs 20, and the Van Gogh Museum is 16 Euro. Senior discounts don't exist. If you are in Amsterdam for any length of time, or are a frequent visitor, it's probably best to pop for the Museum Card, good all over Holland.
Our time in Amsterdam stood out especially because we didn't stay in the center but in the west port area. Through Airbnb, we lucked out royally. Our apartment was big, bright, with a terrace and windows providing a 180 degree view of the river, port, and city. As a bonus, we could eat in a couple times, use the espresso machine, catch up on laundry and work, and generally get away from the crowded streets. Next door, we watched the brand new Theater Amsterdam set up for preview performances of "Anne," a world premiere production. The port traffic was a show in itself.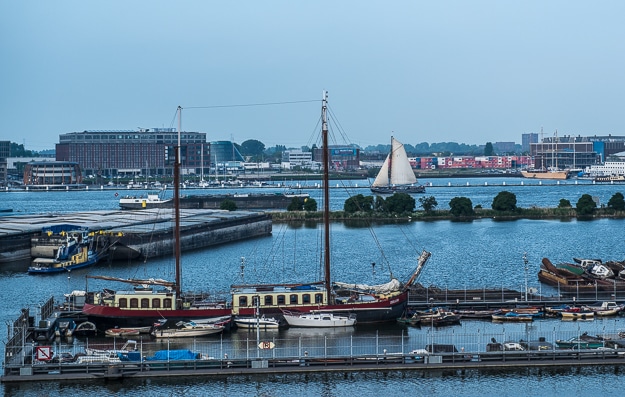 A week in Amsterdam really isn't enough, and we might learn from our friend, Diz, who stops there a few times a year for a couple days as a launching point for travel to other parts of Europe or the Middle East. Next time, we'll probably venture to the new neighborhoods north of the river, and we must return to Wynand Fockink.
You can help yourself get ready for your own travels by reading our Get Started Planning Your Trip Now page.
We love traveling–with the right gear. We've gathered a lot of the stuff we use to make travel more pleasant and efficient all on one page. Shop our Travel Past 50 Amazon page to find our favorite gear. If you purchase something from the store, Travel Past 50, as an Amazon affiliate, may receive a small commission at no extra charge to you. Thanks.
We never leave home without our travel insurance. Nor should you. Search for the travel insurance from Allianz that best meets your needs, whether it be an annual plan or a single trip.
Note: This post and other posts on TravelPast50.com may contain paid or affiliate advertising links.
Travel Planning Resources
Looking to book your next trip? Use these resources that are tried and tested by us. Flights: Start finding the very best flight deals by subscribing to
Thrifty Traveler
. Book your Hotel: Find the best prices on hotels with
Booking.com
. Find Apartment Rentals: Find the cheapest prices on apartment rentals with
VRBO
. Travel Insurance: Don't leave home without it. We recommend
Allianz Travel Insurance
. Need more help planning your trip? Make sure to check out our
Resources Page
where we highlight all the great travel companies and products that we trust. See all of the gear and books we like in one place on our
Amazon shop
.