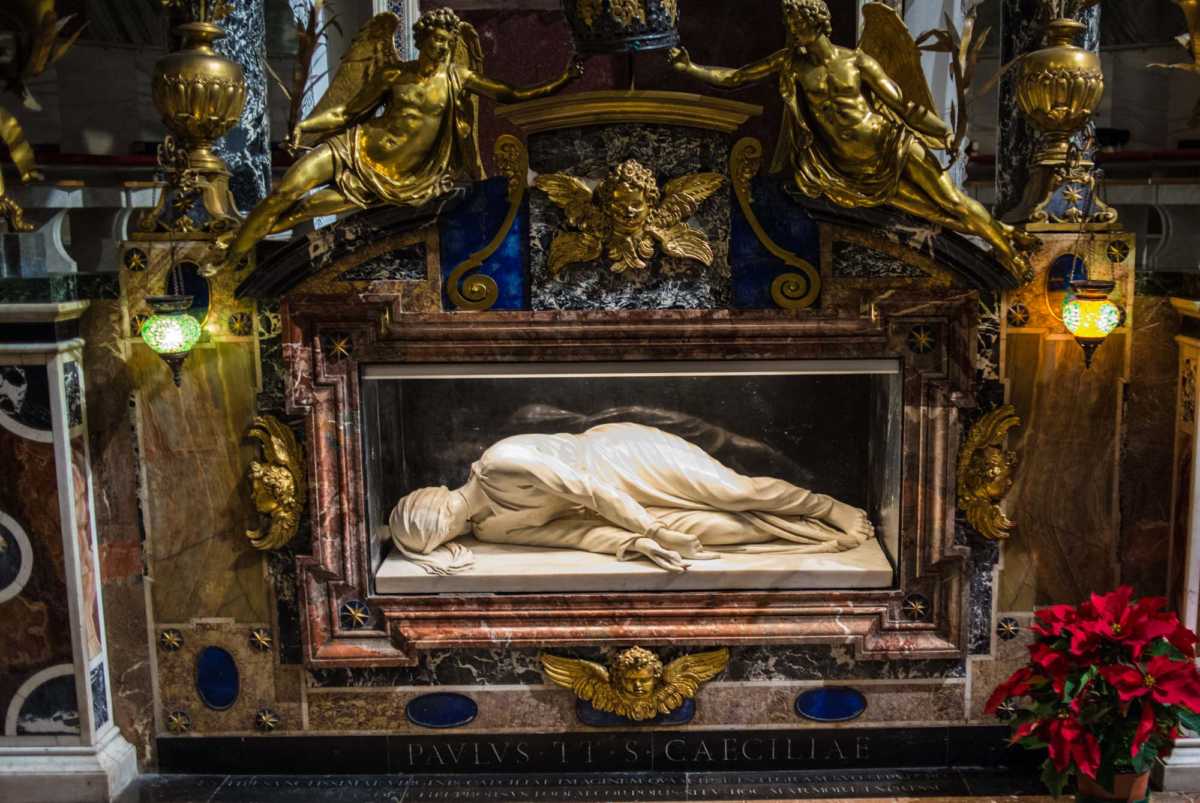 I can clearly remember the first time I saw Saint Cecilia. It was in 2000, and I was studying Latin in Rome for two months. And so I had plenty of time to wander Rome poking my head into random churches and other ancient sites. That's just what I was doing when I came upon this small church near the Tiber river in Trastevere.
I was vaguely aware of the story of Saint Cecilia. She was a Roman citizen, martyred for her faith in the 3rd Century. She's the patron of musicians.
Supposedly, before the Roman executioner cut her throat, she asked that her home be turned into a church. The church that stands on this spot traces its history back to that time, so it's possible that this was the site of her home. Recent archeology seems to confirm there has been a church here for a long time.
The Church has undergone many renovations since then, and today the interior features art from the 13th to 17th Centuries. But the most stunning artifact is the statue of the saint, by the late Renaissance sculptor Stefano Maderno. Put simply, it's my favorite sculpture in all of Rome.
As the legend goes, the tomb of Cecilia was opened during renovations of the church in 1599, and her body was found to be uncorrupted. The Cardinal in charge of the renovation commissioned Maderno to reproduce the body just as it had been found. Believe the legend or not, this was the result.
If you know the baroque style of sculpture of the age, Maderno's Cecilia lives in sharp contrast to the exaggerated vivacity of other contemporary works. The peaceful repose, with the demurely turned head and the clearly visible slice in her neck, emphasize a serenity at the time of death that touches the heart. After this, all the Baroque sculpture of Bernini and others is just conceit.
P. S. Another interesting note about Saint Cecilia as the patron of music, it's said that Simon and Garfunkel's song Cecilia is about the difficulty of songwriting.
Get all our travel tips delivered to your inbox
Subscribe to our email newsletter