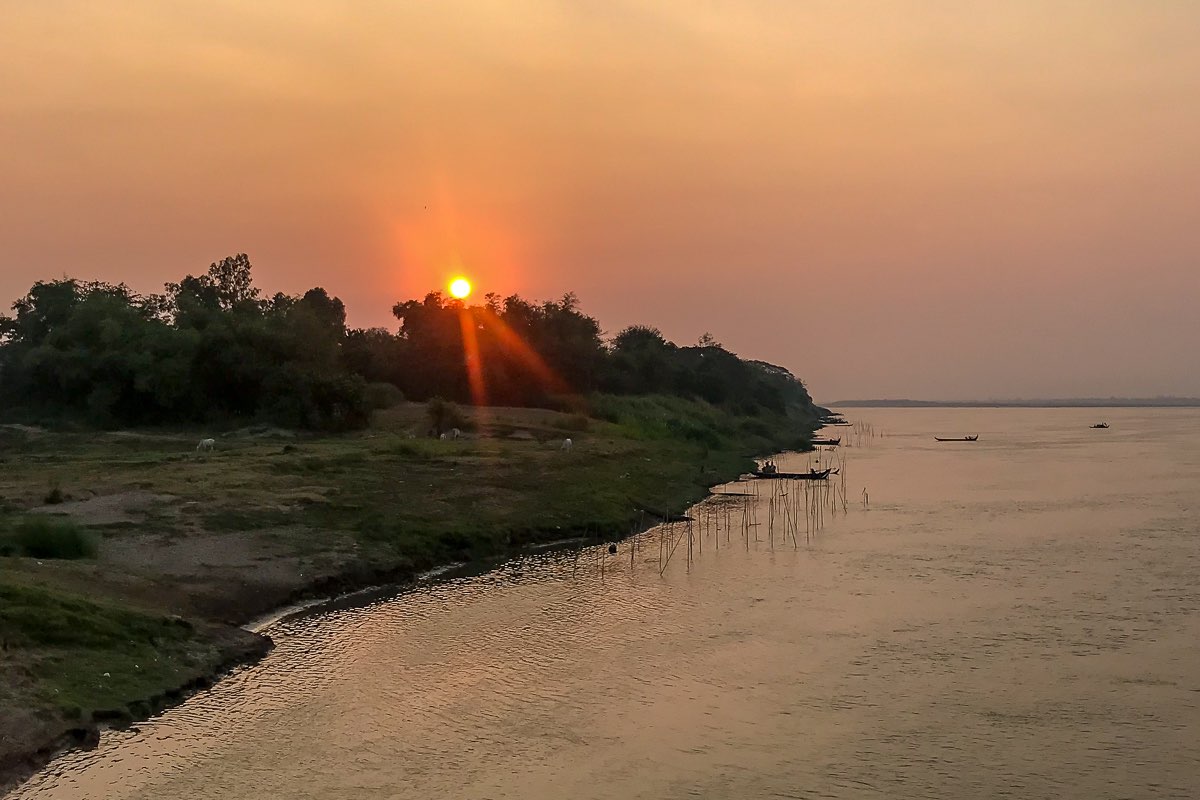 Visiting Vietnam and Cambodia, in the minds of many American baby boomers, means a return to the scene of the Vietnam War. But to travel by river cruise along the Mekong River from Cambodia to its delta in Vietnam is a wonderful way to update those views of Southeast Asia and its people.
The AmaWaterways itinerary, called "Riches of the Mekong," blends all the elements of an exceptional tour: historic sites, modern cities, time with local residents, sampling of local cuisine, and most memorable, a taste of contemporary life in an area loaded with history.
Highlights of the Mekong River cruise include the time onboard and viewing the riverbanks, the many shore excursions, and also the time arranged before and after, in Siem Reap, Cambodia, and in Ho Chi Minh City (formerly Saigon), Vietnam. So much activity and so many impressions packed into the 12-day AmaWaterways river cruise makes it hard to give a pat answer when we're asked, "How was your trip to Vietnam? Cambodia?"
Some posts on Travel Past 50 may contain affiliate links. If you buy something through one of those links, we may earn a small commission. As an Amazon associate, we earn from qualifying purchases.
So here are some of the trip's highlights and the images we'll carry with us.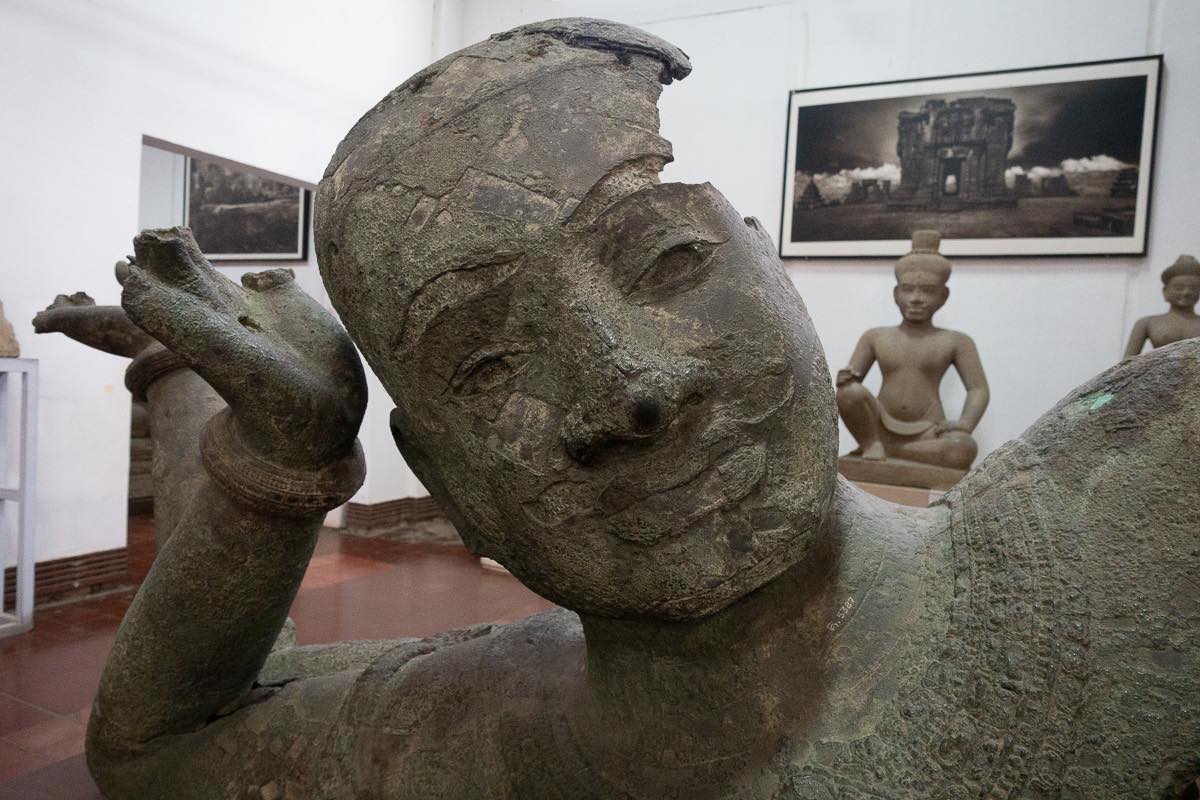 Cambodia and Vietnam Cities
As is the norm with most river cruises, a lot can be gained by spending extra time on your own (or with cruise-arranged add-ons) in the major cities at either end of the itinerary. Ama's "Riches of the Mekong" cruise offers three pre- and post-cruise land options, including time in Hanoi, Siem Reap, and/or Ho Chi Minh City. While some passengers skipped Hanoi or HCMC, I don't know of anyone who missed Angkor Wat temple complex in Siem Reap.
In our case, we had plans to visit Hanoi with family and our Mekong Cruise was a good excuse to visit Cambodia for the first time, while we were 'in the neighborhood.' As expected, the river cruise became the centerpiece of our trip and the essential introduction to the region's sights and culture.
We booked our own travel and tours in Hanoi, Siem Reap and in Ho Chi Minh City. You can read our related posts here:
A Ha Long Bay Cruise in Vietnam
Hanoi Revisited: Returning to Hanoi with a New Generation
A Dog Bites, A Travel Clinic Delivers
Siem Reap and Angkor Wat Travel Planning Tips
On Being an American Tourist in Vietnam
Hanoi Museums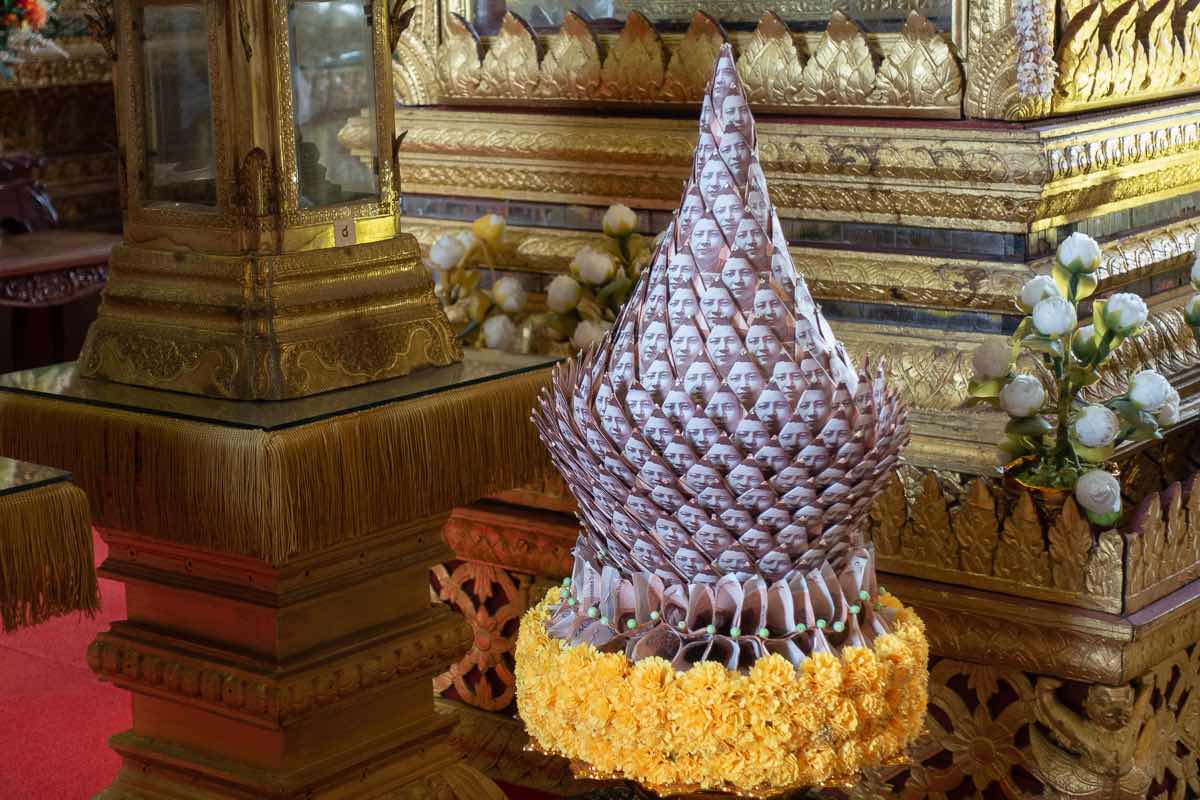 Phnom Penh, Cambodia, on the other hand, was a port stop on the cruise. The capital of Cambodia is quite an eye-opener. On one hand it has a fancy skyline that is ambitiously challenging Singapore or Shanghai, maximizing its scenic location at the juncture of two rivers. (It has a ways to go, but you get the idea.) On the other hand, this is a city that as recently as the 1990s was totally lacking in basic infrastructure. Utilities were cut off during the Pol Pot regime, when the city was used almost exclusively for the Party and residents were expelled to work in agricultural areas.
Today, a stop in Phnom Penh will be accompanied by dozens of recommendations for stylish restaurants, swanky hotels, and rooftop bars. The town is visibly more international than, say, Hanoi. French influence can be seen in the 1920s architecture and tree-lined streets. Signs of growth (cranes) are everywhere.
The best way to get around is by motorcycle-drawn tuk-tuks. Dollars are commonly used in tourist areas. We never drew Cambodian cash.
Tours to the Palace Quarter allow a peek into the royal reception hall and the Prasat Prak (Silver Pagoda Temple). No photos are allowed, but guides will fill you in on King Norodom Sihamoni, who still occupies the palace. He's famously single, European educated, a former dancer, and fluent in English, Czech, French, and Russian. And born the same year as me.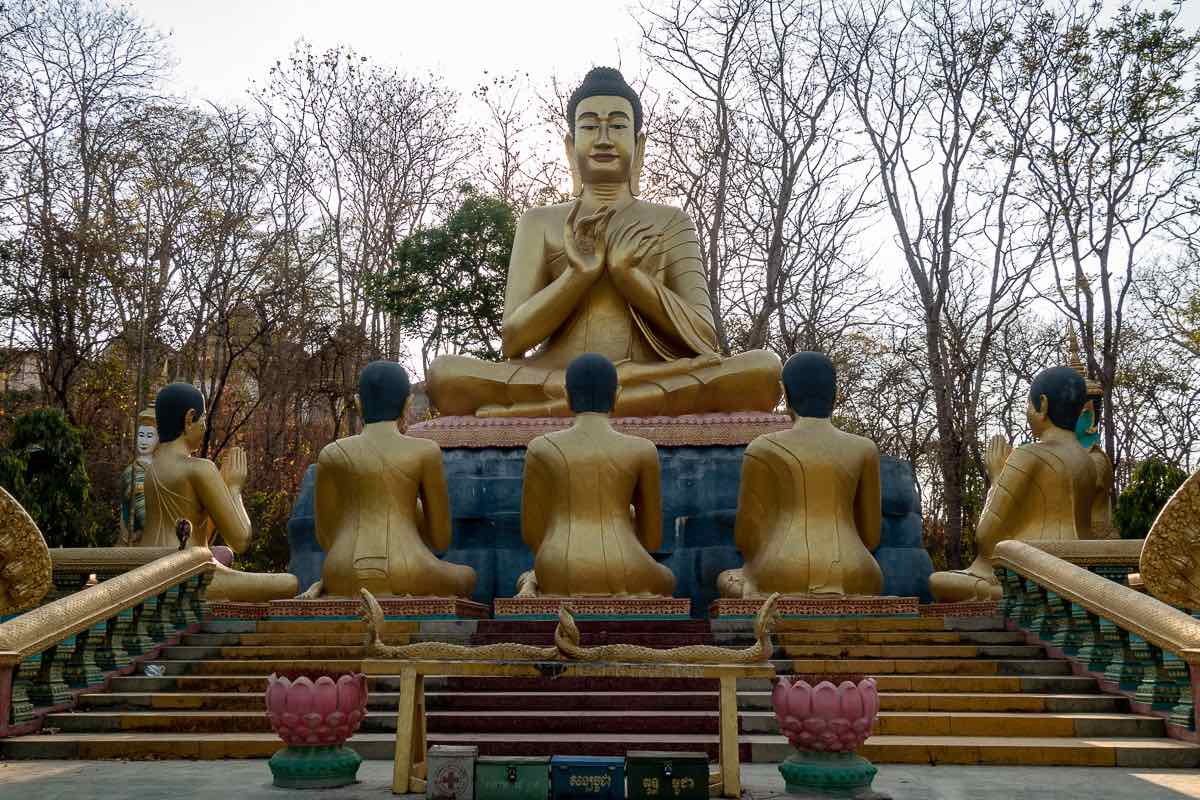 Southeast Asia History
To put it all in context, the itinerary of this Mekong River cruise covers both ancient and recent history. Starting with the temple complex of Angkor utilized from the 9th to 15th Centuries, visitors learn about city and political organization of the middle ages, along with the religious and architectural history.
We boarded our ship in Kampong Cham, about five hours by bus from Siem Reap. This is a good starting place to hear about Cambodian history and Khmer legend from your Cambodian guide. As we walked around a grouping of family shrines, we didn't doubt that 96% of Cambodians are Buddhist.
A stop at the Oudong Monastery outside of Phnom Penh provides a look at one of the few surviving monasteries in Oudong, which was Cambodia's capital city from 1618 to 1865. Most of the city was ruined by air strikes in the 1970s when Khmer Rouge fighters were based here. Today, this is still (or again) one of the country's biggest monasteries and education centers.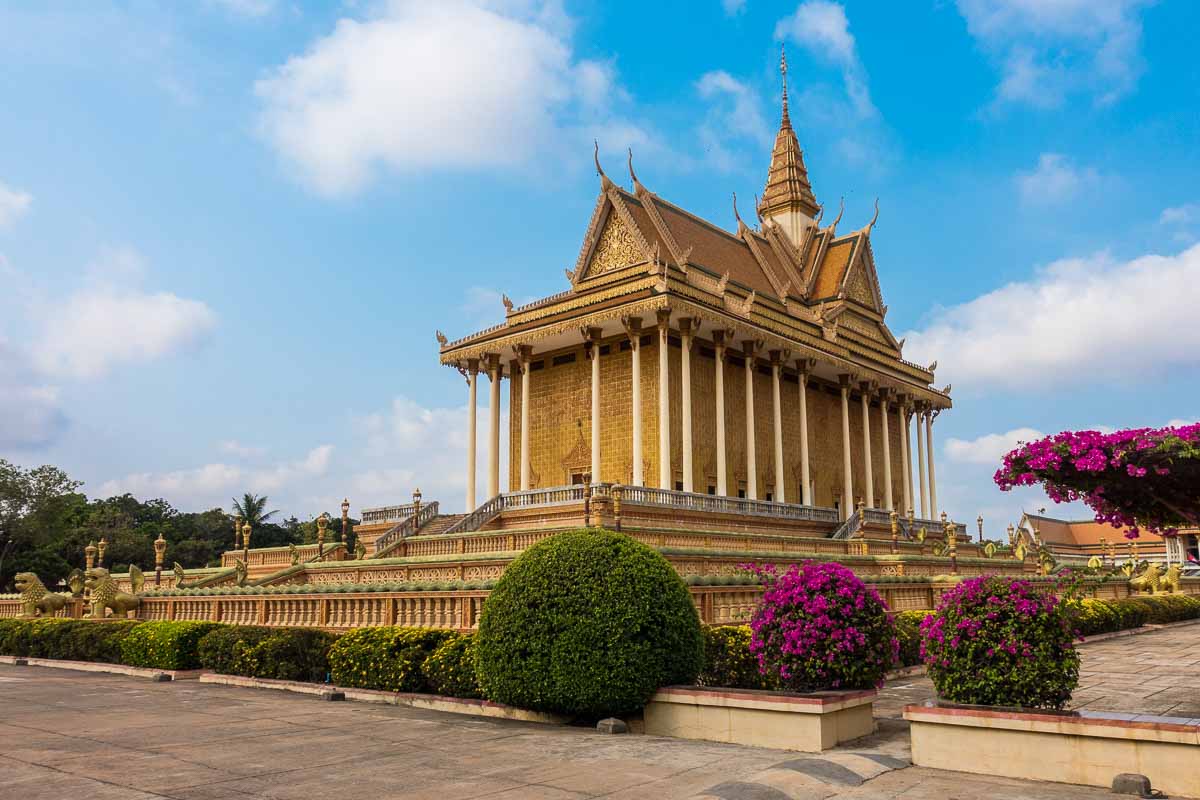 Which brings us to more recent history.
While docked in Phnom Penh, an optional tour runs to the nearby Killing Fields and to the S21 Detention Center, a school transformed into a prison under Pol Pot. Visiting these sites provides background on the effects of the Khmer Rouge regime which held Cambodians under siege from 1975 to 1979 (when many of us thought the War was over). It's estimated two to three million (out of a population of seven million) were killed or died of starvation/disease during this time.
Anyone with interest in any foreign government, including Vietnam, Thailand, and China, was targeted. (Pol Pot was favorable toward Russian communists, not the Chinese/IndoChina variety.) 90% of teachers were killed, along with anyone who was believed to be a professional or educated. English and French lessons were banned. Only 5% of the children of this generation (born in the 1960s) completed a high school education.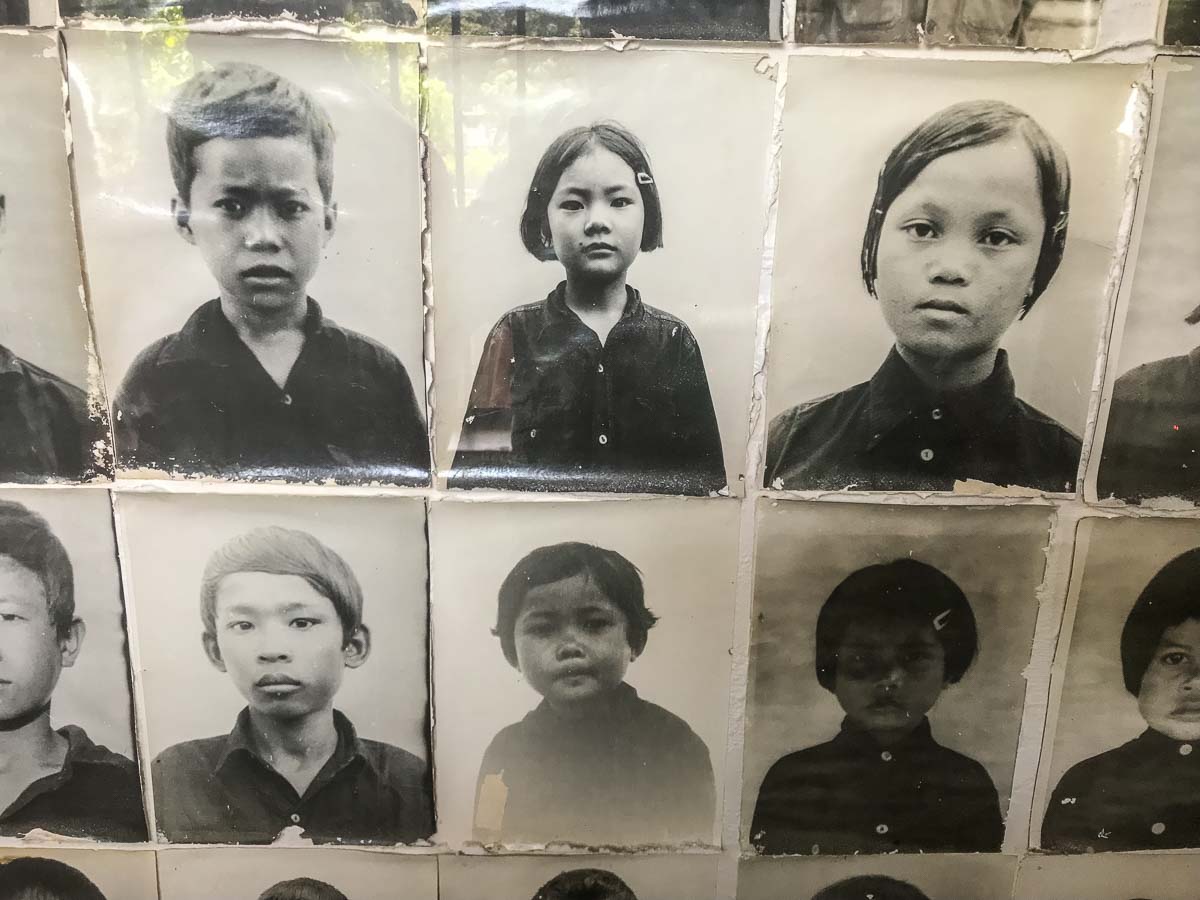 Choeung Ek, one of thousands of Killing Fields discovered later, was hidden from neighbors by trees and the quick burial of those who were systematically killed. Lacking ammunition, deaths were by knife or bayonet, or by clubbing or other bludgeoning. We walked around the burial pits and entered the Buddhist stupa filled with skulls and other bones of victims unearthed here.
The detention center, now the Genocide Museum, offers not only a chance to see where some 17,000 were detained, but to meet one of the survivors. Bou Meng testified against "Duch," the commander of the S21 prison, in 2009, and today tells his story and sells his book in the courtyard of the site.
In Vietnam, a visit to Xeo Quyt, a former Viet Cong army base, fills the imagination.  The site was used for years by VC commanders, who kept their position secret–even from an American base less than two miles away–by using couriers to relay their orders to troops elsewhere. Signed trails lead through jungle areas and along swamp waters where a variety of shelters are still in place, dug out of the ground, reinforced with brick or concrete, narrow enough for just one man, and hidden by trap doors or foliage.  Today the site is a protected nature preserve, busy with school children and a few vendors selling souvenirs and refreshments.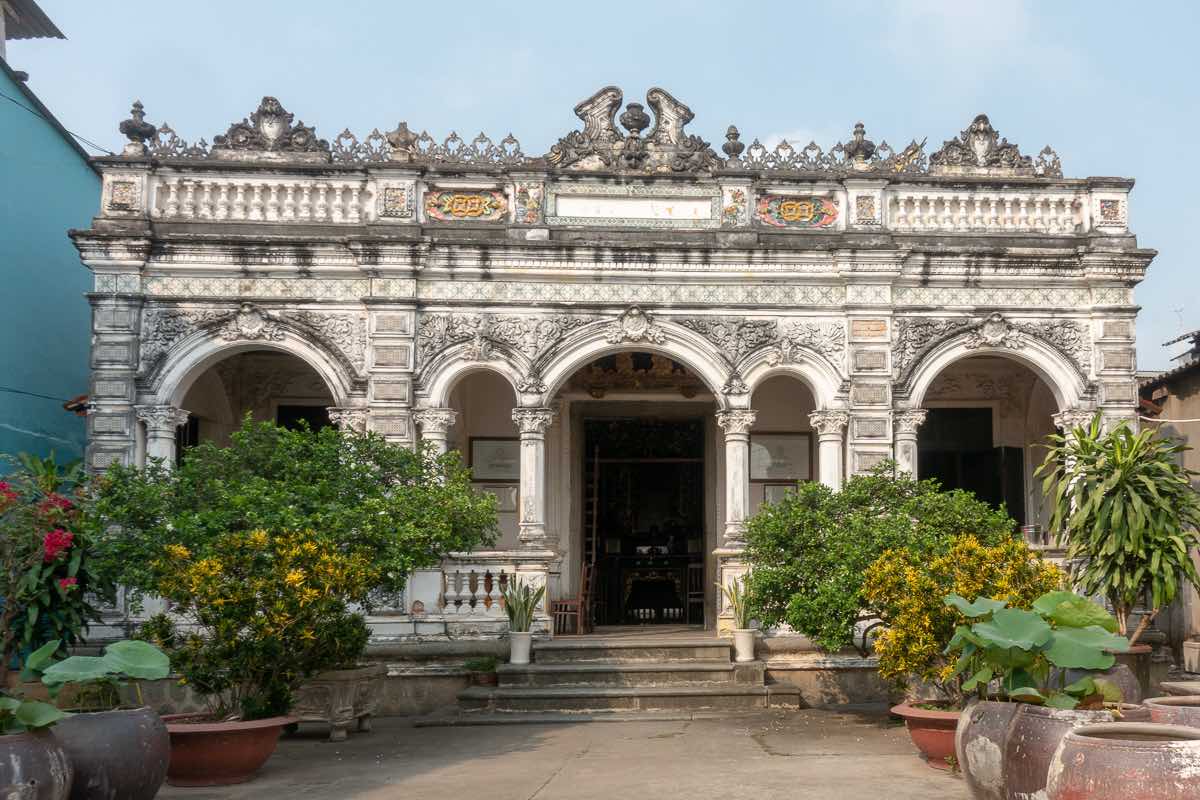 On a more romantic historic note, also in Vietnam, we visited The Lover's House. This, in the town of Sa Dec, was the home of the Chinaman Huynh Thuy Le, the subject of the autobiographical novel, "The Lover," by Marguerite Duras. It's not necessary to have read the book to enjoy the home's architecture and furnishings, which give a sense of the chasm in age and culture between the young French author and her Chinese lover.
Even more lively is a visit to Sa Dec market, a thriving center for all sorts of trade up and down the river. (Sa Dec was a Swift Boat center during the War.) Inside the market, live frogs and eels steal the show. Brave visitors will enjoy watching experts cleaning still twitching fish. Just watch your step: it gets slippery around there.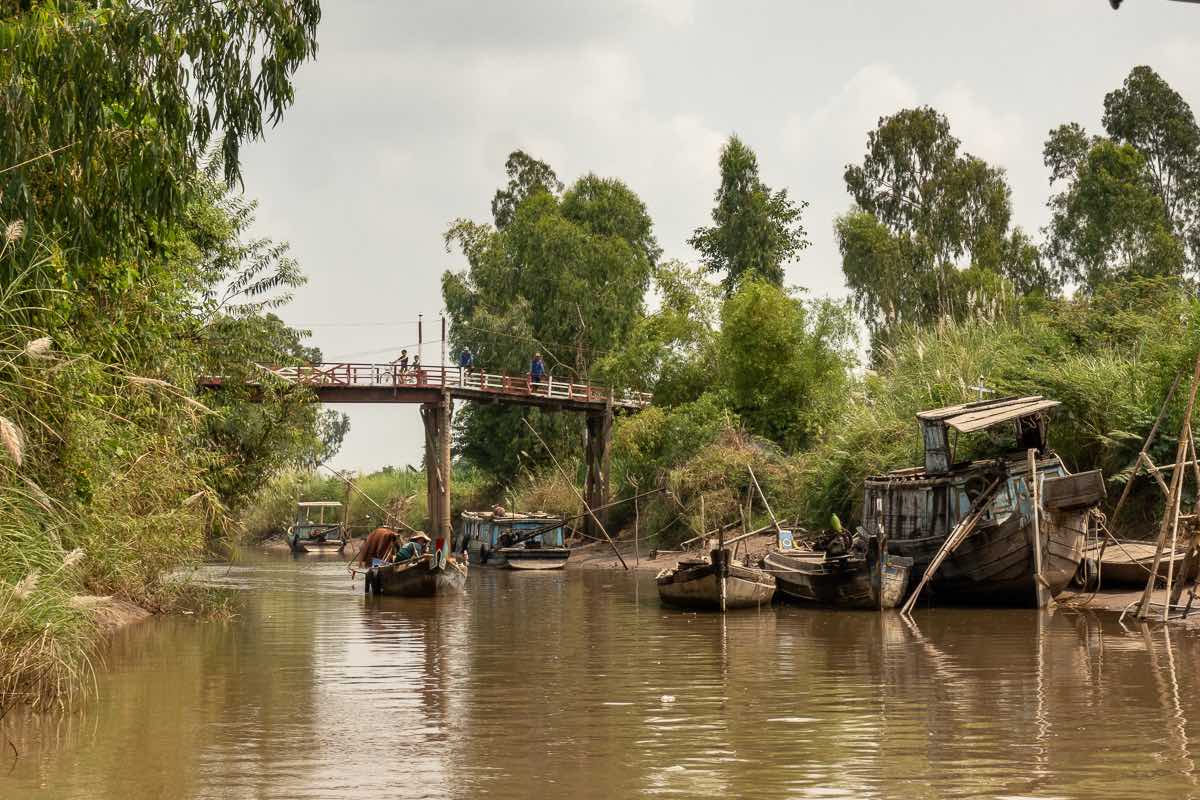 Mekong River Villages and Agriculture
Besides the enjoyable visit to Sa Dec (above) our AmaWaterways Mekong River cruise included several shore excursions to villages along the way. These visits are great opportunities to meet local people, and for the villagers to gain some financial benefit from tourism.
In Cambodia, we visited Angkor Ban, actually a collective of nine villages working in commune. The houses, close by the river, are stilted and arranged around a central courtyard lined with temples. Families work their small fields of corn or peanuts, and keep a cow or two if they are able. Most of the cows are employed to work the fields, some are sold for meat. (The only dairy farm in Cambodia is American owned.) The loose fitting bamboo floor of the homes' elevated living space allows air flow. During the day, animals and children keep to the shade below.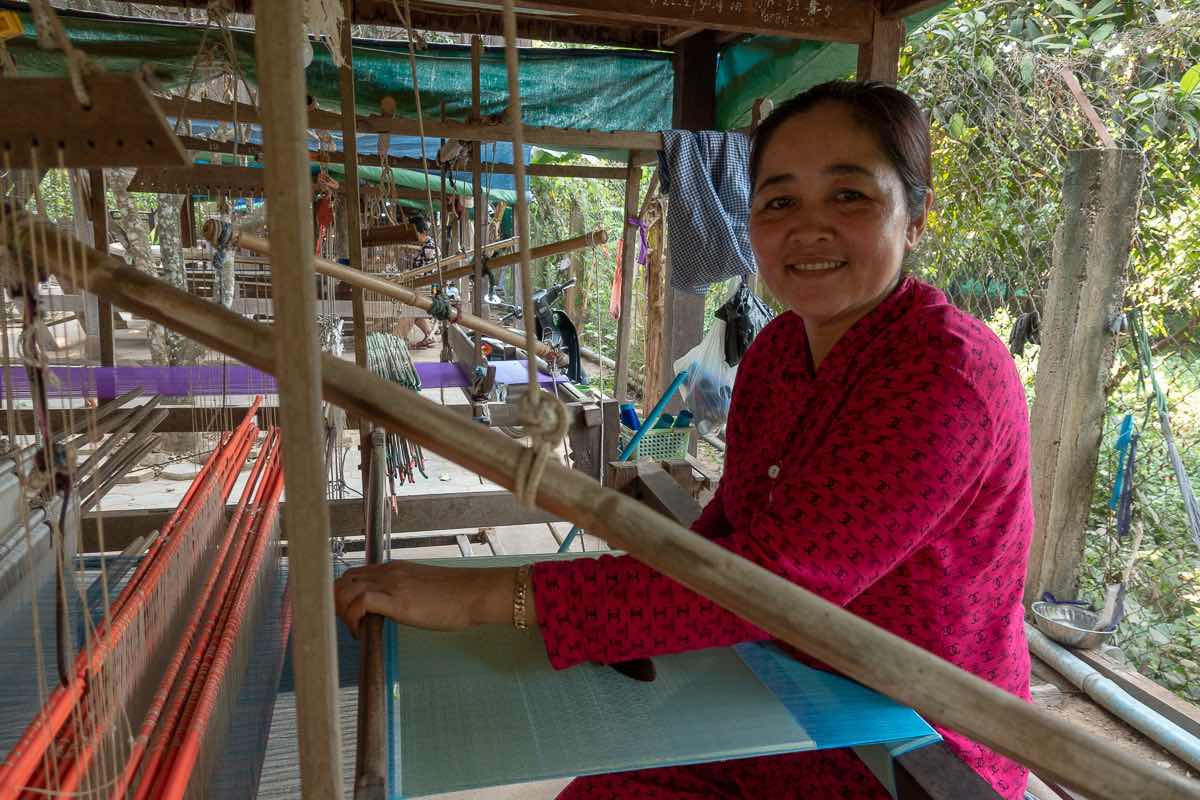 Oknhatey Village, on an island close to Phnom Penh, benefits from the river traffic. The ship can pull up right to the shore to allow passengers to visit an elementary school and a silk-weaving operation.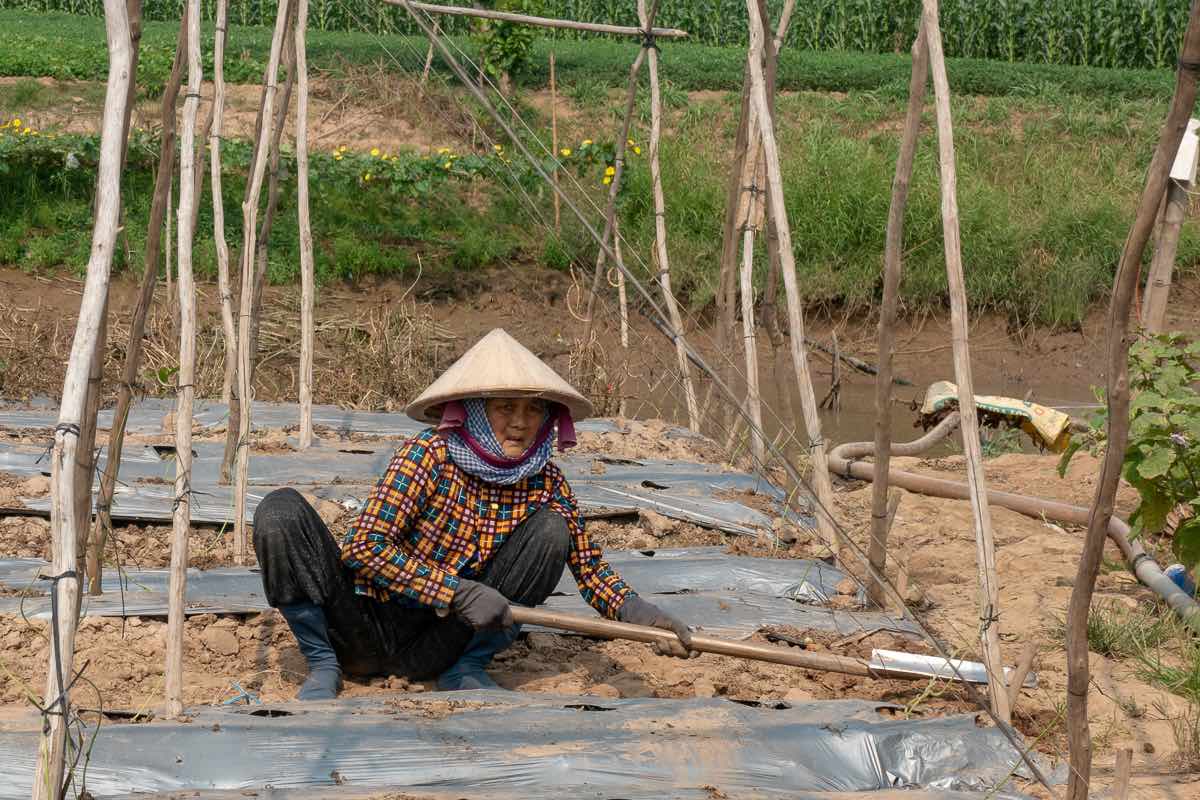 In Vietnam, we spent a wonderful day visiting Tan Chau. Just a few kilometers into Vietnam, this marks the beginning of the Mekong Delta and the center of the country's rice region, producing 30% of Vietnam's rice. We approached via a small motor boat, first zooming across the open river, and eventually working through narrow channels. As we put ashore and climbed the banks, we emerged into a rich agricultural zone. Families were busy growing fruits and vegetables, tending to the rice paddies, gathering for a wedding, and inviting us into their homes.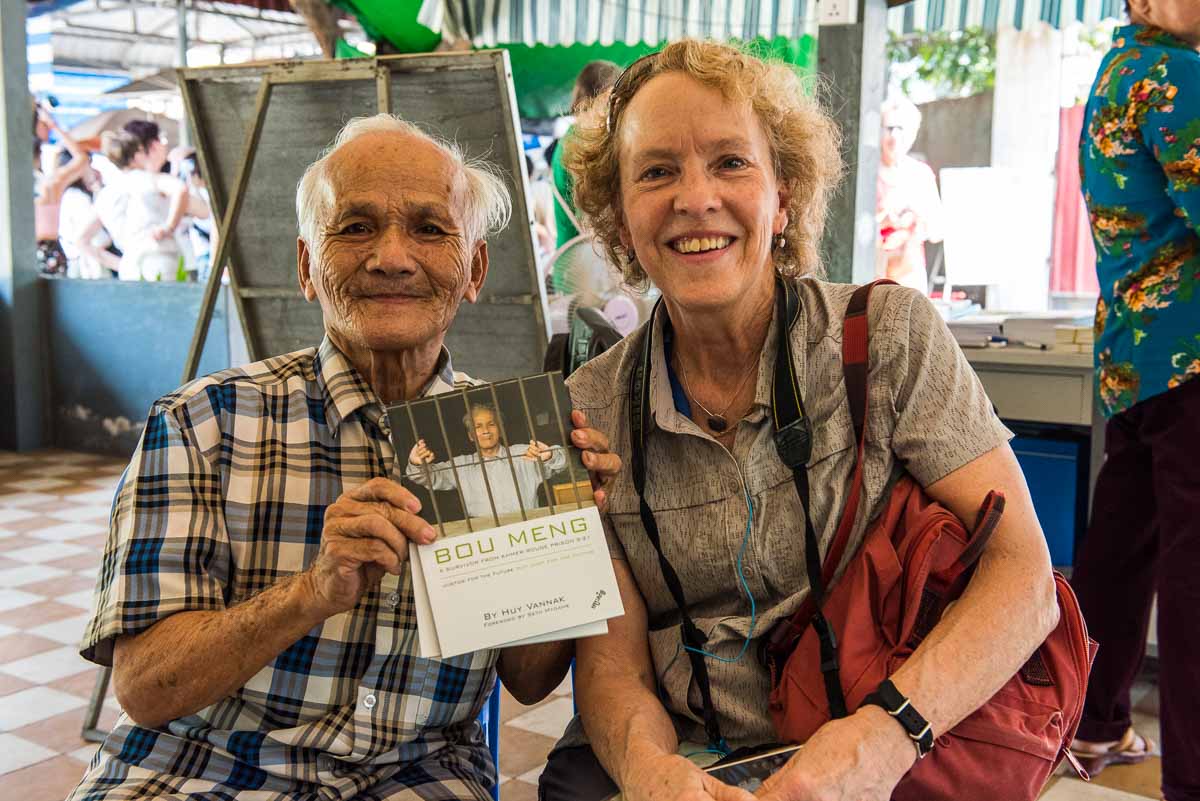 Our Mekong River Cruise: Personal Stories
AmaWaterways Mekong River guides are native to the countries in which they are giving tours. So, literally, the teams of guides change over when we cross the border from Cambodia to Vietnam. This means, of course, that the historic insights are laced with personal stories, making each of the tours and shore excursions that much richer.  (All the guides from both countries were men, representing an economic reality.)
In particular, we learned a lot from our Cambodian guide, Ry (pr. 'Rhee'). Like most boys of his age, he was forced into the fields for labor. His job at one point was to capture 30 rats a day in a program designed to protect the rice crops. How he managed, I can't convey. But to this day he can describe the difference in smell and taste of crickets, tarantulas and water beetles, all of which were eaten to stave off starvation.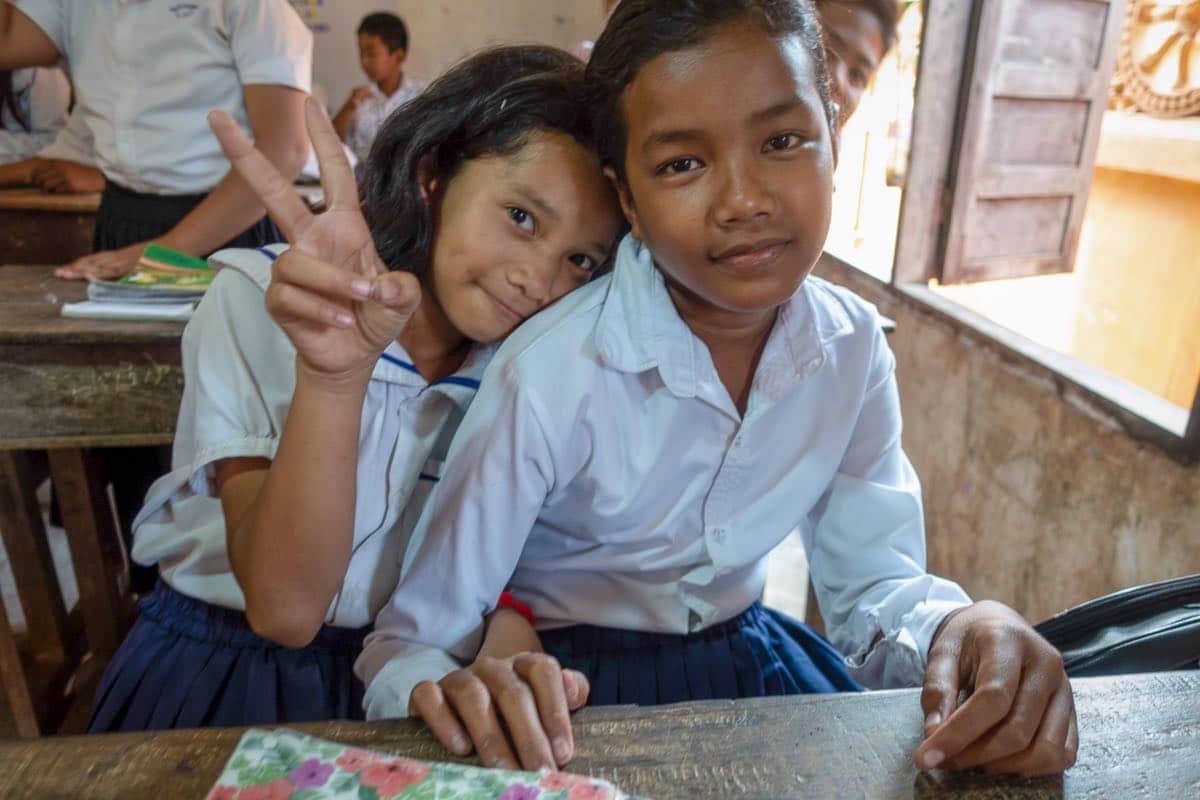 Every guide we talked to had lost family to starvation or the Killing Fields. Most, like Ry, had been forced into labor. Most boys, like Sokhom in Siem Reap, were later forced into the military, caught between Thailand and Vietnam and the powers that be. Many had difficulty finding and reuniting with family. Many like both Sokhom and Ry, spent a year or more in a Buddhist monastery after the worst of it.
Seeing the war sites and memorials was intriguing, but hearing firsthand accounts like these taught us far more and left an indelible impression.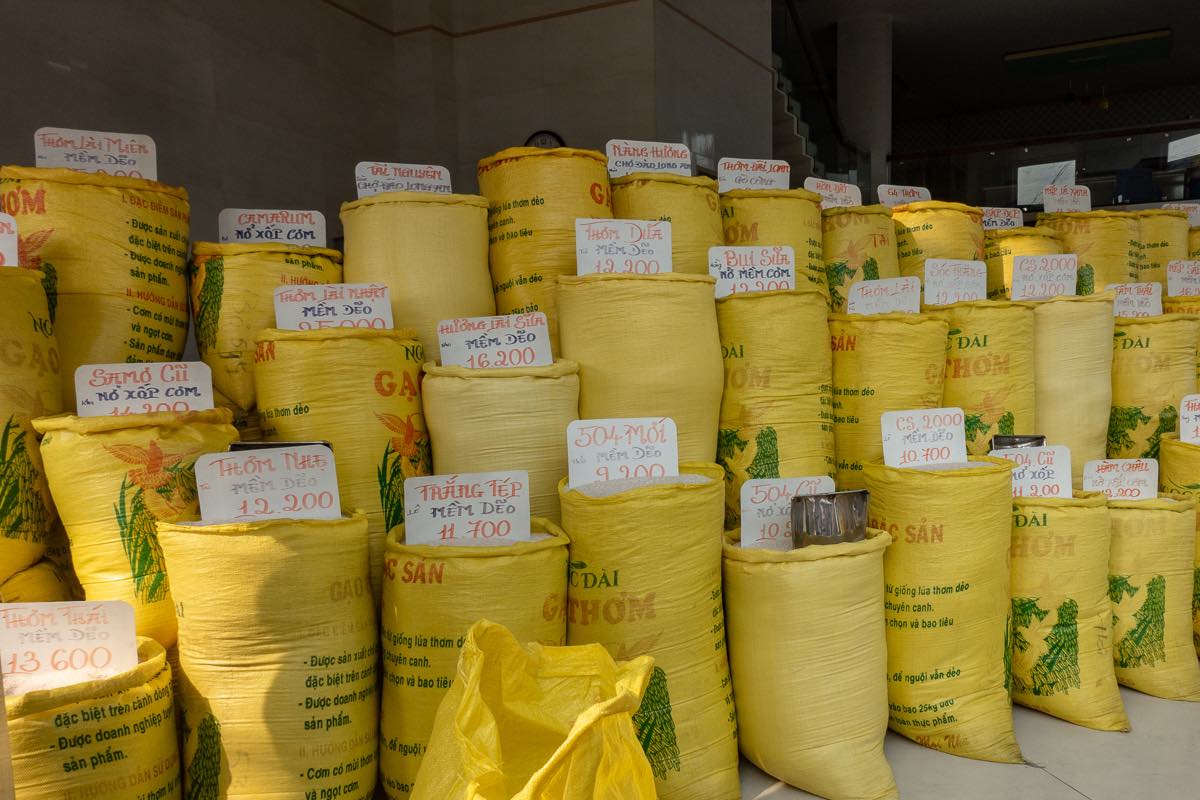 The AmaWaterways Cruise Ship
Onboard AmaWaterways' AmaDara ship, we basked in the comfort of our stateroom with balcony. The two of us had plenty of space in a cabin that included a sitting area and desk. Other options for resting and relaxing included a big lounge, a sundeck with small pool, a fitness room, and a couple spa rooms for those massage treatments. (Yes, do schedule.)
Meals can be taken in the main dining room or, for lunch, up on the sundeck. Another small dining room offers guests one chef's table dinner during the cruise, a delicious multi-course fixed menu, a welcome change of pace from the main restaurant.
The ambitious kitchen turned out local food and western options at every meal, combining buffet and table service smoothly.
Meals, of course, provide opportunities to get to know other guests. On "Riches of the Mekong," expect to meet some well-traveled people. The 98 passengers on board were mostly North American and British (others from Hong Kong, Australia, Europe) but many had lived and worked for years elsewhere around the world. Nearly half were returning AmaWaterways guests. Enjoying dinner with fellow travelers is a river cruise highlight.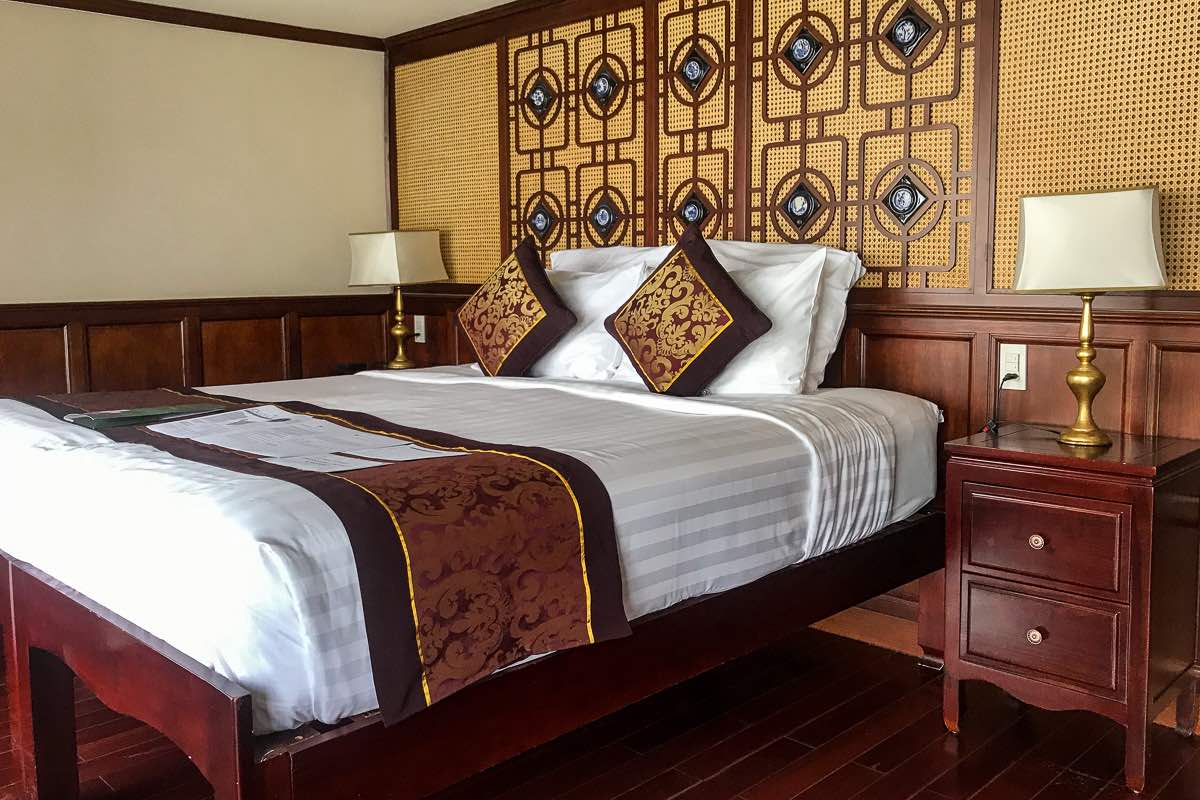 This cruise offered some of the best staff we've known on any river trip. The fitness program, led by Thao, was exceptional. Two or more times a day, she offered yoga, stretching, strengthening, Gigong, and other restorative classes or walking excursions. Thao sometimes joined guests for dinner, and offered a young perspective on South Vietnam plus plenty of restaurant suggestions for visits to Ho Chi Minh City, where she lives.
The cruise director, Son, was outstanding. I usually try to ignore cruise directors as much as possible (sorry, Son) especially when they have to shift into babysitting and cat herding mode. (You know we don't normally do groups, much less crowds.) But Son was entertaining, explained options well, and calmly handled the inevitable bumps and changes along the way. Plus, he gave me very good medical referrals for my dog bite. (That's another story which starts in Hanoi prior to embarking on this cruise.)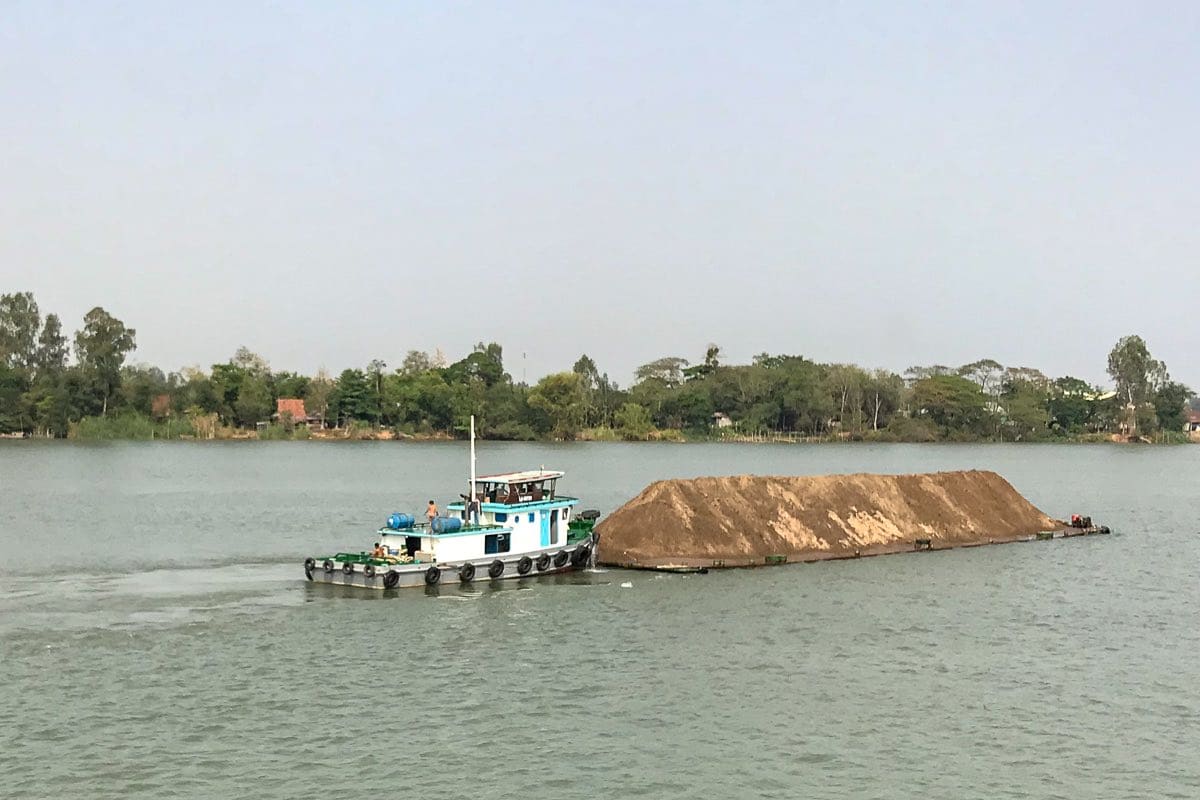 Cruising The Mekong River
The Mekong River, let's not forget, is itself a destination. Some of the most enjoyable times are simply sitting and looking out at the river.
When we join the river, it has already flowed from the Tibetan plateau down through China, Myanmar, Laos and Thailand. The stretch in Cambodia feels like a well-traveled river through both wild and agricultural lands. Once in Vietnam the river spreads into the delta, and river traffic becomes a a form of entertainment.
We watch excavators digging up the bottom, barges laden with sand, large fishing boats housing families; small fishing boats with one man, a small motor, and a sheet to shade part of the deck; speed boats crisscrossing the wide river; and hardly another passenger ship like ours. Here and there, clumps of water hyacinths bob amongst the wakes. Traffic lanes seem to be invented on the spot. The only rule, apparently, is that bigger vessels have the right of way. I never got tired of looking out.
Ama's Mekong River cruise has changed its course recently, as some of the floating villages on Ton Le Sap Lake, near our embarkation point, have been relocated. Water levels may also affect the exact itinerary. Our March cruise was at the end of the dry season, so water levels were low and we didn't venture up toward the lake. But because of the wildly fluctuating water levels, the banks along the river always appear untamed.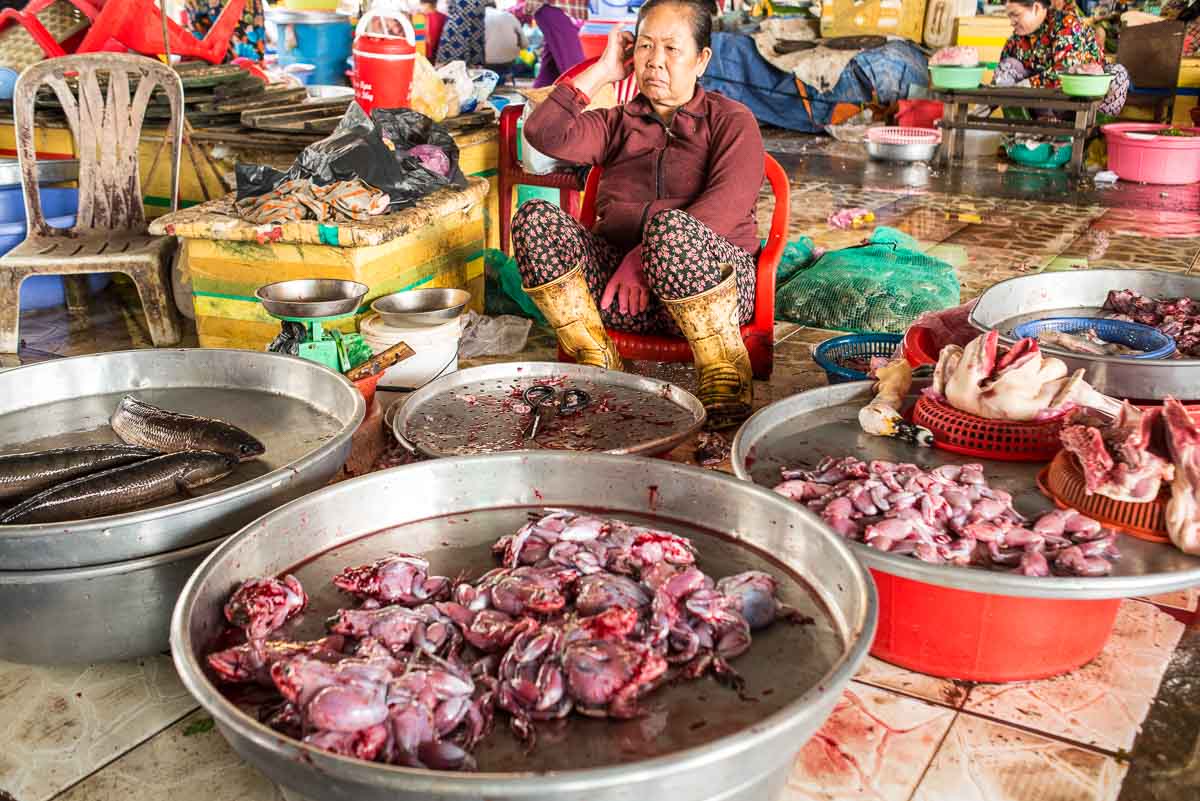 The Changing Mekong Delta Countries
Towards the end of the cruise, I spoke with Markus, the Austrian hotel manager on board. We talked about local culture and products, about balance and change. Both Vietnam and Cambodia have only emerged from their internal conflicts to begin serious rebuilding since the late 1980s (Vietnam) and 1990s (Cambodia). While fishing and agriculture are still the leading industries, many aspects of life along the river have changed, and their economies are new. In fact, the river itself has changed. Dams further north affect agriculture; saltier waters flowing up the delta affect fishing. The international markets affect everything.
Two observations seemed to sum up our experience on the Mekong. In the dynamic commerce we were seeing up and down the river, and through the diligence and ingenuity of local people, we were witnessing a form of capitalism as strong as anywhere in the world.
And, in answer to all those questions we get about "how was the trip to Vietnam," we can now use this phrase spotted on a T-shirt: "Vietnam is a country, not a war."
We were hosted on this "Riches of the Mekong" River Cruise by AmaWaterways in exchange for content and promotional considerations. The story here is based on our personal experience, and hasn't been edited or reviewed by AmaWaterways.
A visa is necessary for Americans to travel to Vietnam. We use iVisa whenever we need a visa for any country. Great service, and a small price to pay for them to navigate the visa process for you.

You can click the link above, or use this widget below to start the process of getting a visa for any country.
Travel Planning Resources
Looking to book your next trip? Use these resources that are tried and tested by us. Flights: Start finding the very best flight deals by subscribing to
Thrifty Traveler
. Book your Hotel: Find the best prices on hotels with
Booking.com
. Find Apartment Rentals: Find the cheapest prices on apartment rentals with
VRBO
. Travel Insurance: Don't leave home without it. We recommend
Allianz Travel Insurance
. Need more help planning your trip? Make sure to check out our
Resources Page
where we highlight all the great travel companies and products that we trust. See all of the gear and books we like in one place on our
Amazon shop
.