It's called the American War, not the Vietnam War. It's Ho Chi Minh City, not Saigon. It was the Museum of American War Crimes before it was The War Remnants Museum. The South Vietnam President's Palace is now the Reunification Palace. And of course North and South are no longer separate.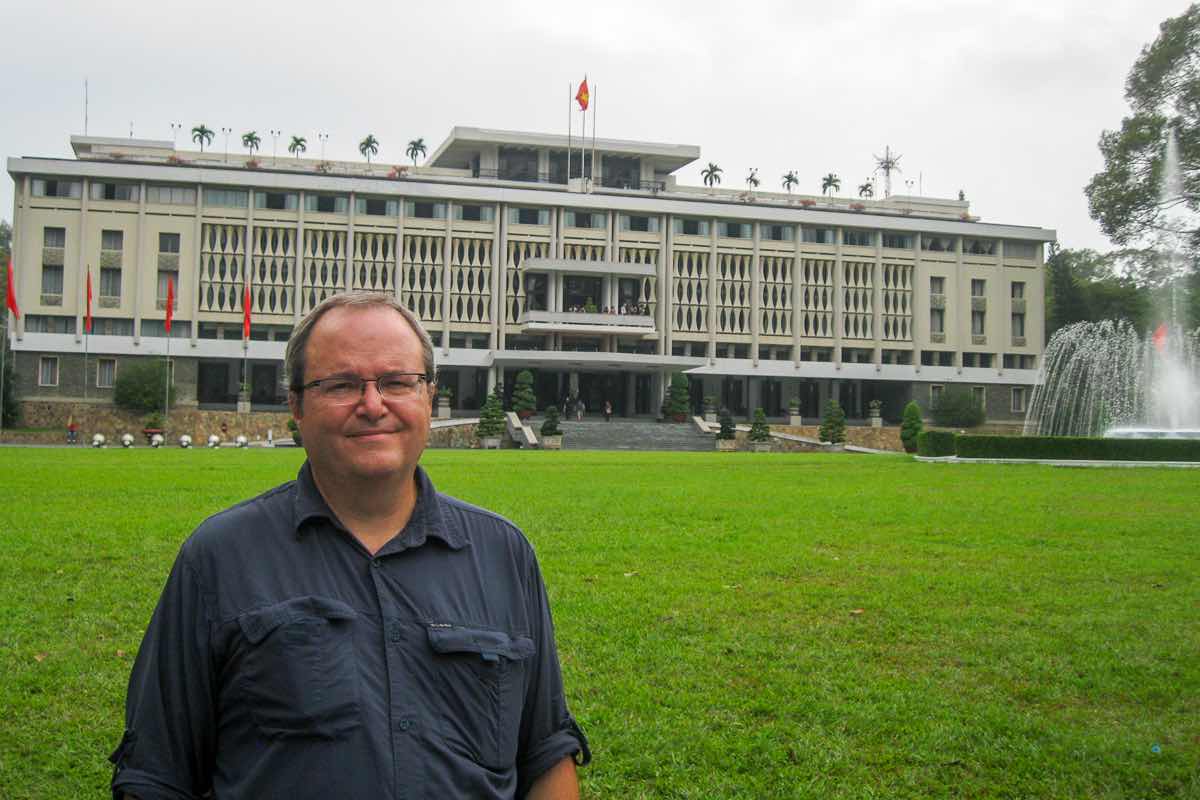 We're in Vietnam, but reminded constantly that we weren't here when all the other Americans were. We haven't experienced Vietnam history like the Vietnamese have. And yet we are standing here in front of a building I remember seeing on TV. I can't stop wondering if I'd fought here, would I return as a tourist? It feels like some sort of sacrilege taking pictures in front of war monuments. But of course we are drawn in for a closer look.
The War Remnants Museum, according to a young Vietnamese woman I met on my way to HCMC, is not a place Americans like to visit. On the contrary, it looks to me that most American and European visitors are pulled to this spot before any other city site.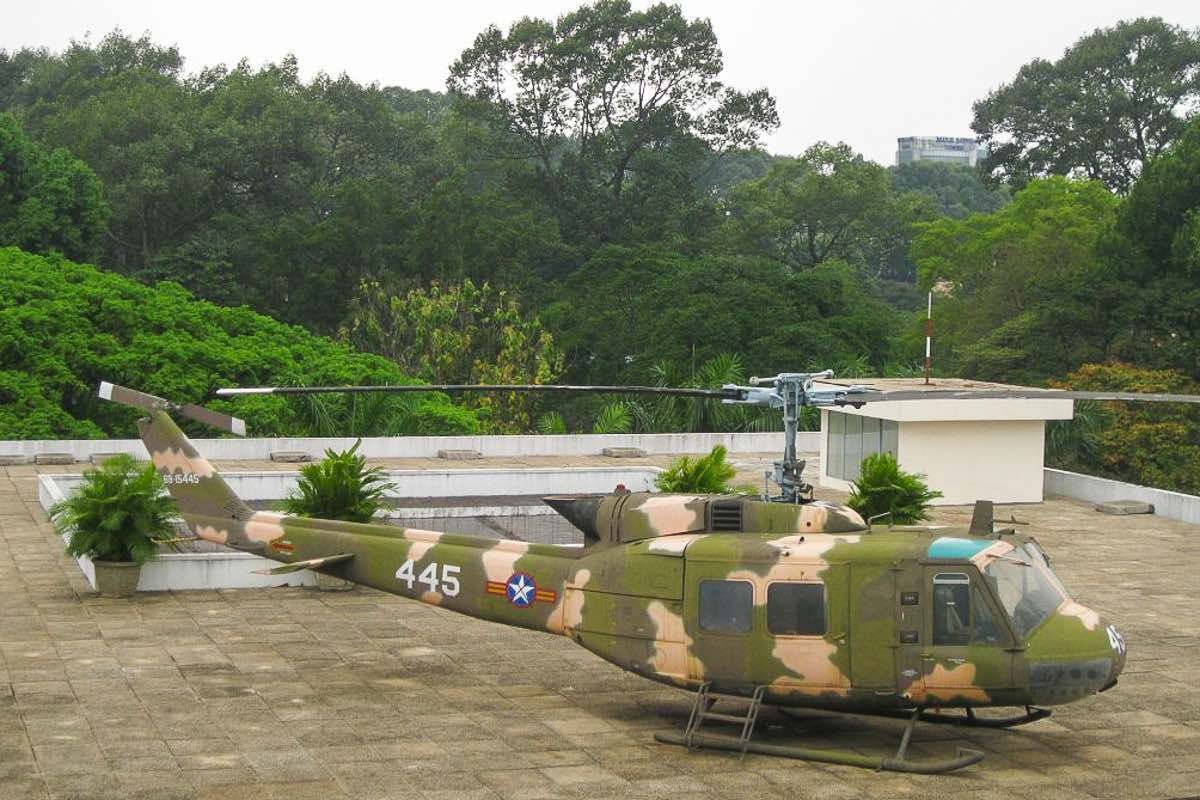 The name itself is awkward. I found myself mistakenly calling it the War Remembrance Museum, because it does pay tribute to everyone who participated in the war, the survivors, the dead, and the permanently maimed. "Remnants" sounds so sparse and ephemeral, not like, for example, today's oft-used "aftermath," evoking something vicious and long lasting. In fact, the museum was originally called the "House for Displaying War Crimes of American Imperialism and the Puppet Government." It was established in September 1975, later renamed the Museum of American War Crimes, and finally, when diplomatic relations were reestablished with the U.S. in 1995, changed to its present name.
The Remnants Museum is not really stuffed with remnants. It's full of memories prompted by news photos, memorabilia and propaganda – the same images of our childhood terrors and our young adult angst. The photographs might have the same impact that September 11 images do. Whether seeing such events live, televised, or depicted ten, twenty or thirty years later, there is still the same dread and awe like a punch in the chest. It was hard to breathe and hot. Some visitors talked, some teared up, most shuffled along silently.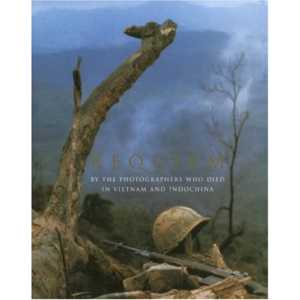 The primary exhibit area documents the effects of Agent Orange, particularly on successive generations. Two fetuses are on display, plus photos of other babies stillborn or born with deformities so severe they lived only days. The devastated countryside is depicted in pictures and statistics, too, detailing the number of bombs, tons of explosives, the cycle of bombs, chemicals, fire and bulldozing. Before and after pictures describe entire water districts.
Another exhibit, now permanent, is based on the collection Requiem: By the Photographers Who Died in Vietnam and Indochina edited by Horst Faas and Tim Page and donated to Vietnam by the State of Kentucky. It tells the stories of journalists who died in the fields taking pictures of war. They were young (Robert Capa), female (Dickey Chapelle), American, Cambodian, Japanese, and European. All were focused on the ground, the civilians, those who attempted to make it through by devoting themselves to the job at hand, whether that was agriculture, war, or waiting.
In front of the museum, a man missing both his hands and forearms presses some maps and books toward us. Yes, a guilt purchase follows. Outside the museum – and dotted across the country – are recovered tanks and jets and helicopters.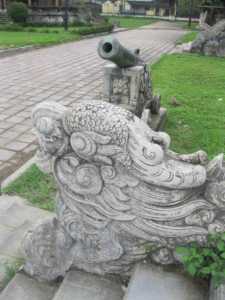 In other cities we see men with no legs carting themselves around selling trinkets and dolls. In Hoi An, a shop sells work by the disabled who are busy at their crafts in the back of the store. Numerous non-profits and foundations place flyers in hotels, restaurants and other traveler sites, supporting vets, clean water, orphaned children, and the elimination of land mines.
Walking through Saigon, though, and visiting other areas of Vietnam, we were reminded that the long American War was just a brief – if devastating – episode in centuries of war in Vietnam. The U.S. was just one in a line of invaders, fighters, colonizers, mercenaries, and opportunists. We may have dropped the most bombs and inflicted the most casualties on civilians, but the Chinese, the Japanese, and the French, among others, stayed longer and destroyed as much as they contributed to local culture. The French bombed about 80% of the Imperial Citadel in Hue, a massive complex of royal homes and temples, leaving the Americans that many fewer culturally significant targets to wreck.
Rebuilding is part of the vernacular here, going hand in hand with reunification. HCMC boasts a new bright glass skyscraper. China Beach south of Da Nang is lined with resorts and villas-to-be. Hanoi's crazy Old Quarter is filled with sounds of construction, and cranes are lined up like power poles.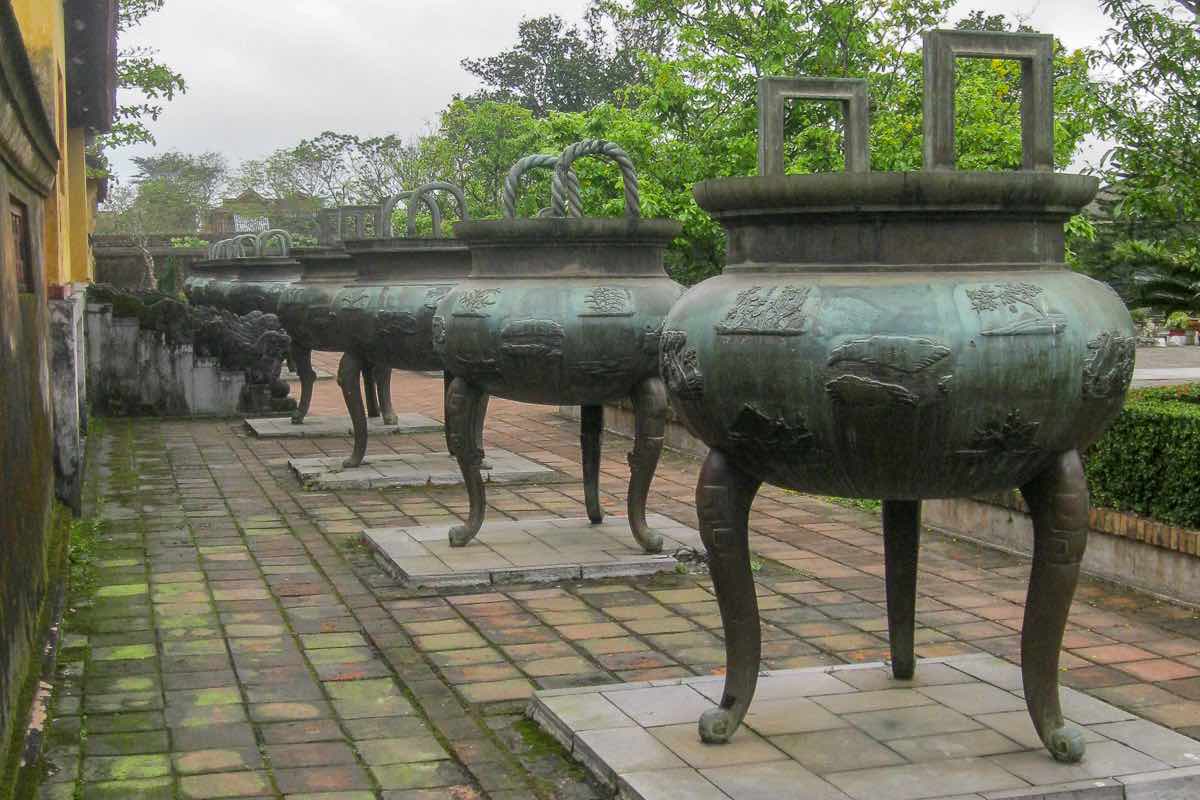 So what's it feel like being an American in Vietnam? It's painful, but not nearly as painful as living in a country besieged by war. Learning more about the long history of wars here doesn't remove the onus from America or from me. But it does increase my appreciation of Vietnam's resilience, forgiveness and strength. We visitors aren't confronted with animosity, but with relief and friendly gestures.
Because we stand with Vietnamese, Indochinese, and Europeans as we walk around, it seems everyone is looking over their shoulder at the war remnants. You can call it the American War, but it's now the world's war to look back at, furtively, making sure it is still over.
A visa is necessary for Americans to travel to Vietnam. We use iVisa whenever we need a visa for any country. Great service, and a small price to pay for them to navigate the visa process for you.

You can click the link above, or use this widget below to start the process of getting a visa for any country.
When you're thinking of traveling, your first stop should be our Travel Resources page, where we list all the essentials you need to make your travels easier, cheaper, safer, and more fun.
You can also help yourself get ready for your travels by reading our Get Started Planning Your Trip Now page.
We love traveling–with the right gear. We've gathered a lot of the stuff we use to make travel more pleasant and efficient all on one page. Shop our Travel Past 50 Amazon page to find our favorite gear. If you purchase something from the store, Travel Past 50, as an Amazon affiliate, may receive a small commission at no extra charge to you. Thanks.
We never leave home without our travel insurance. Nor should you. Search for the travel insurance from Allianz that best meets your needs, whether it be an annual plan or a single trip.
You can see (and buy prints) of most of our travel photos in one place on this page.
Note: This post and other posts on TravelPast50.com may contain paid or affiliate advertising links. As an Amazon Associate we earn from qualifying purchases.