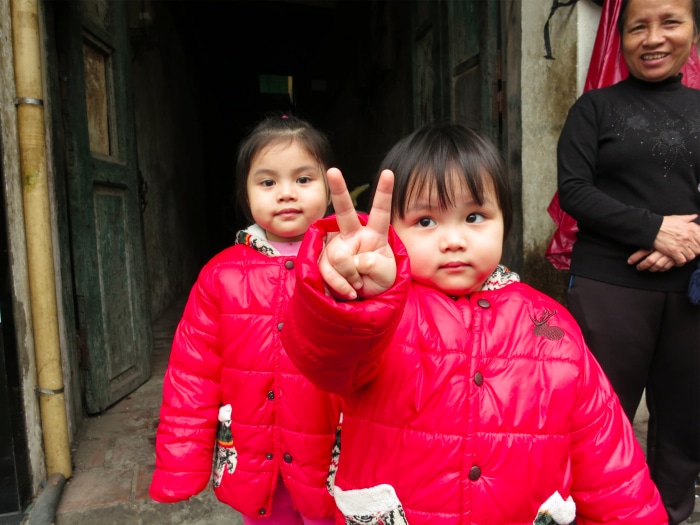 Although the American-Vietnam war has been over for more than forty years, sometimes it's still a bit hard to escape. The reminders are there everywhere there is an exhibit of any sort. Especially in Hanoi. In Hanoi's Fine Arts Museum, there are rooms replete with extraordinary Vietnamese folk and religious art from as far back as 8000 BCE to the present.
But even in this museum, you can't escape the wars. There are three rooms dedicated to art created during and after the French and American wars which feature sculpture and paintings depicting (in their words) "the heroic struggle" of the Vietnamese people's forces to throw off the oppressors. Not that the art is bad. In fact, there are many accomplished and moving pieces by artists of whom the world outside Vietnam knows almost nothing. Simple scenes of peasants toting their rifles over a hilltop, or squatting on their heels, exhausted in the post battle twilight are preeminent. However, some depictions, unfortunately, take on the composition of propaganda posters, with the didactic flag waving and weapon brandishing which, I suppose, are the privileges accorded the victors.
The Ho Chi Minh Museum is less heavy handed. From the outside, it's an undistinguished concrete clunker. But inside, you're walk up a wide stairway to an atrium sculpture of Ho greeting you with a friendly wave. Behind him is a stylized Asian landscape reminiscent of Chinese silk paintings. On the wall behind the landscape is a golden disk which, in the context of the sculpture, is a dawning sun. But, when you look at the entire work from directly the front, the disk frames Ho's head and approximates the halo you see in the West on countless portraits of Christian saints. Indeed, I saw some older visitors who clearly had first-hand experience of their first leader, clasp their hands and bow their heads in prayer before the statue of Ho, much like they were in a temple in front of an image of the Buddha.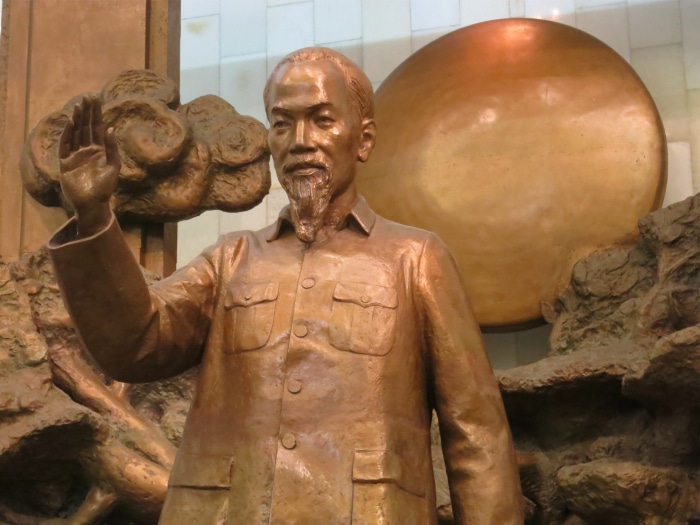 After the atrium, you are directed up another half flight of stairs where you start through a circular path which leads through a chronological record of the life of Vietnam's George Washington.
The displays are very stylized, and the overall impression you are left with as you wander through them is just that: an incomplete impression left from looking at a blurry record of Ho's 50 years of prominence as interpreted by very talented painters and sculptors.
Much of the material worked into the sculptures and other displays is, of course, the primary source material of Ho's life: his letters in Vietnamese, French and English, photos of him when he was a young man, and later photos of him as a the mature military and political leader in the jungles around Dien Bien Phu and at the anti-aircraft batteries around Hai Phong harbor. Also, at the end of the exhibit, is a "found" art sculpture incorporating spent Vietnamese anti-aircraft artillery shells, a large fragment of a B-52 bomber, and the scorched helmet, flight suit, and shredded parachute of an American flyer.
For the Vietnamese government is very proud that they defeated the French in 1954, and the Americans in 1975 (and the Chinese in 1979.) And Ho, although he died in 1969, is the prime symbol of Vietnamese nationalism.
In contrast to the touching reverence shown by the older visitors, though, the many Vietnamese young people who were visiting on this Saturday morning bolt through the exhibits just like young people do everywhere, not stopping to contemplate anything and anxious to get their dose of history over for the day and get on to laughing with each other and thumbing their smart phones. More than forty years have passed since the end of the American War, and the young people know of it only what they learn in school and what's displayed for them in these museums.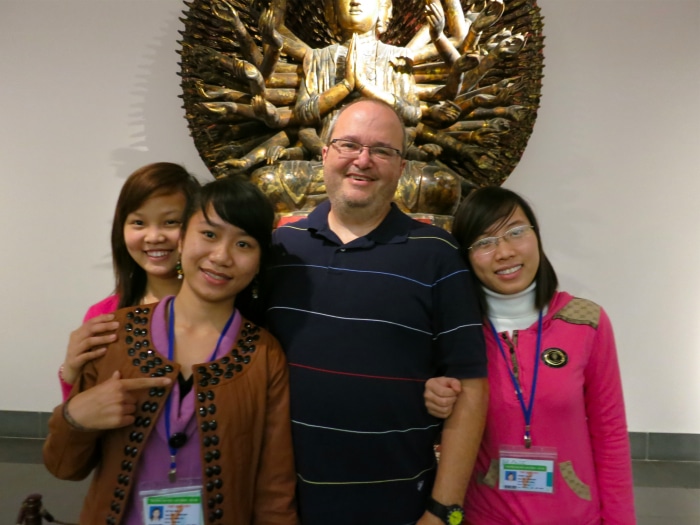 We later spoke to three young students at the Fine Arts Museum who were anxious to practice their English . They told that the war, for them, is long gone. The three girls, Le, Tam and Thi, were all 19-year-old first year students at the Hanoi University of Business (a rough translation to be sure.) They first asked me to take their picture in front of a multi-armed Buddha, and then insisted that they wanted a picture with me as well. A bit later we sat on a bench in one of the rooms of war art and chatted for about half an hour. Tam and Thi spoke pretty good English, although their pronunciation was sometimes indecipherable and Tam often had to write the word in my notebook for me to understand her. (That's the problem with learning English from non-native teachers.)
All three girls are from small villages in southern Vietnam and have come to Hanoi to attend the university. They told me that, although university was free, they all had to work five hours a day to support themselves while here in Hanoi. I asked Tam if her parents could help at all. She said no, that her parents were poor.
Since we were, in one of the rooms containing some of the war paintings, I gestured toward the wall and asked them whether there was any lingering resentment against Americans.
They all shook their heads. "That is the past," said Tam. "We are friends with Americans now, and we love to meet people who come to Vietnam and want to meet us."
I thought about that as we walked back to our hotel and decided that I, too was going to concentrate on the present the next time we are here, which I hope is soon. As if to emphasize that, as we walked along, we saw two tiny girls and their grandmother on the street near our hotel. The girls called out "hello" and waved to us. I bent down to talk to them, although the only English word they knew was that "hello." The younger girl flashed me the peace sign.
You can read about another significant Vietnam Museum, the Museum of War Remnants in Ho Chi Minh City (Saigon.)
And, you can check out some more info on Vietnam in our guide for the first time visitor to Vietnam. Also, some musings on being an American in Vietnam.
Finally, you can't talk about Vietnam without mentioning the fabulous food.